You may have heard that I held a little Rock n Roll party last week for some kick ass, killer UK wedding suppliers. I basically wanted to a) drink cocktails and eat cupcakes b) meet some awesome people and c) bring those awesome people together into one ginormous big sparkly melting pot of joy… and I think I actually managed to pull it off!
I met my lovely friend Emma Case earlier in the day and we went and got our hair done by Elbie Van Eeden. I had to make sure the skull tiara was perfectly positioned for it's first official outing of course. Elbie was fabulous as ever. Love her! We then popped in to see our girls at Fur Coat No Knickers to get changed and ready to party (shhh! it was totally just an excuse to hang out in their beautiful shop and look at their gorgeous vintage dresses.)
Oh it was a mad old night. It actually felt a little bit like it was my wedding with everyone wanting to talk to me and I was so nervous beforehand! 
"Eeeek What if no one comes…? What if too many people come…? What if everybody hates me…? What if everybody is weird…?"
I needed have worried my little pink head though. About 100 people showed up and everyone was awesome. I really hope I managed to talk to you all and I'm so sorry if I missed you. Seriously guys, I know everyone says this gushing kind of stuff on their blogs but I totally couldn't have imagined a cooler, more alternative, more inspiring group people to have wanted to come hang out with me.
Major thankage needs to go to the girlies who helped me pull this little soiree together… 
♥ Annamarie Stepney was my official snapper. I asked her if she'd mind documenting the event and she jumped at the chance. She was incredible and I think the shots pretty much speak for themselves don't they? She. is. fab.
♥ Charlotte Gamble of Restoration Cake supplied the delicious cupcakes. They went down a treat. The funniest thing ever was seeing people outside the bar stopping to look in the window at them! We had a choice of red velvet, vanilla or (wait for it) peanut butter! I love it. They were so yummers and beeeautiful with their pink (of course) icing and intricate (and hand-bloody-made) little sugar cherub and cameo toppers. Amazingness all round.
♥ Thanks to Elbie Van Eeden for doing my hair and Emma Case  for keeping me sane.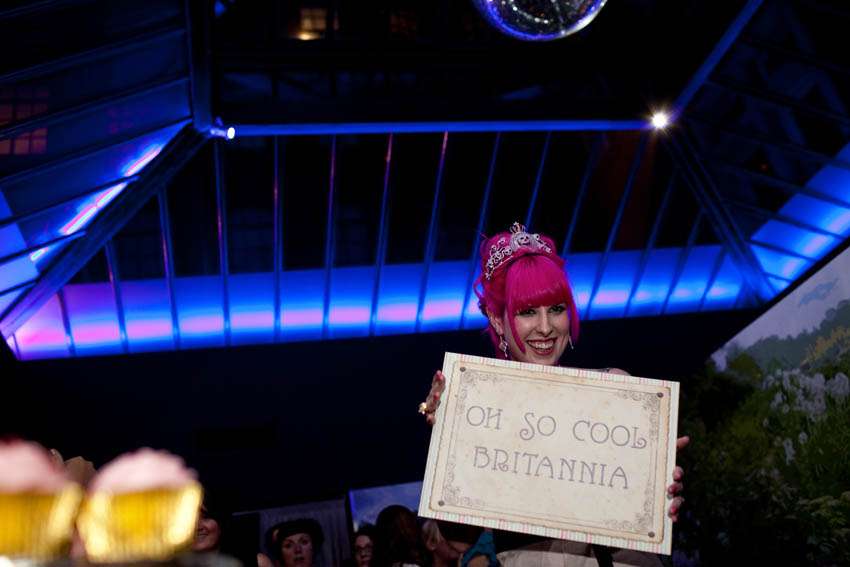 Finally thank you to everyone for actually coming! I was blown away by you all especially those of you that came from far away (there were guys there from Sheffield, Devon, Birmingham, Oxford, Brighton, Ashford, Manchester, Milton Keynes, South Africa (!) – they were in London already though ha!) and special thanks to those of you that gave me some cute little (all pink!) gifts. As I drove home on Thursday afternoon I actually felt really emotional about it all.
I stood up and did a little awkward "thank you everyone for coming, thanks  for the support, I love you all" speech and everyone cheered and whooped. As I sit here in my little nook under the stairs thinking about it now, it was pretty amazing and totally surreal. It seems like a completely different world actually. It's a world I'm quite keen on though, and I certainly want to pay it a visit a few more times.
…and before you ask. YES there will be another one and YES I am planning on organising an event for brides-to-be at some point. Can I get a "woop woop!?"
Some of my favourite moments:
♥ The bouncer coming in and asking if he could have a cupcake
♥ Someone thinking David McNeil was my husband (own up, who was it?!) I don't think I'm his type!
♥ …talking of my 'husband', the fact that he left my beautiful shoes in the cab on his way home! (I'd ditched them for flats at that point)
♥ James Derbyshire turning up in the matching Butler & Wilson cuff links to my tiara
♥ Helen from Cutture giving me my very own Rock n Roll Bride piece of art
♥ Talking to Laura of Lime Leaf Weddings for ages about cats…and showing each other photos of our kitties on our phones – saddos!
♥ The drunk guys outside the bar who looked at me with utter confusion and then asked me if my tattoo was 'for life'
♥ Richard from FX Films whipping out a pink wig near the end of the night and sneaking it onto people's heads!
♥ Thanks to Richard for reminding me of this too…
Man: "what you celebrating?"
RnRBride: "errrrm…."
Man: "It is your birthday?"
RnRBride: "nope…"
Man: "Just a celebration?"
RnRBride: "errr, not really, well, kinda…"
Man: "errr….OK, RIGHT ON, HAPPY CELEBRATION EVERYBODY"
♥ Staying out til 5am with a select group of hardcore party-heads
♥ Walking through Soho barefoot at 4am with Lucy Ledger, Debbie Carlisle & Emma Case looking for cheesy chips
♥ The saxophonist in the middle of Leicester Square who started playing Bad Romance as we walked past
♥ …and a completely seperate guy who followed us around town, convinced I was Lady Gaga (is that a compliment?!)
Thanks to Konfralfor making this little timelapse video too…check me out working the room!
Credit: Annamarie Stepney Photography
Cupcakes: Restoration Cake
'Oh so Cool Britannia' sign by Lucy Ledger Designs
My Outfit…
Dress: H&M
Tiara: Butler & Wilson
Necklace: Annalou of London
Earrings: Vintage – Borrowed from Fur Fur Coat No Knickers 
Skull Ring: Topshop
Shoes: Boohoo (and Vivienne Westwood flats when my feet gone sore!)