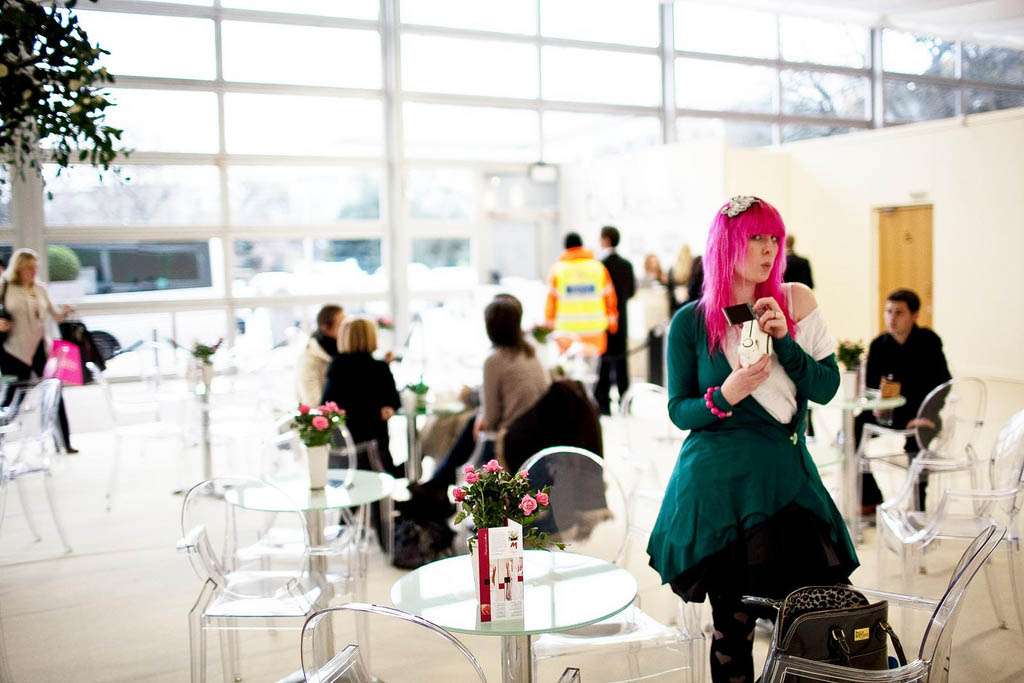 A few weeks ago I was offered a couple of tickets to attend The Designer Wedding show in Battersea, London. The event took place from last Friday – Sunday so my friend (and photographer extraordinaire) David McNeil and I thought we'd go check it out in the hope to be inspired, have fun and to actually real-life-meet some of the amazing UK wedding vendors that we've met online. Today I want to share a few of my highlights and photographs from the event so you can see what fun we had. I definitely did and I even got to meet a bunch of Rock n Roll Bride readers. It was the first event I've been to where I actually got recognised which was surreal but certainly nice! Here are some of my (and David's) faves.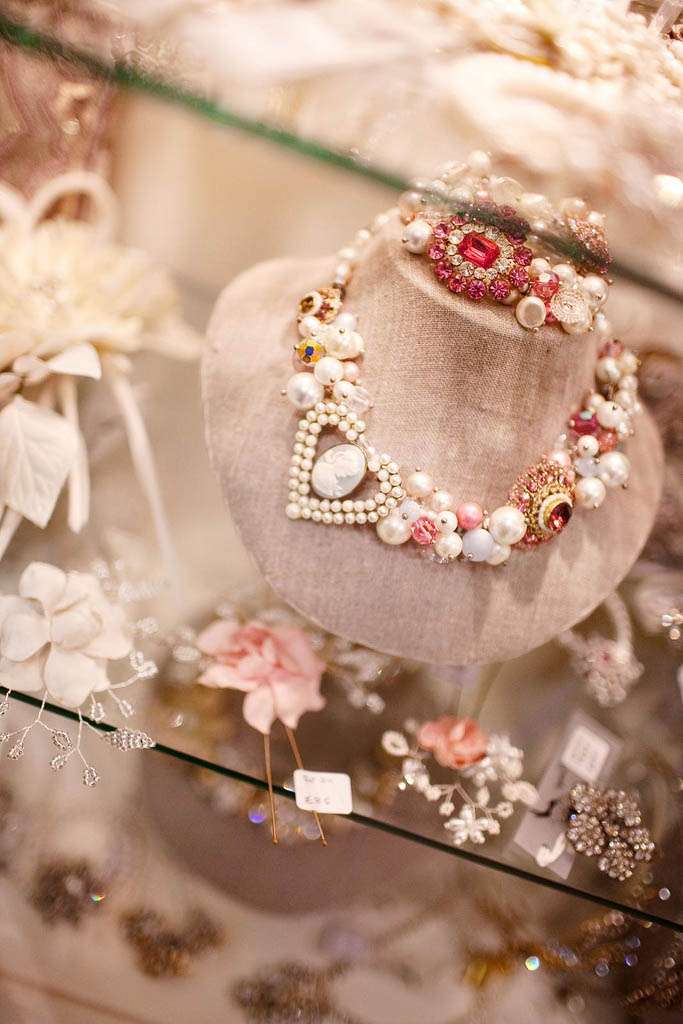 ♥ Magpie Vintage undoubtedly had one of the busiest stalls of the day. I've wanted to meet Lisa & Tania for ages now and The Designer Weddingshow proved to be the perfect opportunity. I wondered up to their stand hoping they'd spot the pink hair and know it was me and as soon as I was within 20 feet I was greeted by Lisa with a massive hug and an "oh my god you look so young!" (haha way to suck up Lisa – you go girl!) and " oh you simply must wear this necklace!" She the proceeded to drape a beautiful powder pink and teal green reclaimed vintage gem around my neck which I was lucky enough to walk around with all day (and yes I did remember to return it after!)
♥ Abbey of Sugalily Stationary and I have been chatting online for months now so it was great to finally meet her in real life. I fell in love with not only her but with her beautiful creations in paper, ribbon and sparkly bits. From retro to classic, colourful to muted, Abbey's display was one of the most endearing there..and she had cupcakes! Now who could say no to that!?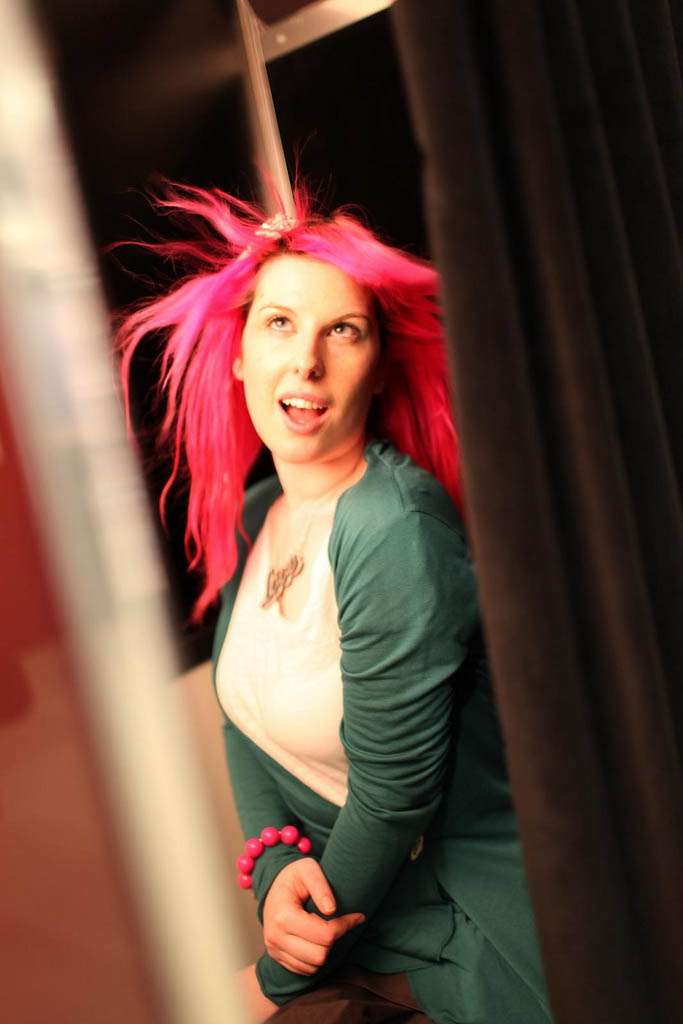 ♥ David and I had waaaay too much fun at the  Booth Nation/Glitterbooth. As we walked past I was instantly drawn to the 8 foot, silver glitter-covered photo booth. We were greeted by Seamus who immediately told us to hop in and give it a go, and inside only a bloomin' built in wind machine (you can see we had fun with that!) I swear to god, if I was getting married again I would totally have one of these. Awesome!
♥ David fell in love with Emma Hunt's simple, clean lines and said he would certainly be recommending their gowns to his clients!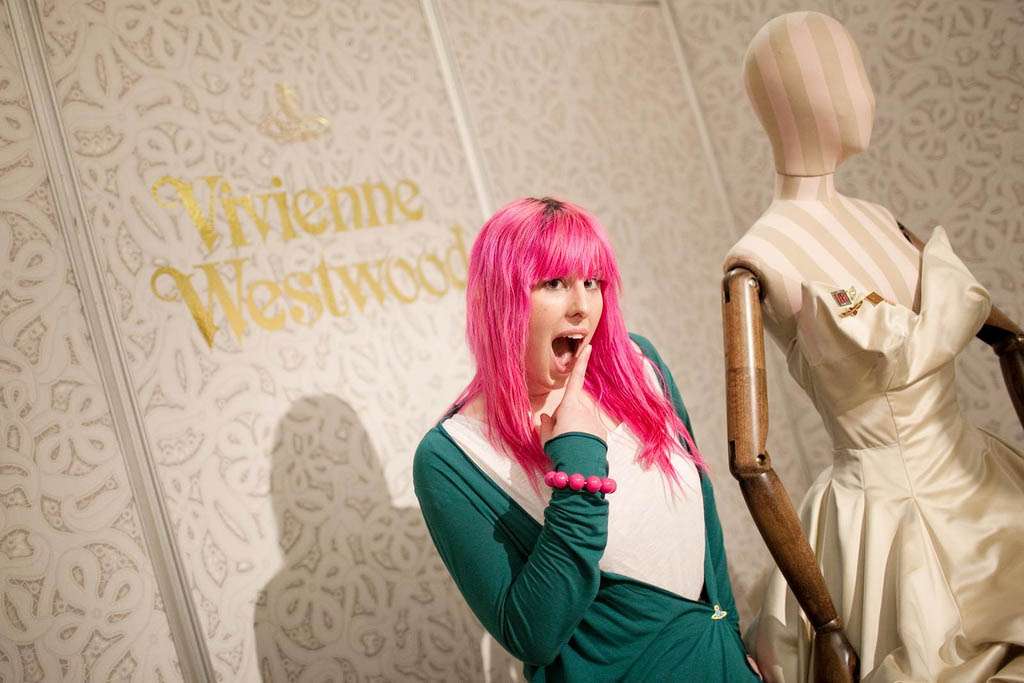 ♥ Vivienne Westwood…ahh Vivienne what can I say? How I love you so… The Carrie Bradshaw dress was pretty epic in the flesh and some of the dresses were a little risque even for me but hell, I will always love everything this British style icon creates. Fact.
♥ As I walked past the
Stephanie Allin
stall, my eyes were instantly drawn to the dress that stood at the front. I am in actual love and if I was getting married again the Bardot dress would
sooo
be mine.
♥ Heirloom Couture caused a pang at my vintage-loving heart with their original dresses, veils and accessories. As the models sauntered down the catwalk in their creations, I wished I'd heard of them sooner.
♥ We stopped at the Victoria Allinson stall so that David could fuel his self-confessed shoe fetish. He told me (probably in confidence – oh well!) that ever since he's been shooting weddings that he's fallen in love with snapping women's shoes – so who was I to say no to slipping a pair of cerise numbers and having a little model?
♥ Temperley London is always a popular choice with the 'it' crowd and this weekend was no different. Everywhere I turned people were cooing over their new collection and I have to say, even if I wouldn't wear them myself, I can't help but see why everyone is falling in love with them.
♥ Slightly shocking and ever so risque, Delphine Manivet certainly caused a stir as the models swaggered down the catwalk in her out-there creations…and yes, I loved them.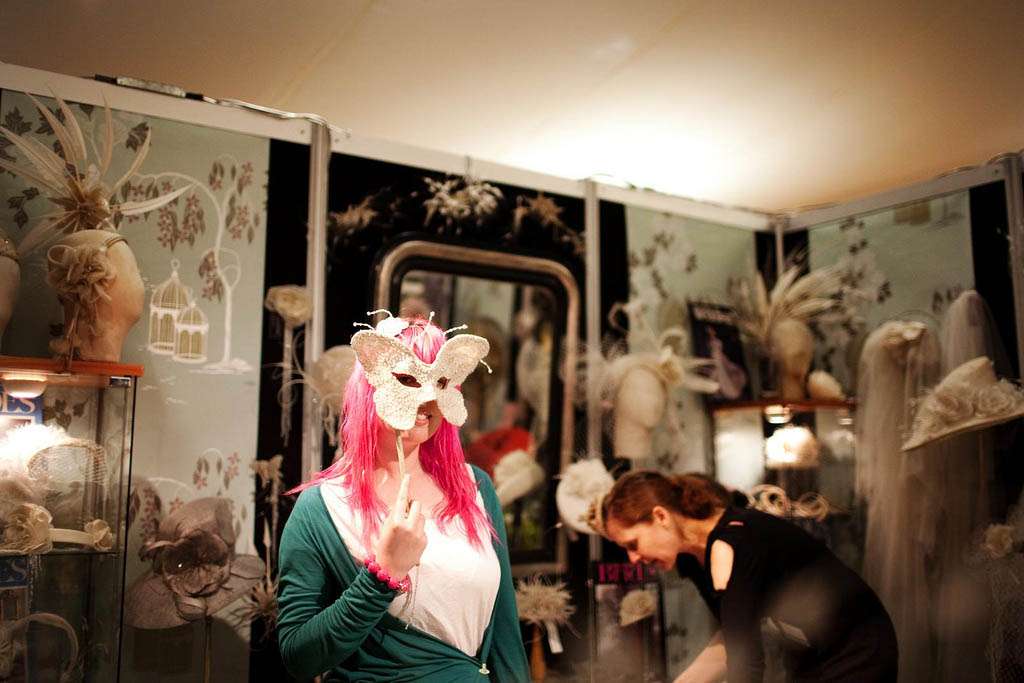 ♥ I had mucho fun at the
Edwina Ibbotson Millinery
stall trying on various head wear and chatting to Edwina about her collection. I love this mask and I'd definately find somewhere fancy to wear it.
Our competition winner, Philippa, who won a pair of tickets too also has a lot to report. Looks like she had a great day too.
"Hi Kat!
The show was great!  Thank you again so much for the opportunity go along. I wanted to share some of my highlights with you.
Hearing a string quartet playing "Kiss from a Rose" in the cafe at the entrance, which was all done up like a reception room, with candles and trailing rose bouquets on every table.
The shoe stalls, which encouraged every bride-to-be to embrace her inner Carrie Bradshaw, with shoes in rich, jewel colours everywhere you looked – turquoise, ruby red, sapphire, emerald. (RmR: agreed! The shoes were all fab…)
The handmade invitations – particularly Sugalily, featuring luscious vintage florals and sweeping peacock feathers.  Abbey told me she'd found out that peacock feathers are unlucky at weddings though!
My dream wedding might now involve an ice cream tricycle from Ideas Box, where you can pick up to 9 different handmade ice creams and sorbets to be served in chocolate dipped waffle cones to your guests. (RnR: I loved the pink Candy floss stall – hello awesome!)
Stephanie Allin's beautiful range of dresses, my favourite of which was the gorgeous Bardot gown, with a pistachio belt and strawberry stained rose at the waist… Dolce Vita collection (RnR: yep this was the dress I swooned over all day. I want it!)
We also enjoyed talking to the team at Jumeriah Carlton Tower and getting a voucher for a bottle of champagne in their bar – which we'll be using once we get word from the Home Office that we have our COA!
We would have liked to have seen more for the guys – there was only one stall that had some suits and none of them were particularly "rock n roll"!  Tom said he would have liked to have seen some waistcoats, hats and vintage wedding clothes for the groom (he's not just another wedding accessory!).
My father once described me as "having champagne tastes on a beer budget" (!) so if you want a "no expense spared" wedding then this was the show to go to!  While I don't think we'll be hiring a castle or a gospel choir, we certainly came away with lots of ideas and inspiration to craft a celebration that reflects who we are….with just a touch of my champagne tastes."
I'm so glad Phillipa had a great time.
I hope you've enjoyed my little round up. Those of you that were able to go to the show, what were your highlights..if not, what do you like this look of from my little favourites?
Photography by David McNeil (except the ones of David at the end – he actually let me loose on his Canon 5D…to mixed results as you can see!)
Instax Photos by Moi
My outfit:
Hairband by Jane Taylor Millinery
Skirt by All Saints
White t-shirt from H&M
Cardigan from Dorothy Perkins
Tights from Topshop
Shoes, bracelet and little pin (on cardigan) by Vivienne Westwood (obsessed? moi?!)
'Love' necklace from Topshop