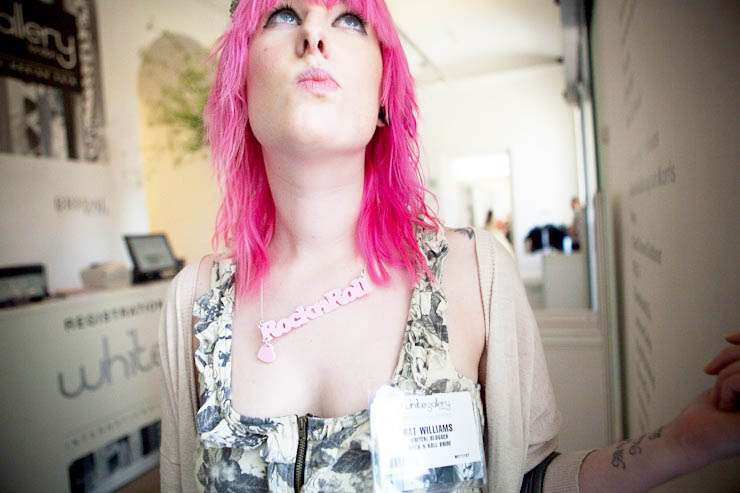 Last week I was lucky enough to be invited to the prestigious White Gallery exhibition where all the country's top designers show their latest and greatest collections to a gaggle of eager stockists, press…and me it would seem! So last Tuesday myself and my 'official photographer' (it's true – his badge said so!) David McNeil, headed down to The Kings Road in uber posh central London so see what all the fuss was about.
First off I'd like to say that pretty much everyone was delightful, excited to see us and eager to talk about their designs (apart from one, very well known – and quite frankly up-his-own-arse designer who asked us if we had an appointment and then told us we couldn't take any pictures!) It really was very fun to be there and I wanted to not only share with you some of David's awesome shots (and a couple of mine!) but to draw your attention to some of my utter favourite people from the event…and you lucky lucky things, you've even got a little sneak peek of my VERY unfinished tattoo in here. I wasn't going to show you while it's all just the linework but I couldn't not share that photo of me wearing the most gorgeous Stephanie Allin dress now could I?! Although the tat looks awful and unfinished now it's going to be totally RAD when it's done…and yes that is a roll on film you can spy!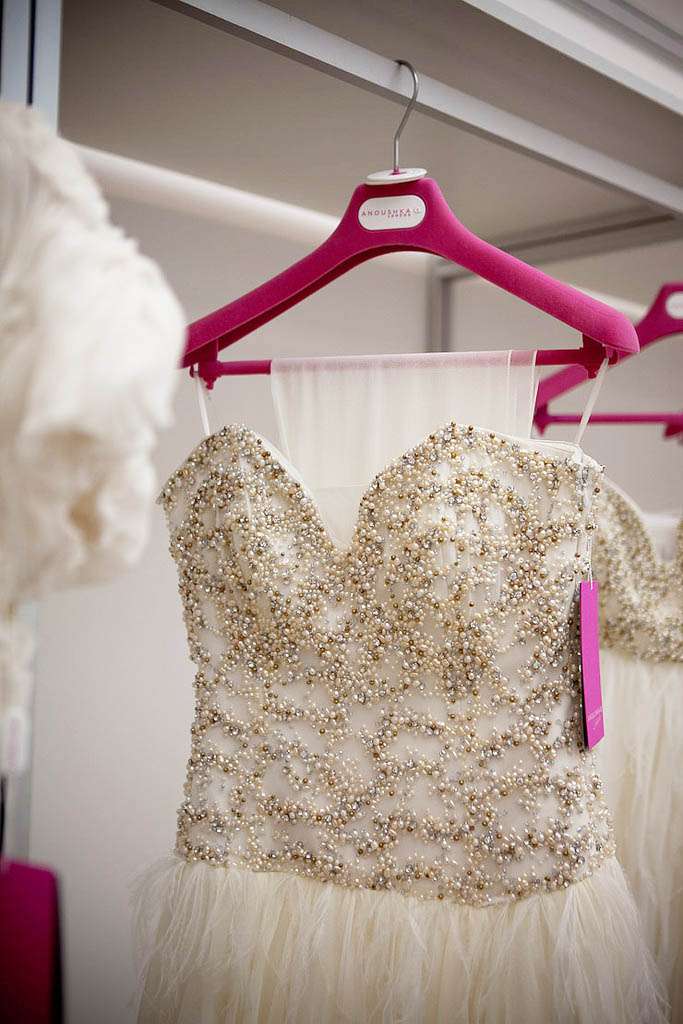 One of the first stalls we chatted to was that of Anoushka G of London. Brand director George Hadji was keen to talk to use about their new bridal line which was a follow on from thir super popular occasion and formal wear. Both myself and David fell in love with their kooky and unique designs. The attention to detail was incredible and the prices were super reasonable for such high-end designer looking gowns! You can see more of Anoushka G's designs right here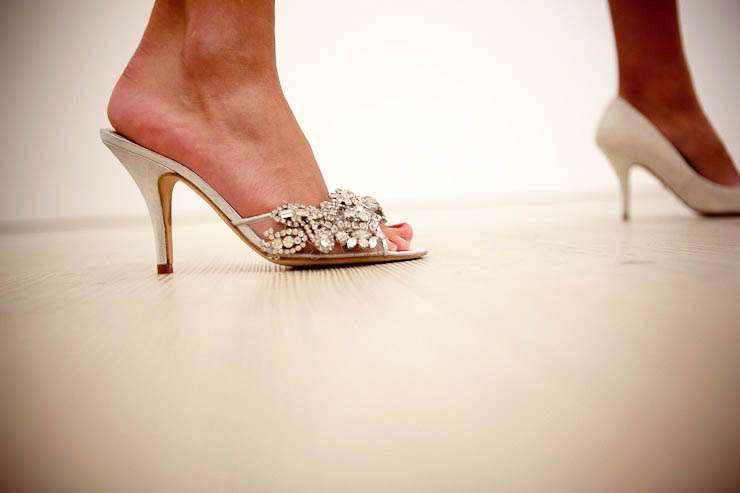 I was super excited to meet Freya after swooning over her gorgeous shoes for quite a while now. Freya was more than excited to show us some of her newest designs including a pair of shoes with genuine mother of pearl heels (!) from her brand new Mother of Pearl collection. She also was showing off a gorgeous new pair which were customised with authentic vintage gems by Magpie Vintage.  The estimated value of these shoes was £2000 but hey, a girl can dream right?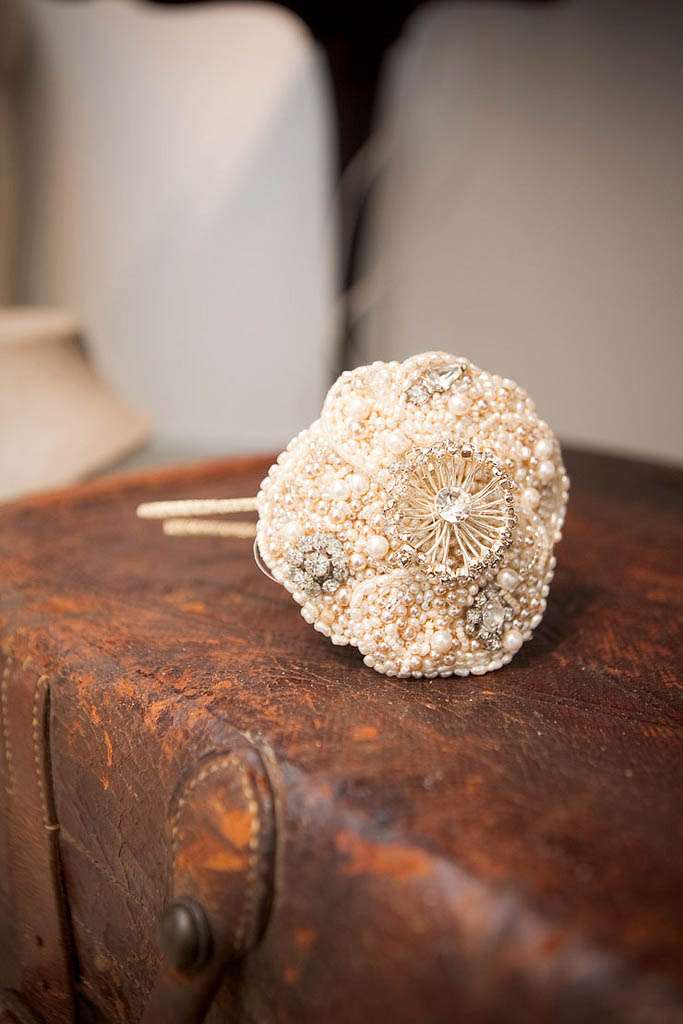 I've written about the gorgeous Magpie Vintage a number of times. I adore their designs and genuine love of all things vintage. Lisa & Tania were hilarious, darling and very excited to see us. It was nice to have a huge hug from Lisa "oh we're soooo pleased you came!" she said to us in fact. Lisa than proceeded to tell everyone that walked past the stall who I was "Hey, this is Kat from Rock n Roll Bride. Kat, tell them how much of a big deal you are!" If I ever need a PR I know who to call!
The pair showed us a plethora of vintage gorgeousness and as always I wanted to take it all home with me. I am crazy about their new Vintage Revival Collection in particular! (I wore one of the pieces at the Julia Boggio studio opening.)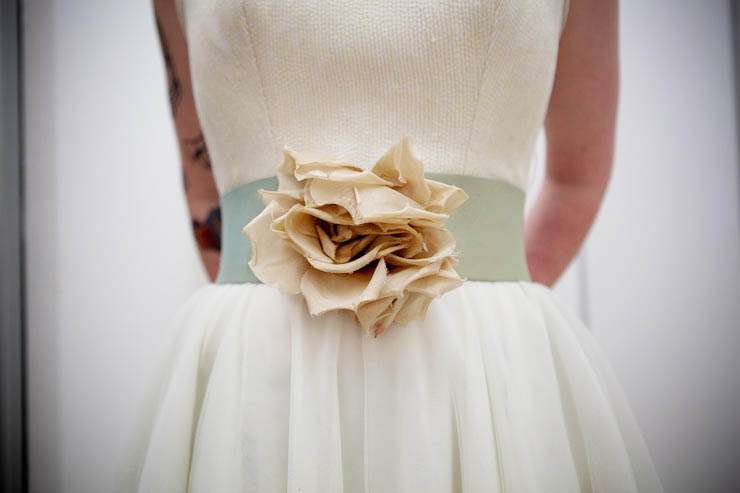 One of the highlights of the show for me was meeting one of my bridal idols Stephanie Allin. I fell in love with her gowns, and in particular the Bardot gown at The Designer Wedding show which I attended back in February. Stephanie was an utter joy to meet. Funny, enthusiastic and just genuinely lovely. When I told her of my love of the Bardot dress she insisted that I tried it on. She didn't have to ask me twice! This dress is utter tulle and embellished gorgeousness. I literally felt like a princess…and I want it. I would wear it to the shops if I could. I am looking forward to taking a trip to Stephanie's Westminster store in the very near future.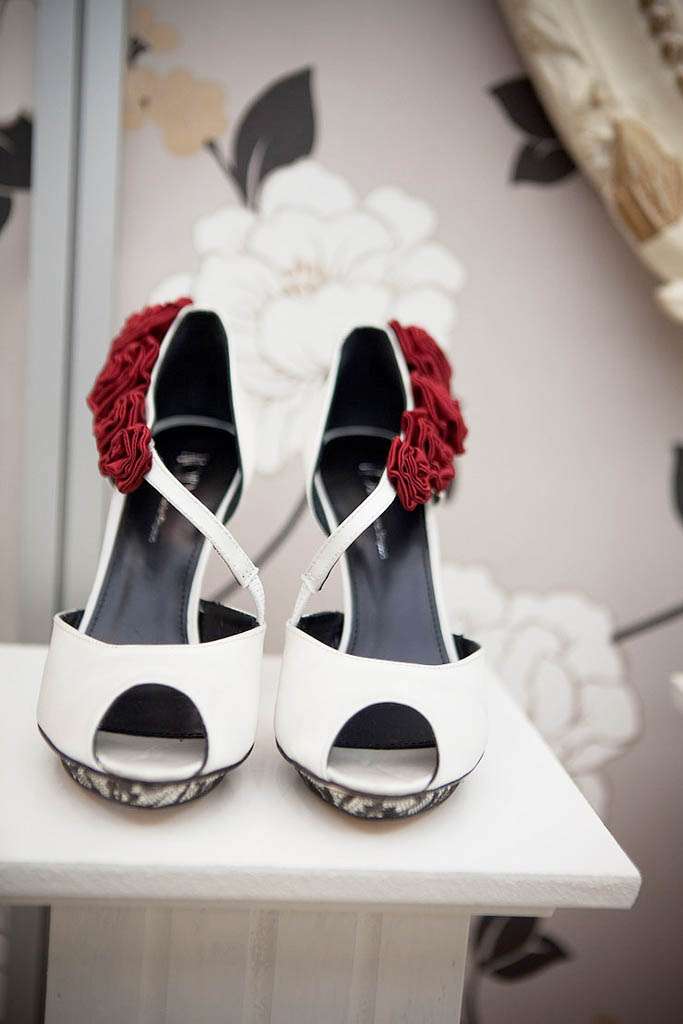 I was really excited to meet Rachel Simpson as she too is one of those designers that I really consider to be 'up there' with the bridal greats. However to my utter pleasure she was a delight – totally down to earth and really thrilled to meet us. She told us all about her new collection (I fell in love with the 'Marylin' and the 'Carmen' shoes – such vintage beauties!) She was also launching her limited edition range of shoes at the event – the gorgeous shoes with touches of black, white and red – some of them with beautiful red roses and others covered in gorgeous black lace.,,there was even a pair of bridal boots in the range. They certainly had a touch of Rock n Roll! Only 50 pairs have been made in each style so if you've fallen in love with one of them be sure to get in touch quick sharp! Rachel also offers beautiful shoe clips that can be attached to your own shoes for a completely unique and individual touch.
Edit: Thank you to Rachel for mentioning me in her blog this week! She also interviewed me and that will be posted on her blog in a few days – be sure to keep an eye out for it!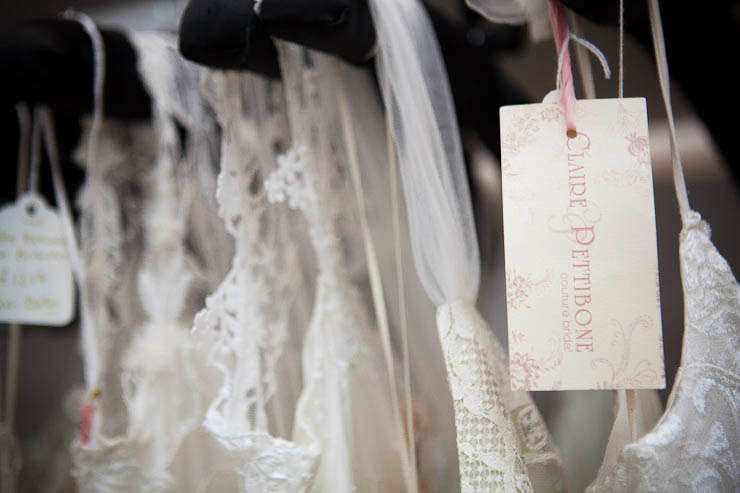 I've loved Claire Pettibone's dresses ever since I found out she had a range called 'Rock n Roll Bride'! Unfortunately the range is coming to the end of it's run (although many of the designs are still available in some stores) but they still has a number of the gowns on display. The vintage lace and amazing fabric really was to die for. The dresses literally looked and felt like genuine vintage. Russell Blackburn, the UK agent for Claire was such an awesome guy and he took the time to show us all the different ranges that Claire offers. I have to say, any bride who's after a bit of true vintage style – get your arse over to Claire Pettibone quick smart!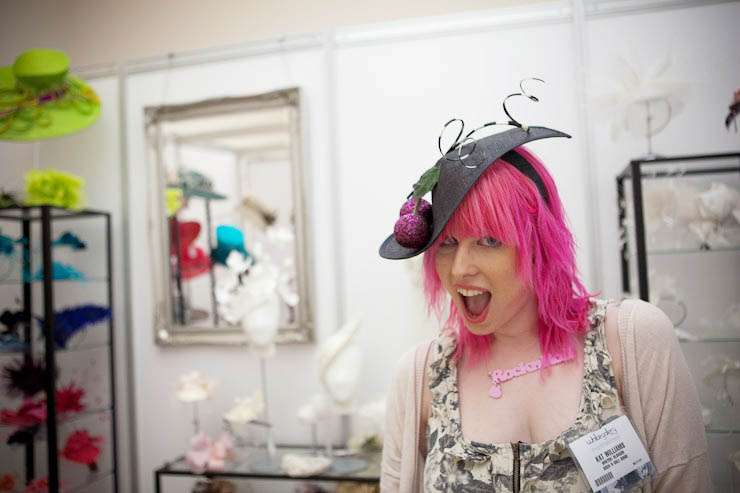 We had a lot of fun at this hat and headpiece stand! Vivien and her assistants let me try on practically every design going and I have to say I love love loved the cute 'Cherries' hat with actual crystal covered cherries on top! Her designs would be perfect for a Rock n Roll Bride or in fact a Rock n Roll Mother of the Bride! The only unfortunate thing about this was that I had to stand next to a very tall and very beautiful model who did a lot better at modelling the hats than I did. In fact I look like a short, dumpy freak next to her! You can see more of Vivien's bridal designs right here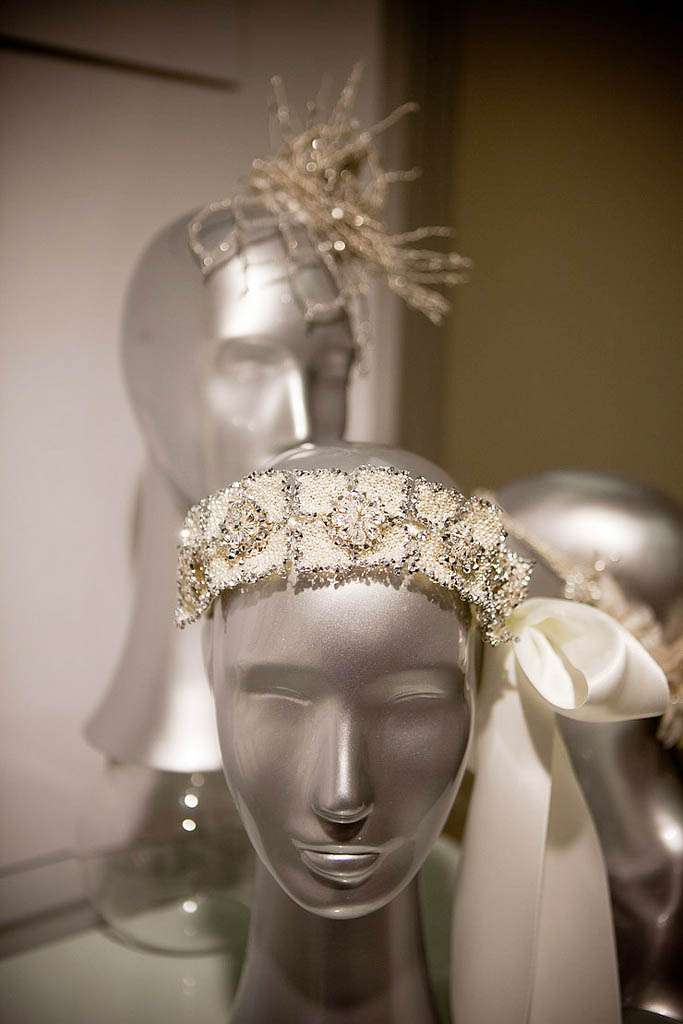 Polly said she was really looking forward to meeting us (I think Lisa had been pimping me out again) and we really enjoyed looking over all her gorgeous sparkly bits. Her tiaras and headdresses were utterly beautiful. It was obvious to me that Polly has a real passion for her pieces and every one was made with love and care…in fact when we asked her what her favourite piece was she had a bit of a tough time choosing!
Thanks to everyone at the event for taking the time to talk to use. We had a blast!
All photo credit to David McNeil  (except the two amazing shots that I took of him – ha!)