I really love featuring weddings that I feel like I was in anyway a little part of shaping. Not only did the bride Carolynne read Rock n Roll Bride throughout her planning (yey!) but she even won one of my contests for a cute Lissita Treasure Ring by TokyoMade which she gave to her Maid of Honour to wear on the day!
This fabulous diy wedding was held at Prairie Production in downtown Chicago. Carolynne looks fabulous in her $75 dress which she found on Ebay (wow!) and her Joan & David shoes. She teamed these with a hat/veil combo which she found by Cyndef Designs on Etsy and vintage gloves and jewellery. Her groom, Andy looked pretty damn dapper in his Michael Kors suit too!
"We wanted to have a chic, urban wedding that we would want to go to if we were the guests" the bride explained.  "Since I had only been to one other wedding in my life before this, I had little to go on, but as long as it had awesome music & food, and no boring speeches or dumb traditions (like throwing a garter) then really anything was possible!" The couple really wanted to have a mix of modern and vintage styling and found the minimal loft space of Prairie Production to be perfect for this. They were able to add classy touches with the simple flower designs and vintage touches with their outfits and that cool car!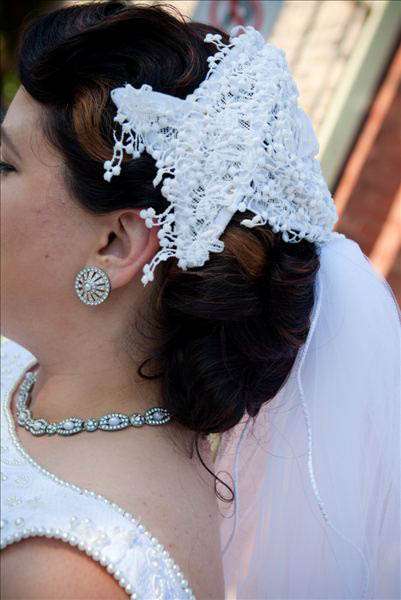 Thanks to Carolynne & Andy for sharing their cool day with us!
Credit: Orange2 Photography
Venue:  Prairie Production
Bride's Dress: Ebay
Bride's Shoes: Joan & David
Bride's Hat/Veil: Cyndef Designs on Etsy
Bride's Gloves: Vintage
Bride's Jewellery: Vintage
Groom's Suit: Michael Kors
Groom's Tie: The Tie Bar
Bridesmaid's Dresses: Marie Parie Boutique
Flowers: Westgate Flowers
Cake: Luscious Layers
Catering: Food For Thought
Favours: DIY
Hair & Make Up: Tigerlilie Salon