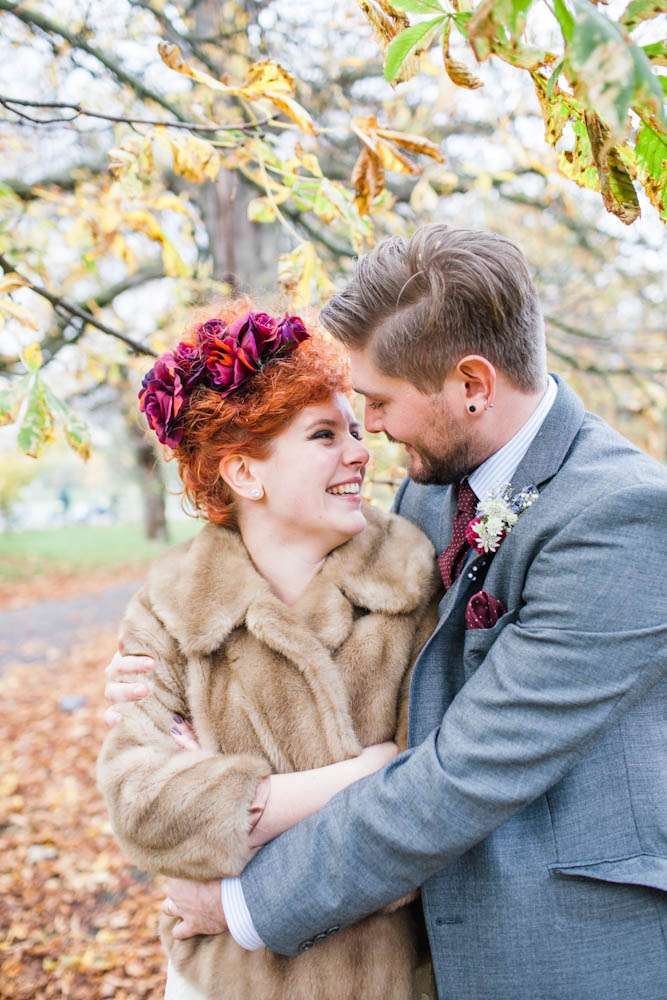 Red flowing locks, a faux fur coat, deep red flowers in her hair… as soon as I spied the beautiful Lauren on photographer Emma Case's blog I knew she was definitely a Rock n Roll bride. And then I saw the entire wedding and I literally couldn't wait to get it up on these pages – as soon as possible!
Lee & Lauren were married in November at Stoke Newington Town Hall. They has their reception at The Artisan of Clerkenwell, a pub/restaurant in North East London. They did things their own way. They picked a non-traditional venue, they homemade as much as possible and only invited people that they really wanted to be there. This wedding was every bit the modern fairytale.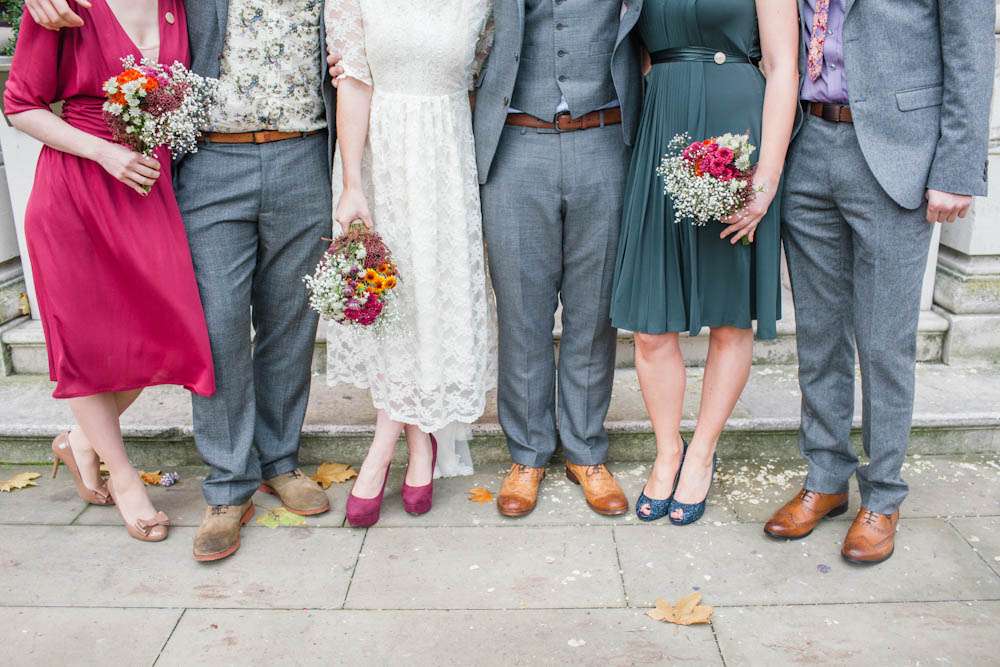 "Our inspiration just came naturally from the things we like; granny vintage, proper food, indie/rock n roll music, London, cameras, beer and above all a good ol' knees up with our friends and family", began the bride. "We didn't set out to do anything 'different' really, but by knowing ourselves and what we really like, we knew that we wouldn't shy away from things that might be considered a bit different either.  We just wanted to do things that we thought would make for a really good day for everyone. The atmosphere was the most important thing – we wanted people to drink lots, dance like mad and have a great time. We didn't invite children partly because of the venue, but mainly because we wanted everyone to let their hair down. This decision possibly caused a few ripples but we both believe it was the right one."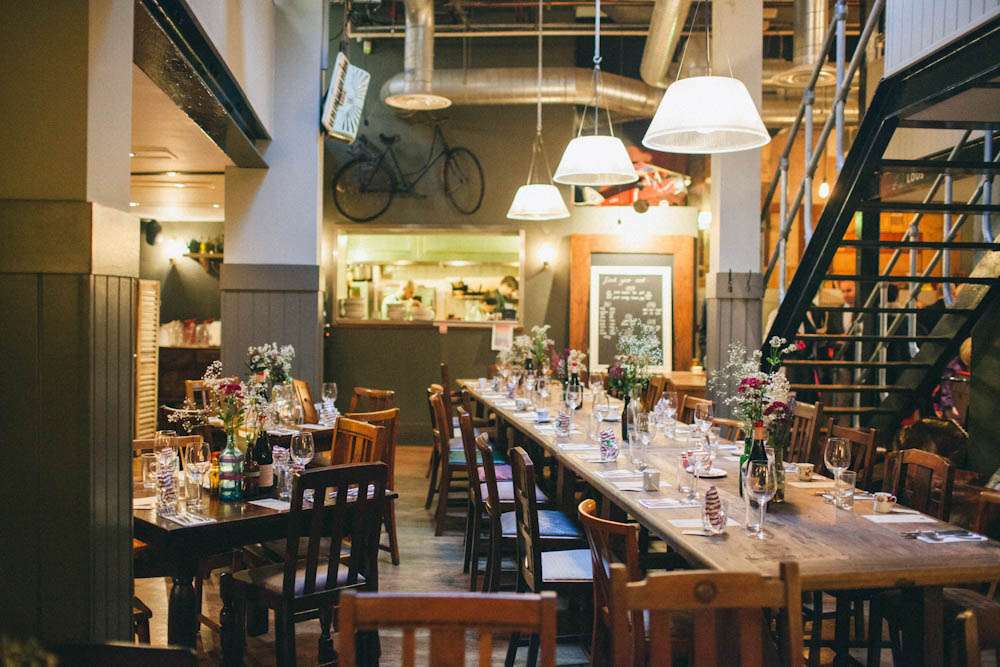 "We're not massively traditional, and our family were really supportive of our ideas, so we were way more free to make the decisions based on what we liked and what we thought would look good rather than what 'should' be done. Even though a few people told us that all the homemade bits would be too much work, we strongly felt they would add a really important personal touch. We are so glad we did as people kept commenting on the little details, and we also loved the flower arranging family get together day!"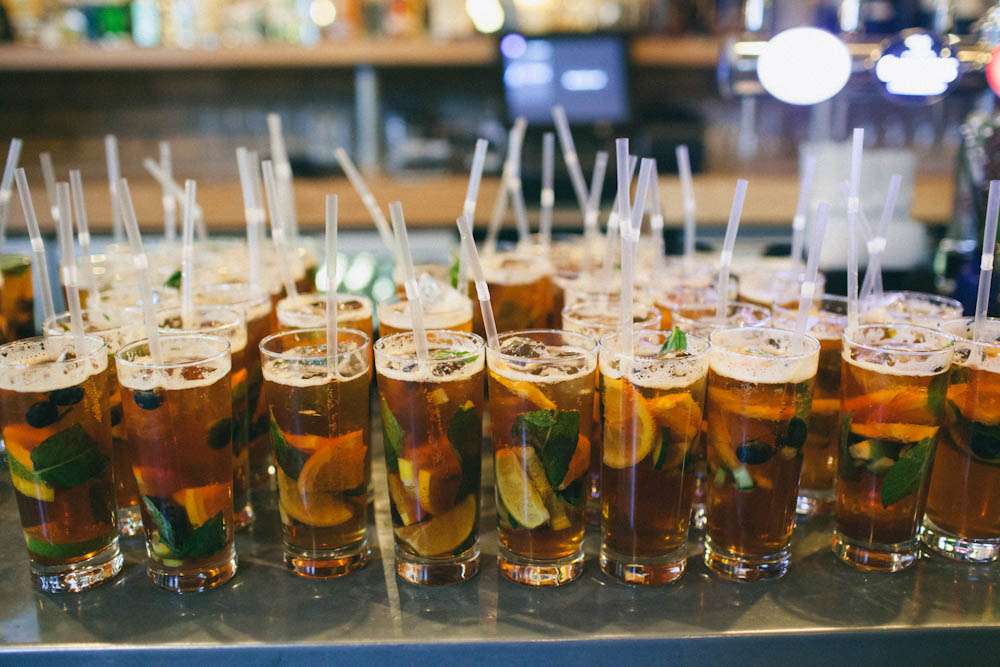 The flowers were bought from New Covent Garden Flower Market and were arranged by the couple and their families they day before the wedding. "The flowers were not something we were massively fussed about, and we certainly didn't want to spend hundreds of pounds on them, so we decided to do them ourselves", Lauren continued. "We had to be at the market for something like 4 am which was a bit of a pain though! We gathered some family to help the day before the wedding and we put together all the table arrangements in mismatched bottles we had collected (these had taken over our flat as we had been collecting them for a year!) My mum made the bouquets and button holes, which came out brilliantly for a novice!"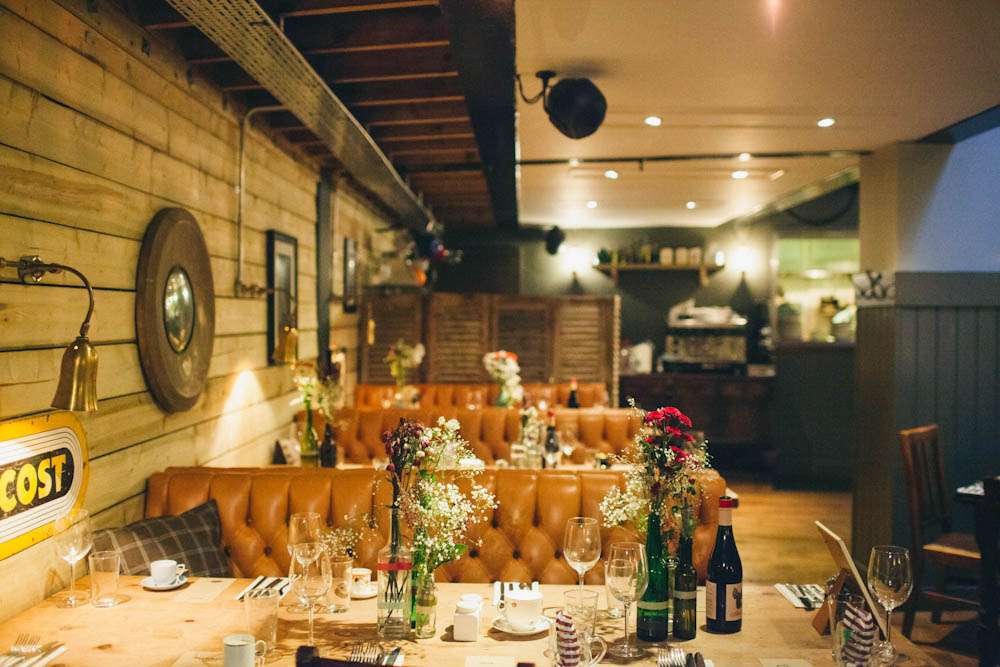 "The table numbers, menus and other signs were also designed and printed by us. We got slightly addicted to Pinterest (well Lee did!) and would always pin any things that we thought might provide inspiration. We then just played around on Photoshop until we found an idea that we liked and that would work with the venues and the colours of the wedding. We borrowed a badge maker from a friend of ours which went down a real treat, especially with my little cousin who took it upon herself to teach everyone how to use it! We had people awarding themselves badges for 'dodgiest dancer', 'worst drunk' and 'buffet monster' which all caused a bit of competition. We had our camera collection as table decorations, set alongside the flowers and table numbers which were all numerical facts about us (such as table 009 which was the number of countries we've visited together) which we put in old photo frames we'd found at car boot sales and charity shops."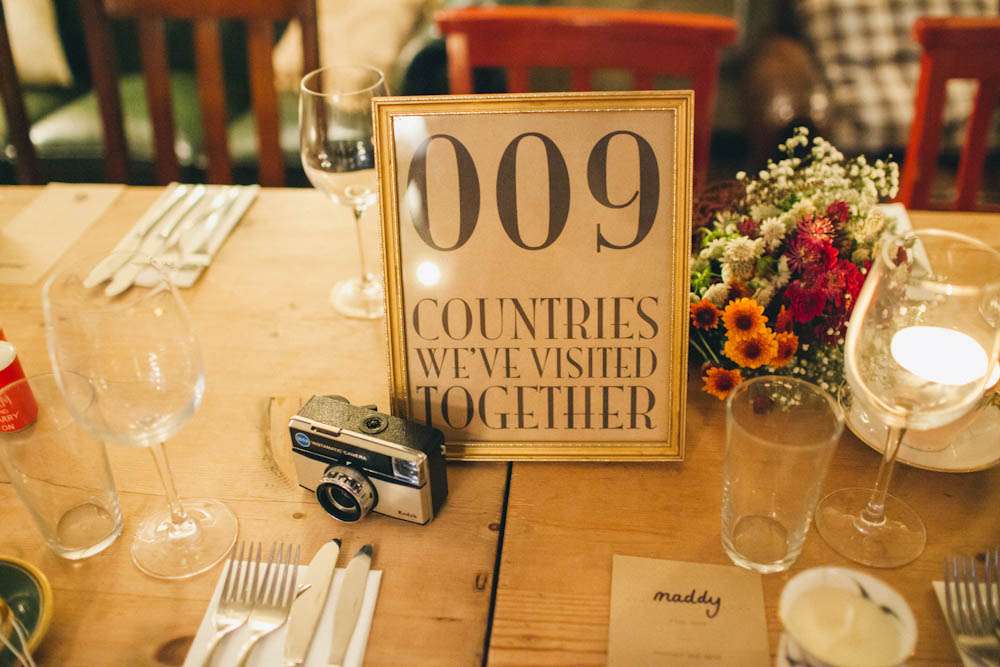 "There were so many amazing things about our wedding, but everything just flew passed!" Lauren concluded. "The ceremony is a blur, but just seeing Lee as I walked down the aisle was amazing – he looked gorgeous and full of emotion and I just couldn't wait to give him a big cuddle! One of the moments that sticks out was just as our actual first dance finished we had the DJ cut straight to 'Do You Love Me' by The Contours which was a cue for everyone (as instructed by my brother Mark) to jump straight onto the dance floor and start dancing like crazy. It was the moment that made us realise that all our favourite people were right there with us, and actually it was the moment that made me feel like I could relax and enjoy the party as all the planned elements were over. It was a proper party and the dance floor was buzzing all night, which is exactly what we had hoped for."
Utterly bloody stunning. Thank you to Lee & Lauren for sharing their gorgeous wedding with us and to the always wonderful Emma Case for sharing her photographs.