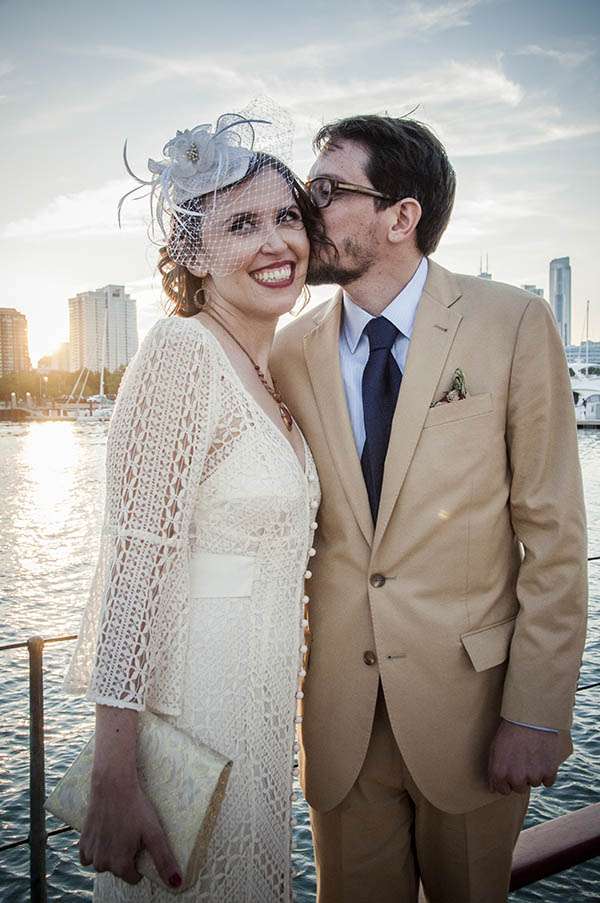 Sonia & Balthazar's wedding was anything but typical. This casual couple turned up late, got ready in minutes, sailed off on a boat for the ceremony and had a meal at a Russian restaurant for their reception.
"My husband and I are in love with the sea – the smell, the mystery and the expansiveness", began the bride. "We feel most comfortable near large bodies of water, so the idea of getting married on a boat seemed like the most appropriate. We had sailed on the Red Witch in 2009 with Balthazar's aunt and uncle in Port Washington during a tall ship festival. We overheard the Captain saying that they host parties and weddings and looked at each other simultaneously, with the same thought in mind: this is our vessel of love."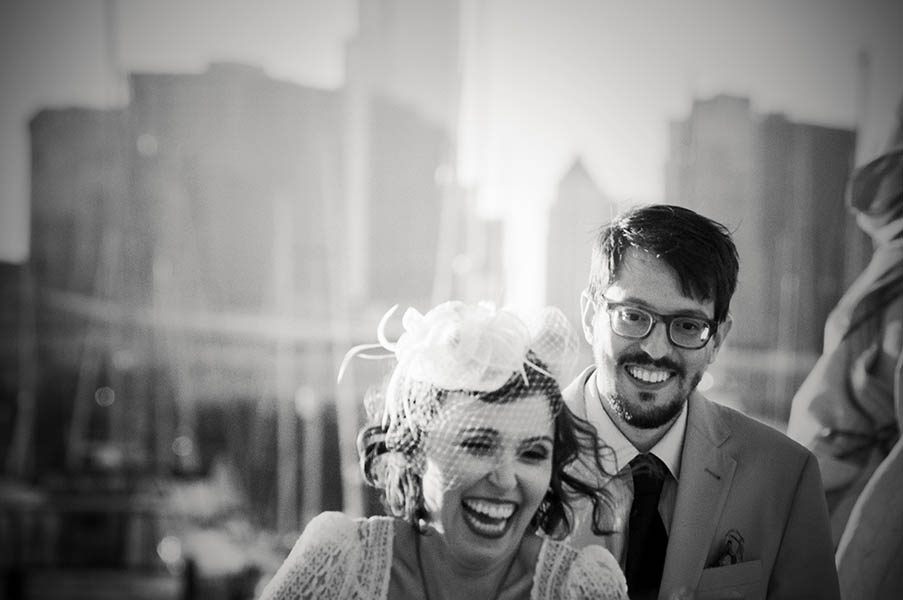 "Pretty much the last word you could use to describe me or my immediate family is  'traditional'", she continued. "My parents and I were all born with pretty stubborn independent and individualist streak, so getting married after a long and thoughtful courtship probably constitutes its own act of rebellion. That said, Balthazar and I weren't interested in most of the corporatist, patriarchal overtures of many modern weddings. Also, money was definitely an object, both in principle ($25,000 for an average wedding? WHAT!?) and in practice. We wanted an event that celebrated our love, had a meaningful spiritual component, honored our community of friendship and family, and gave everyone a memorable, joyful experience."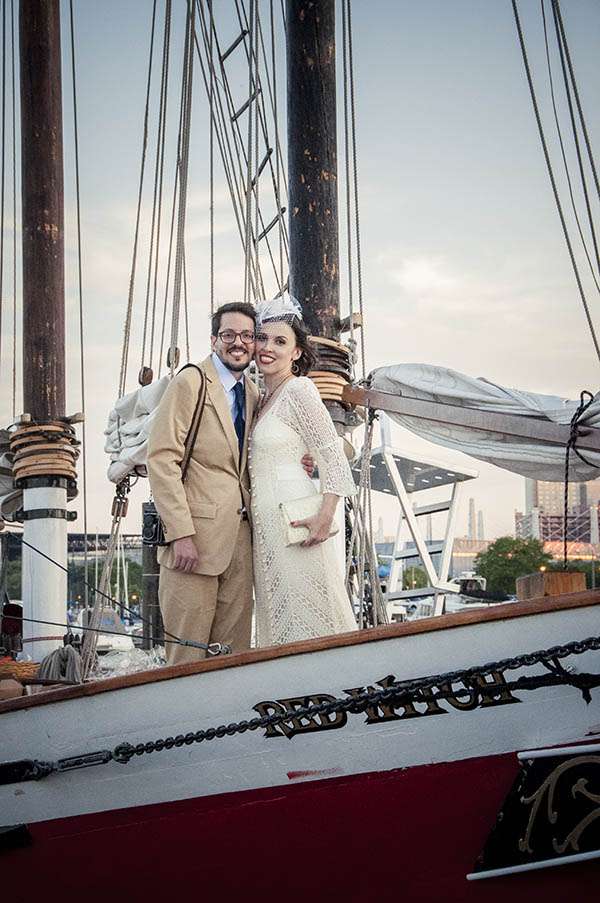 "As all the events took place in downtown Chicago, we figured our reception should focus on a delicious meal with great atmosphere, and left any entertainment to sort itself out. I called around to our fave restaurants to inquire on catering menus/prices and everything was either a lot or a little beyond our budget. A Yelp review tipped me off to Russian Tea Time. It was 2 blocks from the hotel where we and most of our family were staying and the price seemed about right. Mom and I tried it out for lunch one day and were sold. After all, who doesn't love a good Russian meal? After the bus returned us to the hotel, Mom grabbed the flowers and placecards and ran over to the restaurants to set up. It was just perfect. The wine and vodka flights flowed, a dizzying array of Russian delicacies were in constant rotation and all we heard was laughter, save for a 'God this is SO GOOD!' every couple minutes."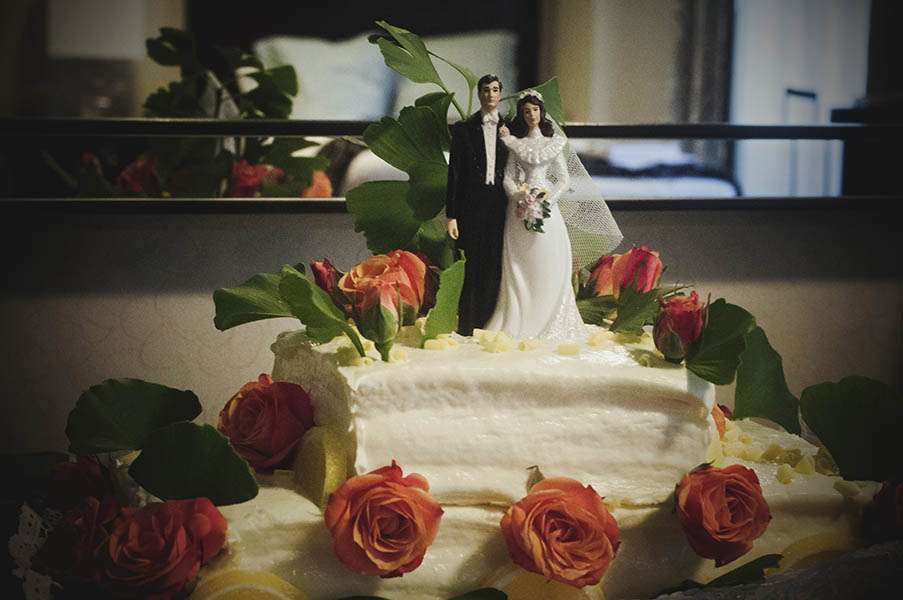 Sonia wore a vintage inspired dress from BHLDN. "I saw my wedding gown online early in 2011 and immediately thought it would be perfect. I'm a vintage devotee and if you had ever asked me if I'd buy a retail wedding dress, I'd have said 'no way!' but the design was so beautiful and the price of $600 couldn't be beaten (it's now on sale for $400!)"
"When Balthazar proposed in September, I was thrilled it was still available and immediately conjured up a 1920s meets 1970s boho look. My inspirations were 1973-74 Paris/london Biba-esque fashions and I combed the web for style ideas. Laura Helms' Sighs and Whispers blog was really helpful for inspiration. From December right up to June I pieced together the look. Vintage Art Nouveau or Art Deco jewelry was a must, and I found my necklace and earrings on eBay. I looked for 1970s vintage shoes nearly everyday before I found these cute gold numbers with a Deco-ish fan. From there, I went to etsy to get a gold clutch. I hadn't really thought about headwear until my friends, who are wedding photographers, blogged about Ruche's new bridal line. The headpieces were all adorable and totally affordable."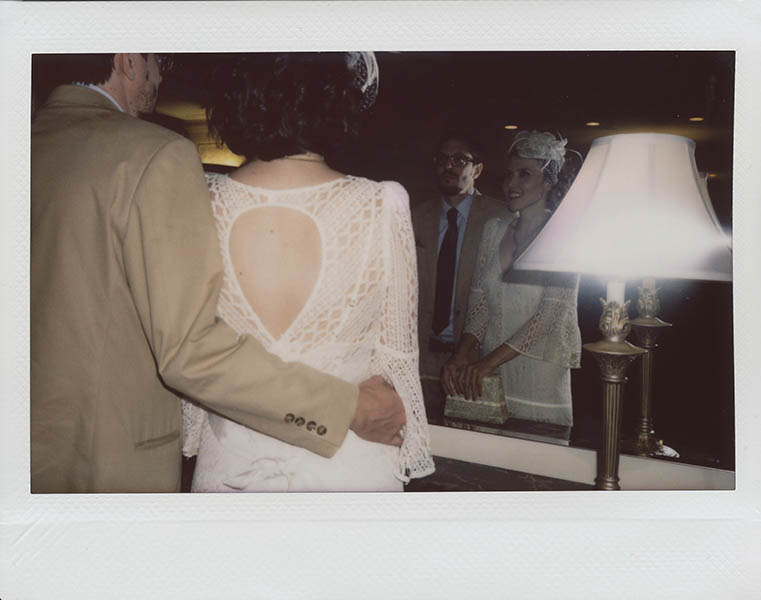 Beautiful – the bride and the wedding! Thank you so much to Sonia & Balthazar  and their photographer (and Blogcademy graduate!) Femke Leemans for sharing with us today.
Supporting Cast
Photography Credit: Femke Leemans Photography
Ceremony Venue: The Tall Ship Red Witch
Reception Venue: Russian Tea Time
Bride's Dress: BHLDN, 'Greenbow'
Bride's Shoes: vintage Hush Puppies
Bride's Headpiece: Ruche
Bride's Jewellery: Vintage
Groom's outfit: J. Crew
Cake: DIY
Flowers: Sendiks on Oakland in Milwaukee, WI
Hair & Make Up: Ashley Jensen at Red 7 Salon-Chicago