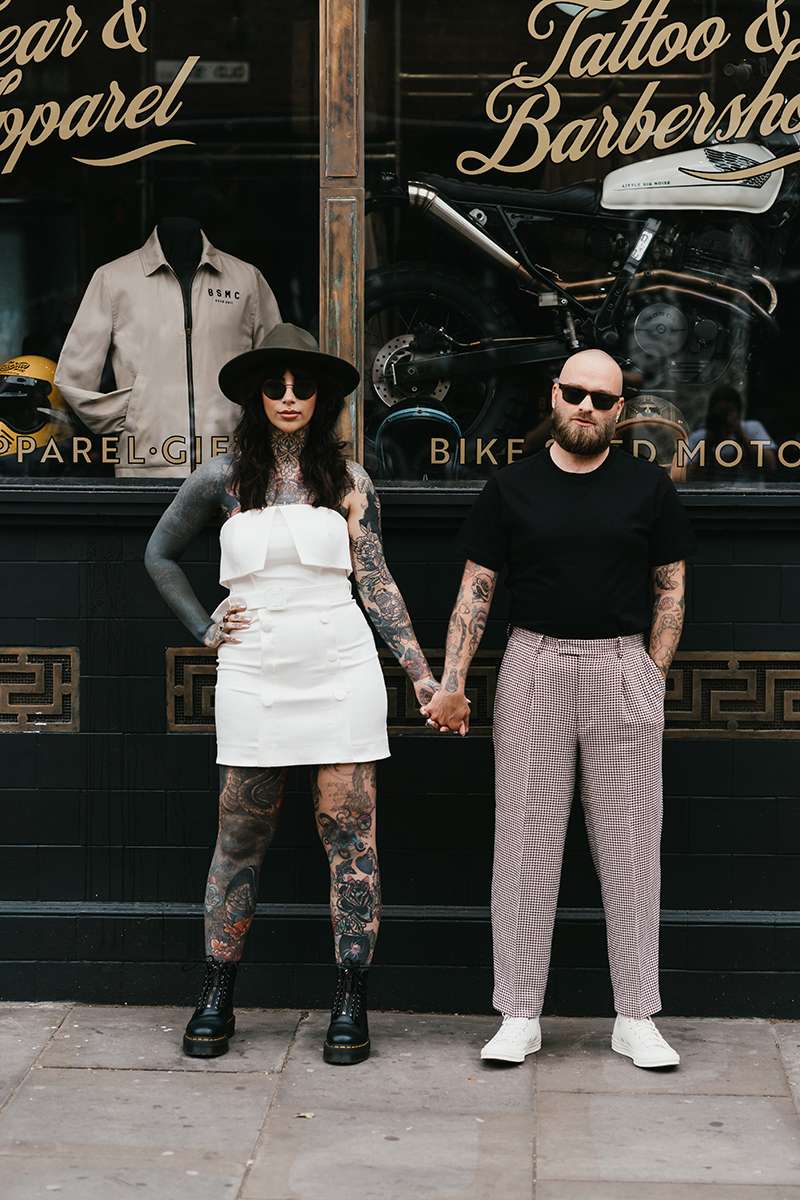 You'd have to be living under a rock to notice that the world is kinda on fire at the moment! The majority of folks acknowledge that climate change is happening now and that future predictions look, quite frankly, pretty terrifying. The good news is that taking action is the number one way to counter any anxiety or despair you might be feeling and there's heaps of ways to do this on your big day.
The wedding industry is not great for the environment. The book, The Green Bride Guide: How to Create an Earth-Friendly Wedding on Any Budget (published in 2008) states that in just one day the average wedding can produce the same amount of carbon as approximately five people produce in an entire YEAR.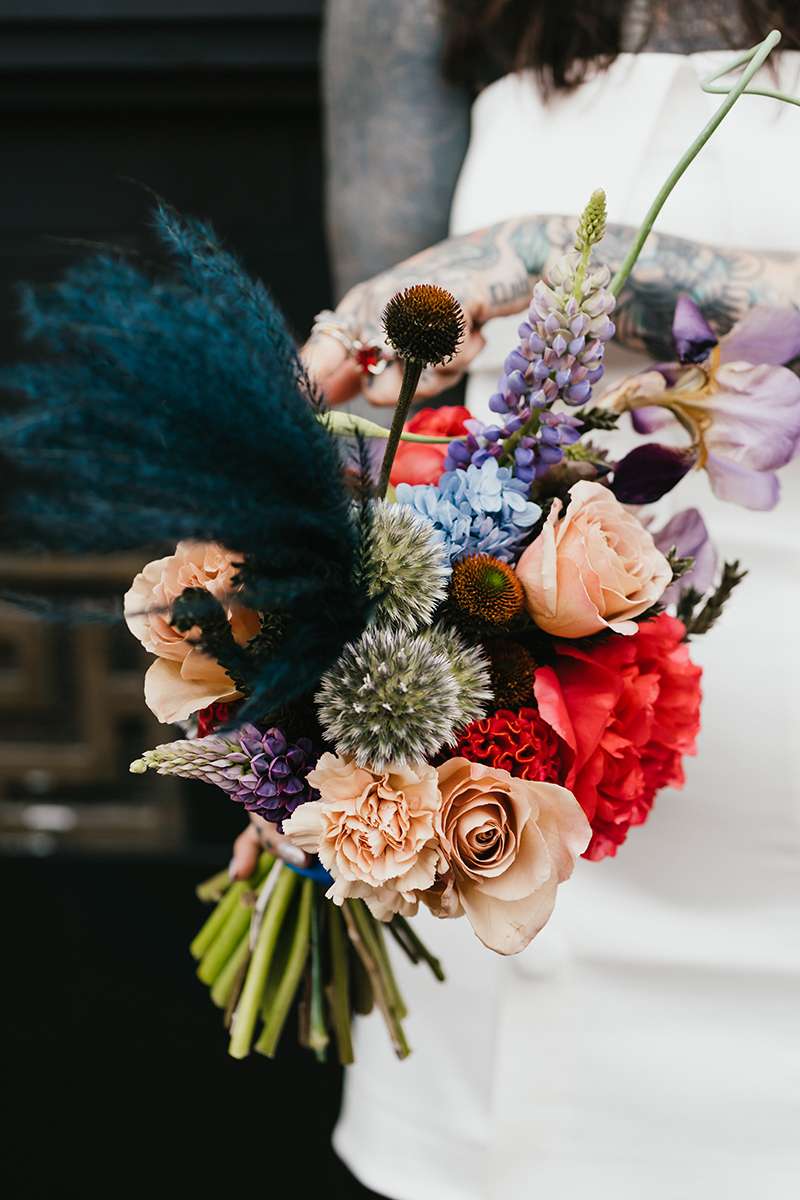 Happily, it's never been easier to be a change maker because there are now so many badass green alternatives out there. You really don't need to be planning a hippy boho wedding to be putting on a spectacularly sustainable do, and you never know, you might just inspire other couples to do the same! (As an additional added bonus, you might find that putting the planet first can actually SAVE you money, see our tips below).
Let's get one thing clear, we can't recycle our way out of the climate emergency. Reports from the IPCC (Intergovernmental Panel on Climate Change) emphasise that the real push for change this late in the game needs to come from governments and big industries, so join a local lobbying campaign and hassle your local leaders to take faster stronger action. However, consumer power is real. Use your voice by choosing wisely where to spend your hard-earned dosh.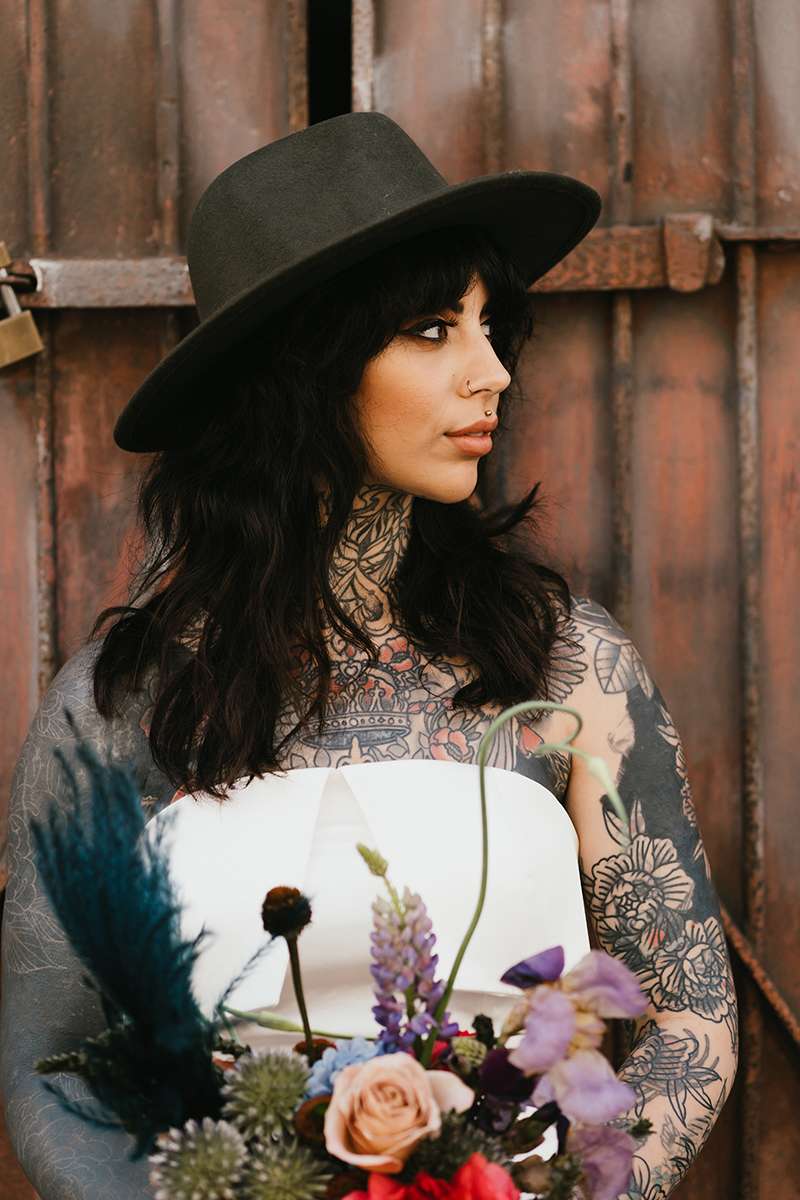 I spoke to Simone Mansell Broome, an expert in sustainable weddings. Her and her family run Welsh Green Weddings at the beautiful Ceridwen Centre, a 40-acre organic farm in the Teifi Valley in West Wales which puts sustainability at the heart of everything they do.
Harri: What's the most challenging thing about creating an eco-wedding?
Simone: The guests. We've often had couples who've been really committed to the idea of their own special day, and whose close friends and family are also on side, but then someone brings glitter or plastic confetti or extra flowers shipped from the other side of the world. They either don't understand or discount the couple's intentions.
Harri: What is the main piece of advice you'd offer a couple when trying to plan a more sustainable wedding?
Simone: You've got two interconnected themes going on here – sustainability in terms of pure carbon, using less, wasting less and then sustainability in a broader ethical sense – supporting good business practice, concern for people globally. This might be unpopular, but have a smaller wedding. We've had some wonderful, intimate celebrations over the years and especially since Covid. As a venue, you generally make less money with fewer people, but the benefits in terms of greenness (also reduced stress on all concerned!) are undeniable.
Harri: What questions should a couple ask a venue to test whether they're sustainable?
Simone: Ask about seasonality – take advice when choosing your menus. Ask about food miles. Ask about suppliers. Do they support local businesses and actively seek them out? Where do they buy their drinks from? Are they supporting and encouraging local brewers, etc. I'm not sure how much success a couple would have in changing the business practices of a venue which doesn't focus on sustainability, but maybe think of it as a co-operation, how can you both together make conscious, positive choices.
Here's a deeper dive into five important areas you'll want to put into your planning for an awesome, environmentally friendly and socially conscious wedding.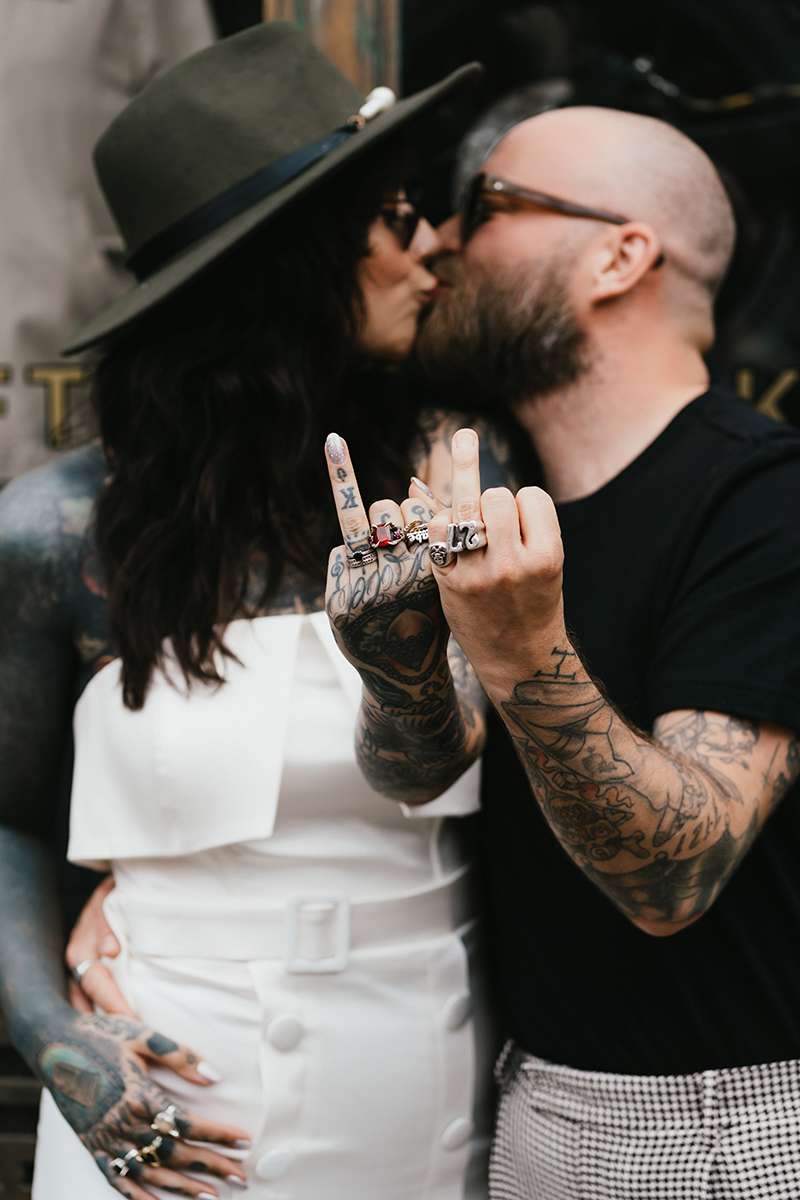 LOCATION AND TRANSPORT
Sure, a destination wedding might seem lovely but is there anywhere in your home country that might be just as nice? Transport is one of the biggest contributors to carbon emissions so look at your guest list and choose a venue that needs the least amount of car and plane journeys. "Encourage sharing of transport", Simone says. "Choose a venue not too far from 'home' especially if a significant proportion of the party live nearby. Choose a venue where you can have the ceremony and the reception in the same place. Even better, see if there's accommodation available too."
While we're at it, what about rethinking your honeymoon to somewhere closer to home too?
FLOWERS
You might think that flowers by their nature are environmentally friendly but sadly this isn't always the case. "Choose a florist local to the venue and make sure your florist is on the sustainability page – no oasis, no plastic-covered wire, seasonal flowers grown as locally as possible," says Simone
Did you know that one block of oasis (floral foam) contains the same amount of plastic as 10 plastic grocery bags? This breaks down into smaller microplastics that become toxic to animals and humans. Yikes! So, what can you ask your florist for your centerpieces or table arrangements instead? One alternative is to get a bouquet made from paper which is designed to last — just check that it's made from a sustainable source.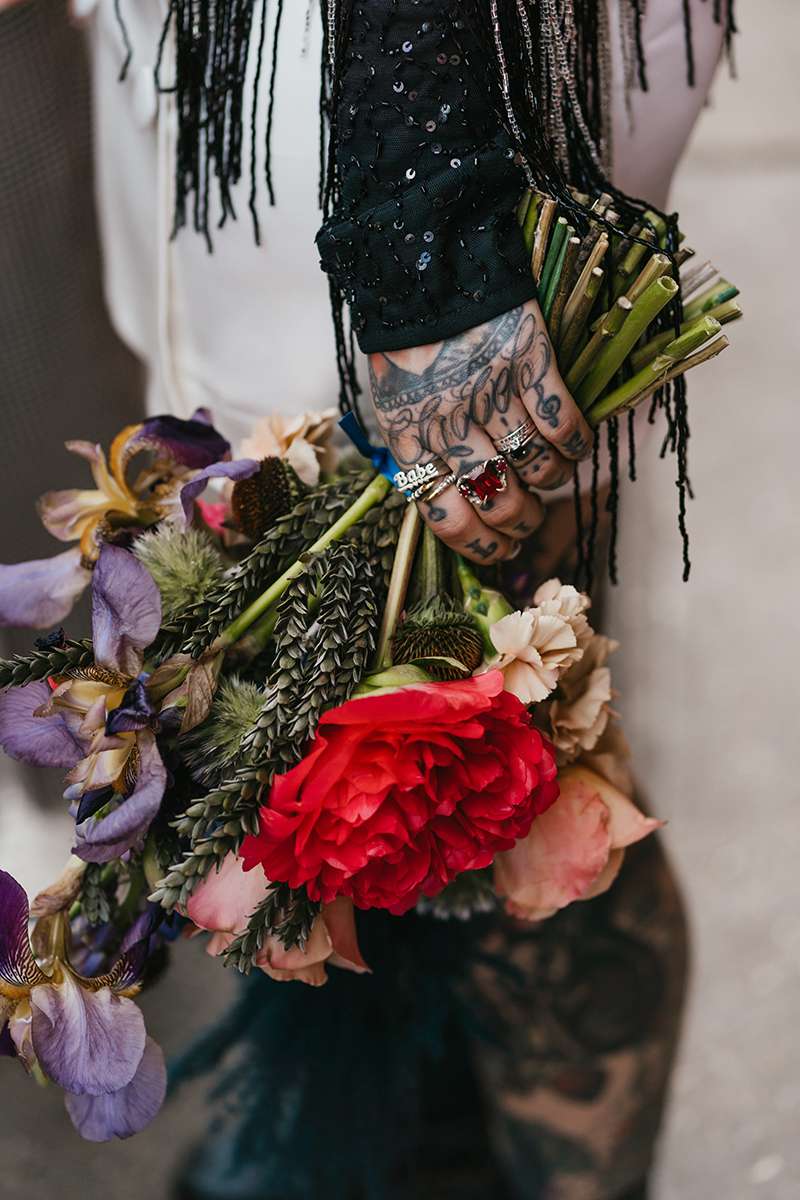 FOOD
The wedding banquet is undoubtedly one of the most fun things to plan when organising your big day. It's also here that you can make a big impact in terms of sustainability. Think seasonal, think local and where you can ask your venue about compositing.
Going plant based would be the best option for the planet and it may surprise you and your guests how tasty it can be! If meat is important to you, explore options that have the least impact. Reduce your "meat miles" by getting to know your local butcher. There's no need to eat New Zealand lamb if you live in Wales for example. Also, different meats present different carbon costs. If you live in the UK then you could swap out beef for wild venison. But do your research and make sure it's wild because intensively farmed venison could be worse!
Food waste is a travesty so here's Simone's advice, "Take your venue's advice about how much food to provide and at what intervals. They've done it before! A fantastic cheese tower of local cheeses looks fab but make sure it doesn't just get wasted. There's always too much. Make sure it's not left out overnight. Most cheese freezes really well."
OUTFITS
Sustainable wedding dresses (and suits) is a tricky subject. There's lots of things to consider such as what the garment is made of, how much the garment factory worker was paid to produce it and where it's going to end up after you're finished wearing it! The good news is that you can now find many ethical designers also thinking about these same things. The most important thing to do is to ask about how the item was made. If the shop or designer is a bit cagey, then it's likely they don't care about the ethics behind the outfit, so do you really want to support them?
Think also about up-cycling, shopping vintage, second hand or pre-loved (Bridal Reloved have a great range). Simone says she's had many beautiful brides rock their grandma's vintage wedding gown at the Ceridwen Centre. UK brides can also check out Brides Do Good, a social initiative based in London helping brides use their wedding day for positive social and environmental impact.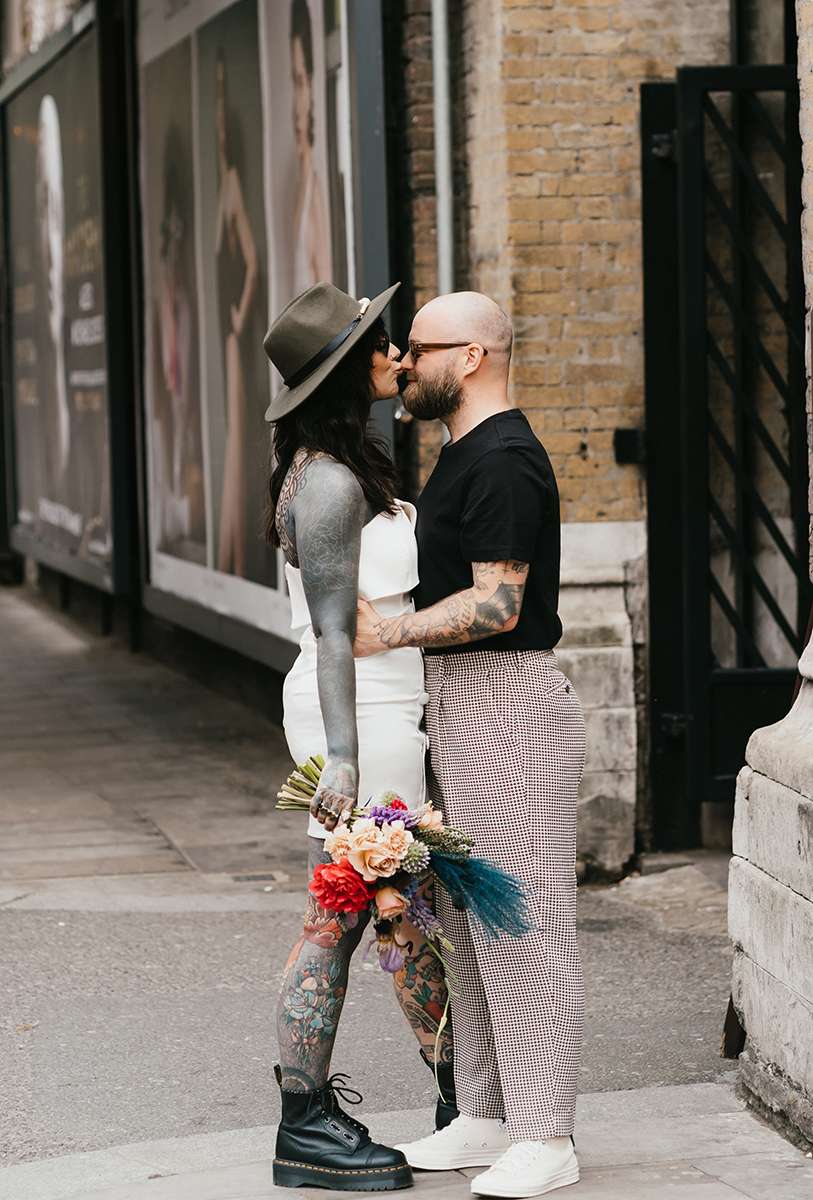 RINGS
If you want to be a cool, conscious couple don't forget to look at your rings. Mining for precious metals is not only bad for the environment (think deforestation, pollution of water sources and displacement of local communities) but also includes exploitative working conditions and unfair wages for miners. Make sure to seek out conflict free diamonds and find a jeweller using Fairtrade gold and silver. As with your outfit suppliers, a true ethical business will be happy to share their supply chains and ethics with you. Recycled precious metals and sustainably sourced gems are good choices as are natural materials such as wood.
The biggest news shaking up the engagement ring market is that diamonds no longer need to be mined at all! Lab grown synthetic diamonds have the same sparkle, clarity, and aesthetic of an earth mined diamond. They're also a fraction of the cost of traditionally minded diamonds. Cheers all round!
ABOUT HARRI ROSE
Harri Rose is a body acceptance coach, writer and Co-Director at Anti Diet Riot Club. Her first book 'You Are Enough' is out now (Octopus Publishing) She is currently studying a MA in Food Anthropology. Get your free introduction to her book at harrirose.com/signup or say hi on Instagram @harri_rose_