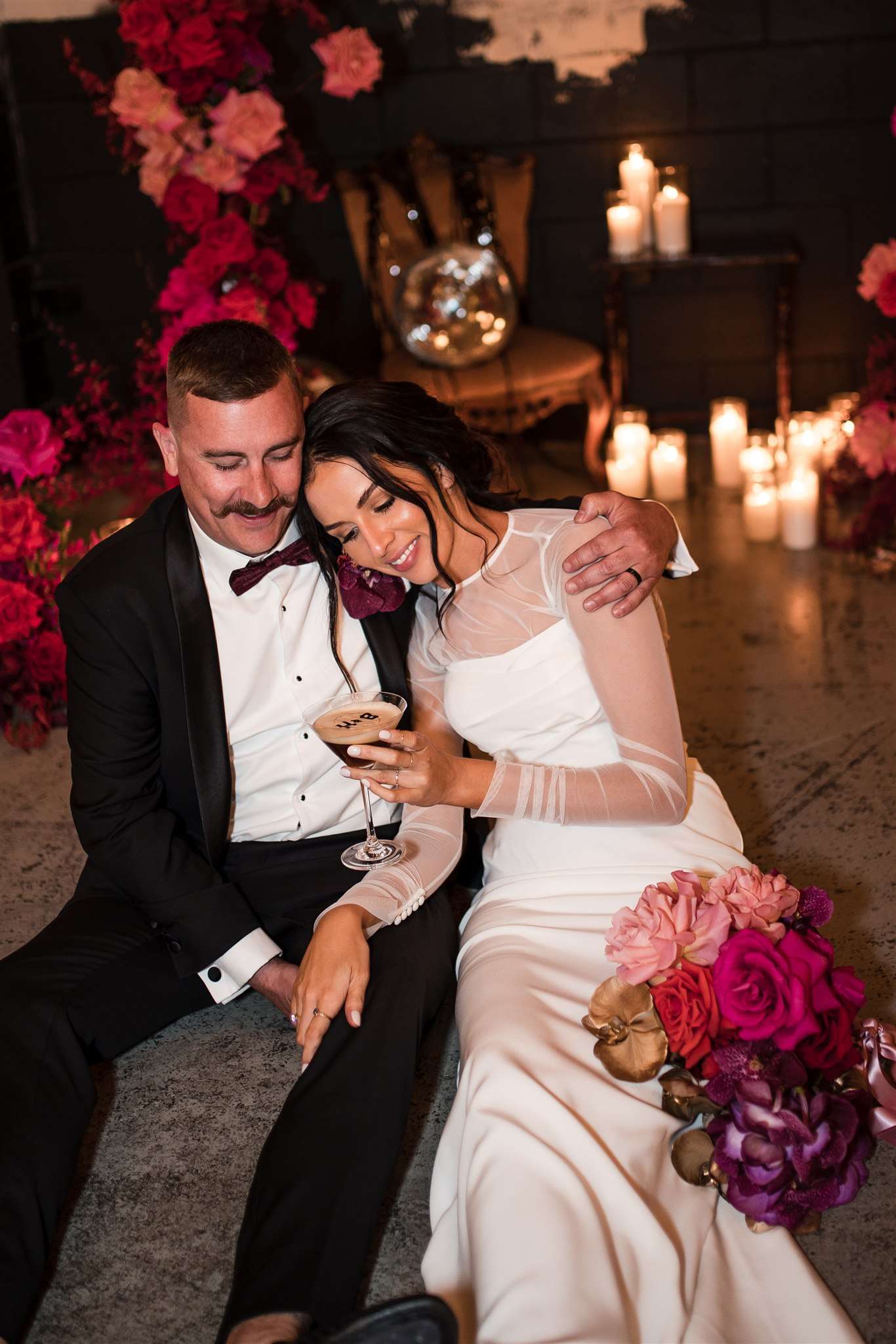 Get ready to step into the world of Hayley and Beau as they celebrated their love with a wedding that radiated bold colours and disco ball vibes! Their unique and creative day featured rich florals against muted natural tones, and a carefully curated journey for the couple and their guests. An intimate affair, they only had 20 guests which meant they could spend time with everyone and be really thoughtful with where they spent their money.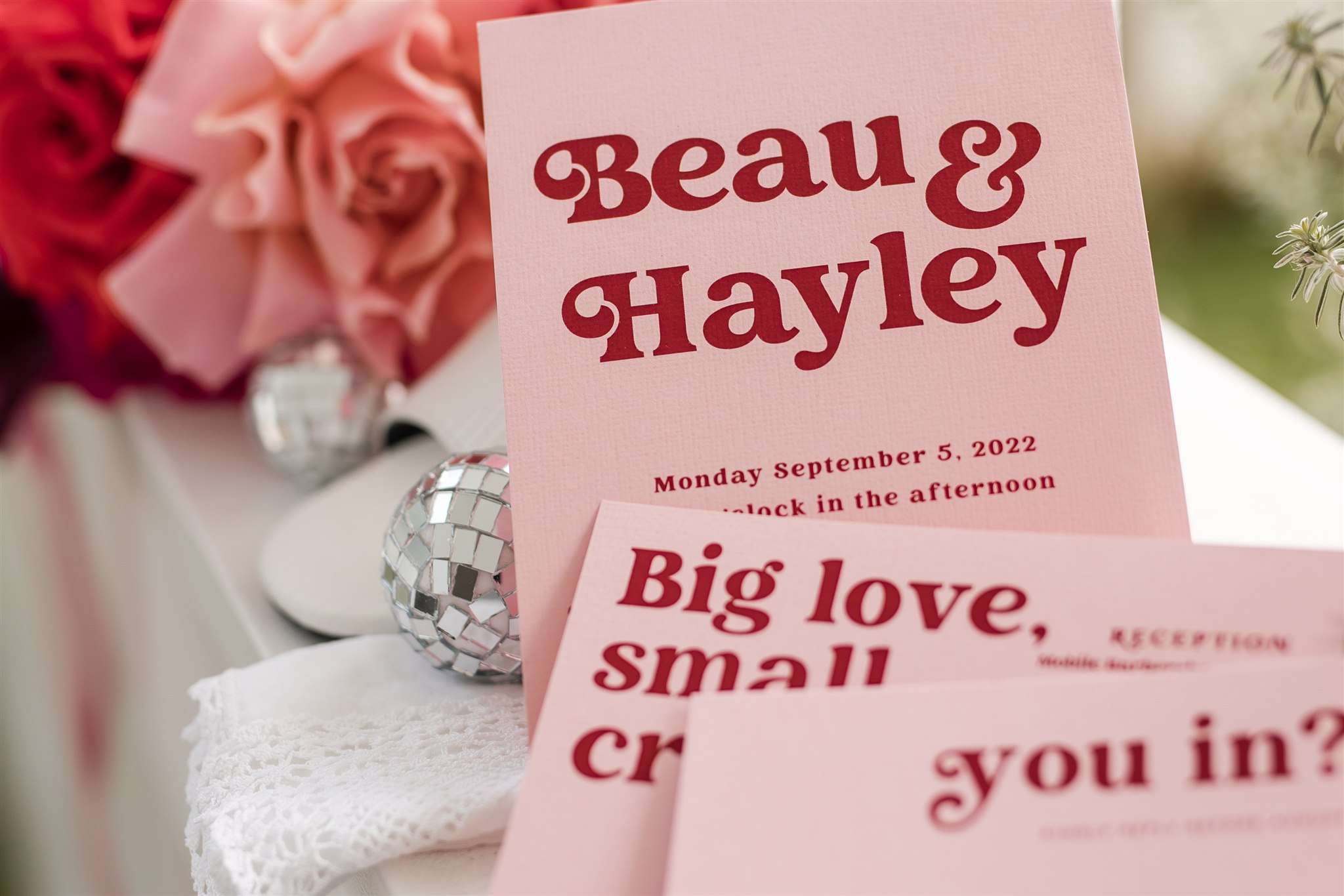 What truly set Hayley and Beau's wedding apart was the striking contrast between their ceremony and reception venues. Hayley explains, "We wanted to get married in nature but also have a unique and fun reception venue. Why not have both!? The entire day was an experience for us and our guests. The bridal suite getting ready AirBnB was very Hamptons style/ modern beach house, the ceremony was under a beautiful 150 year old tree with 60 acres of mountains all to ourselves, and the reception was at Mobile Barbershop Depot (hidden in an industrial area on the Gold Coast, next to a mechanic workshop). There was a 40 minute drive from the Gold Coast to the ceremony, and then another 40 min drive to the reception, so we organised a shuttle bus."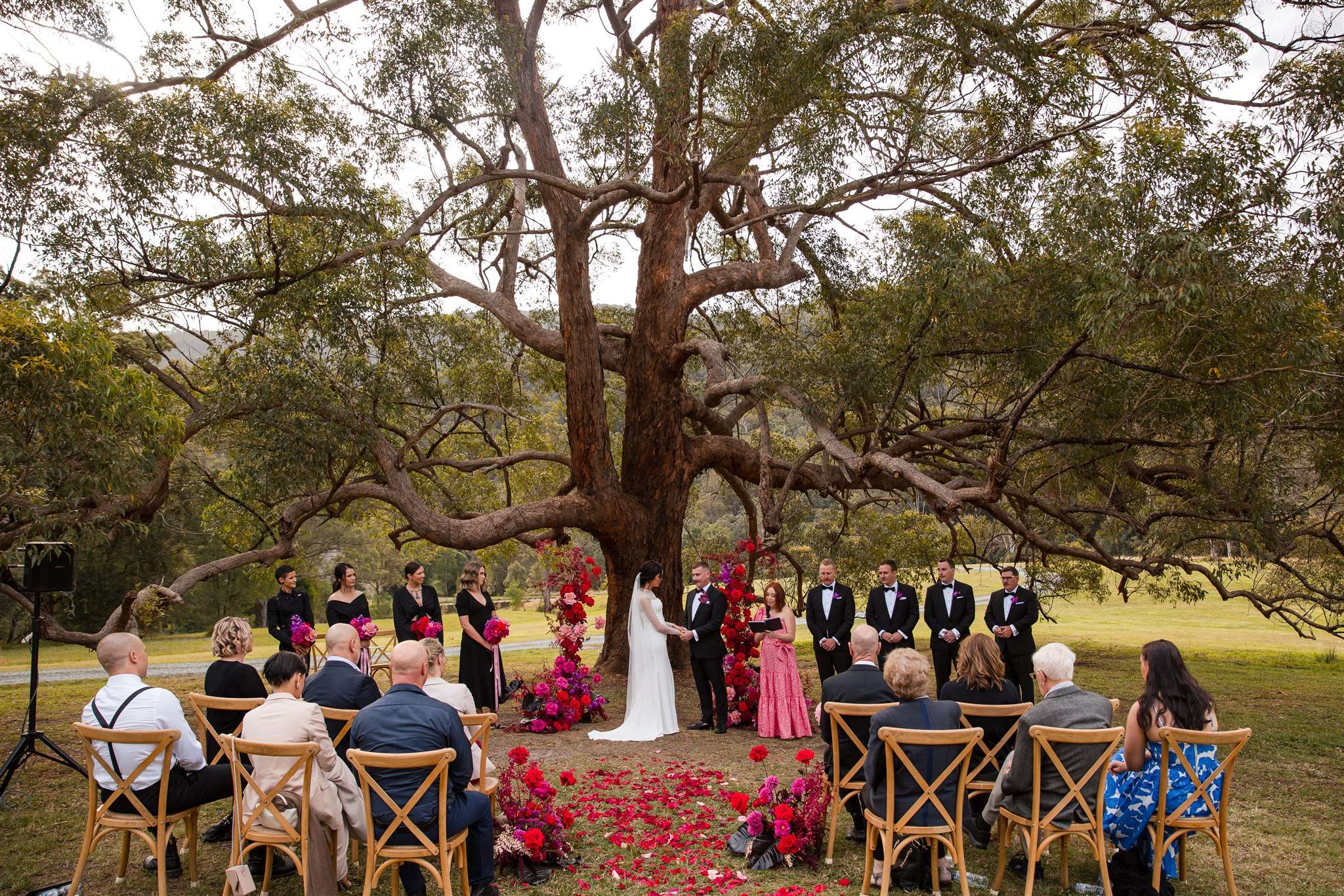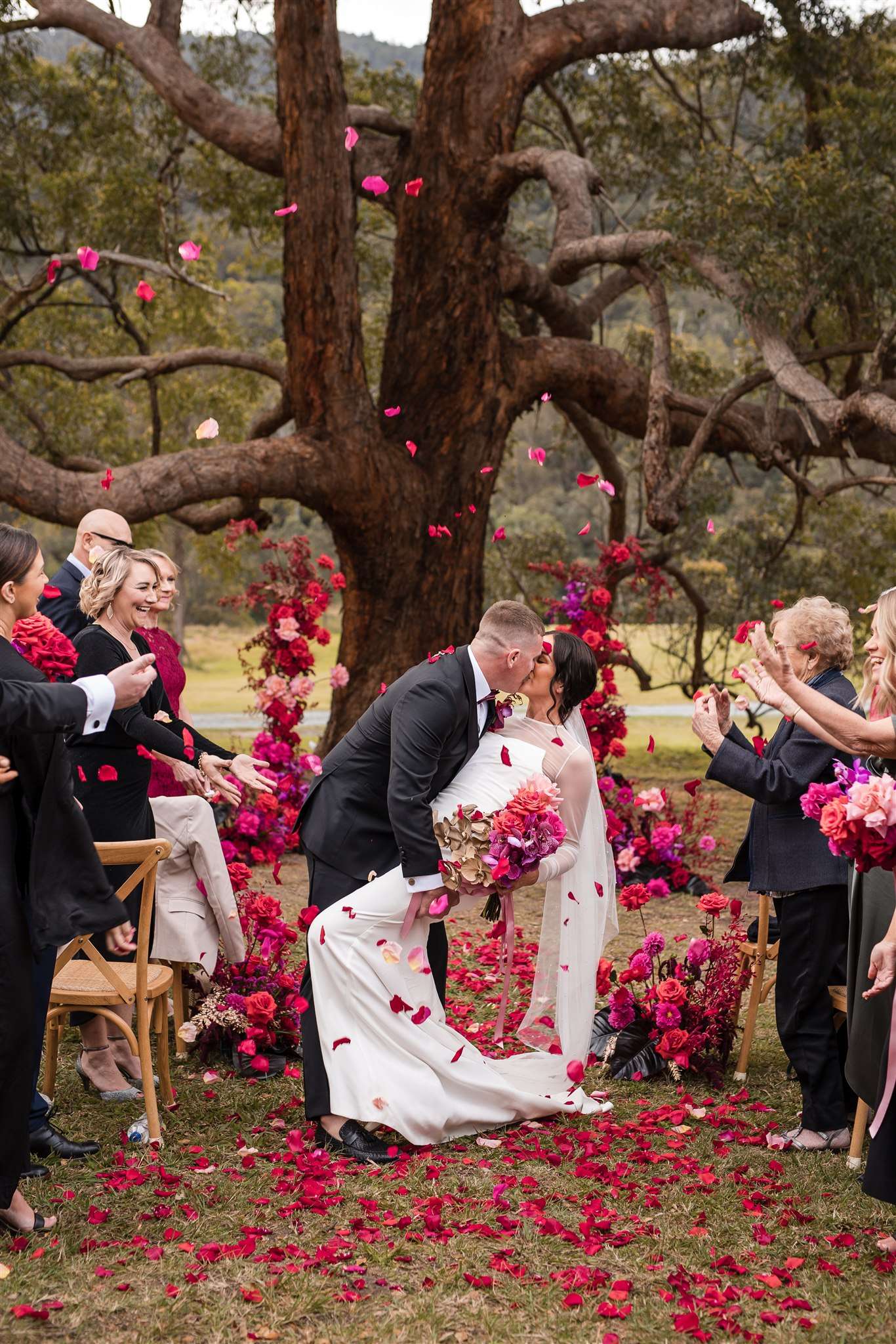 Adding a unique touch to the pre-ceremony festivities, Hayley and Beau's groomsmen enjoyed a one-of-a-kind experience at the Mobile Barber Shop Depot. A few barbers were hired to provide haircuts and cut-throat shaves while the groomsmen savored beers and played pool. To match Beau's style, all the groomsmen all got mustaches!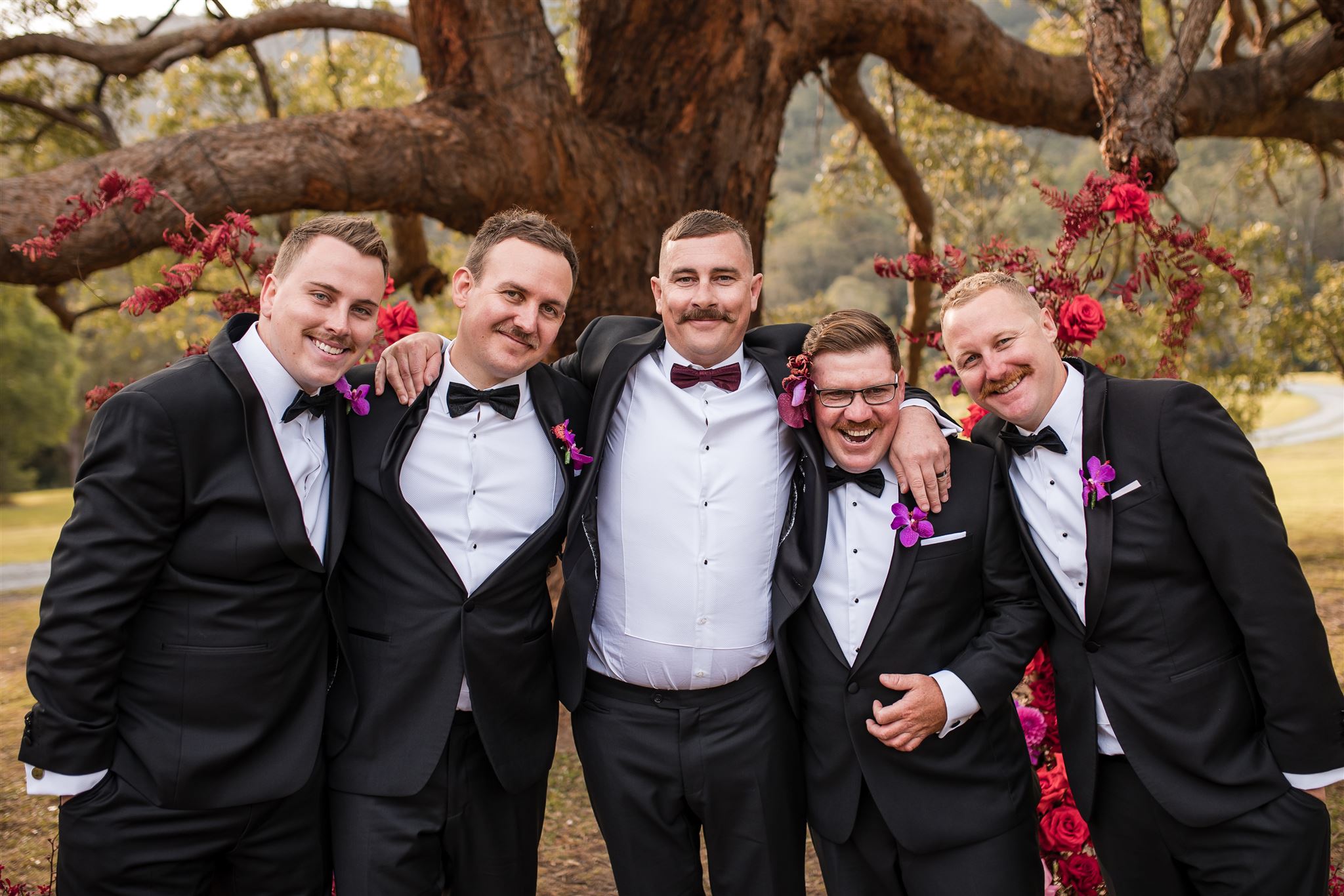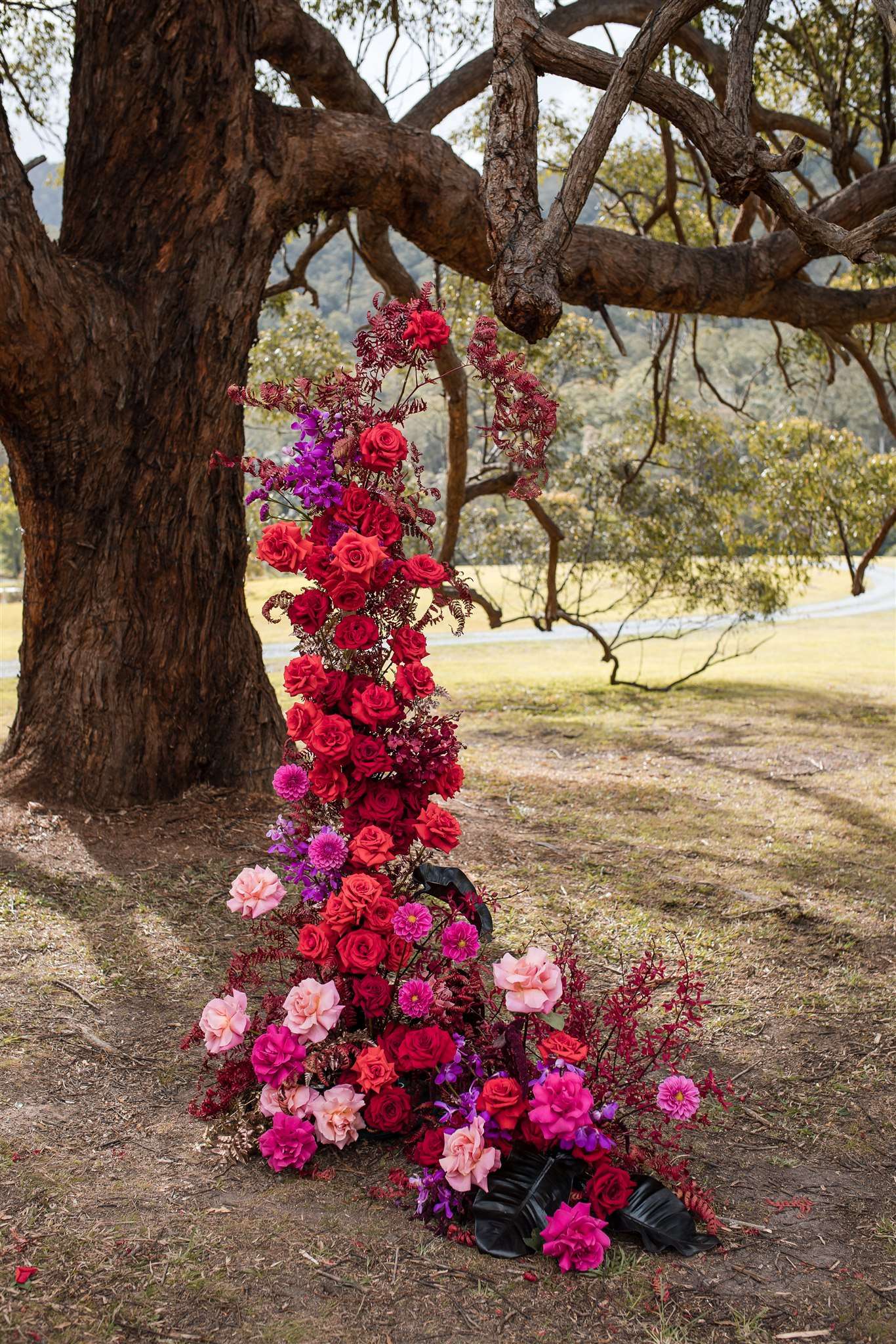 The couples' favourite part of the day was the limo ride from their ceremony to the reception. "The limo was purely so we could spend some time alone, without actually cutting into the timeline", Hayley explained. "We had champagne, talked about our day we hadn't seen each other in 24 hours!) and got to have that 'OMG I can't believe we're married!' moment. I now tell everyone to schedule sometime alone time for you and your partner!"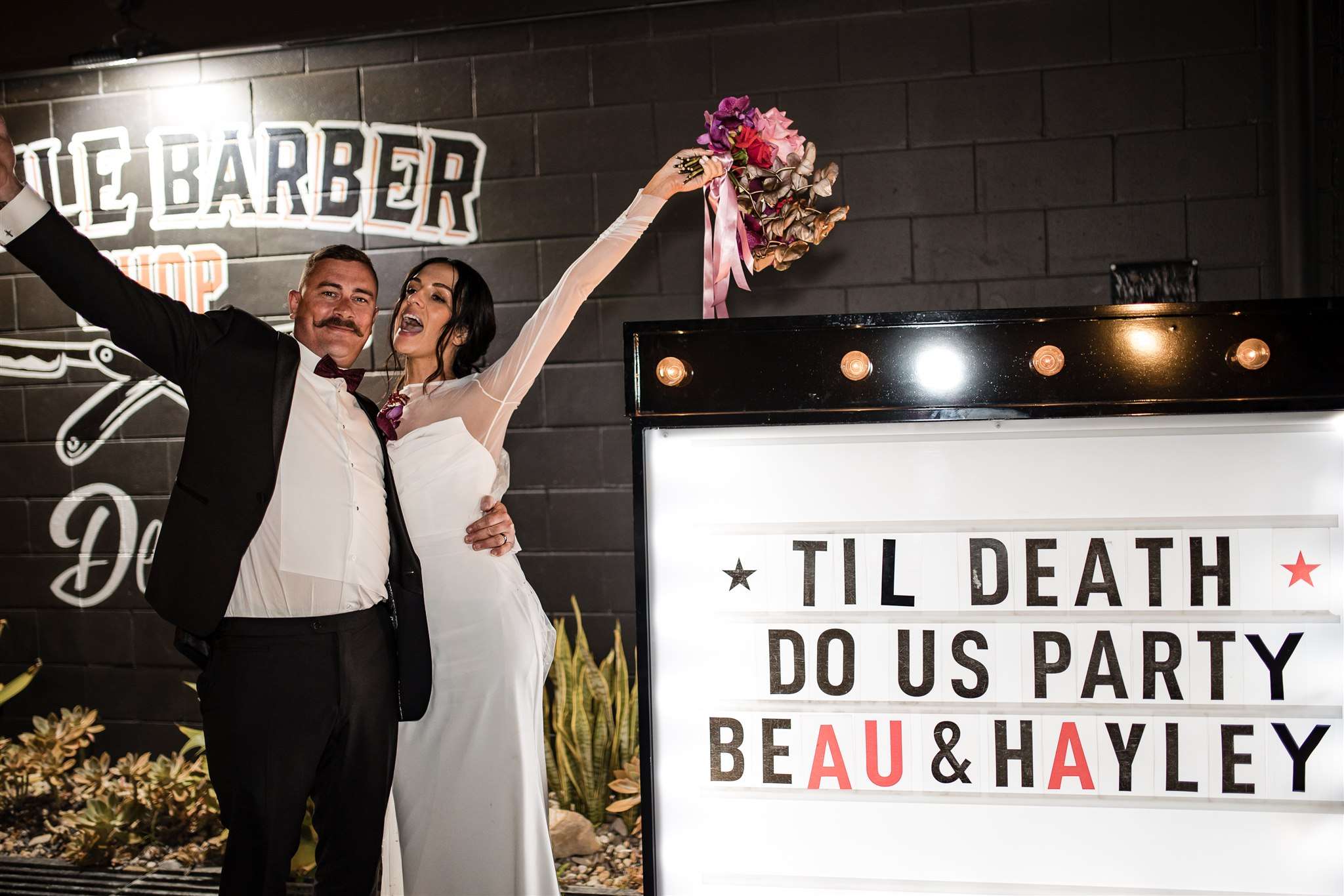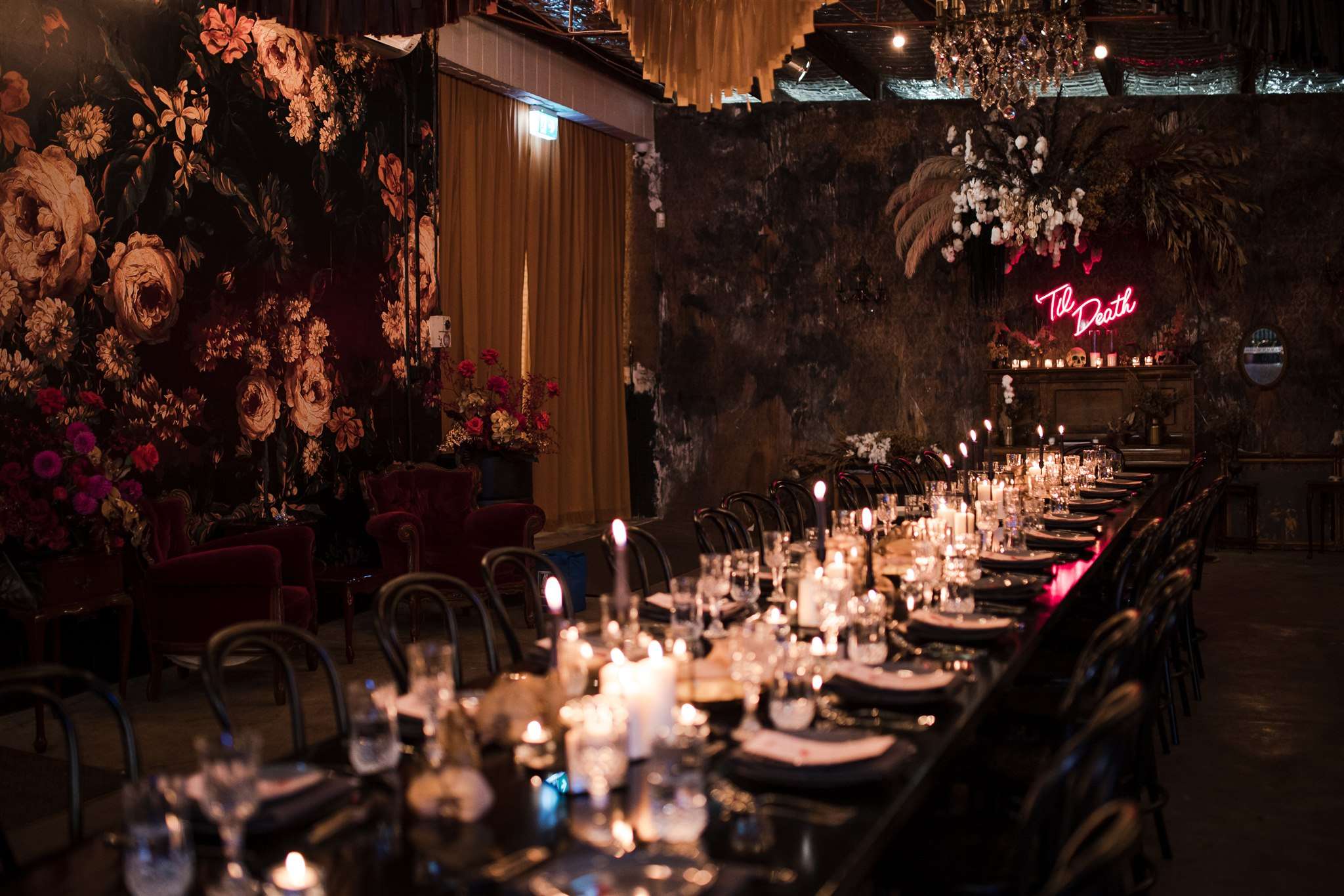 At their reception, they'd laid out a real feast for all the senses. Highlights included the luxurious spread of food and a show-stopping cheese wheel cake, they also served they favourite cocktail – espresso martinis. Hayley designed all the stationery and purchased everything for the dinner tables (which she sold on afterwards) but they hired some fantastic suppliers to bring the rest of their decor dreams to life.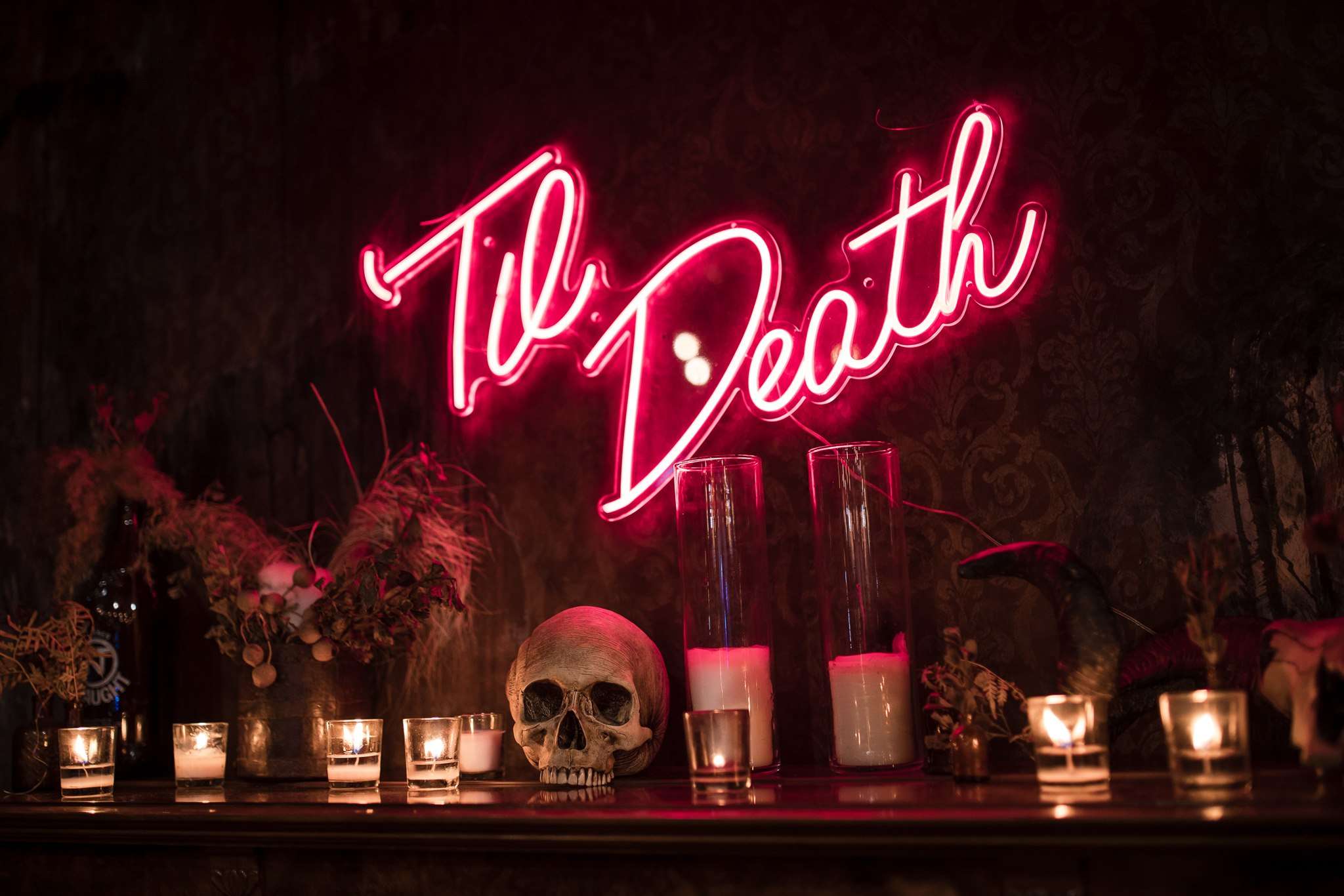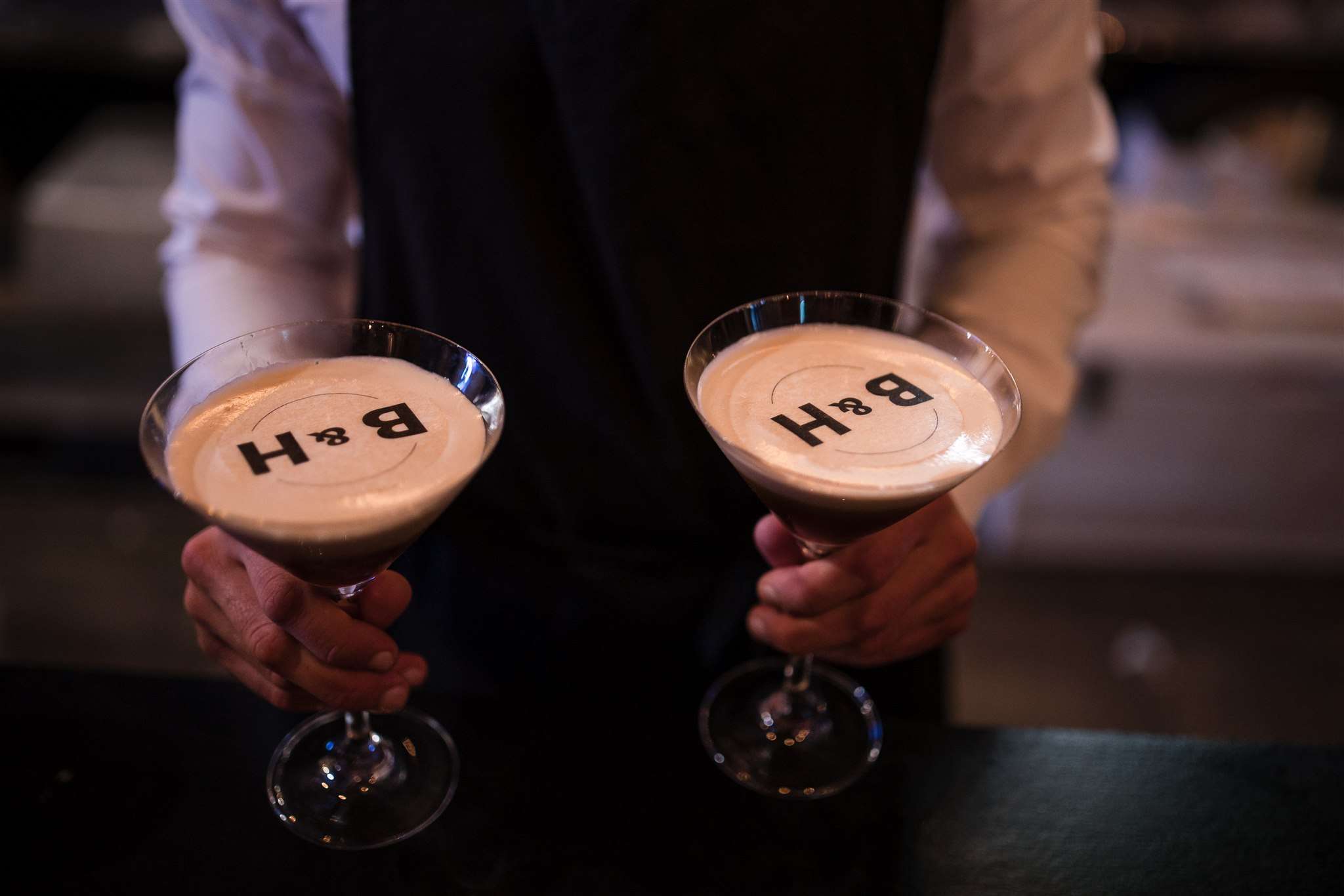 "The reception venue was a DIY venue, which was great as it meant we could pick and choose vendors like caterers, florist and furniture hire", she explained. "Every vendor we had was amazing. Wedding vendors work so hard to make your day special, I dislike when I hear people grumble about the 'Wedding Tax'. Wedding vendors go above and beyond to make your day beautiful, they will customise a service specifically to your needs and putting in a lot of hours."
"The stakes are a lot higher than standard events, with a certain expectation to preform for the couple's 'perfect day'. Quality work takes time and time costs money. Always stay within your budget parameters, but when it comes to wedding vendors, generally the higher the price the more you can expect from a service."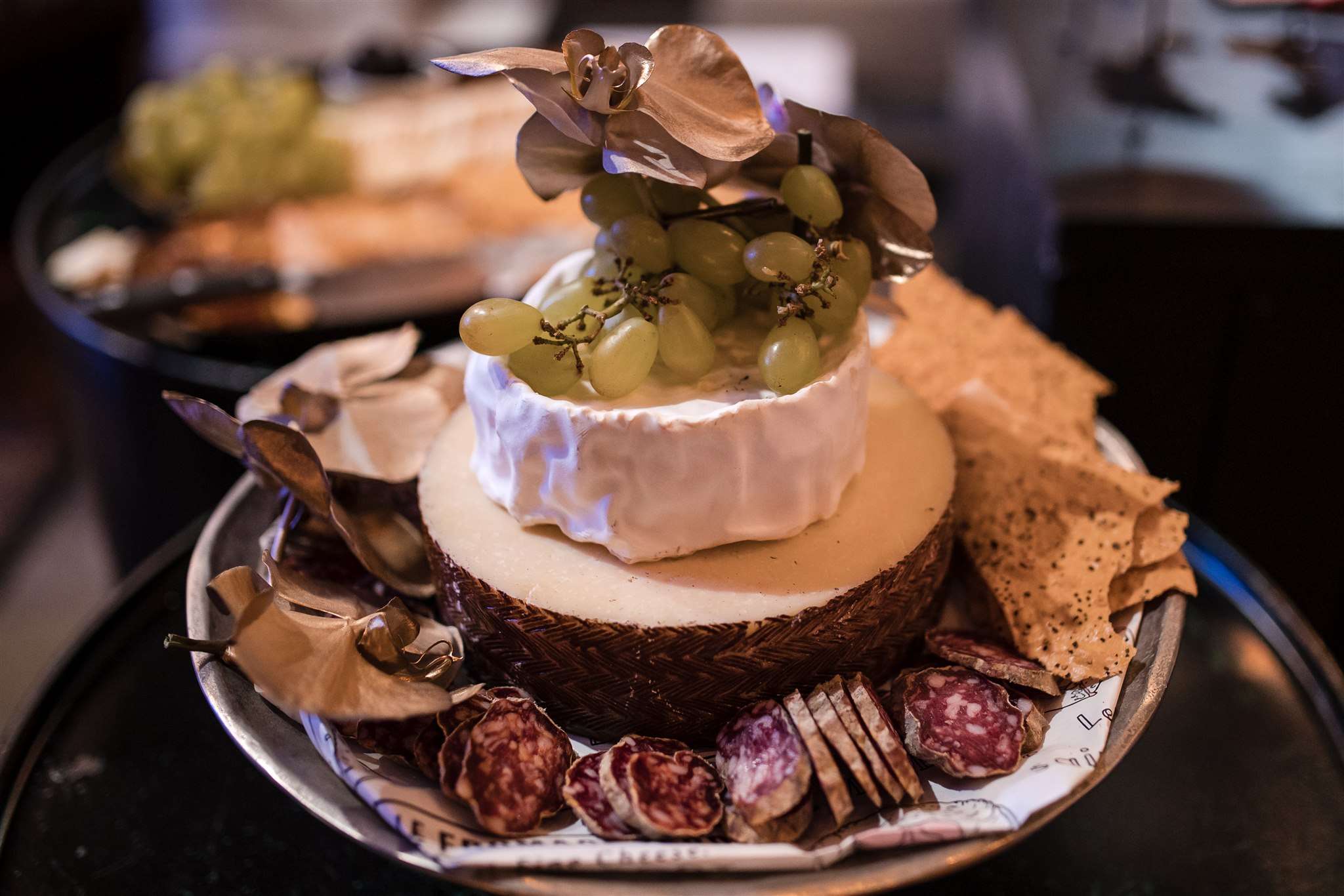 Hayley concluded with some great advice for other couples wanting to plan smaller celebrations, "Look for venues that aren't typical wedding venues!" she said. "It'll save you a small fortune. We only had 20 guests and also got married on a weekday. I used these two factors as leverage in negotiating quotes from venues and we saved thousands upon thousands! We were able to get the prices down on both the ceremony and reception venue to a fraction of what they would normally cost for a full-scale wedding on a weekend."