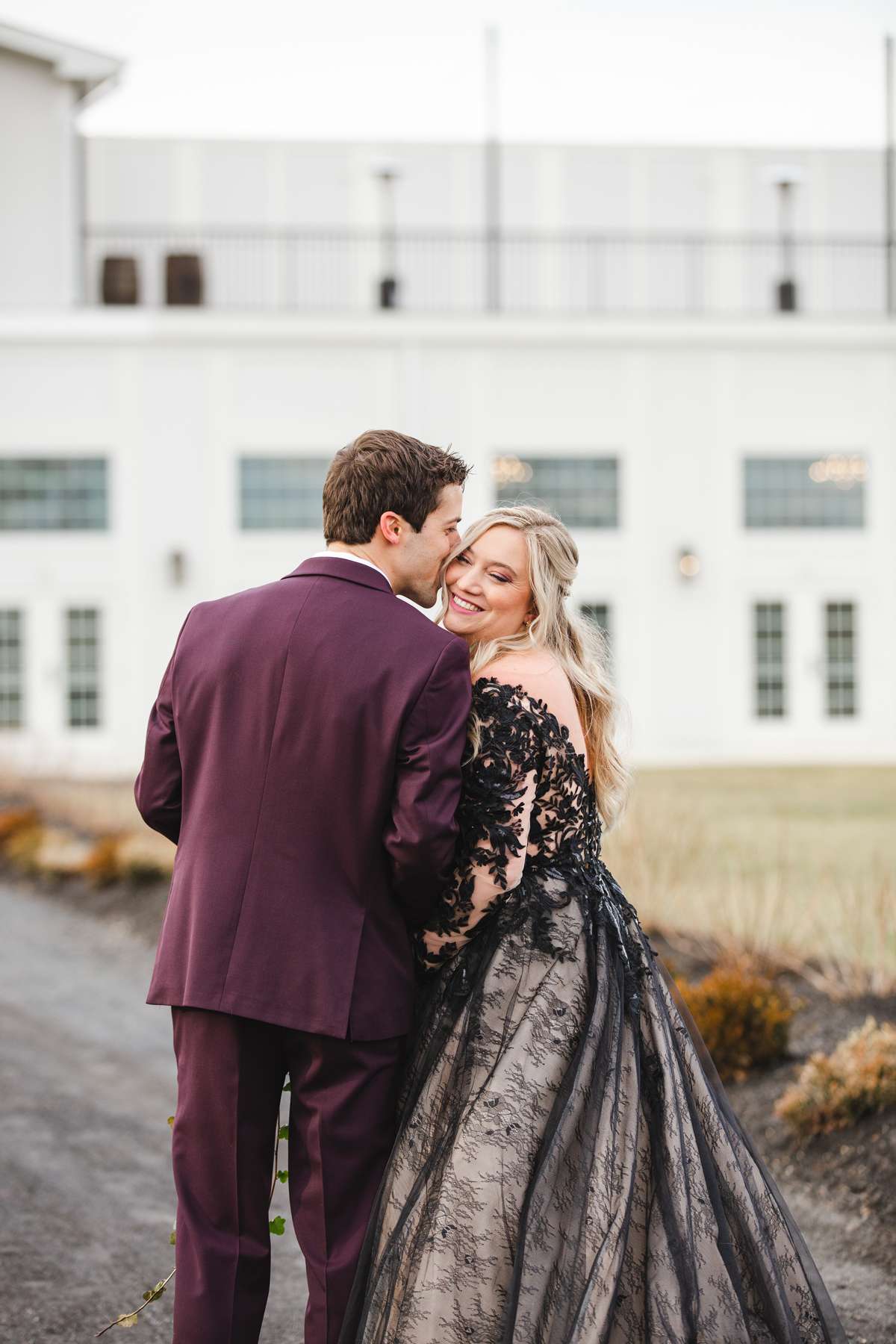 In the picturesque setting of Renault Winery in Egg Harbor City, NJ, Jessica and Drew celebrated their love in a wedding that embraced elegance, boho charm with and a touch of gothic allure.
Inspired by their shared love for all things dark and romantic, Jessica and Drew crafted a wedding that reflected their unique personalities. "I have always had an obsession with skulls," Jessica reveals, "and it sparked the idea to incorporate them into our wedding theme." Collaborating with their planner, Bel Momento Weddings, they transformed their dreams into reality, ensuring every detail aligned with their vision.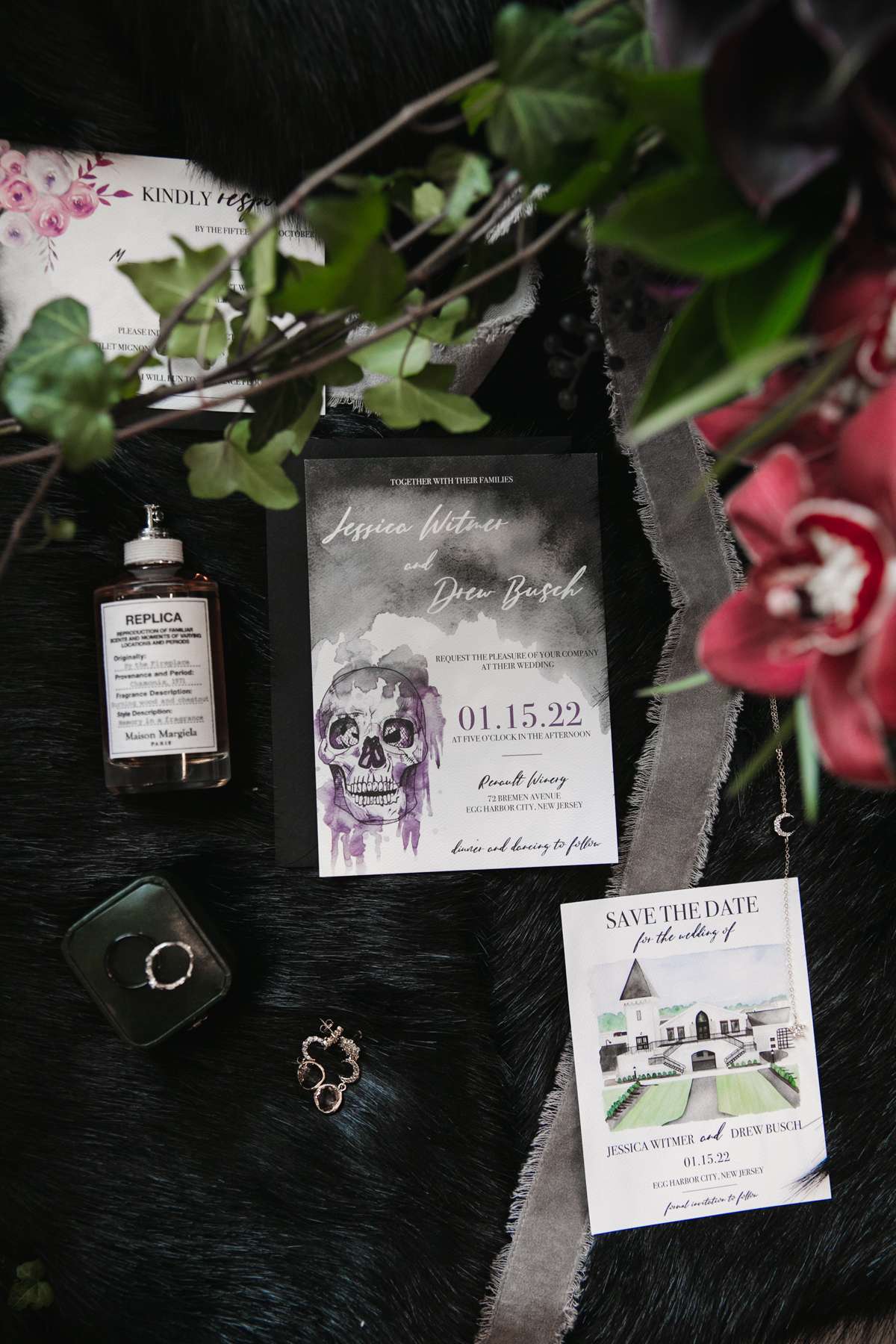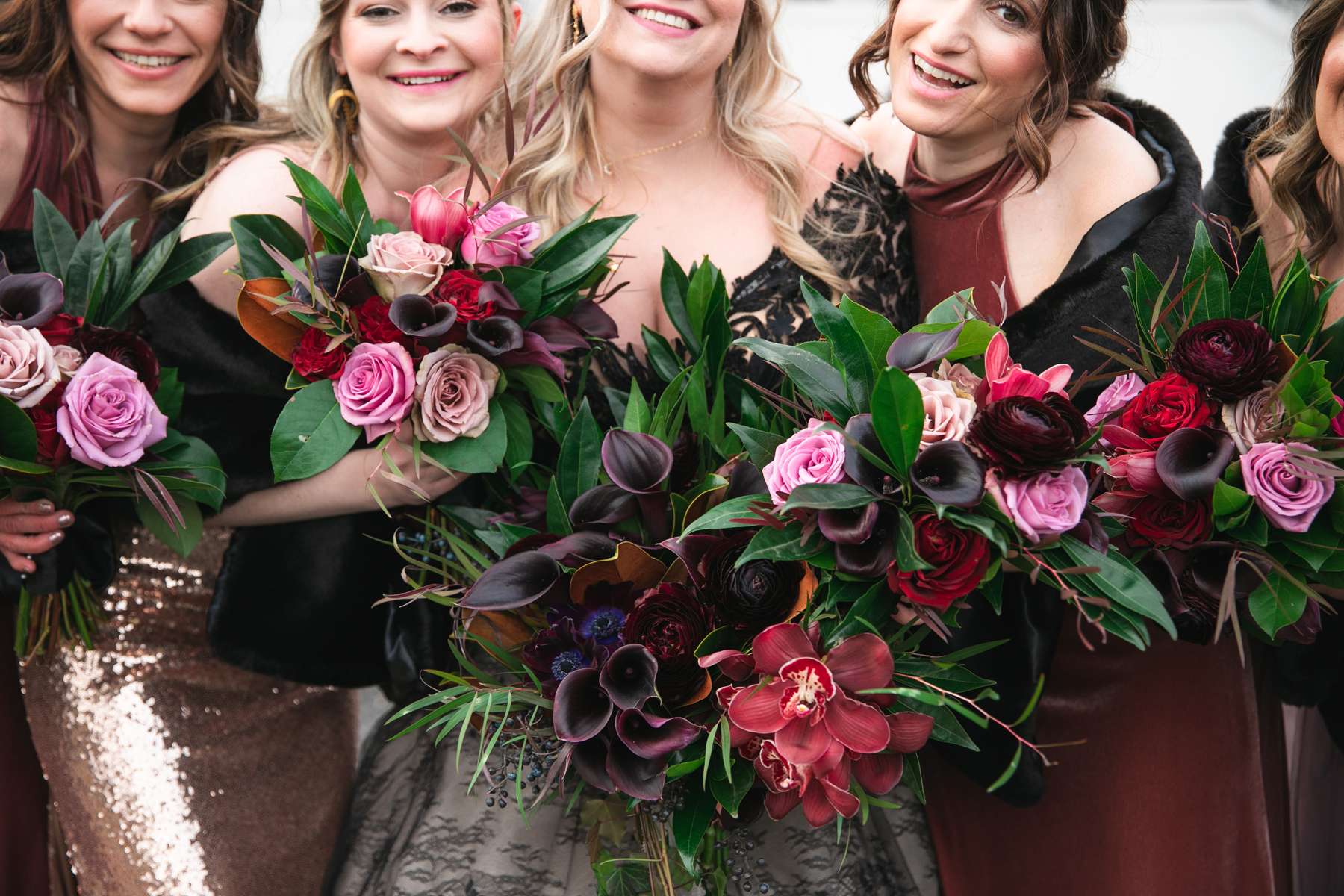 Uniqueness was at the heart of Jessica and Drew's wedding. They daringly omitted any white elements and deliberately strayed from traditional wedding customs such as cake cutting, parent dances and the flower toss. "We wanted everything to be moody, romantic and a little dark," Jessica continues. "It was all about the details for us starting with the skull wedding invitations to all of the details at the reception."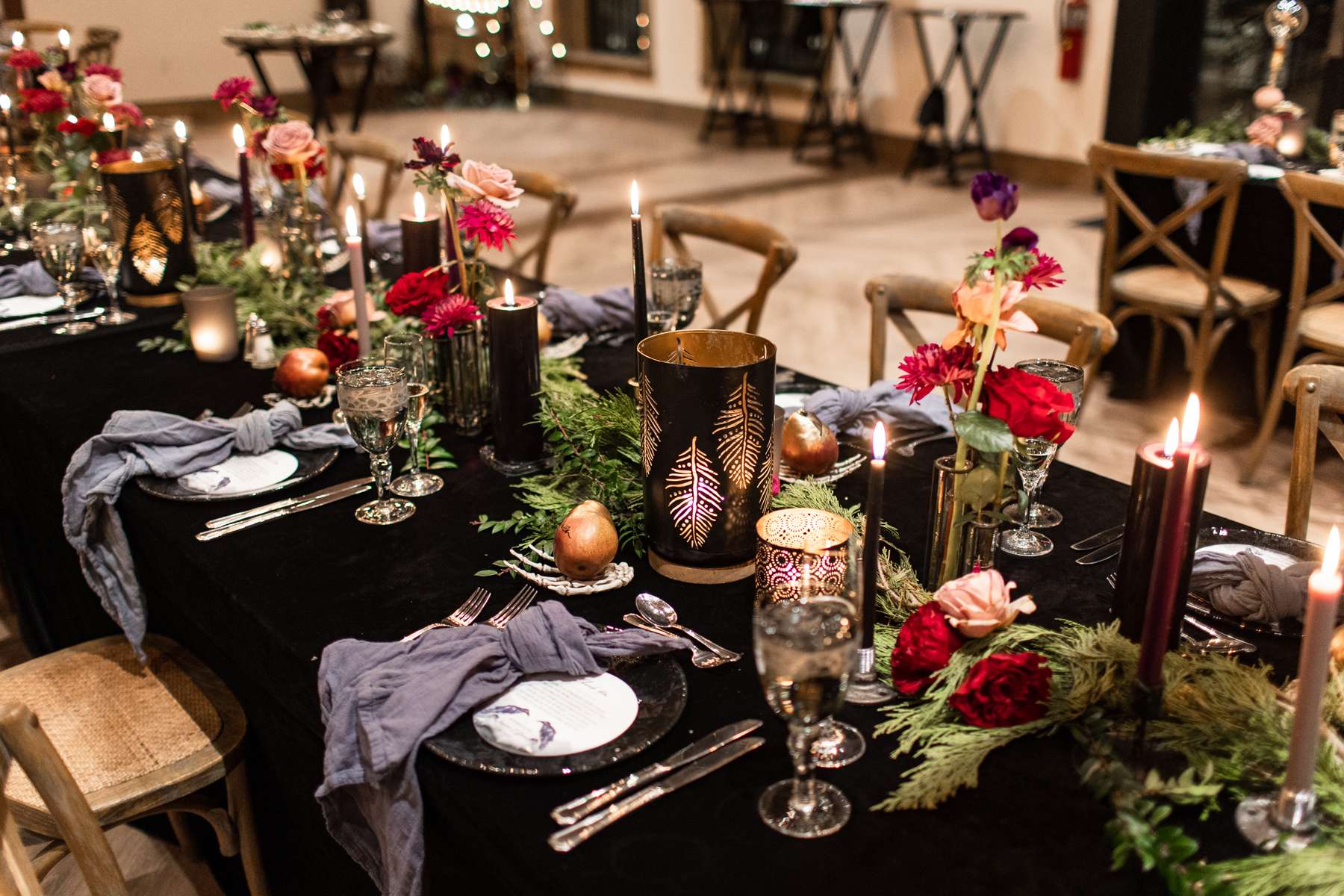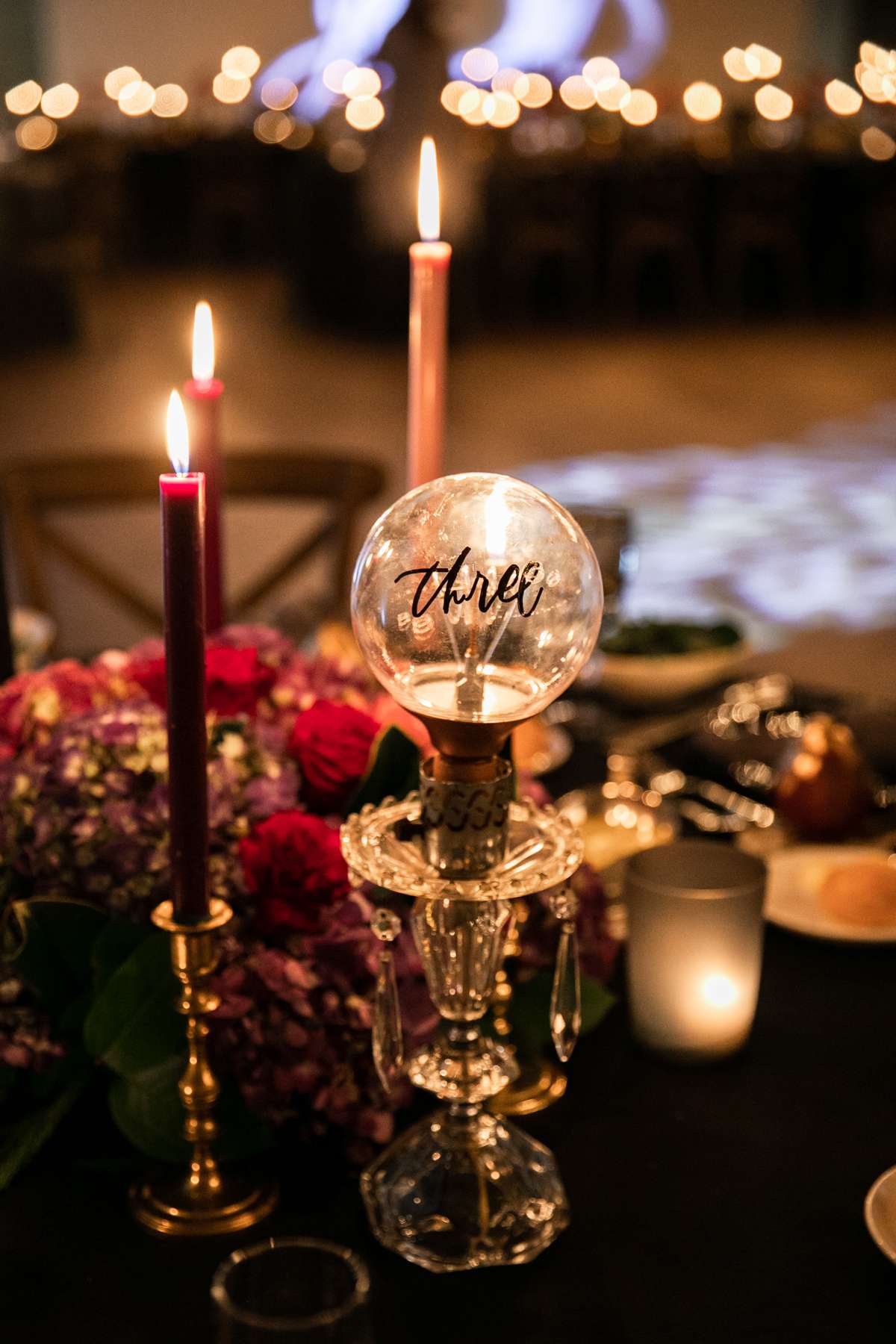 The ceremony held profound significance for the couple. One of their best friends officiated, adding a personal touch to the proceedings. The music selection was thoughtfully curated, honoring Jessica's late father by incorporating his favourite bands, the Moody Blues and Peter Gabriel. "We had a string quartet and spent a lot of time on the music", the bride said. " The wedding party walked out to instrumental Knights in White Satin by the Moody Blues. My older brother, Michael, walked me down to aisle to In Your Eyes by Peter Gabriel, a song that was frequently played during my childhood."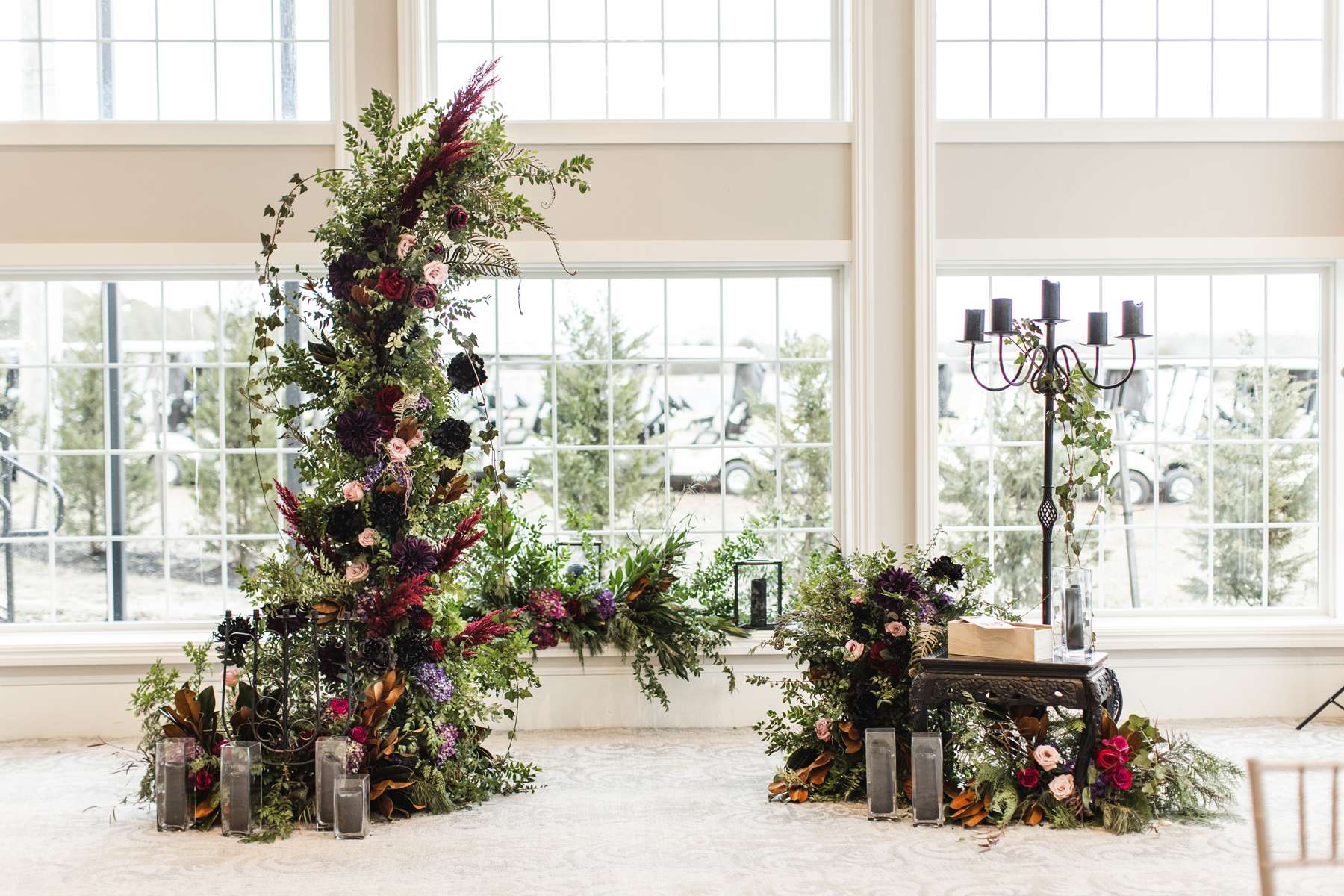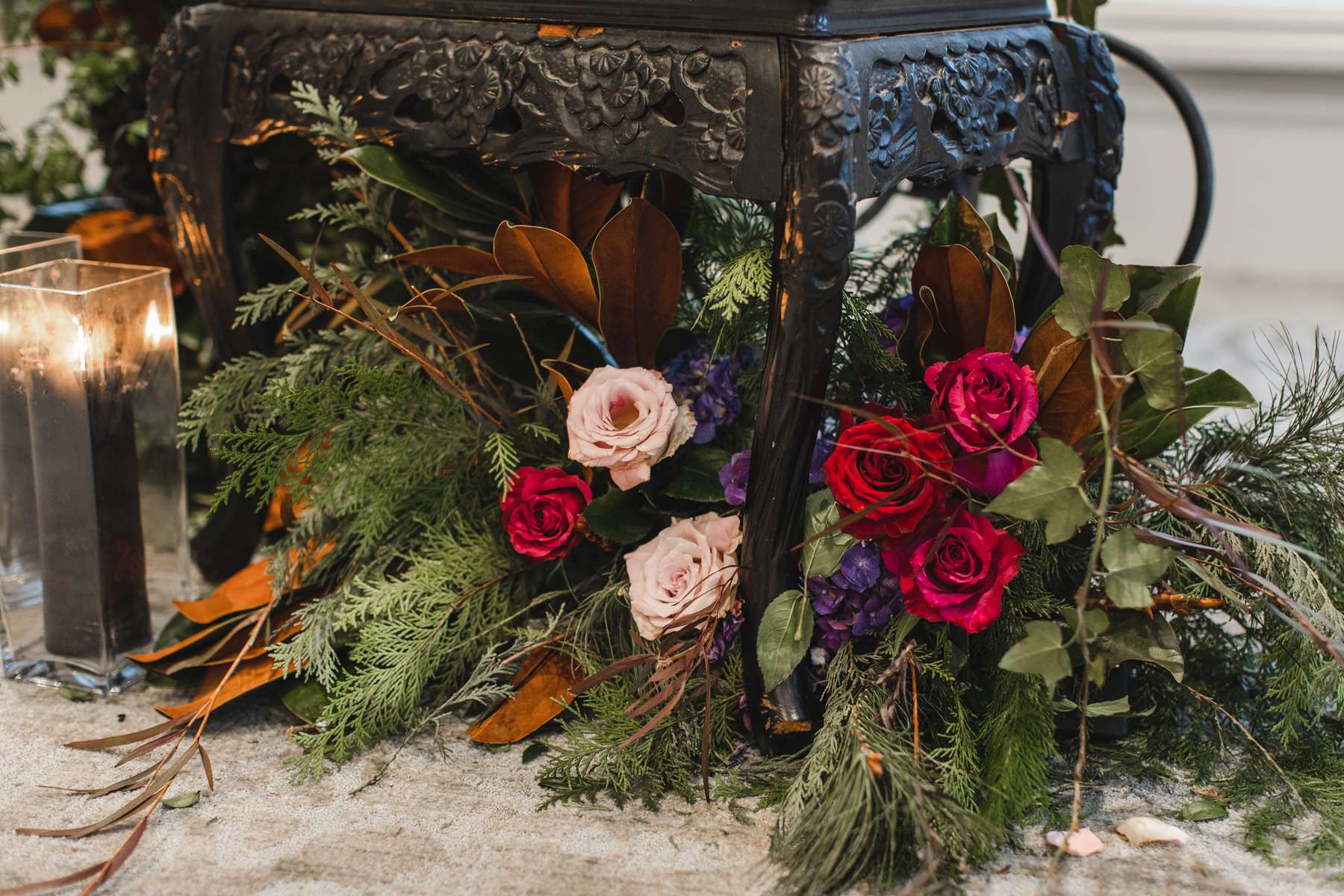 They also had a custom wine box made which held letters they wrote to each other and a bottle of wine, to be opened on their anniversary each year. The ceremony concluded with the fitting musical choice of Paint it Black, symbolising their wedding's black theme.
The reception held a myriad of cherished details and moments. From the floral design, adorned with tapered candles, a large black gothic mirror showcasing the handwritten guest list and a birdcage which elegantly held cards from loved ones. The couple's fondness for games was evident with a Jenga guest book. They also used hand-dipped napkins, black marble plates, and had a stunning black wedding cake. On the tables, skull hands held pears which were the place names and was a surprise from their wedding planner.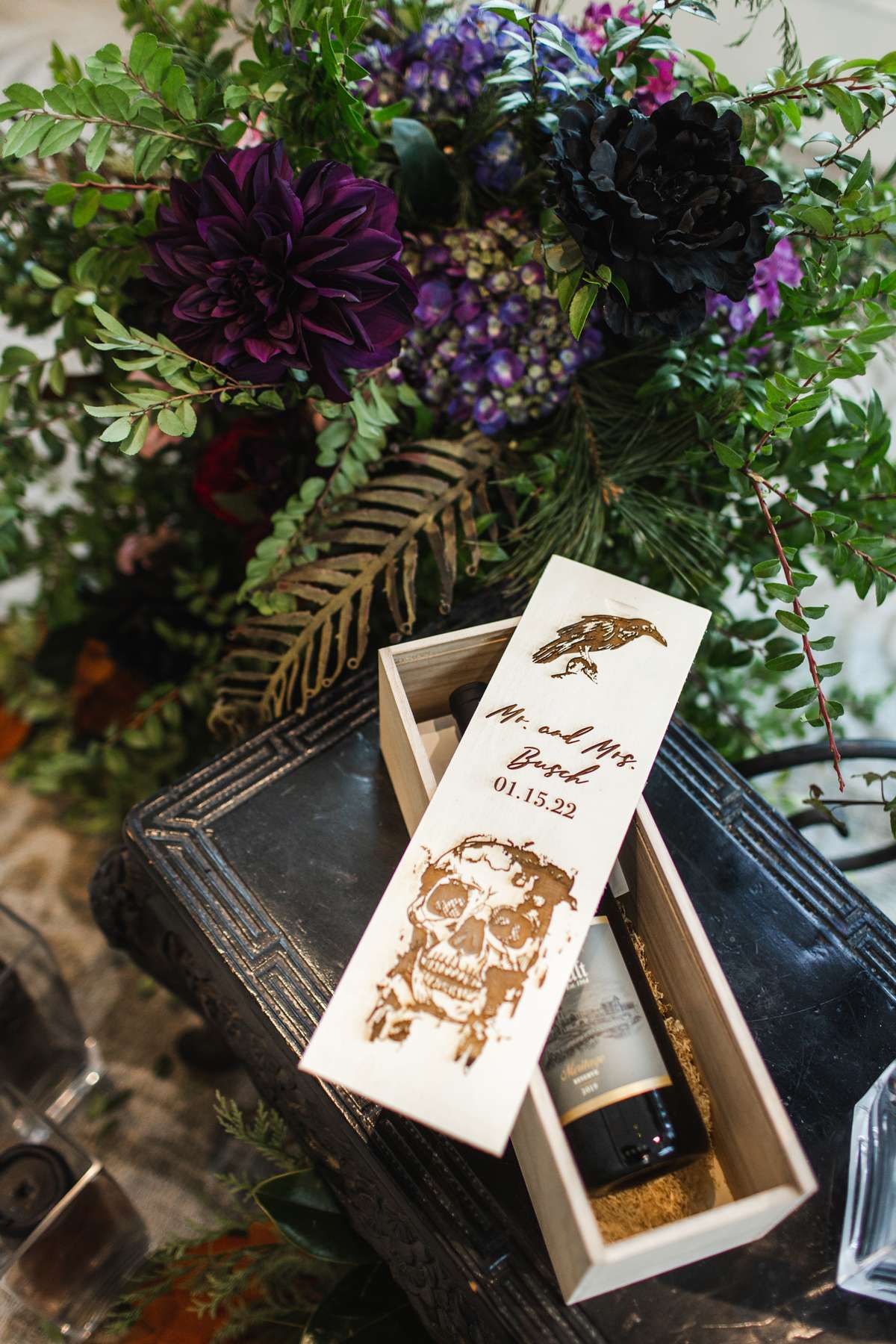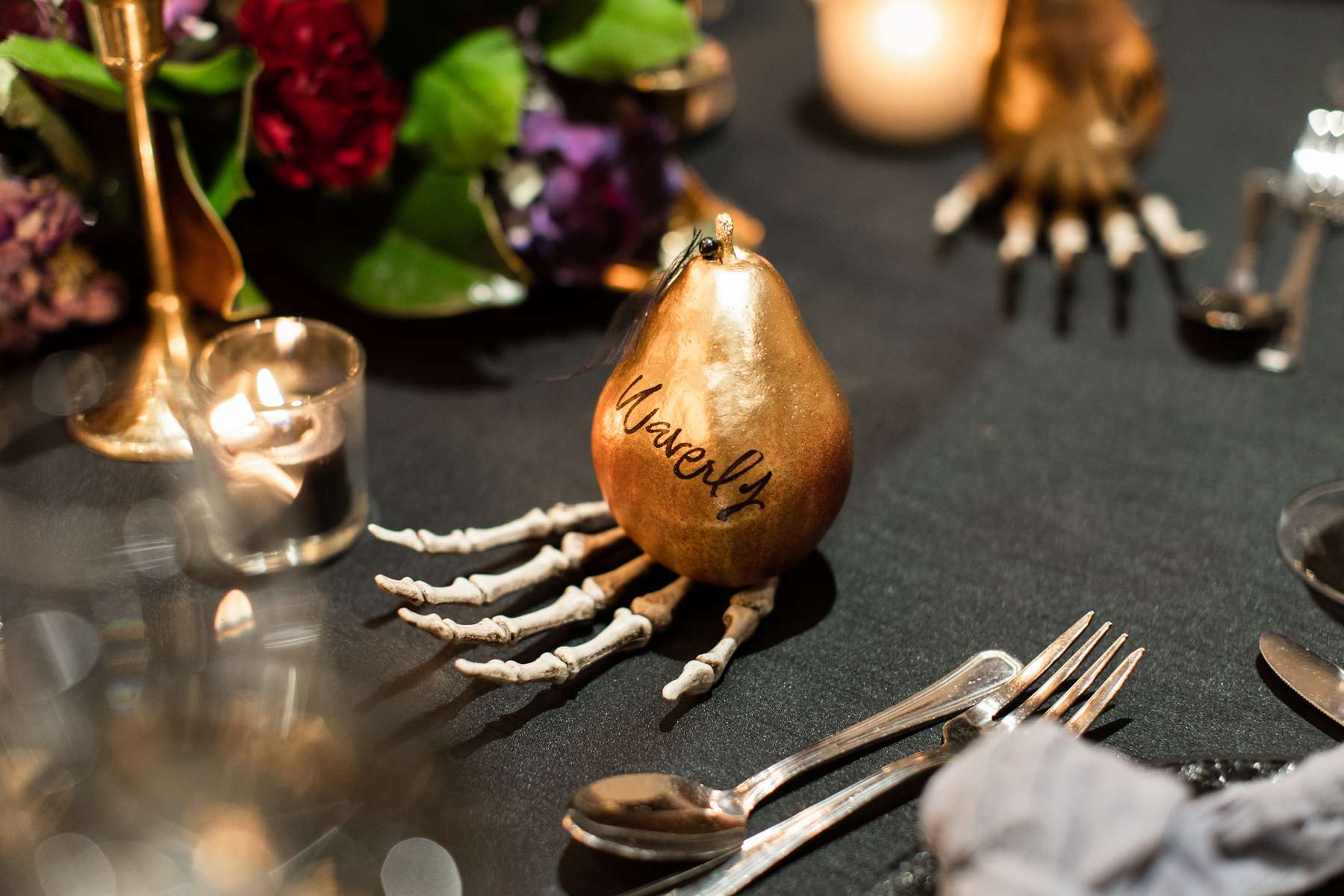 Another special touch was a vintage chair, once belonging to Jessica's father, displaying a handwritten sign bearing his mantra, 'Be Here Now'. And instead of traditional gifts, Slate and Brush created donation cards featuring two ravens, "two ravens signifies partnership, transformation and adaptability", Jessica explained. "The gift was a donation to the animal shelter we got our dog, Benson."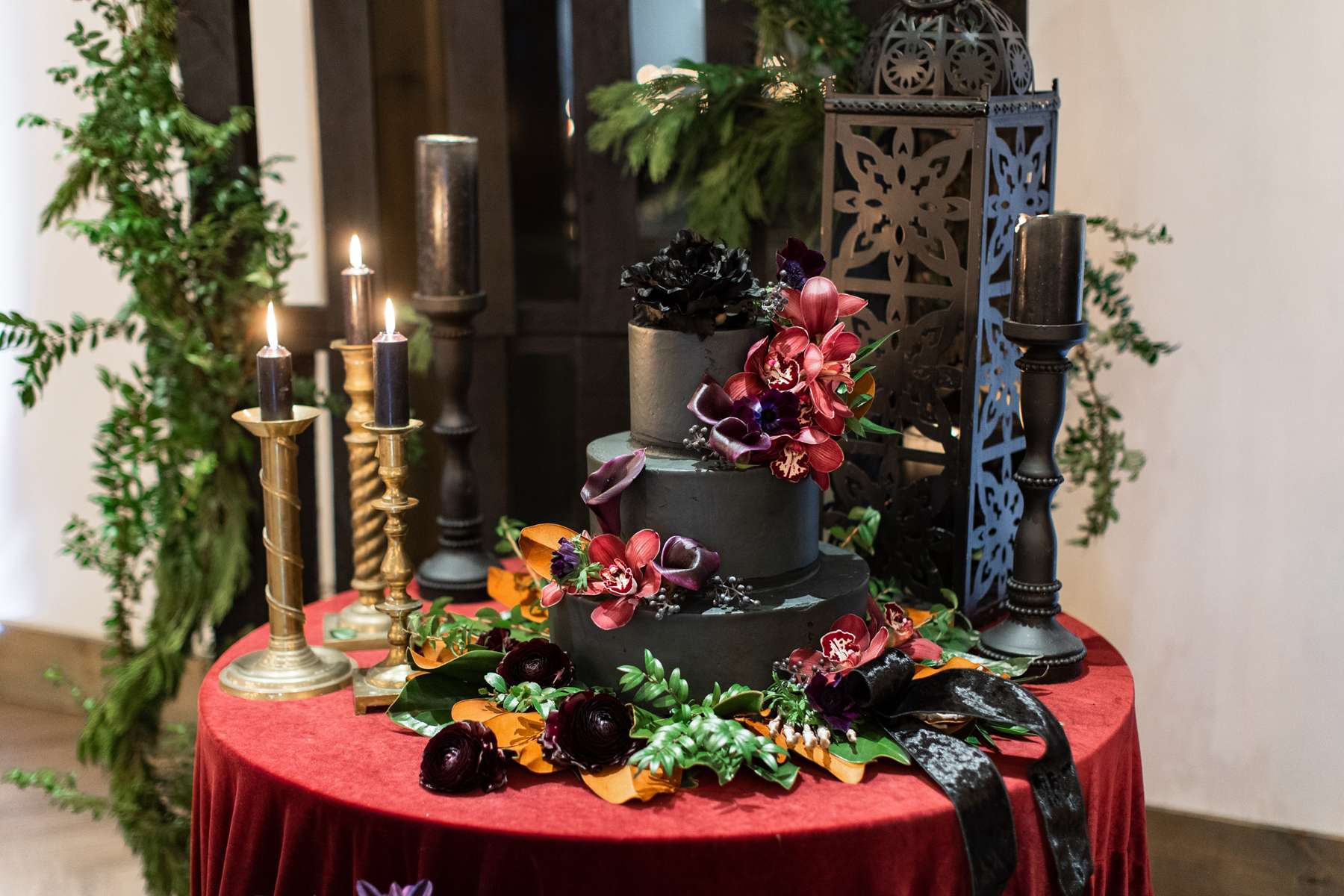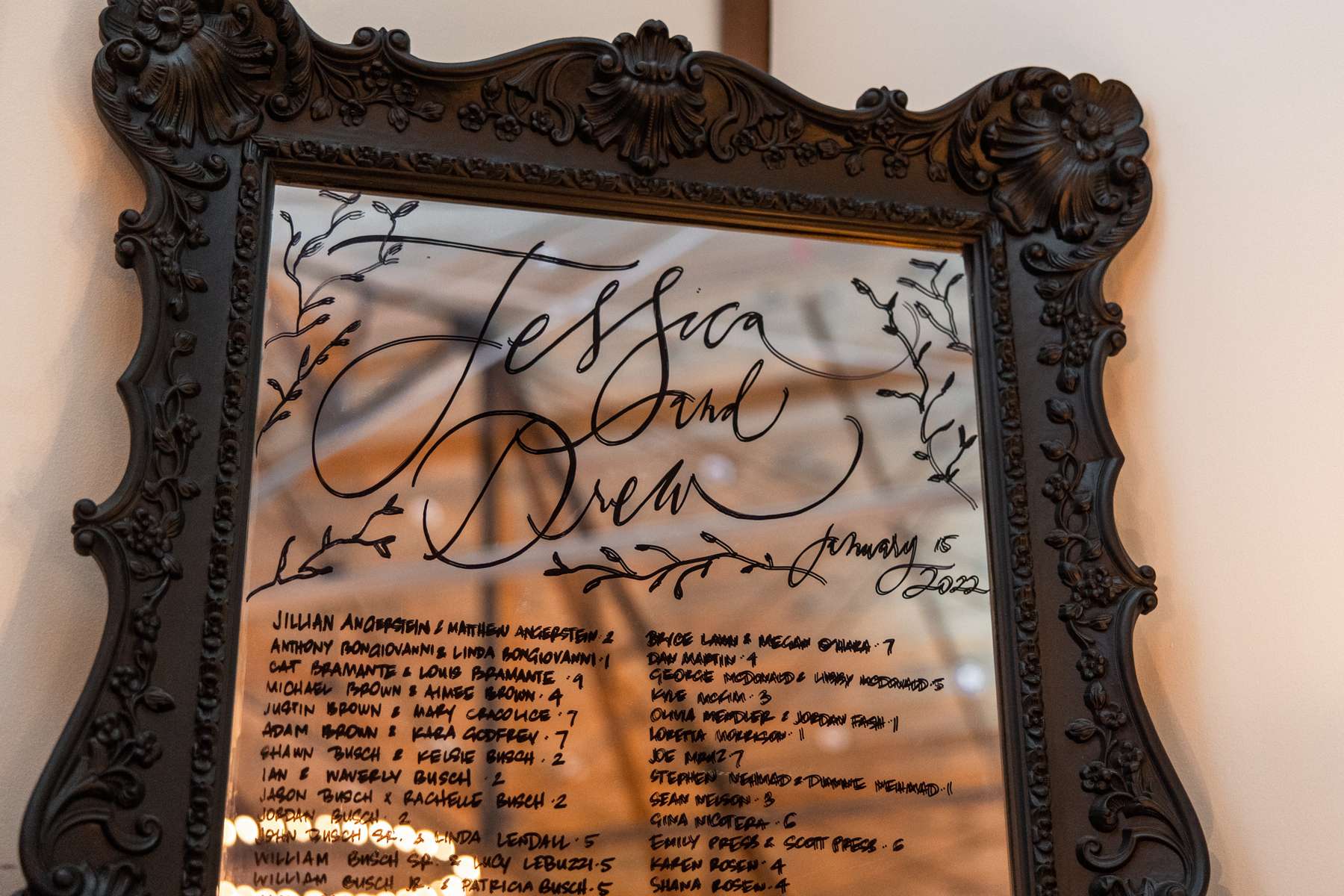 Looking back, Jessica and Drew acknowledge that hiring a planner from the start and trusting their instincts would have made the process smoother. The initial logistics were overwhelming, but with professional guidance, they were able to navigate the planning journey with greater ease and confidence.
"I wish we would have hired a planner right from the start and gone with our guts more", Jessica concluded. "I first bought a white dress because I was worried a black dress would be too much but ended up buying a second dress (the black dress I wore) and am so happy I did! At the beginning it was overwhelming with the logistics, however once we hired a planner everything went more smoothly."