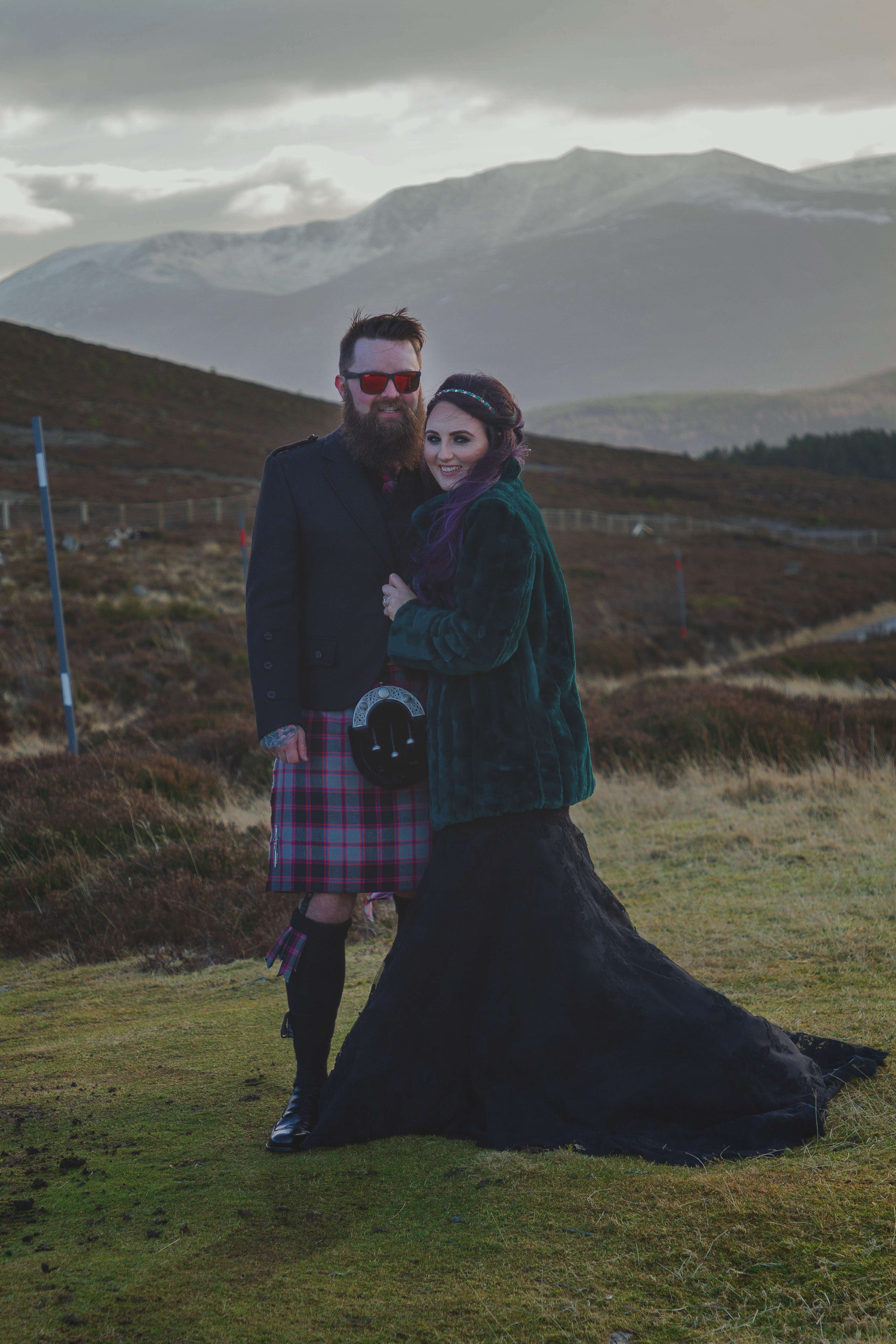 Alanna and Nuge ummed and ahhed for years about what they wanted from their wedding day, finally biting the bullet and going with their gut three years after they got engaged, and planning the whole thing in just three weeks! They were ahead of their time, having a micro wedding with just five guests – their parent's and the bride's Nana.
Their intimate day was held at the Fife Arms Hotel in Braemar, which at the time of booking, they didn't realise had been the hotel that Alanna's grandparents had stayed at on their wedding night! How sweet!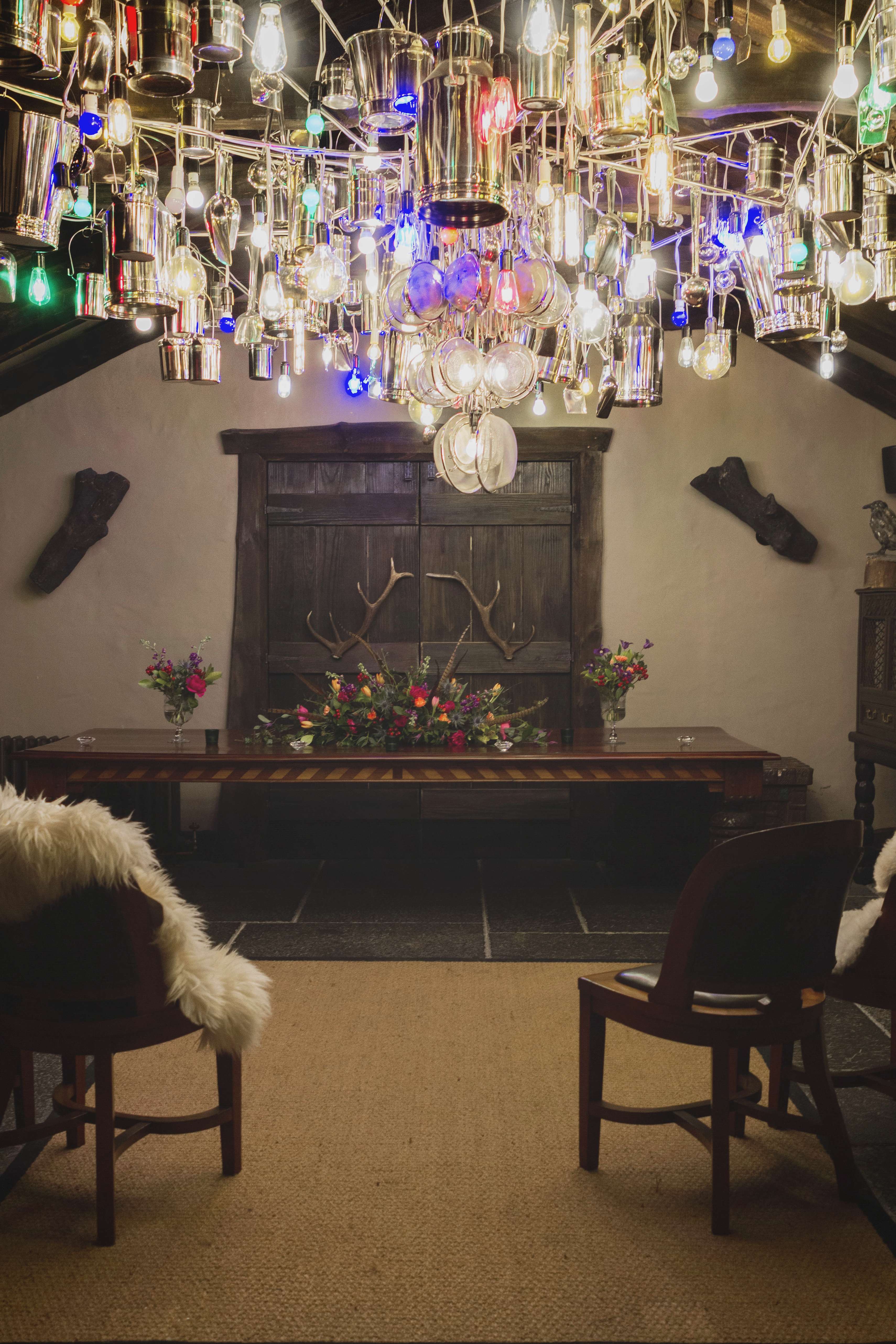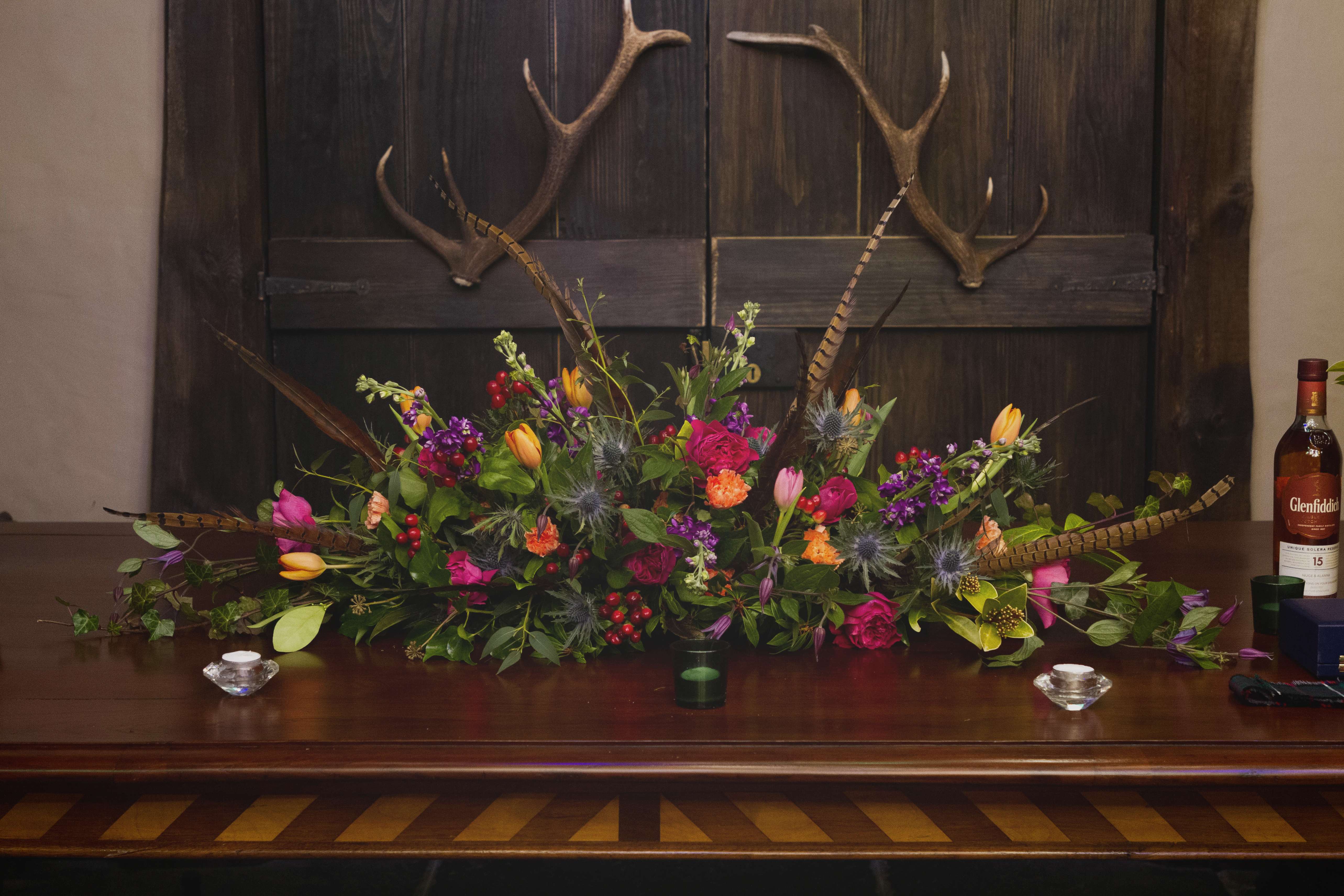 The beautifully renovated Scottish hotel needed little in the way of the decor, aside from some stunning florals by Hays Flowers. Alanna knew even before she was engaged that she would NEVER wear a white wedding dress, and found 'The One' years before even getting engaged. "My dress was bought from Blush Bridal in Fraserburgh, it was the Enzoani Joselina in black! One of my best friends works in the bridal shop, and when this dress arrived in the shop a few years ago, she instantly knew I'd eventually get married in it. I wasn't even engaged at the time, but she was absolutely right! Being an 'out of date' dress, as in no longer the current collection or being made anymore, I also saved a fortune."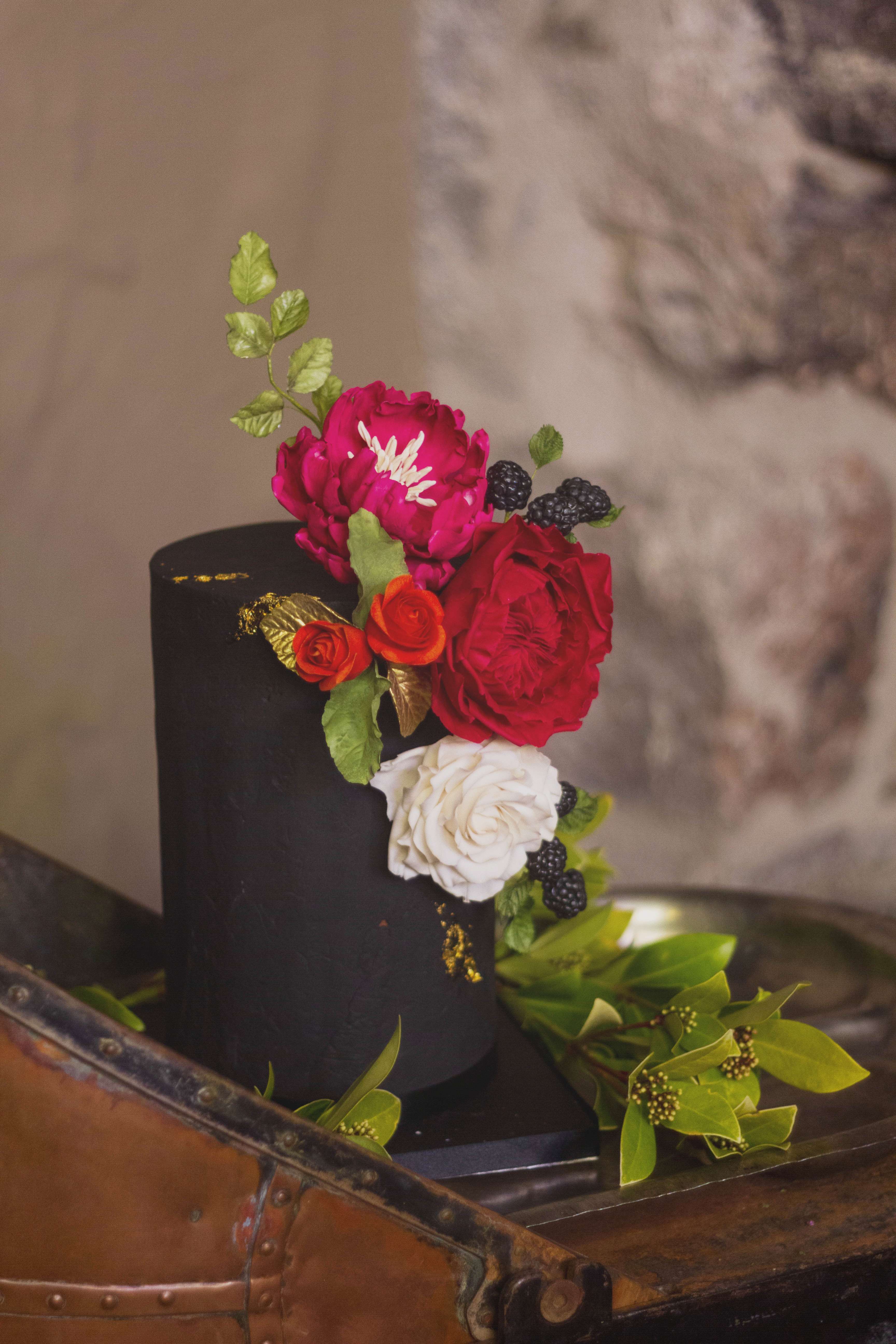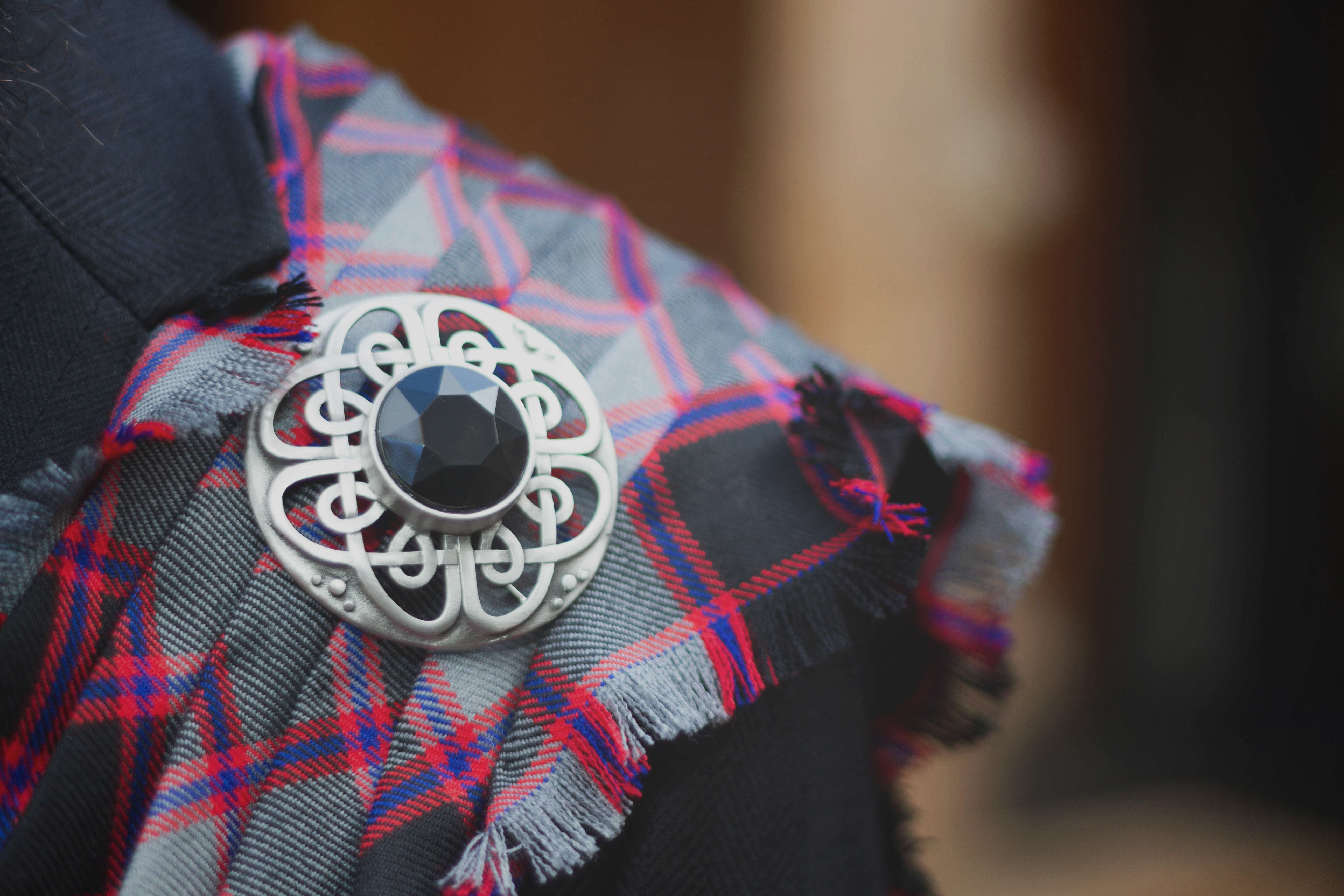 She paired it with her trusty Dr Marten boots, as comfort was key, and she never wears heels day to day, so why would she start on her wedding day?! Her necklace and headpiece were both from Etsy, and she wore a ring, that was borrowed from her Nana, which also happened to be blue and to be about 60 years old! "My Grandad had it made for her way back when they lived in Malaysia. I bet they didn't think then that it would be worn on their granddaughters wedding day!" Nuge wore his family tartan, which just happened to complement Alanna's hair and dress very well.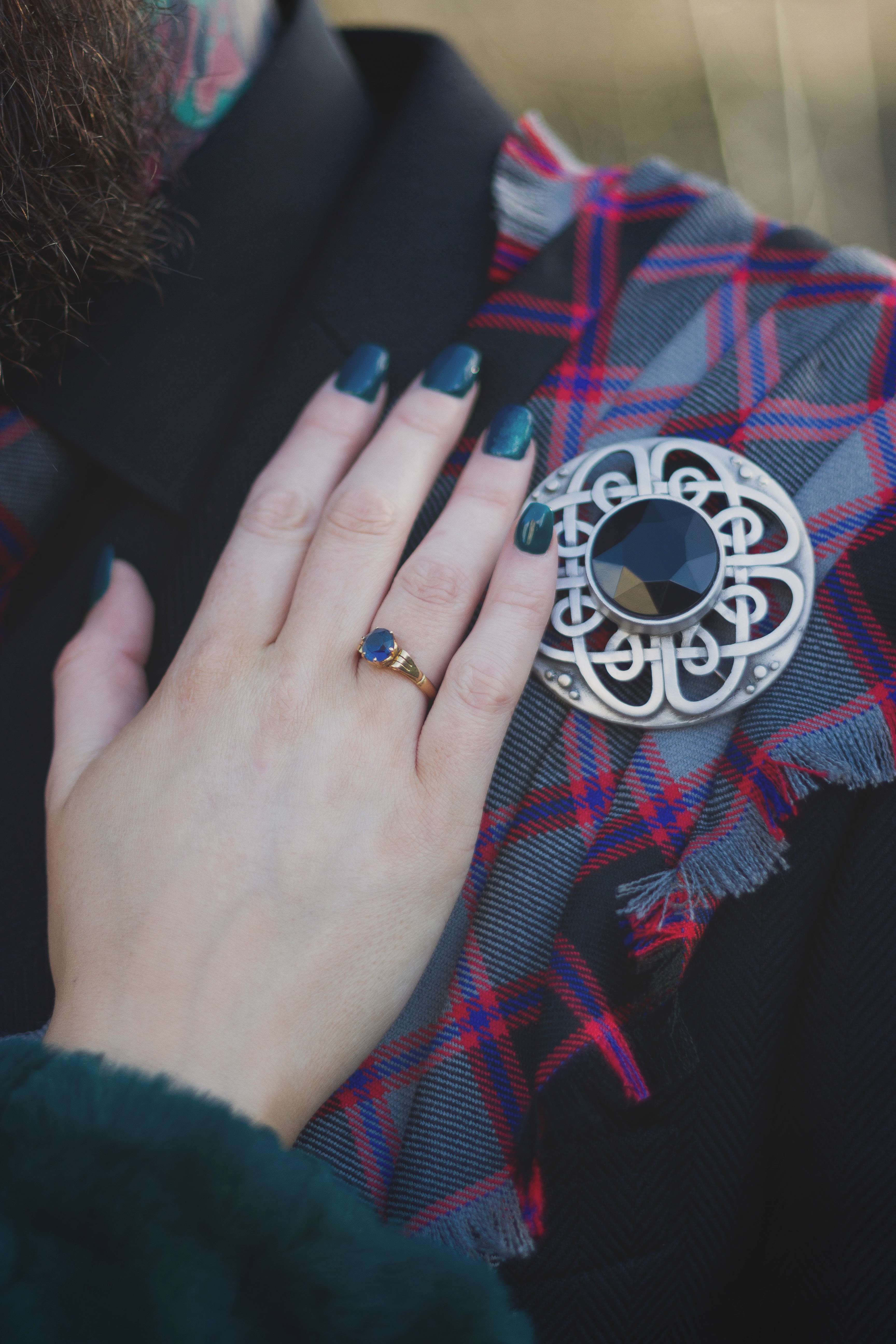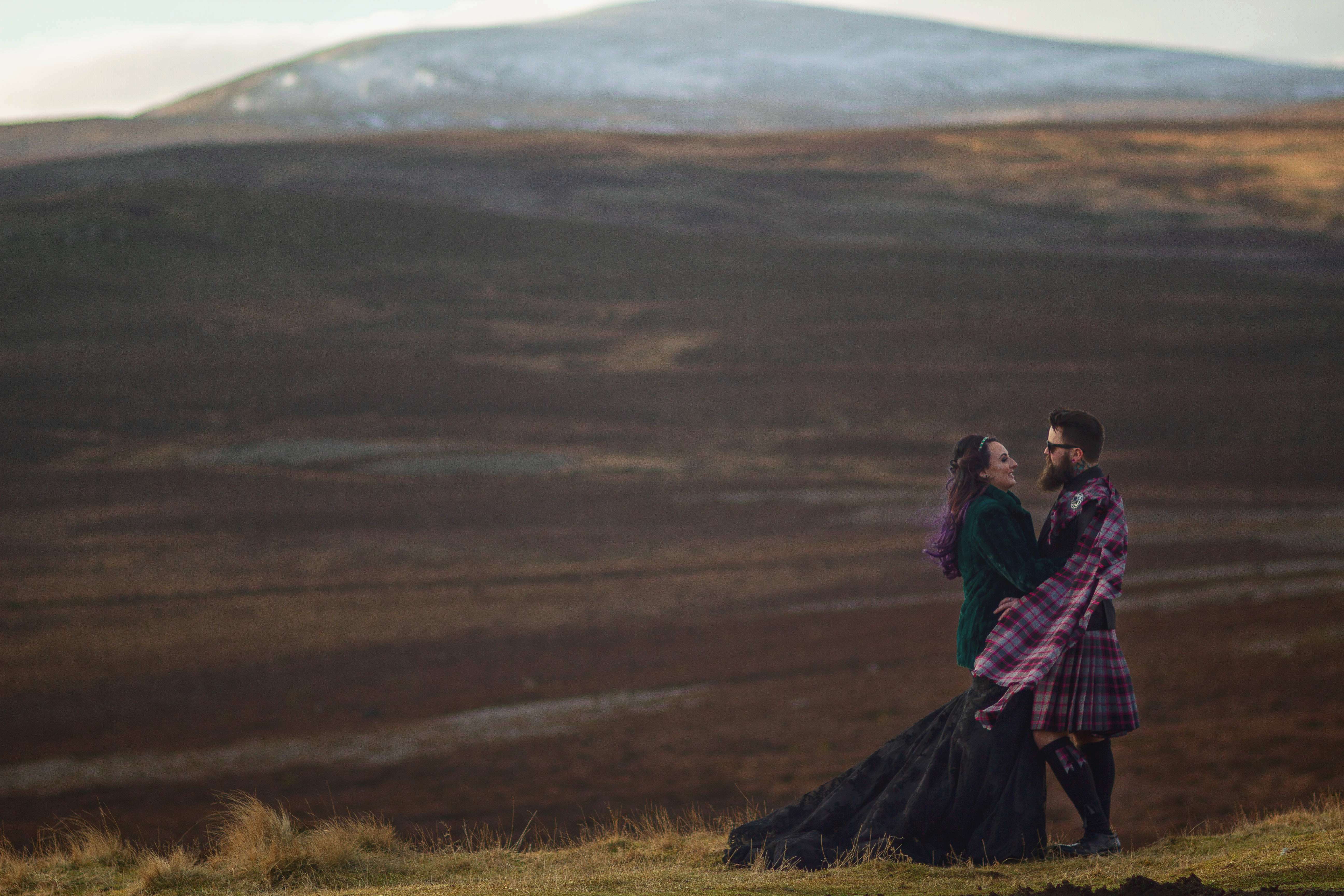 Alanna and Nuge started off their day together, and had a first look before the ceremony. "It was so lovely to just have a wee moment to ourselves, and it made the ceremony so much more relaxed and less nerve racking as we'd already seen each other!"
The ceremony itself was short but sweet, under the stunning chandelier in the hotel's Fire Room. "Because our guests were just our parents and my Nana, they all knew the history of us and how we met so we didn't think it was worth including that. We did however do handfasting, which is a popular and traditional ritual. We 'tied the knot' of our family tartans. And we also drank from a quaich, which belonged to my Grandad and we filled it with Glenfiddich Whisky which was gifted to us from my friends when we got engaged!"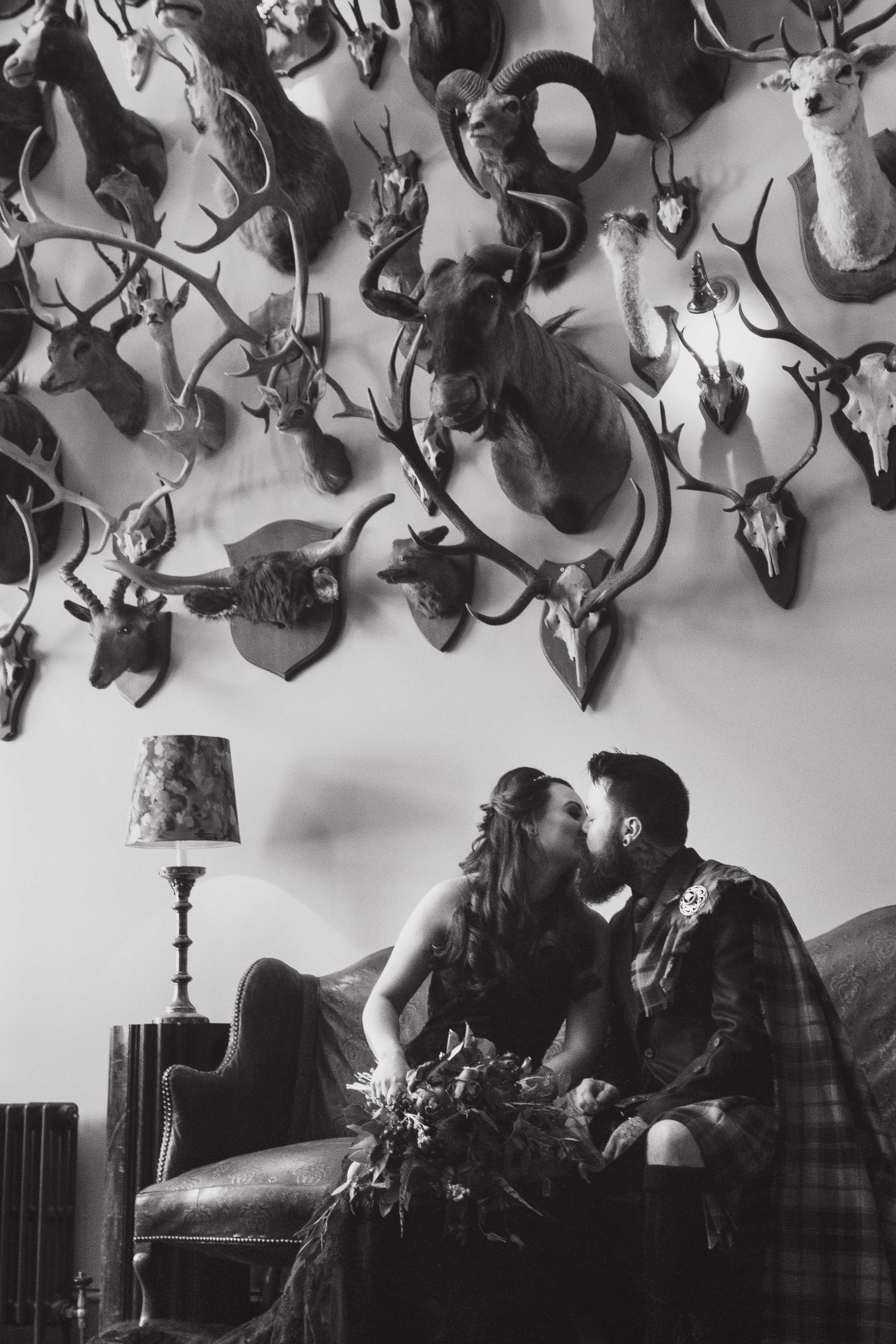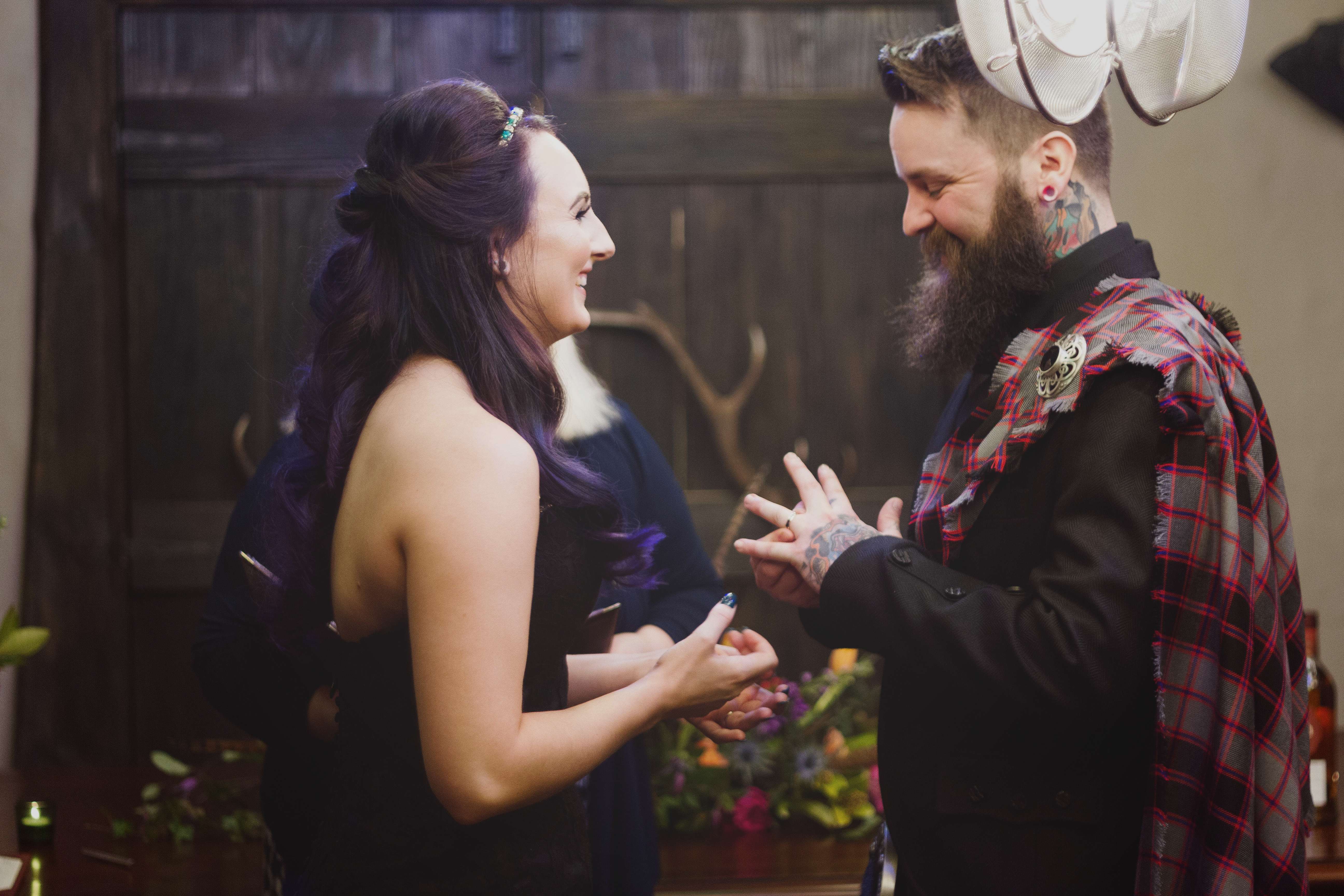 Afterward, they had time to chill with their family, have photos with them and a few drinks before they headed off into Aberdeen for matching tattoos (with a pit stop up a hill for some AMAZING shots). Whilst they were out and about, the hotel arranged an afternoon tea for their guests, and they got to have a wee nap and freshen up before they returned back in the evening for their meal.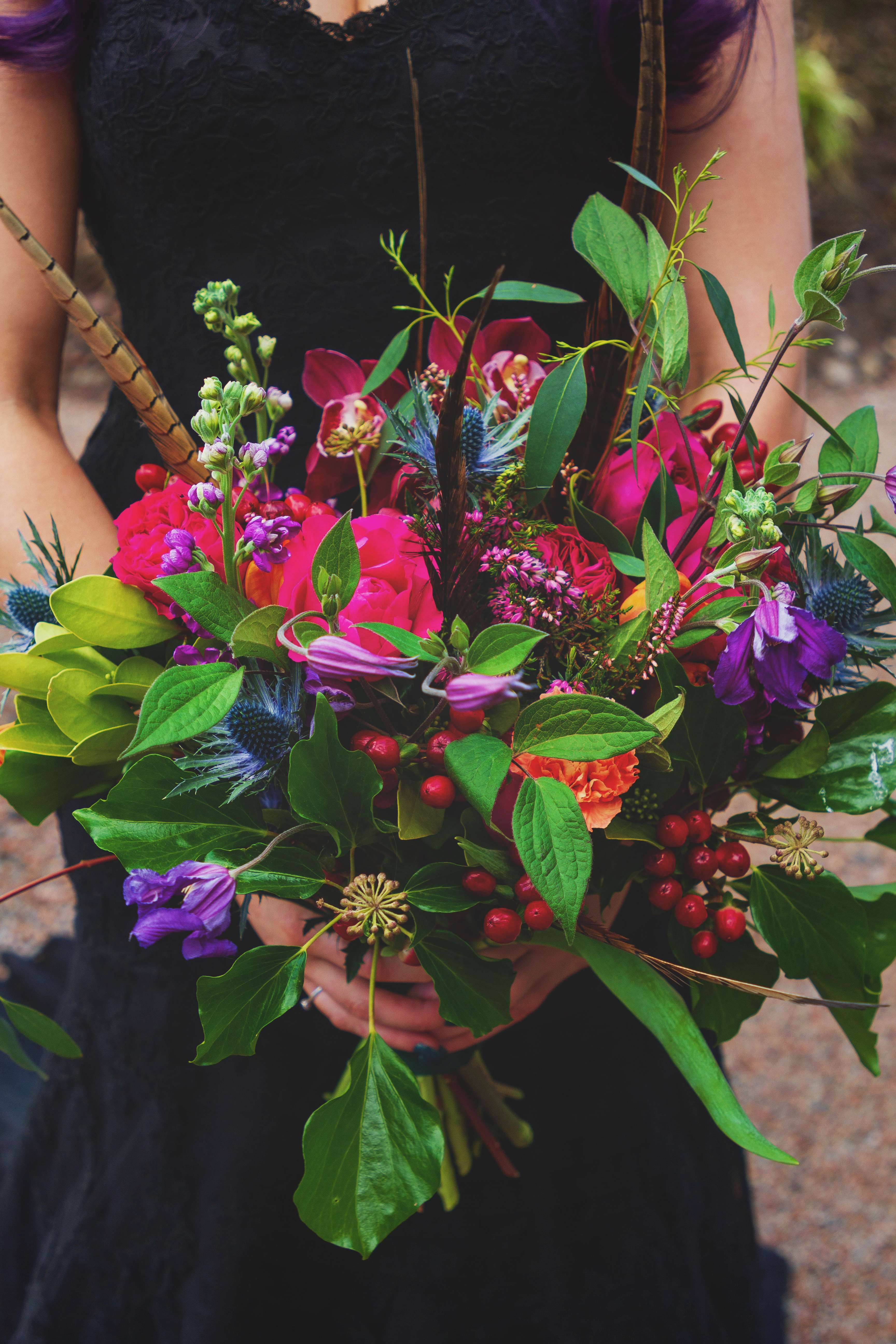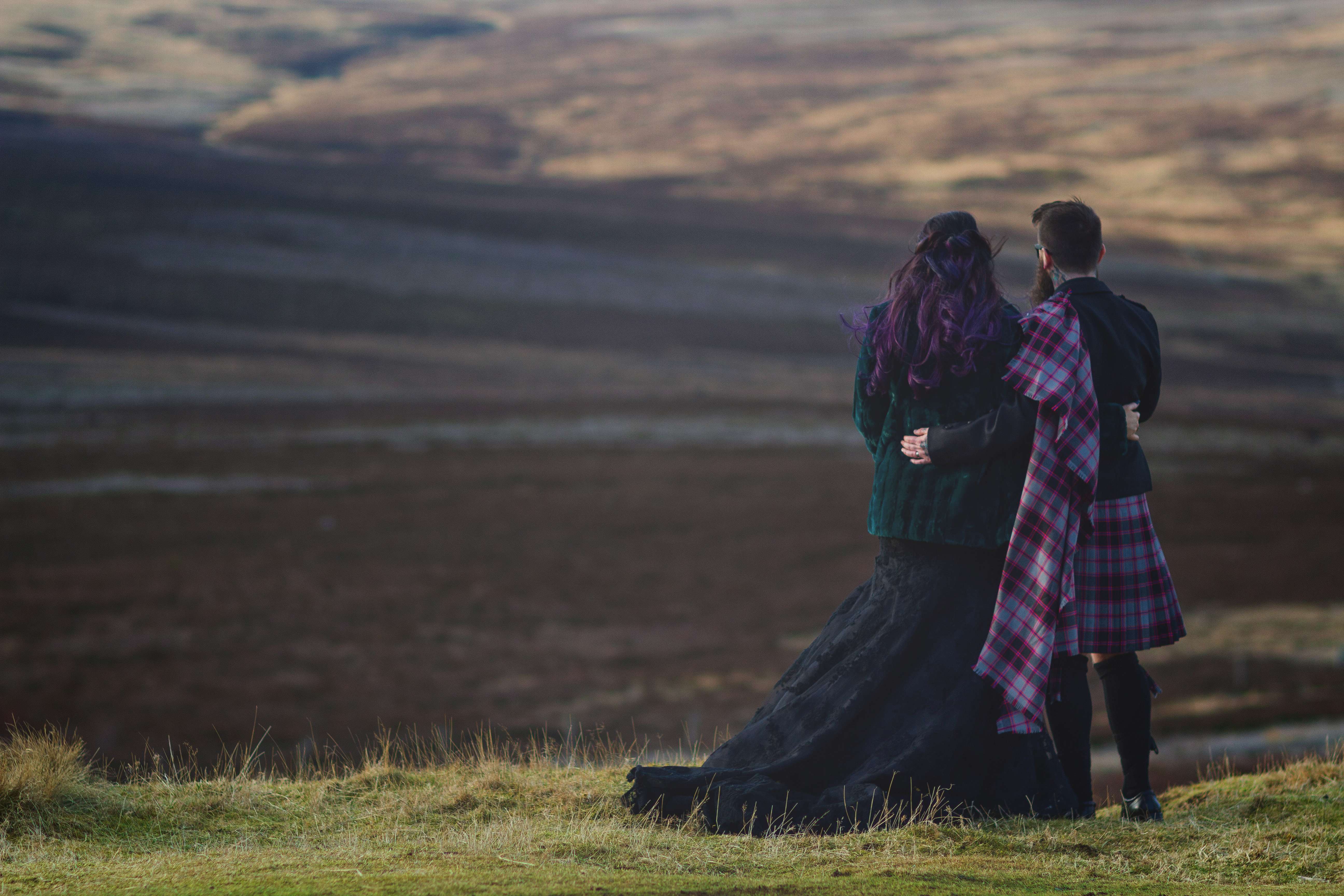 The hotel was the couple's biggest expense of their £5,000 budget, this included a three-night stay and booze and food tab. However they saved significantly here by getting married on a Tuesday, in February, with only five guests. "I have never been treated so attentively by any hotel before, the staff went above and beyond for us the whole time we were there."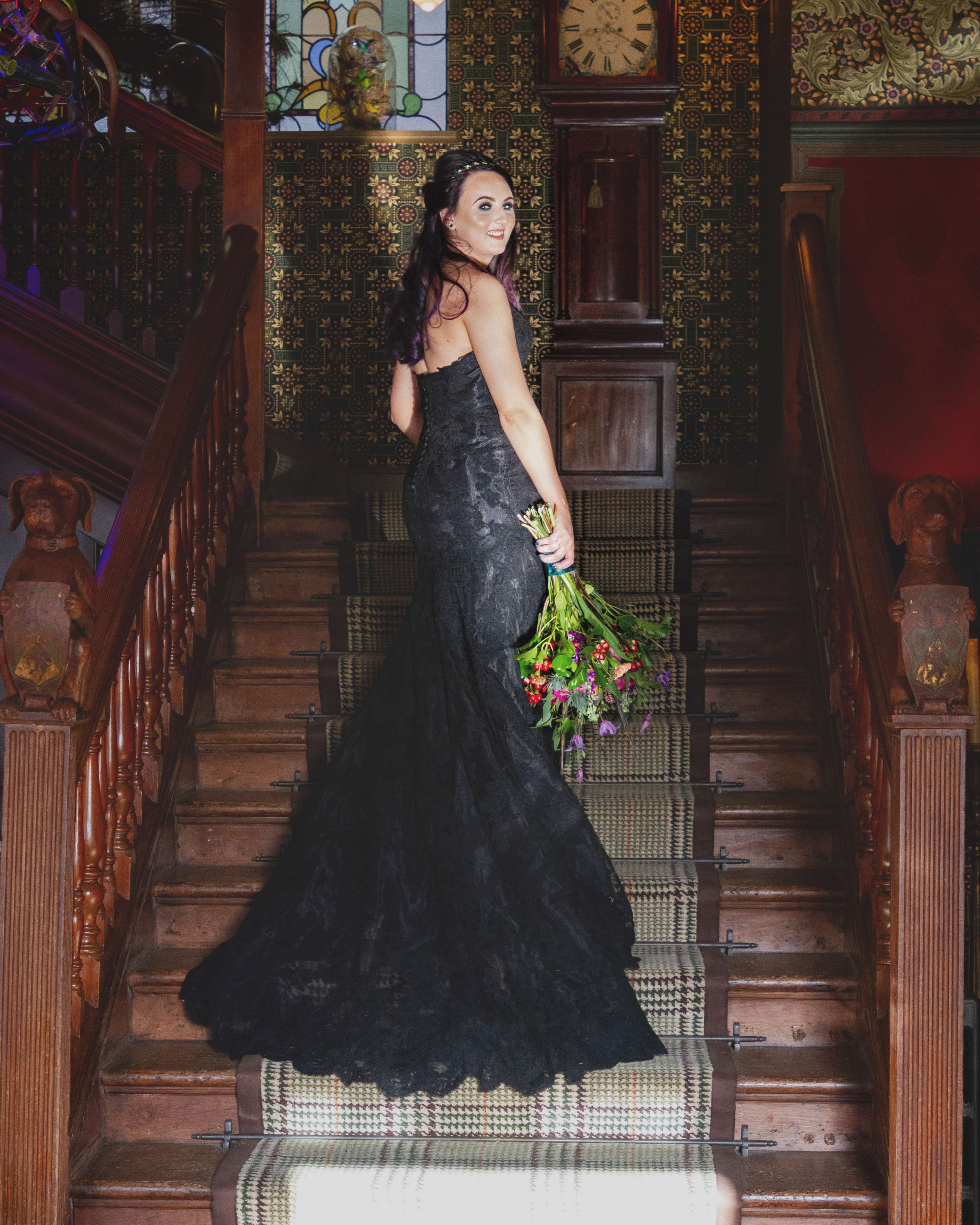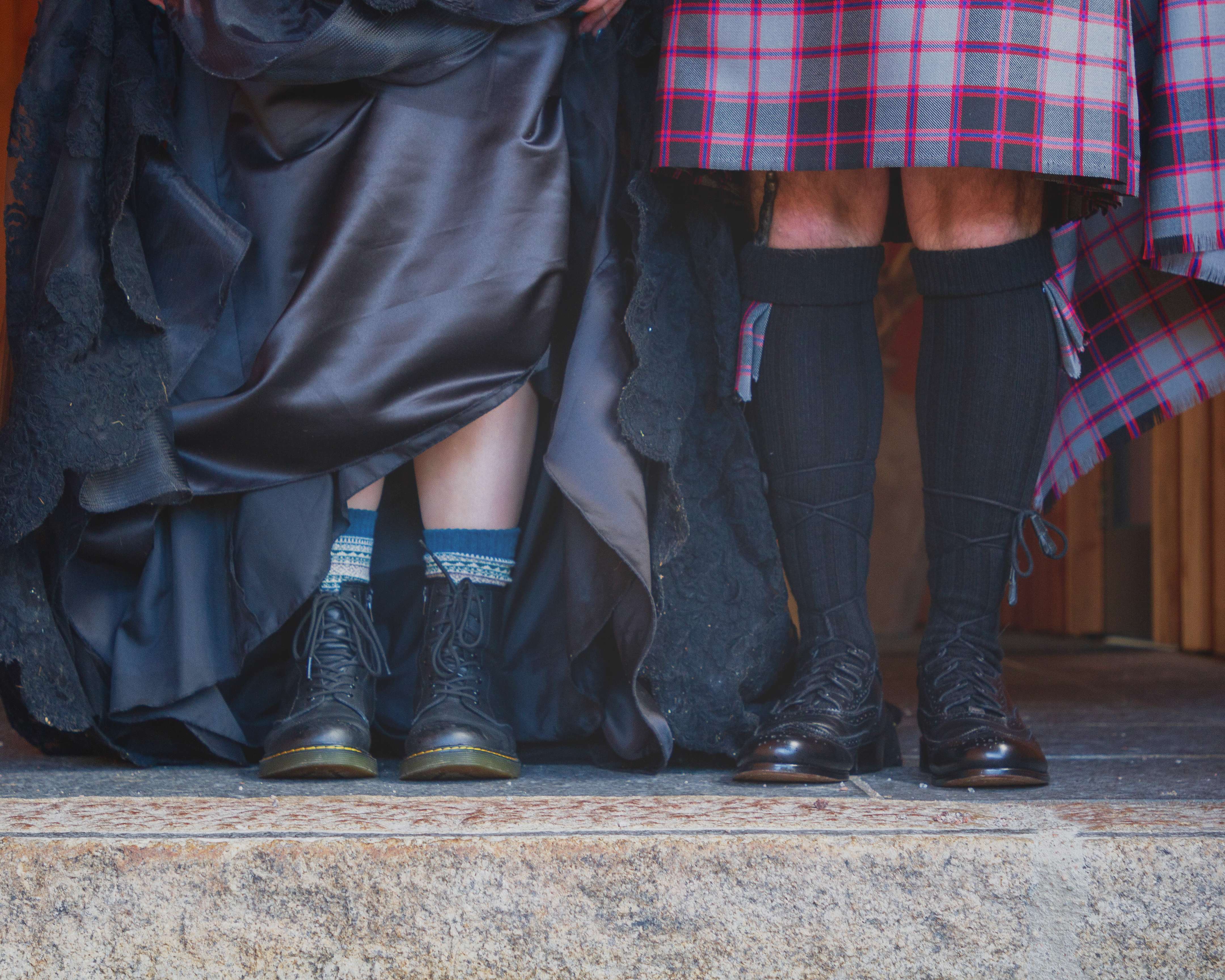 "My favourite part of planning our wedding was the fact we planned it and only had four months to wait. I'm an instant gratification person so when I plan something, I want it to happen right there and then! No way I could have had it planned and wait 2/3 years. But it was all just so relaxed and simple, because we didn't have loads of people to coordinate, or a huge list of suppliers to deal with. My advice for future Rock n Roll brides is to go with your gut and do what you want to do! Do what you feel comfortable doing, and what suits your personality and interests. Whatever will make your day the most enjoyable day ever? Do that."