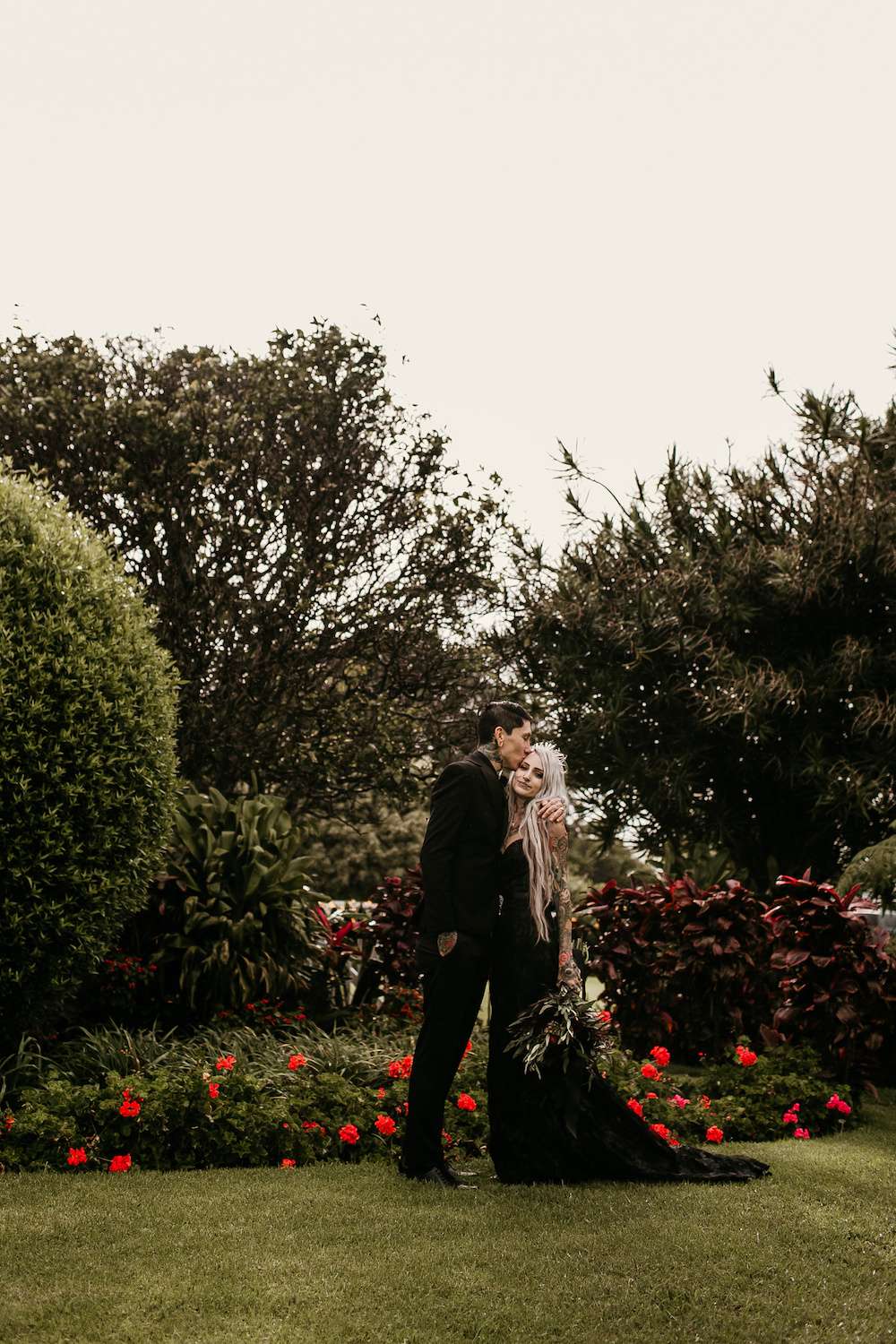 Hold onto your hats, ladies and gents, and if you're not wearing a hat, hold on to just about anything, because this Friday 13th wedding is going to shake you to your core. The most incredible couple, deep colour palette and gothic styling have come together in this amazing wiccan-inspired wedding, where all of the Rock n Roll Bride aesthetic stars have aligned.
Their theme was "a gothic/occult vibe – but one that wouldn't give our parents a heart attack!" Chelsea explains. "Dark, elegant, and romantic – kind of like what you'd imagine Morticia and Gomez Adams' wedding to be like."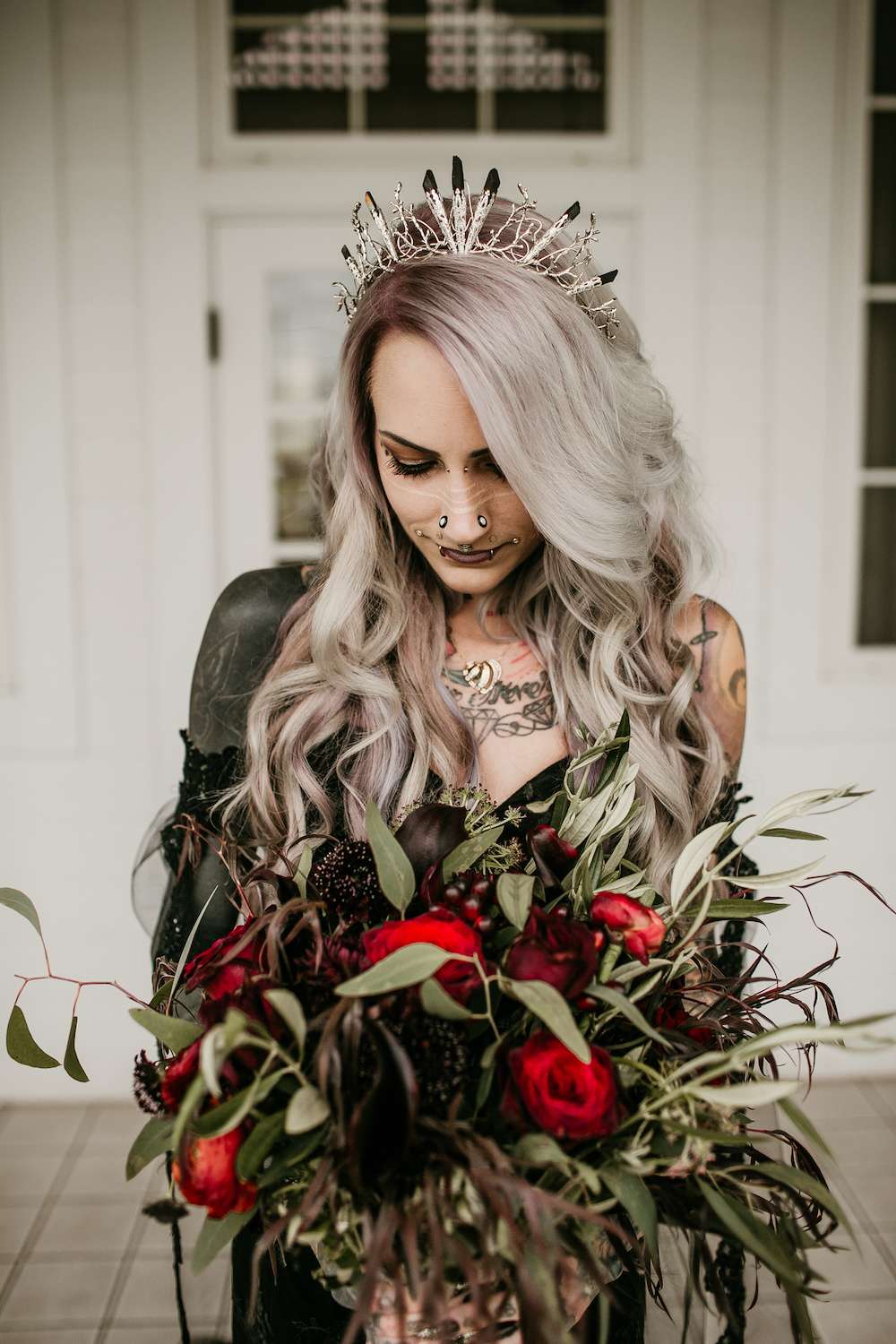 With their wedding on Friday 13th, they wanted a dark and spooky vibe without the cheesiness of a Halloween wedding. "We decided on a very dark colour theme, with black and deep red, and had a handfasting ceremony in the middle of the woods. We also got some aweomse pictures in some creepy animal masks!"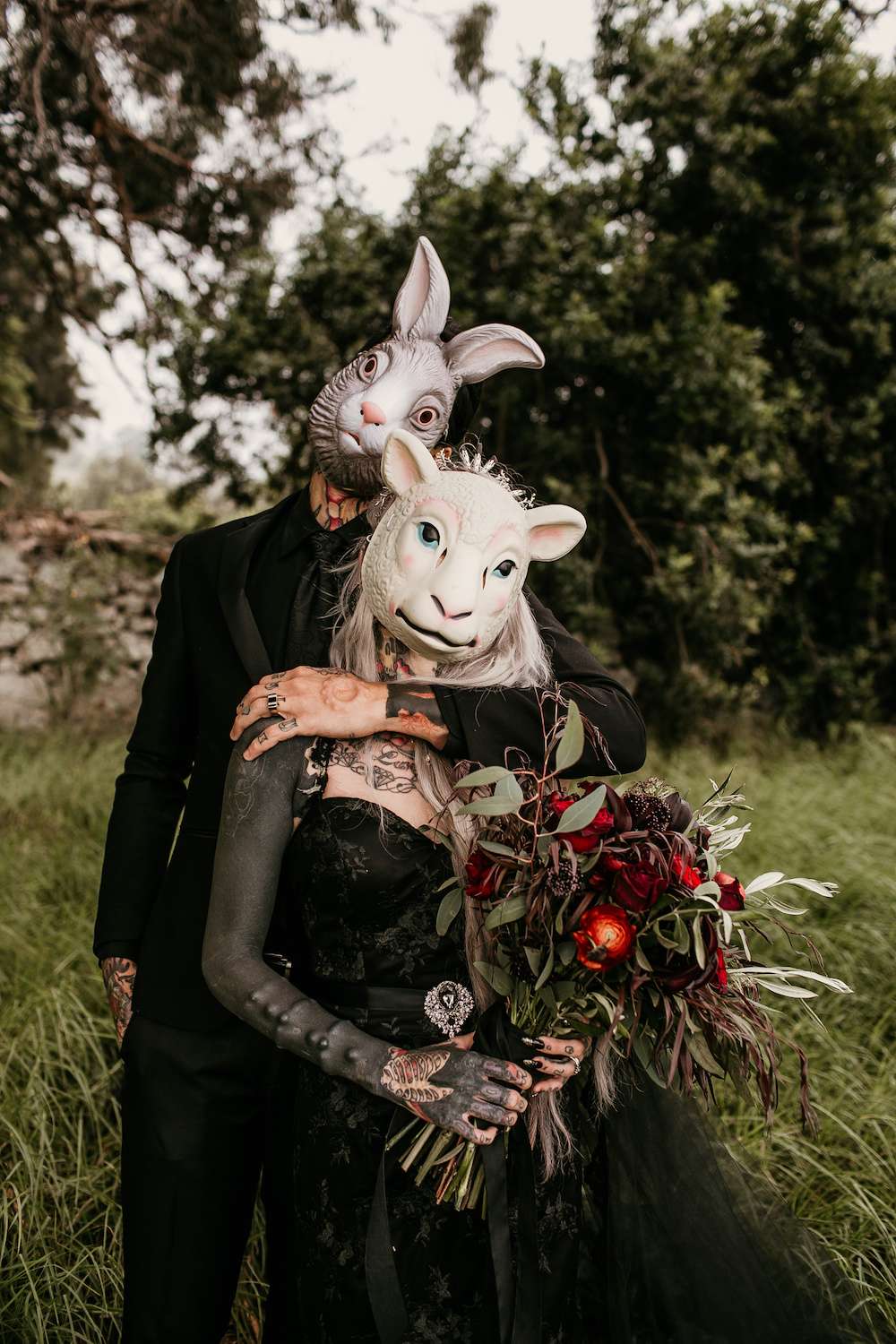 Chelsea got her black caped wedding dress from Amazon for under $100, striking lucky with a risky decision. "I did spend a few hundred on alterations, but that sill cost me less than any wedding dress would." She also wore a crystal crown from HowlingMoonUK in her lilac hair and plugs from OaksAesthetics.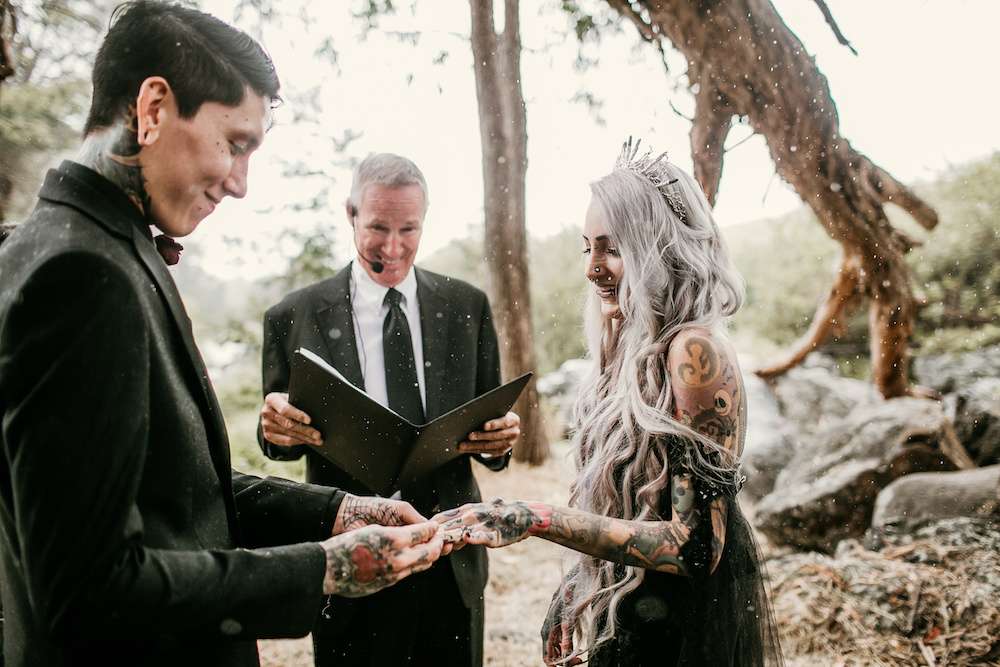 "At first, we had planned a DIY wedding, but a few months in and I realised it was a lot to juggle while working full time jobs. It's one thing to go buy your own flowers, but arranging them and making them all complement each other is an art! I did end up doing a few little things, like the cute little 'his forever' and 'her always' seat signs for our chair backs, but a lot of my little projects I ended up getting done professionally done because the stress wasn't worth saving me a few bucks. We also hired a wedding planner, Bliss in Bloom, which was one of the best things we did."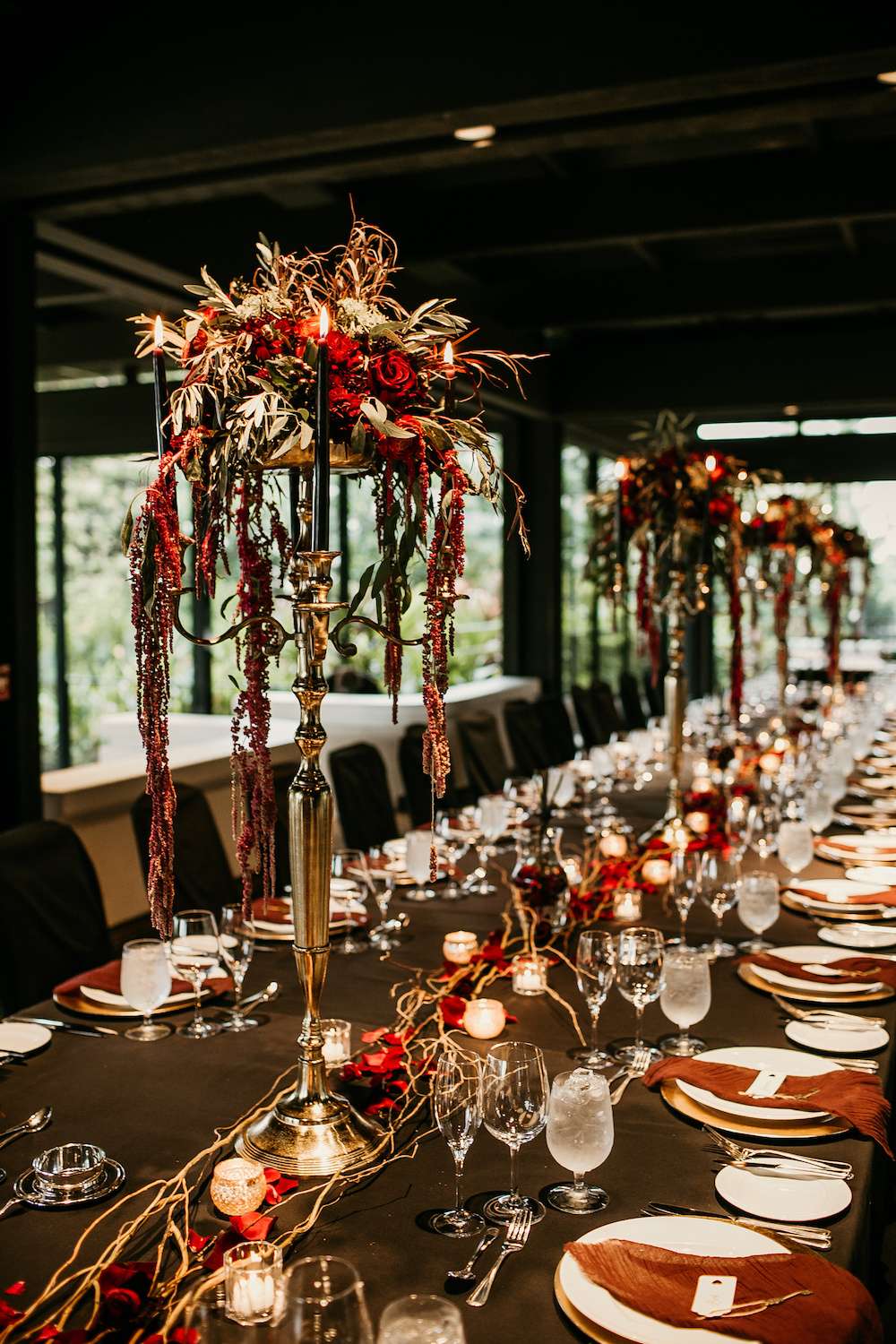 Chels and Max had their handfasting ceremony in the middle of the woods at Anna Ranch, for which they'd ordered a custom black handfasting chord from The Toadstool Garden on Etsy with custom charms added. Chels had handwritten their vows, so that they were tailored perfectly to them as a couple.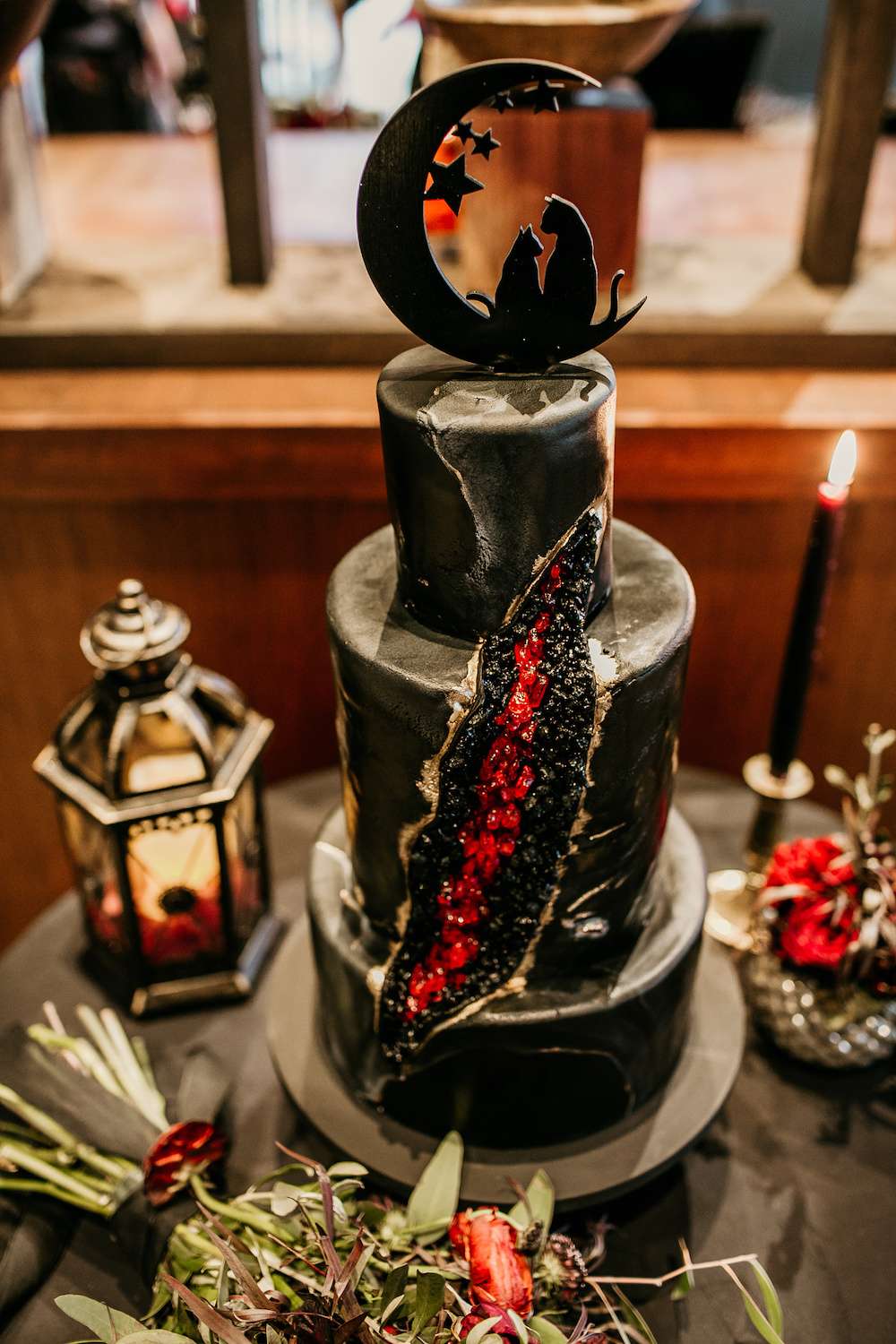 "Our ceremony location was outside, AND IT RAINED!" she laughed. 'However, rain on your wedding day is seen as good luck in Hawaii… and it definitely made our pictures that much better! But there was one part of our ceremony where our officiant read 'Now you shall feel no rain', paused, looked at us, and then said 'well, it's raining, so this is a bit awkward…'"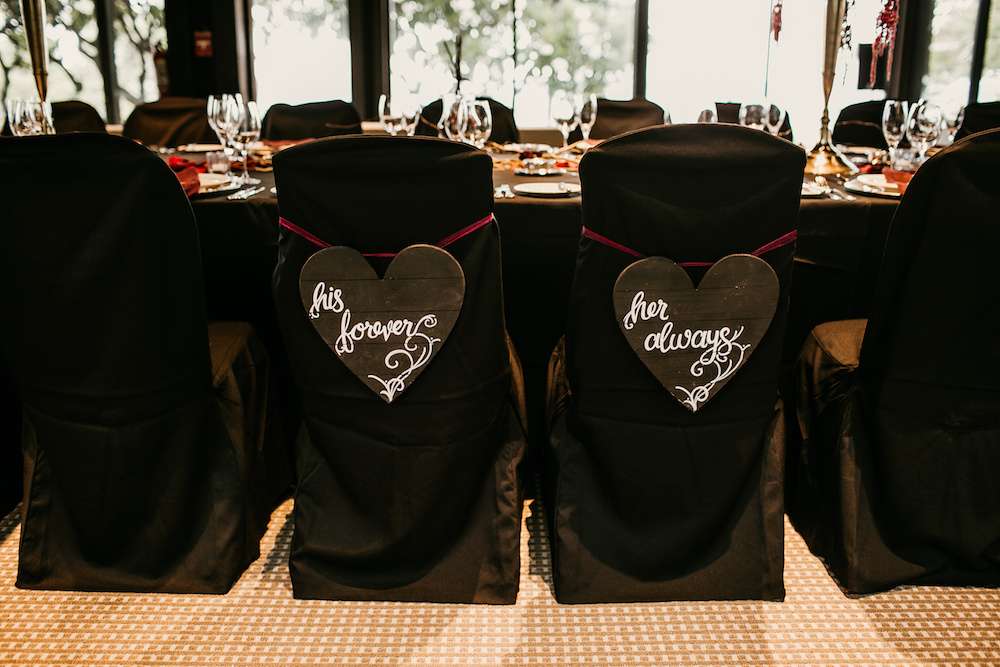 Afterwards, they had their reception at the Mauna Kea Beach Hotel's 'Garden Room'. They celebrated with a cocktail hour, which they saved money on by making it self-served and buying everything from Costco, and a meal decorated with beautiful tall floral arrangements from White Pineapple Designs. Their cake was a was a black and red geode cake from Pineapple Bakery, featuring a super cute cake topper from UpMood Shop.