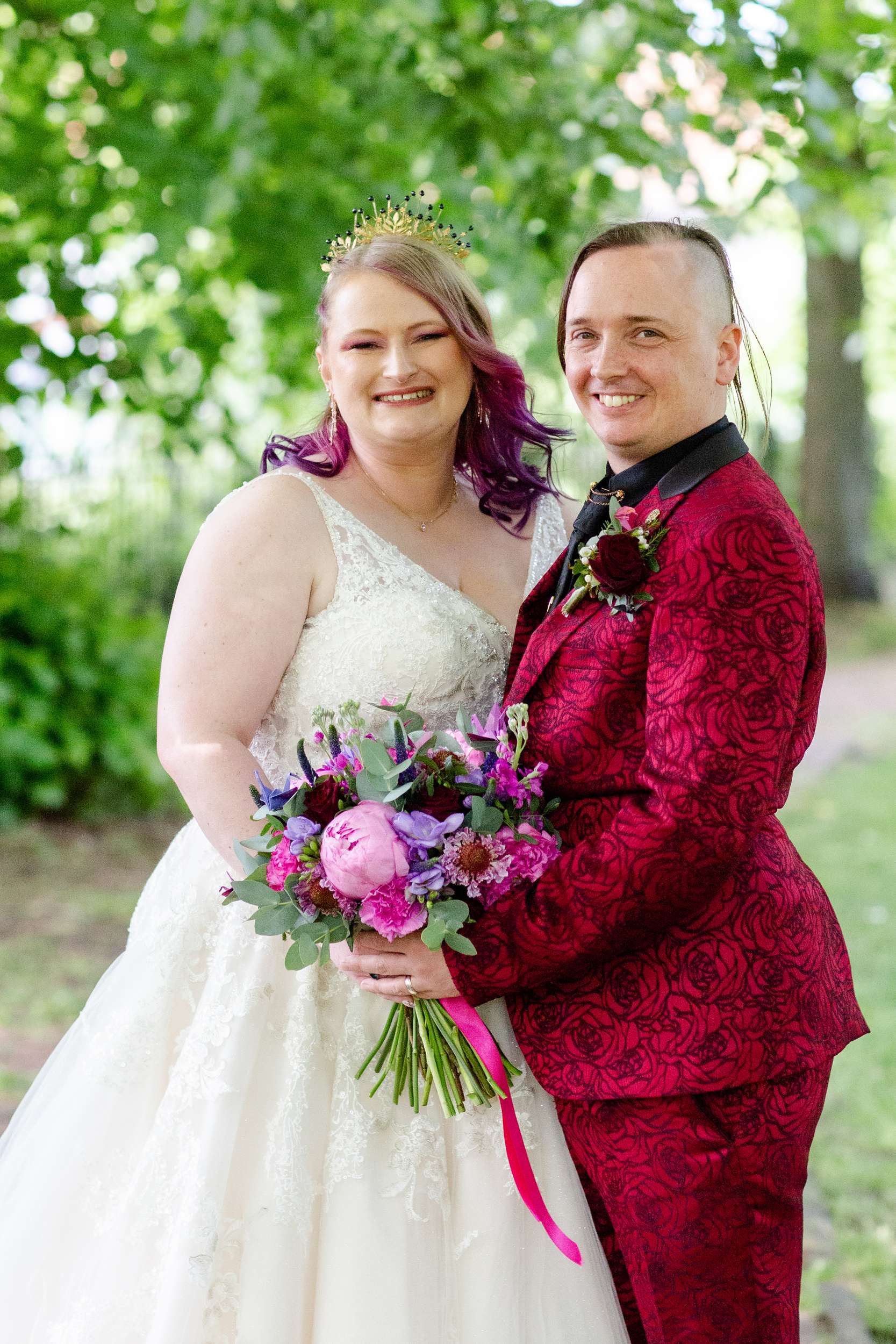 With a budget of £7,000 and assistance from The Bijou Studio (who they booked for a one-off brainstorming/ ideas session), Alex and Holly were able to create an intimate and meaningful wedding inspired by their love of Japanese culture and origami. The colour scheme was chosen because it complimented Holly's purple and pink hair.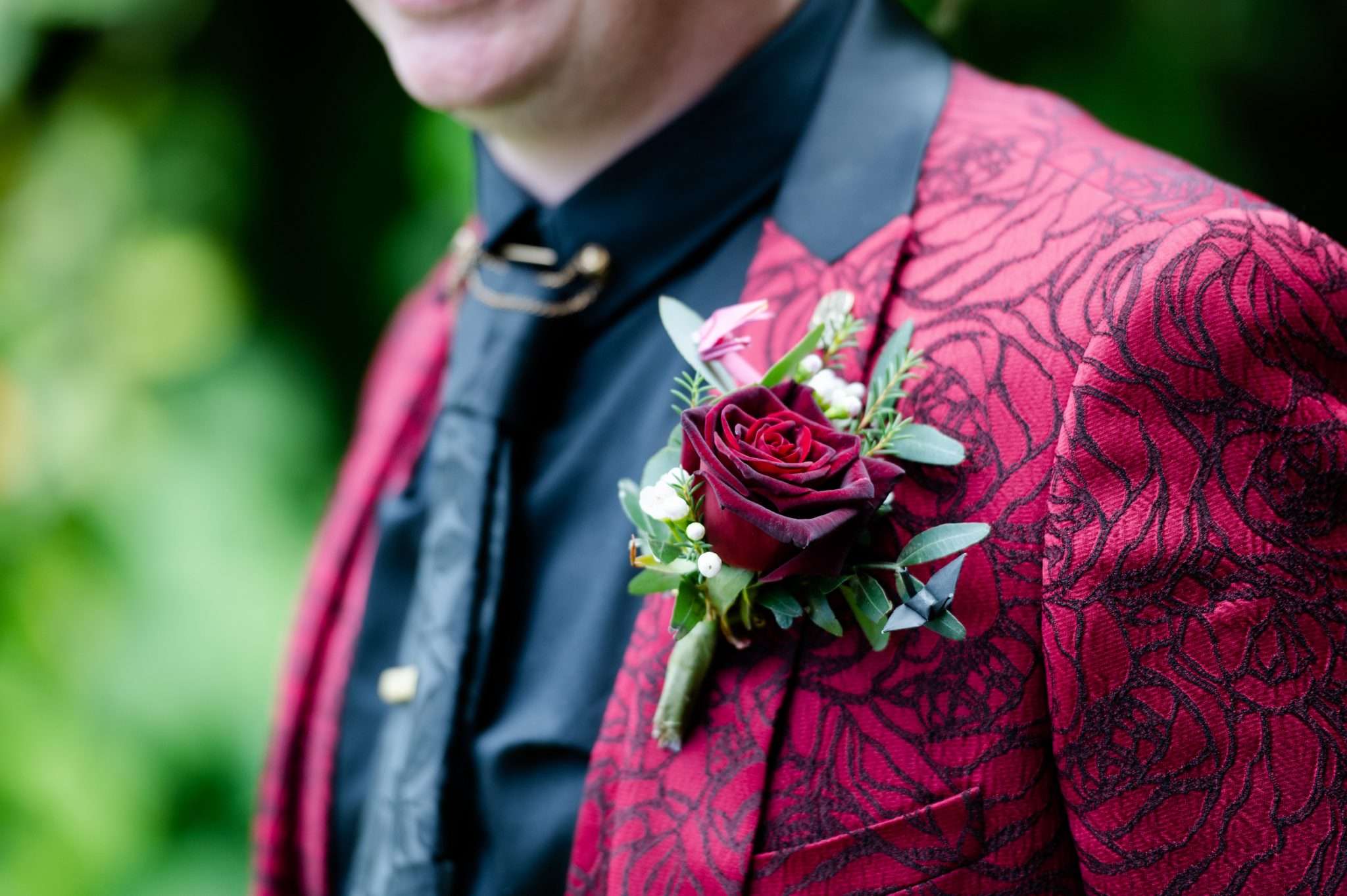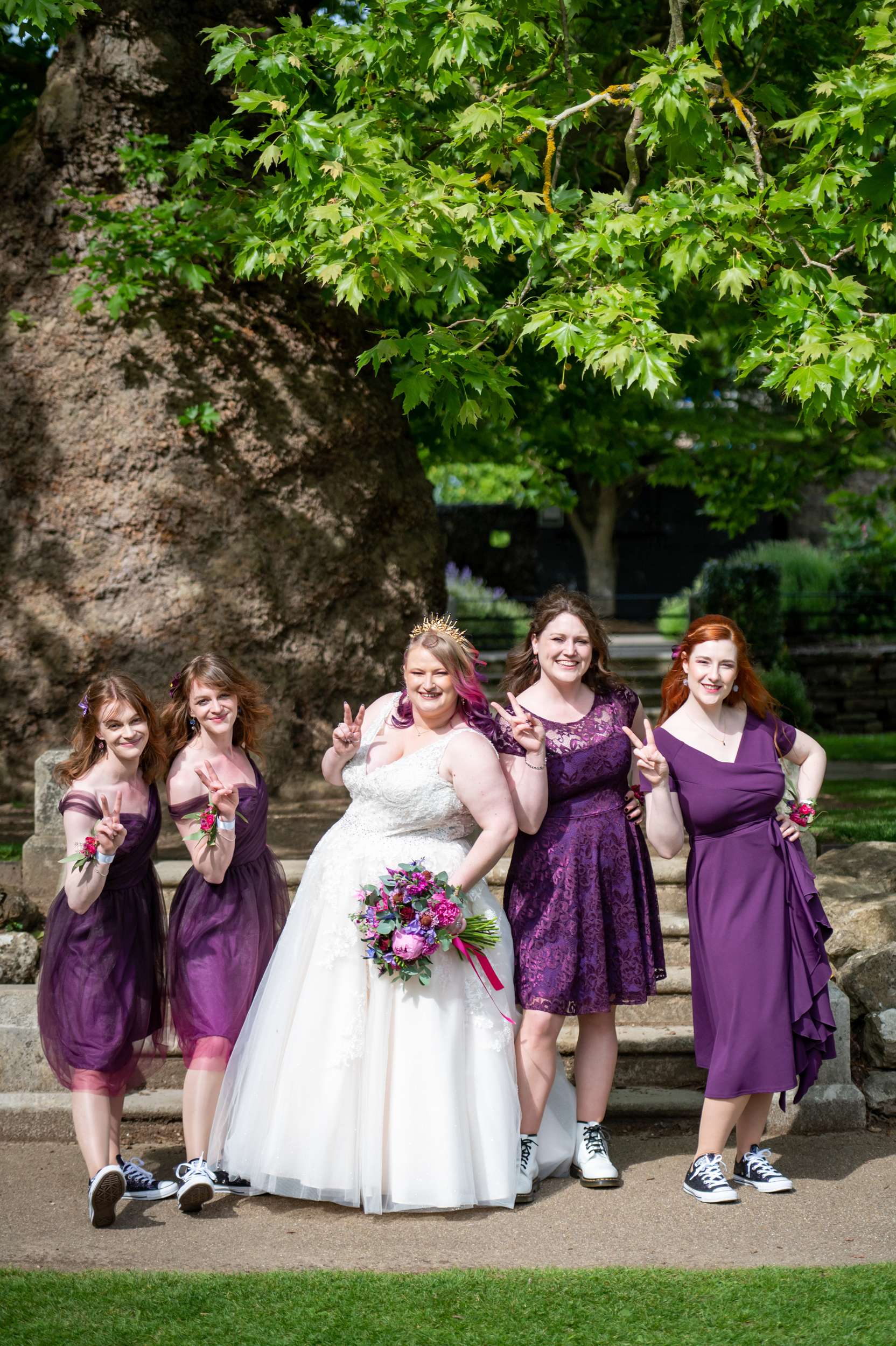 They faced some unique challenges when planning their wedding. They originally wanted to elope in Japan in 2020 but Covid scuppered those plans. Then, during their rescheduled 2022 wedding the AirBnB, where the couple and wedding party were going to stay, had a gas leak three days before so they had to find somewhere else at short notice. Holly also had to buy a second wedding dress when her original one no longer fit.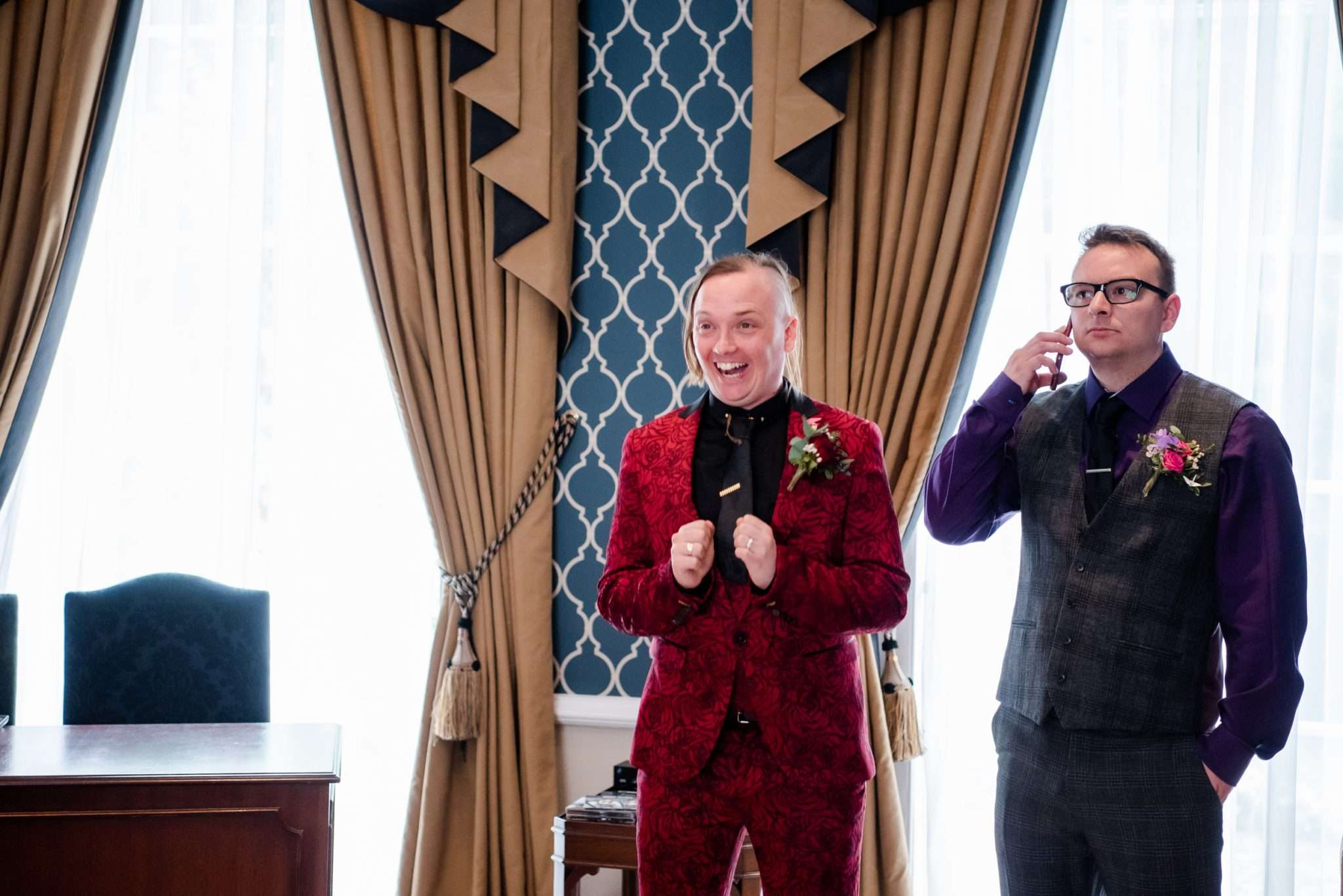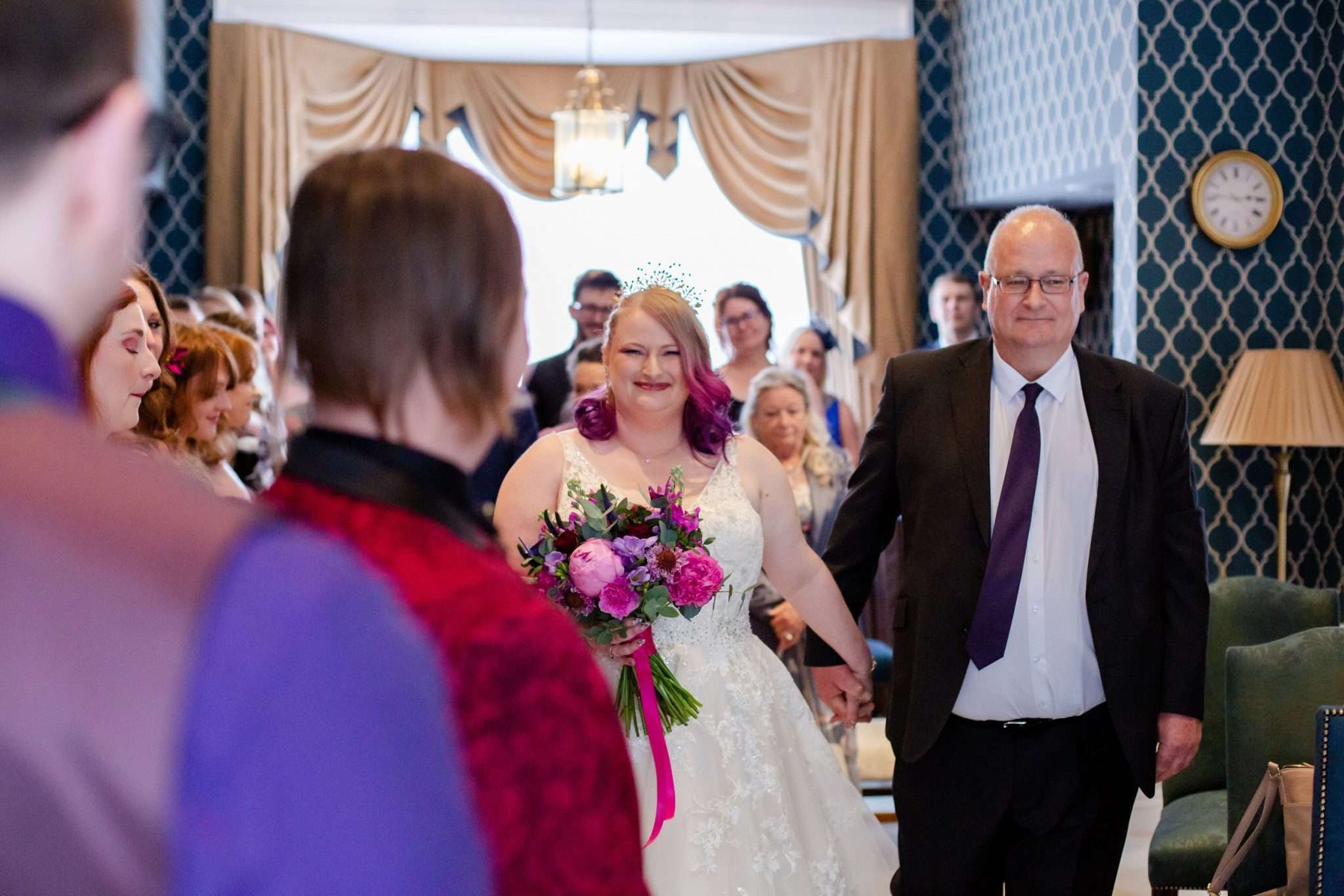 The bride wore a Kenneth Winston dress from Victoria Grace Bridal, teamed with a purple ombre cape from Crown and Glory, Irregular Choice heels and a headband from Howling Moon UK. The groom wore a red three-piece suit from Twisted Tailor and bridesmaids wore dresses from various high street stores, paired with Converse or Dr. Martens.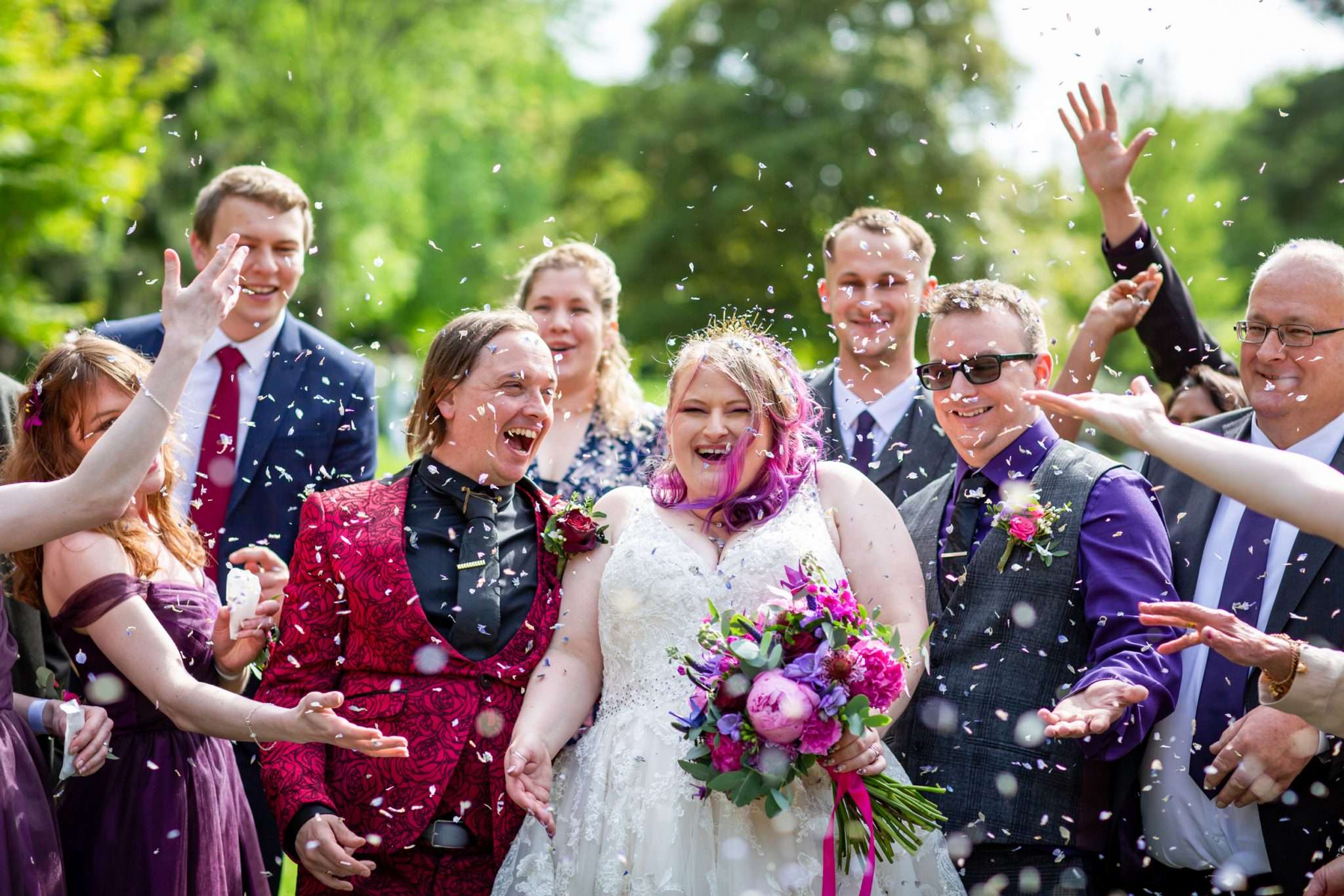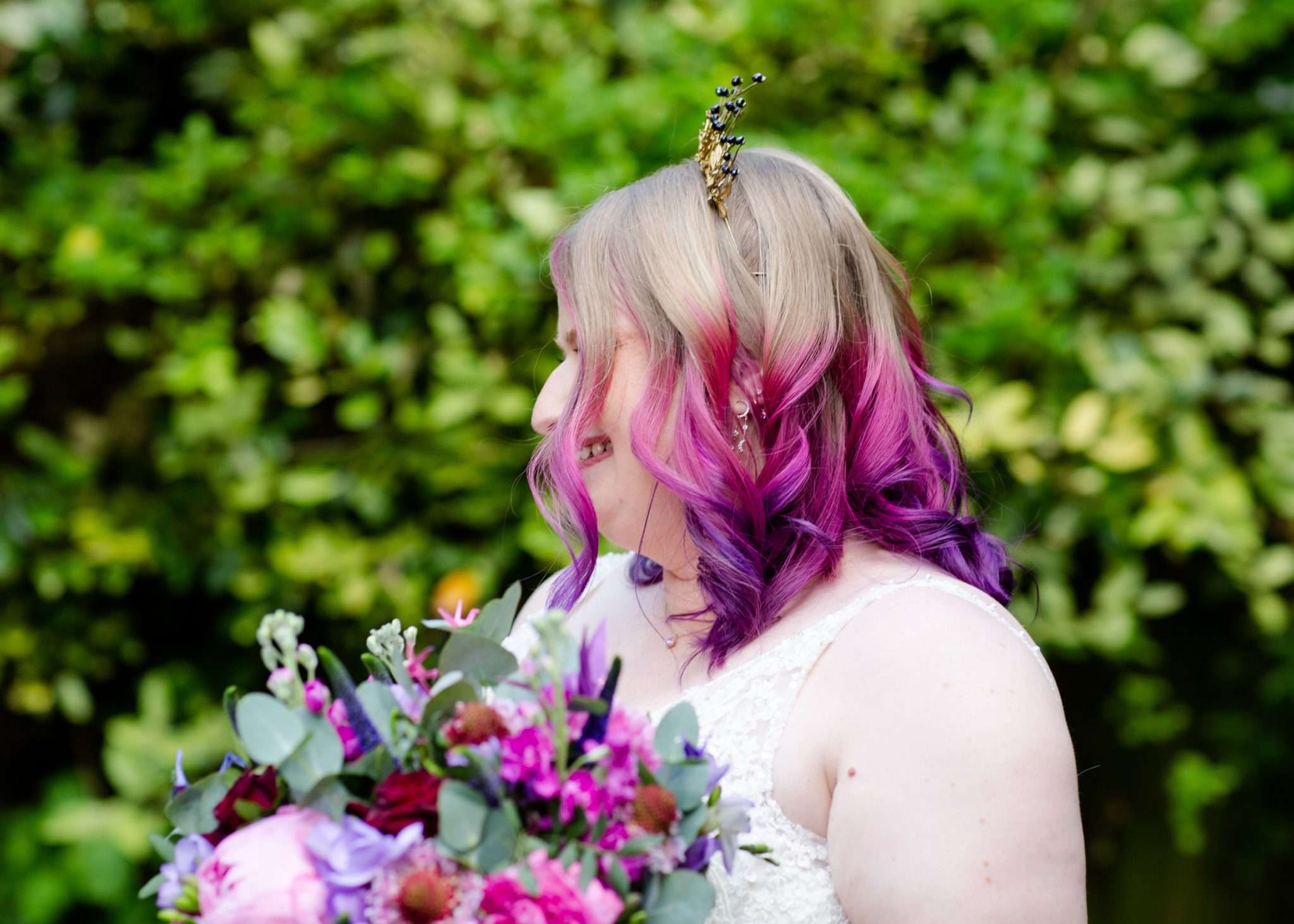 The ceremony was held at Wellington House in Canterbury and was an intimate affair for 30 people. The couple didn't exchange rings as they had already exchanged them in May 2020 on their original wedding date and never wanted to take them off. Music was provided by the Camille & Kennerly Harp Twins and the exit song was AC/DC's Shook Me All Night Long. The couple's vows were simple, but they had two readings; All I Know About Love by a poem Neil Gaiman, and a personal reading written by Rob Parker, one of the groomsmen. Rob's reading was funny but also very sentimental, and his signature was so wobbly that the registrar entrusted the marriage certificate to a bridesmaid instead of the best man!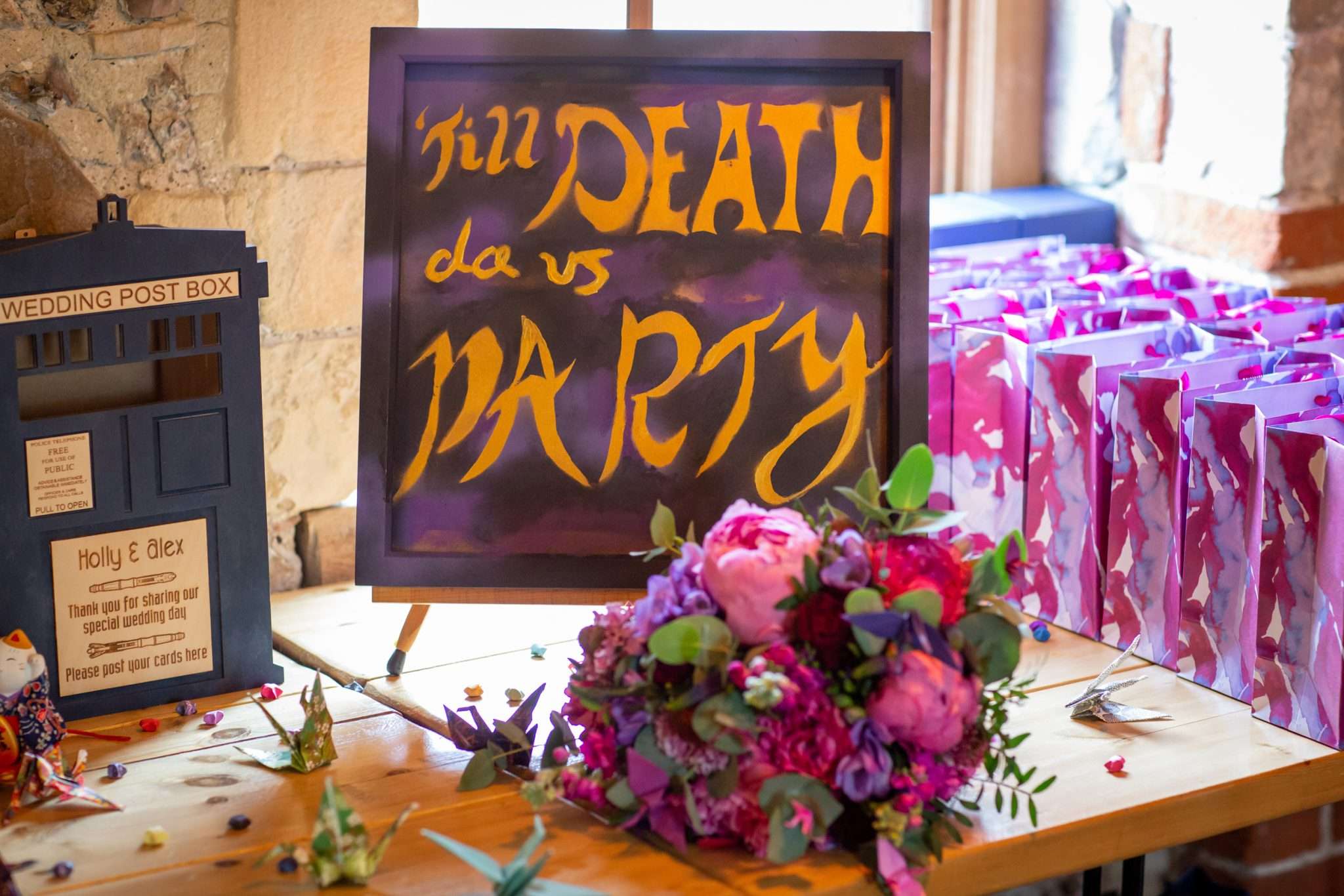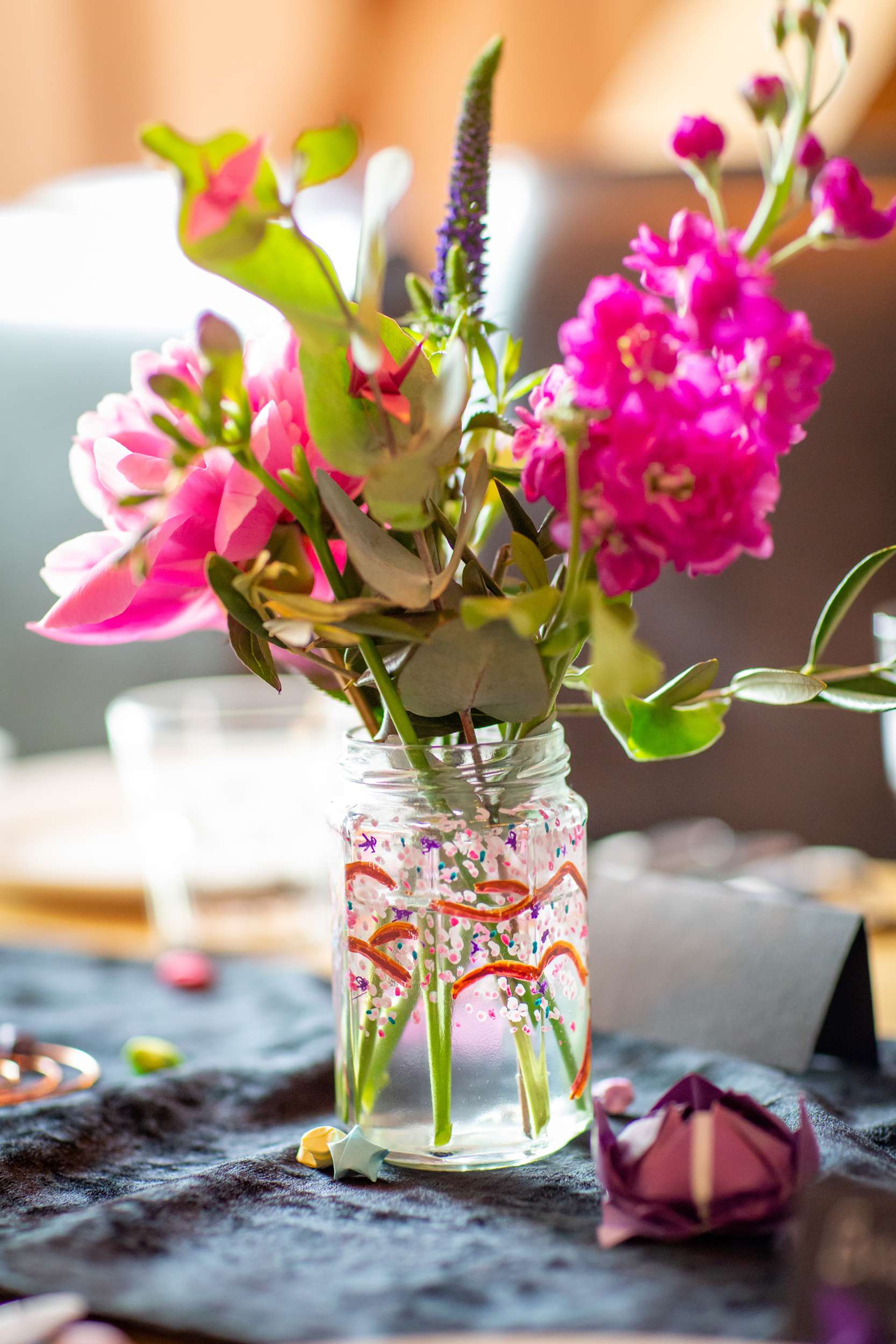 The reception then took place at Cafe du Soleil where the couple had done a lot of DIY projects to decorate the venue. These included origami crane backdrops, origami stars for table scatter, a 'Till Death Do Us Party' sign and a Tardis letterbox. On the tables were runners made from Japanese fabric, painted recycled jam jars with cherry blossom designs for the flowers and name cards in English and Japanese decorated with little paper cranes.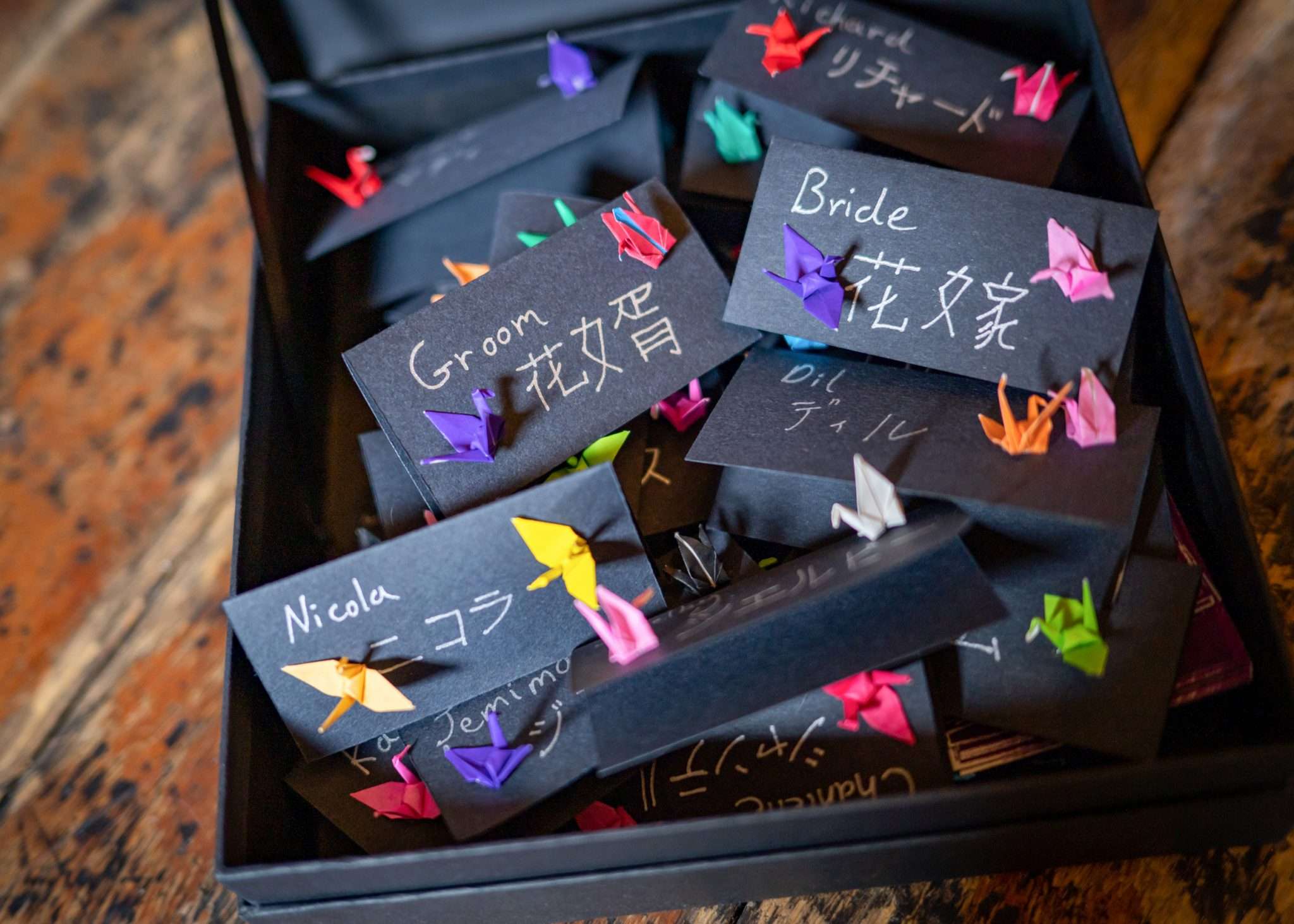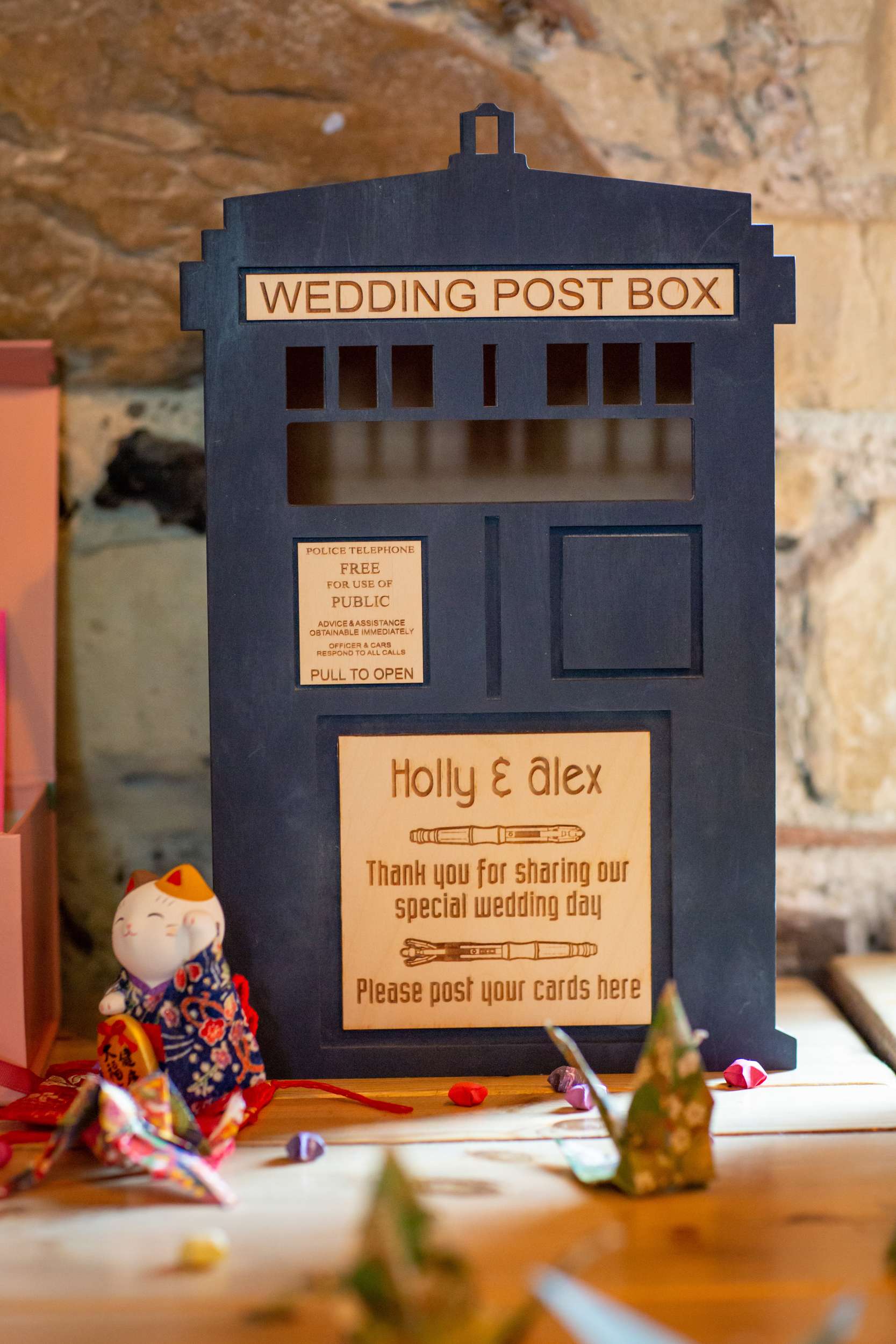 "Letting my creativity go crazy was the best part of wedding planning", Holly says. "I loved doing all the DIY bits and it has really inspired me to express my creativity more often and explore these sorts of projects in the future. I loved seeing all of our themes and ideas coming together."
Other super unique elements of this wedding included the fact that Alex took Holly's surname and the bride did a speech in Japanese, which the groom translated for everyone.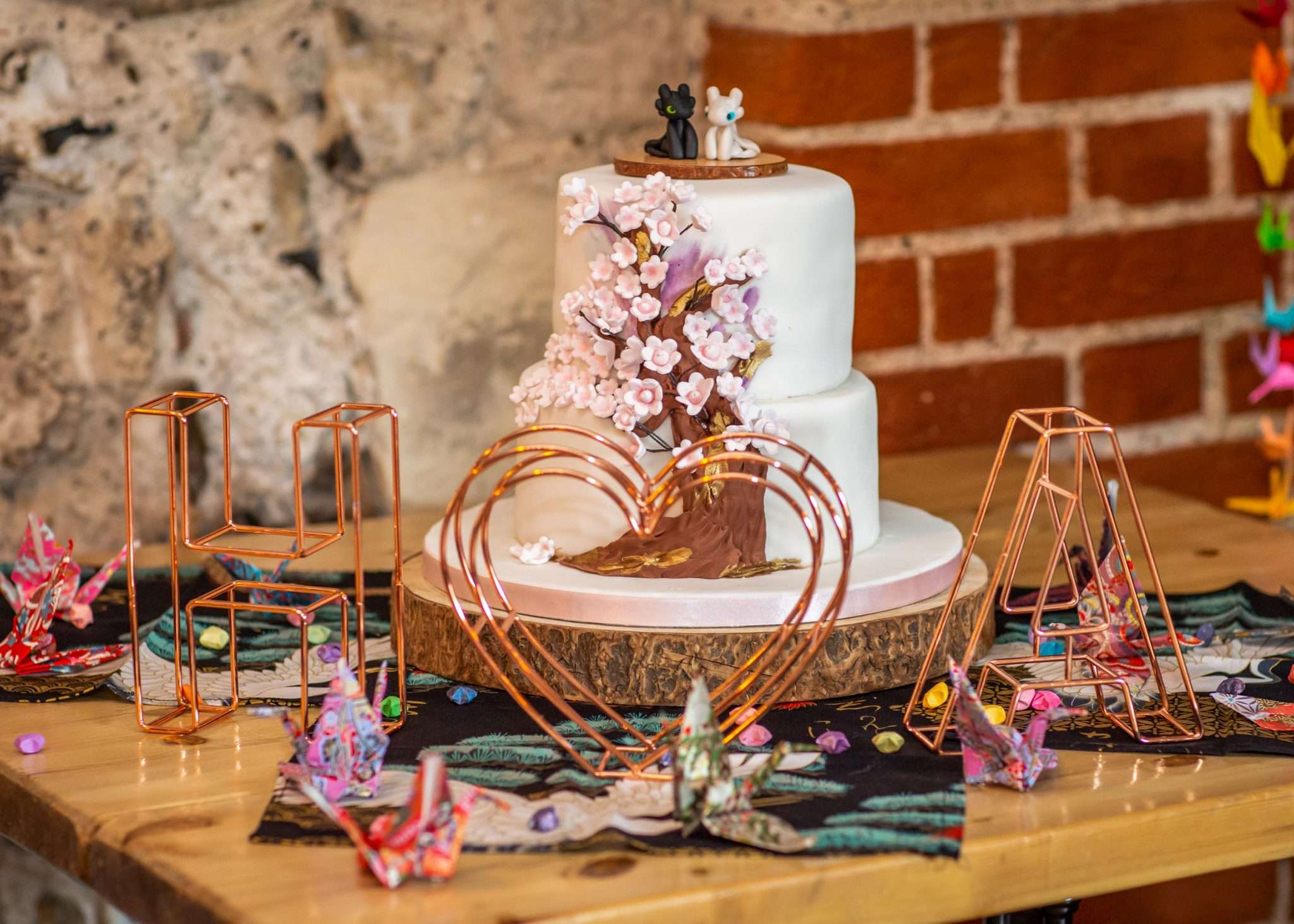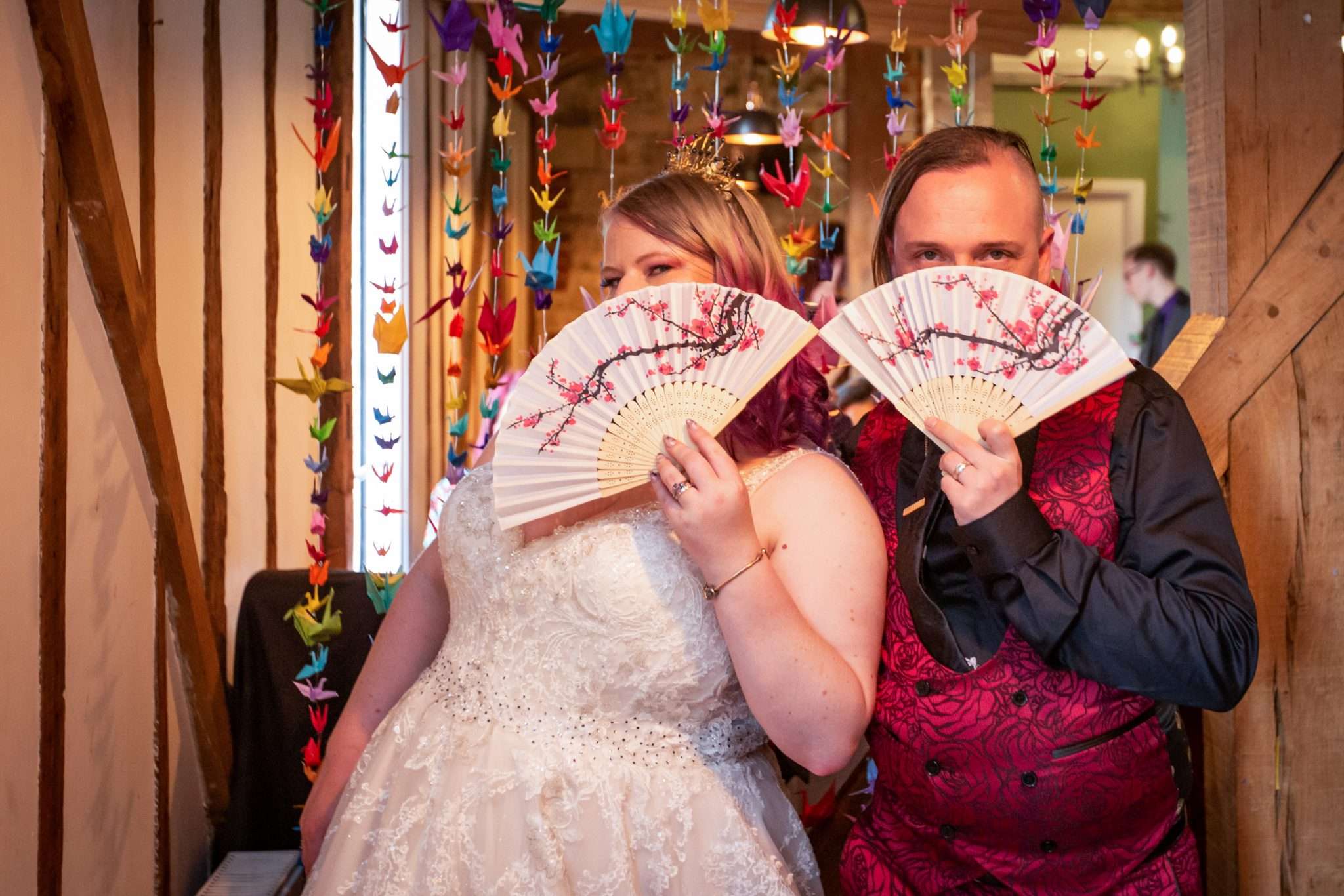 Looking back, Alex and Holly wouldn't have changed a thing about their wedding, even with all the stressful moments in the run up. Holly says, "Even with Covid messing things up a couple of times, I know that without it we wouldn't have ended up with the wedding we did. And even though it was really gut wrenching and it knocked my self-confidence when my original dress didn't fit (and was a bit stressful trying to choose another one and having to pay for it) in the end I loved how I looked in the new dress and I am actually happy the first one didn't fit anymore."