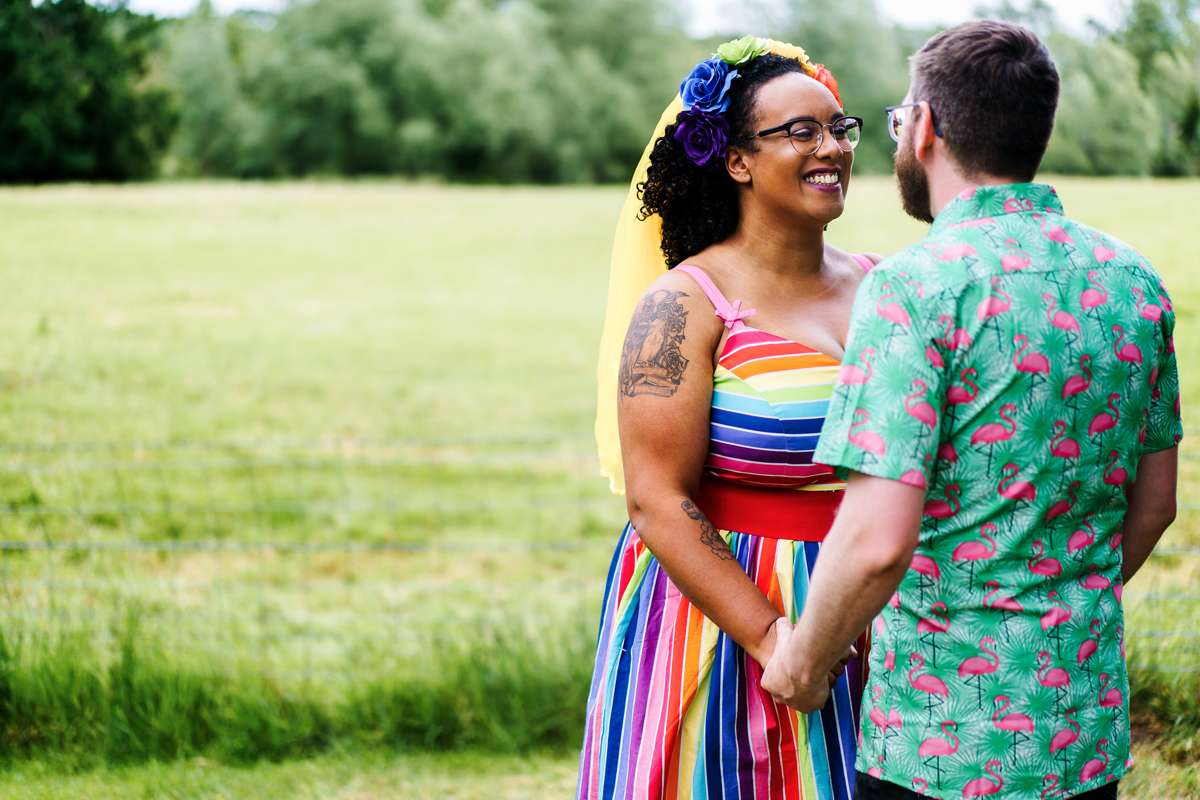 We've got a really sweet and simple lockdown wedding for you today, which will definitely inspire you if you've decided to take advantage of the new guidelines in the UK where small weddings can now take place, or if you want to honour your original wedding date and still have a ceremony.
Ali and Edd had a Zoom ceremony in early June, and although the ceremony wasn't legally binding they will forever celebrate it as what they see as their wedding anniversary. They plan to have the big wedding and do the legal bit next year.
They spent just £300 to make this happen, and most of that went on the online platform they used to make sure the process was seamless. "Our friends Sam and Ruth put us in touch with splinterfaction.com who ran the whole online platform", she explained. "Using it was worth every penny. They made sure that everyone of our 80 guests was looked after and had the opportunity to speak to us through a breakout room."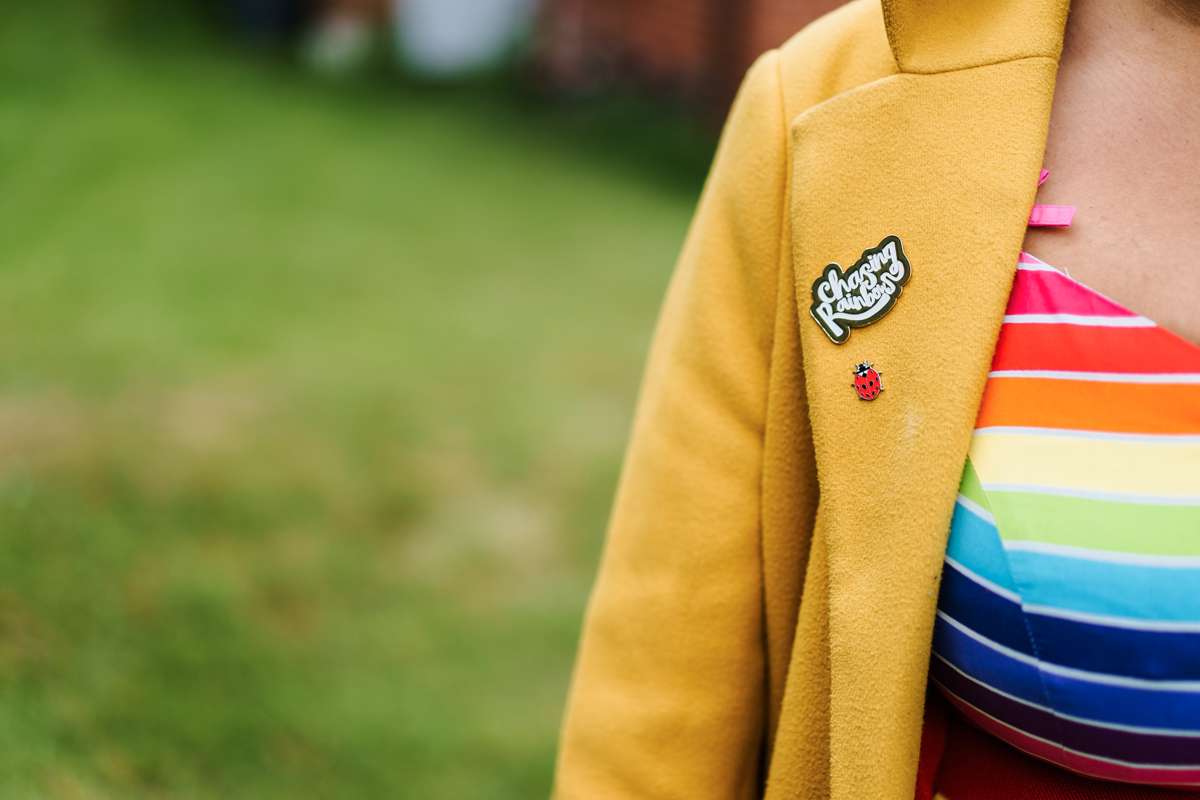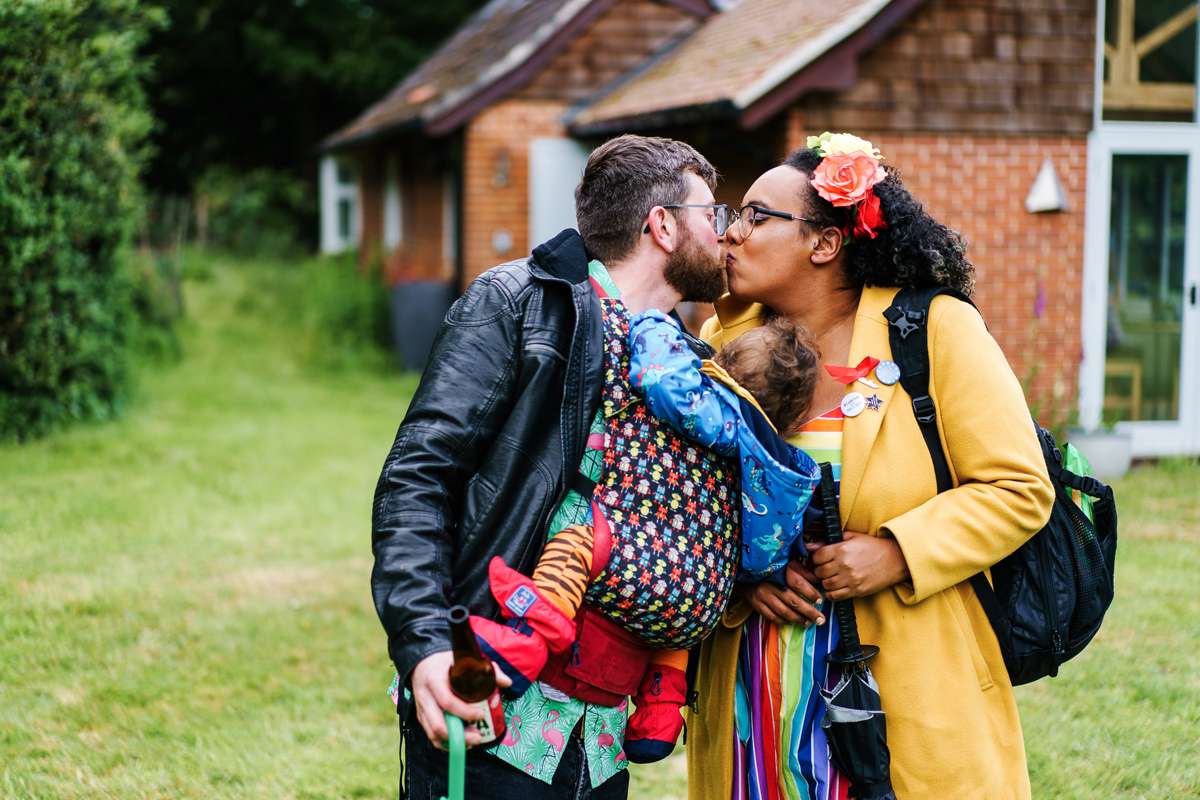 Ali wore a rainbow dress from Hell Bunny with a DIY flower crown (made at her virtual hen do!) and a yellow veil which she dyed with turmeric herself the morning of. "I had previously been married in 2012 and was going through the loft and found my veil in a bag. That meant so much to me then and I thought that I should give it one more outing as it was so beautiful. I dyed it with turmeric and dried it on the line to wear that day. I loved it and it made me so happy. I then gifted it in the Rock n Roll Bride Facebook group so that another pandemic bride could wear it. She said that she is going to initial it at the bottom with both our names and then pass it on to the next one in the hope that they will keep on the tradition."
A good friend from their village conduced the ceremony (social distancing of course) while their friends and family tuned in to watch live. They stood in front of a 100-piece rainbow balloon arch, which they made themselves. Afterwards they cut and ate a cake (made by some ladies in the village), ate steaks and did a social distancing shoot with their photographer Rob Dodsworth.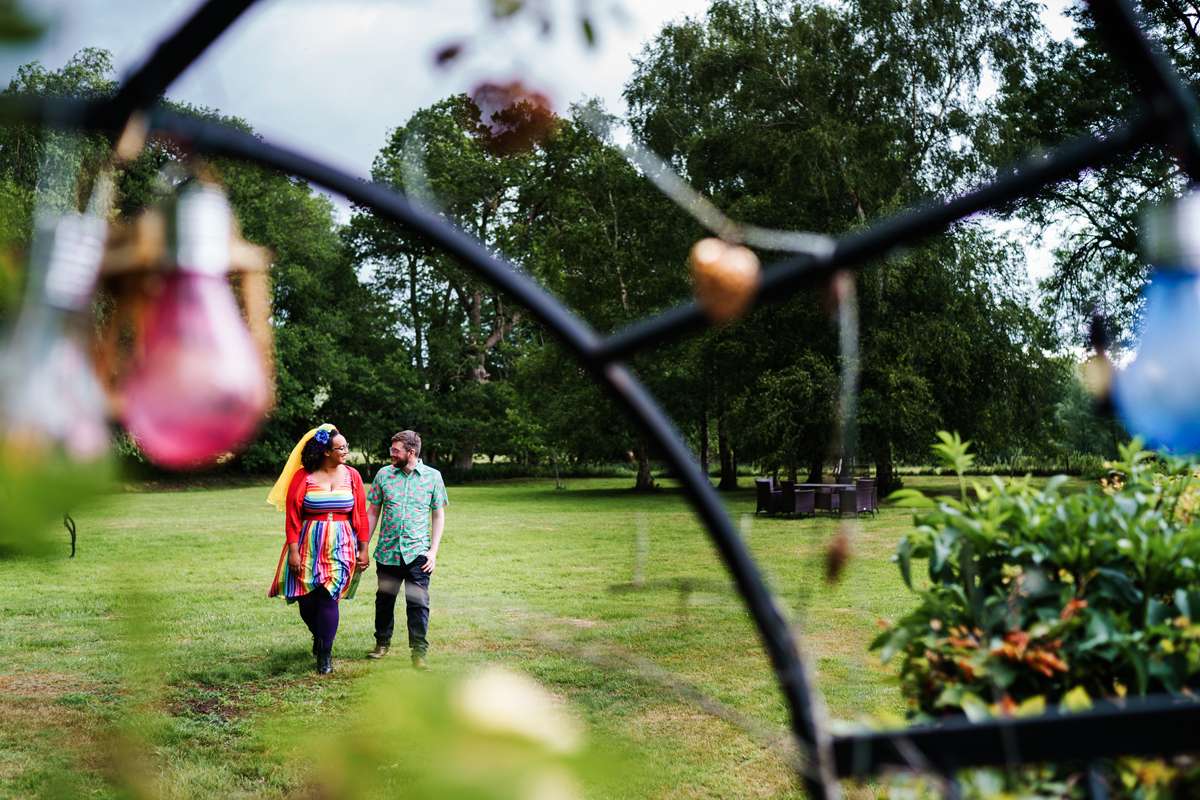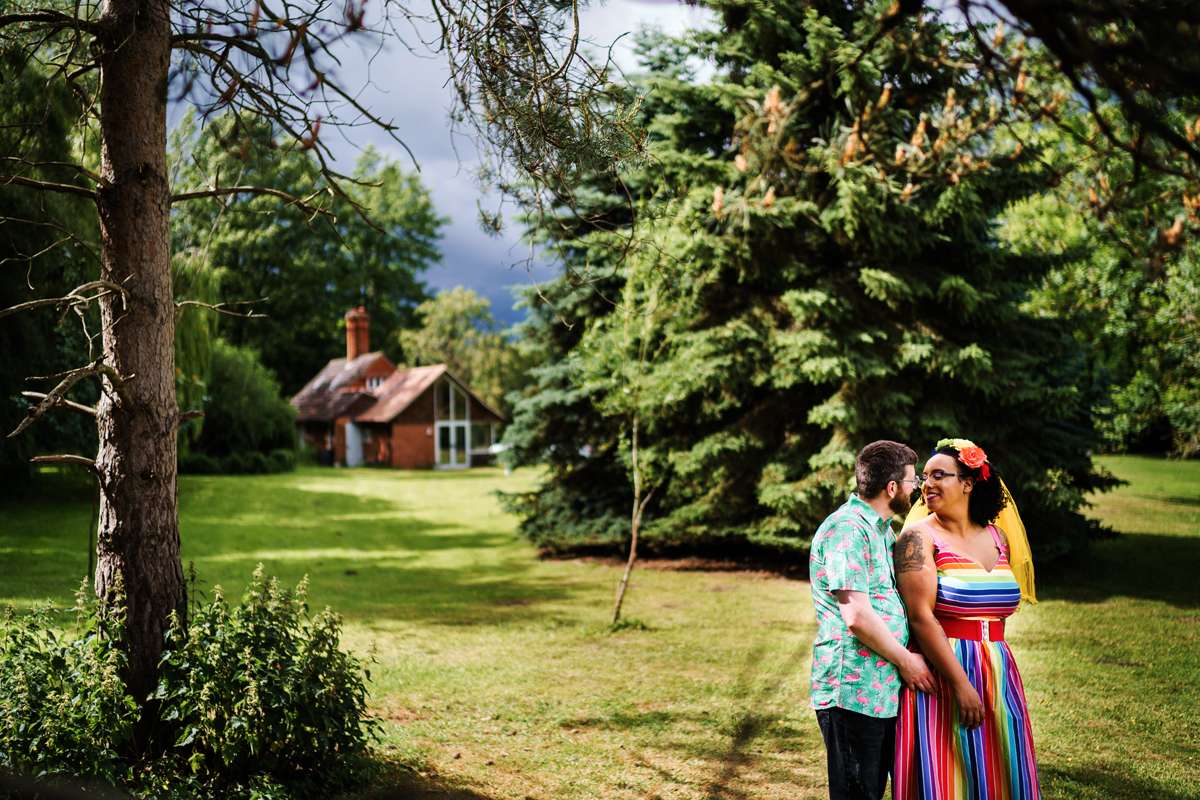 Despite the unusual circumstances, Ali and Edd wanted their day to feel bright, joyful and to still reflect them and their relationship. "We like things that are different and quirky", Ali said. "I am also obsessed with rainbows and part of the LGBTQI+ community so we wanted it to represent that. Even though Covid-19 has has split us all up (my mother is shielding and looking after her own mother and sister, Edd's parents are also shielding in Cambridge and our best men and bridesmaids are scattered across the county) we wanted to bring everyone together. For about two hours we forget that we hadn't hugged each other in months. Edd and I were also to make the day special and not sit at home feeling sorry for ourselves."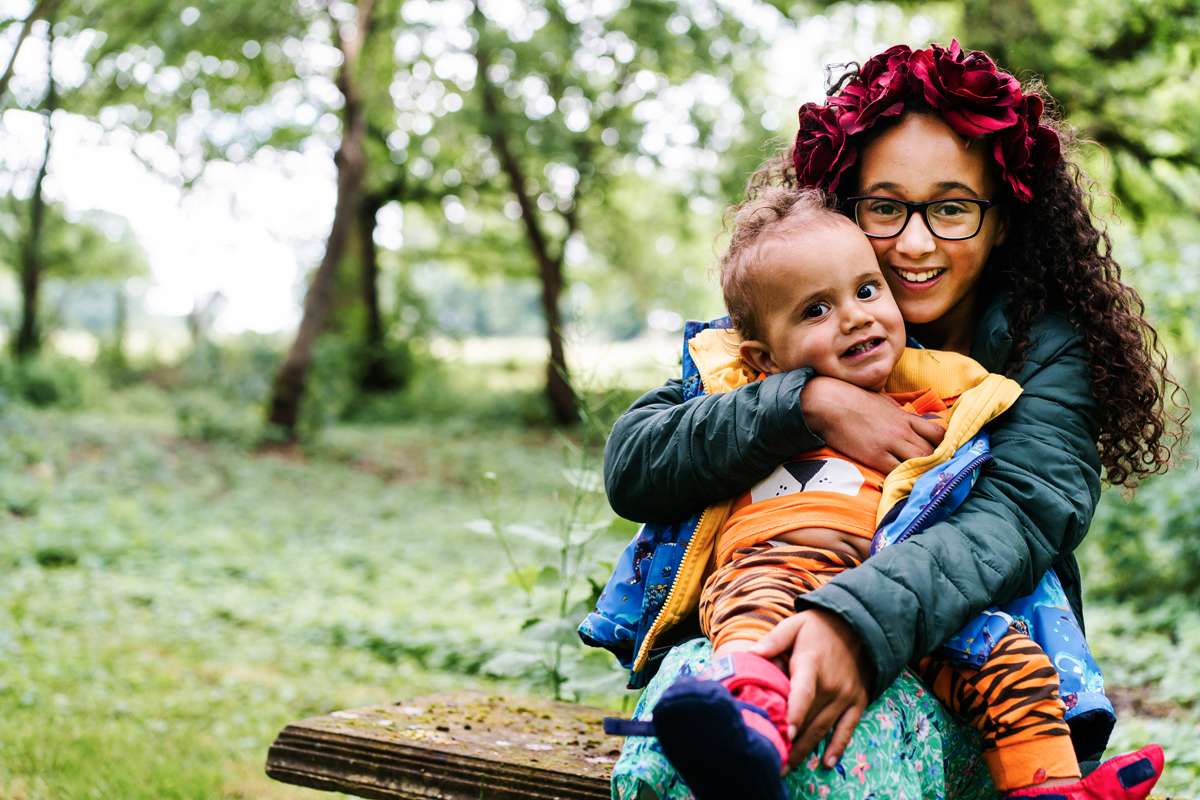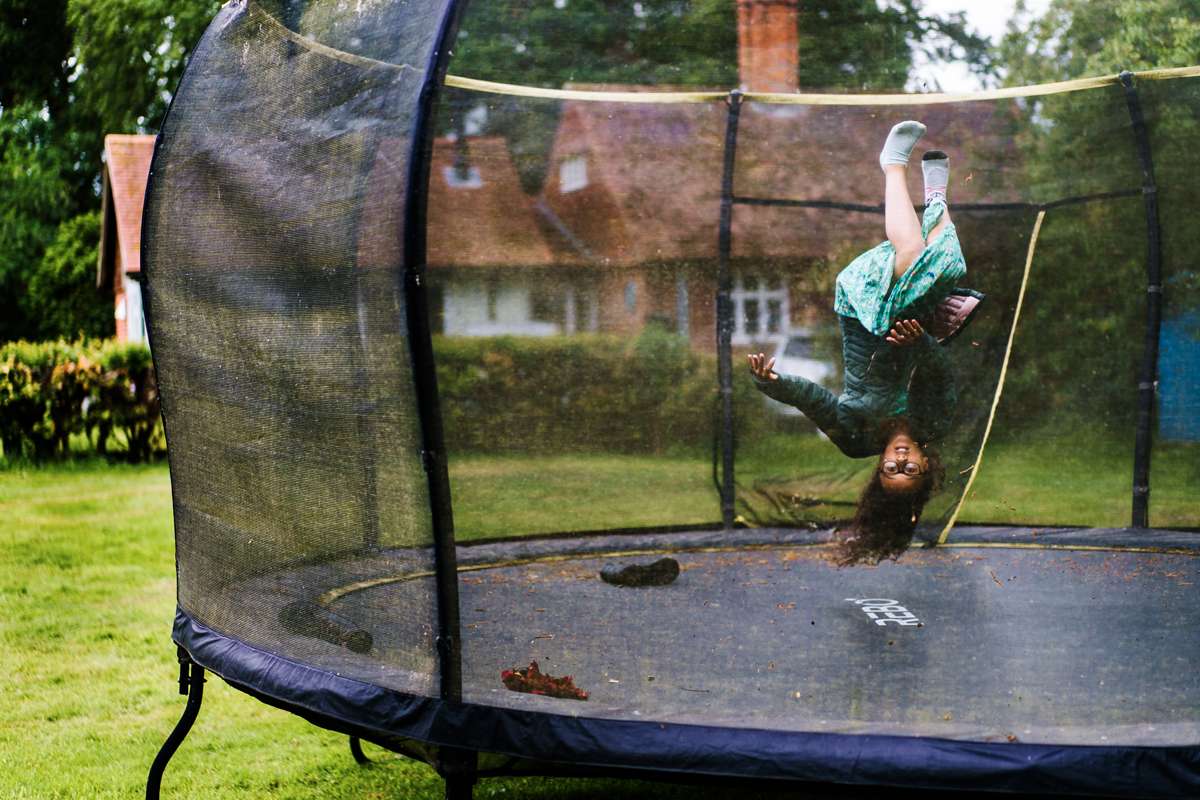 "A global pandemic forcing us to conduct it in our back garden is a far cry to what we had planned. However, I think what made this different were the combination of people helping us get this up and running and the community spirit that ensued. A group of ladies in the village made our wedding cake. Our good friends Aiden and Rebecca sorted out the music. It was a group effort and without these little touches it wouldn't have been so special."
The thing they learnt most of all through this process was that it REALLY didn't matter how much they spent, or what the wedding was like. They wanted to get married (even if it wasn't legal yet) and they're so happy they did it. Here's how it actually went down: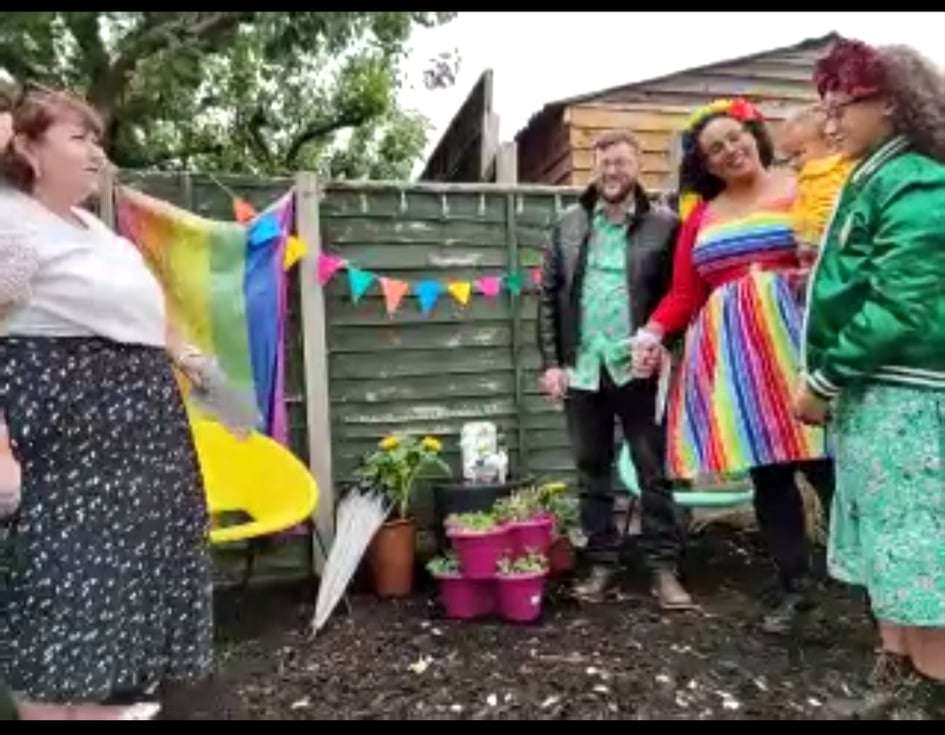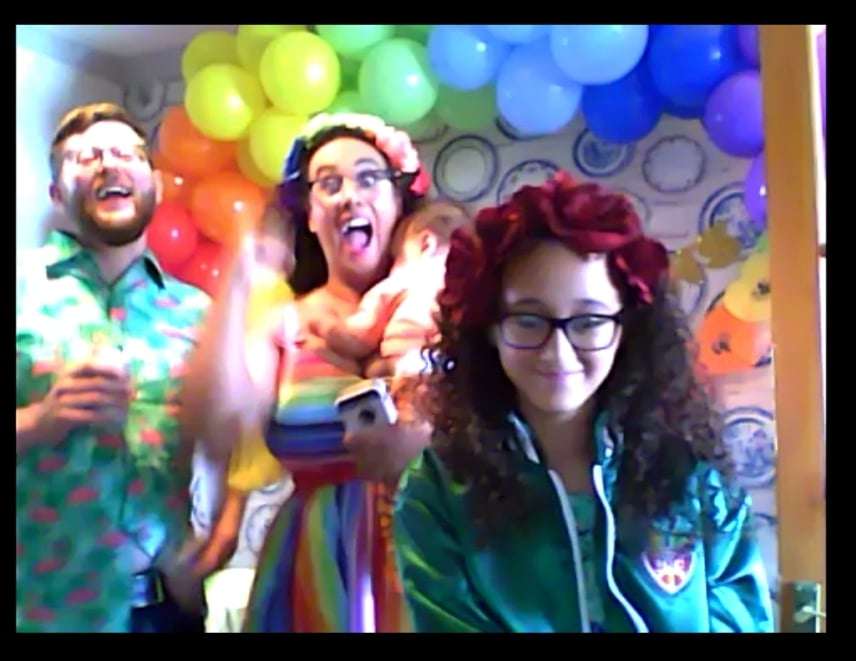 "At 12:30pm it kicked off with a 30-minute slideshow whist the DJs played some great tunes to get everyone in the mood. At 1pm we started the ceremony. The weather held off enough so we didn't need to have our umbrellas up. Edd and I exchanged silly vows such as 'I will never watch a Netflix's series without you and then pretend I've never seen it before' and 'I will always put the bin out'. Our daughter Lily (10) wrapped a rainbow ribbon that we had designed together round our hands and tied a knot. We then returned to the lounge and had a party for the next hour – talking to guests in breakout rooms throughout that time. The DJs continued to play and there were people dancing with their kids, having lunch and throwing confetti. We had a great time and then at the end we cut the cake together and shoved it into each other's faces! We then walked down to my parents' house and saw my Dad and Rob (our photographer). Rob and I have been friends for about four years and he knows that I hate having my photo taken but he made me feel so at ease I didn't even feel like there was a giant camera in front of us. We ended the day with BBQ steak from the butchers and a glass of red!"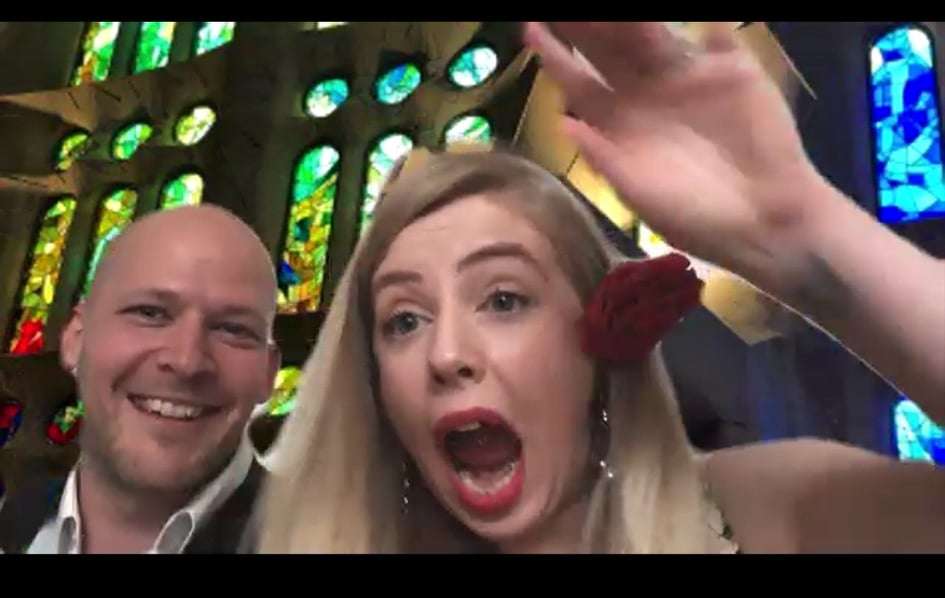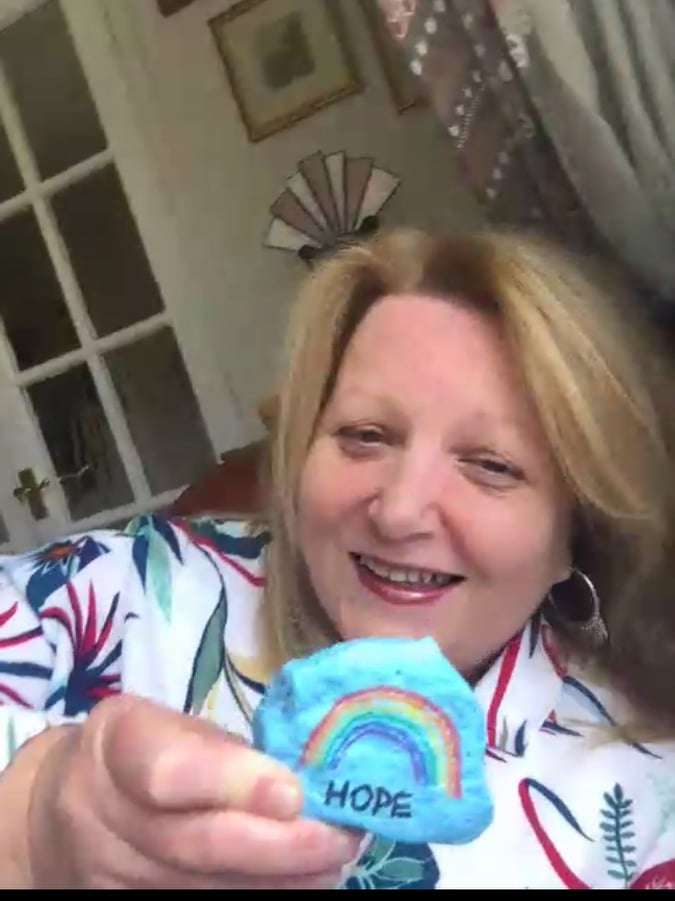 "Edd and I didn't have the wedding we planned", Ali concluded. "There was no rustic barn, band, DJ, suits or full on wedding dress – that's all been postponed til next year, but that didn't matter. We realised that we didn't really need that, what is important is having your friends and family there and declaring how much you love each other. We are living in a very unpredictable world and we have found that people not things are more important to us than ever."