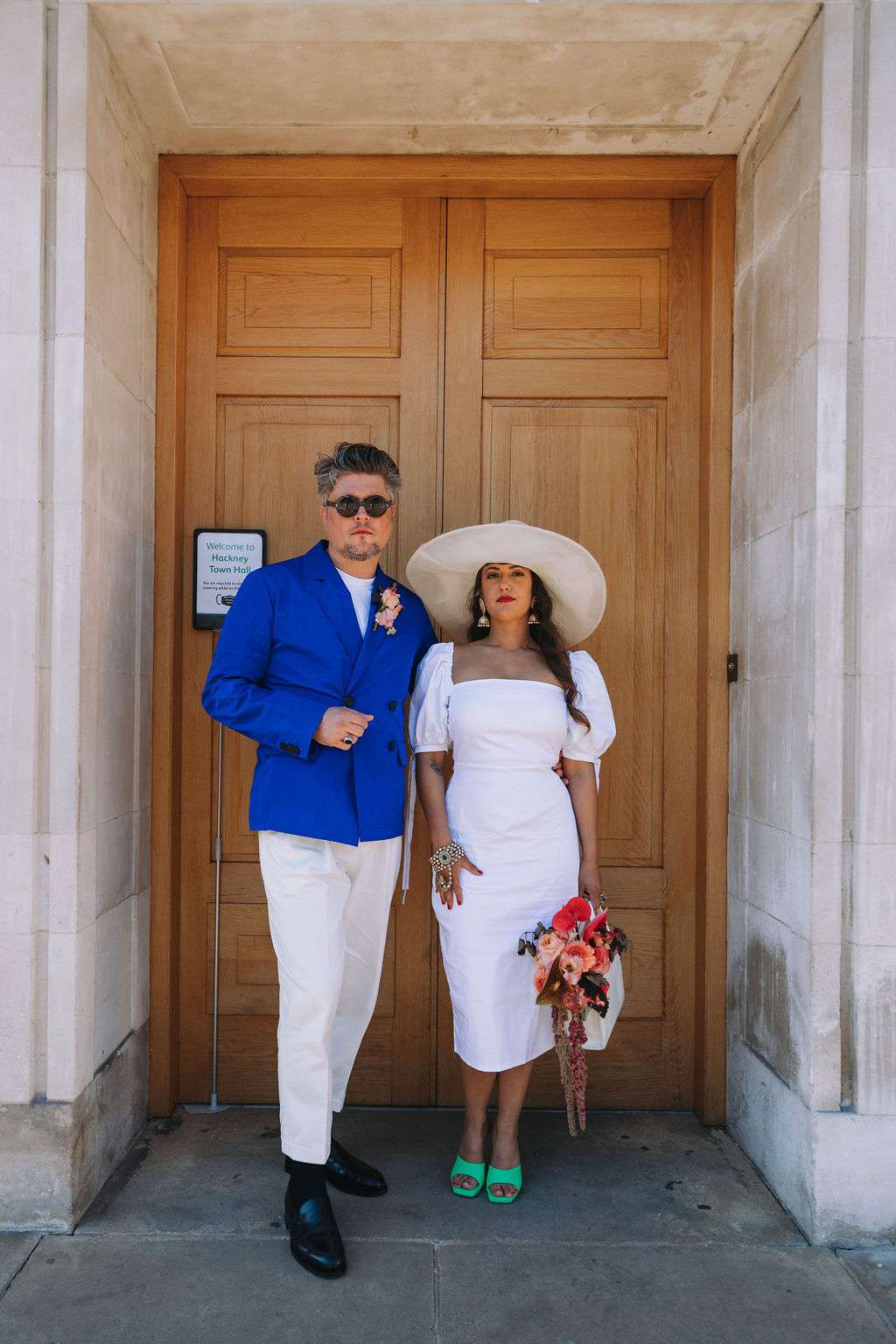 Veils are awesome, capes are fabulous, but we really don't see enough brides in hats. Nothing about Cassy and Elliott's courtship was traditional, so why should their wedding be? They met through friends and once they got together (after quite a few drunk texts!) things moved really quickly. They moved in together after two months and were engaged in just four!
The wedding day was based around a colour palette of pale pinky peach, red and bright orange, which put together by the groom. "To be honest, we didn't have a direct inspiration", said the bride, "but I always looked to Rock n Roll Bride magazine and website to see how other people executed certain aspects such as signage and décor. I sprayed a small trash can and wire shelf the peachy pink tone from our theme and flowers were popped in them for reception. The bright bold blue of Ells' jacket showed his unique style."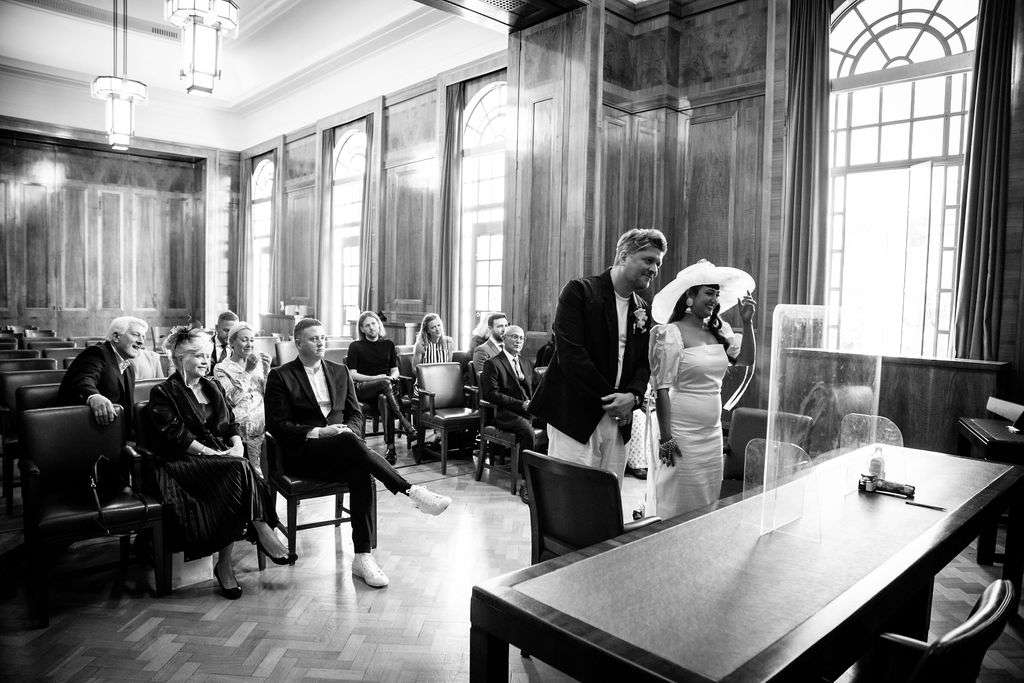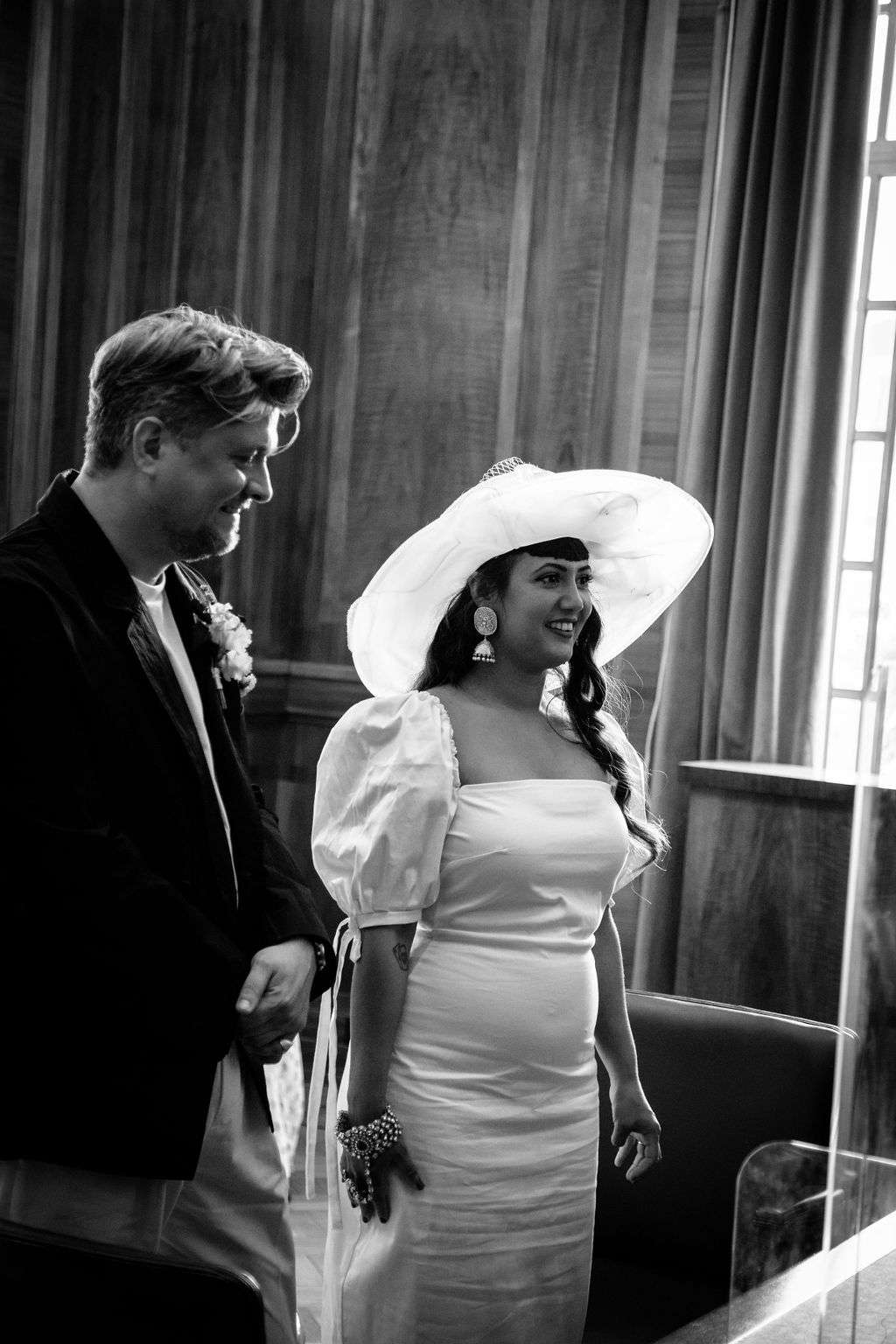 The bride was inspired by 50s and 60s fashion for her outfit and wore a short dress from Olivia Rose The Label. "I loved the tailored figure-hugging dresses and wide-brimmed hats inspired by the glamour of Hedy Lamarr and Audrey Hepburn." Her green shoes added a pop of colour, her 'bouquet' was flowers carried in a vintage handbag and she included a nod to her Indian-Guyanese heritage in the form of earrings and a handpiece.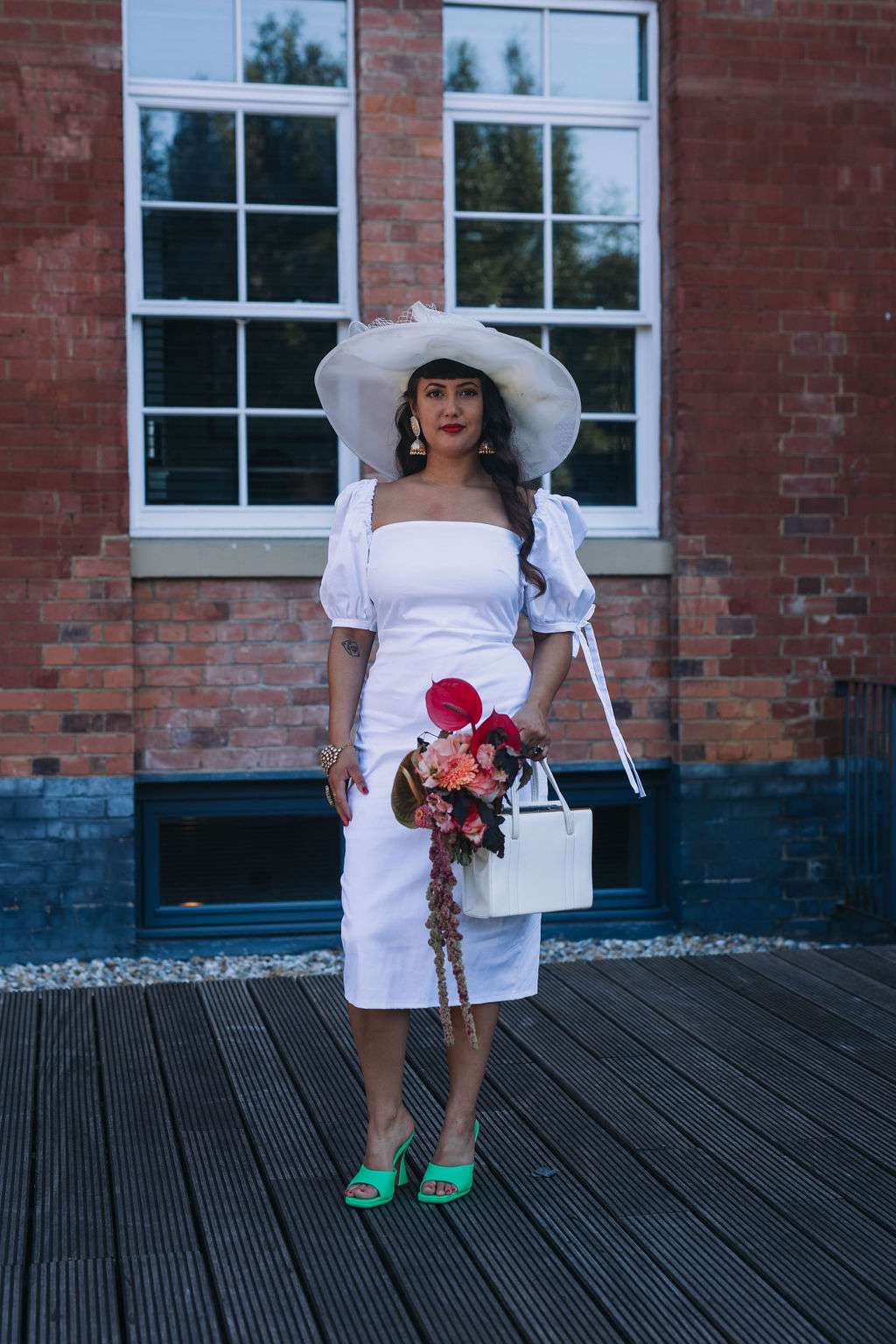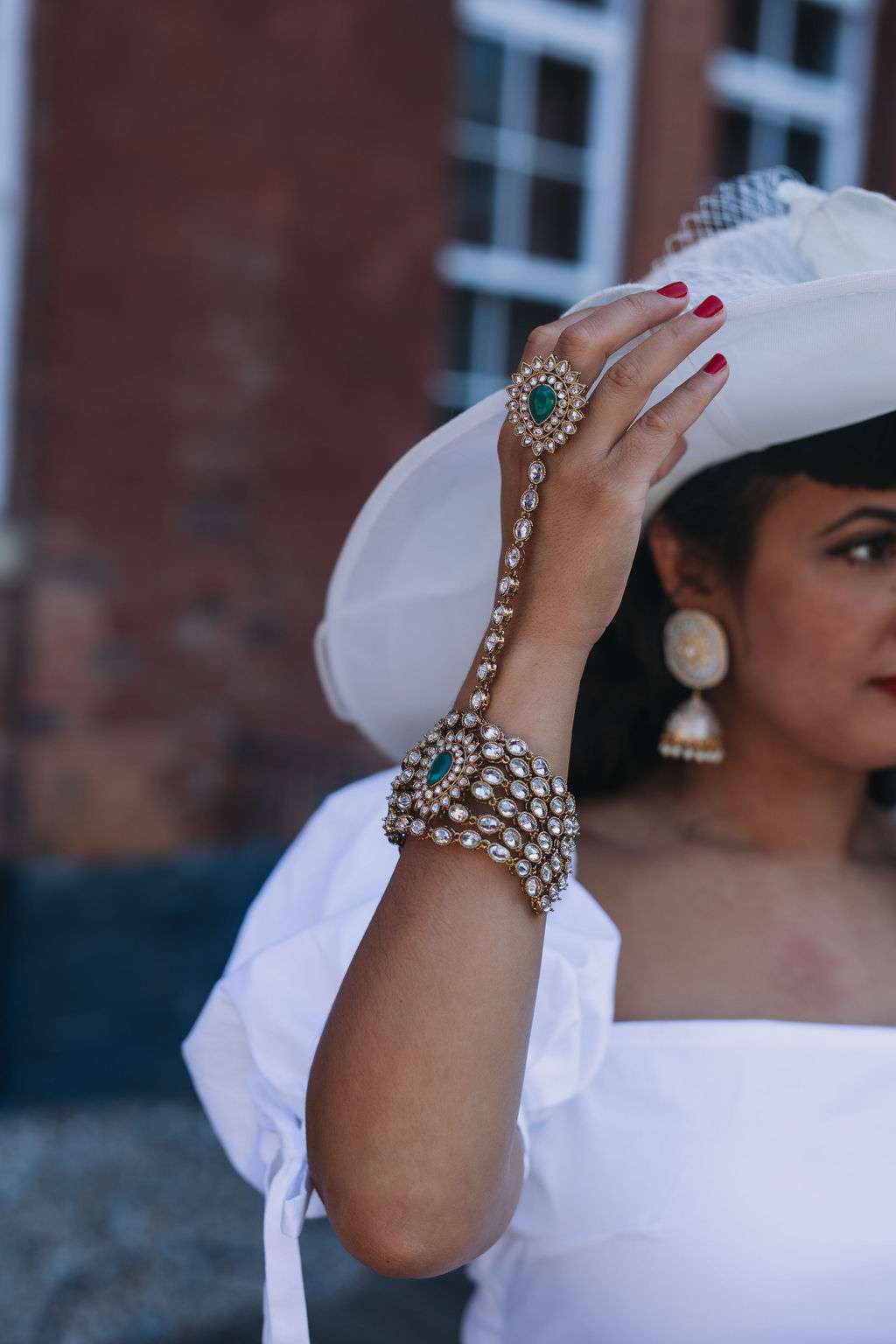 After their Hackney Town Hall ceremony they went to Hawksmoor Guildhall for lunch where they'd hired a private dining room for their 22 guests. As big foodies, the lunch was a really important part of the day and ended up being the biggest cost. "Afterwards everyone mentioned it was the best meal they had ever had", Cassy continued. "It was important to choose a restaurant we both adore and all courses were served as sharing plates. For starters we dined on Old Spot belly ribs, roasted scallops with shaved vegetable salads. For mains, the juiciest steaks were served: bone-in prime rib, sirloin and chateaubriand, along with delicious Dartmouth lobster."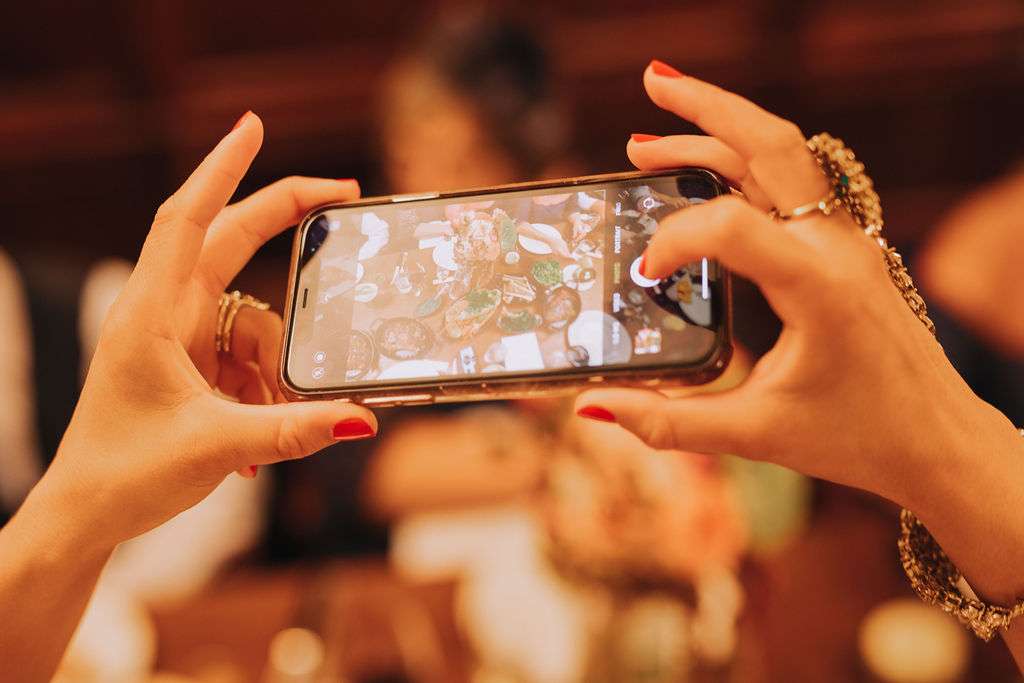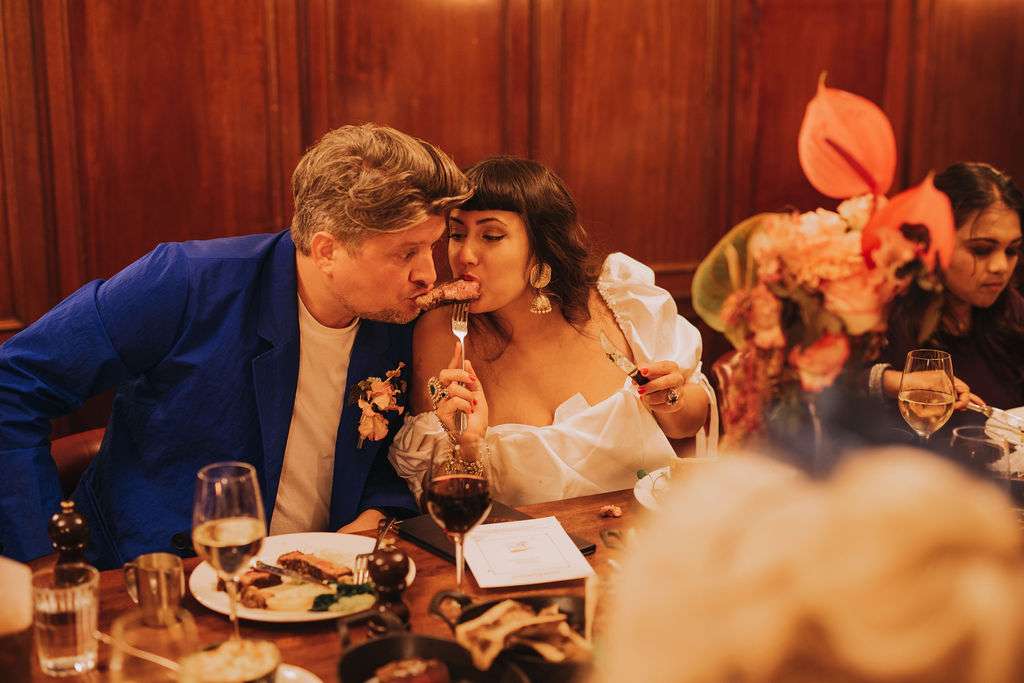 In total they spent £9,000 ("The legal aspect of marriage can be expensive and there's various costs you wouldn't think about!") and although they are still having a big wedding this summer, they loved that they were also able to have an intimate celebration with just their immediate families and two of their closest friends.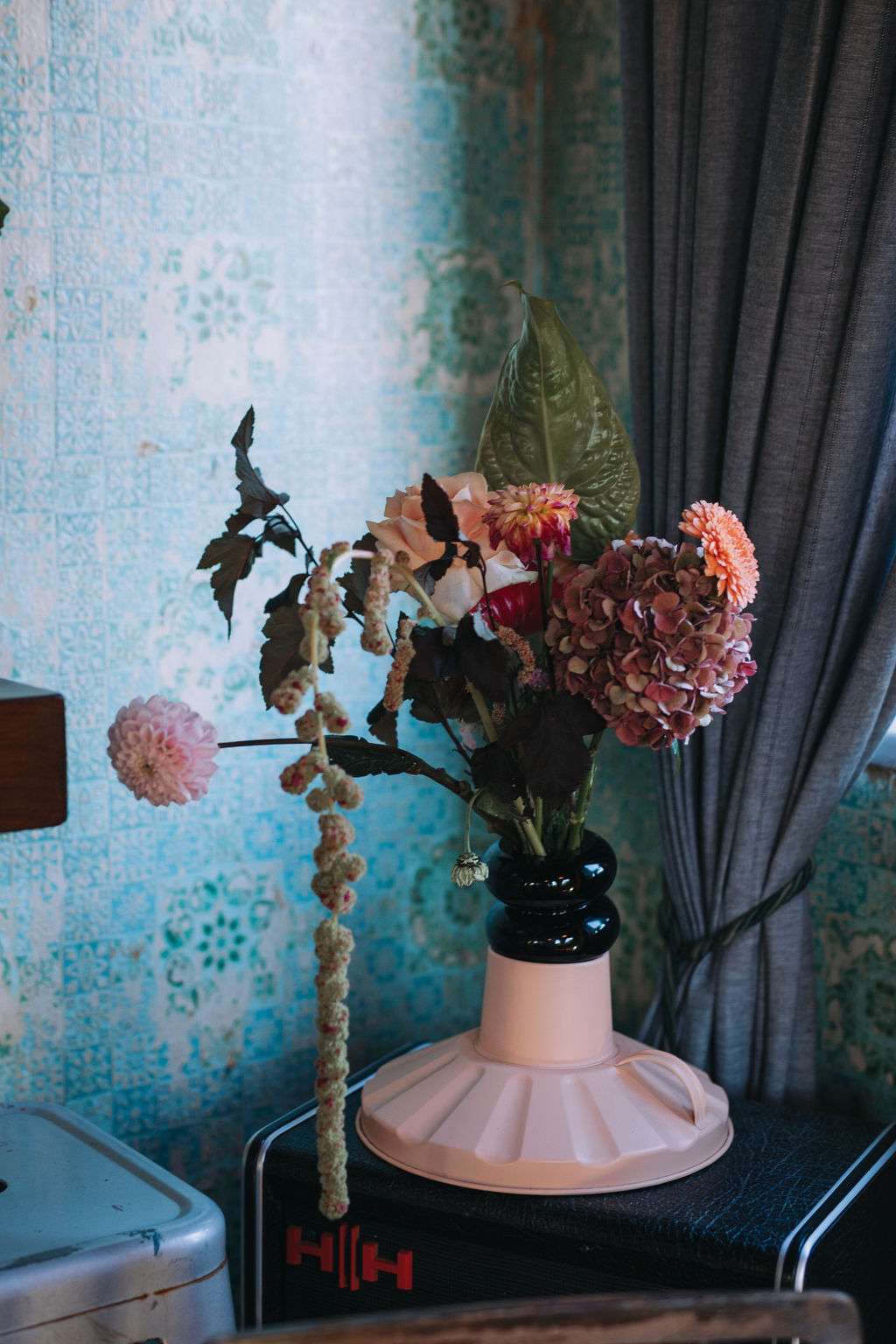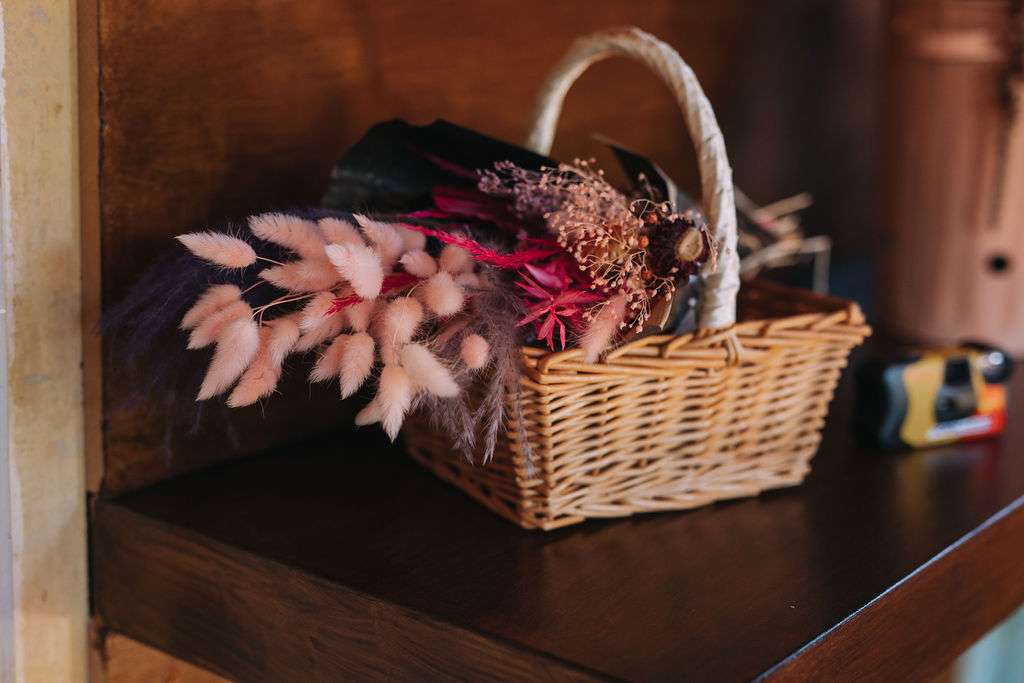 "After the lunch we hired the 1st floor balcony of our local pub, Spit & Sawdust, in Borough – the perfect venue as it features a small dancefloor, private bar and the best thing of all, a balcony area full of lush plants of varying sizes, being a plant-lover it was perfect for us. We invited a small number of guests more to the evening reception where we served prosecco, sourdough pizzas and we had a two-tier cake from Ard Bakery as dessert. It was a real highlight and it was snapped up and gone quickly after we cut it!"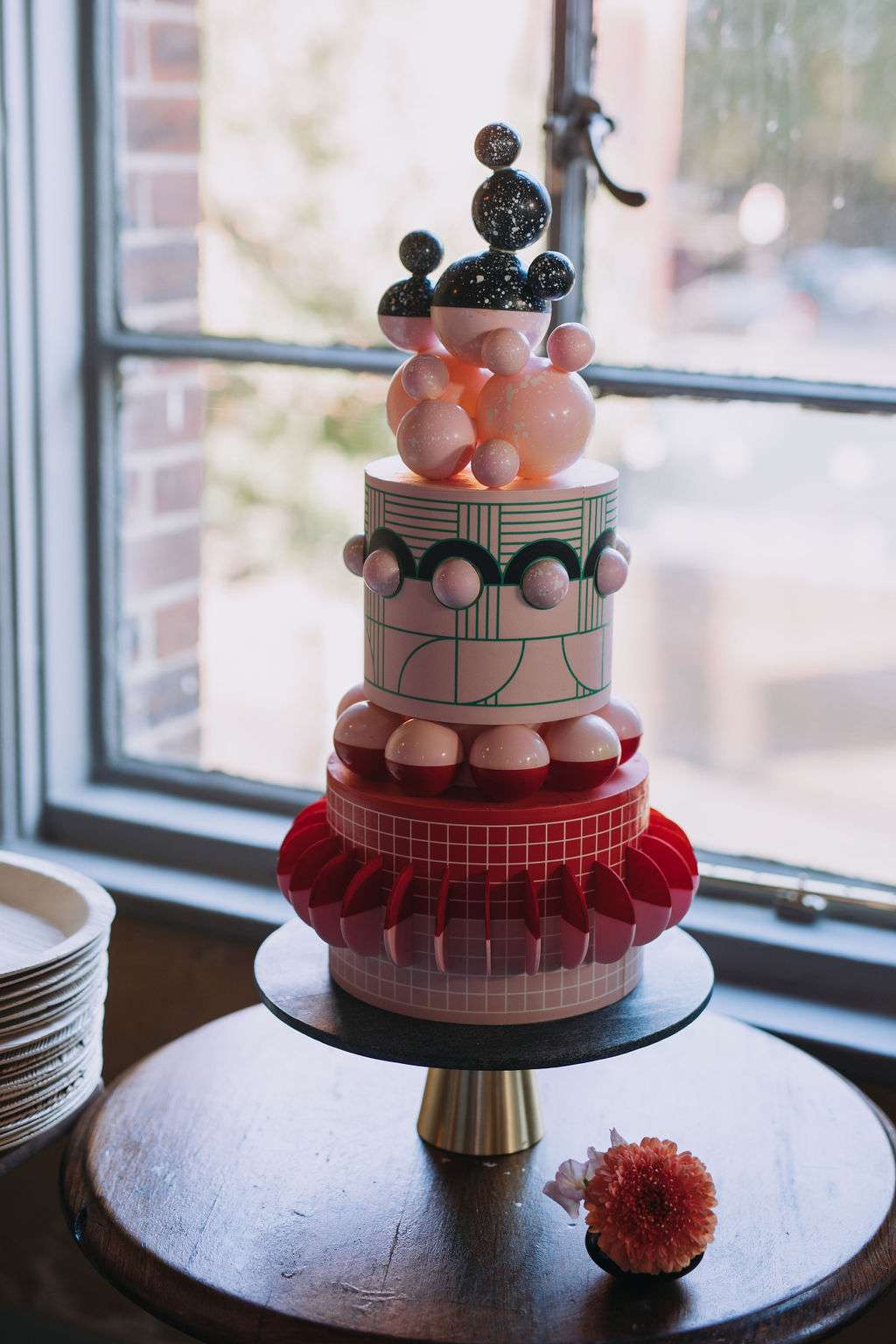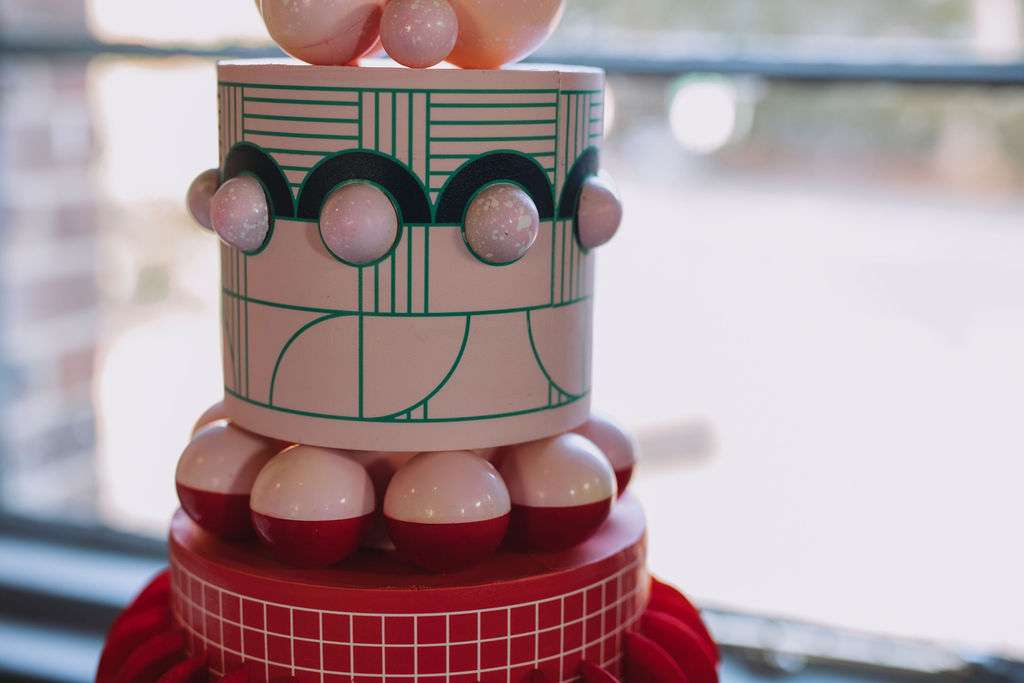 "Our advice to other couples would be to do whatever the hell you want to do, no one else matters but you both. I was lucky enough to find Rock n Roll Bride very early on in the wedding planning process, but I also bought a wide range of bridal magazines and read a range of blogs – all others are so bog standard and so boring. If you're looking for inspiration that's different and pushes boundaries then Rock n Roll Bride is like nothing else you can find. I've had my subscription for three years now and plan on keeping it on after the big wedding!"