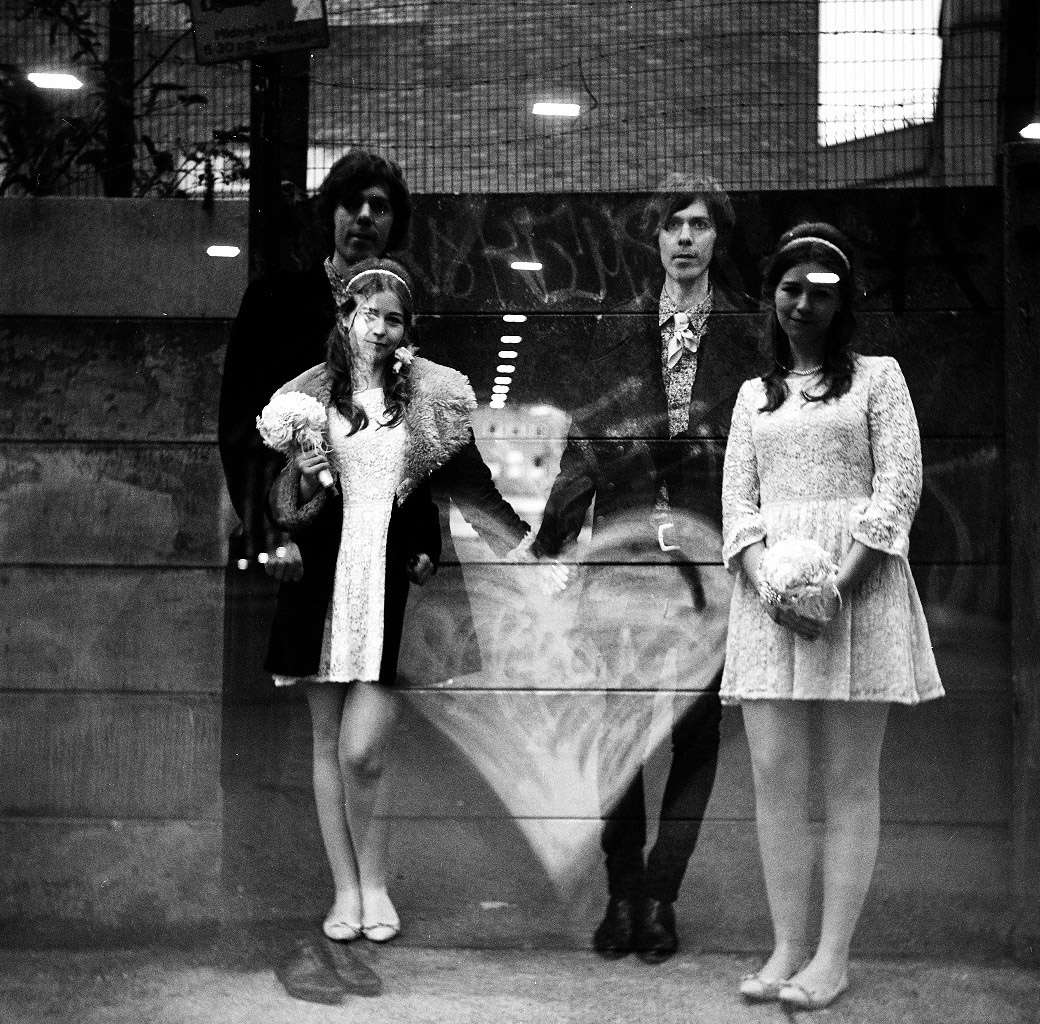 I always get really excited to feature a super-budget wedding because I love to show you that, with a bit of clever engineering, a beautiful wedding doesn't have to cost £20,000. Ruth & Steve spent just £700 on their day and it was perfect. They also planned the entire thing in just two months – sheesh, why can't we all be such overachievers?!
This thrifty couple were very clever with how they spent the money that they did have to spend. Firstly the opted for an East London pub for the reception venue. Without extortionate rental rates, The Water Poet in Spitalfields was just the ticket. "The wedding took about two months to organise", the bride began. "We booked the reception first, as I thought that would be the trickiest part of the operation. Then we booked our ceremony at Islington Town Hall and gave our Notice of Intent to Marry about four weeks before the ceremony."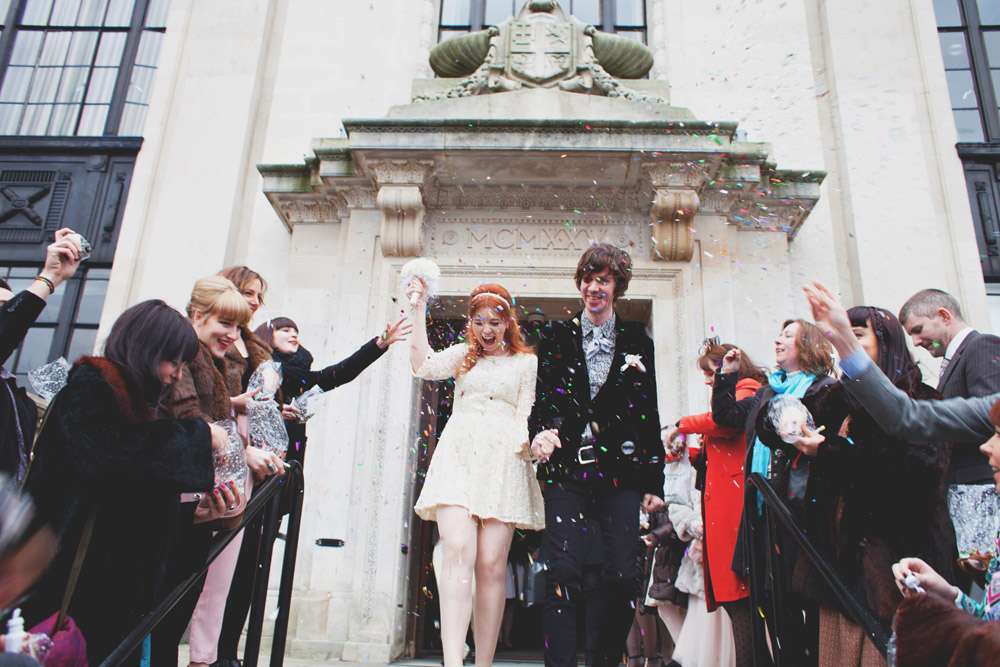 "Choosing a reception venue was probably the most challenging part of the wedding! I wasn't too particular, but knew that I didn't have the budget to hire a private venue. I started searching around for pubs with free room hire – most places could only reserve a couple tables at most. As the ceremony took place on a Friday, I knew most pubs would be rammed, which would have been too much for our parents to handle! We decided on holding the reception at The Water Poet in Spitalfields. It wasn't too far from Islington Town Hall and they had a private room where we could set up the food, cake and decorations. My hens and I handmade all the paper flowers on the tables from a fab tutorial that I found on Rock n Roll Bride! The best thing about the room was its own sound-system – we plugged in our iPhone with our wedding playlist and just let it run all night!"
Ruth wore a dress from Topshop, and her shoes, also Topshop were an eBay bargain at just £10. Her headpiece was, amazingly, from Primark and her jewellery was a gift from Steve's sister. The cake and flowers were both DIY efforts from helpful friends and family, the venue provided a buffet spread and they forgoed a DJ for a Spotify playlist.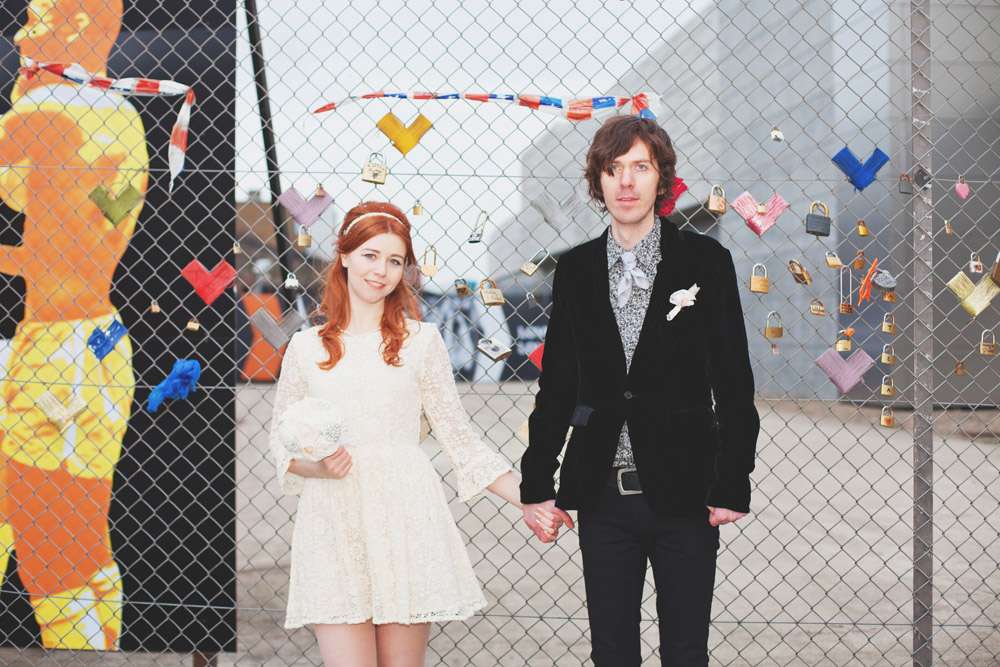 "We wanted an informal, low-key kind of affair for the wedding, where people could enjoy themselves and celebrate with us," Ruth continued. "Essentially, it was a big party – and people definitely let their hair down and had fun! Steve and I play in a band together, so the event was naturally going to have a bit of a Rock n Roll vibe. Music is a huge part of our lives, so I appointed myself as the DJ and programmed a wedding playlist featuring a heap of classic tunes that kept everyone dancing. Everything from The Ronettes, Buddy Holly and Roy Orbison to T.Rex, Talking Heads and David Bowie. My mum was very proud."
"We loved that our wedding felt unique and personal. It was a combined effort with family and friends that helped bring it all together. Without their help, I'm not sure we would have pulled it off half as well. We moved to London two years ago from Australia, and didn't know a soul in the city. We are so lucky that, in such a short period of time, we have met the most wonderful people who wanted to contribute to our special day. We didn't have a lot of money and the event was organised very quickly, but the personal contributions, such as the bouquet, photographs, wedding cake, decorations and hair and make up, really helped us. Even our wedding rings were family heirlooms inherited from Steve's grandma and great aunt!"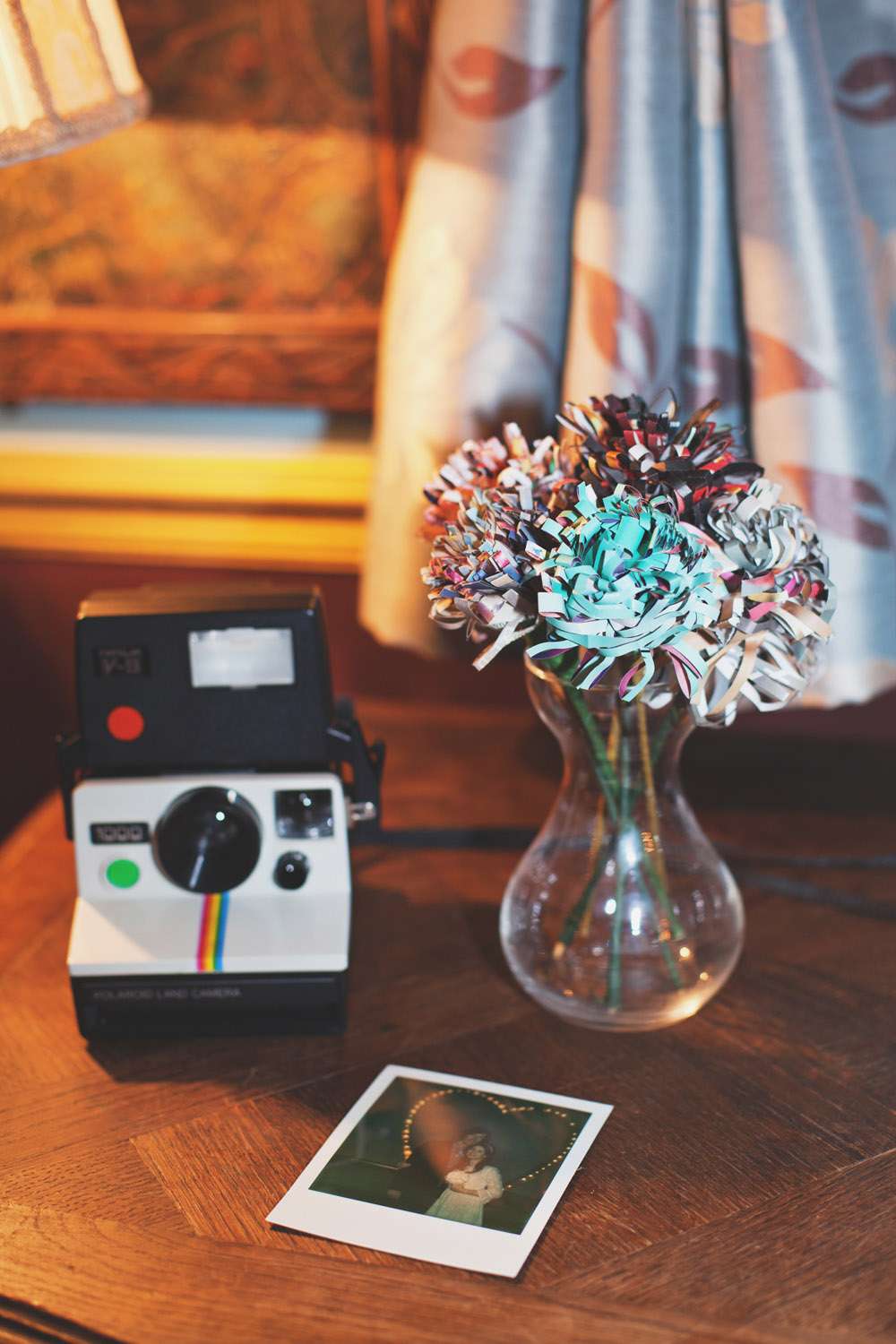 The couple were very lucky to have a professional wedding photographer as a friend. Maureen Du Preez shot their wedding free of charge as a wedding gift. "We chose a few rather unusual locations for some of the portraits, including Urban Outfitters and Nandos (the photo with the glowing heart!). Our friend and photographer Maureen was very spontaneous and spotted some great places as we were making our way to the reception. We also took some shots by the Love Lock Fence on Shoreditch High Street and added our own engraved padlock to the fence to commemorate our wedding day. Maureen and I are both lovers of analogue photography as well, so we got a few packs of instant film and a Polaroid camera to capture the day. It was something a little bit different, almost a relic of the past, and people loved holding a physical picture in their hands – it was a topic of conversation all night!"