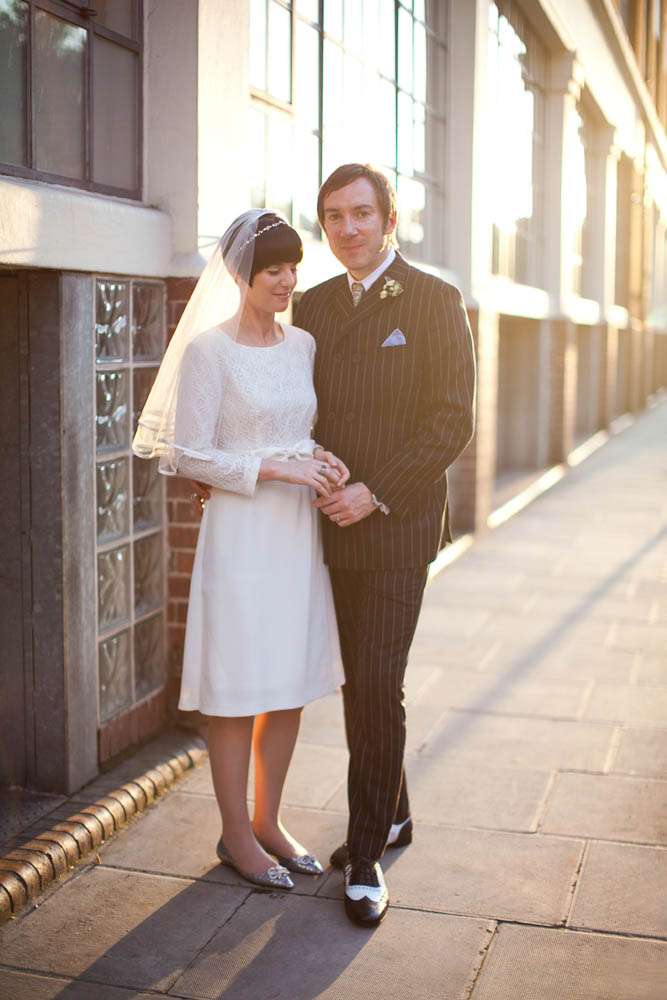 London. The 1960s. Mod.
These were the inspirations for Paula & Mark's big day. The couple met at a rhythm, blues & soul night run by Mark in a bar in Bethnal Green, so the theme was very 'them'. "We bonded over our love of vintage fashion and music", wrote Paula, "I couldn't believe my luck when we were introduced, we hit it off immediately. The bar has changed owners since, but we always smile when we go past it. It holds happy memories of parties and beautiful friends in immaculate vintage fashions dancing to great music and having fun."
The ceremony was held at Islington town hall, with the reception taking place at The Peasant pub. "We wanted the wedding to feel like it was OUR day. Not a generic 'wedding' that looked like every other wedding you see on the pages of wedding magazines. We wanted it to be as individual as we are and to reflect our love of anything Mod."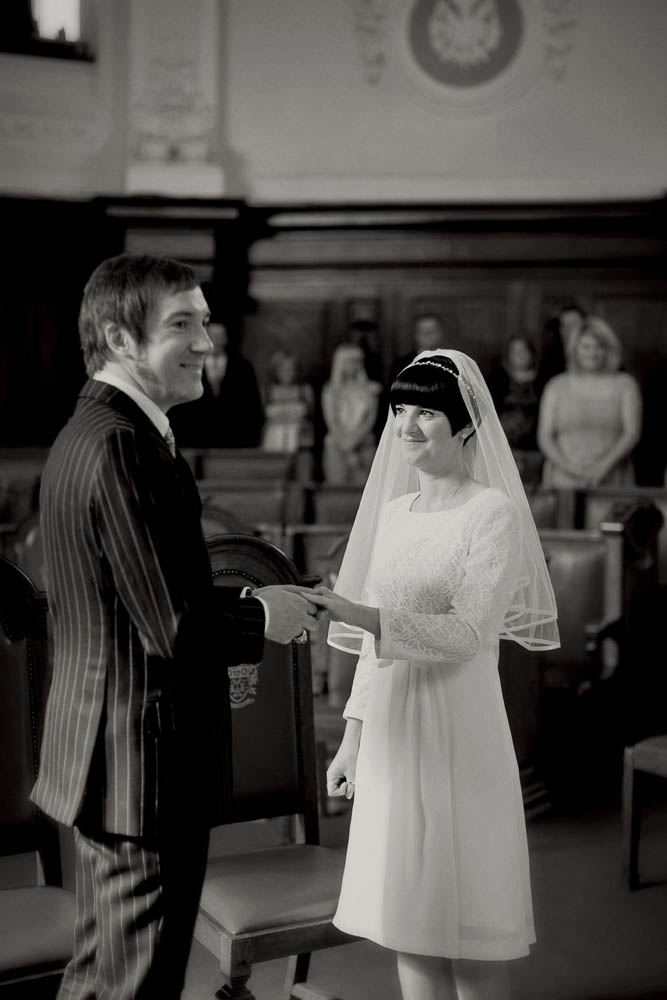 "First and foremost we wanted a party and a day where family and friends could relax and have fun. That was the most important thing to us. I didn't want anyone to feel  uncomfortable. We knew that it would be a vintage inspired wedding as mine and Mark's everyday life is inspired by retro style and the vast majority of our friends all have a love of anything Mod. It just felt natural to us. Even my entrance was different! I walked down the aisle to 'The Avengers' theme tune. The tune is very special to us as we share a love for the 1960s series and Emma Peel is my heroine! Our guests loved it and said that it was so us!"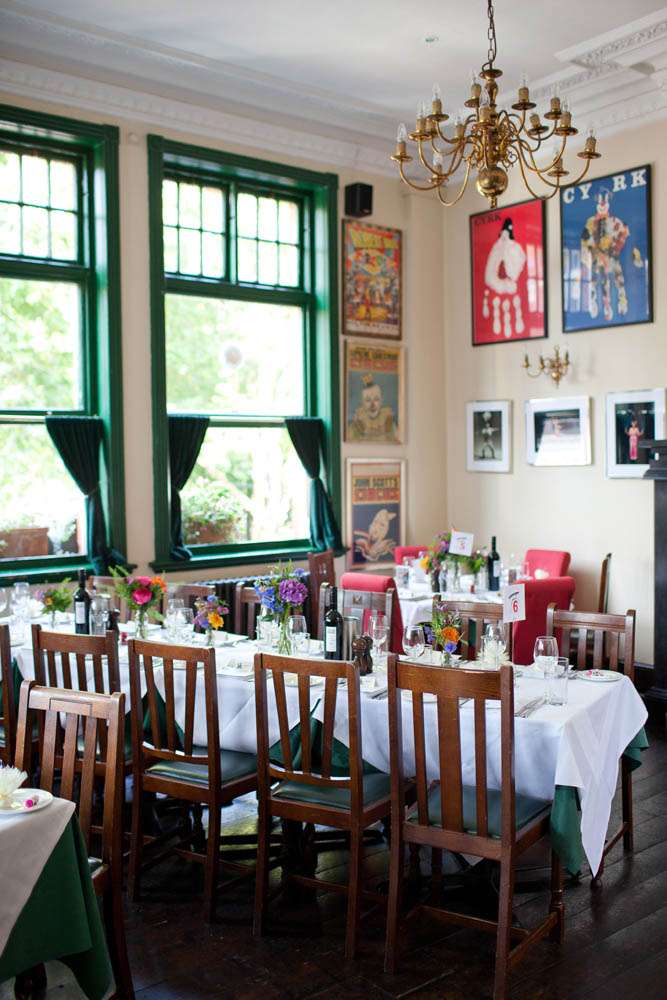 Paula wore a 1960s short vintage dress from The Vintage Wedding Dress Company and her bridesmaids wore various vintage dresses sourced from all over. "Everything was vintage influenced including the wedding outfits. Most brides long for a brand new designer dress that nobody has ever worn before, but I liked the idea of my wedding dress already having a story. I love the idea of someone else walking down the aisle in it for their 1960s wedding. I knew that I wanted an original 1960s dress and nothing else would do. I toyed with the idea of having a new dress made to a 1960s design but when I found the dresses at The Vintage Wedding Dress Company I knew that my dress would be hiding amongst all the gems they had in there! It was harder to find than I thought as there are only a few good vintage wedding dress shops in London and when I began my search the main dresses that seemed to be available were 1950s dresses. Although these were beautiful I had really set my heart on an original 1960s one. When my sister Karen pulled it out – I knew it was the one for me!"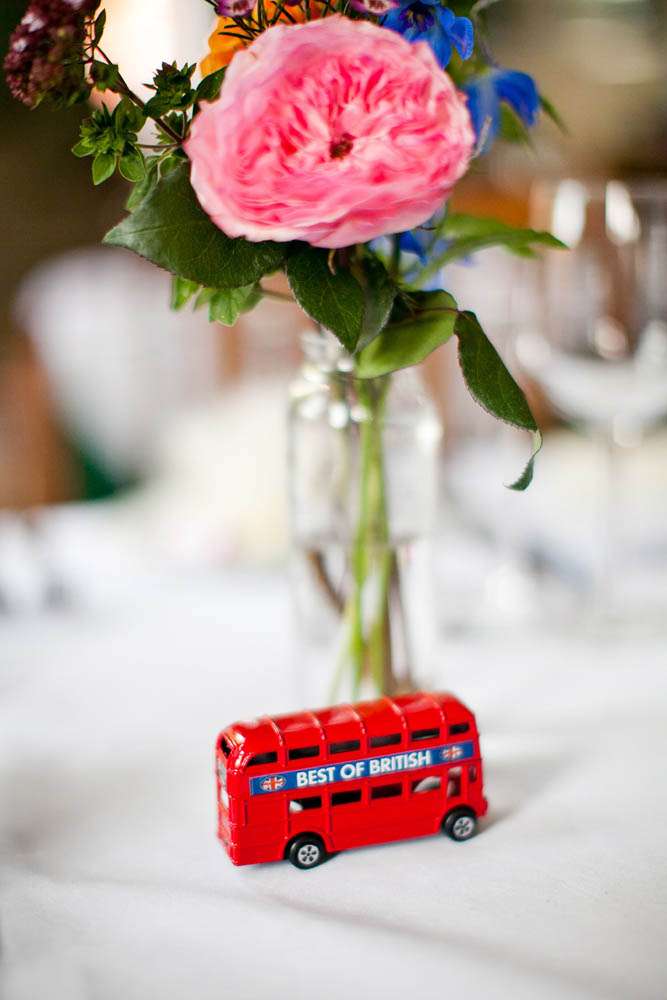 "My bridesmaids looked beautiful and very individual. Even though we got them from different shops everyone commented how well they matched. It shows it pays to shop around and find something exquisite without a huge price tag. "
The couple were able to decorate the pub however they liked so they hung up union jack bunting and framed photographs of some of their favourite bands including The Who, The Rolling Stones and Marianne Faithful.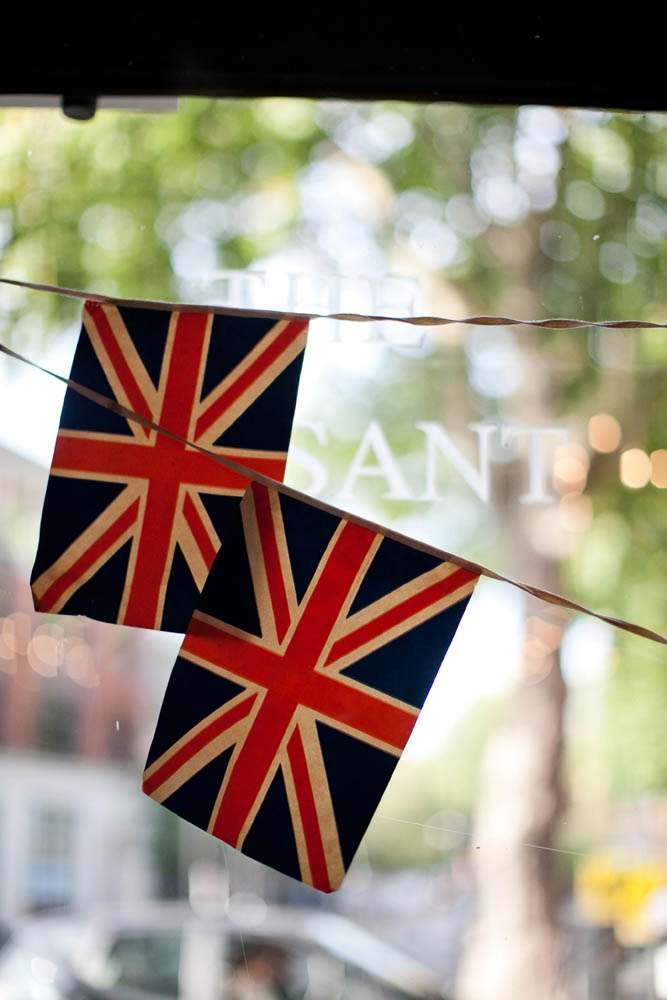 "I was so pleased that the vintage London theme of the wedding worked so well. To us it didn't feel like a 'themed' wedding as we both love anything vintage in our everyday life. Guests continually commented how much thought had gone into the planning and decoration and how individual we had made the wedding. We made a collage of pictures of our family and friends which was a great talking point! We also added little models of a classic routemaster bus to each table. It was like a little model of the bus we had travelled to the reception in! Also we picked chocolates that had sketches of London landmarks on them to continue the London theme. We also had little Love Hearts with 'Just Married' written on them with our names and date of the wedding on the wrappers."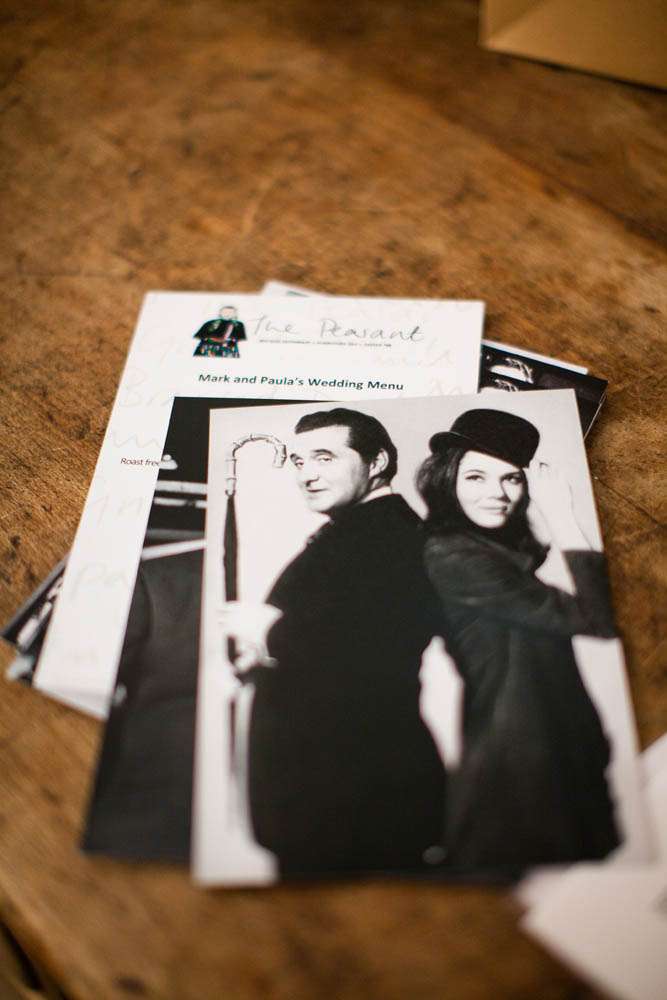 "Chloe, our photographer, was definitely one of the best things about our wedding!" Paula concluded. "One of my favourite memories is just after the wedding ceremony finished and we were whisked out to loud cheers from our friends and family. Everyone was so happy for us. Our photographer, Chloe, swept us into a little room at The Town Hall where we could have two minutes alone to congratulate each other before the photographs were taken. It was a very special time as it was the only time we really spent alone all day so those two minutes really meant a lot. It was a very thoughtful and sweet thing for her to do. My head was spinning after all the vows and excitement so it was nice to compose myself before we went out to the confetti and more photographs."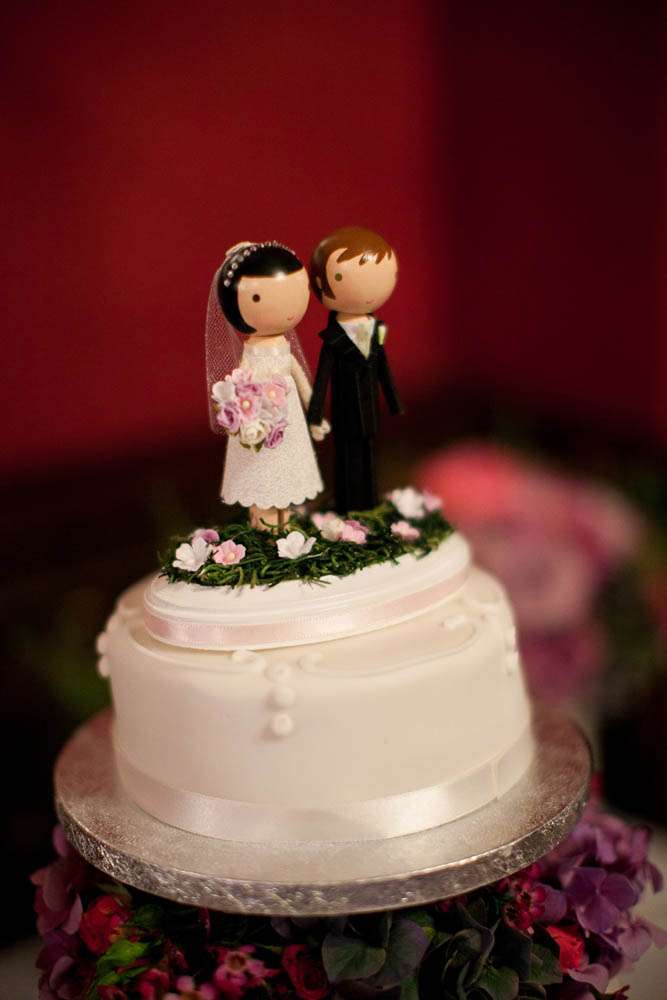 "My biggest tip would be to choose a great photographer! Wedding photographers can seem expensive but photography is extremely important. Look around until you find someone that you really like. Photography is the only physical reminder that you will have of the day afterwards so ask to look at a photographer's portfolio and meet up with them before booking them to make sure that you feel comfortable around them. There is nothing worse than having a photographer in your face that you don't feel comfortable with. Nobody wants to be looking uncomfortable in their wedding pictures. Chloe produced the most beautiful natural photographs and we hardly even noticed the camera on the day she was so professional and friendly."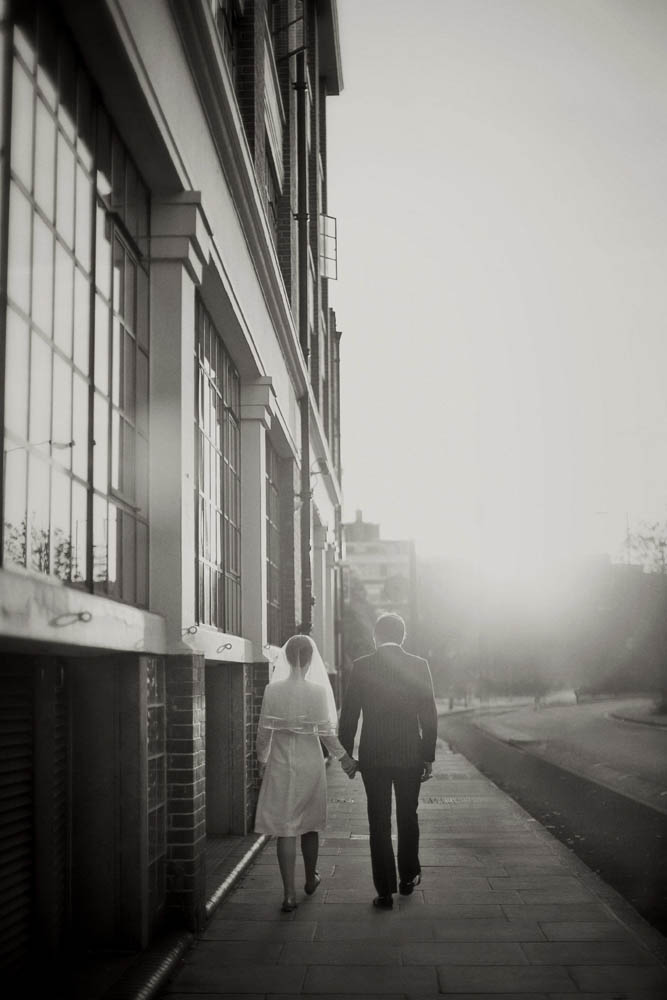 Gorgeous! Thank you Paula & Mark and their photographer Chloe of Caught the Light for sharing with us today.
Supporting Cast
Photography Credit: Caught the Light
Ceremony Venue: Islington town hall
Reception Venue: The Peasant
Bride's Dress: The Vintage Wedding Dress Company
Bride's Shoes: Jimmy Choo, ' Raquelle'
Bride's Veil: Fur Coat No Knickers
Bride's Jewellery: Beaut at Grey's Antiques Market
Groom's Outfit: George Dyer at Threadneedleman Tailors & Bates (hat)
Bridesmaid's Dresses: Vintage
Cake: Marks & Spencer
Cake Topper: Lollipop Workshop
Flowers: Scarlett & Violet Flowers
Hair: Julia Muthusamy at Bloc Salon
Make Up: Tara Templeton
Stationery: Kavel Rafferty Design
Transport: Wedding Taxis & Red Route Buses Ltd