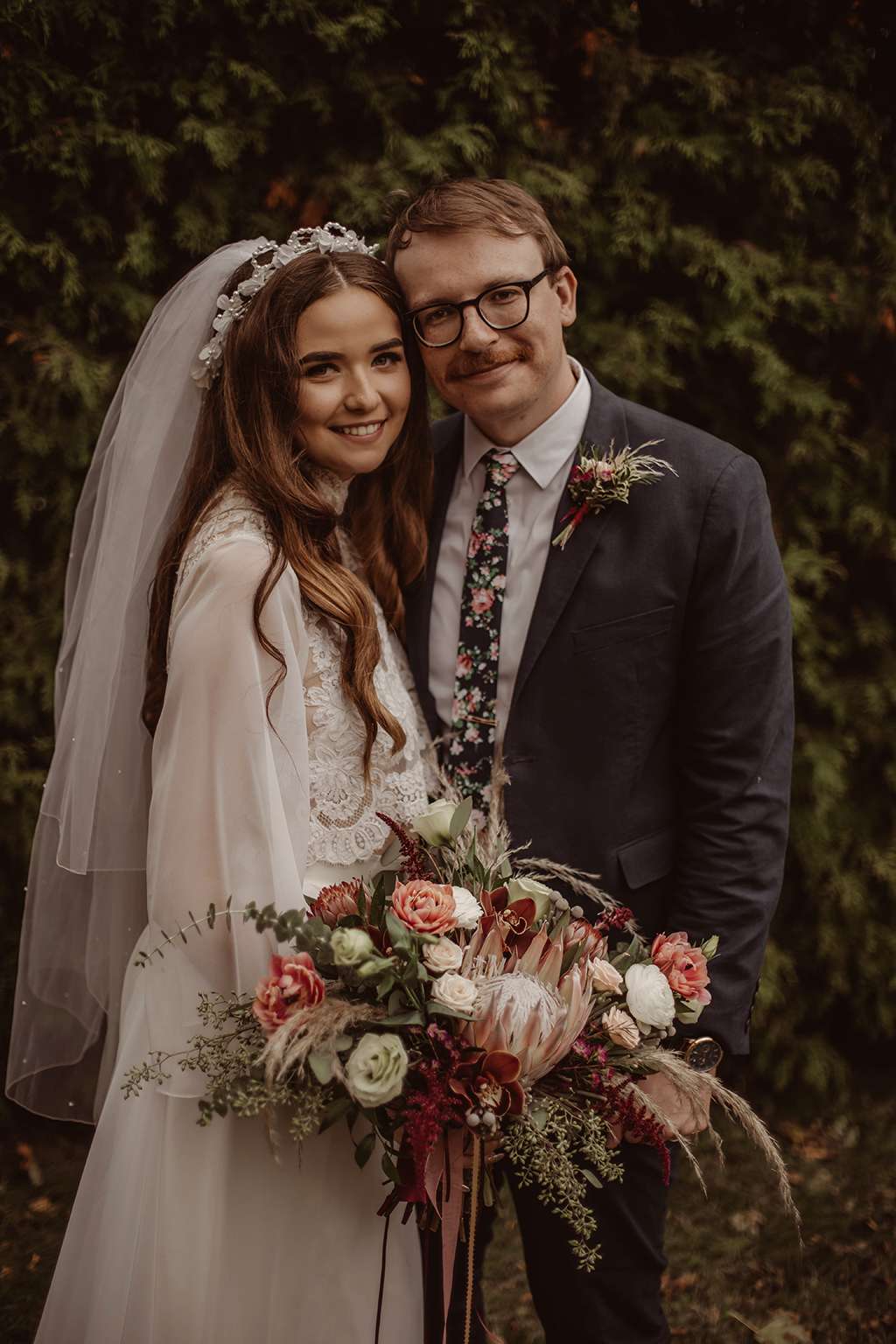 Teagan and Tyrell were inspired by Elvis and Priscilla Presley's wedding, as well as the bohemian vibes of Hawaii where the couple got engaged. "Above all," the bride told us, "we wanted the focus to be on our closest friends and family coming together and celebrating rather than strict wedding 'rules' and traditions.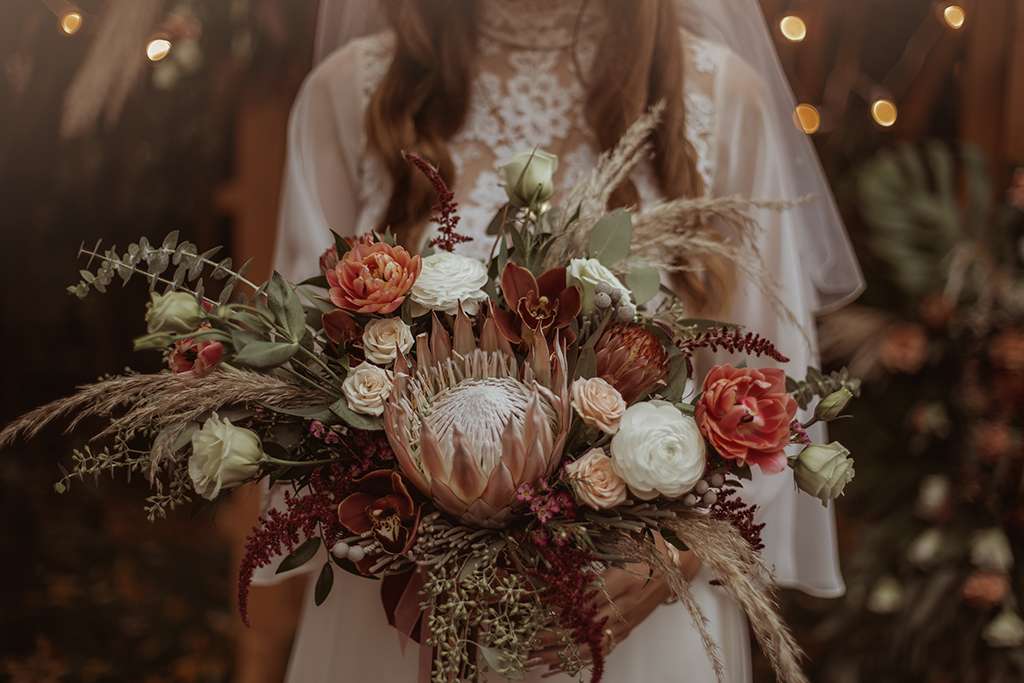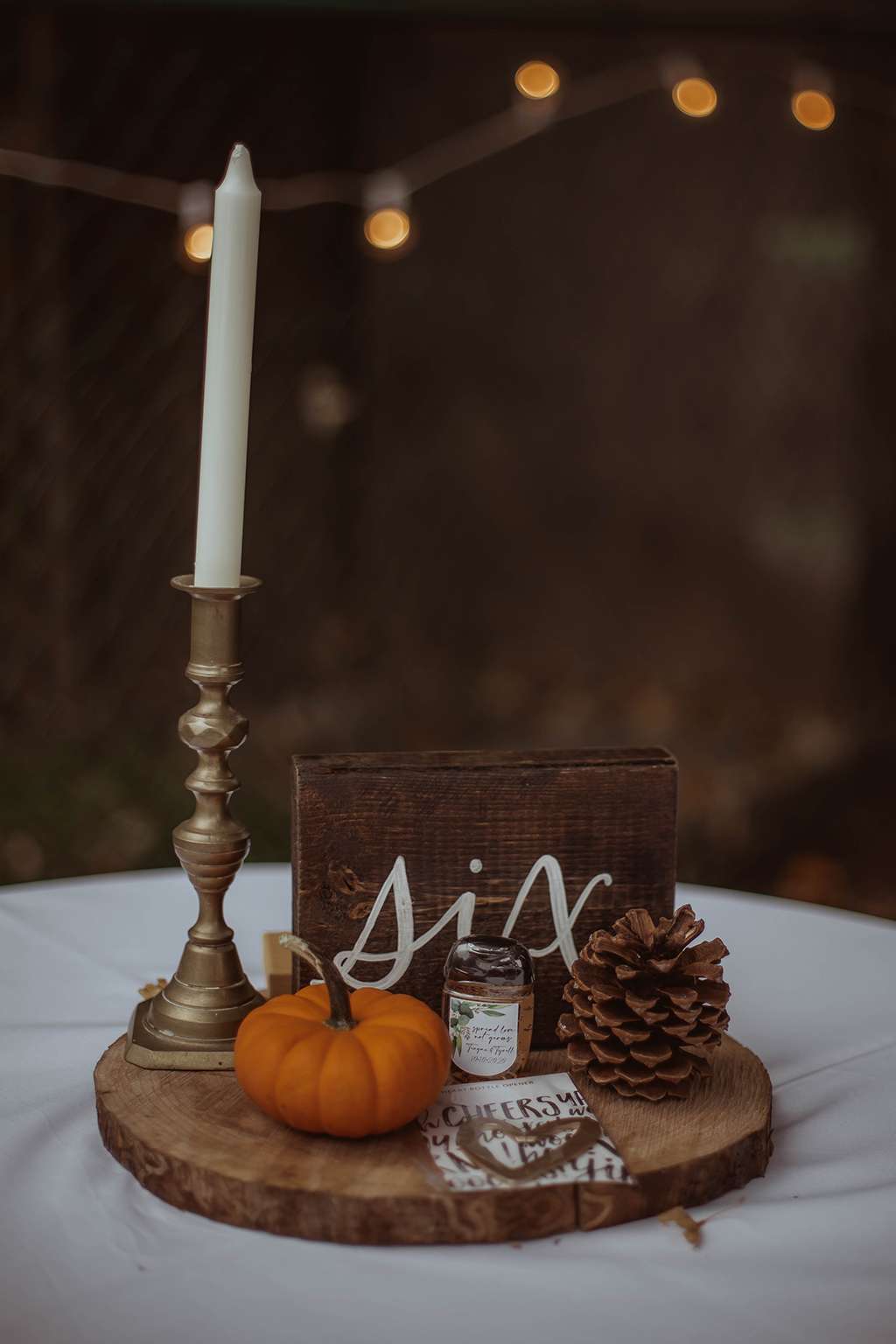 They were initially going to get married at the grande ballroom at a local wedding venue, however when they made the decision to relocate to Teagan's parents backyard due to COVID, they implemented more casual, cozy touches while staying true to their boho/vintage style. They also dramatically cut their guest list from 100+ to just 35, and split their guests into two groups for a small dinner reception – even repeating the speeches so no-one felt left out!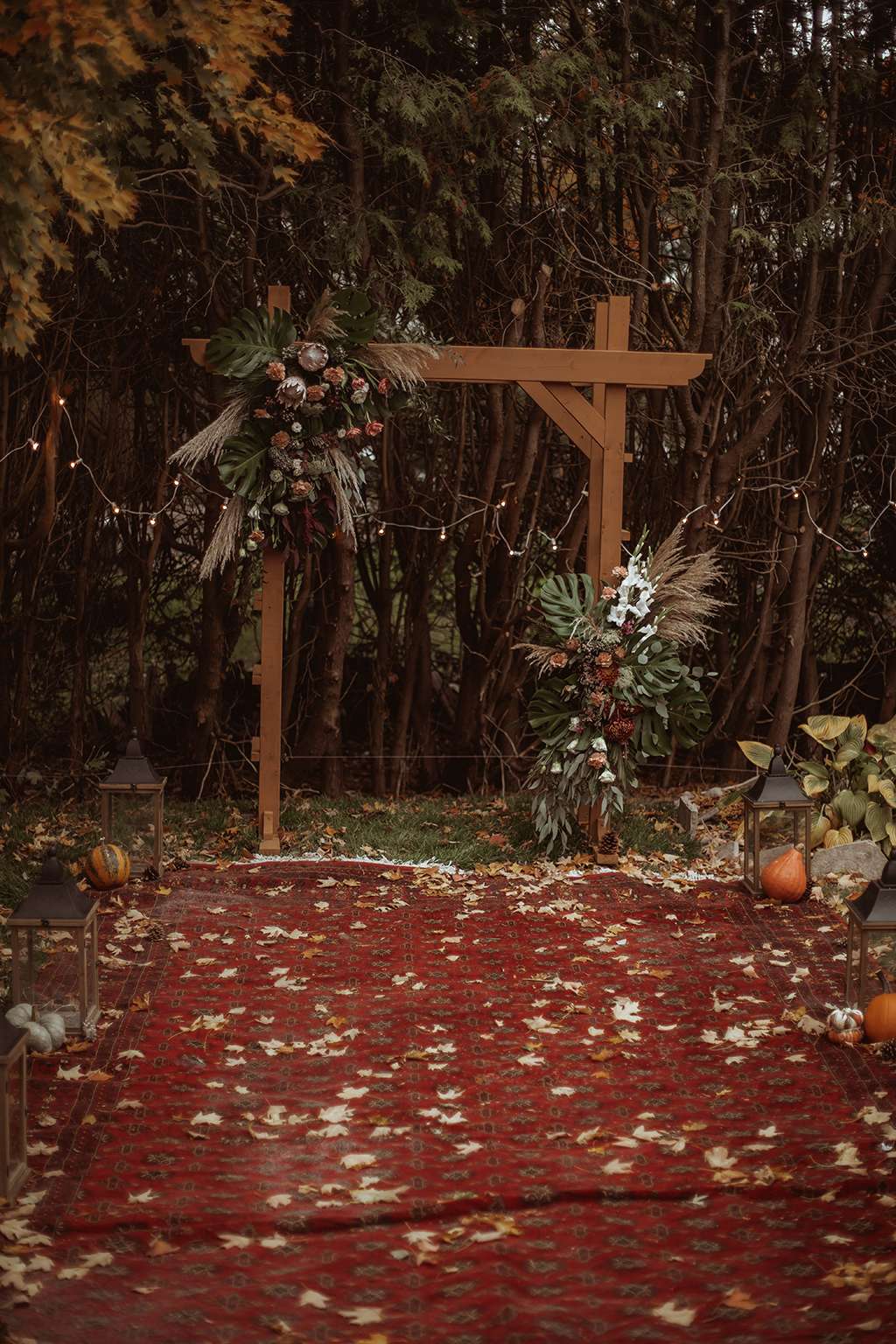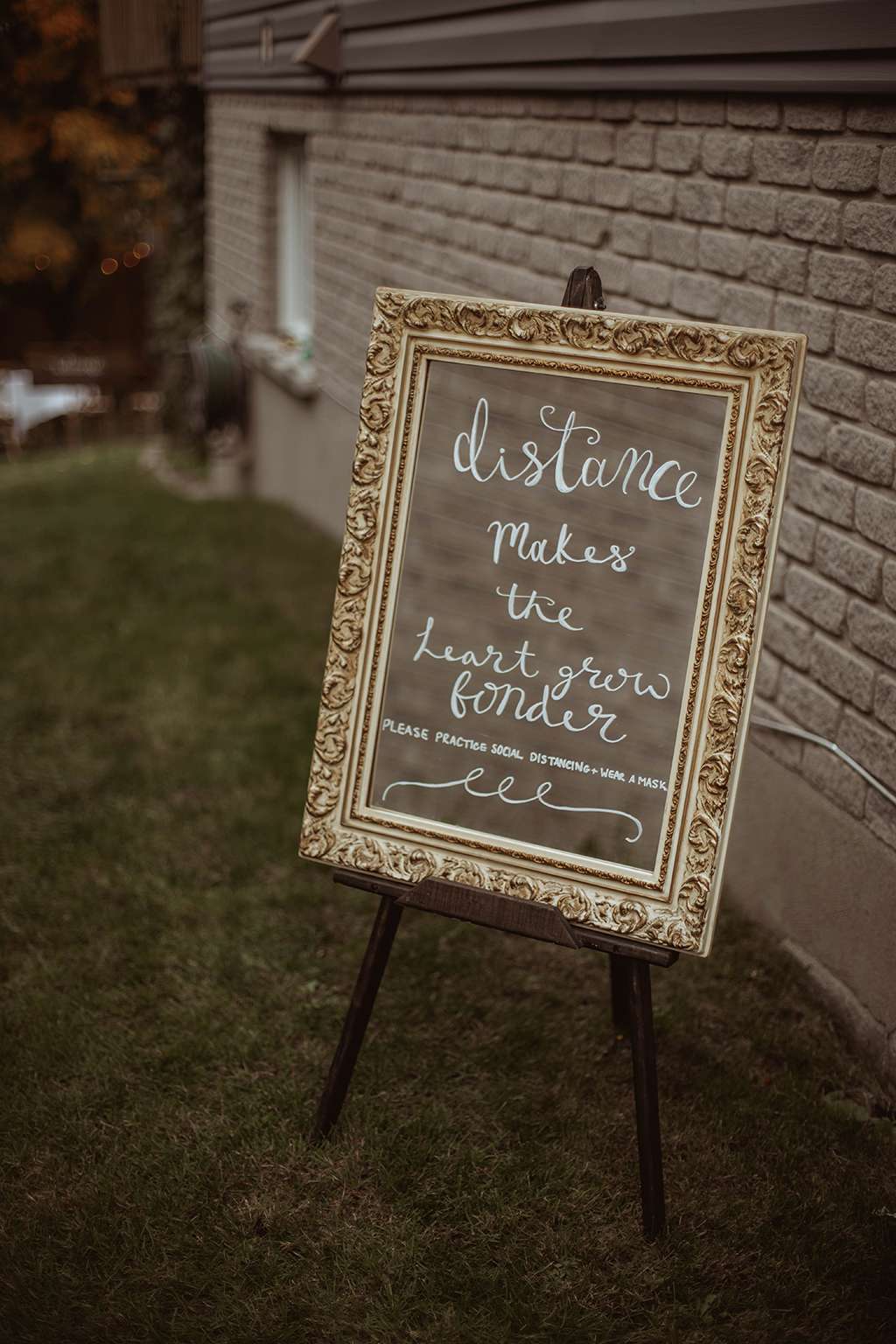 Most of their decor was homemade, vintage or thrifted from Facebook marketplace, among other places. "The most notable DIY project was the wooden arbour we stood in front of during the ceremony made by my father and grandfather. They also made wooden slabs that were used as the centrepieces for each table (centrepieces were completed with a candlestick, mini pumpkin, and bottle opener the whole table could use)."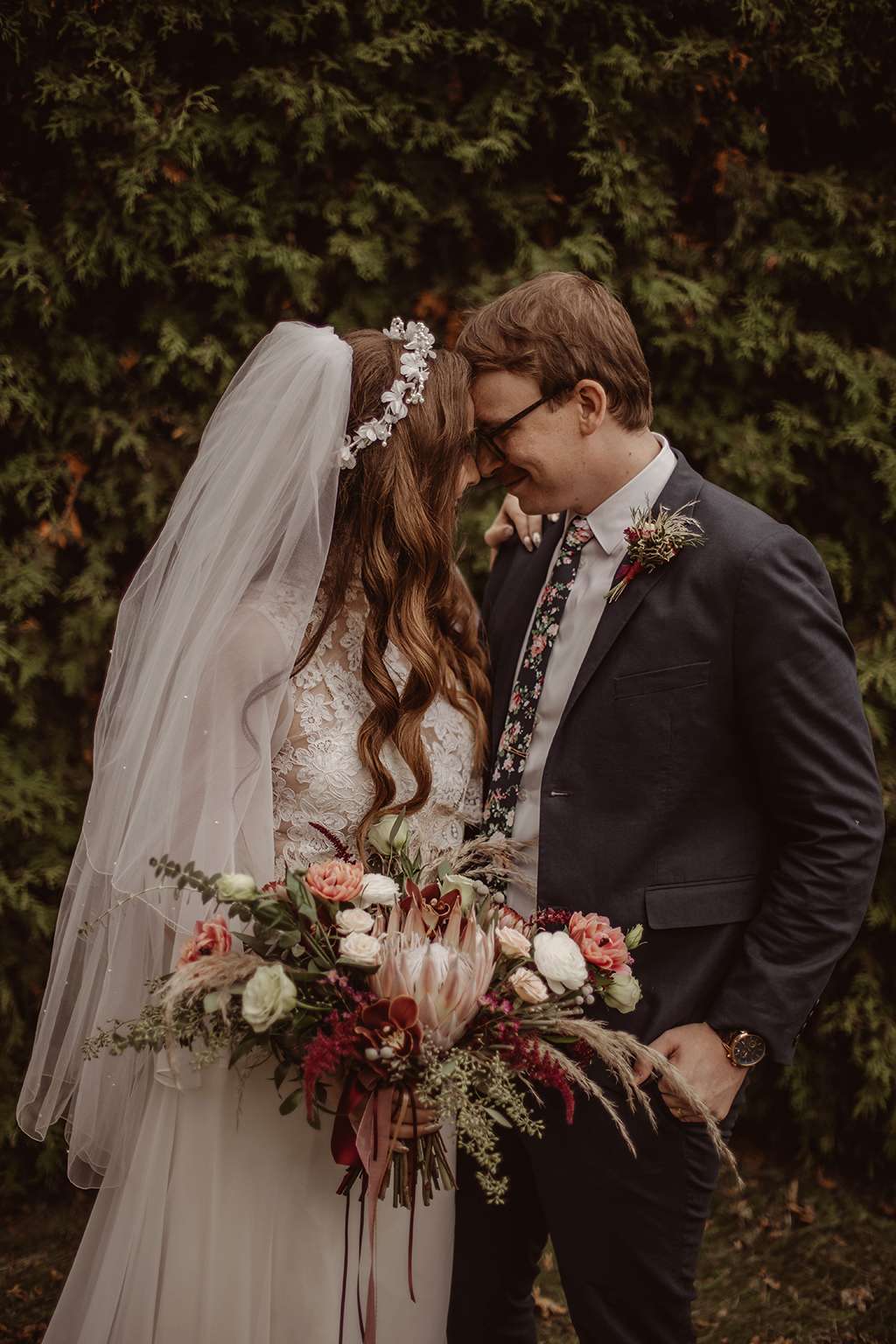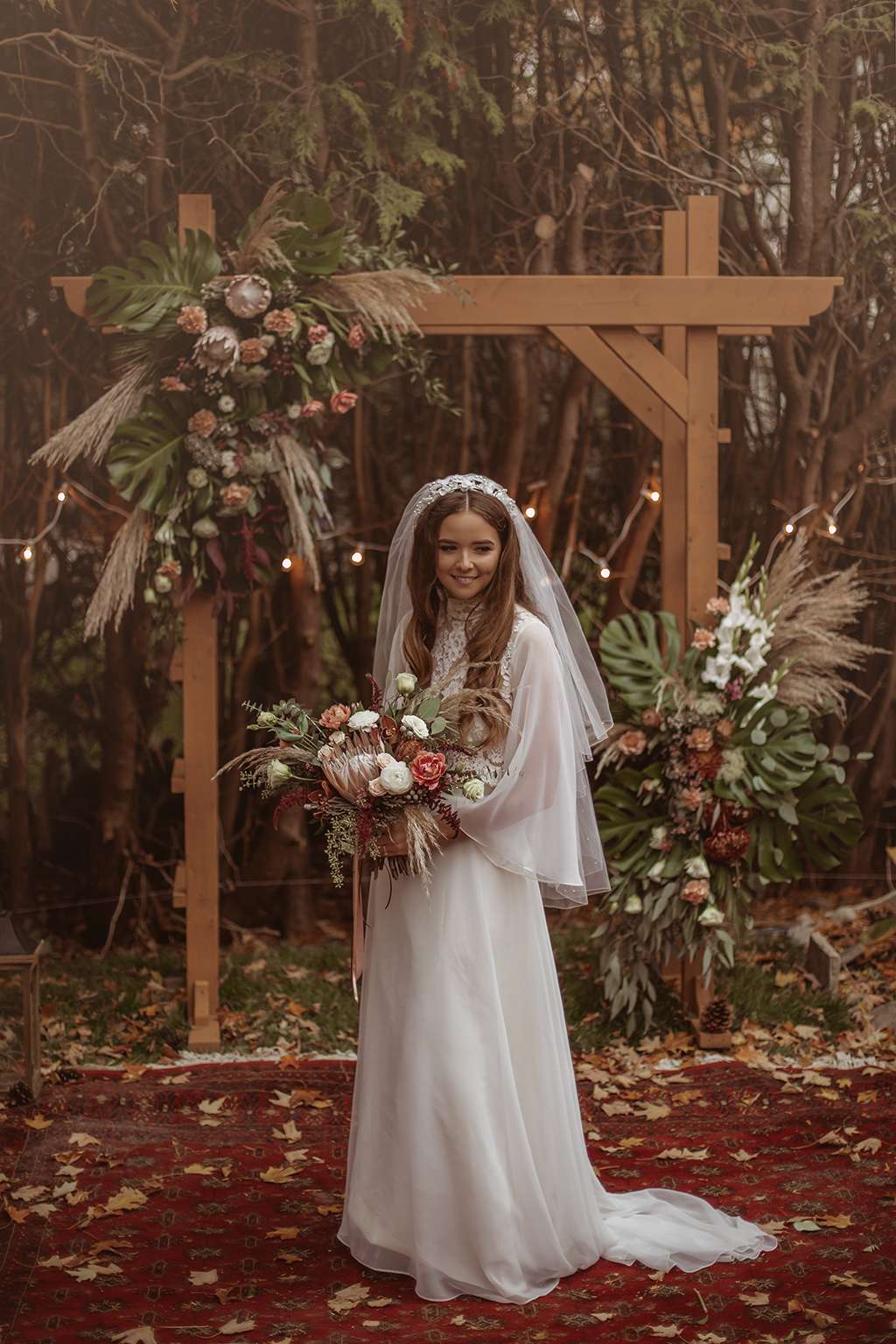 We also made custom labels for individual hand sanitisers that said 'spread love, not germs'' which also doubled as party favours. One of my favourite decor touches was the aisle we created using multiple vintage rugs (all purchased for less than $15 CAD). It really brought our bohemian/vintage theme alive while also making the backyard cozy for our guests. Lastly, I spent the year leading up to the wedding learning calligraphy so I could personally address the invitations and handwrite multiple signs that hung out during the ceremony/reception."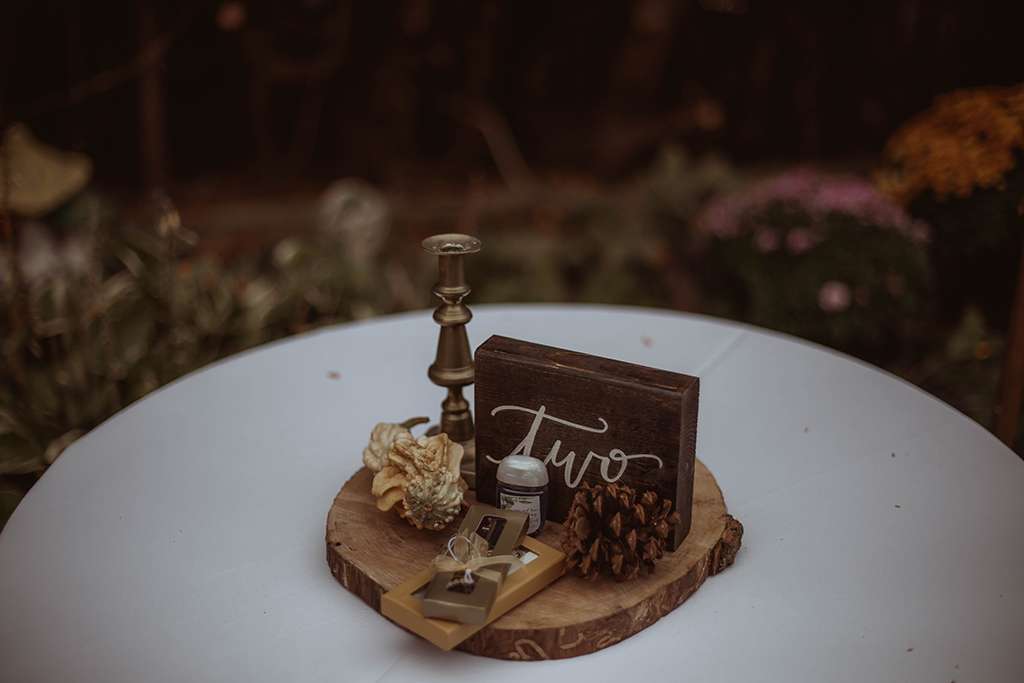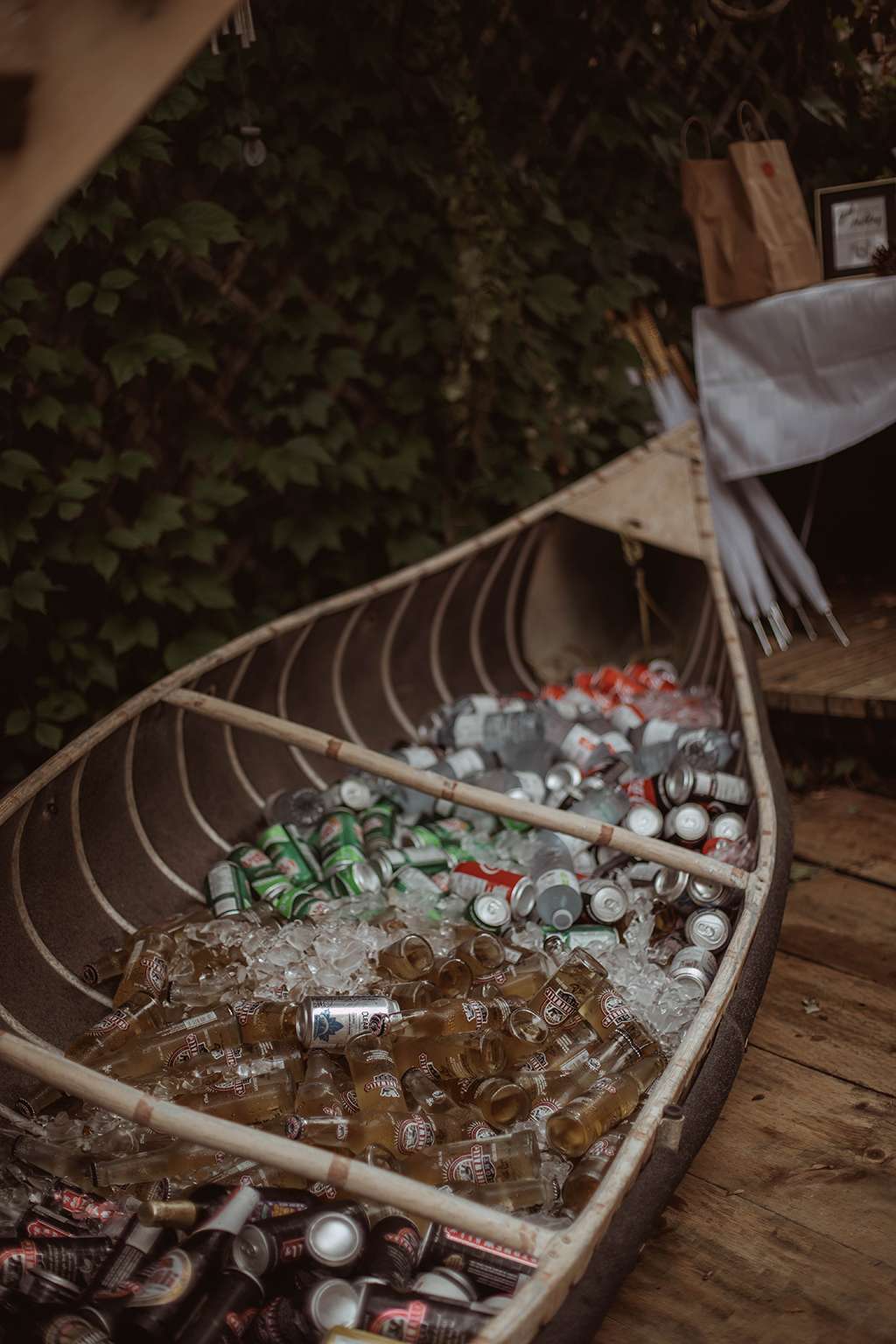 Teagan's dress was a last-minute 1970 vintage number found on Kijiji, which her grandma altered to a more modern crop top and skirt combo, which she swapped for jeans in the evening. She paired her outfits with Steve Madden sparkly flats, Kate Spade jewellery, a vintage veil and a silk flower crown her mum wore for her own wedding in 1990.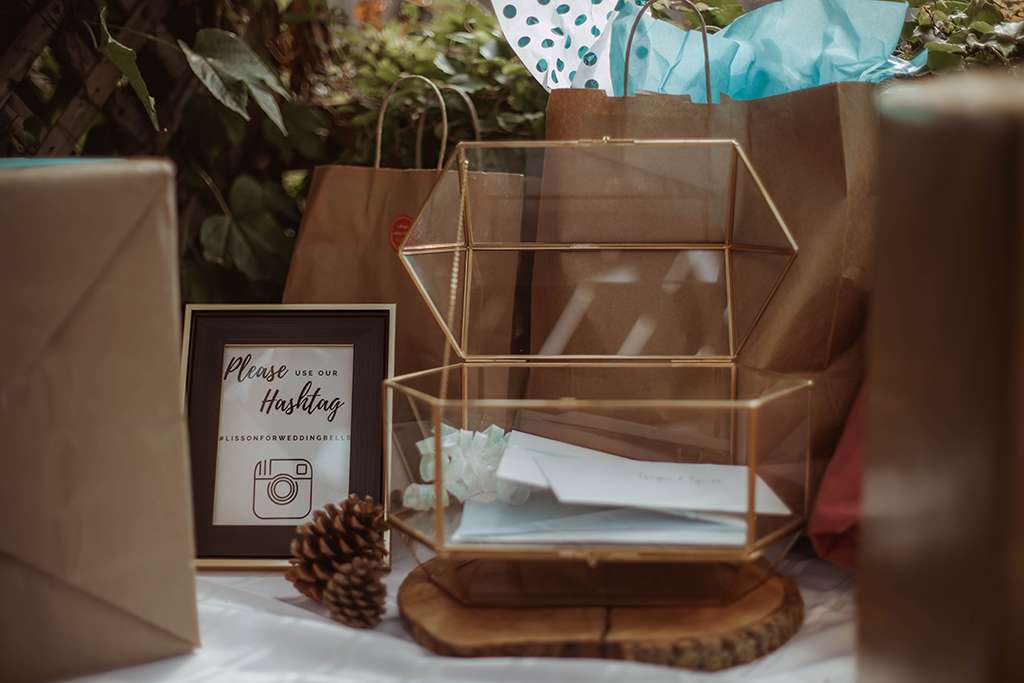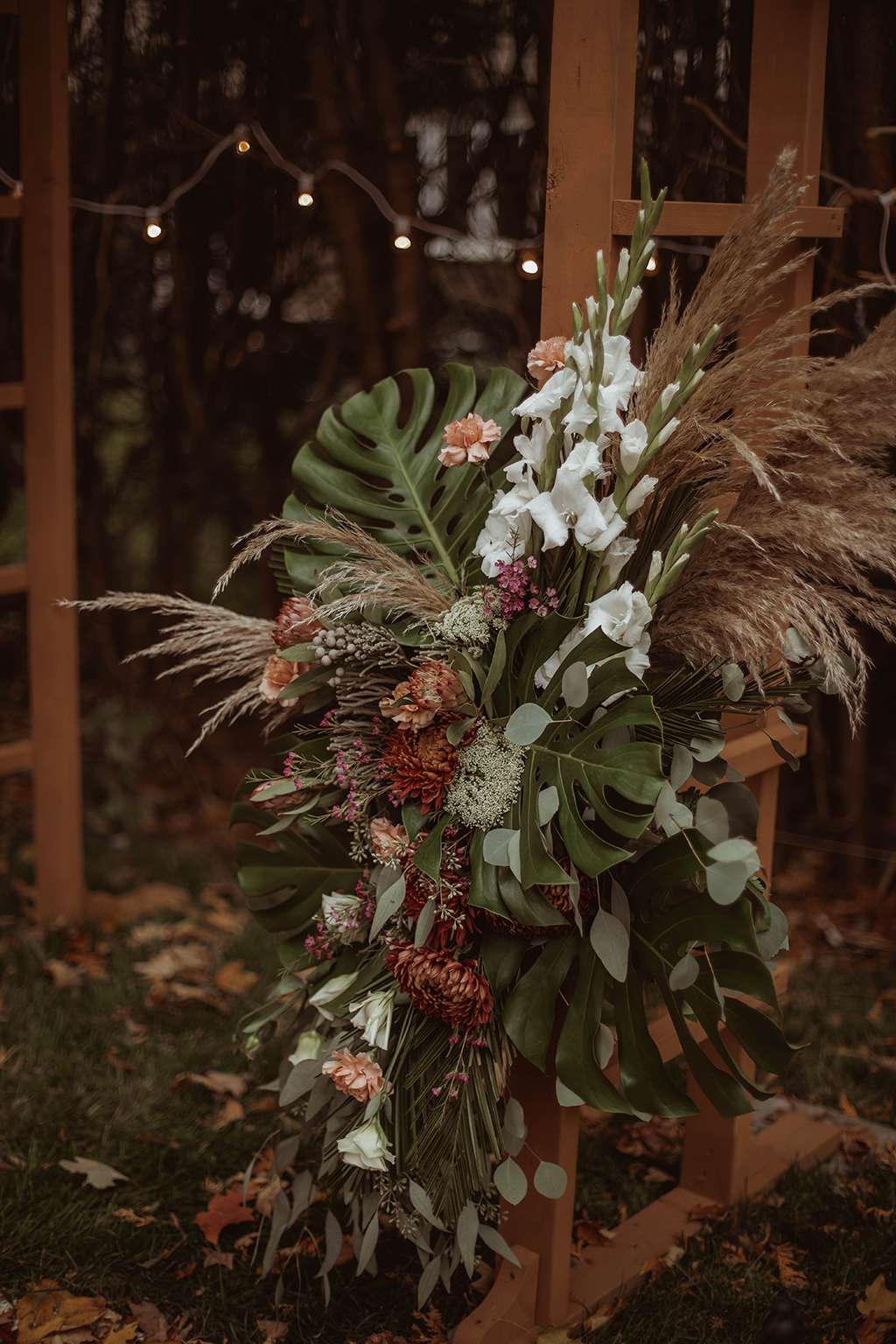 To better align with their casual, autumnal vibe they opted for pie instead of cake, and the topper was the same one the bride's parents had at their own wedding over 30 years ago. They served it with cookies made by Teagan's sister in law as a dessert table, which helped to keep costs down. Their biggest expense was the florals – they wanted lots of tropical flowers to emulate Hawaii since that was where they got engaged. "Amanda at Floral Occasions did a great job making that come to life! It's probably the thing my guests told me they loved the most, plus I was able to dry some of the flowers from my bouquet and the arbour so that I can keep them forever."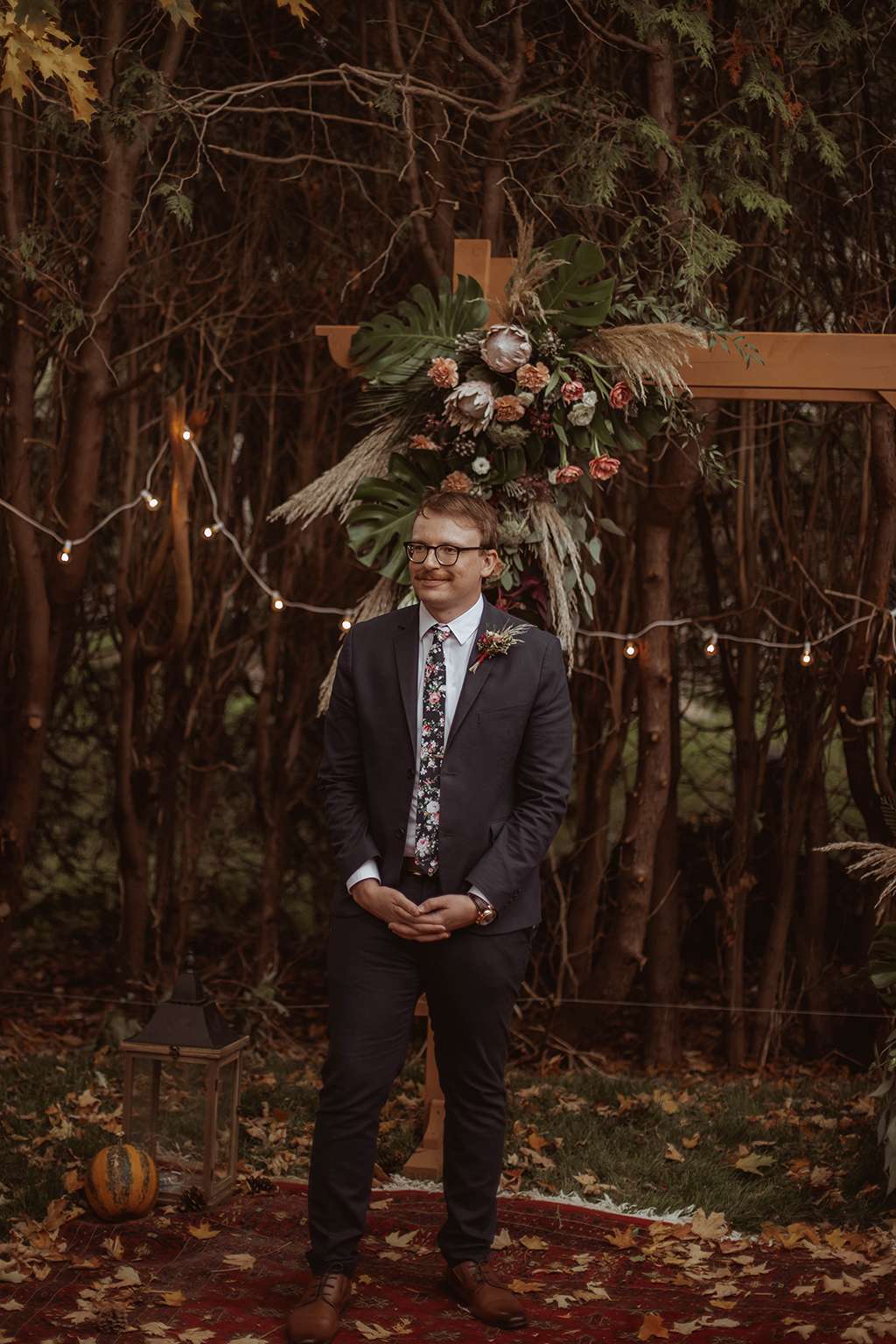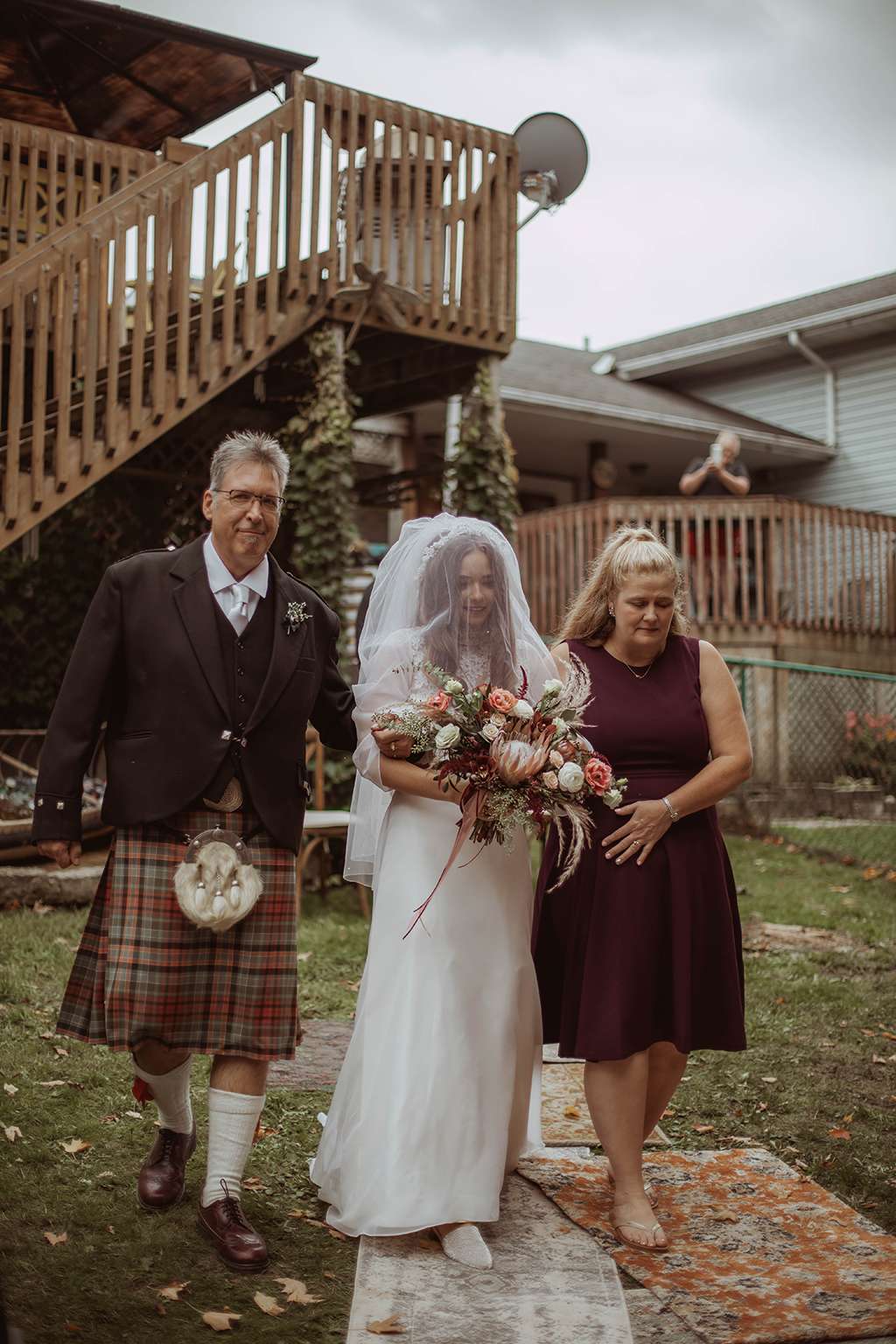 The couple really wanted a non-religious ceremony that focused primarily on the two of them celebrating their love, so they chose not to exchange vows. "Instead, we had our officiant read quotes from our favourite movies which expressed excitement for our future together and gratitude toward our guests who joined us. One of the quotes was from Fantastic Mr. Fox (one of our favourite movies) about how even though life seemed rough in that particular moment, at least we were all able to be together. We also included a quote from Harry Potter. Additionally, my brother performed a traditional handfasting ceremony to honour my Scottish roots. We are hoping to have a 'We Do Re-Do' in late 2021, and in Celtic tradition, you would do a handfasting and then be legally married the next time the priest would visit your area approximately a year later, so we thought it was fitting.'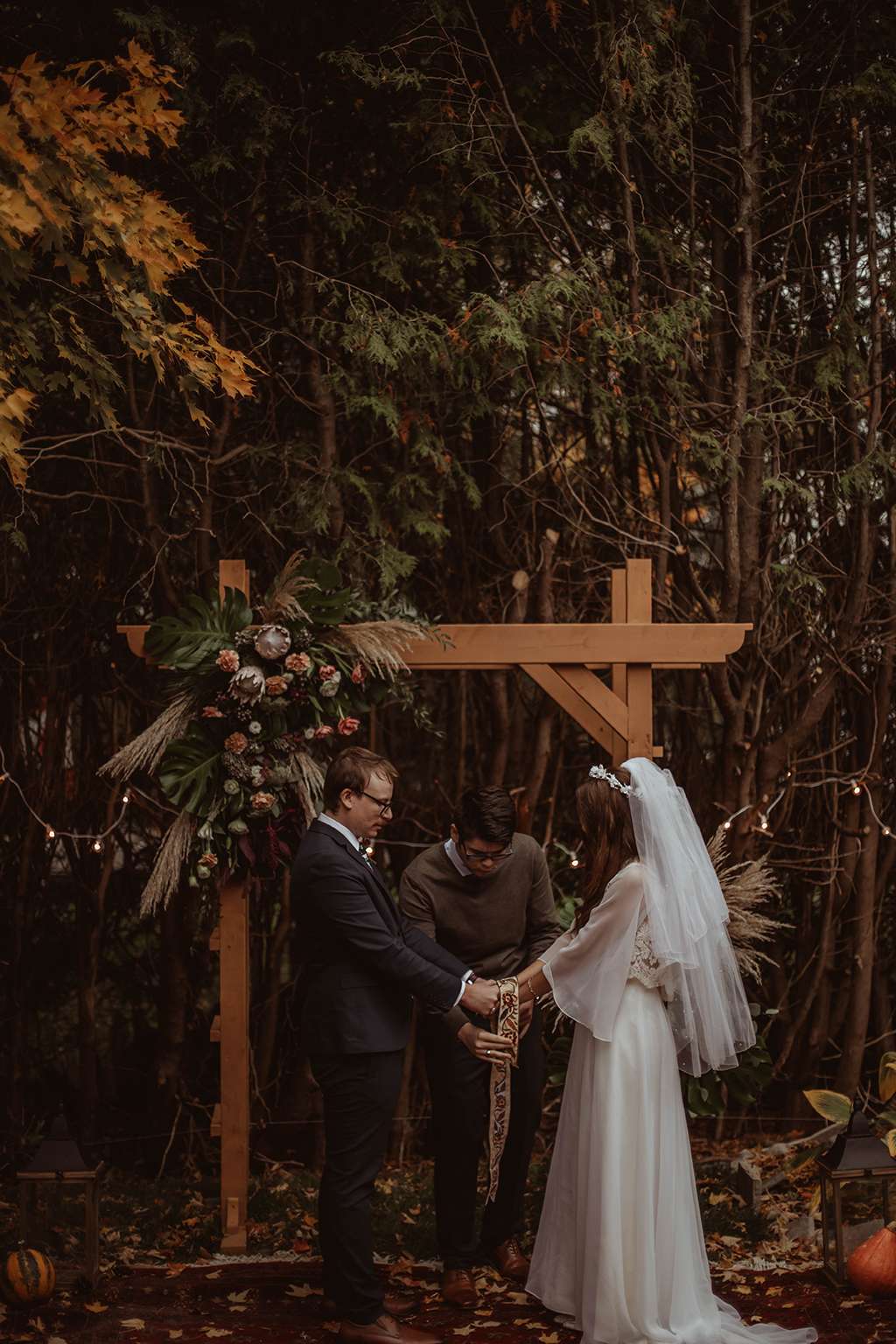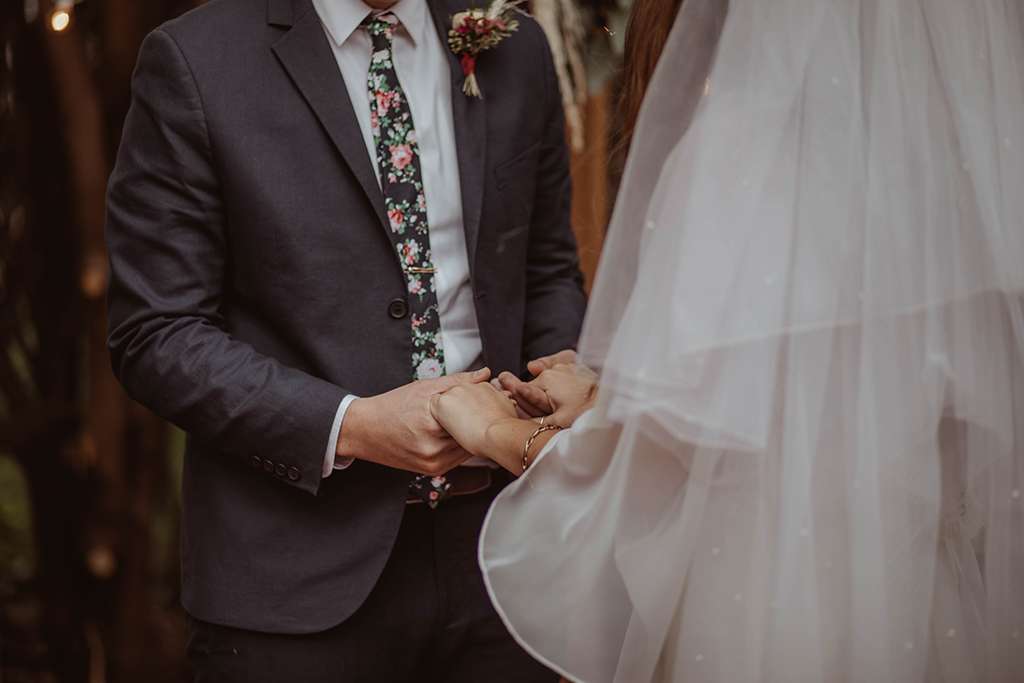 "I loved coming up with all the fun little details that I feel like our guests appreciated," the bride concluded, "but my advice to future couples would be don't sweat the small details! People will appreciate them if they're there, but it's not worth stressing over. There are so many small things that you don't even need at your wedding, so if it's stressing you out just skip it!"