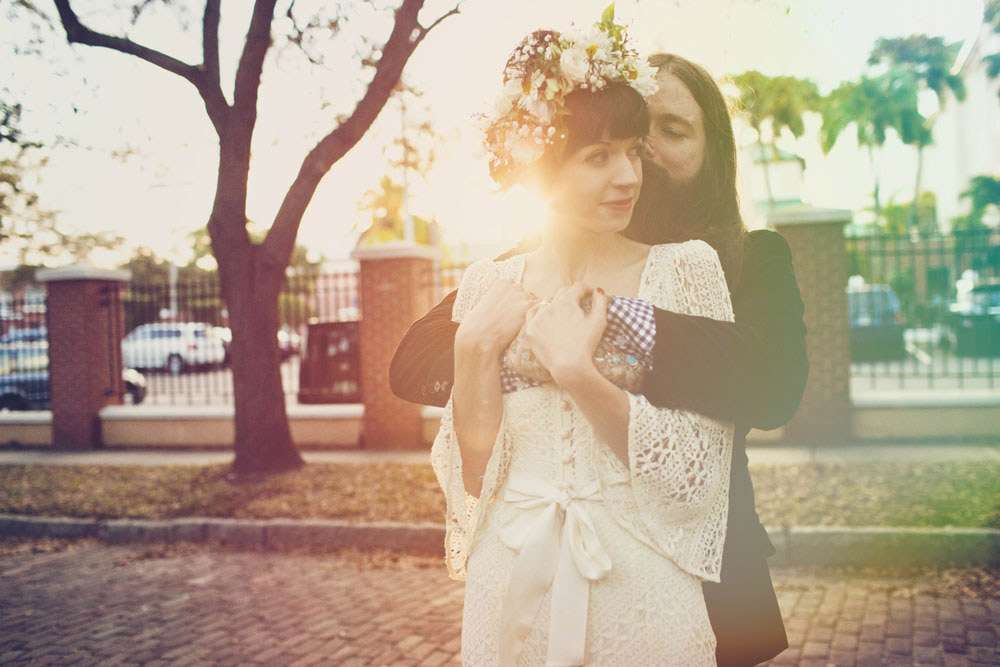 Ahh Emily & Chris' Florida nuptials is what my wedding dreams are made of. Getting ready in the Hard Rock Hotel (my spiritual home for sure) this achingly cool pair had their beautiful wedding at Ybor City Museum Garden in Tampa. Emily wore the Greenbow lace gown by BHLDN and Miu Miu shoes, while Chris kept it casual yet chic in a checked shirt and a vintage velvet jacket combo. The 1970s is an era that many might feel should be left back with the flares, disco and Woodstock hippies, but I'm am here to tell you the exact opposite. How bloody cool are these two?!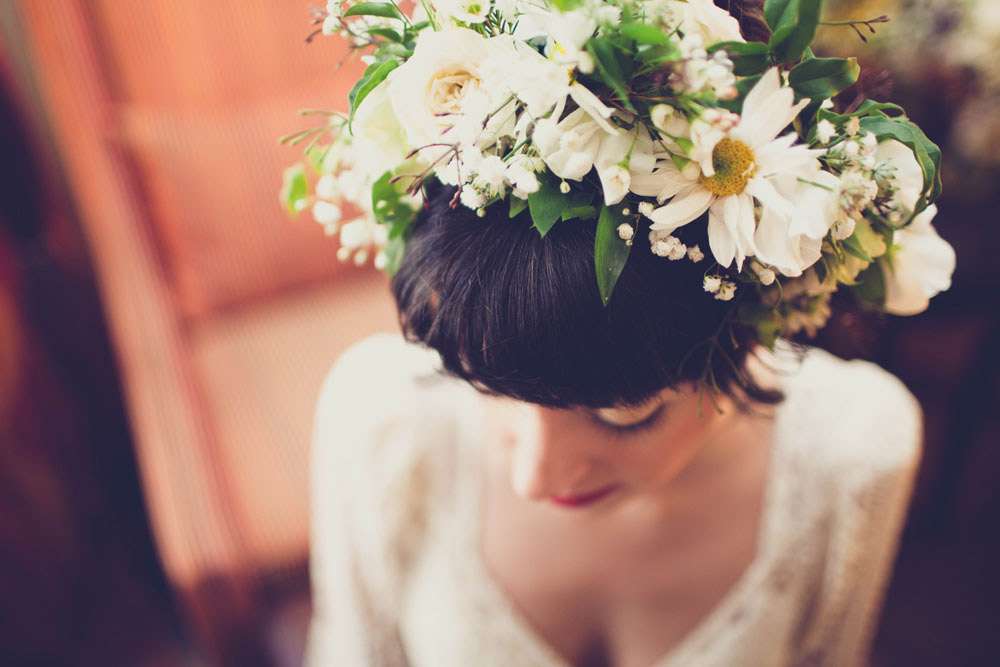 Although from Stacy Paul's amazing photographs it looks like the whole wedding was pulled off with ease, Emily explained that it was quite the rollercoaster to get there… "The wedding day was a stressful day of 50 degree weather, 30 mile an hour winds, a brief rainstorm, and panic about the cold, wind and rain, affecting our outdoor wedding and reception", she began. "Florida weather is beyond unpredictable. I somehow maintained a little bit of composure with the understanding that my family and wedding planner were working to make sure that everything was perfect, no matter what."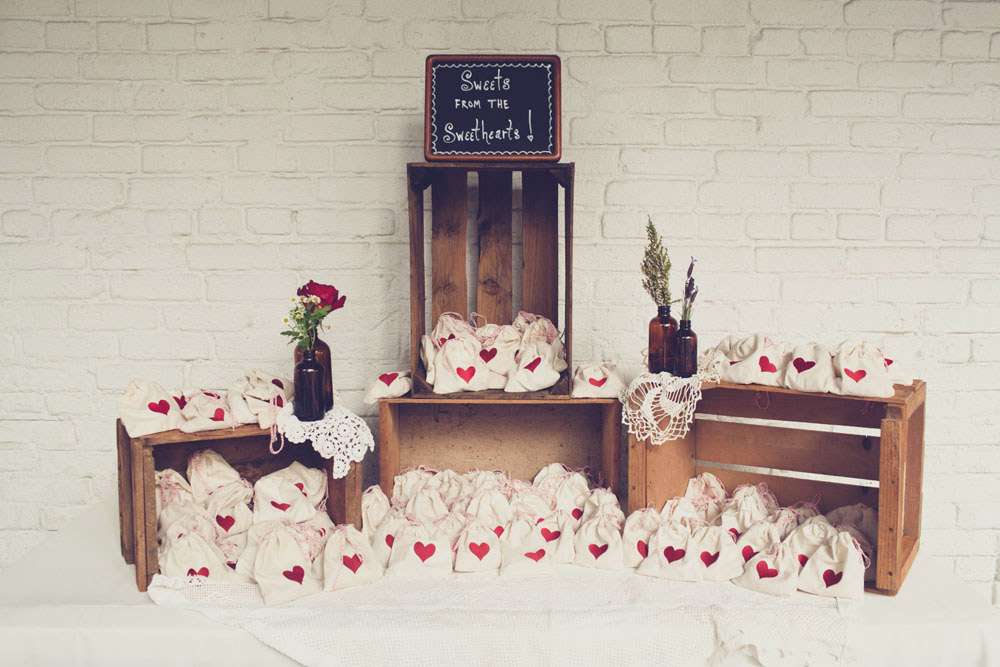 "And boy were we lucky! With the help of some heaters, a resourceful wedding planner, very generous family members, and a calming of the storm, everything turned out perfect.The clouds cleared, the wind slowed (a little) and we ended up with the most magical ceremony. Most guests were troopers and bundled up in the blankets that were provided, hovered around the heaters, and enjoyed the bourbon to warm themselves.The party continued on and we had the most amazing night!"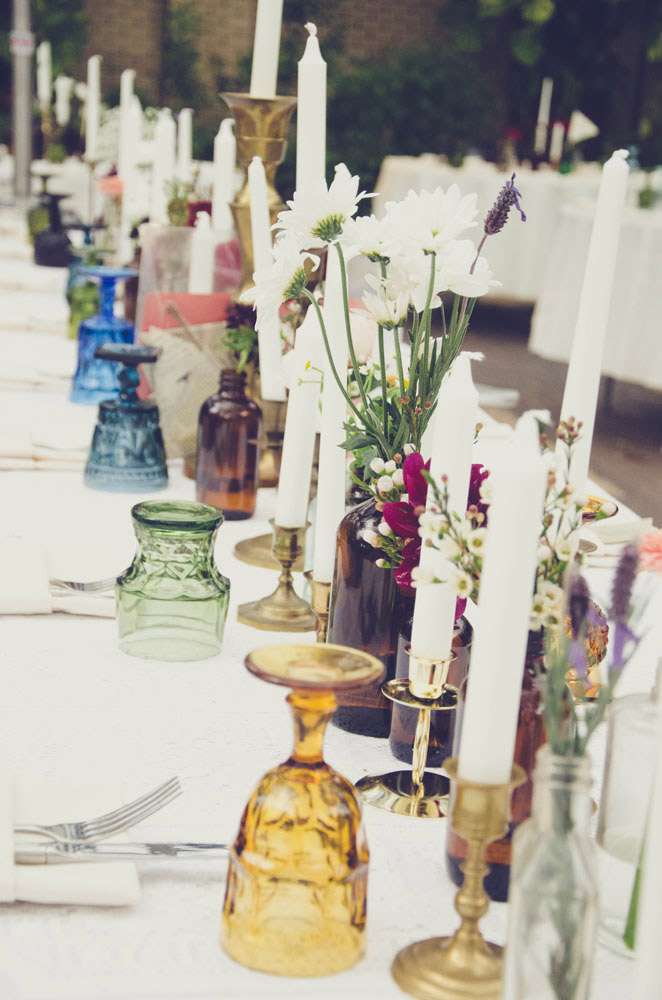 "We live in Philadelphia, PA but got married in Tampa, Fl as that is where we are from", Emily continued. "Collecting glassware and decorations could have been close to impossible if it had not been for the help of family and friends. With a combined effort, a generous offer to stuff a garage full of decorations, and countless hours spent at yard sales and on eBay, everything came together even better than I had imagined. People loved seeing the goblets that grandmothers, mothers, and aunts had in their collections from years past."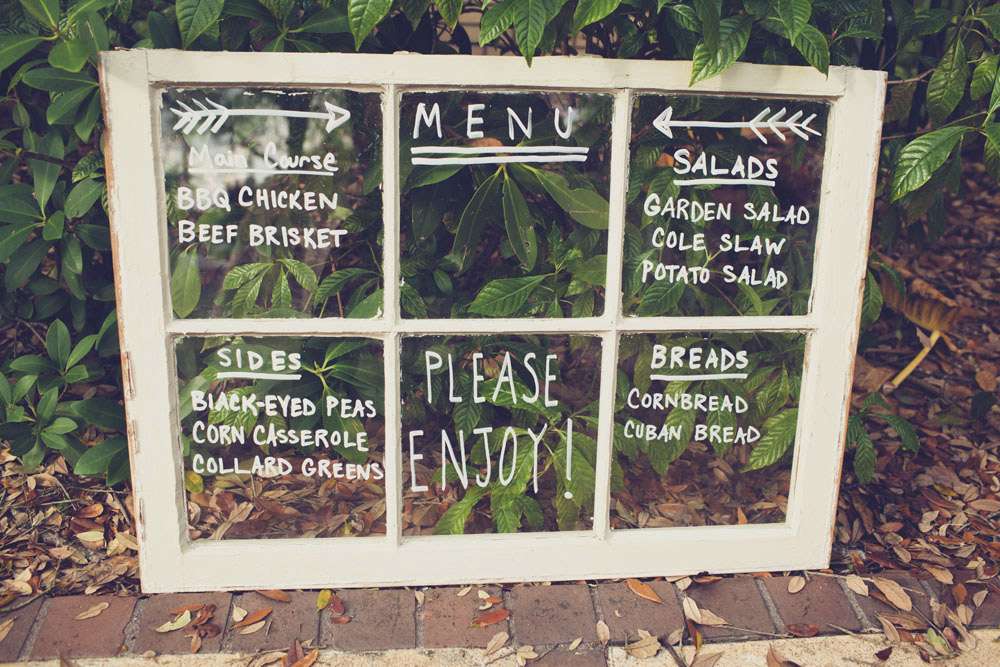 "We wanted our wedding to be fun. Period. We carefully made our music selections with nods to lots of classic country, classic rock, and a love of the 70s. Our music selection matches our personal style to a T. A large portion of the decorations came from our personal collection. Somehow, when you plan a wedding using things you love, things that are 'you', everything comes together. People will get it because they know and love you as a couple. It's only if you start using things because that is what's currently trendy that things get confusing and a wedding can lose it's personality. Our love of the 70s also allowed us to choose music that most of the crowd, including parents and grandparents, know and love. Chris toured with bands such as ZZTOP, Blackberry Smoke and The Warped Tour for years. These experiences definitely fostered a love of music and all things Rock n Roll and we wanted to include that love in our wedding day. The result was an amazing evening of classic rock, country, lots of Fleetwood Mac and the most delicious BBQ you've ever had."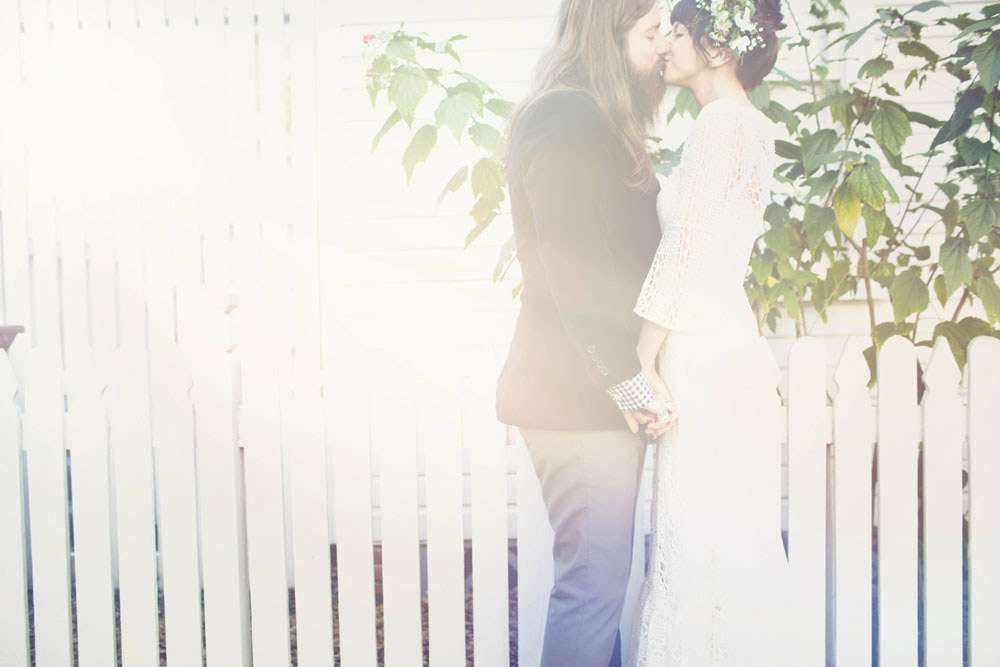 Amazing! Thank you to Emily & Chris for sharing their day with us.