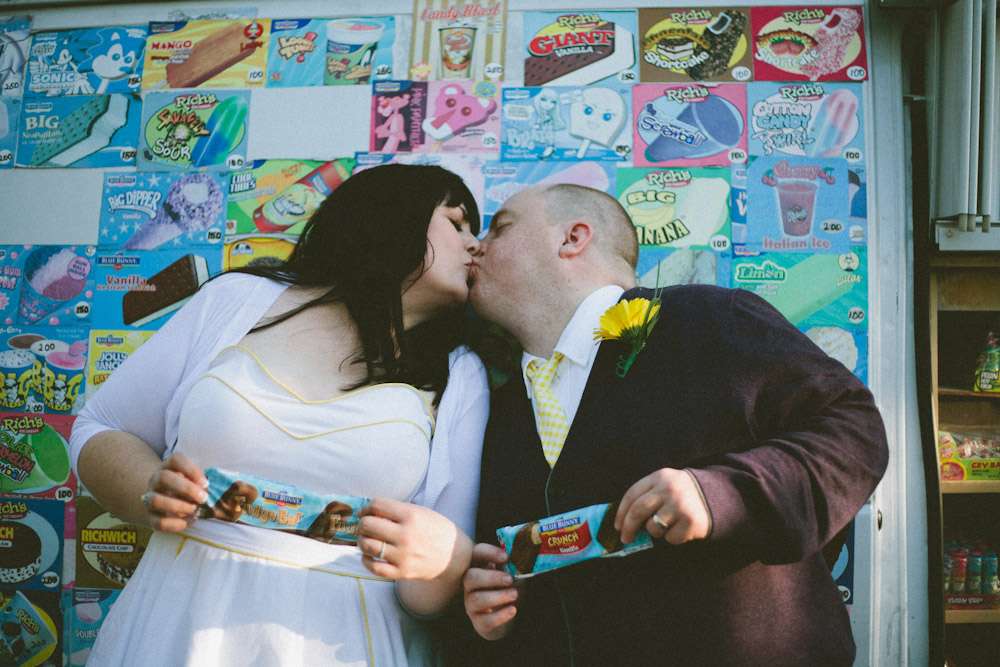 When it came to planning their wedding, Nicole & Tom knew they didn't want a big fuss. In fact a private elopement at home was just the ticket. They did everything themselves from the decor to the food for their small number of guests and the music. They set up a video camera for the ceremony to be livestreamed to their friends & family that couldn't attend.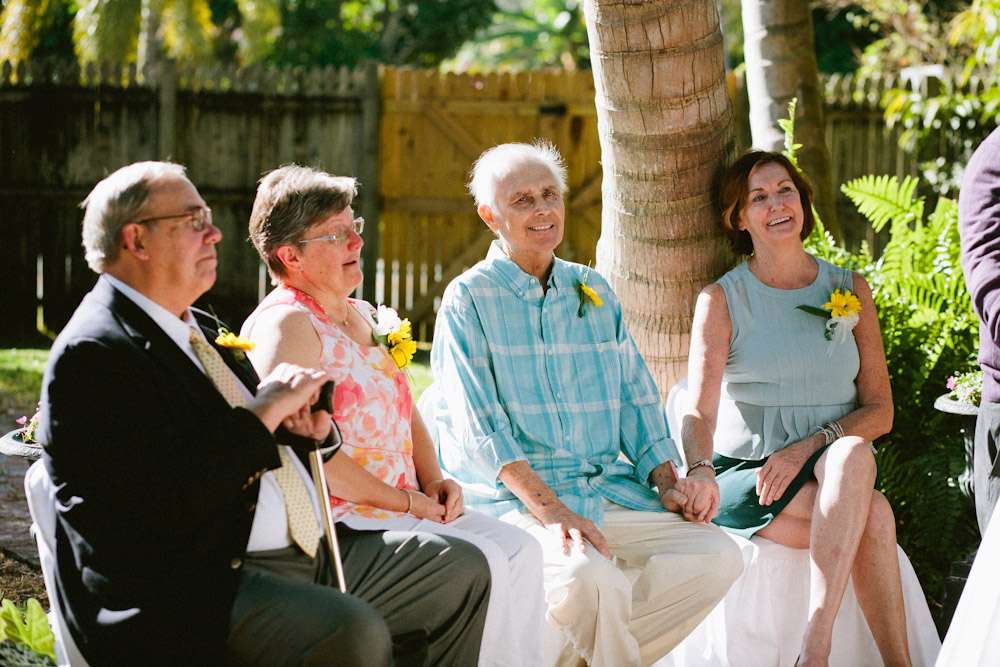 "The main inspiration for our wedding was my dad", Nicole wrote. "We actually weren't planning on getting married until 2013 but when my dad got sick, we decided not to wait and planned it all in three weeks. We had it in my parent's backyard so he didn't have to travel anywhere and it made for a nice backyard venue. Because he was so sick, we didn't want to bombard him with all of our family and friends flying in so we came up with the idea to stream the wedding live on the internet for everyone to watch. We had our guests take pictures of themselves watching our wedding and they did fun things like dress up and drink champagne and such. It turned out fantastic and my dad was actually able to walk me down the pathway."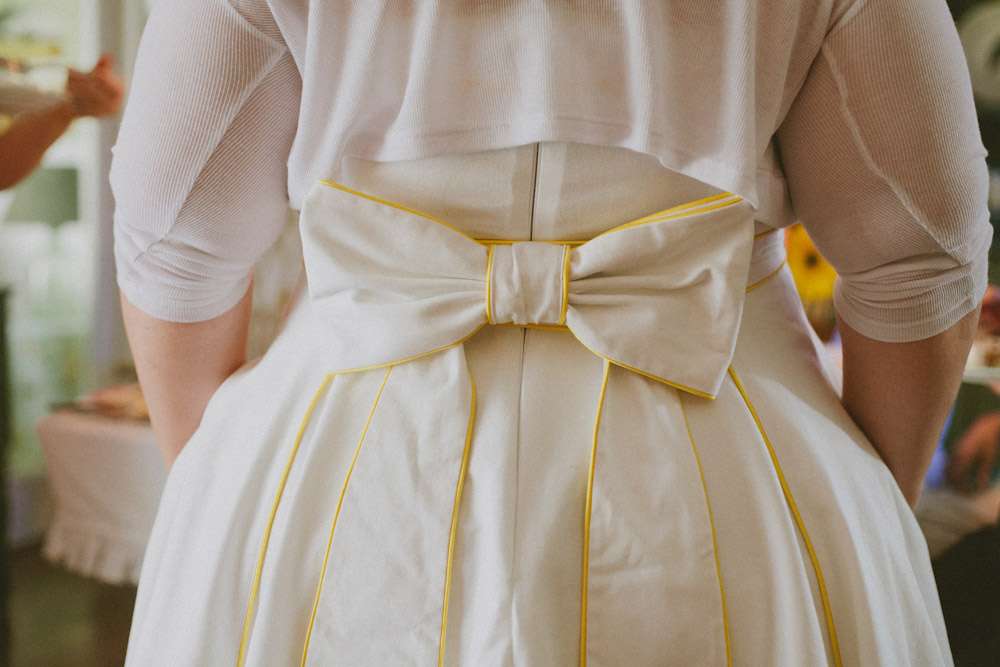 Nicole wore a short dress with a yellow petticoat which she bought from Miss Brache on etsy. She had bare feet and carried a homemade bouquet of yellow gerberas. "We really wanted to have the ceremony, decorations and every touch to be personalized", she explained  "We have never been a traditional couple and therefore weren't excited about doing things just because it's 'what you're supposed to do'.  I had yellow touches and a yellow petticoat on my dress to give a nod to the yellow diamond engagement ring Tom gave me, we selected only music we both love and have had meaning to us. I went barefoot down the aisle as I hate shoes, we love vintage things and so all of the tablecloths and dishes were from the 50s. We wrote our ceremony and own vows and also picked personalized readings that reflected our personalities. We figured if we were doing this, it had to be about us and reflect what was important to us."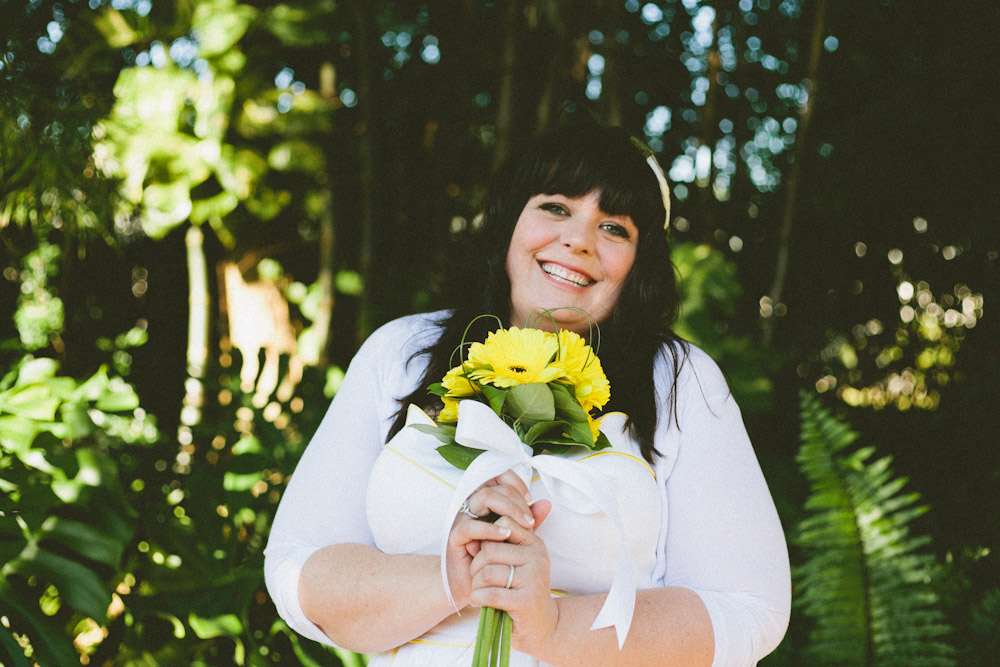 "We really didn't have a theme. We just incorporated everything we love. It was a mix of a garden wedding, touches of vintage flair, while also using the latest software to share our big day with all of our loved ones online. We had everything from old fashioned candy, yellow and pink daisies, and vintage bottles to incorporating robots and aliens into our ceremony. A true mixture!"
"For me, my favorite part of the wedding was dancing down the pathway and definitely having my dad meet me and be able to walk the rest of the way", Nicole concluded. "He has since passed away and I will be forever grateful to have that moment."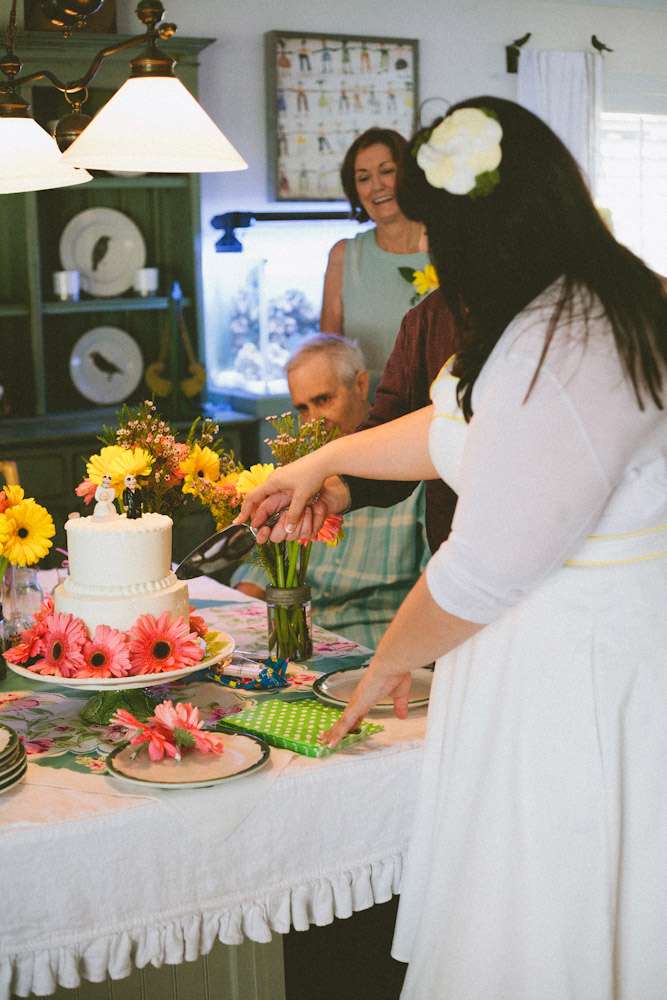 Beautiful, touching and emotional. Thank you Nicole & Tom for sharing your wedding with us.