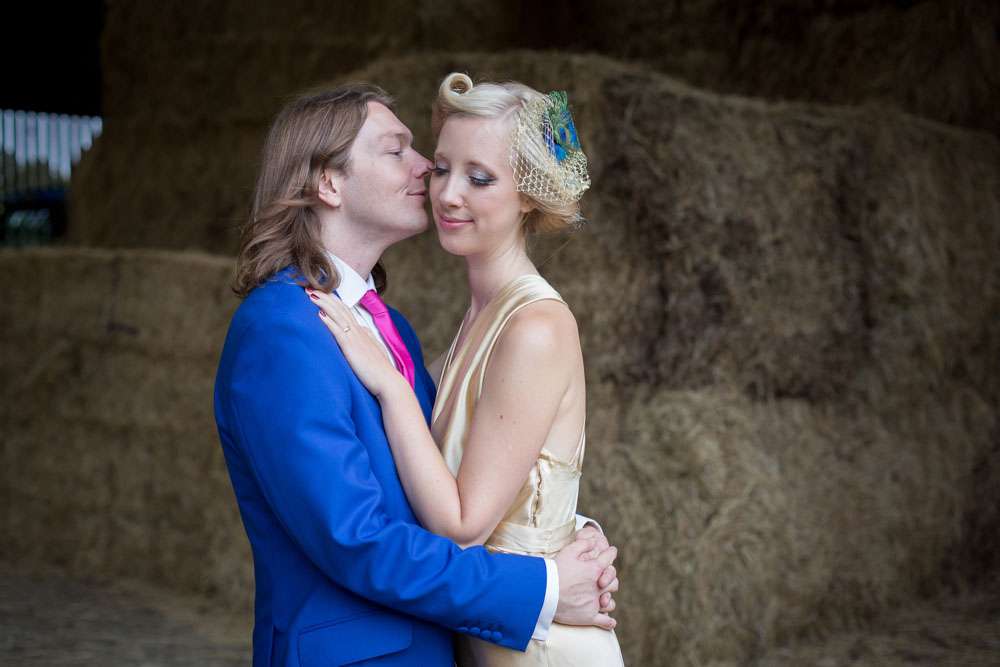 Helen and Toby's rainbow wedding took place at Coombes Farm in Lancing. The didn't have a huge budget, £8000, but they made it go far with plenty of personal touches and DIY projects. The cakes, flowers and stationery were all done by friends and they didn't hire a fancy caterer to feed their guests. Instead of gifts they asked their guests to each bring their favourite dish!
"We deliberately chose to get married on Friday 13th September 2013, as we liked the idea of choosing a date that is not usually chosen by couples planning a wedding", Helen explained. "It also meant that it would be unlikely to clash with any other weddings and Toby won't be able to forget our anniversary!"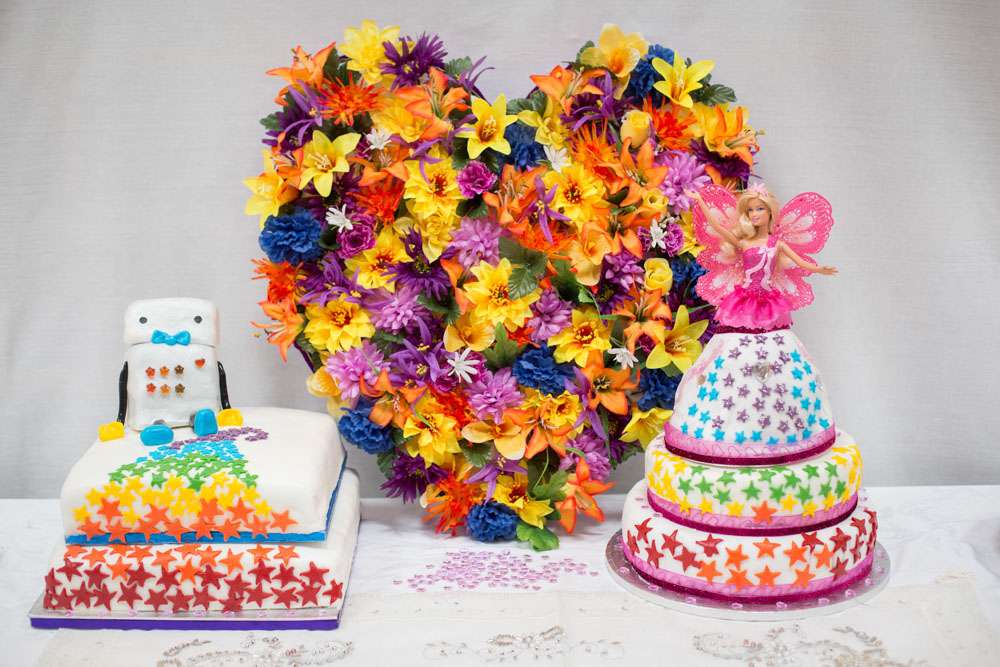 "We chose Coombes Farm due to its relaxed vibe, it is very much a working farm and therefore doesn't feel like the average wedding venue, which can feel very polished and formal. We also wanted somewhere where we could stay in the camper van and for our guests to have the option to camp, which made it feel like a mini festival. We basically treated planning our wedding like planning a party and wanted to ensure that everybody enjoyed themselves! Key ingredients included a tractor ride and of course, a bouncy castle!"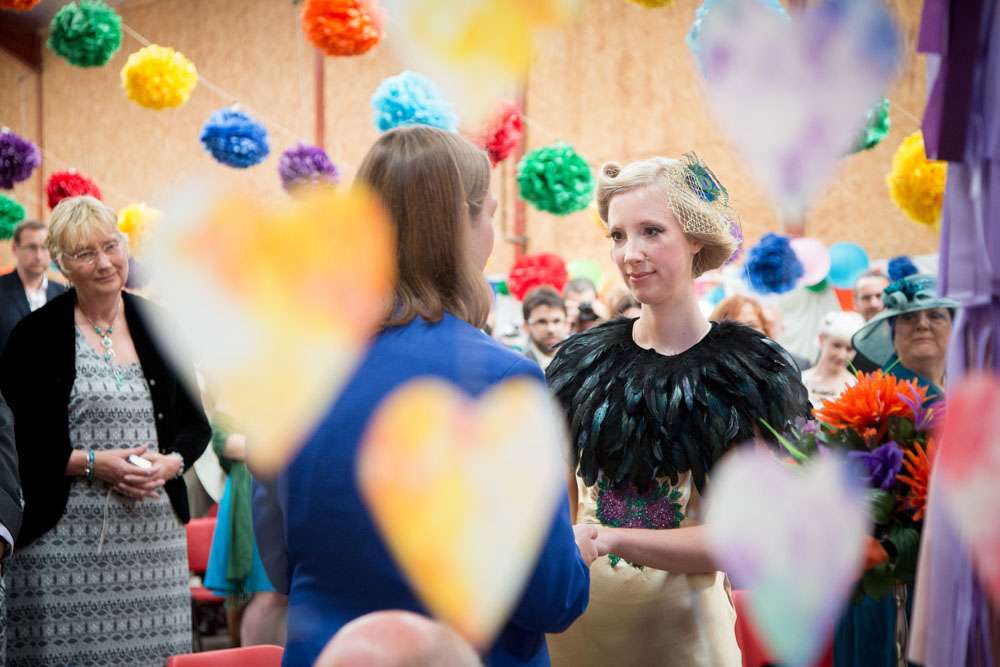 Helen wore two dresses. The first was vintage and from Cloud Cuckoo Land in London. For the evening party she changed into a blue number (with matching wig!) made by Oh My Honey. Her fabulous feather shrug was by Biba and her wedding date glittery headpiece was by Lily Lewis.
"Bridal shops scare me and I didn't set foot in one when looking for my outfits", she continued. "Six months before our wedding, I was starting to feel the pressure as I only had rough ideas on what I wanted to wear. I ended up taking a day off work and spending a day in London visiting various vintage shops. The gold 1930s dress I wore for the ceremony was hanging up in the centre of Cloud Cuckoo Land and as soon as I set eyes on it, I knew it was the one, plus it was a bargain costing just £190. I didn't want us to look coordinated, so Toby had complete choice over his bespoke suit, which had leopard print lining with hot pink piping! Being slightly obsessed with leopard print myself, I am sure most of our friends and family thought I had designed the suit for him!"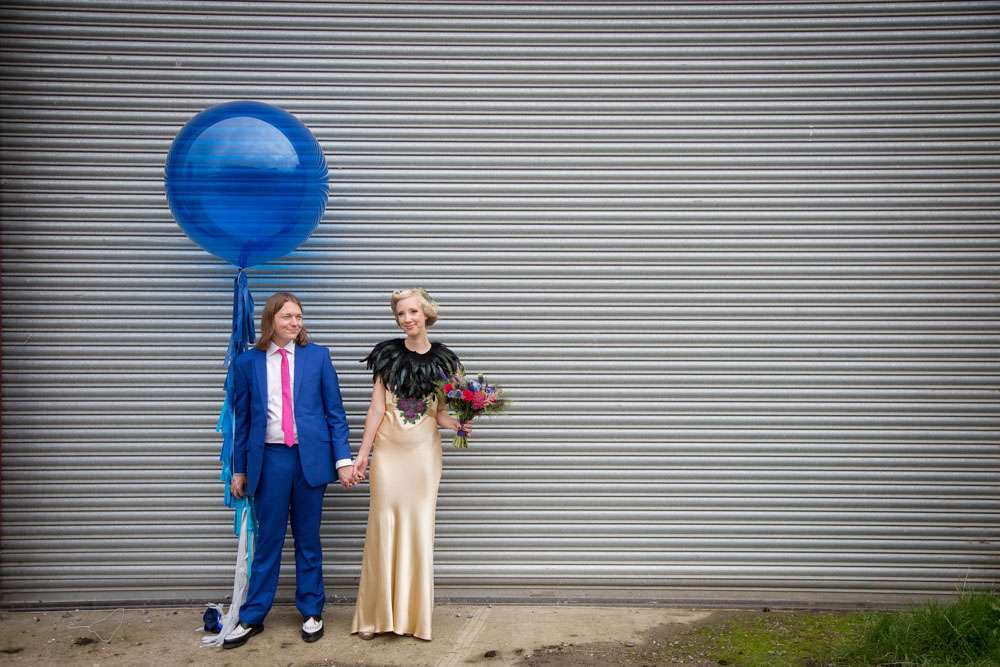 As I said this was a real DIY wedding, with many of their friends and family pitching in to help make everything. "We didn't follow a particular theme, as we wanted our wedding to feel relaxed and not to worry about everything being coordinated", she said. "However, we did try to incorporate as much colour as possible and most of the décor was homemade. The collaborative experience with friends and family was actually the best bit of our wedding. Without them, it wouldn't have been possible. Pretty much everything in the barn had been made or assembled by them, and it really made the event a moving experience. "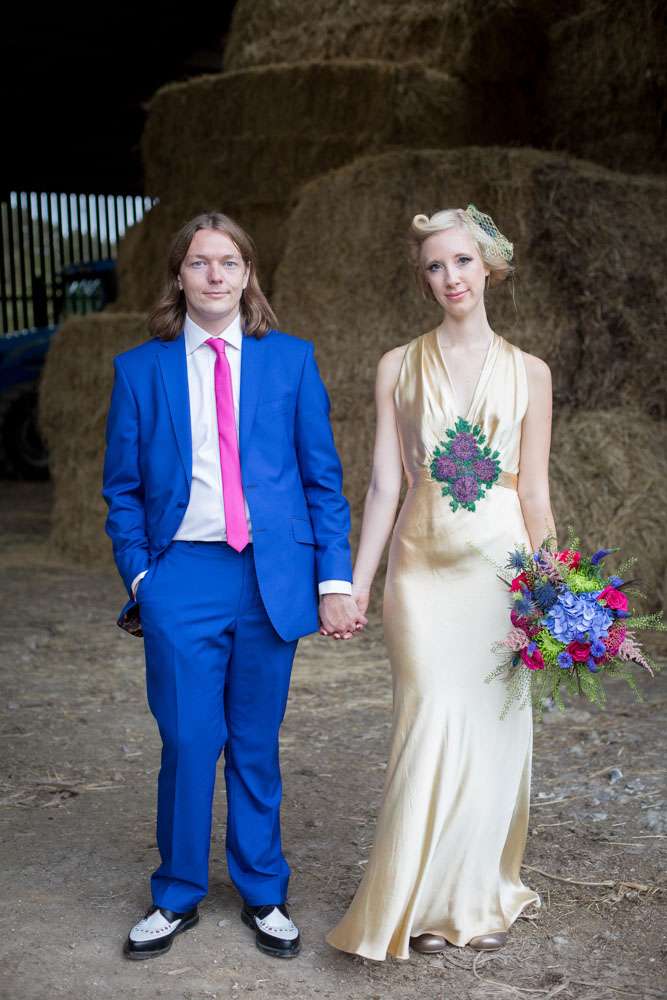 "My Dad's wife literally spent months making hundreds of paper pom poms and in the run up to the wedding, their whole house was overtaken by them! I loved how they really transformed the barn, whilst not covering up the structure. My Dad also did lots of running around getting fabric to cover the sides of the barn and figuring out a pulley system for the poms."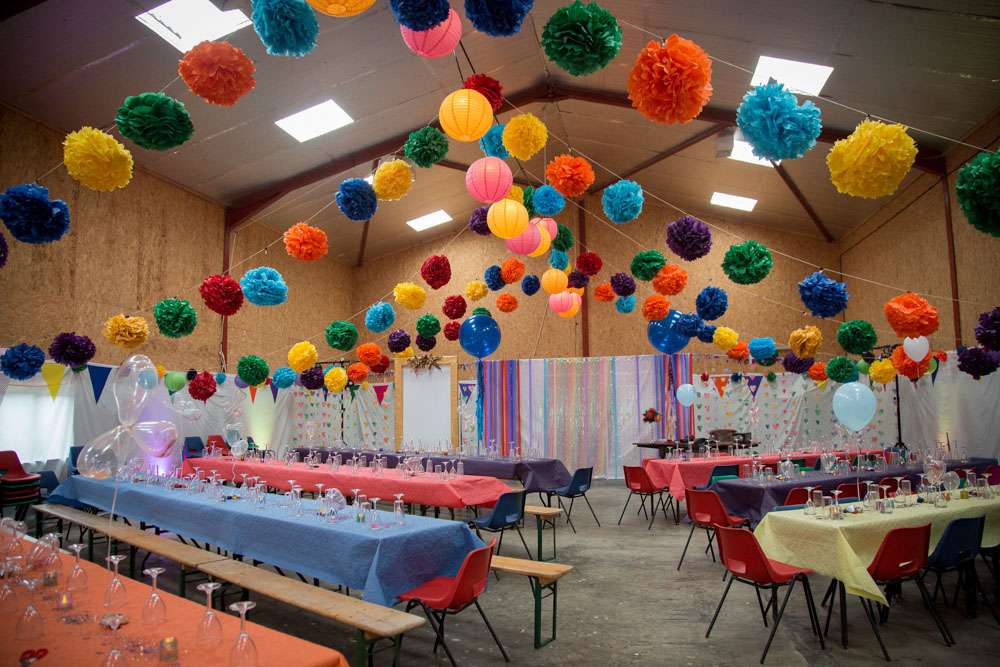 "It really helped to create a 'Wedding Inspiration' board on Pinterest and a 'Team Décor' group on Facebook to coordinate all the help from our friends. We also had a couple of craft afternoons at Build Brighton Hackerspace to make things together. My friend Liz, also spent months making meters and meters of giant bunting, whilst Siani made strings of wax crayon hearts. Rosie painted pebbles 'borrowed' from Brighton beach, Laura made tassel garlands and glitter candle jars and Jocelyn made paper heart garlands."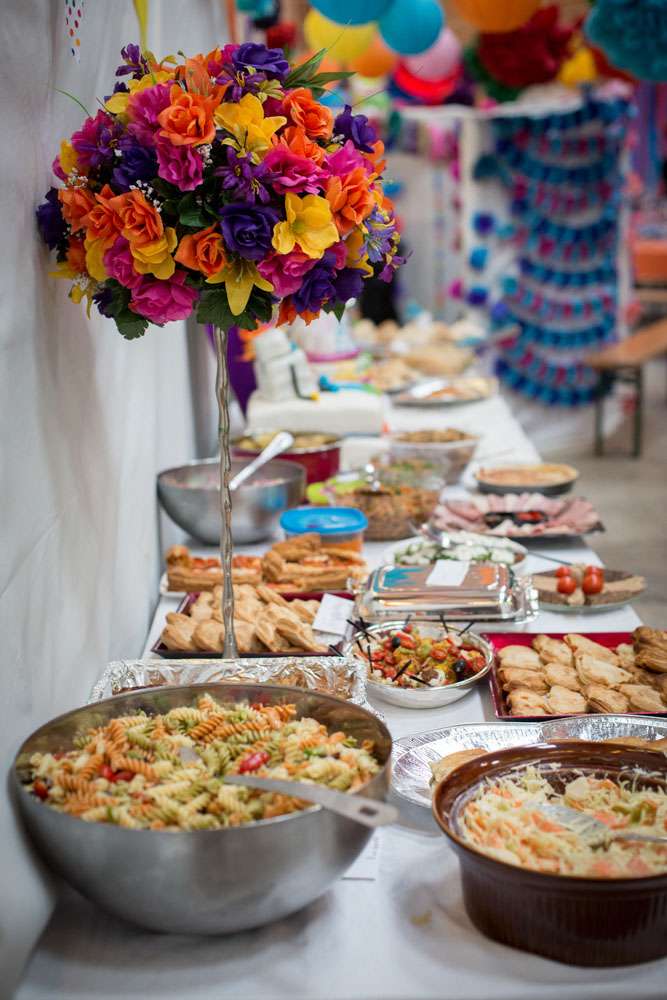 "Victoria and Chii made scrappy fabric garlands and Victoria and Clare put together the backdrop for the photo booth and collected props from friends and family. Victoria and Sam assembled the streamer back drop, Toby made the confetti using the laser cutter at Build Brighton, and I put it into glassine bags stamped with our homemade 'Toby & Helen 13/09/13' stamps!"
"Our friends, Laura and Siobhan made us a cake each. I chose a vegan Barbie style cake and Toby chose a robot cake. I loved how our cakes didn't at all look like traditional wedding cakes, and more like those you would find at a children's party."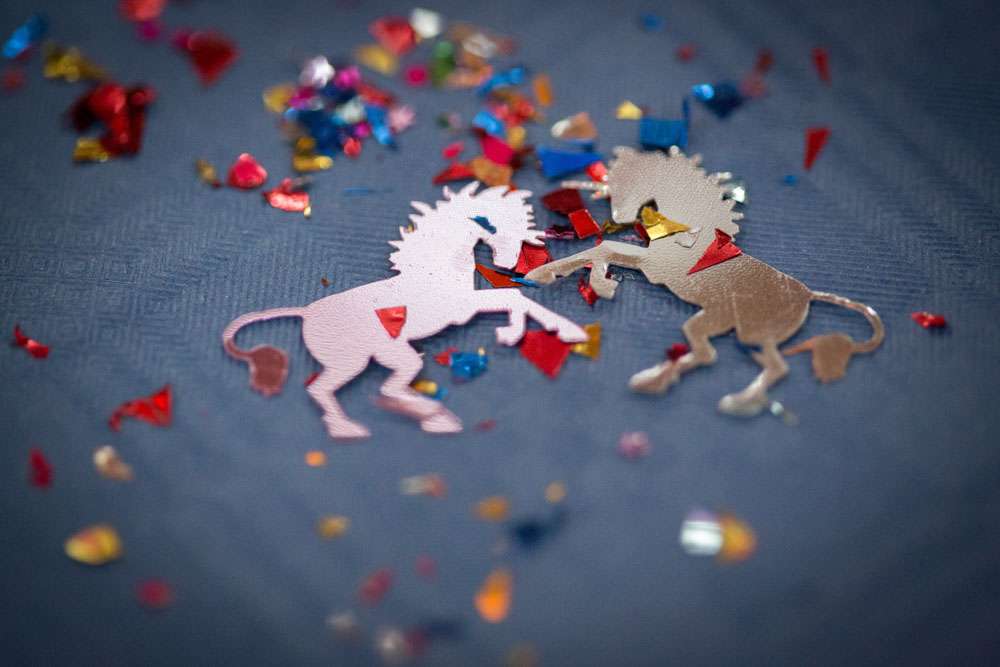 "Try to enjoy the whole process as much as possible and the day itself goes SO quickly!" Helen advised in conclusion. "We deliberately didn't start planning until a year before, as I think it is easy to get sucked into worrying too much about detail."
"Make sure that you plan the wedding to be exactly how you want it to be, and not to deviate from the original plan because of the views of others. My Dad was pretty apprehensive about how it would all work and, although he did end up doing a lot more running around than if we had opted for a traditional wedding venue, the end result was a wedding that was created by our friends and family, and cost a lot less than if we had hired people to do it all for us. My Dad ended up being surprised how it all came together, especially on the food front, as he was convinced we wouldn't have enough! We actually had plenty of food left over for breakfast the next day!"