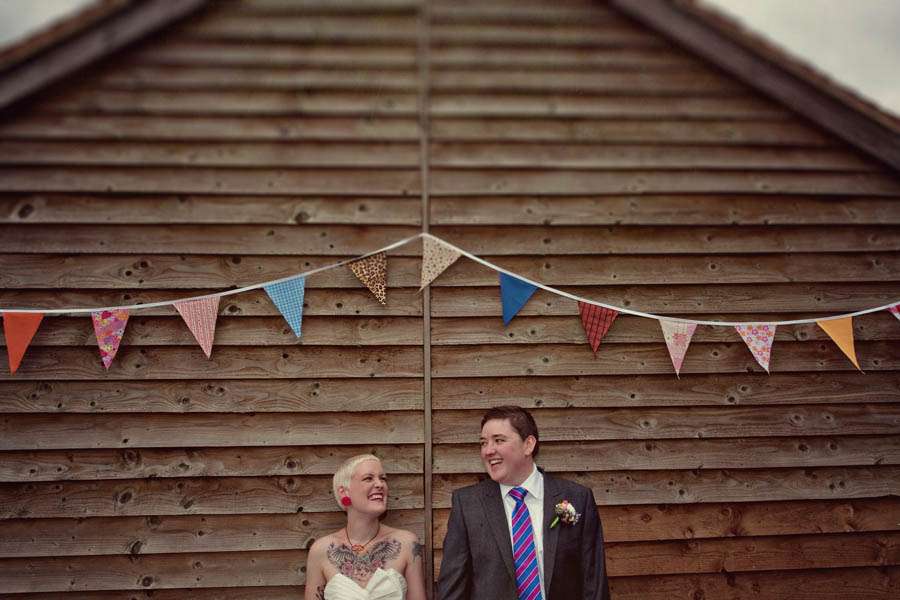 The DIY wedding of Tom & Jenny took place in Kent in July. After a church ceremony, their low key reception was held in Tom's parent's back garden.
The bride wore a short wedding dress from Yours Truly Bridal Shop in Maidstone which cost her just £180 with a gorgeous headpiece was by a Rock n Roll Bride favourite, Crown & Glory. Alongside her lucky bridesmaids, she wore Vivienne Westwood/Melissa Lady Dragon shoes and instead of bouquets they all carried a single giant faux flower stem, bought from Hobbycraft costing just £2 each!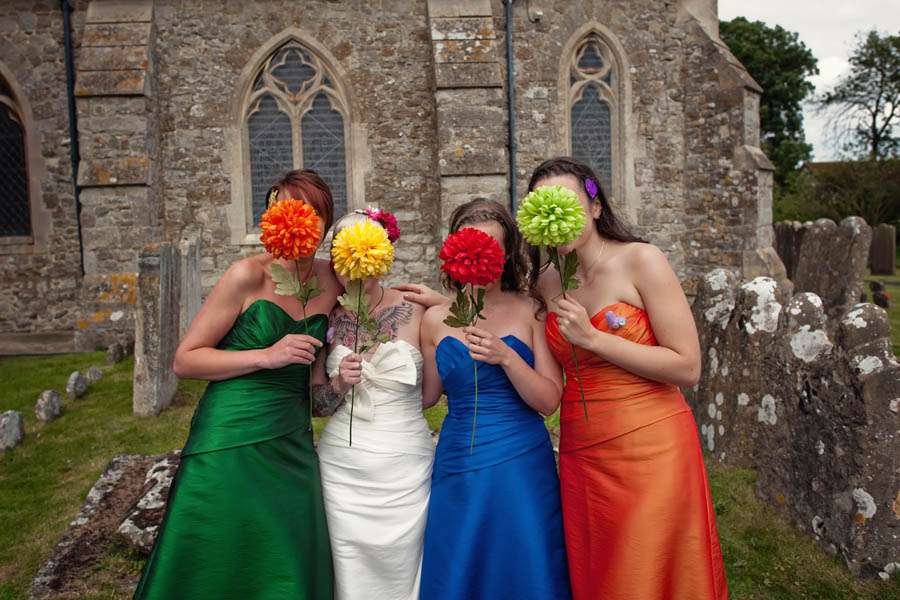 "We tied the knot in our local parish church and had a wonderful DIY reception in a marquee on the lawn of Tom's childhood home", began Jenny. "Our theme was of a country garden party or fete so we had pétanque, jenga, croquet and a coconut shy that Tom and his best man Nick made for me in secret! We also wanted to make the garden decor a bit of a surprise for our guests, so we had loads of garden gnomes and pink flamingos dotted around that we had collected. In fact of of my favourite parts of the wedding was seeing people continually surprised and excited and commenting about all the little things we had spent so long thinking about and planning for. Whilst it was our day, we wanted to give our friends and family from over the years a great knees up, and seeing all our efforts come off was very humbling. There was no colour theme at all, the brief was simply: 'colourful!' And, as can be seen from our bunting, the more mismatched the better!"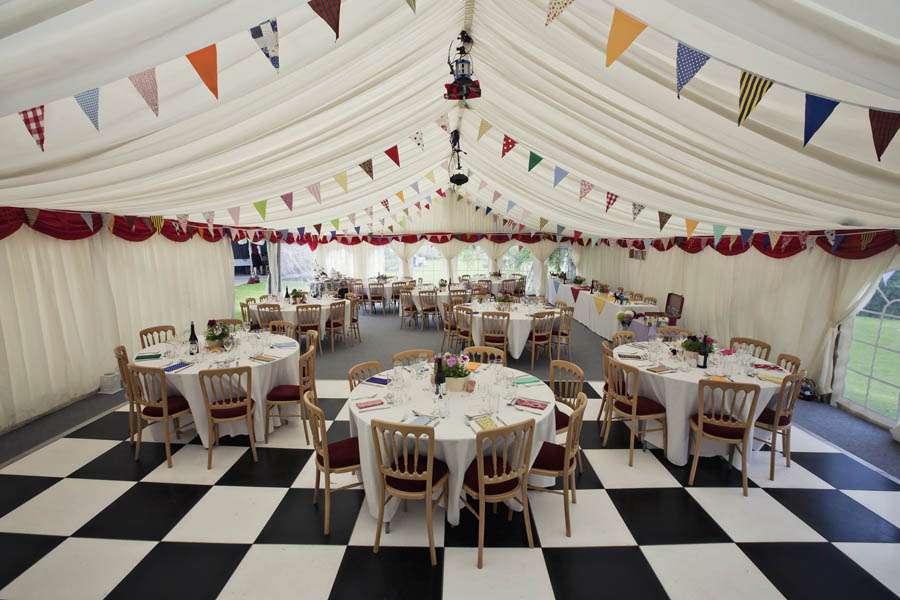 "We bought two old sofas and a coffee table from the British Heart Foundation to put in the garden for a seating area. The total cost was about £100 and they went down a storm. Along with my dad's partner Dawn I made over 400 metres of bunting for the marquee and garden. It took the best part of a year to do it at the weekends. We used off cuts of different fabric from our local fabric shop, cutting thousands of flags out by hand and machining them to tape. We used the same fabrics for our napkins, all 90 of which were handmade and people could take away with them as favours. We did at one point consider embroidering the initials of our guests on the napkins as name places but we thought this was just a bit too ridiculous! We also made all the men's buttonholes which were arranged from artificial flowers, ribbon, and buttons wired together."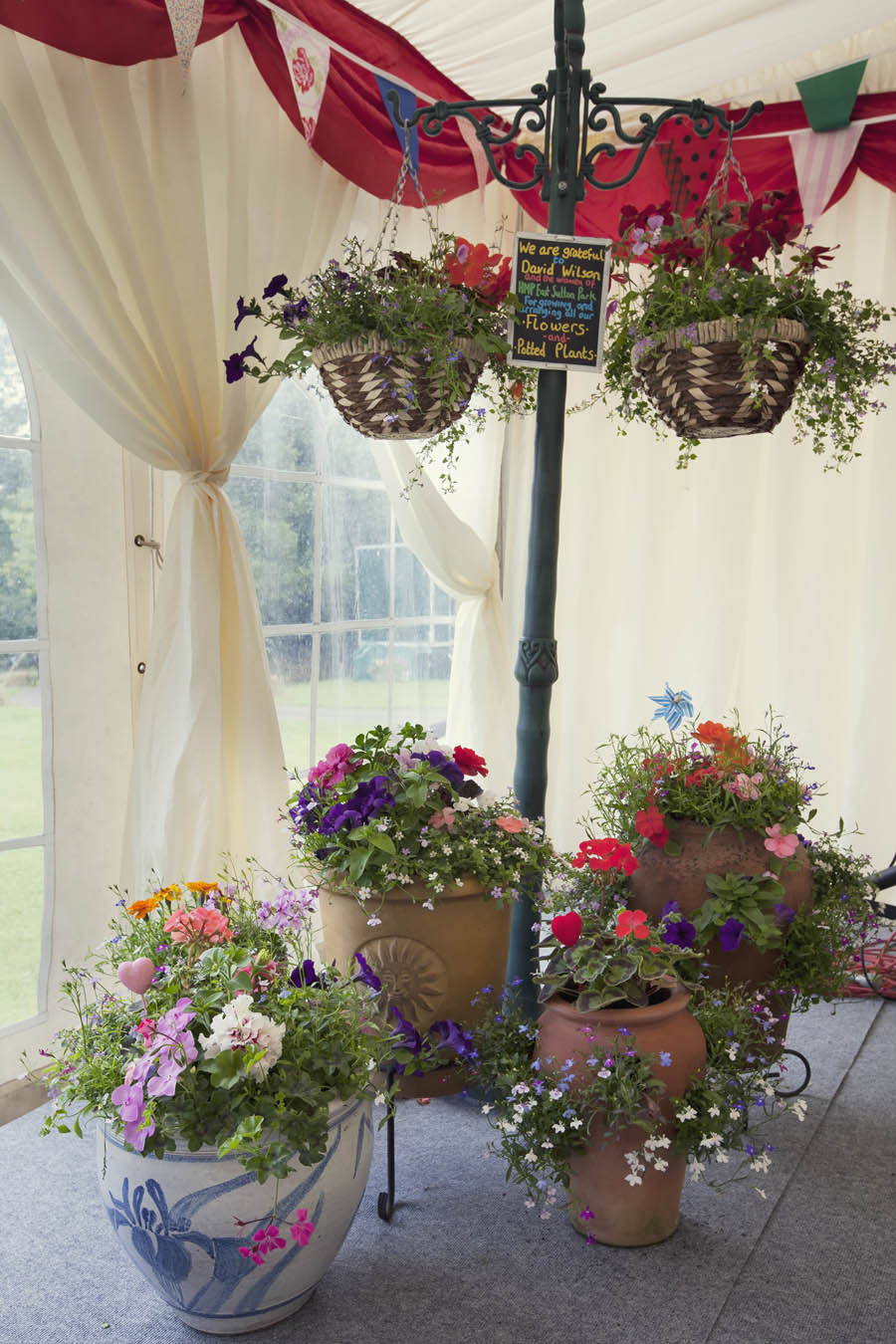 "We thought we would make a feature of our cake table, so we got all our friends and family to bake us all sorts of cakes that we could display with the wedding cake", she continued. "It was great to be able to involve people that way. We also did the bar and drinks ourselves, and here's a tip: over the course of the year we were engaged, we collected old mugs from friends, family, charity shops, eBay and boot fairs. We had about 100 in the end, all bought for pennies each, and we were then able to offer everyone a proper cup of tea from a proper mug if they wanted one. We were really surprised at how popular a hot cuppa turned out to be at a wedding!"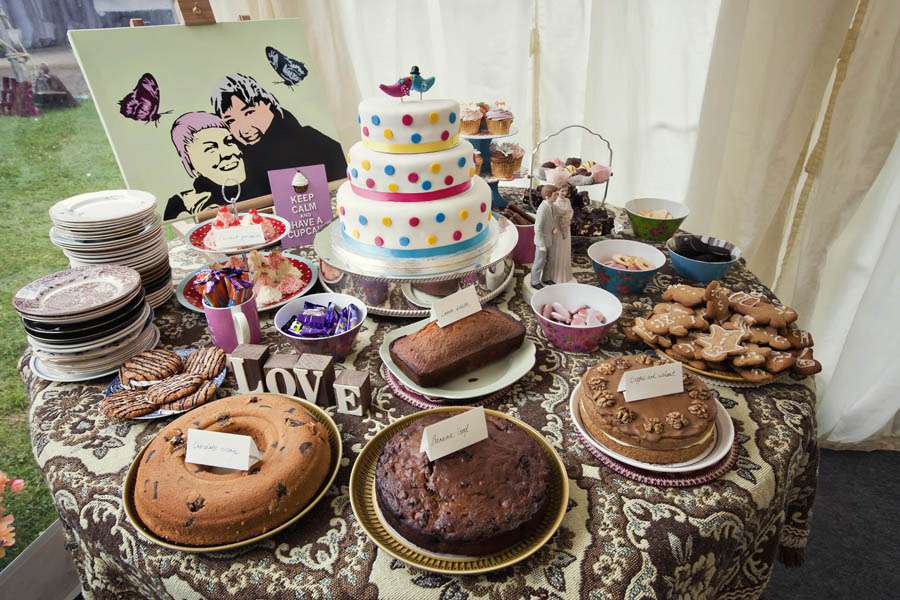 "All our potted flowers, hanging baskets and table flowers were grown for us by some of the ladies of a nearby women's prison whom we had commissioned many months ago and were all grown from seed. They did an excellent job in the terrible spring and summer weather we have had this year and were forcing them under sodium lamps just one day before, so we are really grateful to them. For our table decorations, including pots of flowers, we placed trinkets and ornaments from our home that we had collected over the years. We also had an ice cream van after dinner, which our guests thought was fabulous, especially when the new Mrs B. started serving…!"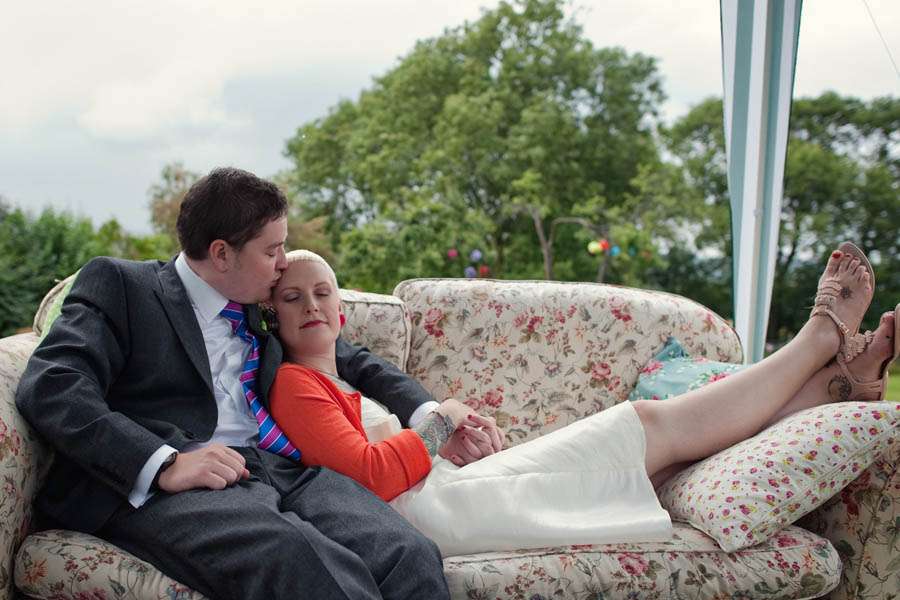 "We like to do things a bit differently, and press our own seal on the things we do", Jenny replied when I asked about their theme. "Our wedding was like an extension of the way we live: colourful, random and a bit shambolic! Much of what we did in terms of decor was from our own home like the table decorations and the garden gnomes. We brought a lot of our own lives into it. We also don't ignore the fact that we were really lucky to have had a private facility to personalise as much as we did. It took about a week to set it all up! It would have been much harder to do it at a hired venue, and we're eternally grateful to Tom's parents for providing the venue."
And finally, although you wouldn't be able to tell from these fab photos and their infectious smiles, it actually poured rain for most of their wedding day. However Jenny advises future brides not to stress about it – you can't control the weather after all! "To anyone out there fretting about what the weather will do on your day: for a year we planned an outdoor wedding, in what has turned out to be the wettest summer since 1912," she concluded. "When it came down to it it rained (almost) continually. But… nobody cared! In some ways it even added to the atmosphere of it, everyone got stuck in, put up an umbrella and had a brilliant time! They still played our games and sat on our outdoor sofas and stayed
until the bitter end. If we were giving any advice about planning an outdoor wedding, it would be do not lose any sleep over the weather, it's really not worth it!"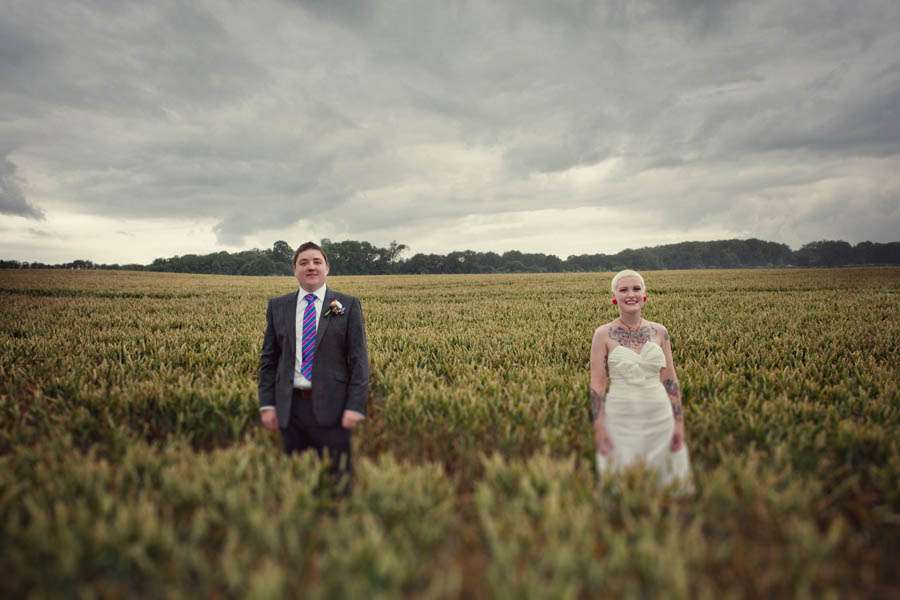 Glorious! And exactly… who cares about a little rain?! Thank you to Jenny & Tom and their wedding photographers Green Olive Wedding for sharing with us today.
Supporting Cast:
Photography Credit: Green Olive Wedding
Ceremony Venue: St Nicholas' Church
Reception Venue: Groom's parent's garden
Bride & Bridesmaid's Dresses: Yours Truly Bridal Shop
Bride's Headpiece: Crown & Glory
Bride & Bridesmaid's Shoes: Vivienne Westwood/Melissa
Bride's Jewellery: Tatty Devine
Groom's Outfit: John Lewis
Cake: DIY
Flowers: DIY
Band: The Flying Ties
Caterers: Blackbird Caterers