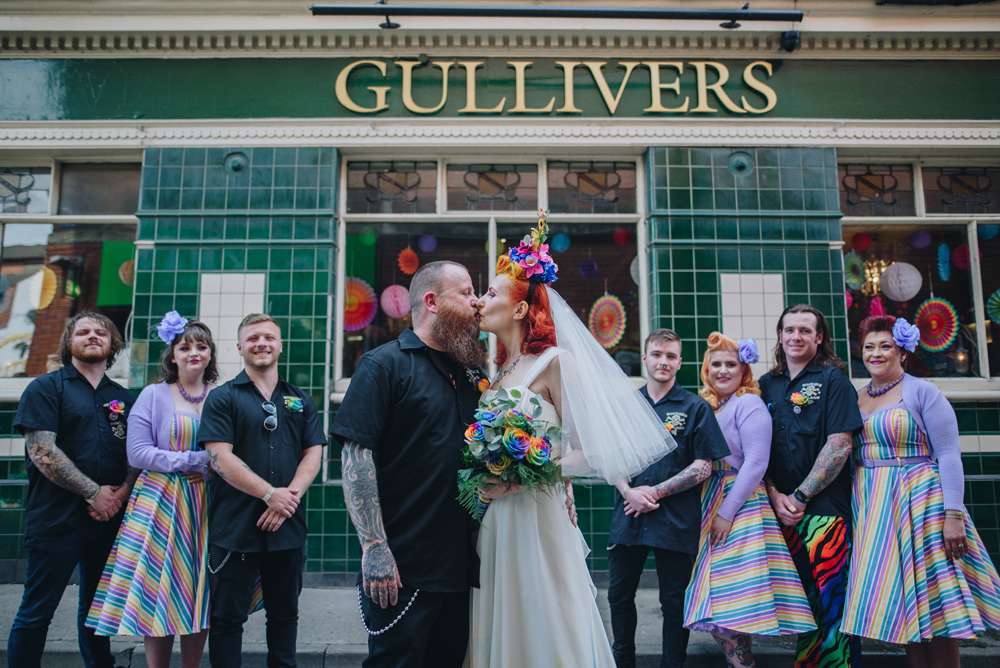 This is a bit of a bittersweet feature today as the bride, Kathy, is battling breast cancer and is currently in her final few days. As Kathy's health had taken a bad turn, and after twelve years together, the couple decided to finally do everything they ever wanted to do with whatever time they have left, including getting married. They were married on 17th May in a day full of love, colour and punk rock! They planned their utterly bad ass day with just a £2000 budget and a hell of a lot of love and support from all their friends and family.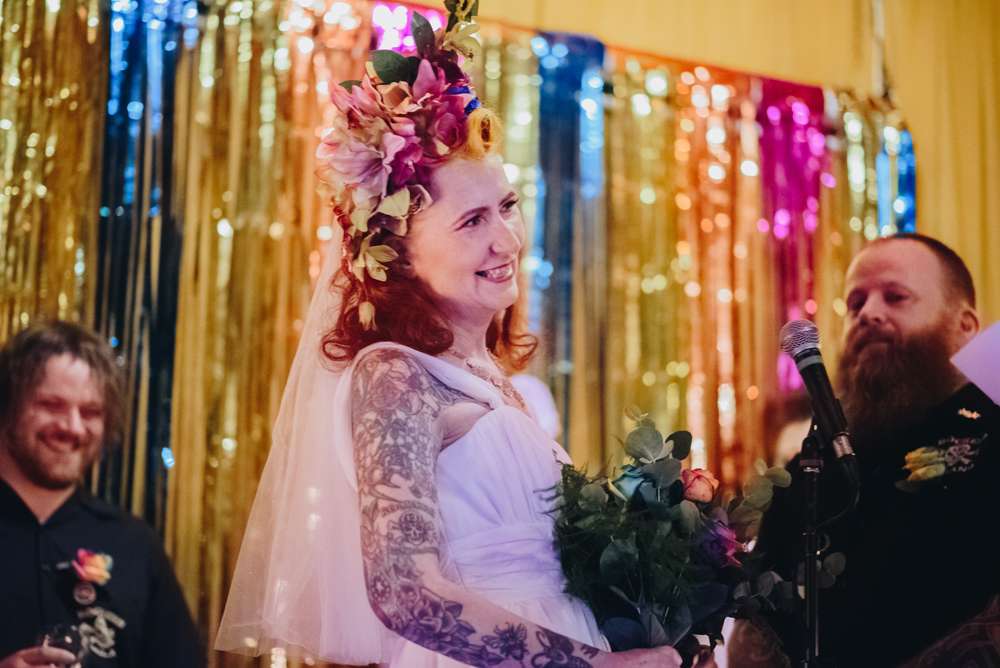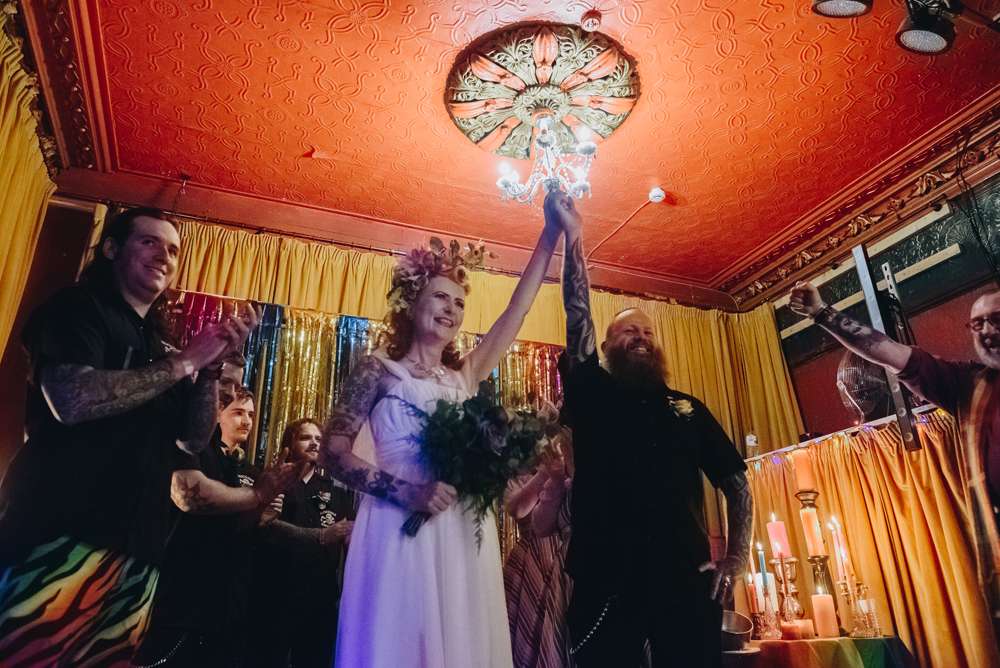 After Kathy her diagnosis, so many companies she has stocked in her shop, Rockers, over the last 15 years gifted items for the wedding and friends and family also gave their time to help. A friend of theirs, Katie, also made a video of the day which you can check out over here. You can just see how much fun they had! We've spoken to a number of their loved ones about the day itself. Kathy and Andy, we salute you!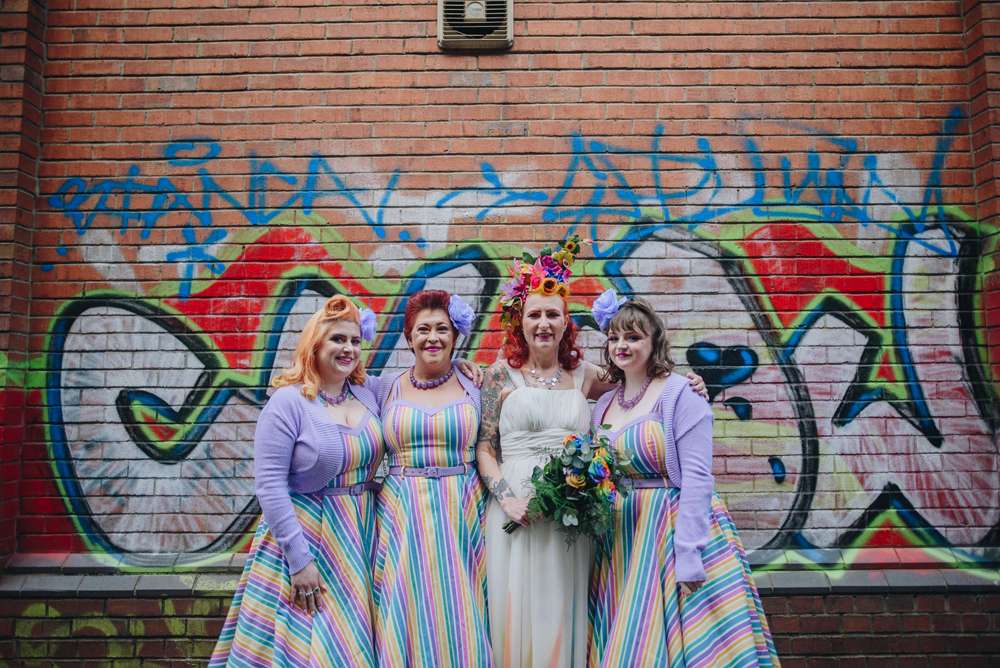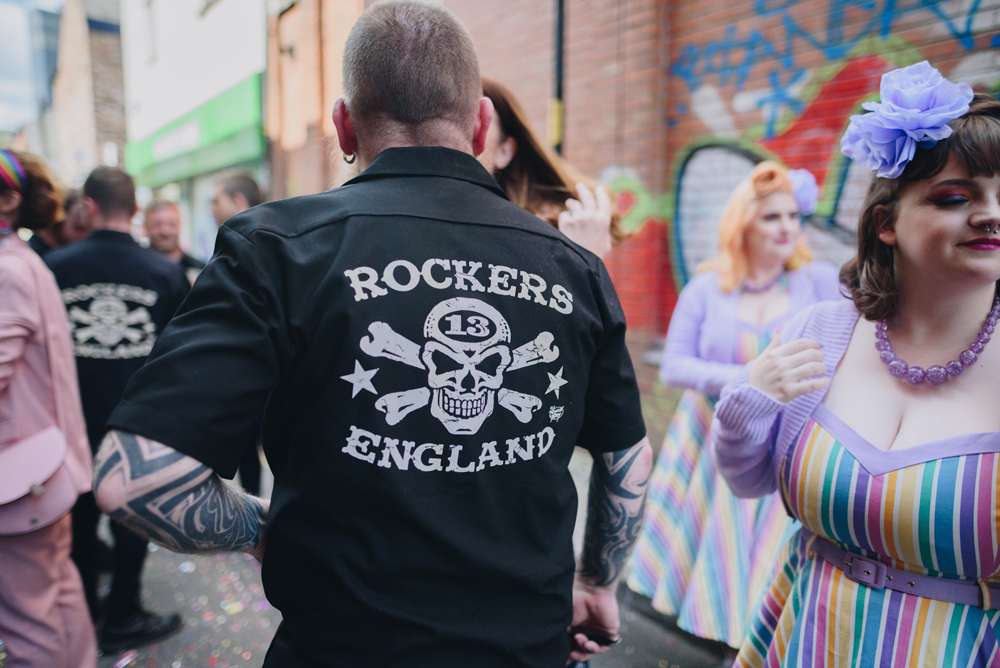 "Some years ago, I met some incredible people who were so totally comfortable with who they were that they were just as comfortable with who everyone else is", writes Rev David Gray aka The Punk Monk, who officiated their ceremony. "Among those fabulous people, Kathy emerged as a kind, intelligent, gentle and beautiful soul who was endowed with a wholesome helping of attitude. Through Kathy I met Andy. In time, Kathy became a neighbour and from time to time I'd pop in the shop for a chat with Kathy and Johnny whenever I was in Manchester. When Kathy became ill, punks, goths, musicians and many who loved her rallied round to affirm her own positive attitude to her situation. The love between Kathy and Andy had become legendary, so when they asked this old Punk Monk to celebrate their wedding I felt honoured and deeply privileged. Hope that my input, along with the crazy, marvellous mix of people in attendance, helped make their day the one they wanted. These two are inspirational and whatever happens now, their love will be singing songs in the hearts of many who know them for a very long time to come."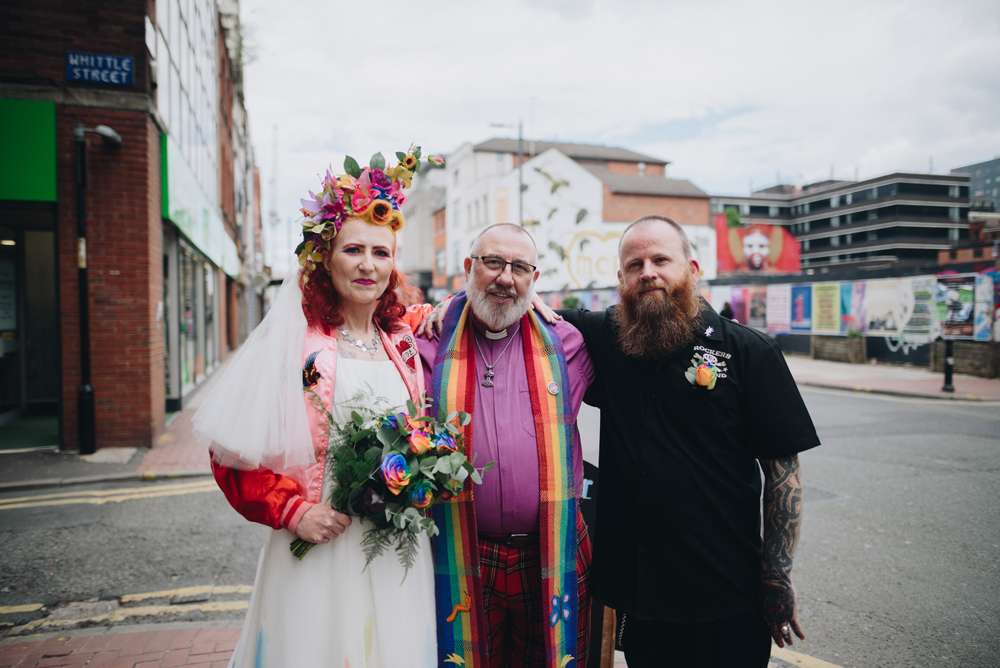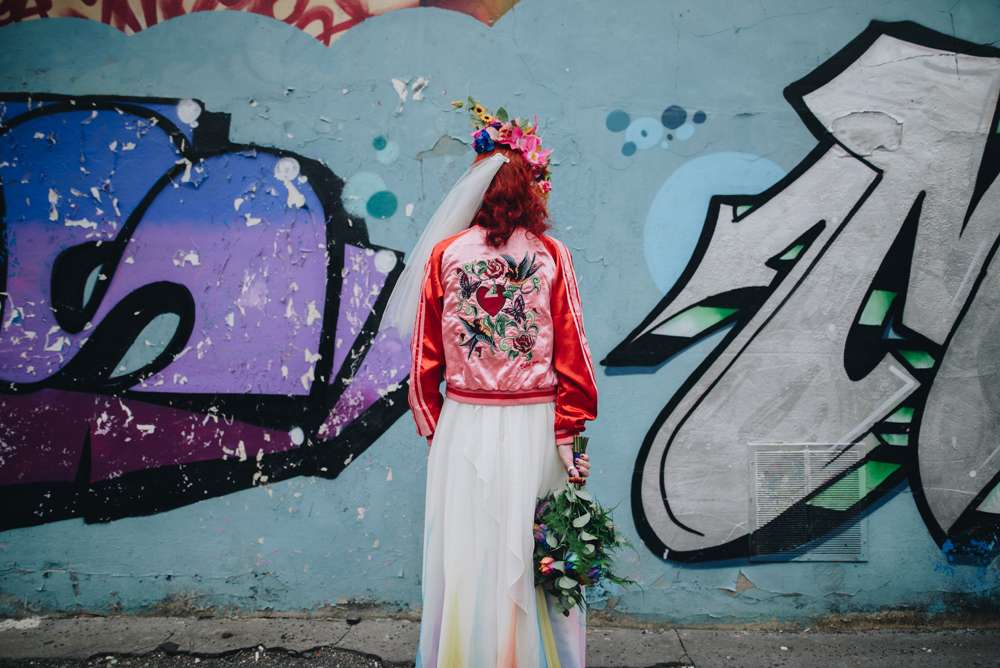 They chose Gullivers in Manchester as their location for both the ceremony and reception. The tables were decorated with 300 hand-crocheted flowers which were made by a friend. The ribbon banners were all handmade by Kathy and Andy and installed by friends the morning of the wedding.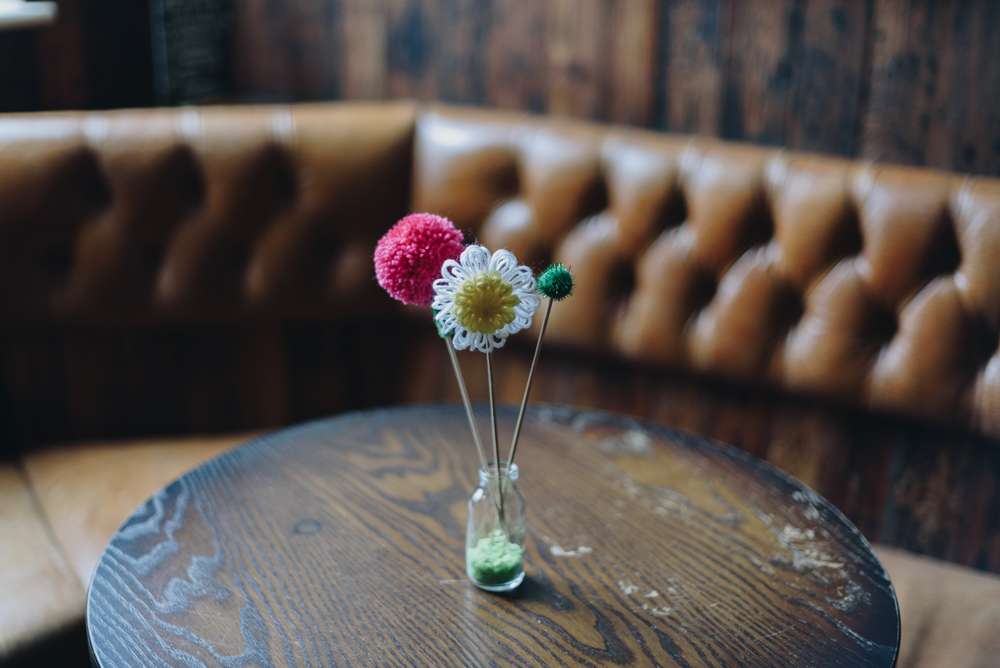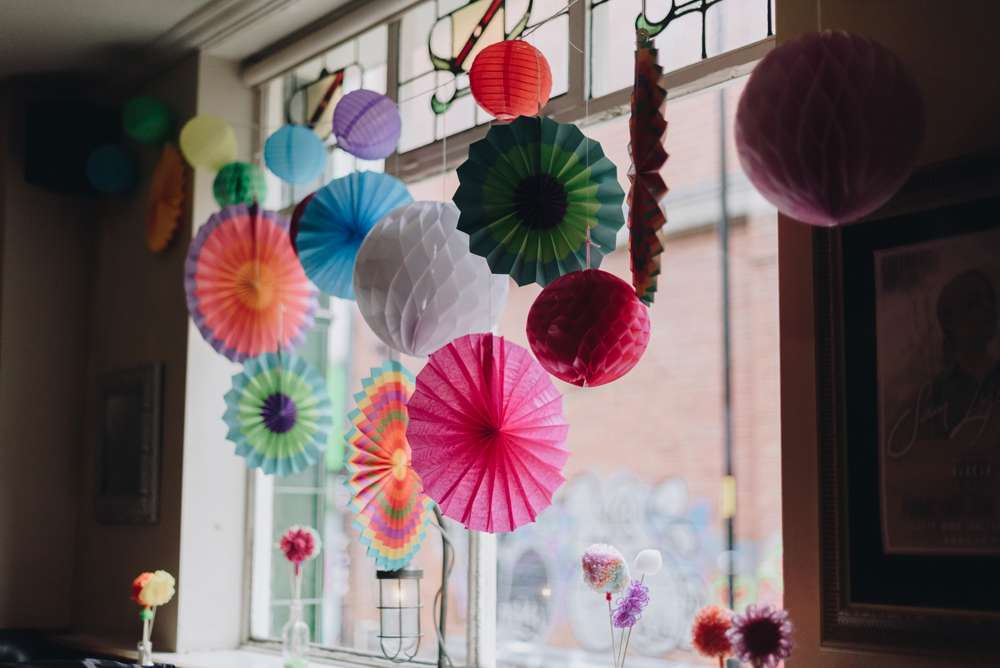 The bride wore a secondhand dress bought from St Anne's Hospice Bridal Shop, which she had dip dyed all the colours of the rainbow by her sister-in-law. Her truly incredible headpiece was made for her by Dollies Little Follies. The bridesmaid rocked candy rainbow Collectif dresses and her groom wore an Official Rockers England Shirt, which they obviously got from Kathy's shop!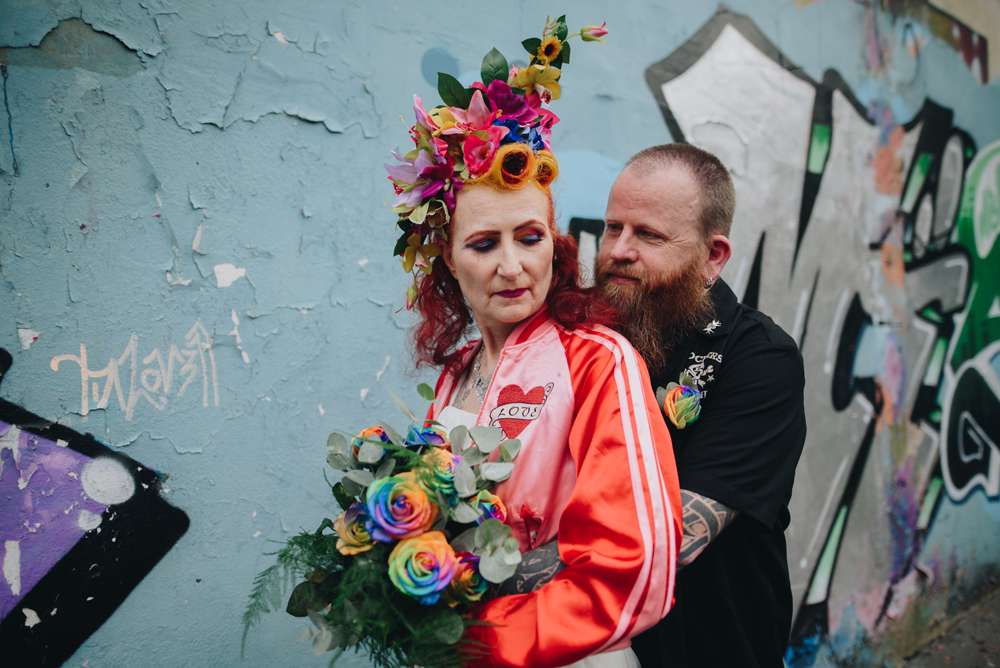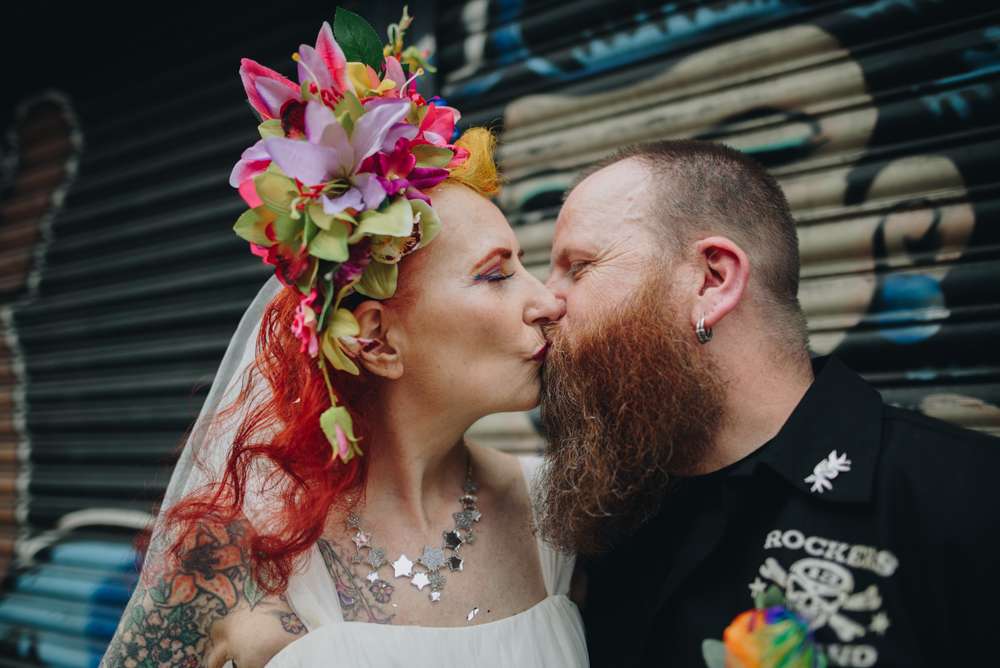 "When you see Kathy and Andy together it's like getting free tickets to a comedy show", explains Steffani, one of their bridesmaids. "There's so much love and laughter between them, and they bring you in and share that joy with friends, which is why they had to have two wedding ceremonies one for the UK friends and one for their US and other friends. Each wedding ceremony was packed with people who love them both. Andy has been a rock for Kathy since her diagnosis. Kathy is such a vibrant person I wasn't surprised to see her multicoloured rainbow theme for the big day, and the ceremony was so truly unique and beautiful – just like them."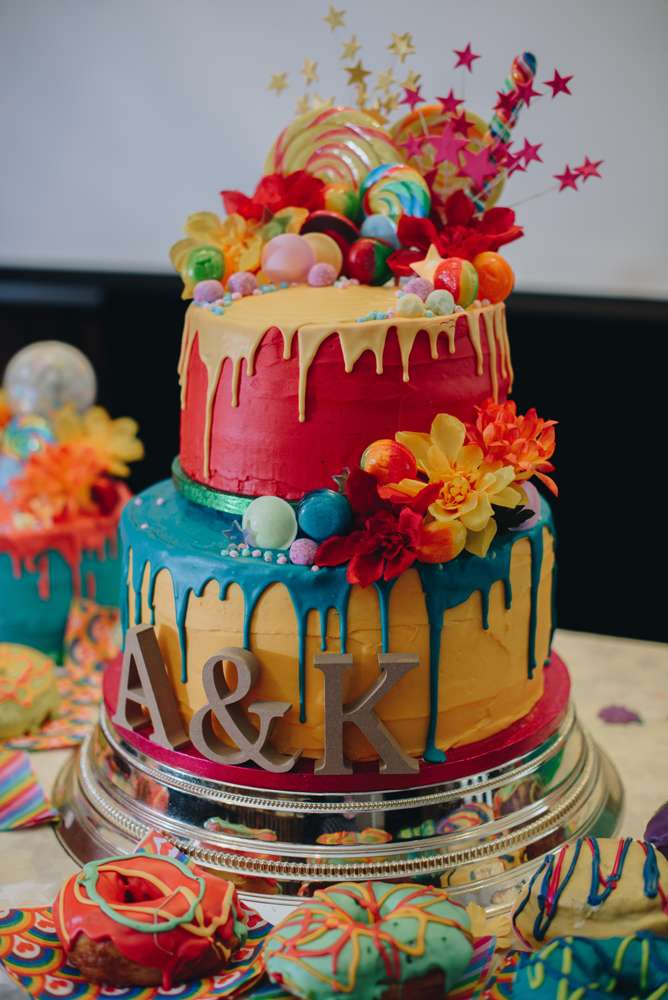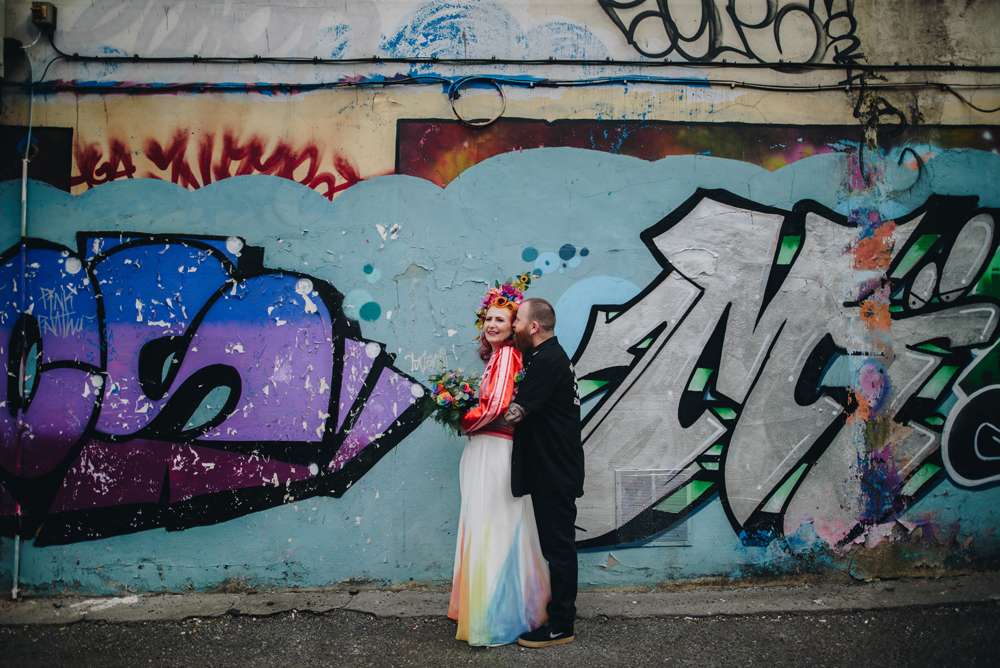 "We have known Kathy for at least 17 years". said good friend, Wendy. "Kathy is one of the most genuine and kind people we know who always has time for everyone. When she met Andy you just knew they were soulmates. The way she talked about him and the glow around her. They made each other complete and we were honoured to be part of their special day and feel the amazing love in the room. The strength they have is incredible and this radiates on to other people. Their marriage and love really makes you appreciate what you have and to love life."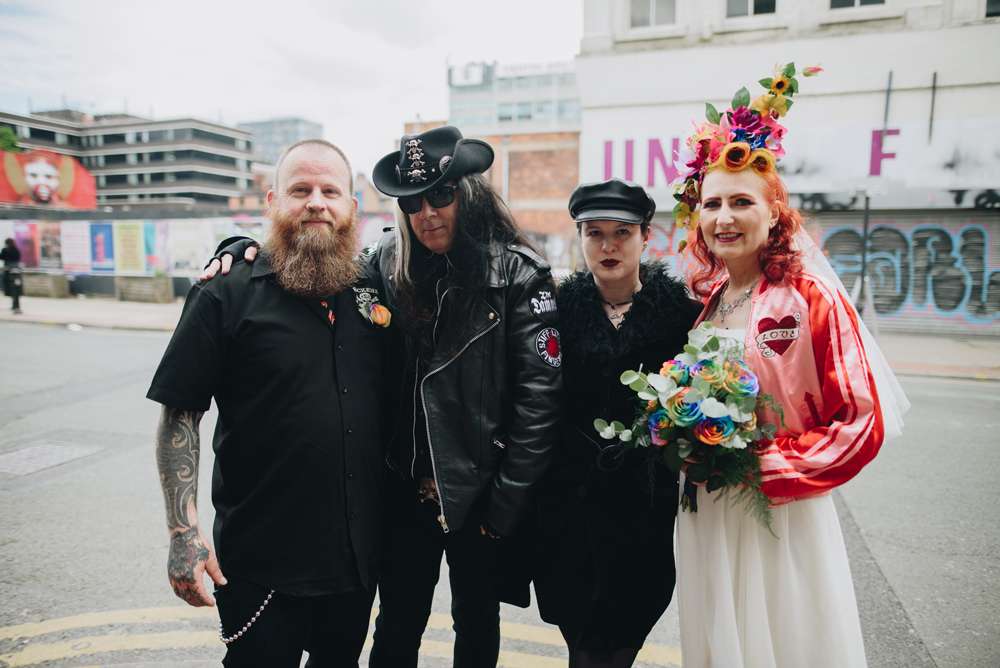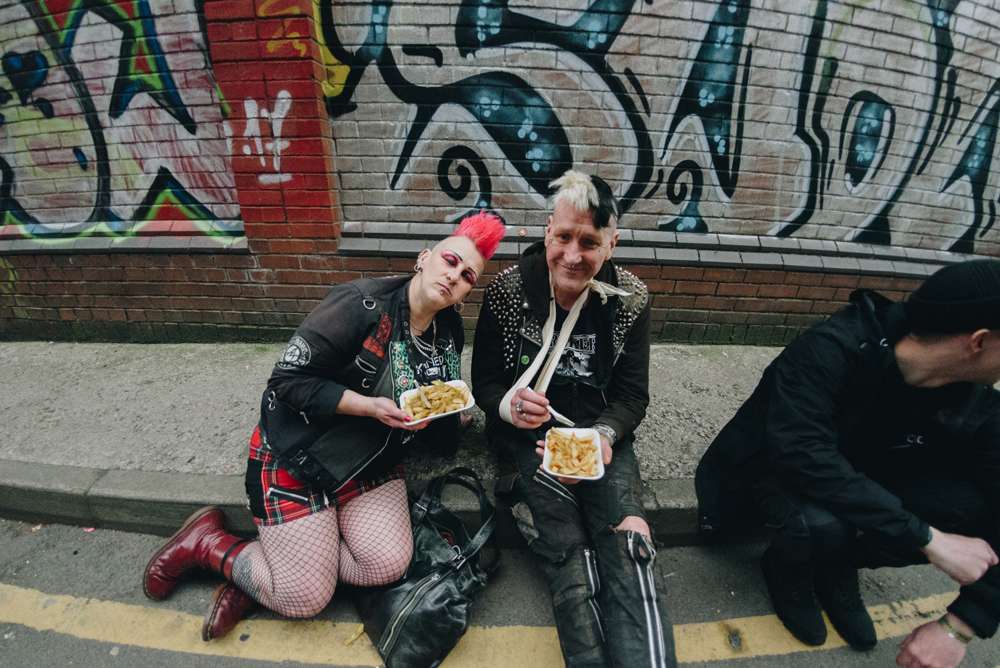 Finally, Kathy's brother Andrew had some final words to add about his sister. "Kathy, my sister, is awesome. She has built a large following of dedicating friends and admirers through her shop, Rockers England, and through the music punk and Rock n Roll scene surrounding it and her many turbo-charged affiliations… She also has battled cancer since February 2018 and has done all of it with style, integrity and love. The recent 'Fuck Cancer' fundraising gigs and her wedding to Andy have shown how very much she is loved within her community. Andy is her soulmate. Together with Kathy for over a decade they have journeyed side by side with so very much love and respect for each other. Their adventure is one that very few couples get to have and the wedding was a truly life enhancing experience and she was the perfect Rock n Roll Bride. I feel very fortunate to have been there to see such a spectacle and their finally making it official."