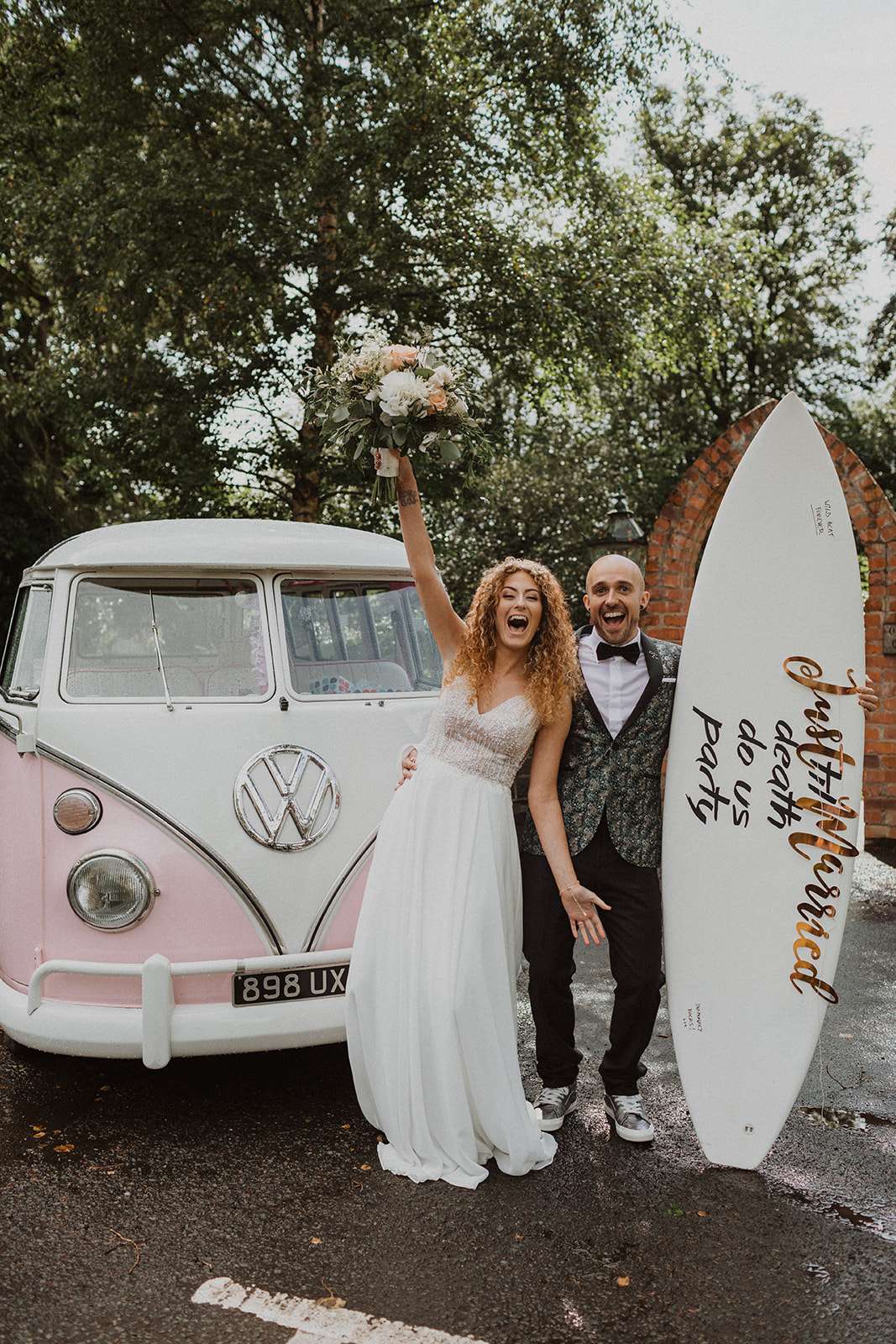 Inspired by their love of rock music and some of their favourite movie moments, Jenn and Tommy planned a personal, rock 'n' roll and wedding at Galgorm Resort and Spa in Ballymena, Northern Ireland last summer. They opted for quite a 'girly' colour scheme with pinks, peaches and rose gold, but included many things that reflected Tommy too – not least of all a very special guest appearance from Iron Man himself!
"Music is the centre of our universe," began bride Jenn. "Instead of coffee in the morning, we blast an earful of Aerosmith. Going to gigs together is our favourite past-time, we're avid festival goers and Tommy is the singer for a hard rock band. So it was a no-brainer for us to use this as a starting point for our theme, and go from there."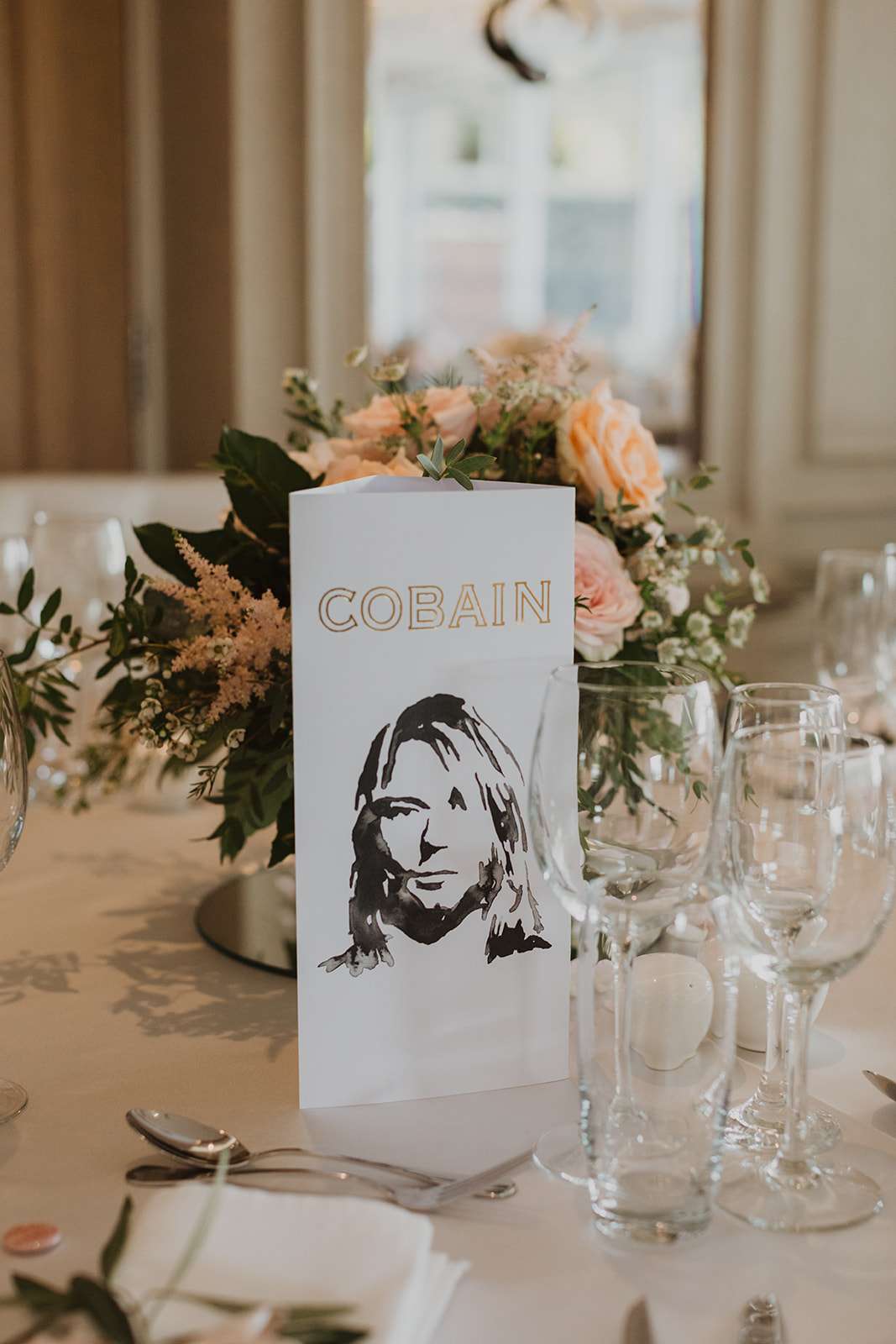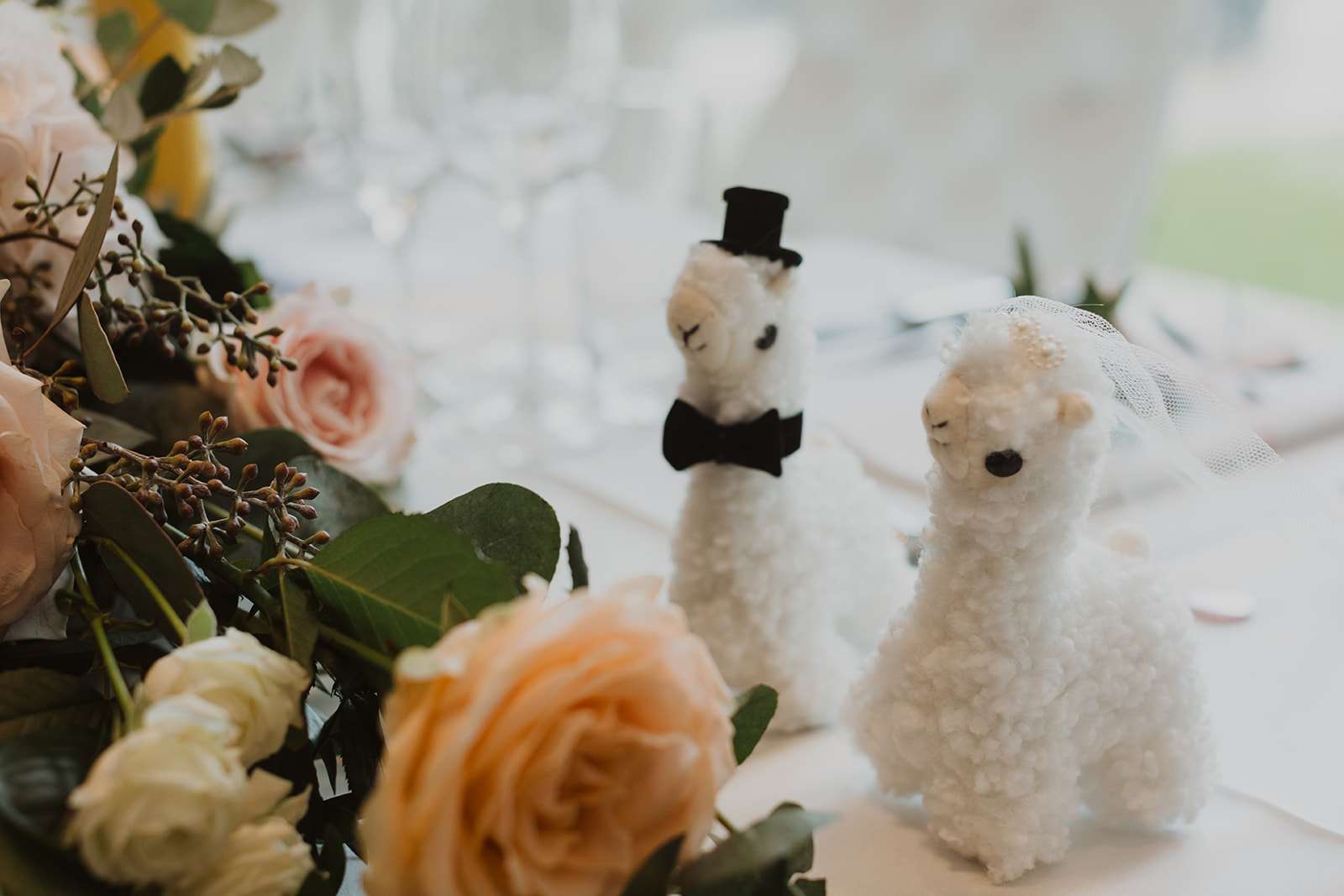 Jenn walked down the aisle to the Vitamin String Quartet's version of Sweet Child o' Mine. Their recessional was The Darkness' I Believe In A Thing Called Love and their first dance was to I Remember You by Skid Row. Each of their tables was named after one of their favourite artists. They made table-tents which had the menu on one side and a portrait of the artist on the other, which was painted by Jenn. "We didn't really get the whole guestbook thing," said Jenn, "it's just something we think you'd look at once and put away in a cupboard somewhere. Instead, we bought a surfboard off Gumtree and sanded and painted it. We got our friend to make a vinyl sticker for it saying 'til death do us party' and got everyone to sign that instead. We're going to mount it on our kitchen wall so we can appreciate it all year round."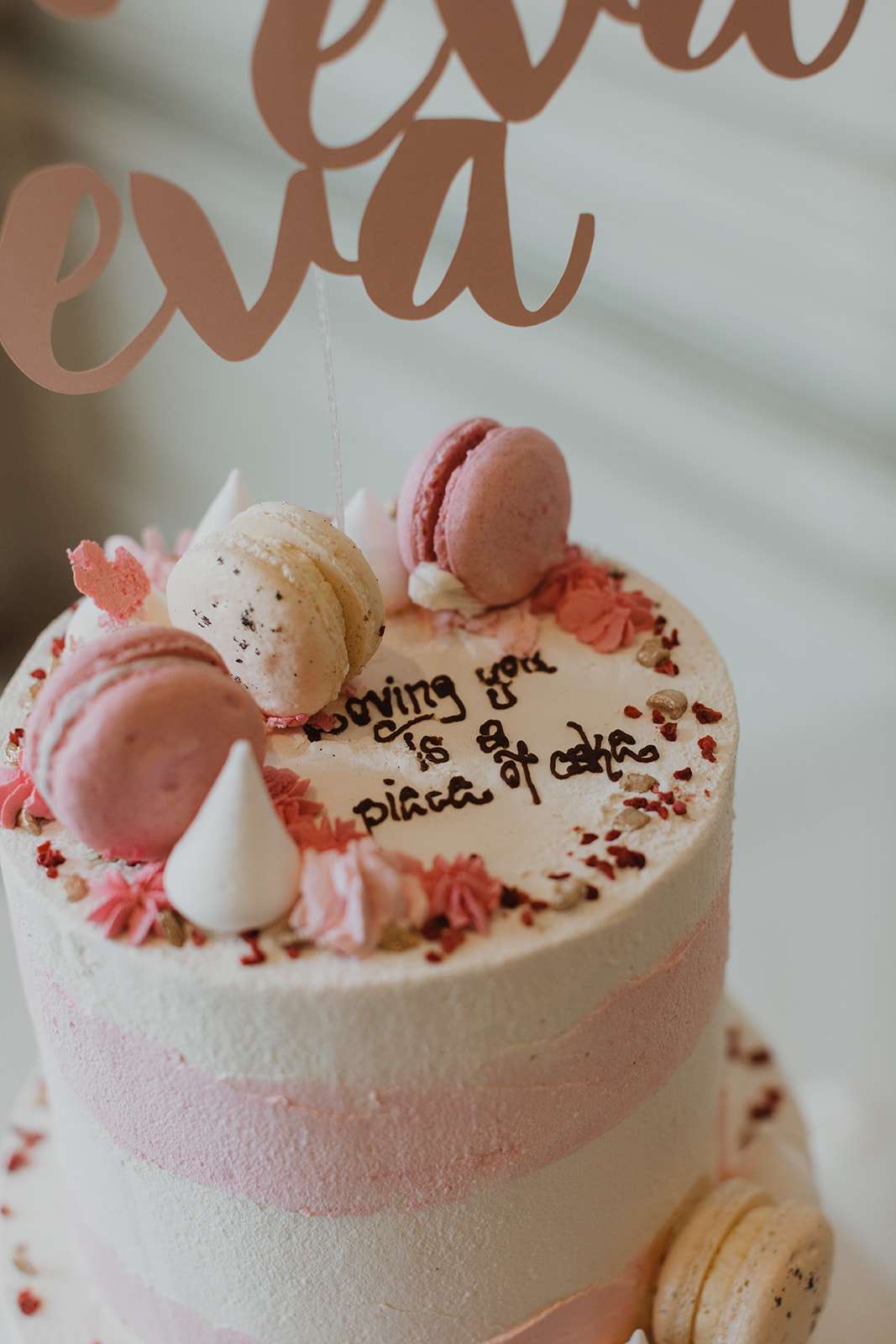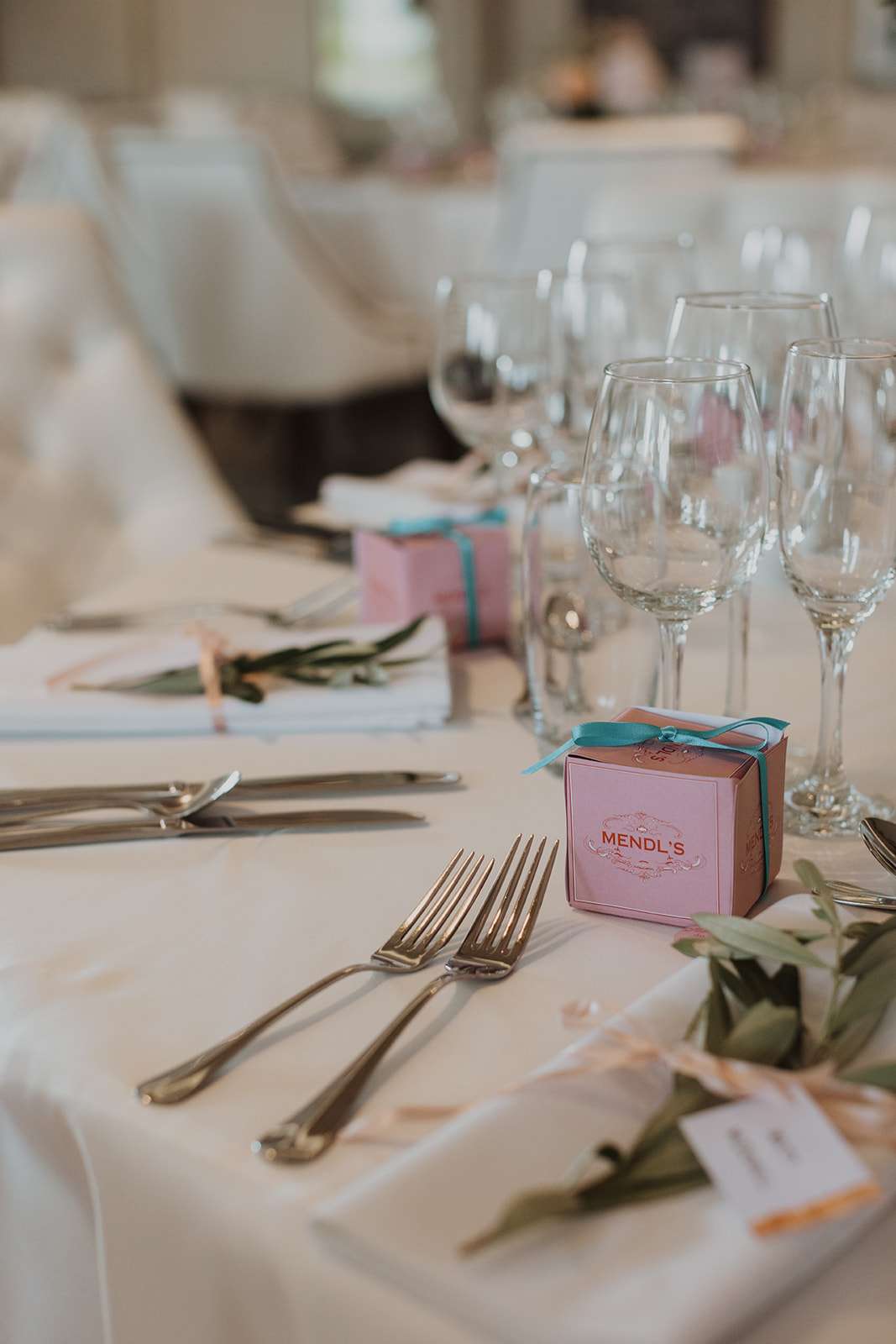 One of the couple's favourite movies is Wes Anderson's Grand Budapest Hotel. As they were getting married in a hotel, they thought this would tie in well with the theme of their stationery, which they designed themselves. They had record sleeves complete with miniature records and used fonts and colours which reflected the style of the movie. Their save the dates and and favour boxes followed the theme too and were finished off with a ribbon and a personalised wax seal stamp.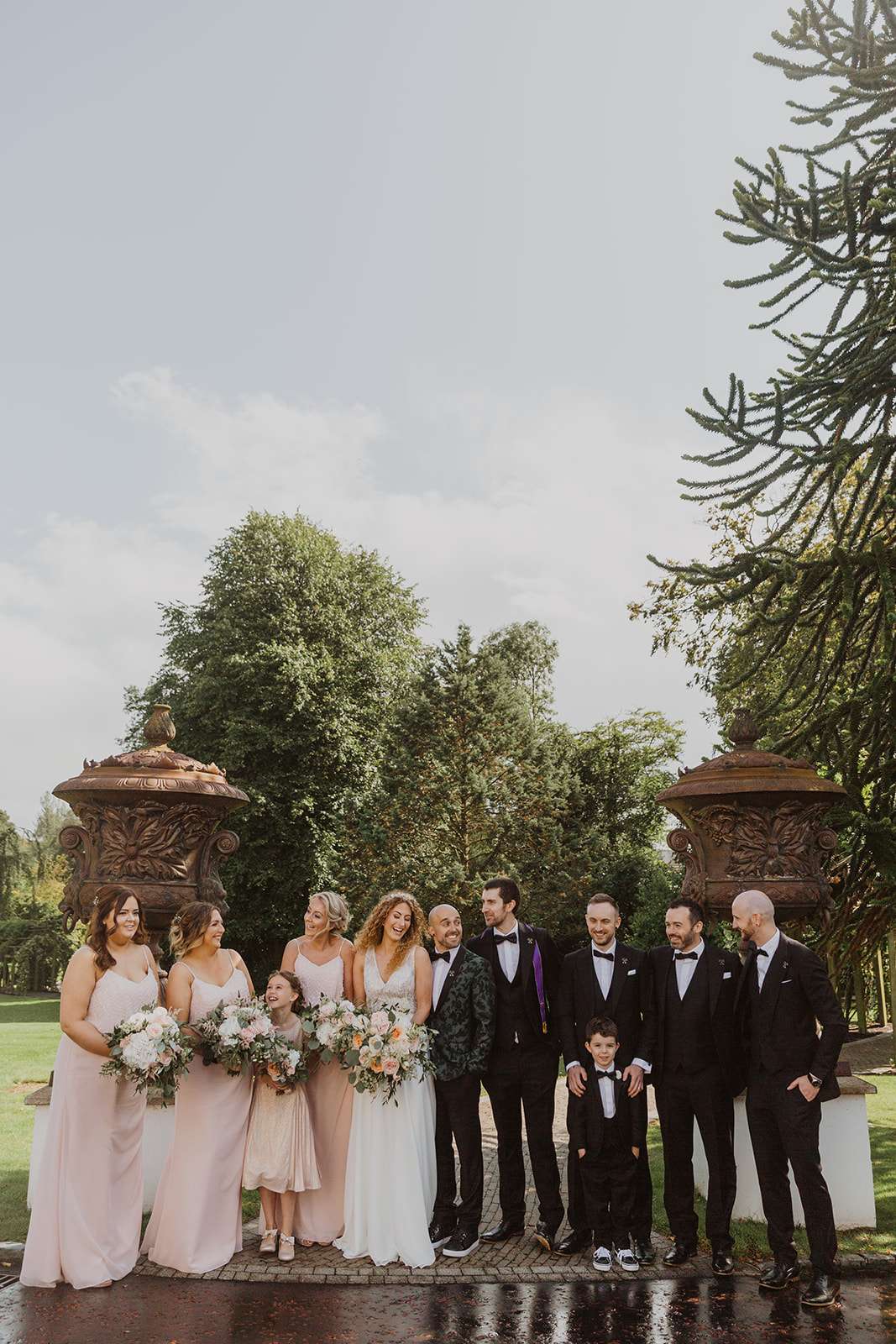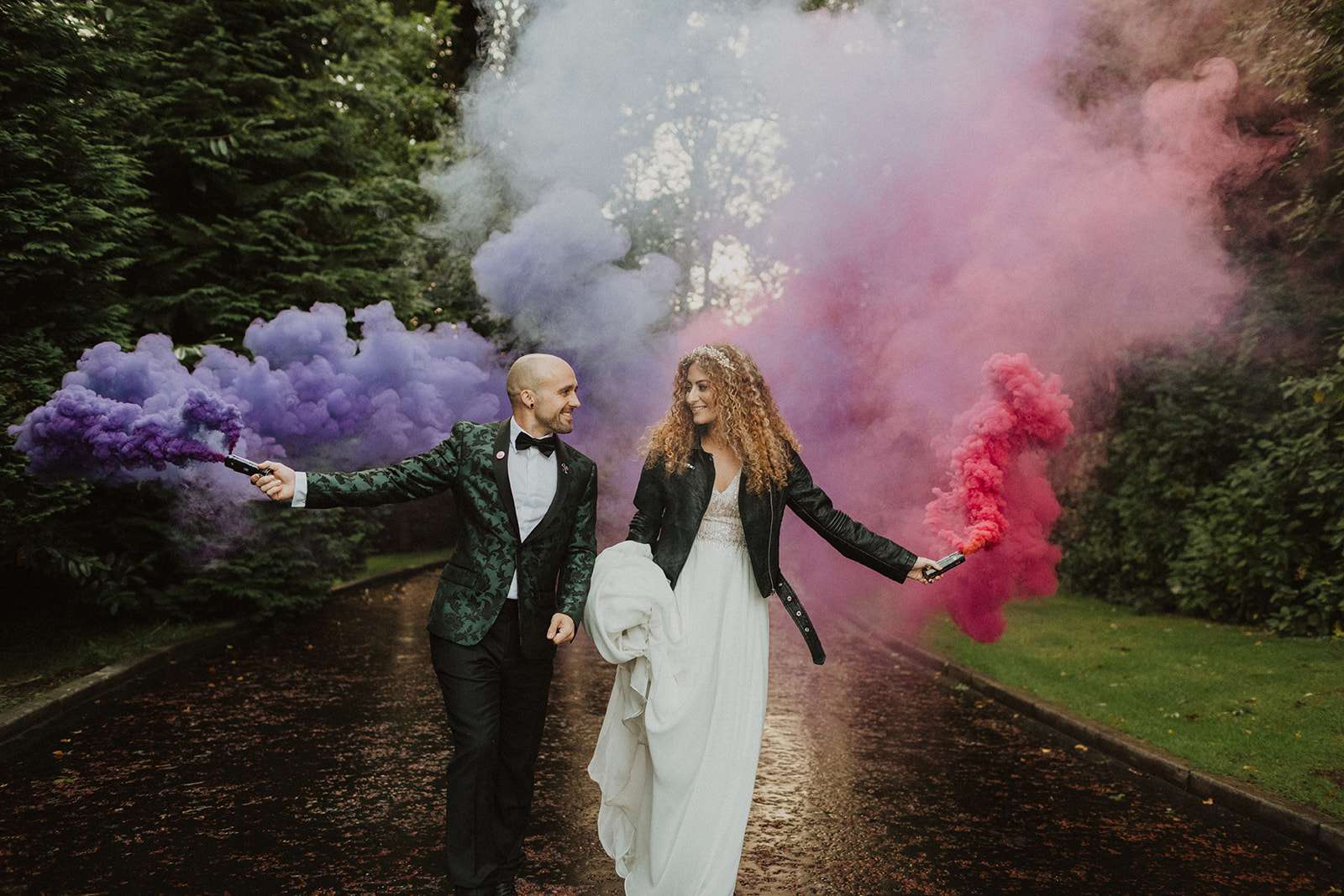 The couple's friend officiated the entire ceremony. "Aaron always used to joke that he would marry us, so we decided to ask him for real! We wanted our ceremony to be very relaxed and engaging because we'd both been to weddings where the ceremony dragged on. Even though it's the key part of the day, you can end up losing your guests interests half-way though. We didn't have any hymns, but instead our friend played some acoustic guitar. Tommy's daughter also read an excerpt from Lemony Snicketts's Beatrice Letters."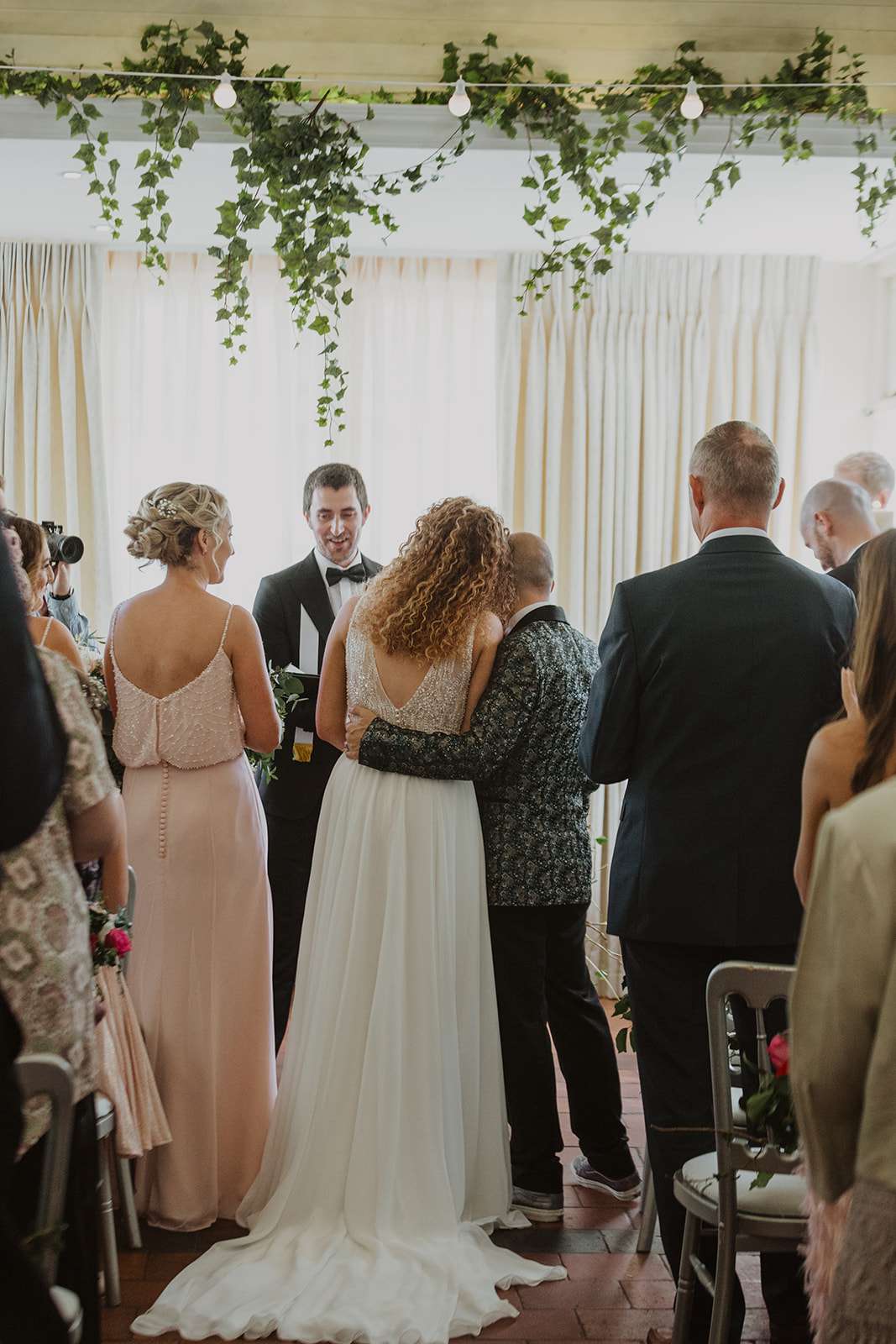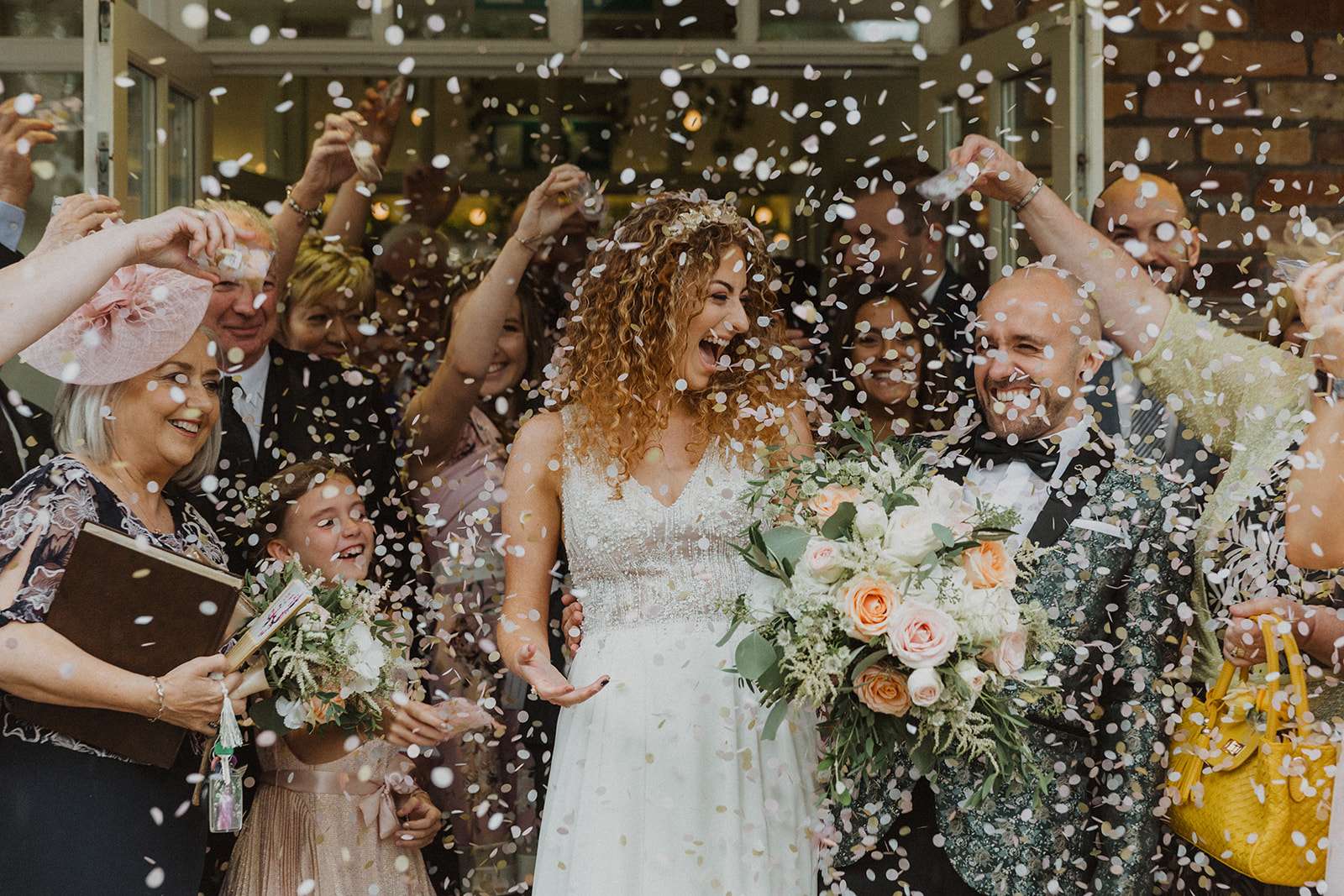 Jenn wore a Justin Alexander Signature gown with a hand printed leather jacket in the evening. Ever the showman, Tommy had no fewer than three outfit changes throughout the day! He had three different patterned jackets from Next and M&S, and two different types of hi-top trainers.
They continued their entertainment with a variety of surprises for their guests during their reception; acoustic set from musician friends, a magician, caricaturist, a secret opera singer disguised as a waiter and Jenn snuck in Belfast's own Tony Stark as a surprise for both Tommy and their nephews as they're big Iron Man fans.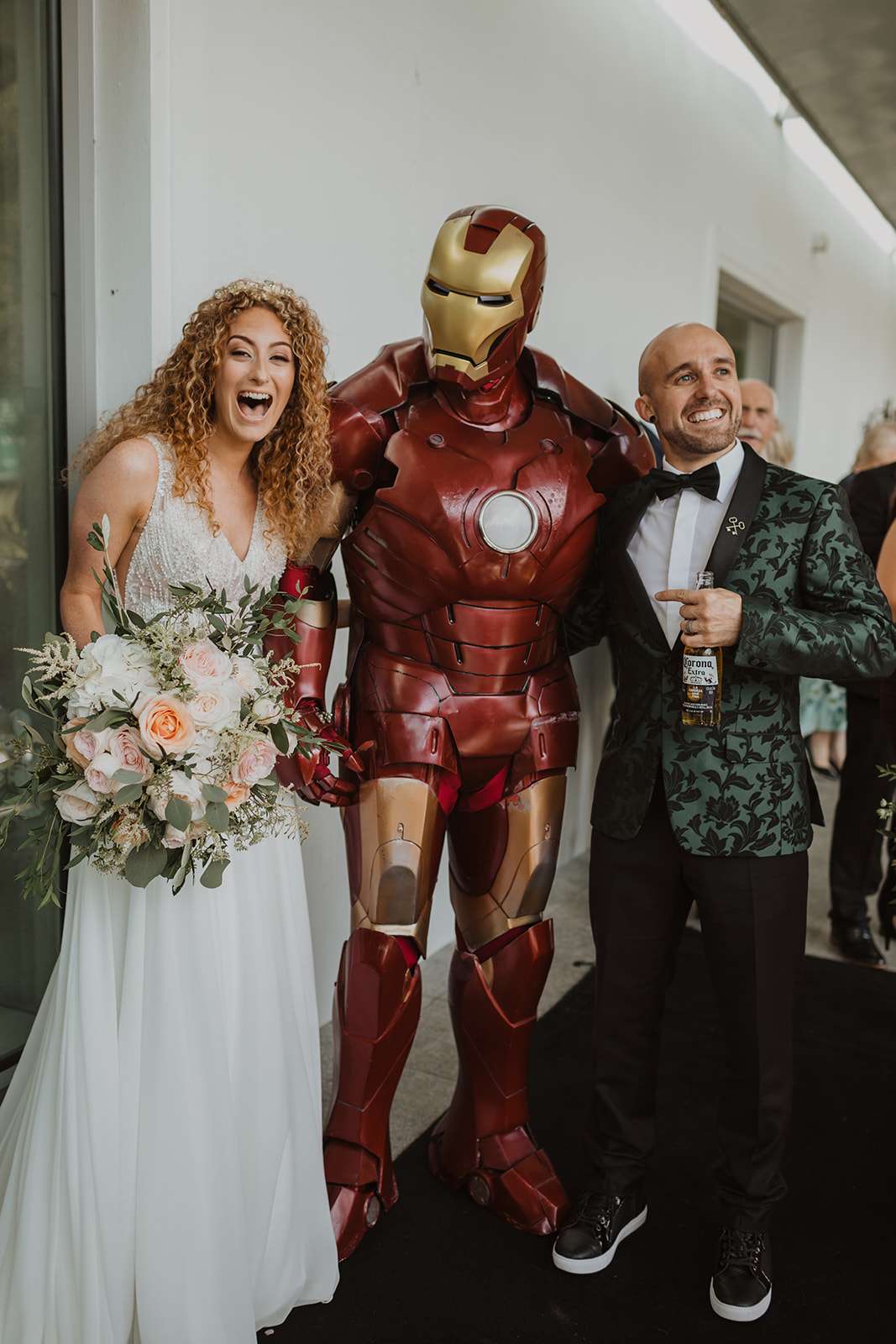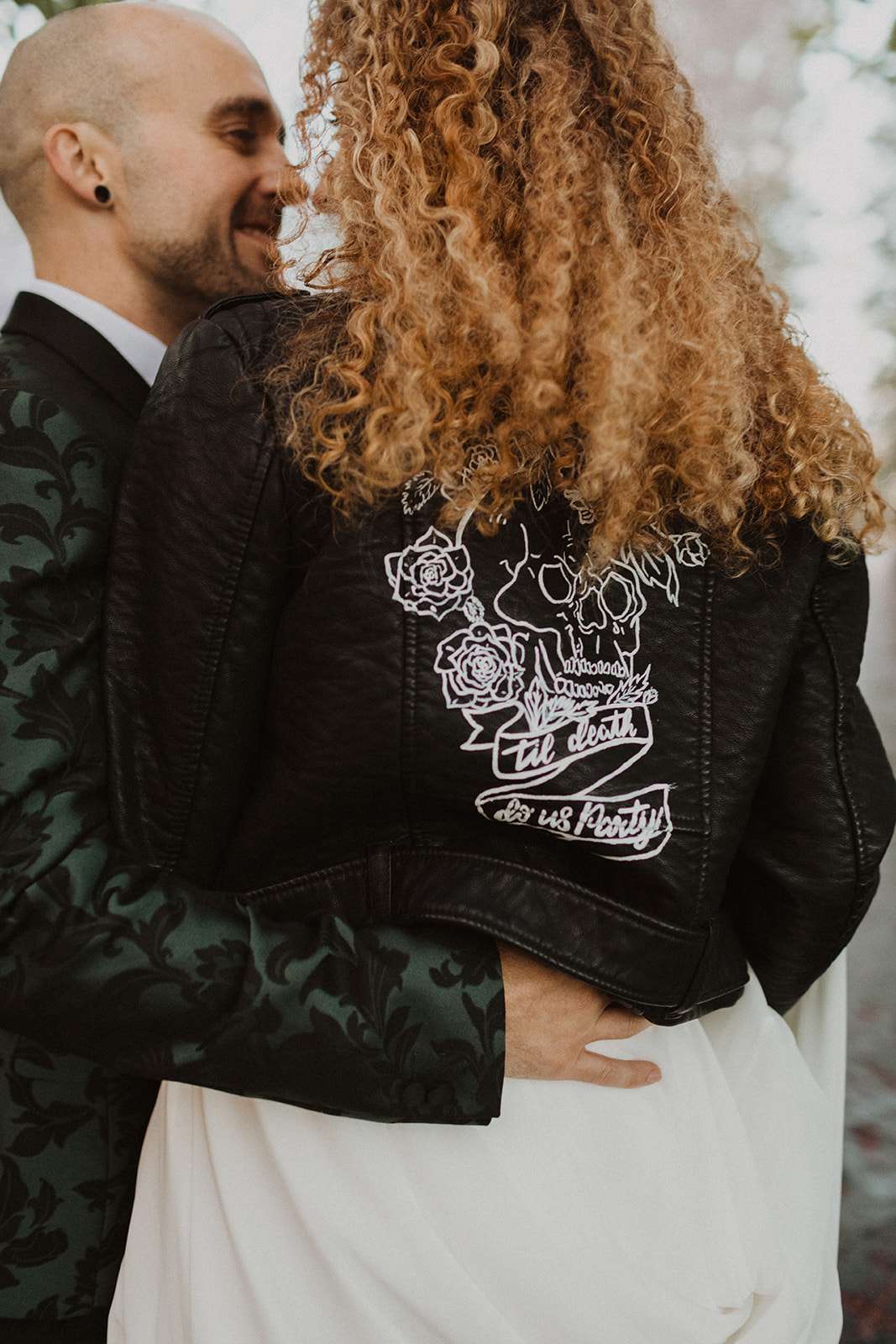 The one thing in particular they're glad they splashed out on was a wedding video. "Our biggest expense was the wedding video. To be honest, a wedding video was something that I used to think was just an added expense. However, after chatting to a friend's Mum, she totally changed my perspective. She had told me she was so glad she had gotten a video of her wedding, as her Dad had passed away in recent years She explained that as good as photos are, there's nothing quite like capturing your closest friends and family and being able to watch and listen to them years later. And she's right. Matthew captured our entire day so beautifully; everyone is so relaxed and fully immersed in the moment. It'll be cool to show the grandkids someday!"