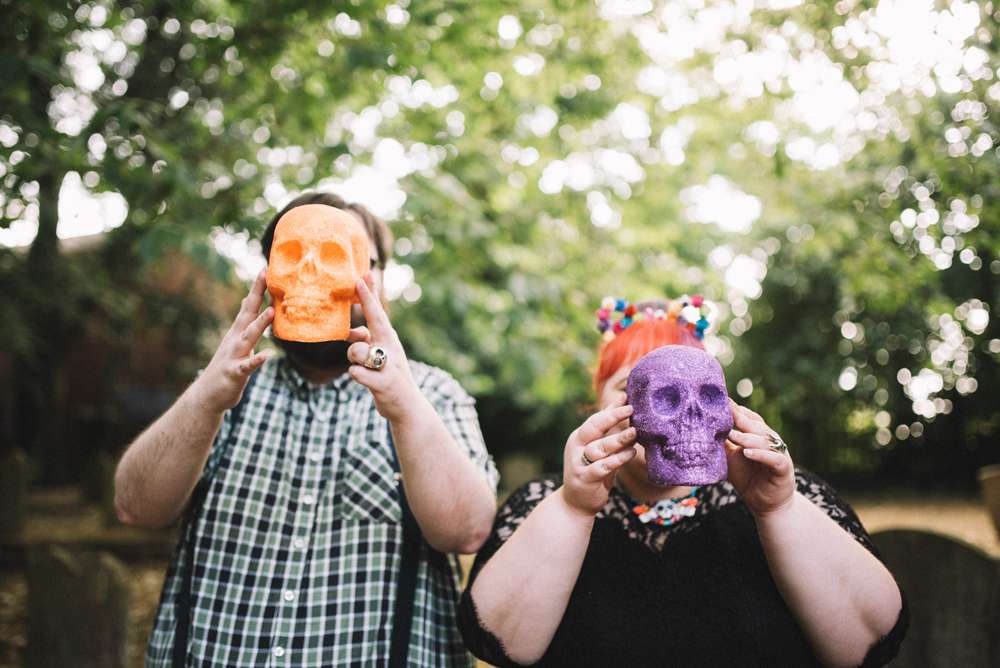 Claire and Tom went for a Mexican/Day of the Dead theme for their July wedding. Complete with sugar skulls, piñatas, flamingos and sombreros, they planned their day with a £5000 budget. They also had a few geeky video game touches (particularly on their cake) such as Fallout and zombies and some Lego used in the terrariums!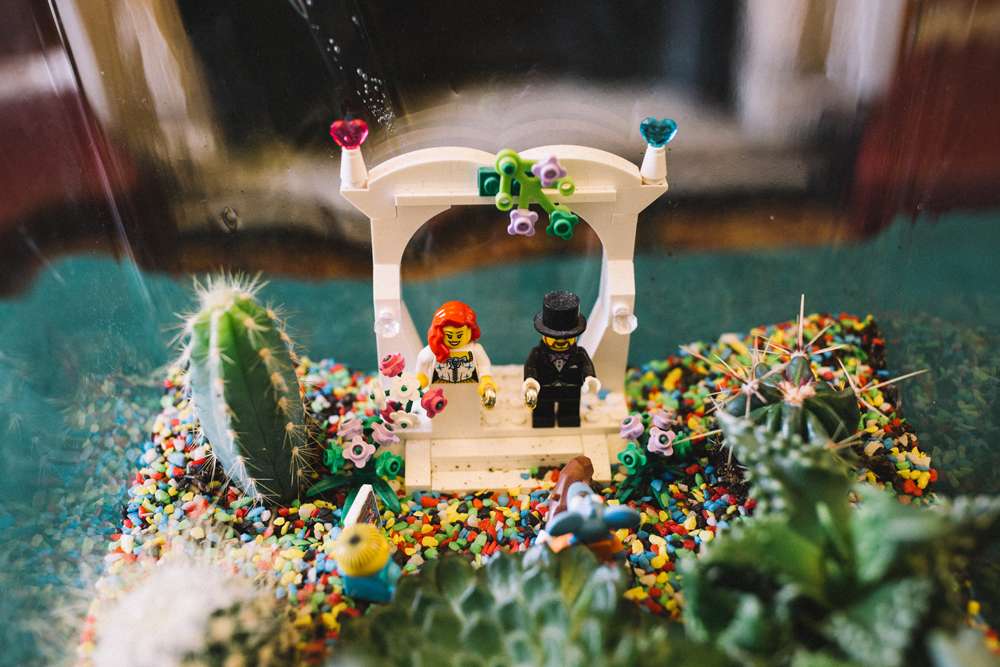 "We wanted our wedding to be fun and colourful and to represent us as a couple", said Claire. "The whites, creams, and pale colours often used in more traditional weddings just aren't us. Our home decor mainly consists of skulls so we started from there and incorporated more and more things we love. It then just became a crazy fiesta as I wanted to use so many skulls but also have lots of colour."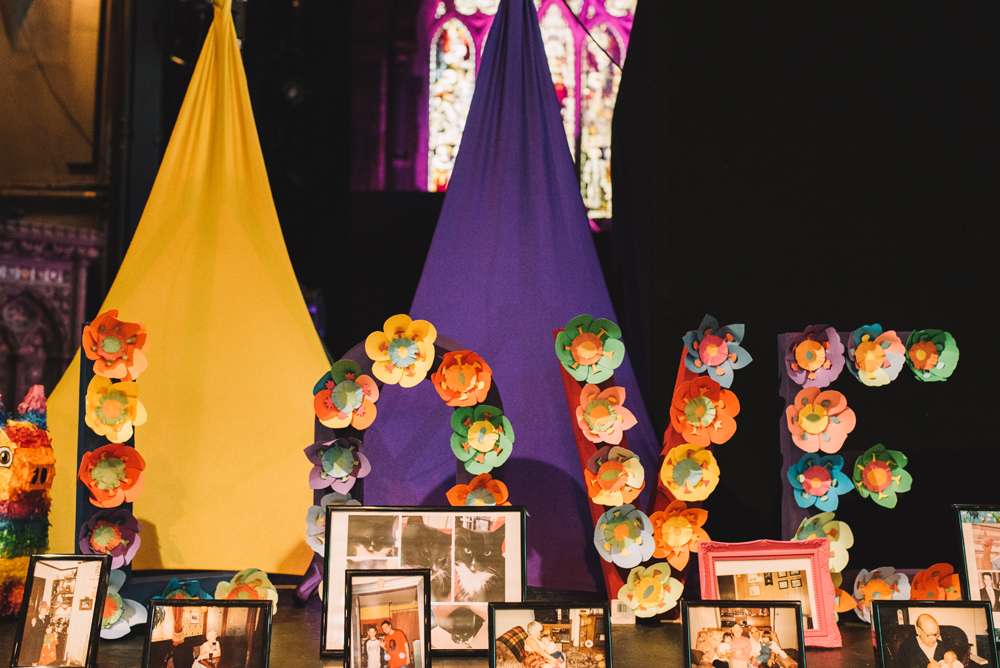 Claire wanted her outfit to feel similarly like 'her'. She decided to wear black from Simply Be (that she customised) and in a shape and style that she fells most comfortable in. The best part was it only cost her £50! Her necklace was a custom made piece from Bete Noire Jewellery.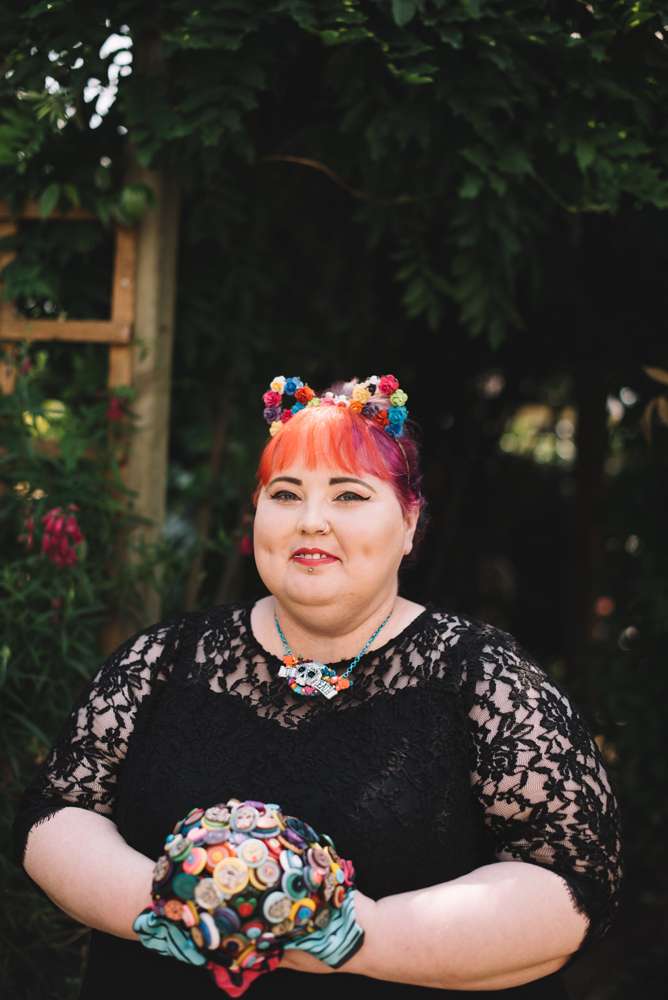 Their ceremony was held at their local town hall and this was one of the few parts of the day where they wanted to keep some tradition. She explains, "Although we disregarded many of the usual wedding traditions I did want to keep the traditional bride walking down the aisle to the groom as I'm a big fan of the reaction shots of seeing each other for the first time. My bridesdudes and bridesmaid entered before I did and I went unaccompanied (because I'm a fierce feminist and the only person that deserves to give me away). We entered to Lovecats by The Cure because they are one of my favourite bands and I wanted a song I loved to put me at ease if the nerves kicked in. Our dress code included men in patterned shirts and women in bright colours because I wanted to see a sea of colour when I was walking down the aisle. It turns out though that I was only focused on Tom and didn't notice until much later on how much effort everyone had put into their clothes!"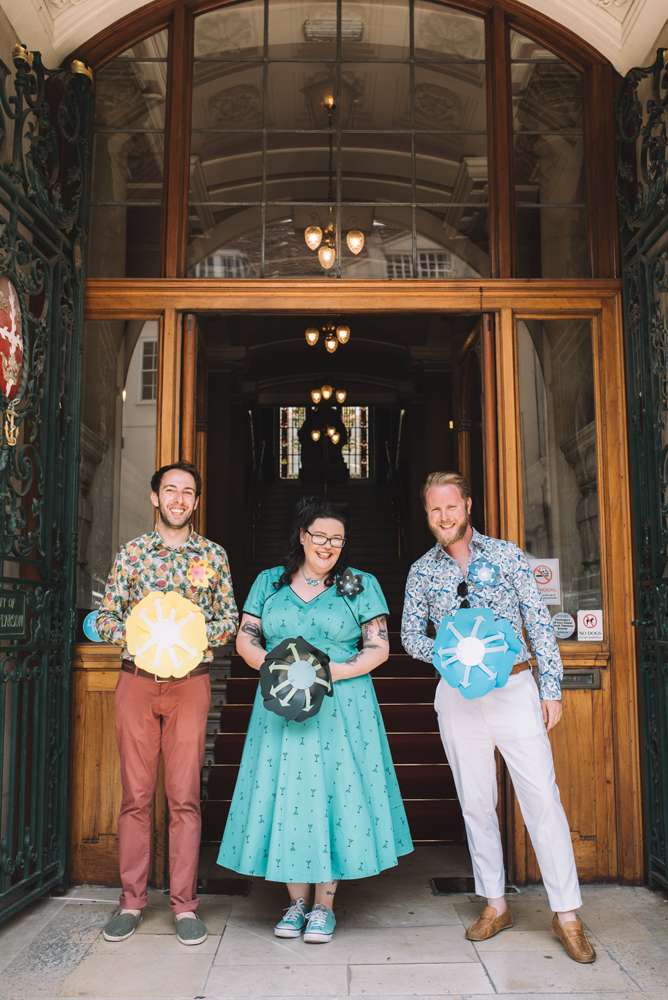 "There weren't any real flowers at all in our wedding ceremony or reception as I have a real problem with cutting up plants that are living just to sit and watch them die slowly in a vase or whatever over a few days. Instead of flowers on the register table we had a terrarium with living and growing succulents and cacti in. Our bridal party carried homemade giant paper flowers instead of bouquets and I had a button bouquet. My bouquet was probably my most prized DIY project. I spent literally years collecting buttons from all kinds of places and poured my heart and soul into getting it right. It now sits on our coffee table in a vase with fairylights in to make it look magical!"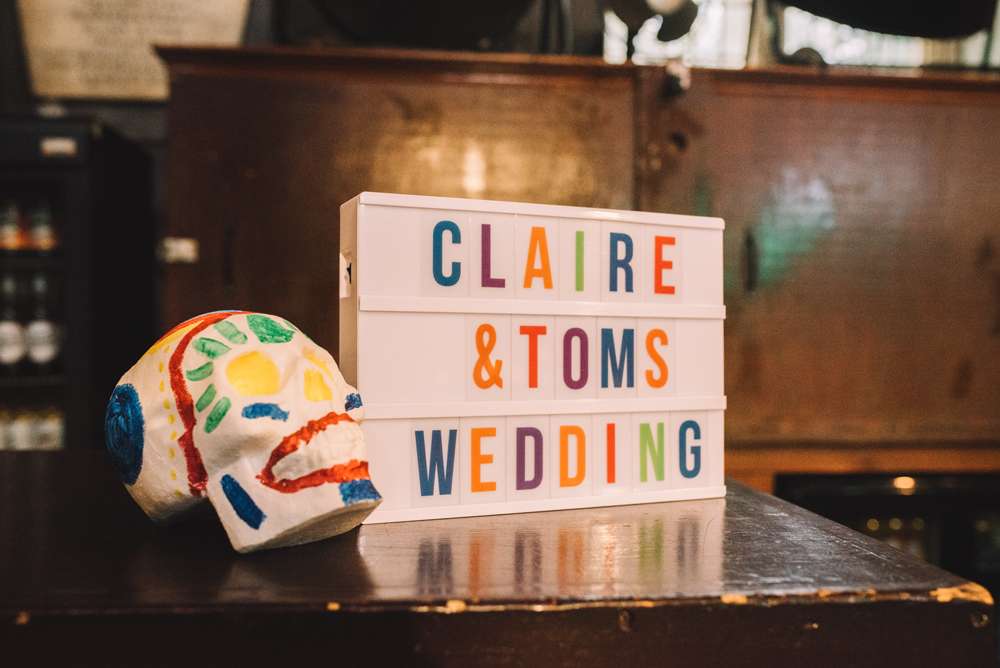 As well as the (faux) floral elements, Claire did lots of other DIY projects including glittering and painting hundreds of skulls to be used on all the tables, the stationery and paper goods and lots of wool pom poms. "I also built, from scratch, a cardboard coffin card box too that I am in the process of turning into a cat bed now the wedding is over! I made paper flower buttonholes for everyone who attended the wedding to add even more colour."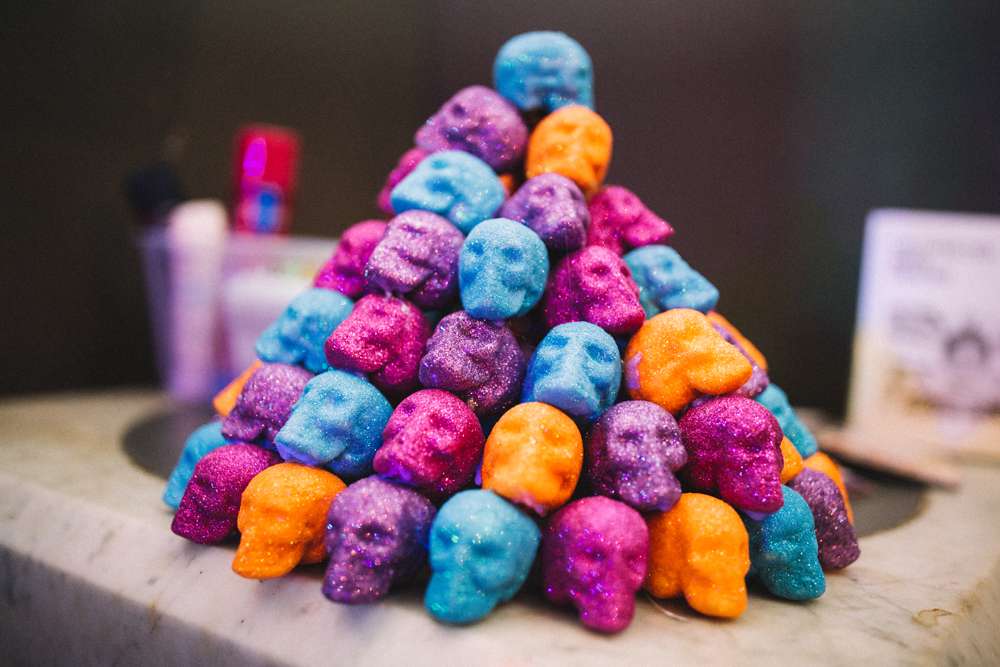 With a £5000 budget, and the bride being a student while they planned their wedding, saving money was of upmost importance. The only thing they splashed on was their photographer ("Because this was the most important thing for us to get right as neither of us are comfortable in front of the camera and photos are the only thing that last more than one day") and almost everything else was DIYed or found for a bargain. They found their caterers, Peck, at their local market and although they didn't even know if they did weddings they decided to chance it and ask (luckily they did!) and for the evening food they ordered Dominos! For entertainment they set up a Super Nintendo for people to play and did a DIY temporary tattoo station and photo booth.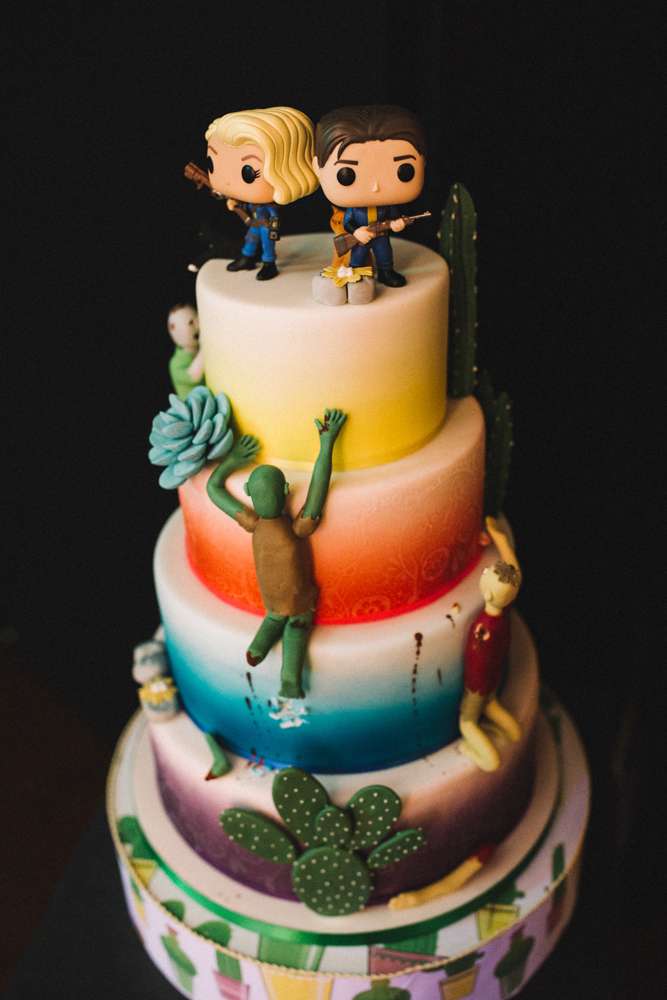 "I think we were so successful at saving money on our wedding because I was willing to think outside the box with how I wanted things", she said. "I wasn't afraid to spend money on the things I knew would be better if I used a professional service, like the photographer, cake and hair and make up, but I made up for these expenses elsewhere."