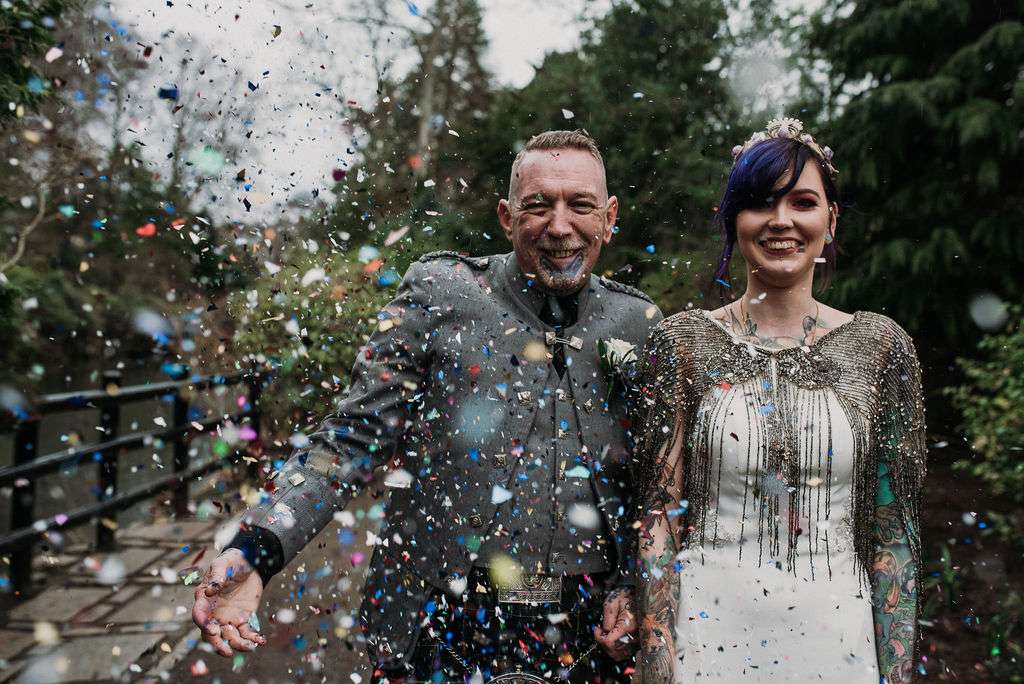 Tattoo artists Fiona and Stix met when they worked in the same shop together. They were friends first but it became more than that on a trip to Venice! For their March wedding they wanted to keep things simple, but to include elements that felt right for them. They had little in the way of extra decorations or props, but skulls were a bit of a recurring theme!
"I never really thought of a theme as such, it was just kind of us", said Fiona "It came together with the things we love. Both being tattooists, we obviously love skulls and all things dark. I just wanted it to be a bit different to the norm but not so it looked like a full-on Halloween party."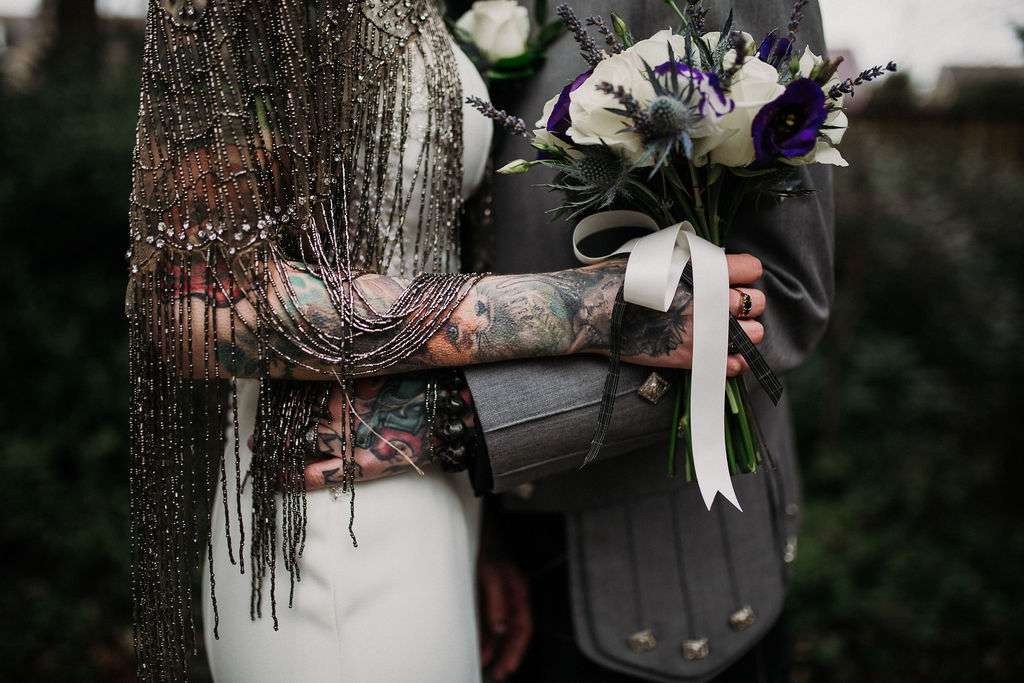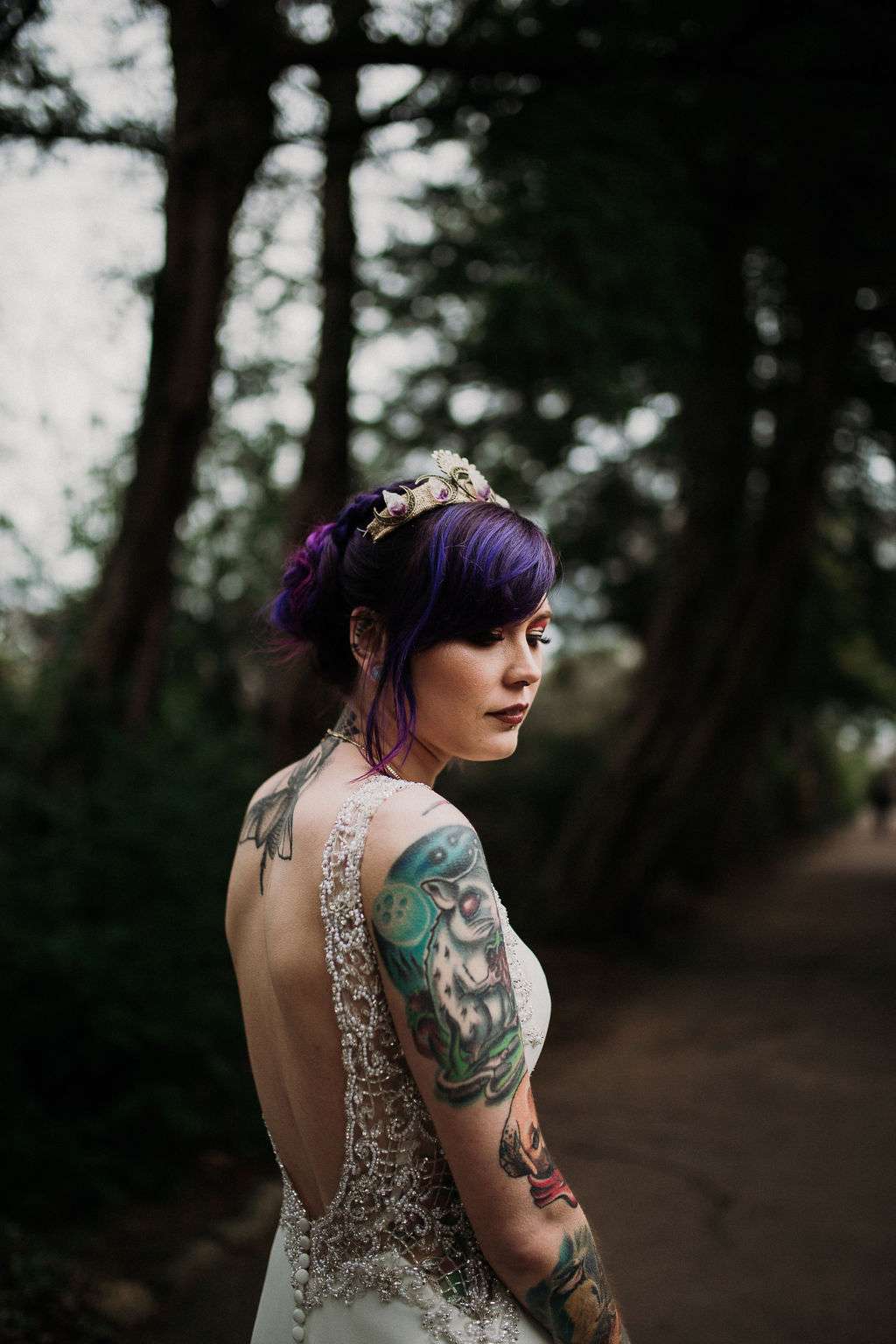 Fiona wore an Essense of Australia dress with an incredible Eliza Jane Howell cape, an Alexander McQueen necklace and spiked Current Mood shoes from Dolls Kill.
"Our attitude is what made our wedding the most unique", she continued. "I just honestly didn't care what other people thought about our wedding! I kept telling myself 'Just do what you want!' We had decorations the way we wanted them, The Damned blaring as I walked down the aisle, a homemade amethyst and moon handmade crown, a skull wedding ring… and if someone didn't like it, I didn't mind.. After all it was for us."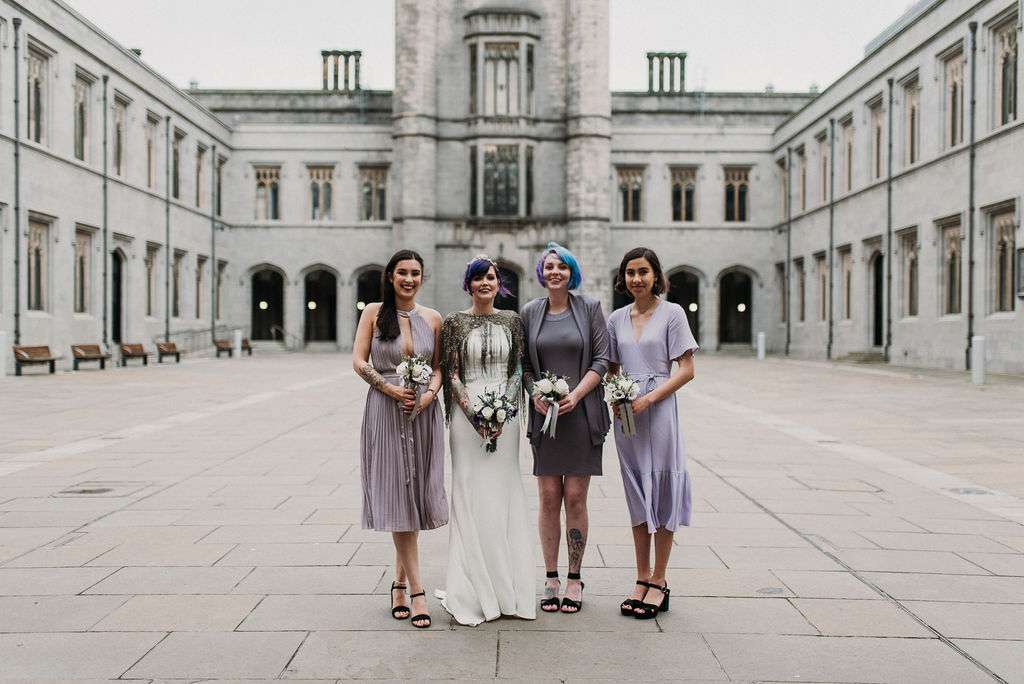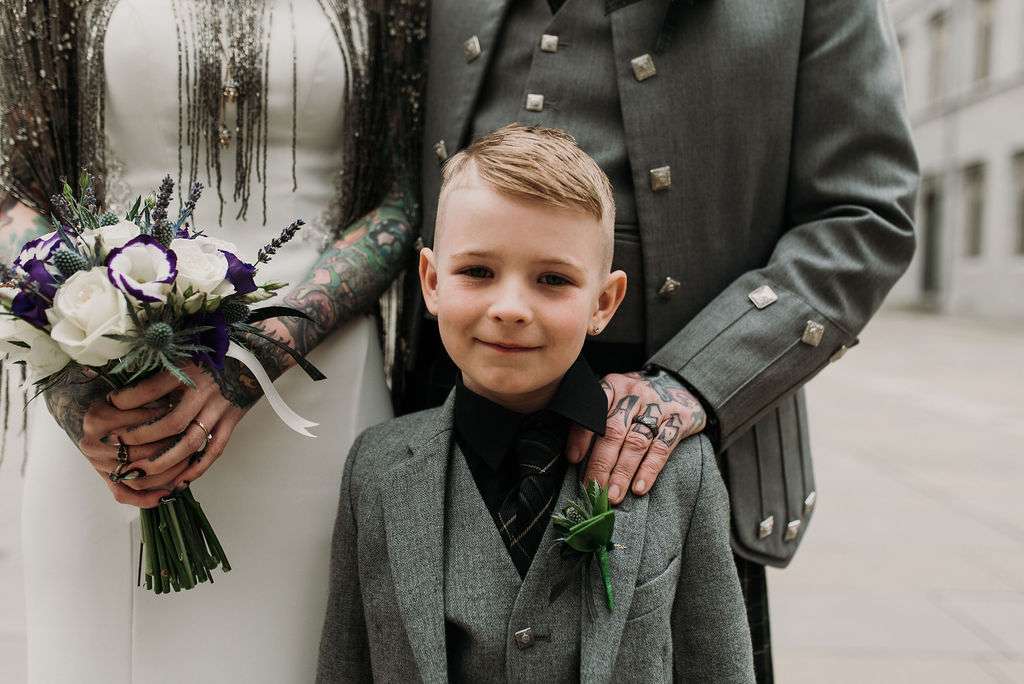 The ceremony was held at Marischal College in Aberdeen and was their favourite part of the day. "The ceremony itself was short but sweet. Neither of us like being the centre of attention so we kept the vows to a minimum followed by a traditional Scottish Quaich ritual (drinking whisky from a little silver shallow cup – us Scots will do anything for a drink!) The ceremony was such a highlight which is ironic because we just really wanted to get that out the way as quickly as possible and go enjoy the party but on the day that was actually the bit I enjoyed the most."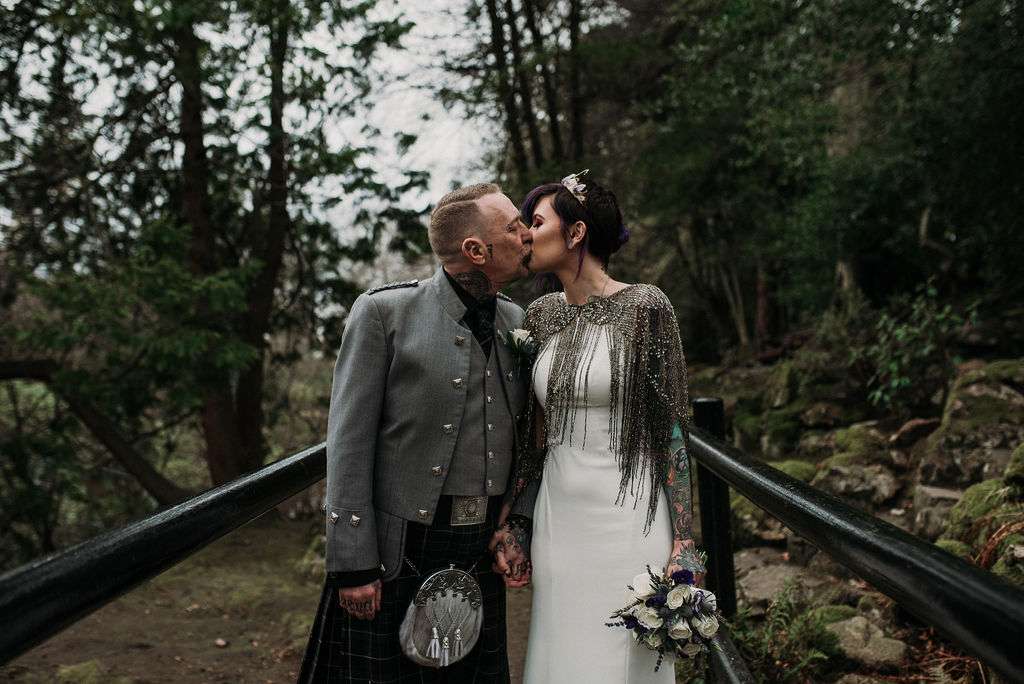 Of their £6000 budget the biggest cost was the bride's dress but the saved by having limited decorations and on the food. Their reception venue, The Sportman Club, did the catering and they decided on a buffet rather than a sit down meal. "We had a hot buffet and most guests were happy. I heard a few complaints and disgruntled faces but I knew this would have been the same outcome if I had spent the extra money on a three course meal – you can never please everyone! In Scotland we like to drink so most guests weren't too fussed about the food and went straight to the bar anyway!"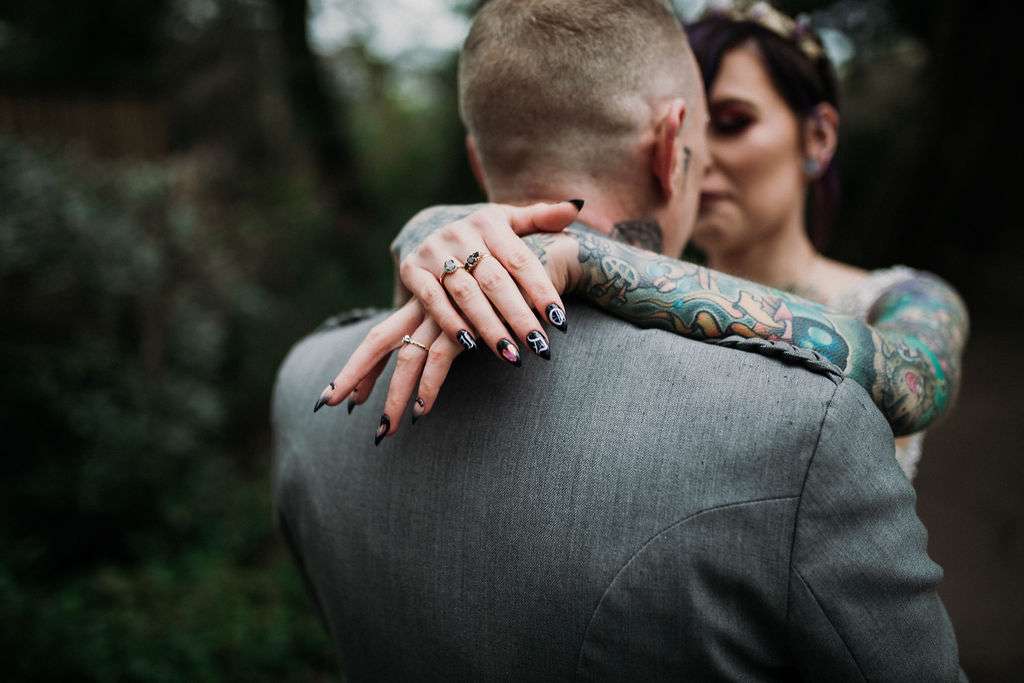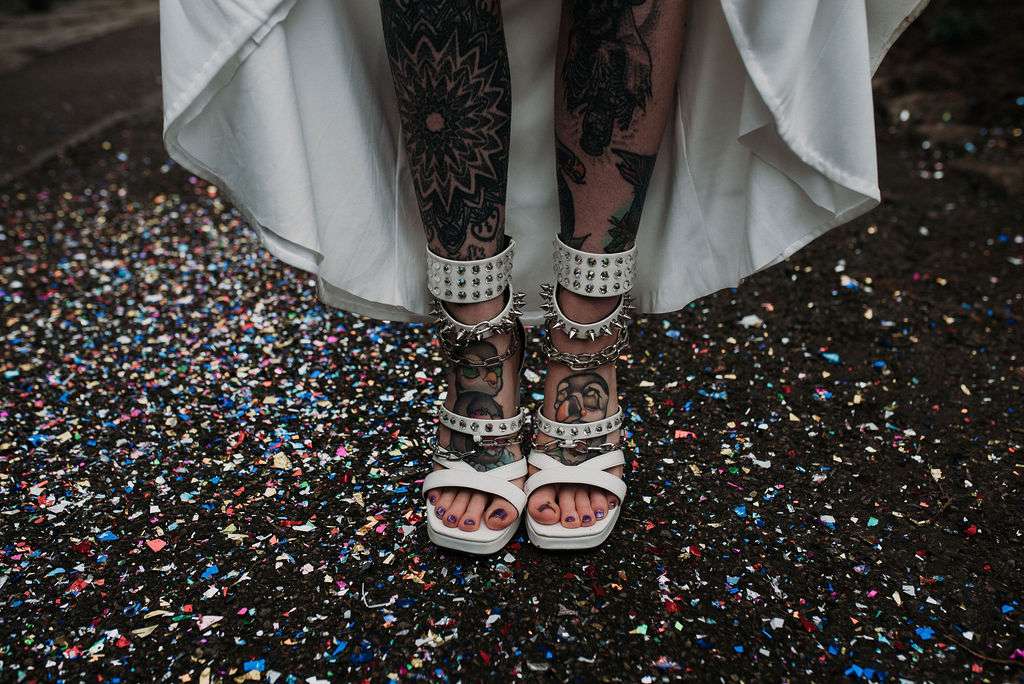 Fiona concluded with some truly fantastic advice: "Just do what you want and not what your sister or mother or mother-in-law thinks you should do. It's your day. If someone doesn't like it, let them hate and move on. They will forget your wedding in a few weeks but you will remember it forever."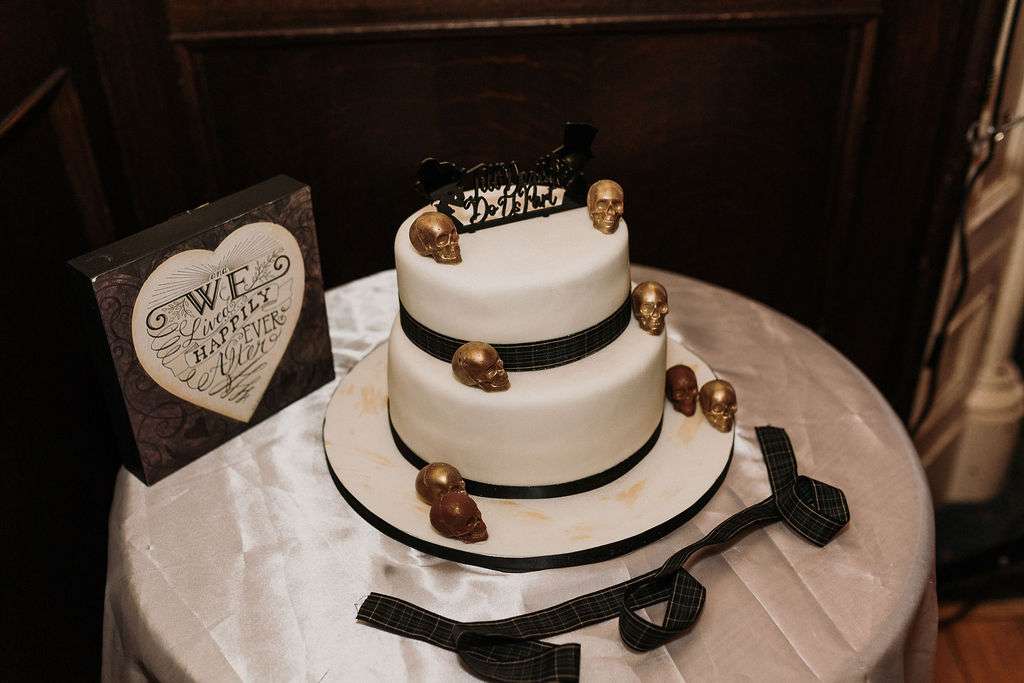 "Also, hire a photographer! I was so laid back about getting married at first that I wasn't going to have one. I was tattooing Nicola and got chatting about the wedding and she insisted she would love to do it for a trade for tattoos….And I struck gold. It's so, so important to find the right photographer and I'm eternally grateful that she convinced me to have her there. I always loved Nicola's photography style and I think she has captured our day better than we could have ever imagined."