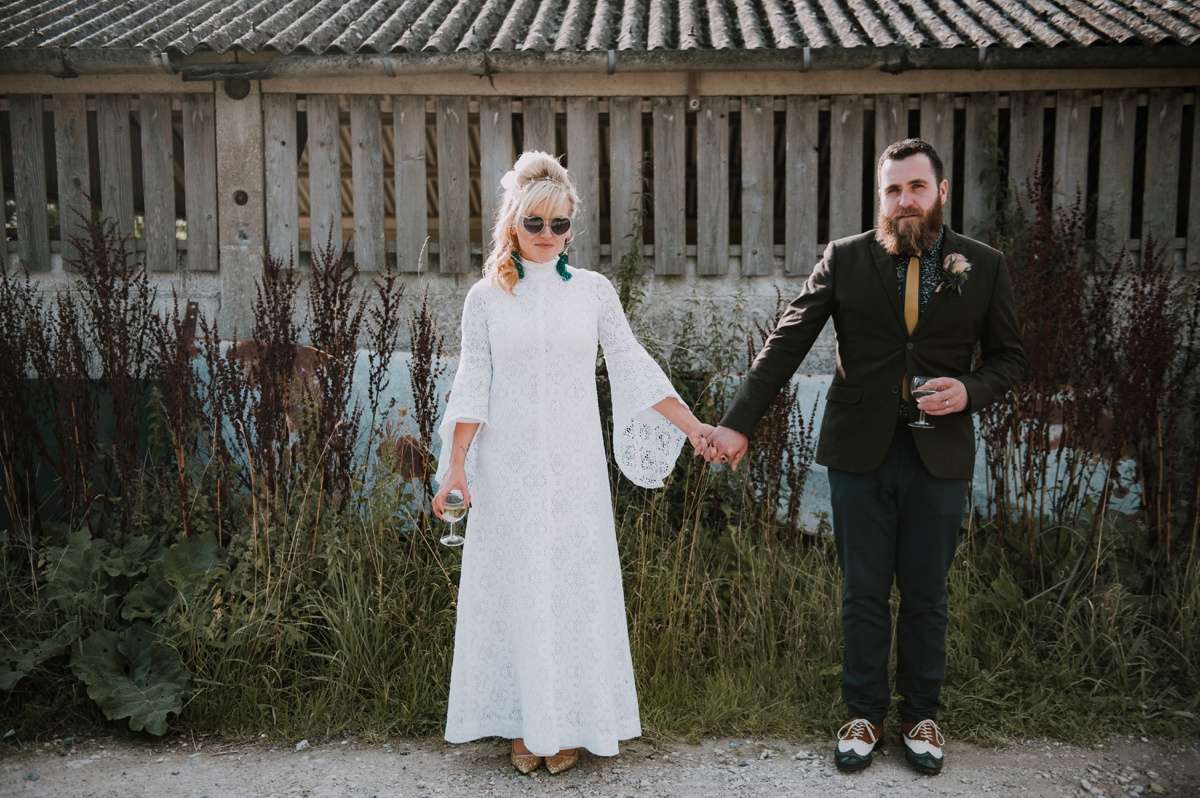 Lizzie and Kyle's wedding day was full of things that were personal to them as a couple, a ton of DIY, and some canny thrifting, all of which kept their budget low and the feels high.
"Our theme was a bit of a combo!" said Lizzie. "We had animals everywhere as Kyle had proposed after an amazing day at Berlin Zoo. We kept the clothing sixties-inspired as I'd found my dress early on and wanted things in-keeping with it. And as one of our first dates was a dog walk in the New Forest, colour-wise we used any colours you'd find there, so mustard yellow, heathery purples and greens, plus dusky blues. We tried to get as many bits from charity shops as possible, both for the good karma and great style. It was important to both of us to get friends involved and have a gender-equal ceremony. We tried to keep everything as family-friendly as possible, as well as relaxed and happy."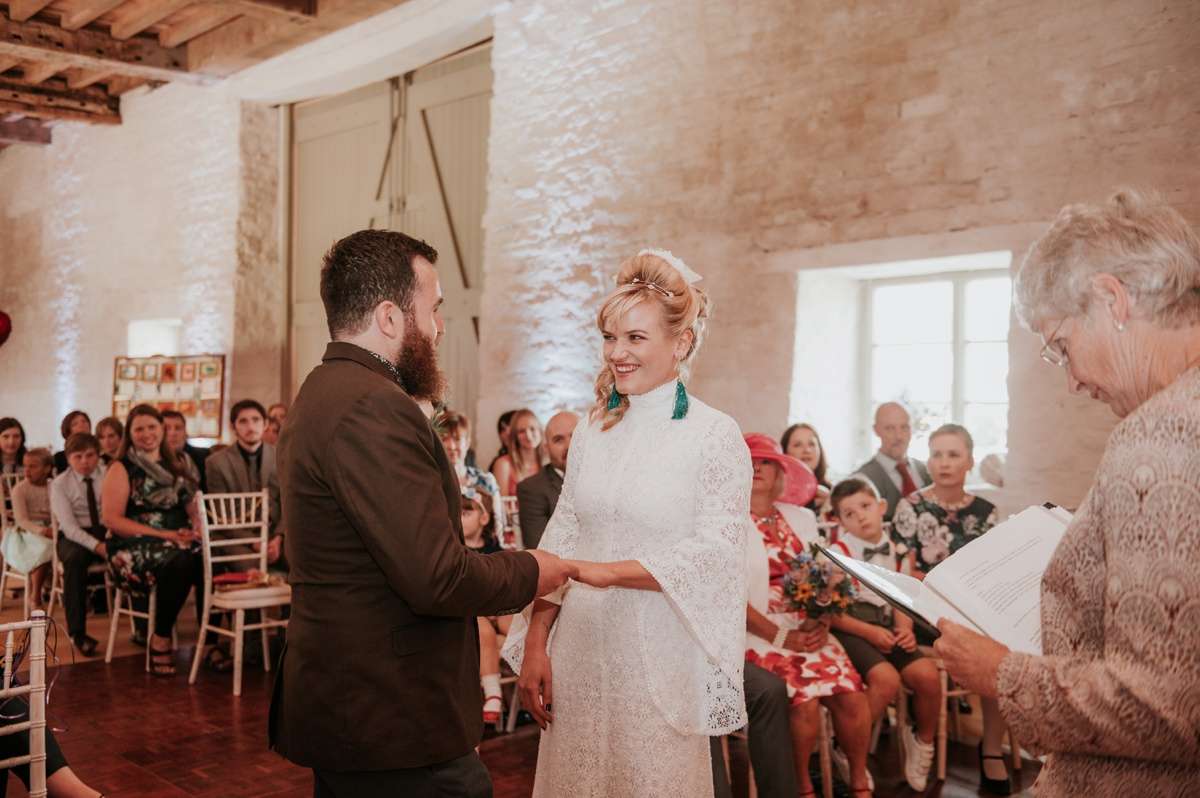 "We bought Rock n Roll Bride magazine religiously over our 18 months of planning, and I know that Kyle really appreciated the articles for the guys – so hard to find! We wanted to make as much as we could ourselves because we have always handmade our presents for each other, and when my friends make me gifts I honestly love them to death! If I'm totally honest, it was also a bit of a platform to show off all of the things we can make – we both love a good compliment!"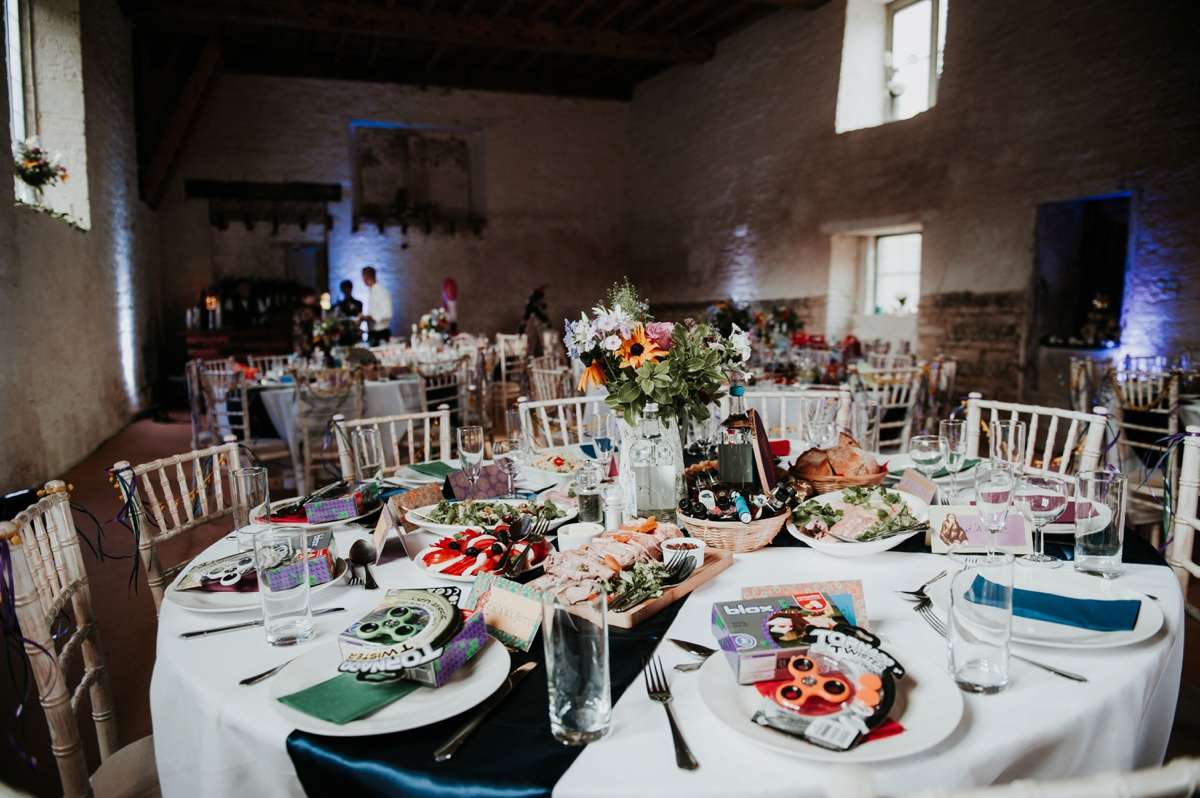 Their venue was Wolfeton Riding House in Dorchester, which they found through their planner Blue Bay Events. A family friend drove Lizzie to the ceremony in their family car, which he had decorated lovingly. "He dressed up in a suit with tails, looking the part of professional driver."
The ceremony was pretty emotional for the couple, and Lizzie said, "We were just smiling and crying; it was a snotty mess. My uncle did one reading and our friend, Em, did a reading of Kate Tempest's Man Down, which I would say describes love as honestly and beautifully as I've ever heard. She swapped the word 'fuck' 'for 'love', though, as there were lots of tiny guests. One of my dad's friends is a fiddle player, and he played Josefin's Waltz as I walked in, and The Roaring Barmaid as we exited. I think a lot of people feel a bit uneasy with some of the concepts of marriage today, and I certainly did, so we wanted to keep things as equal as possible, gender-wise – I kept my surname, and vows-wise, we just edited the suggested vows to omit anything that hinted at stuff we weren't comfortable with like obeying – there isn't gonna be any obeying on either side!"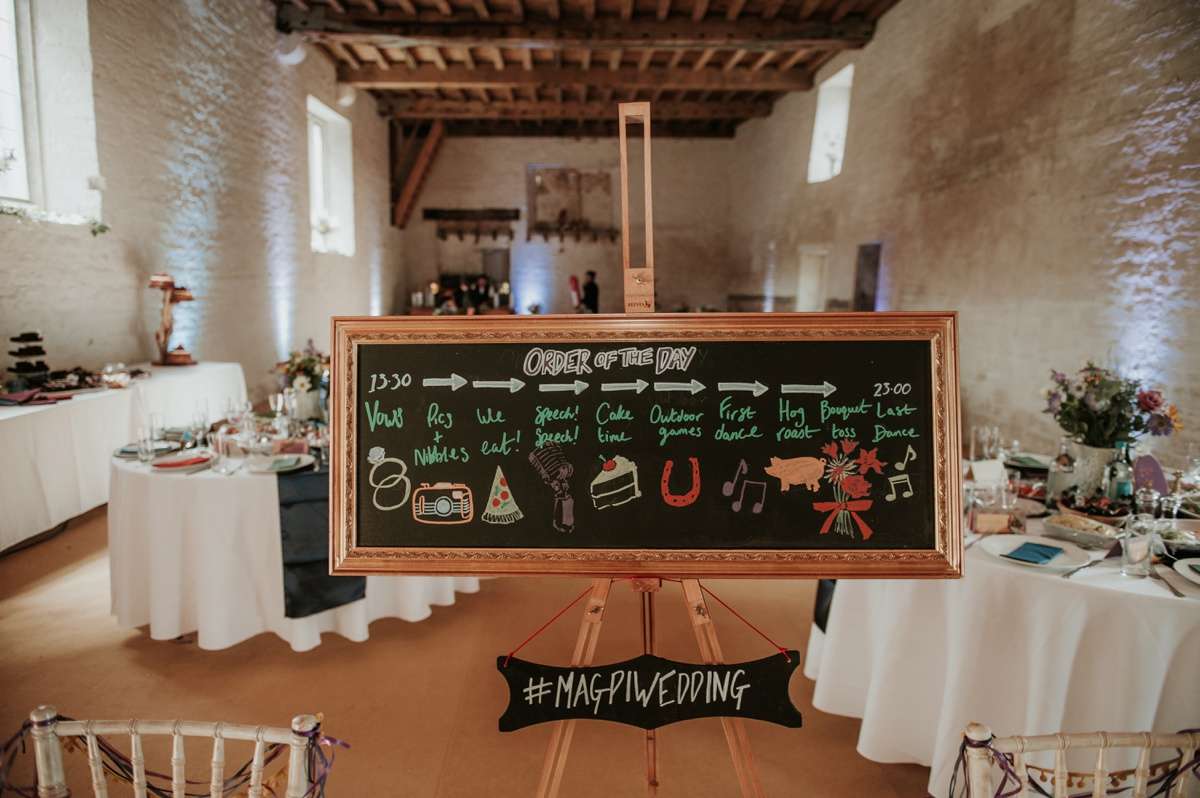 "My vintage dress was bought from Shop Jessthetics on Etsy. It had some rust stains on it, so I had it cleaned by a company called Boxed Bridal, and they did a great job for a small cost. My earrings were from H&M and were about £5, and the bow in my hair was on sale from ASOS at £1.50, and my shoes were from New Look. In the evening I changed into a bridal skirt with a train that I'd found in a charity shop and a top my step mum lent me with some silver shoes from ASOS that were covered in little ceramic flowers."
The bridesmaid dresses were from Boohoo at just £8 each. Lizzie said, "I just wanted floral shift dresses in keeping with the Sixties theme." Their shoes were blue velvet wedges from New Look in the sale, and the tights were ASOS.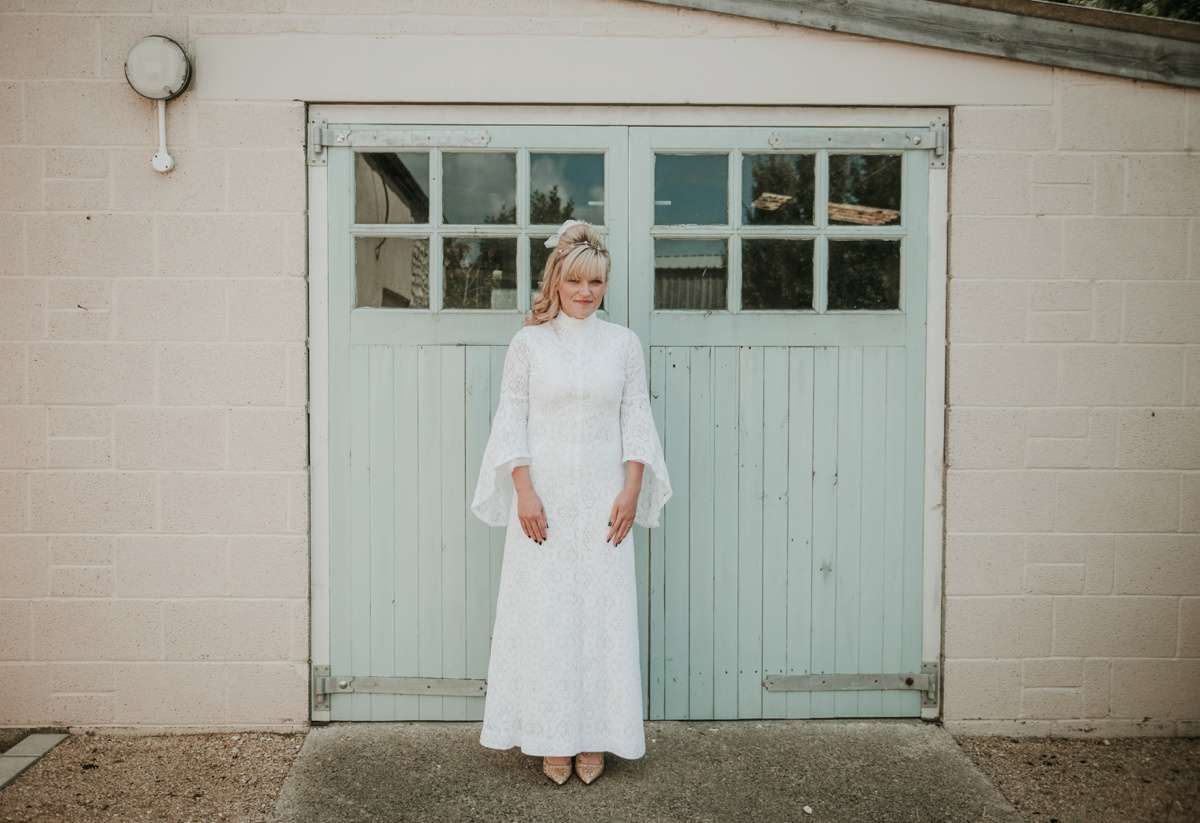 For their décor and props, the couple DIYed as much as possible. "We've always made each other gifts, and those gifts are like our love letters (as lame as that sounds)," said Lizzie. "Kyle, who's a carpenter, made a heart-shaped light as a backdrop to the ceremony, which worked perfectly against the beautiful barn walls. We made the chair backs from ribbons and pom poms (because I really think chair covers make it look like they are dressed up as ghosts). I hit the embroidery hard and stitched animals for each table and made decoupage glittery ones to go with them."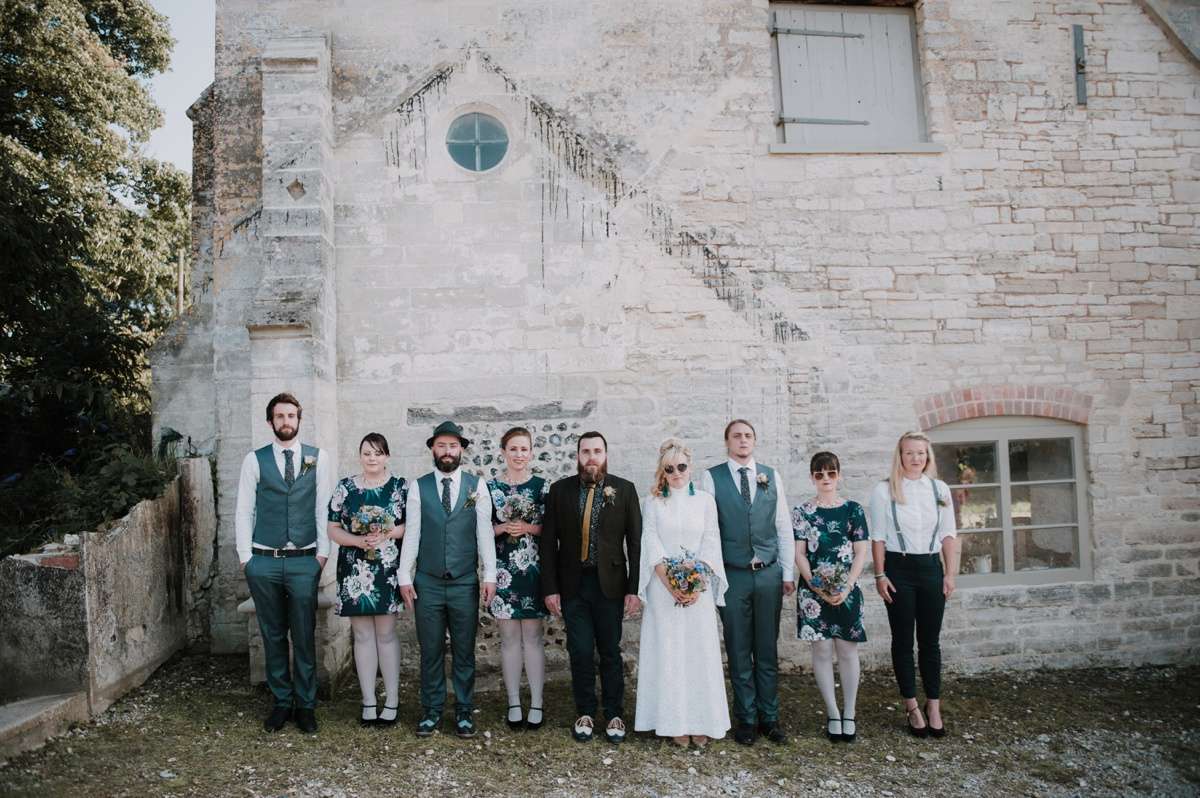 "We made a tipi and decorated it with pom poms and fairy lights and put activity snack boxes in and around it for the kids, plus we bought dog beds to use as giant cushions for them to nap on. We painted jars and filled them with fairy lights and dotted them around the venue. Kyle made outdoor games and signs, and I made what felt like miles of bunting. My step mum made sloe gin and raspberry vodka, and we had stickers for the bottles printed up through Vistaprint, who also printed the stationery I designed."
"For the photo booth, we made a gold frame with a wallpapered backdrop and set it on an easel. I made parrot headdresses, and we piled up selfie sticks next to it so that people could take their own photos. I think hand-making everything instantly makes it pretty unique and using things that are second-hand means they aren't readily available to the masses."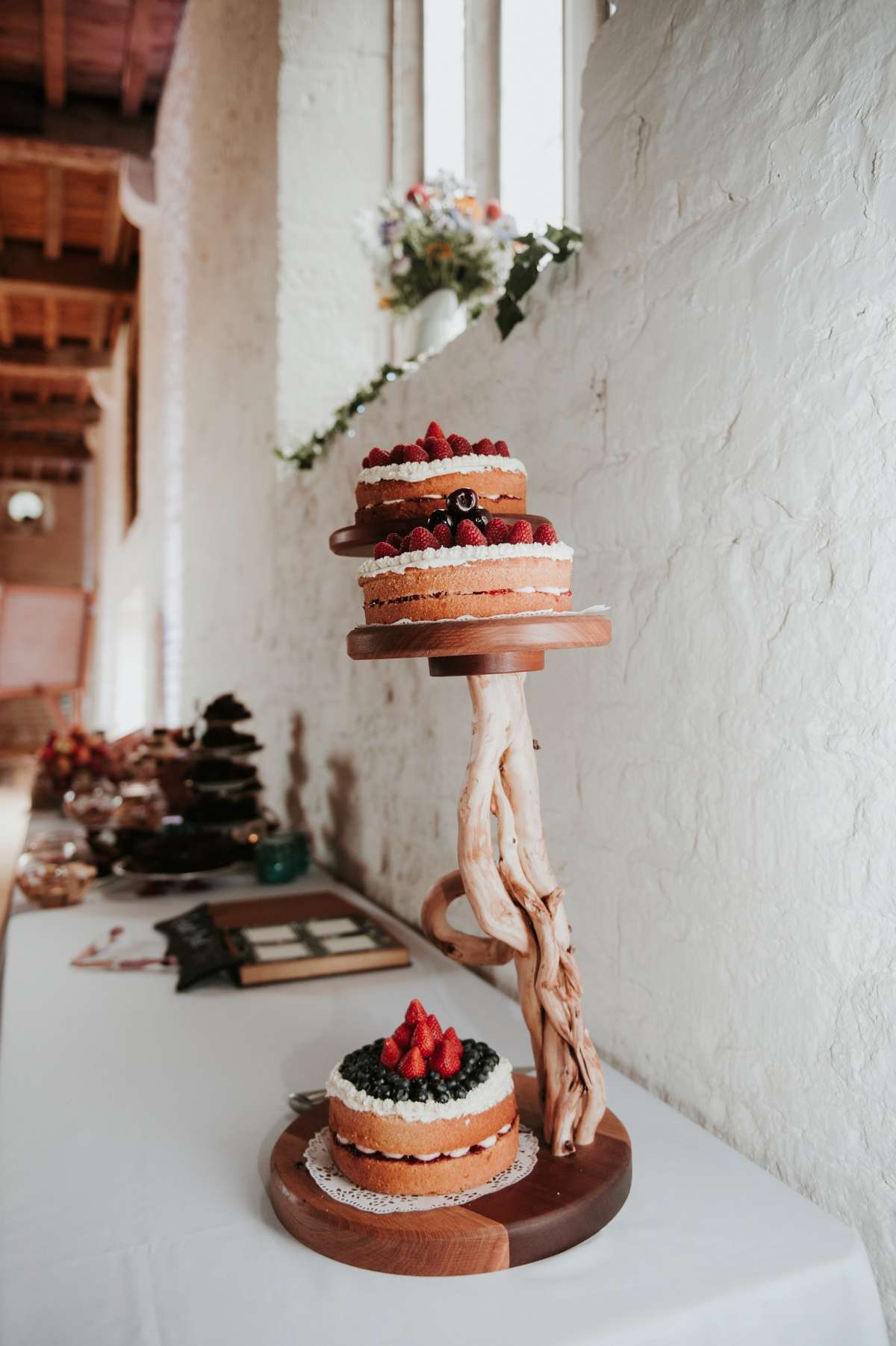 Their approach to food was laid back, too, with local caterer, Helen Furness, providing the buffet, and Posh Pigs Hog Roast doing a hog roast in the evening. The cake was made by a friend. Lizzie said, "We wanted a naked cake with loads of fruit to go with the cake stand. Kyle made the stand from a piece of Ivy with a knot in, which made him think of 'tying the knot'.
Music was supplied by a friend's cover band called Beard. "We had Everlasting Light by The Black Keys as our first song, and they learned a special cover of Waterloo by ABBA as a surprise for my step mum who is a die-hard ABBA fan, which went down AMAZINGLY well. We also asked guests to send us their requests on our wedding website, and we made a Spotify playlist from that."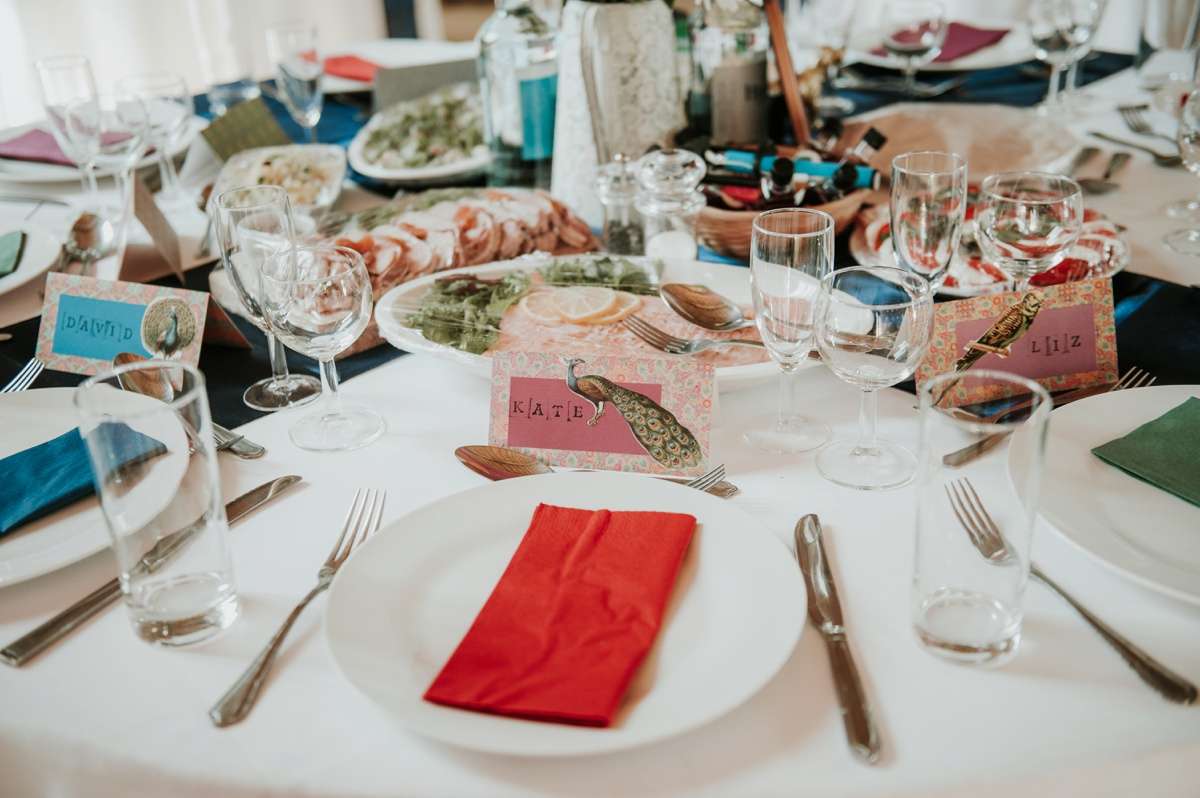 One of Lizzie's best friends, Laura, pulled a move that would've made Cilla's Surprise, Surprise! "I had asked her to be a bridesmaid before she moved to Canada, but she told me she couldn't make it because of paying for flights. I was upset, but I accepted it and started thinking about how we could Skype the ceremony. The night before the wedding, I stayed in an AirBnB with my bridesmaids, where we had takeaway and watched My Best Friend's Wedding. Halfway through the film, Laura walks in! My entire family and all of our friends had been keeping it quiet, and my wonderful step mum had been squirreling away an extra bridesmaid outfit/ gifts/ shoes/ accessories, and had saved extra spaces in the table plan by insisting on keeping extra chairs at the tables, 'so that guests can move tables and chat'. It was truly incredible and made the day ten times more special."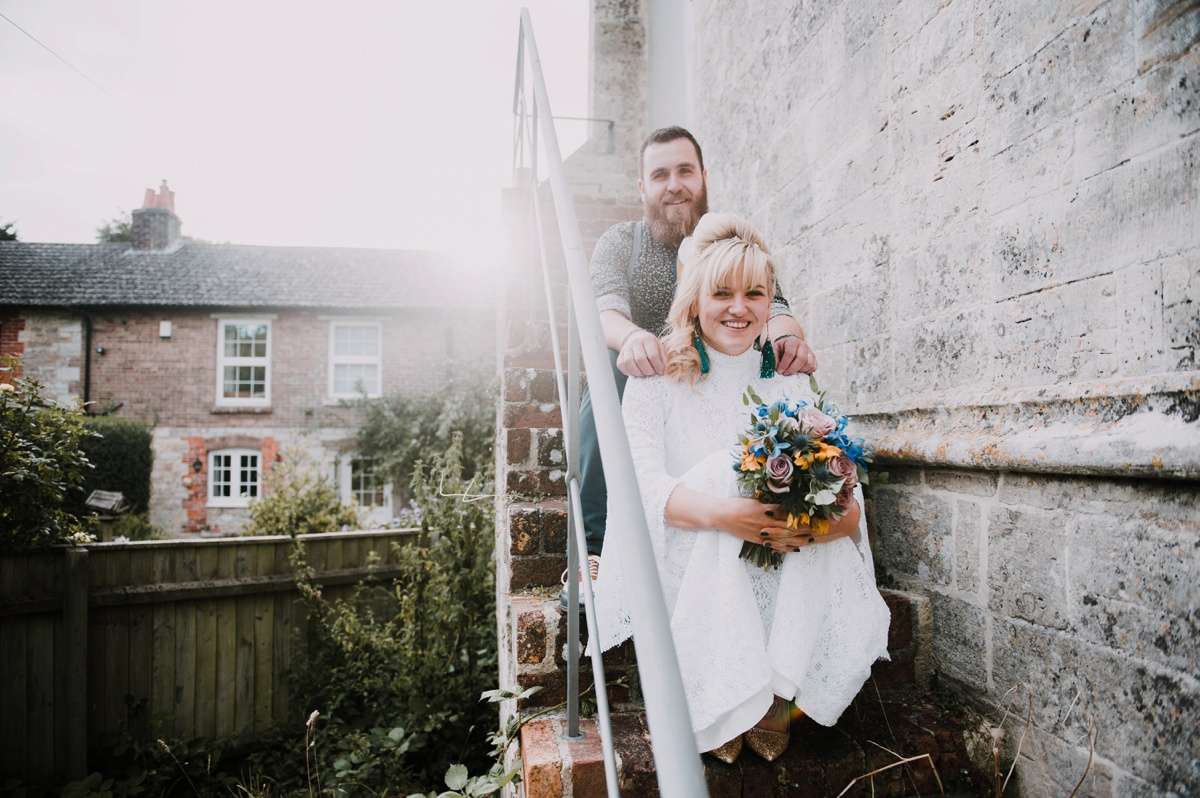 Looking at other people's photos of their weddings can hide a lot of the stresses of planning, as obviously that's the end result. Lizzie says she wishes she'd known, before beginning planning, that "Instagram photos lie! We had our fair share of meltdowns, but it was also really fun. We did wish there were more things marketed to the groom – everything is aimed at the ladies, whereas there isn't any choice in most retailers for the guys."
Lizzie had lots of favourite parts of the day. "I loved getting ready with my family and bridesmaids, and Kyle and I sneaking off together after the speeches, and our first dance. My adorable two-year old nephew joined us on the dance floor, and the band played Chop Suey later on and Kyle and his best man did their own beautiful dance – it was hilarious."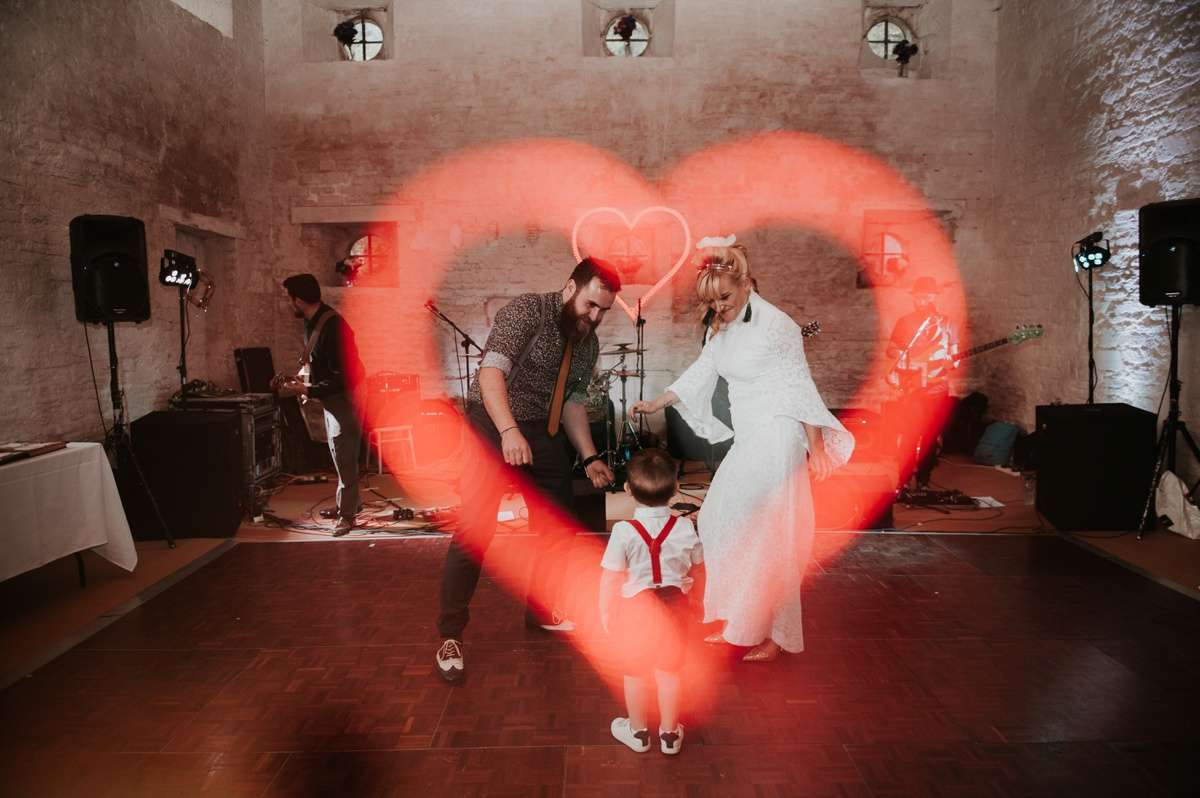 Lizzie said the best thing about planning their wedding was, "Making everything and coming up with ideas together for ways of making it a fun day for everyone." The worst thing was when all the fun was over and the post-wedding blues hit. "We put so much time in for 18-months that we were always going to be a bit low afterwards, and even though we both anticipated it, it was still a bit of a shock to the system."
Lizzie's wedding advice to you is, "Be as present and in the moment as you can be. It's hard when its such a whirlwind, but just savour every moment. And trust the suppliers! It was a bit difficult for me to relinquish control for the day, but they all did their jobs amazingly well; I had nothing to worry about."