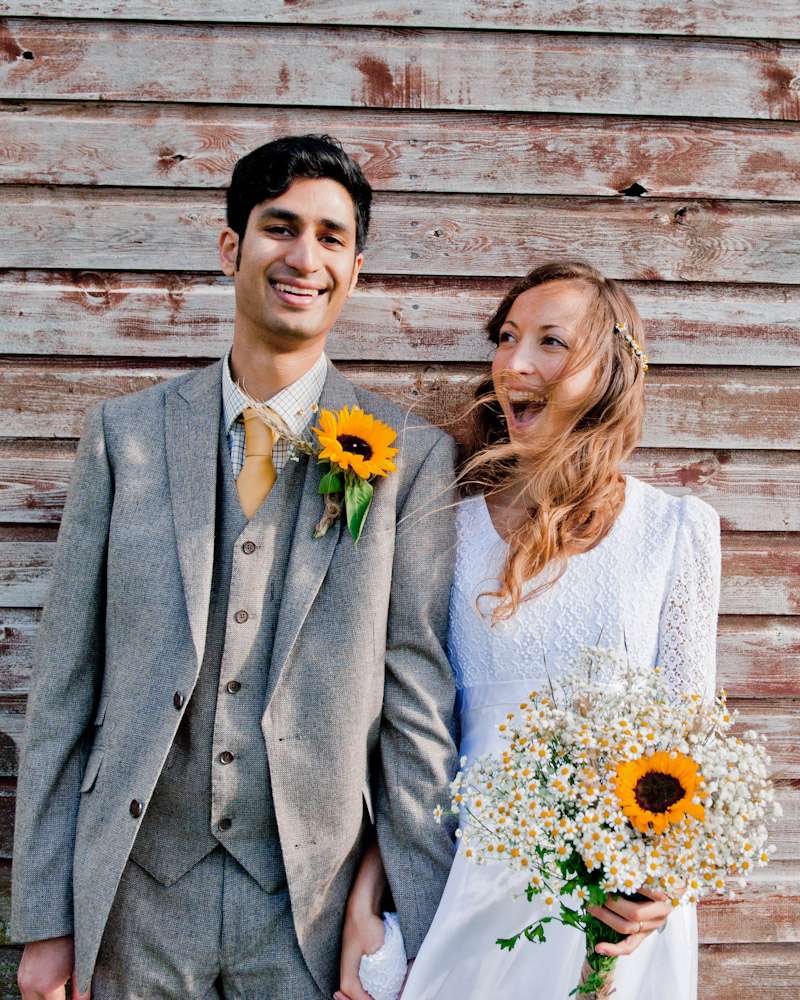 Not wanting to do things by halves, Clare & Aslam had three weddings. The firs two were Muslim celebrations, and this one was their western wedding. Having three whole weddings to plan, the couple kept this event low key and budget friendly. They DIYed a lot and spent just £5000 on the day. "We tried to do everything second hand or hand made as I hate waste and am a big environmentalist", Clare explained. The wedding was held at Hyde Barn in the Cotswolds.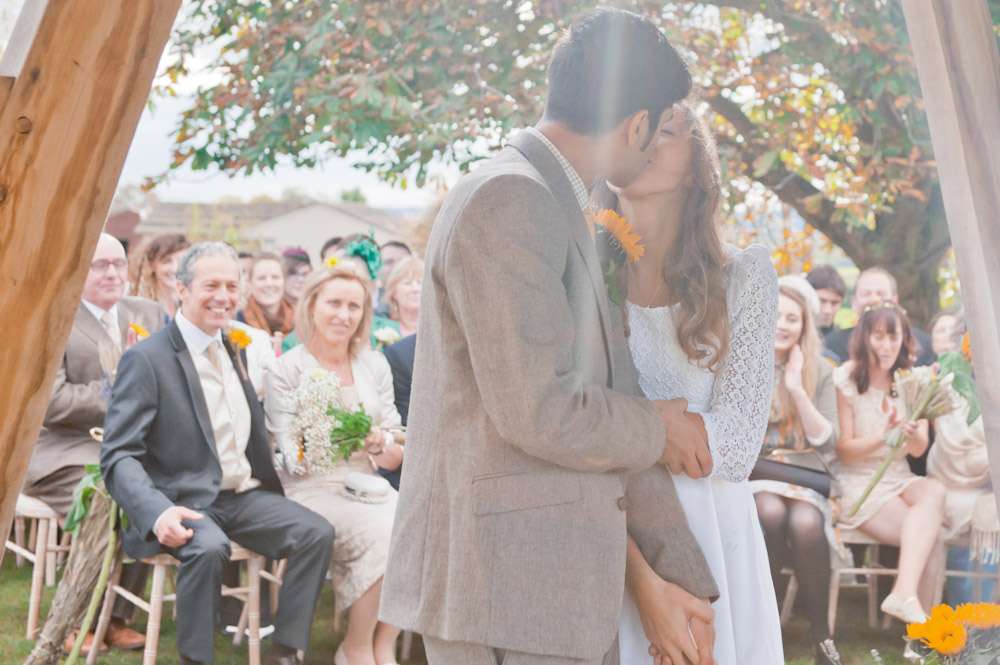 "Although my husband and I live and breathe south and east London now, I grew up climbing trees and then later on, going to big raves and technivals in the beautiful countryside here", Claire continued. "So it is as much my hometown as it could be. Aslam and I are basically big kids so when we had our pro pics taken we ran into the garden and climbed trees and messed around, the venue was perfect for this. The venue actually hadn't even been built when we booked it! But for that reason we saved a lot of money. Risky, but worth it. Because they were a new venue they pretty much let us do what we wanted. And seeing as I wanted to throw a childlike homespun DIY shoe-gaze/punk/rock festival style kid's party with bubbles and story books, masks and games as well as accommodate a naughty french bulldog – a blank canvas like this was ideal."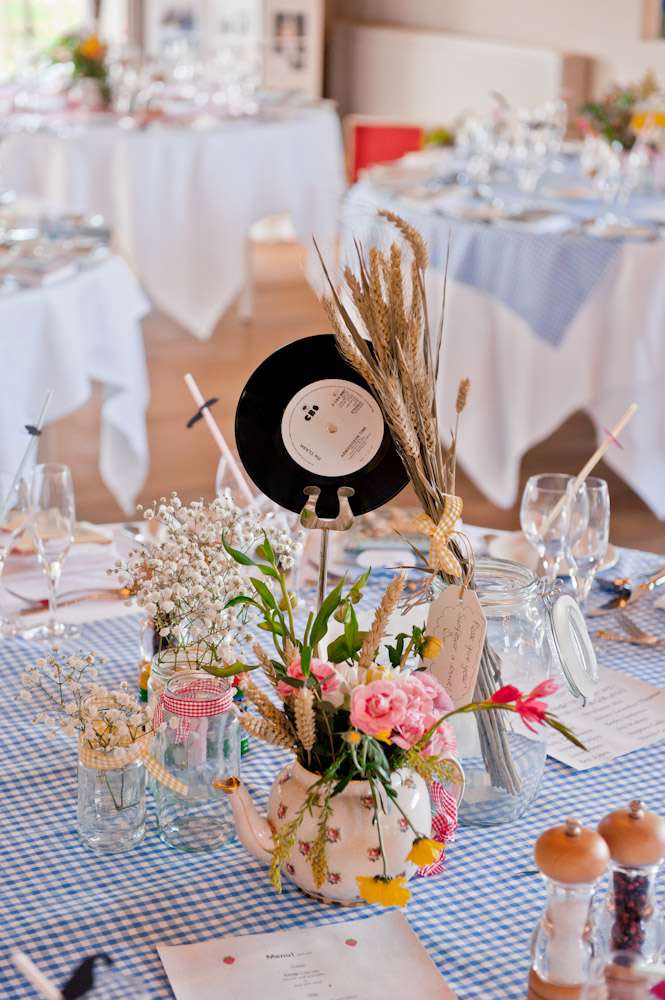 Clare wore a 1960s vintage dress which she bought from the Vintage Wedding Fair and cost her just £100. "It was the first place I went to try on dresses and pretty much the first dress I tried on. I wasn't too bothered about the dress to be honest, it was all about the vibe! It is made from little crochet daisies and was quite see-through so I had to wear a slip underneath. We chopped off an ugly Snow White collar (much to the vintage seamstress's dismay!) and got it hemmed to fit me better." Her headwear was fresh flowers and her jewellery was vintage that had belonged to her grandmother.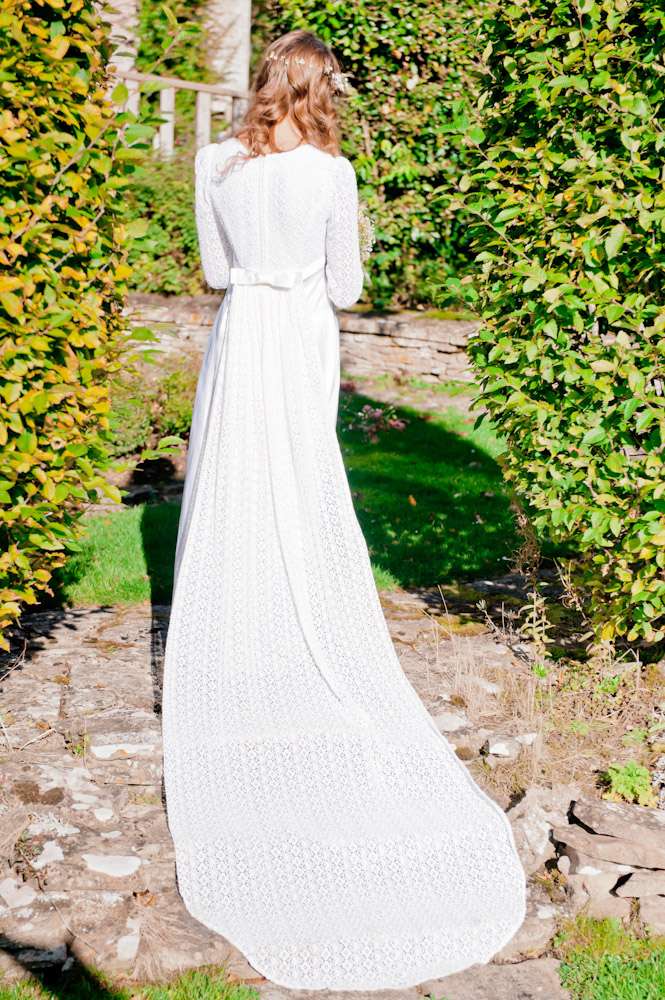 The environmental impact of their wedding was super important to this eco-conscious couple, especially with the flowers and stationery that they chose. They also opted for a completely vegetarian meal. "It was important for me to ensure the flowers weren't flown in from half way across the world", Clare explained. "I didn't want their carbon footprint to be bigger than my guests'! And seeing as it was the wrong season to pick hedgerow and meadow flowers like buttercups and daisies and thistles which is what I wanted, we found Wiggly Wigglers who only source local, in season flowers. We didn't know what the flowers would be until the day before the wedding when they were delivered, we just specified a colour. Exciting, but it was risky! I didn't want anything exotic or fancy pants, just good old English weeds and lots and lots of wheat and sunflowers. In the hand drawn invites we sent out, we put sunflower seeds, and asked people to grow their own sunflowers in the summer before the wedding so they could bring the flowers to use as confetti, to decorate the rooms, to wear etc – not many succeeded however (due to climate change, if I can add that..!) so we provided lots from a local supplier instead. Quite a  good idea in theory though!"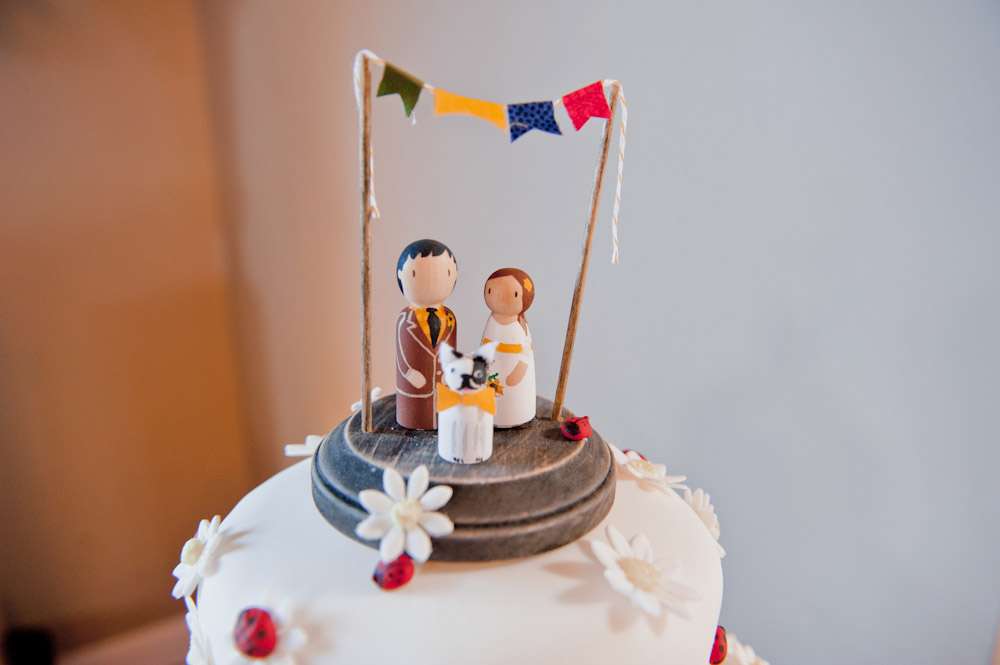 "I also didn't want to feel guilty about chopping down millions of trees for the wedding so I sourced our invitations some made from elephant poo! They sent me samples and I chose the stuff with the best bits in – haha! The menus and table place names and seating plans were printed on the on it (which I designed myself, based on our favourite records) as well as the invites. My very talented friend Tessa Rose designed the invite, which we also blew up and used to decorate the entrance hall as well as get printed on to a canvas, which we used as a 'guestbook' art piece."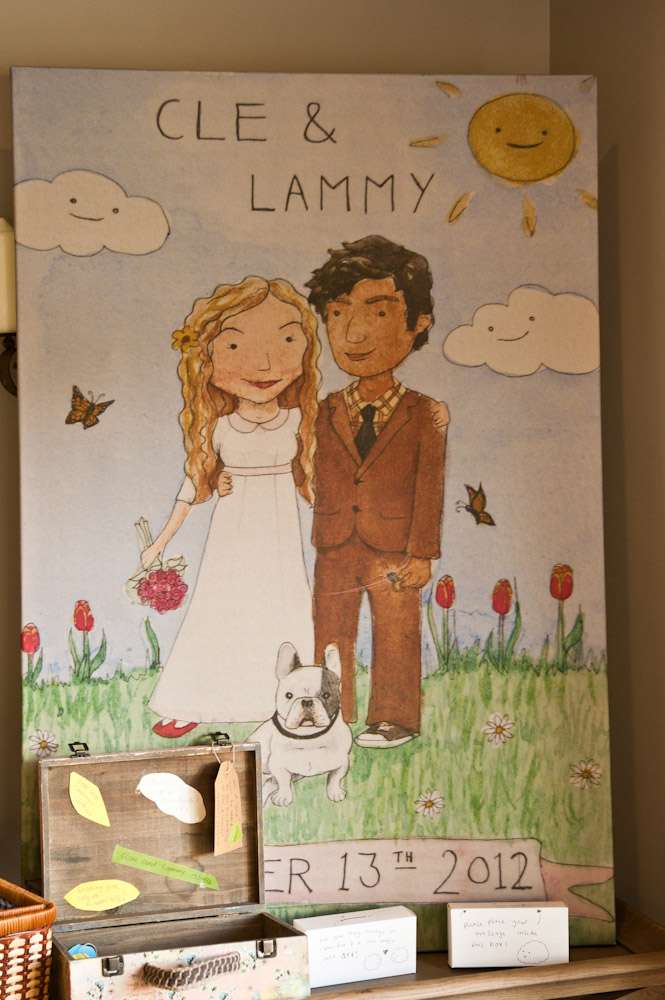 "We stuck up for our beliefs and didn't let the corporate monster that is weddings engulf our dreams of a really basic, childlike, homespun wedding", Clare concluded. "I hate the whole white wedding thing and while I did wear white, I stuck to my hippie punk values all the way! No alcohol, no meat, no waste and no new stuff if I could help it. I barely even mentioned the word wedding to suppliers! I just said, 'I'm looking for flowers for a party'. It's all just a con! You've got to think straight and realise that it's one stupid little day of your life, and that nothing matters. Apart from being in love of course… that sort of matters."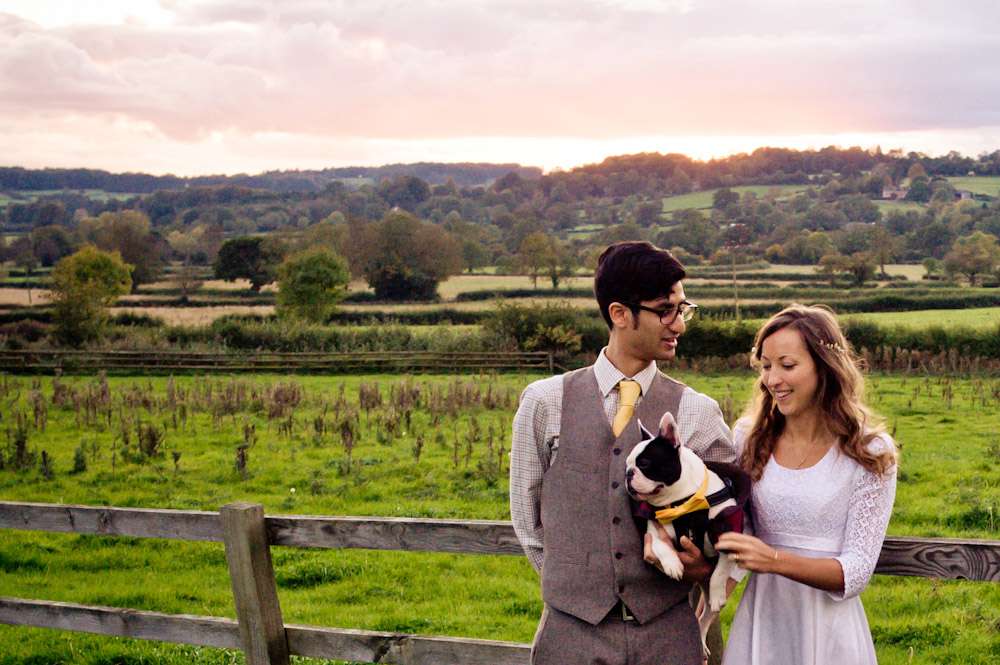 Ha indeed it does! Thank you Clare & Aslam, for sharing your perfectly simple and perfectly 'you' wedding with us today!