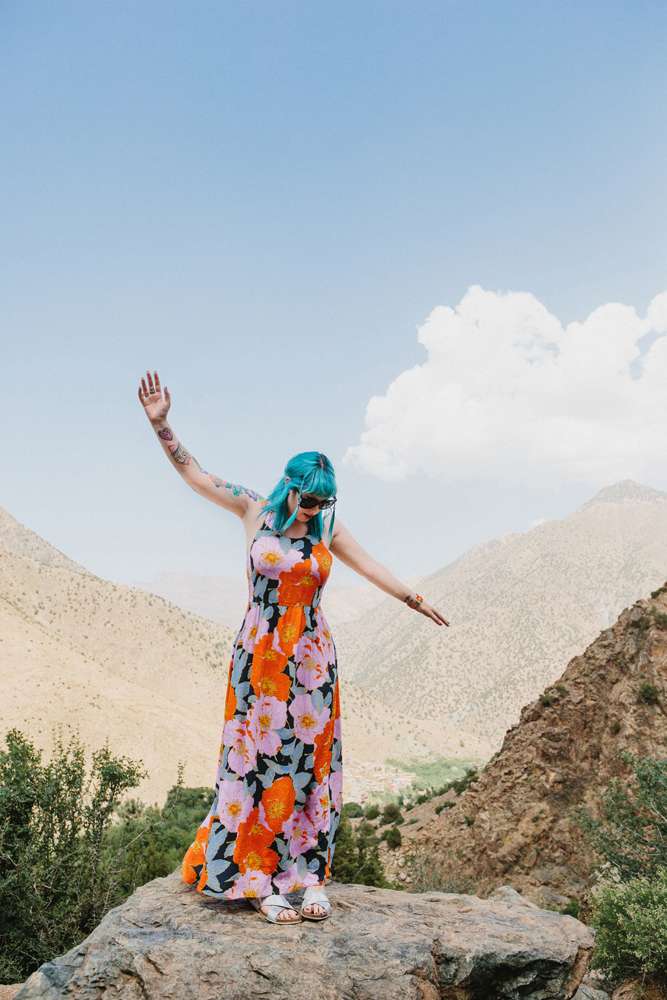 This post is enormous because I have so many photos from this trip that I want to share. So grab an extra large beverage and prepare yourself for a kaleidoscopic visual assault!
As much as I adore Marrakech (this recent trip was my third in two years!) it can be a very intimating and intense place. People yelling at you, motorbikes whizzing past you in narrow alleyways, donkeys pulling carts that look way too heavy for them, old men pushing enormous trailers full of everything imaginable… and all in 40°C+ heat! It's chaotic and buzzing all day and all night which is why having a calm oasis to retreat back to at the end of a long day isn't just advisable, it's a necessity!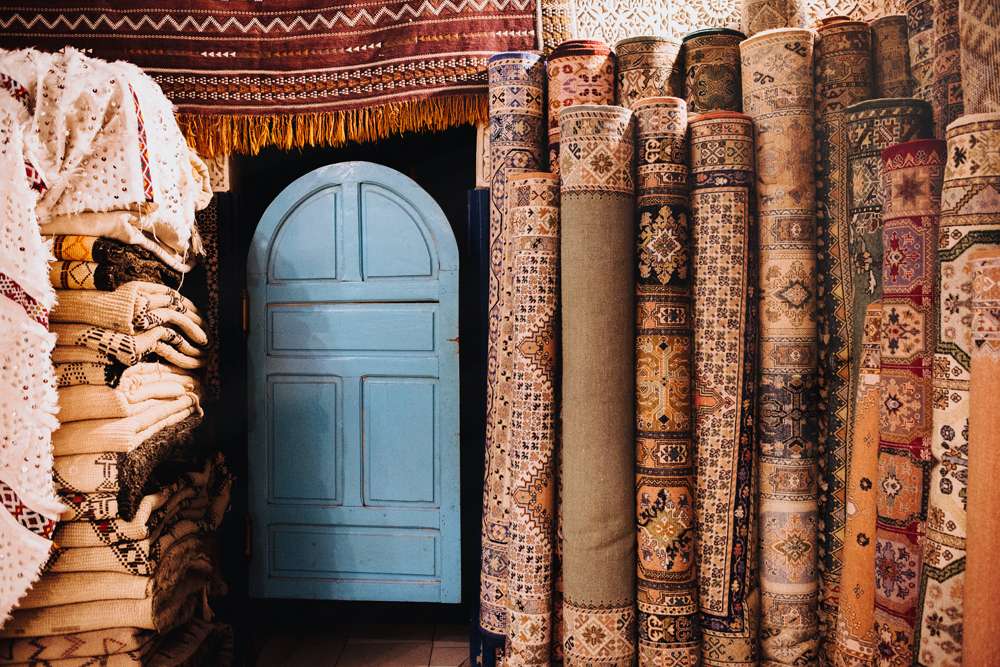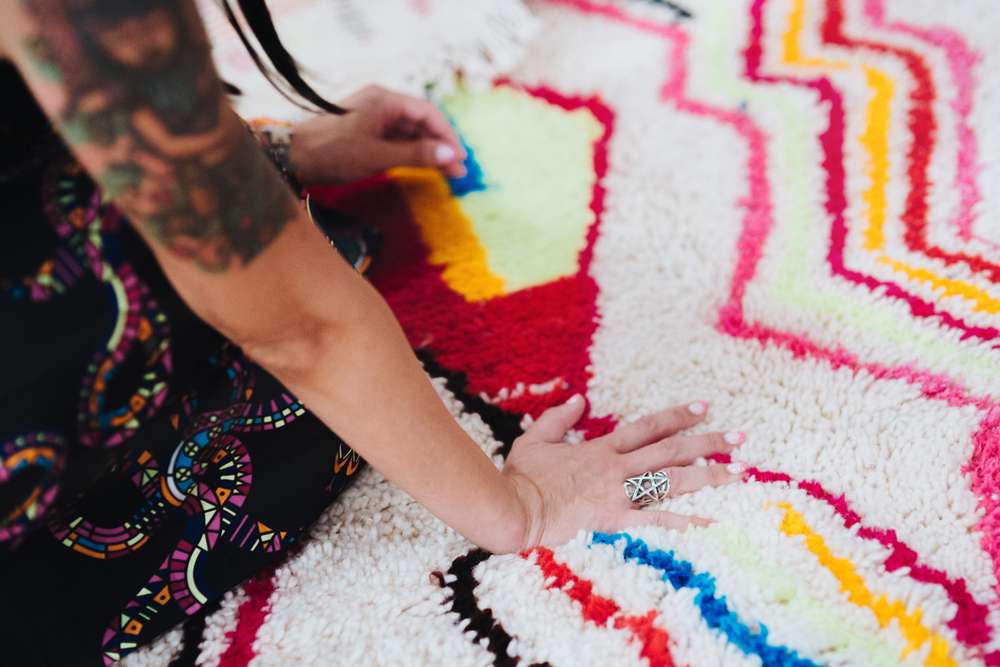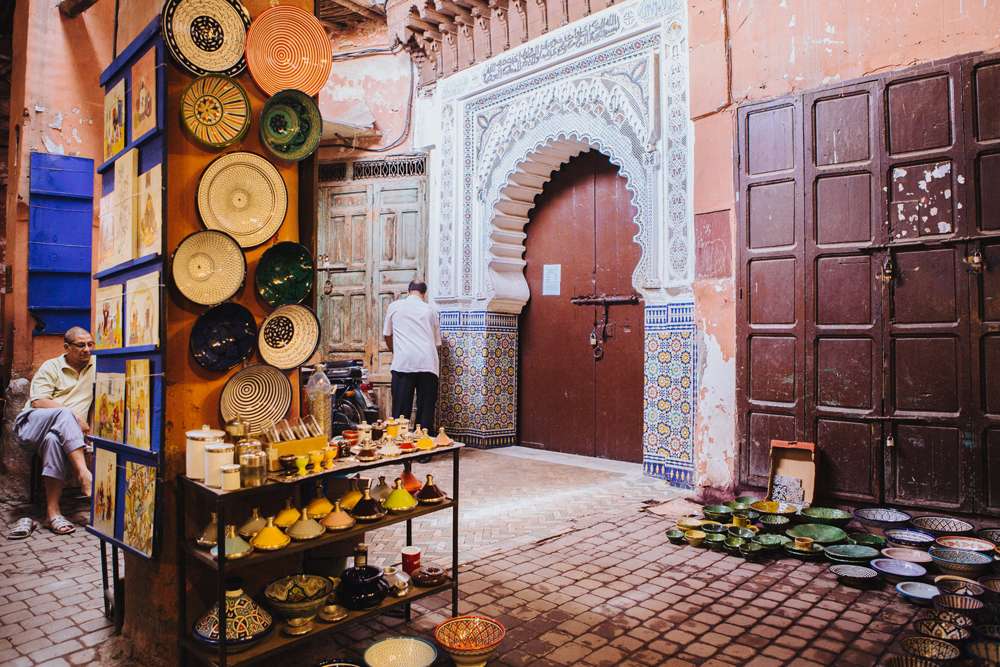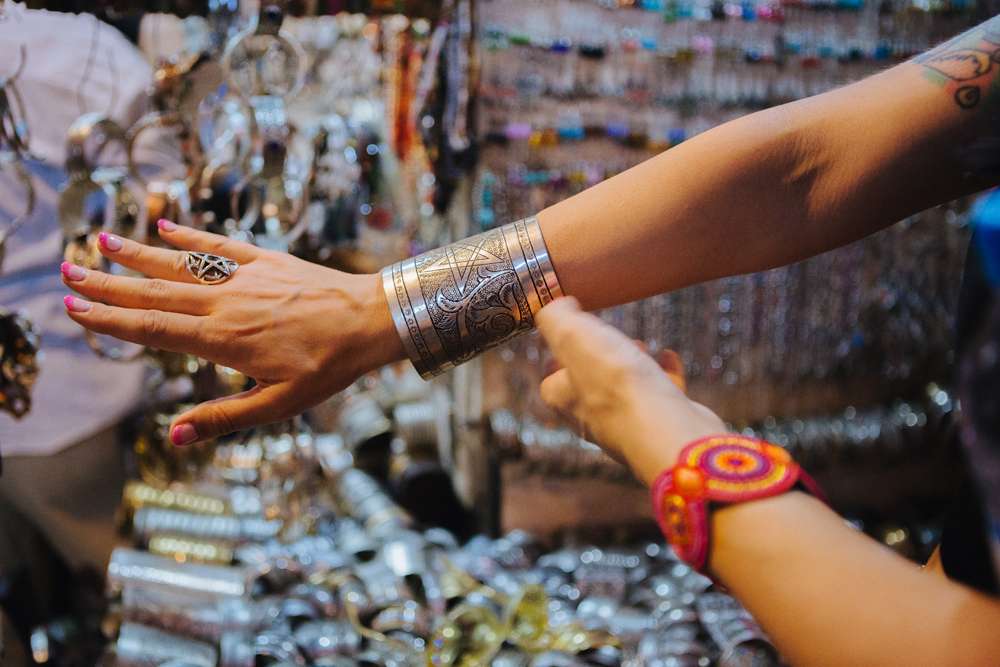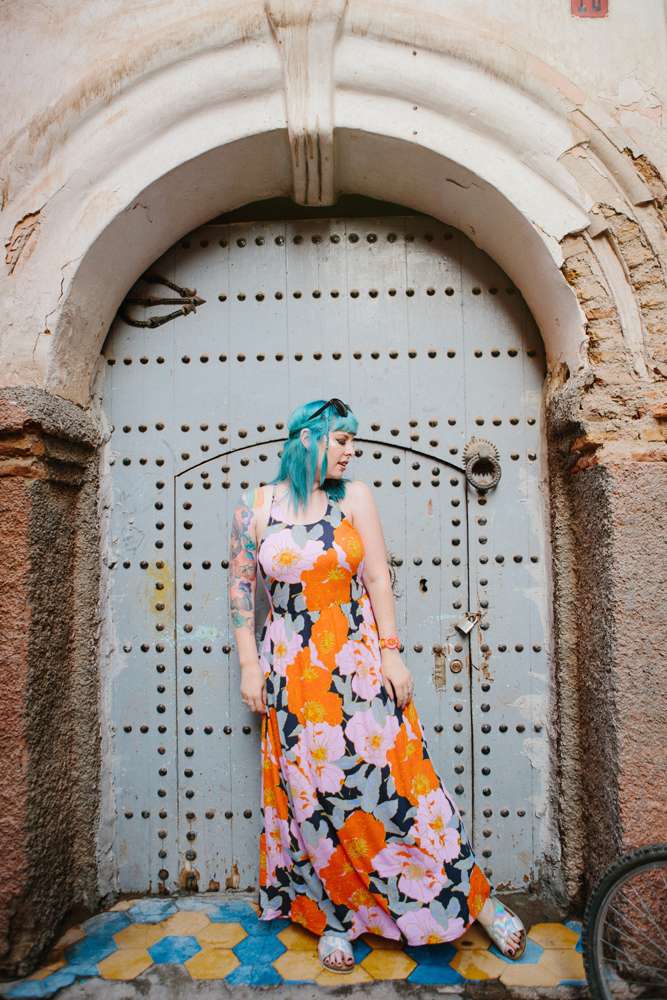 In August, my friends and I were invited over by the Dar Jaguar riad, owned by British-born designer Lucia Silver, to experience their hen weekend package. She not only offered us a fabulous place to stay, but put on an incredible itinerary to keep us entertained and inspired throughout our trip. When you visit a place more than once it's very easy to end up doing the exact same things the second (or in my case, third!) time around so it was awesome to be presented with some different options.
Here's a quick overview of what we got up to courtesy of the amazing Costa Sisters!
Before I get into telling you about everything we did, lets just take a moment to appreciate the beauty of Dar Jaguar itself. Lucia is a design obsessive and the riad is decorated in her own imitable and eclectic style. Leopard print wallpaper, four poster beds, golden bathtubs, deep black walls, a bubbling fountain full of rose petals, and a private plunge pool in the middle of the courtyard…! It really is like something out of your most vivid dreams!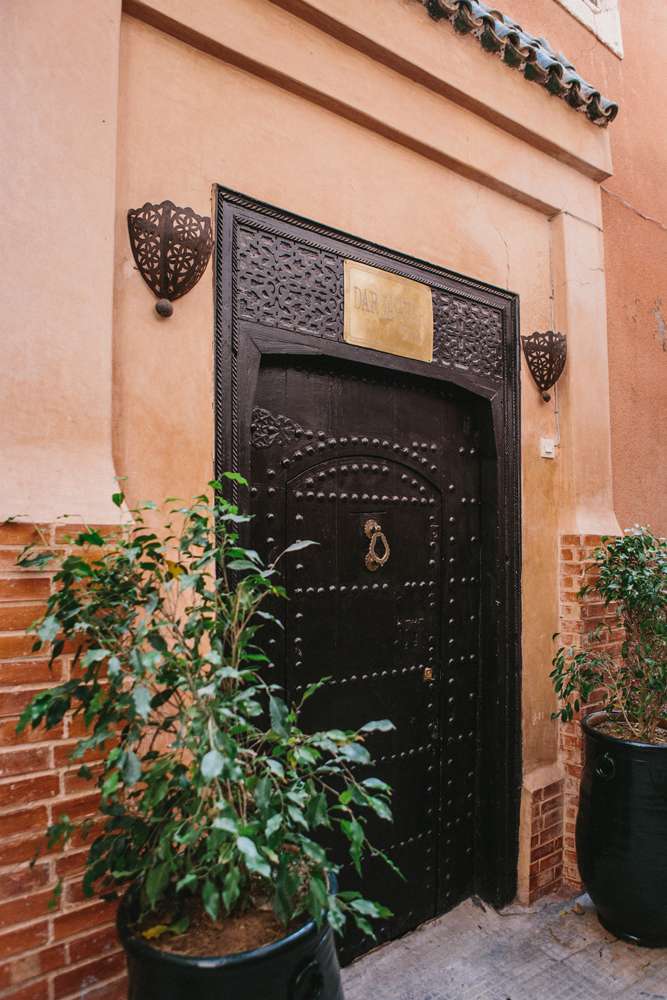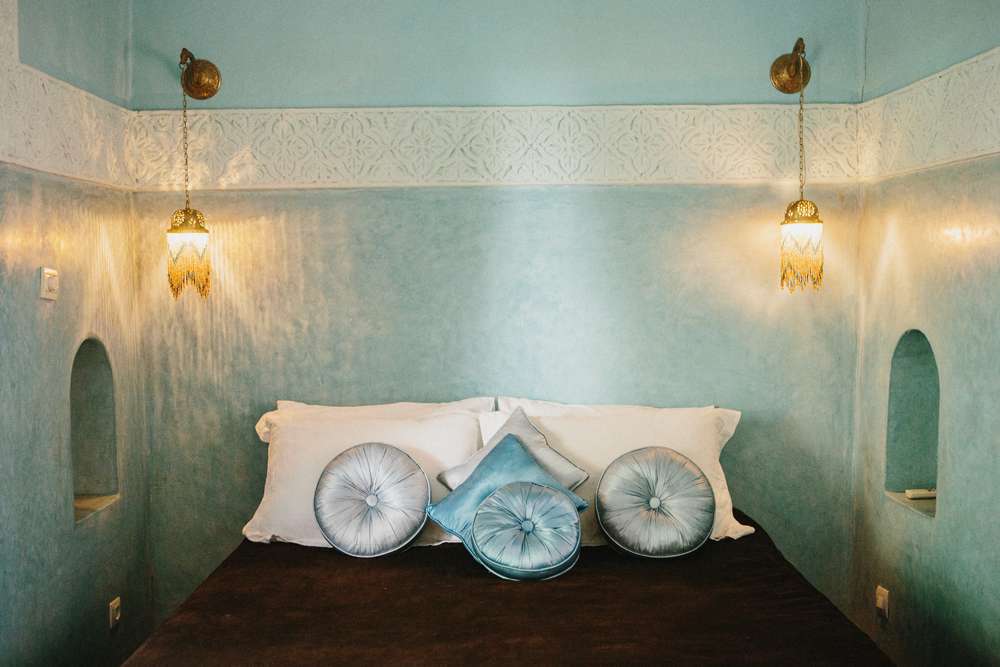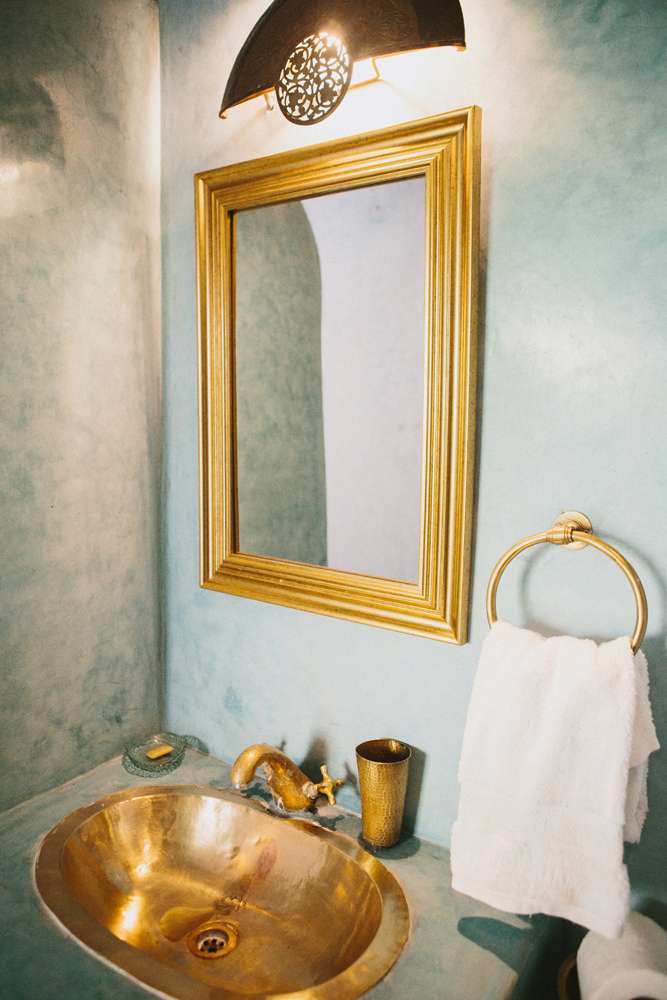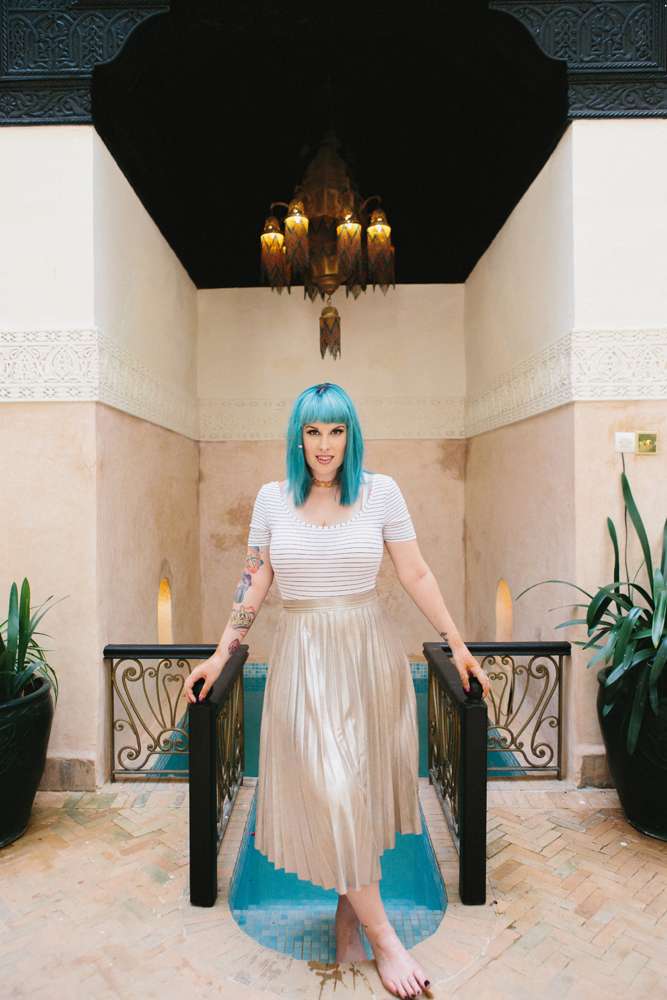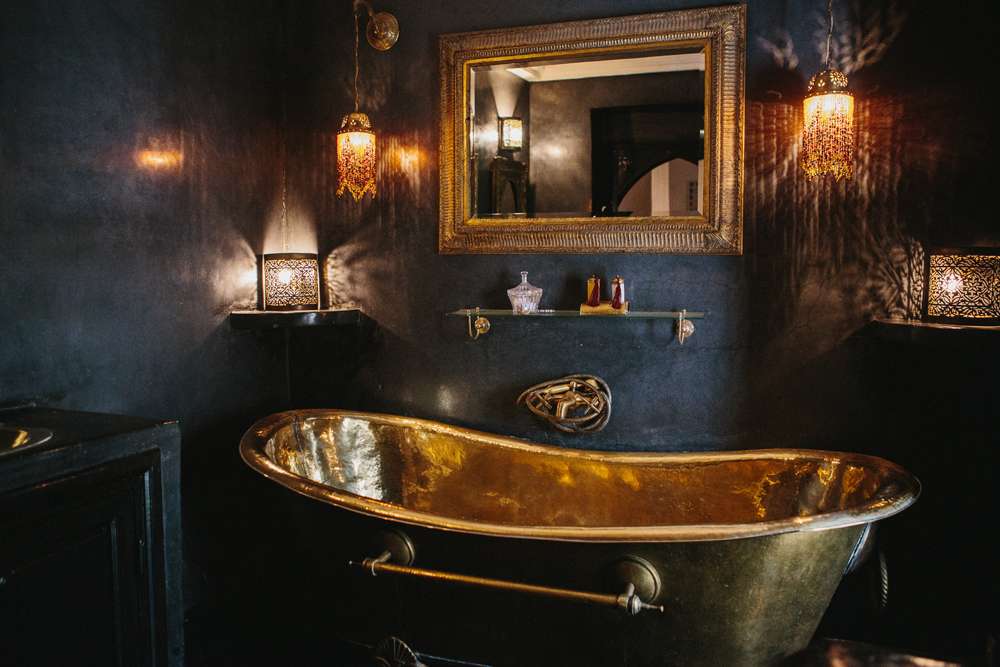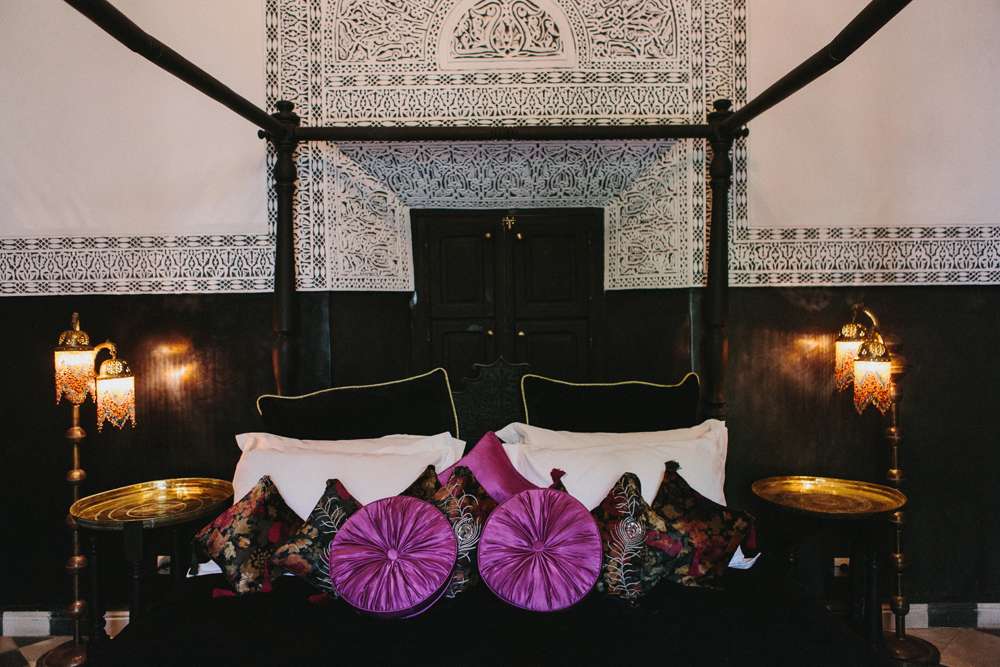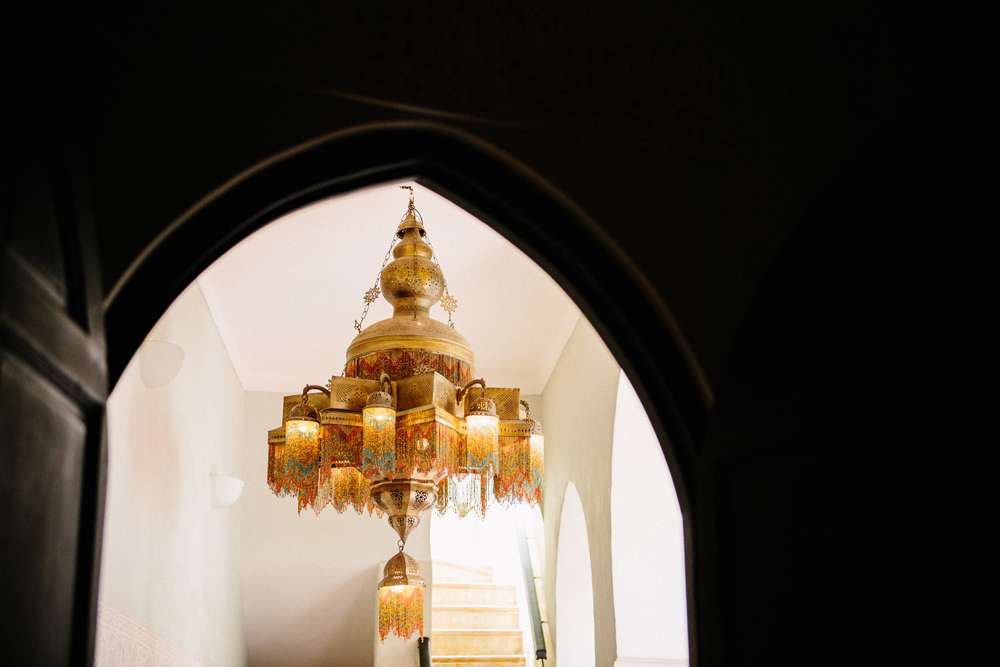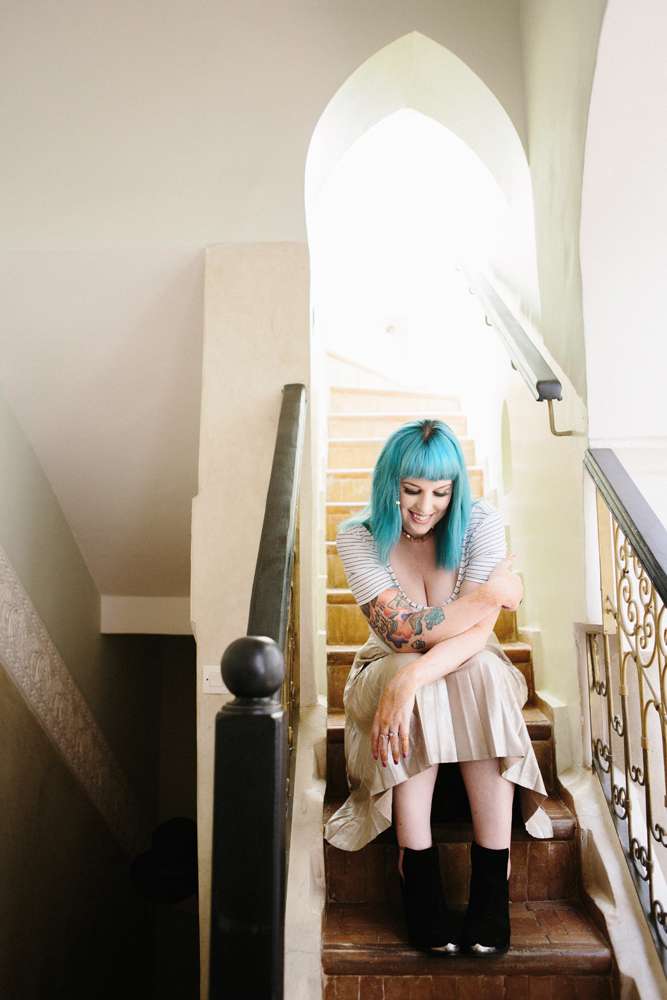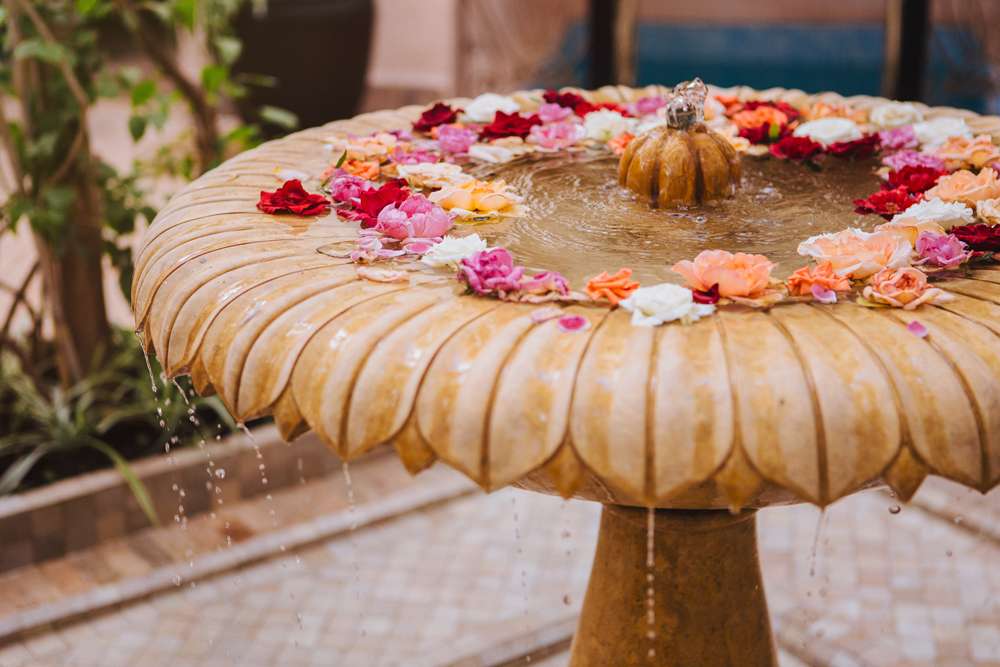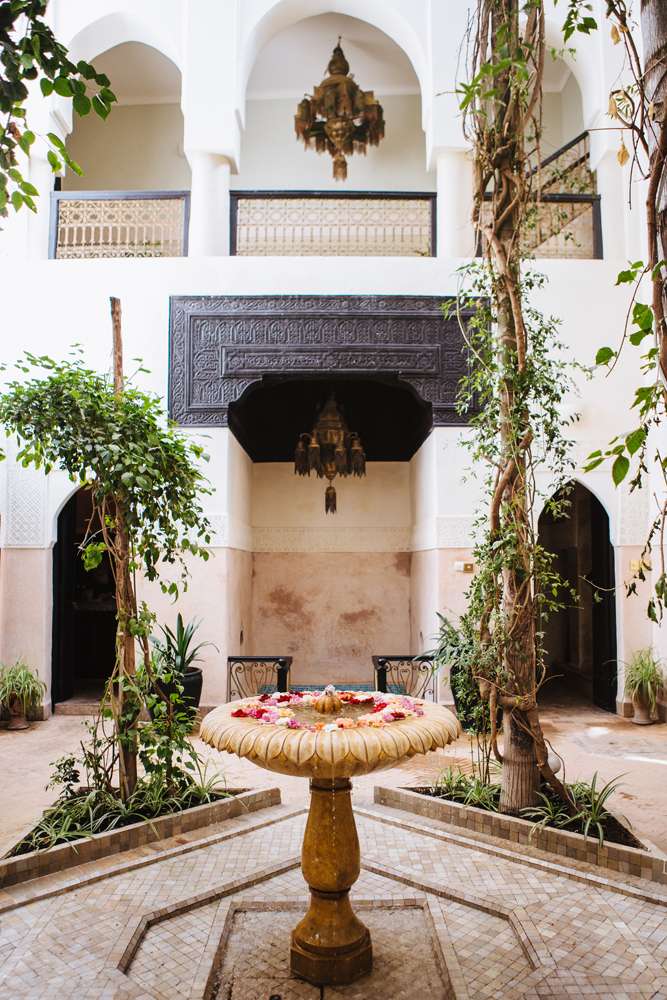 We had a couple of days worth of activities planned out which doesn't sound like a long time but we were able to achieve a lot in that time – including plenty of shopping of course. Marrakech is my favourite place to lose all my money!
After a hearty breakfast on the riad's rooftop, our first day kicked off with a guided tour of the souk where we ogled over rainbow rugs, rose gold pots and incredible turquoise jewellery. Even though I'd visited twice before it is still extremely easy to get lost in the winding maze of the medina so having a guide with us was invaluable while we figured out our bearings.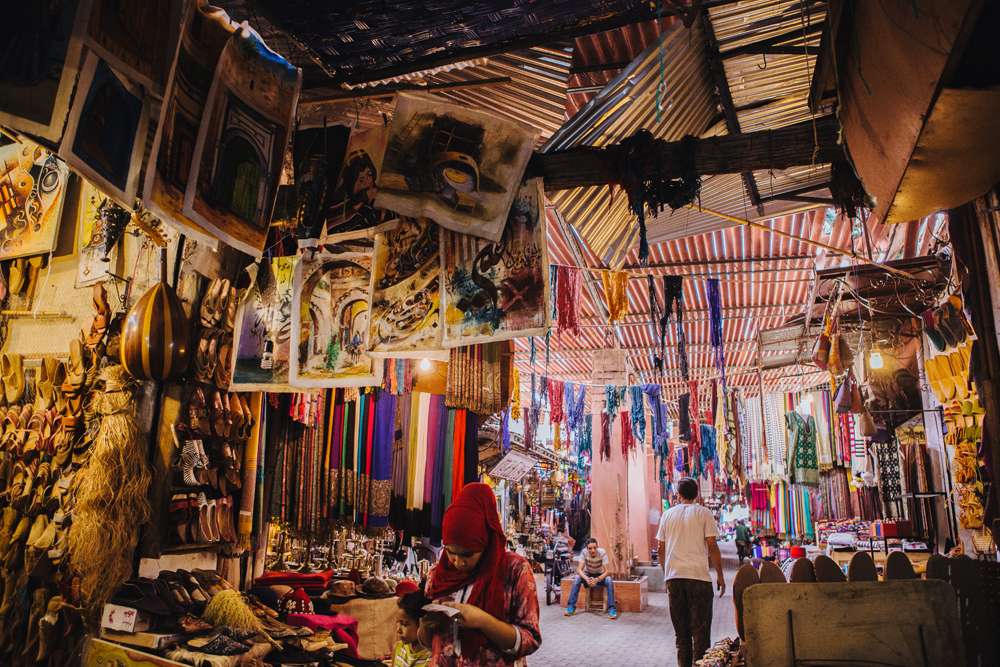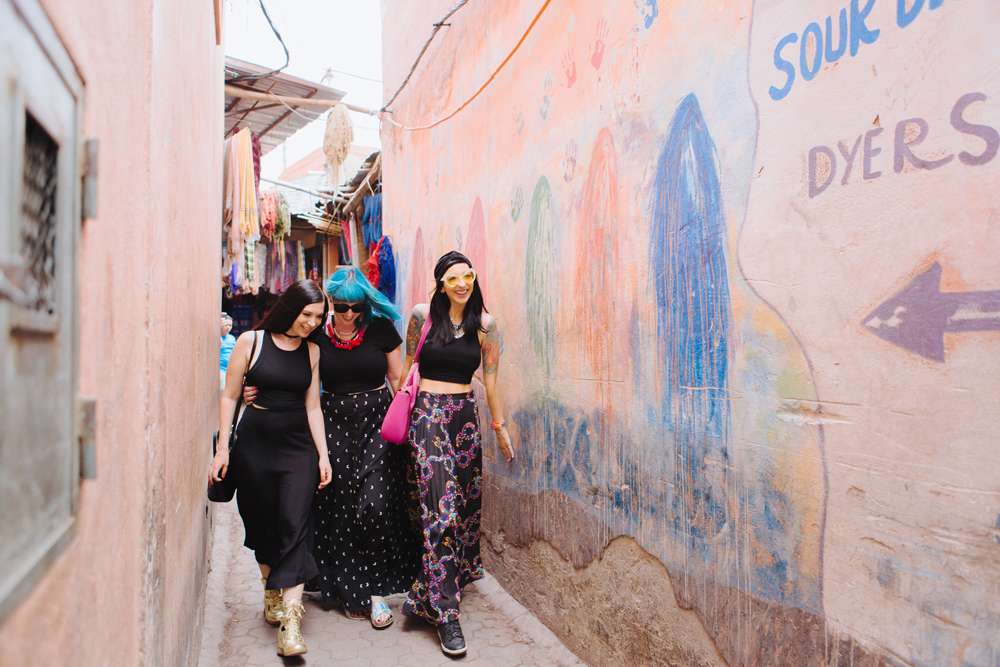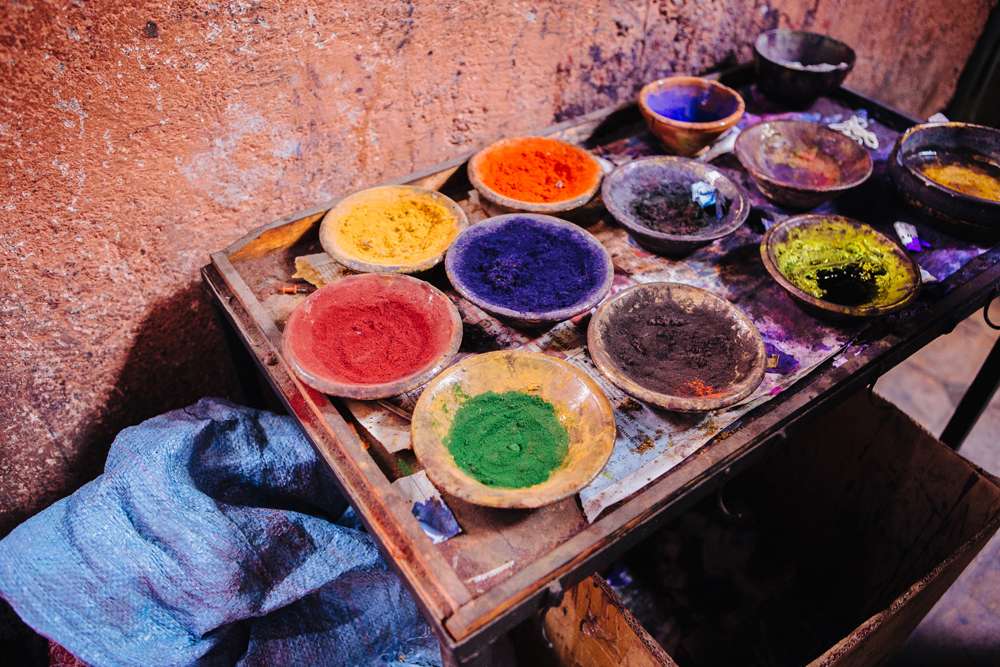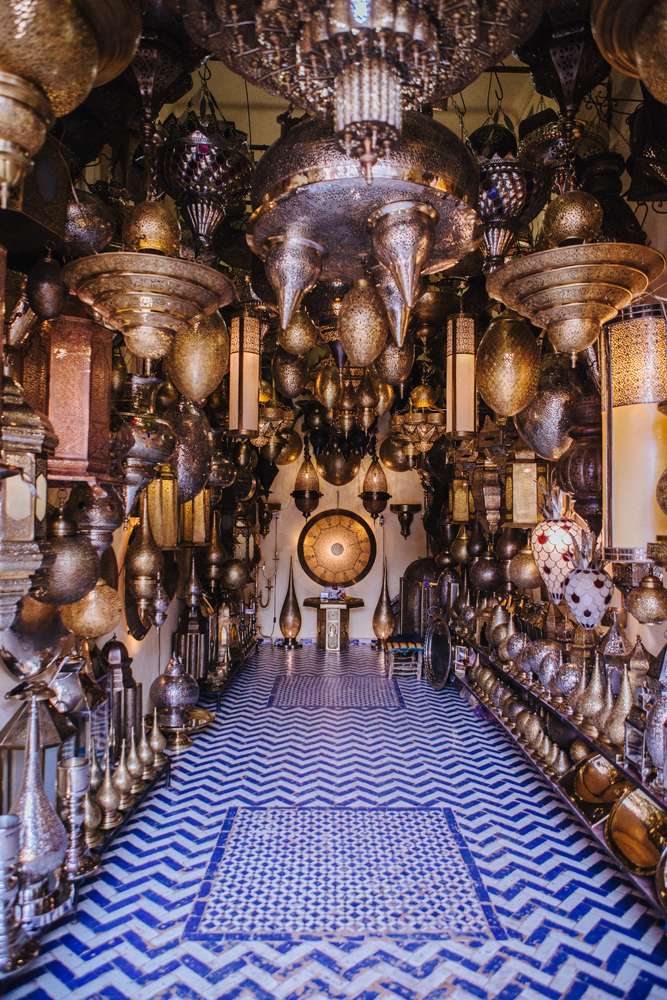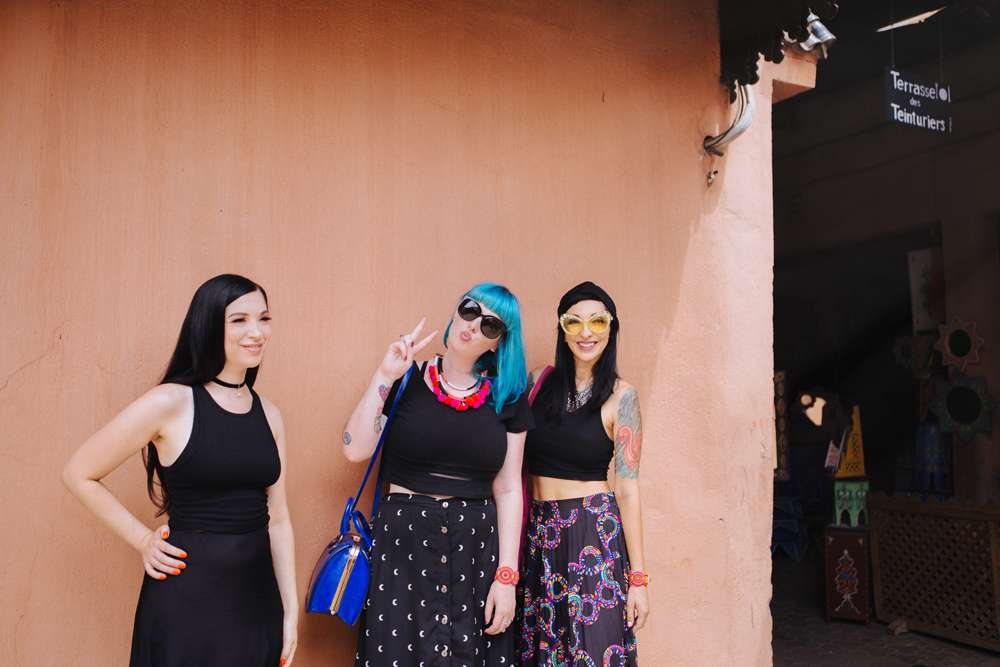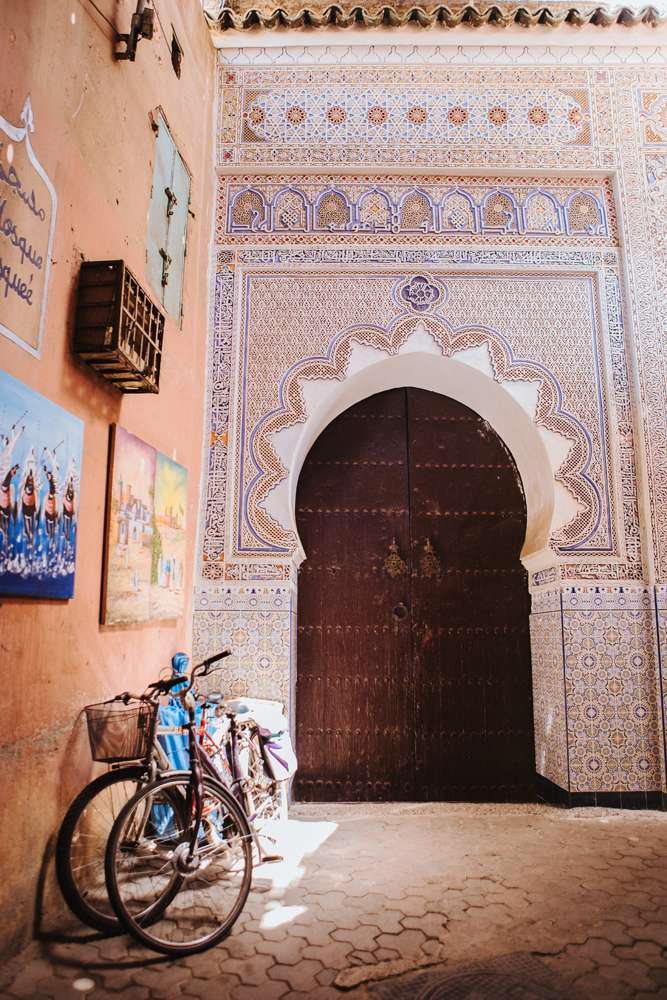 Getting excited about embroidered baskets and rainbow pom poms!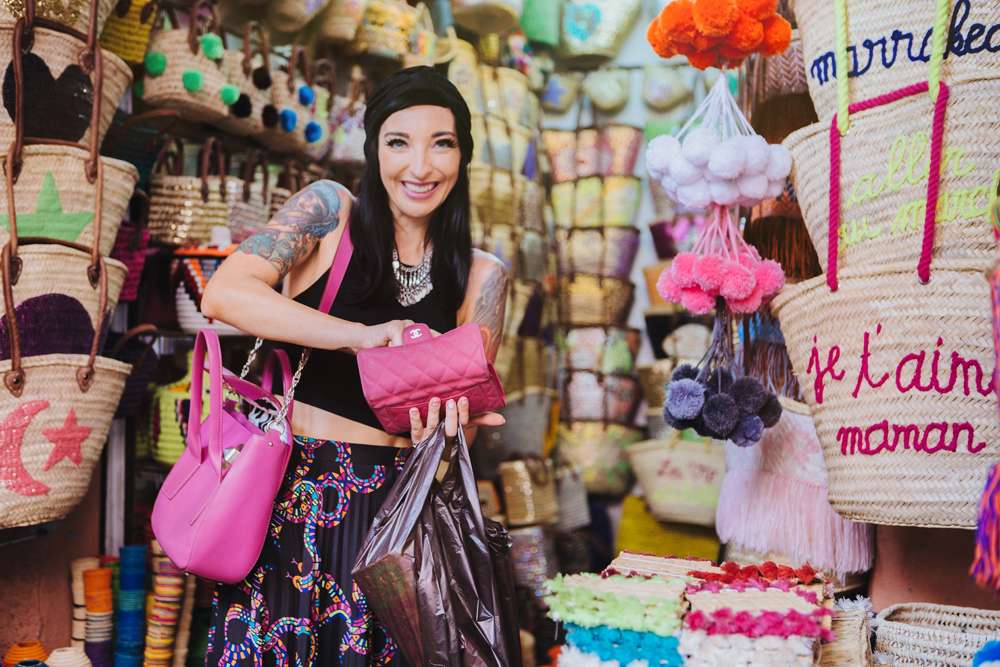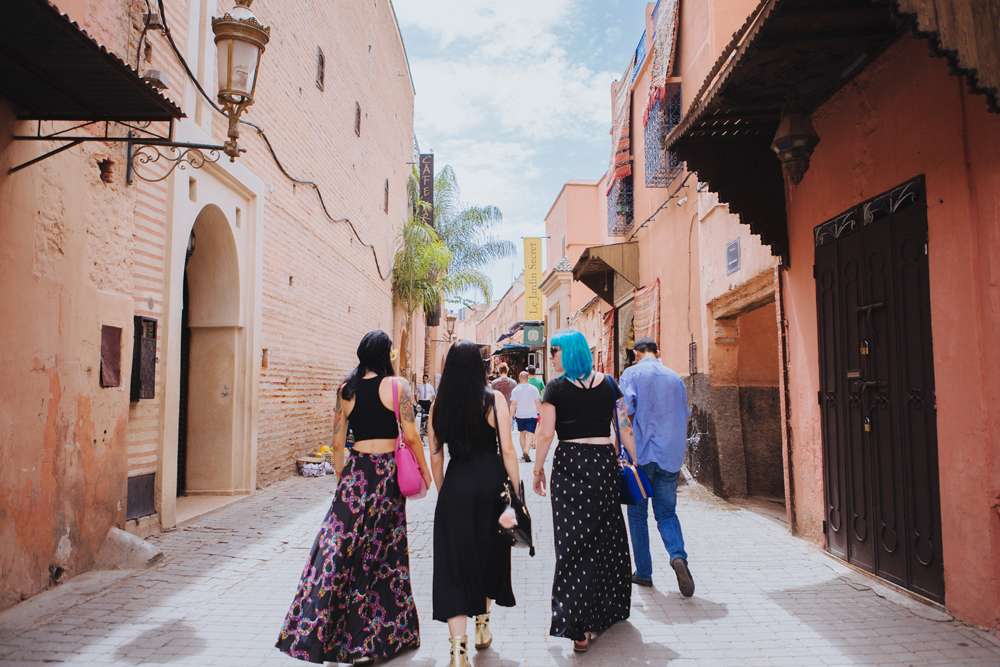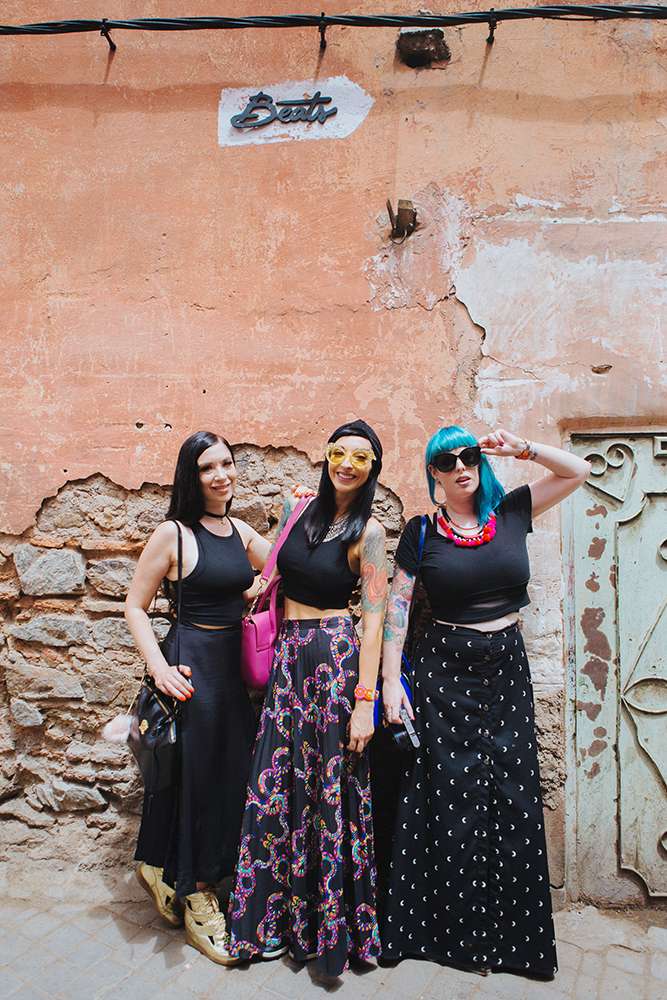 Looking at amazing local jewellery with expert Sarah Corbett. She told us all about jewellery specifically related to female symbolism in Moroccan history which was super cool!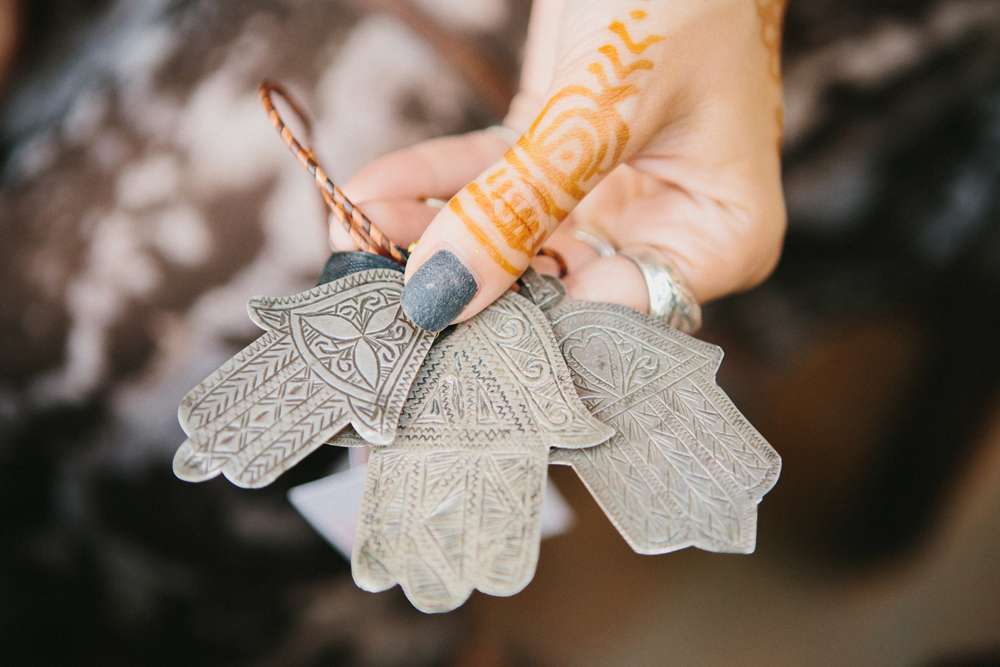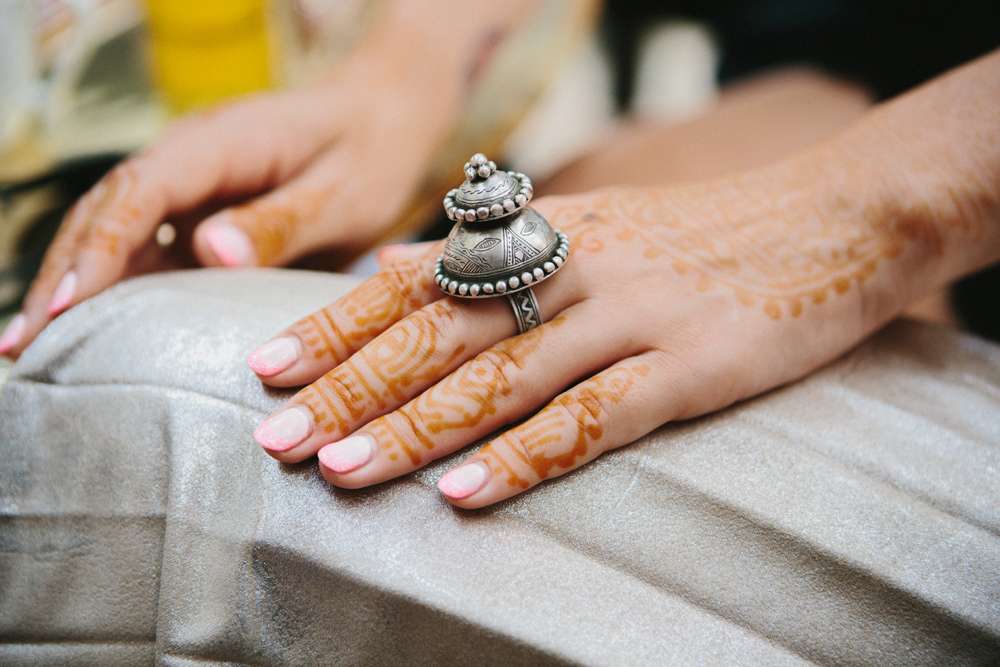 We also visited Le Jardin Secret, a beautiful garden which has only recently opened in the centre of the medina…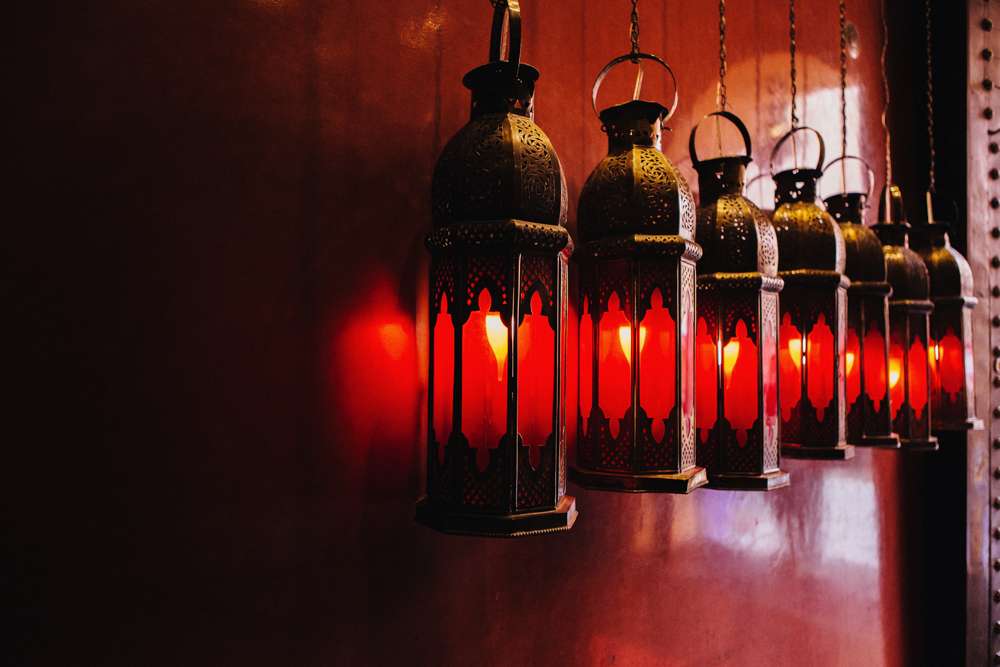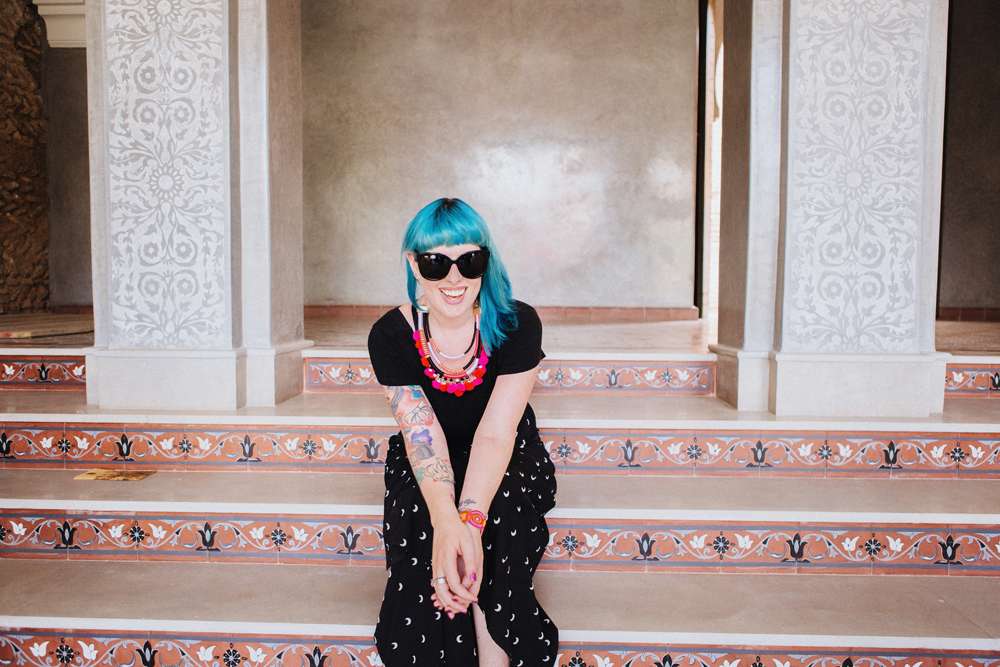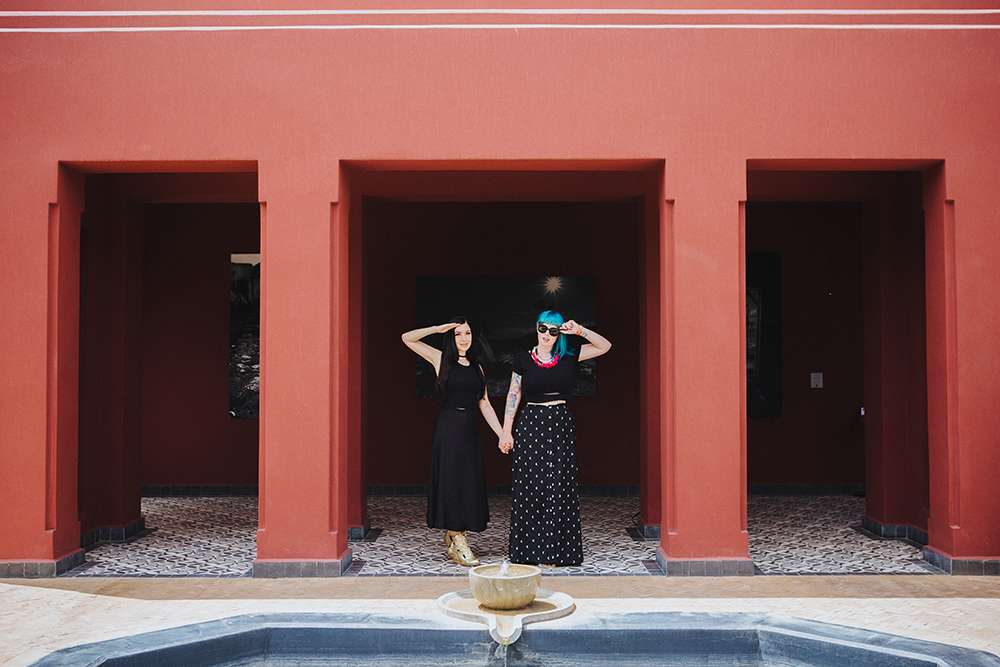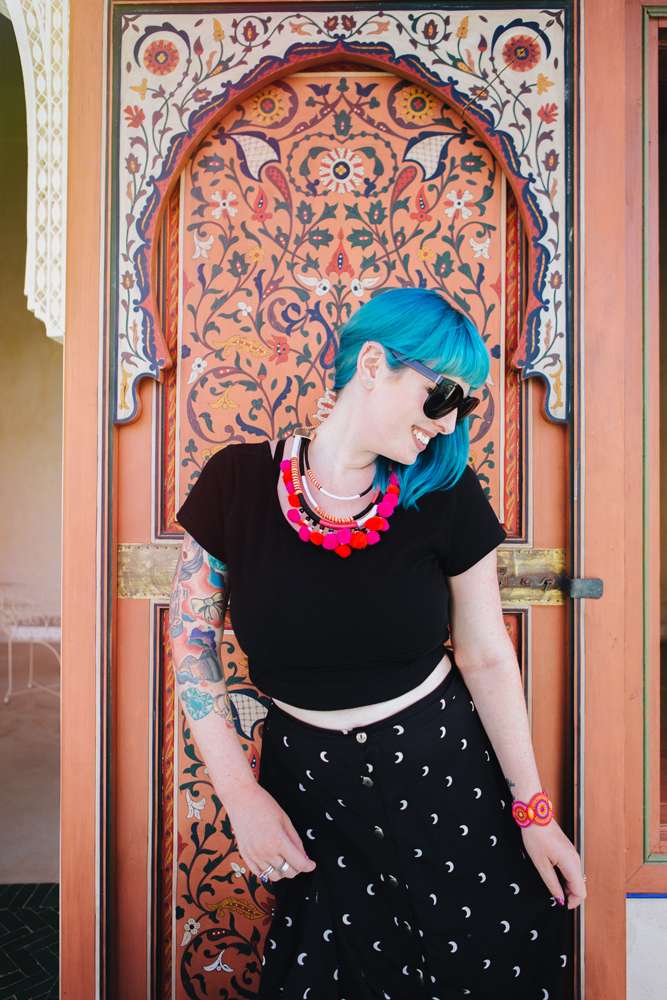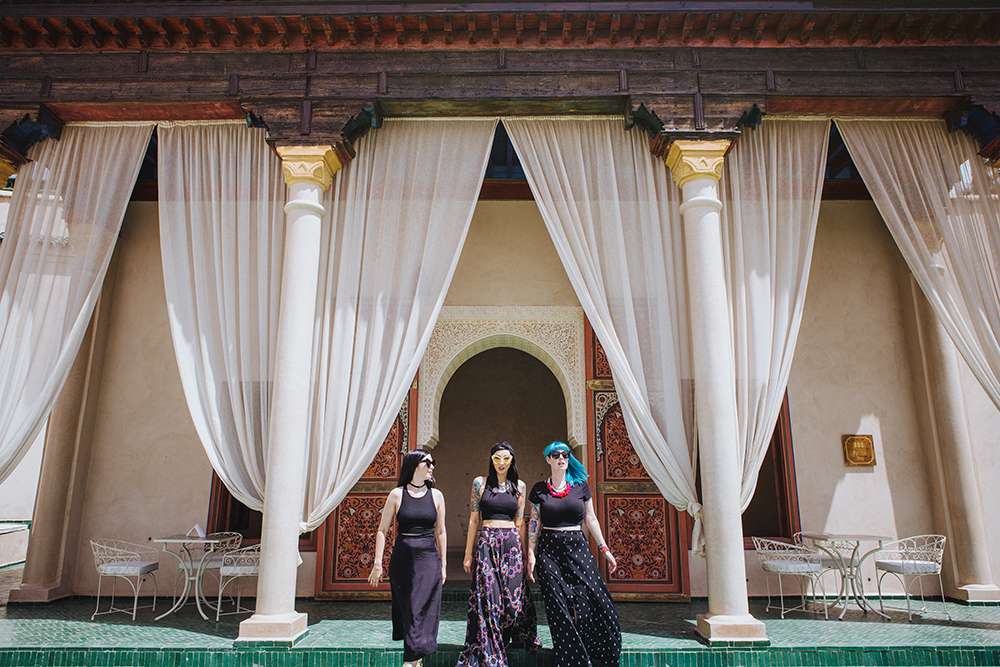 …Before heading out to the Palmeraie for something we were all super excited about – camel riding! It was hilarious trying to get all those camels in a line to get a decent photo but so much fun! No trip to Marrekech is complete without a camel ride. On longer visits you can even arrange to do them out in the actual desert, which is a few hours drive from the city.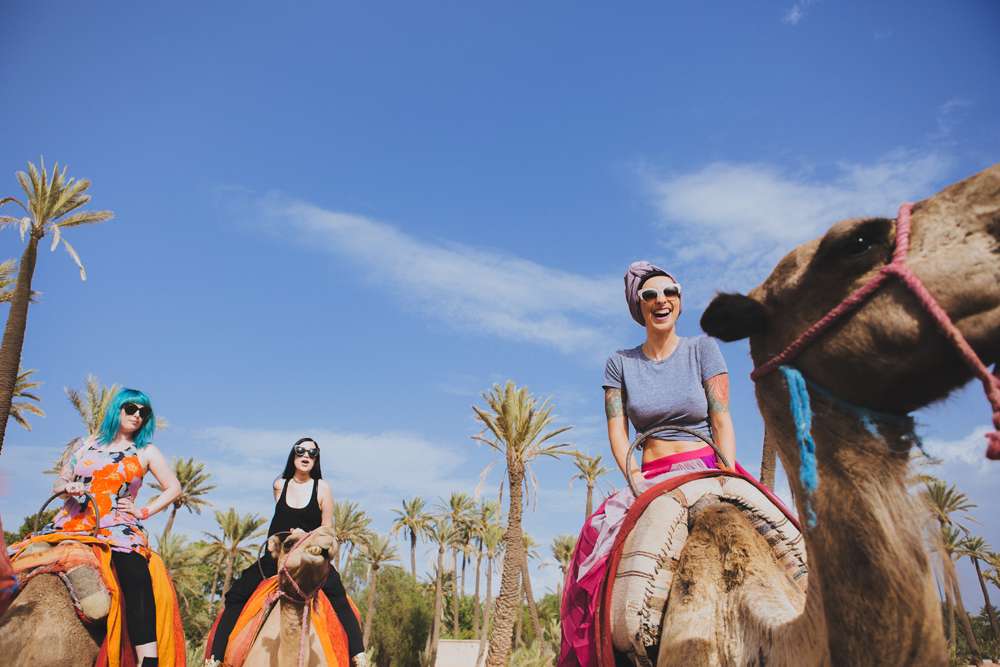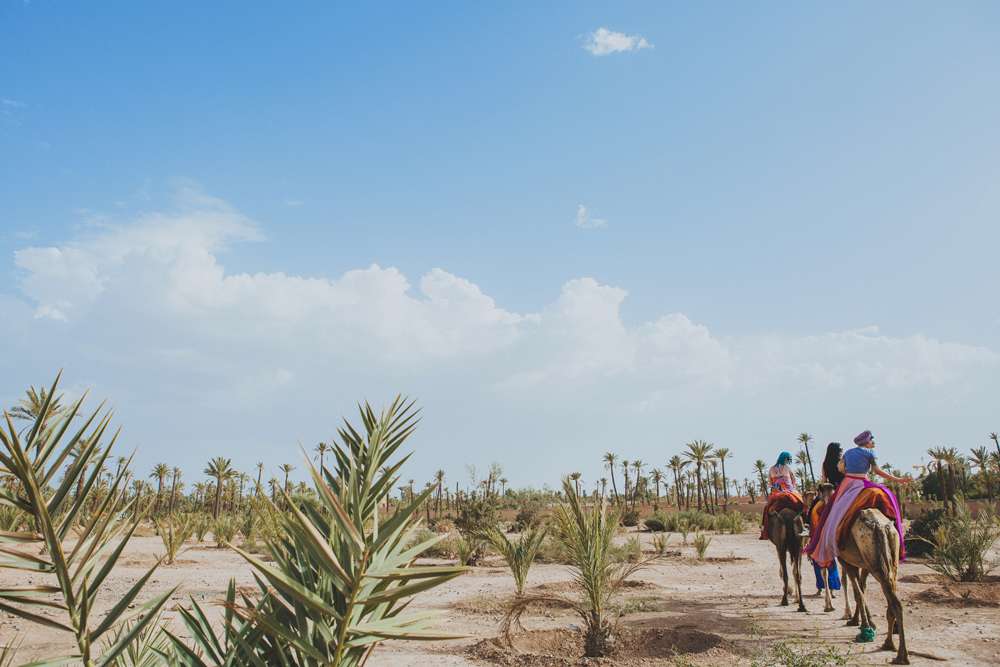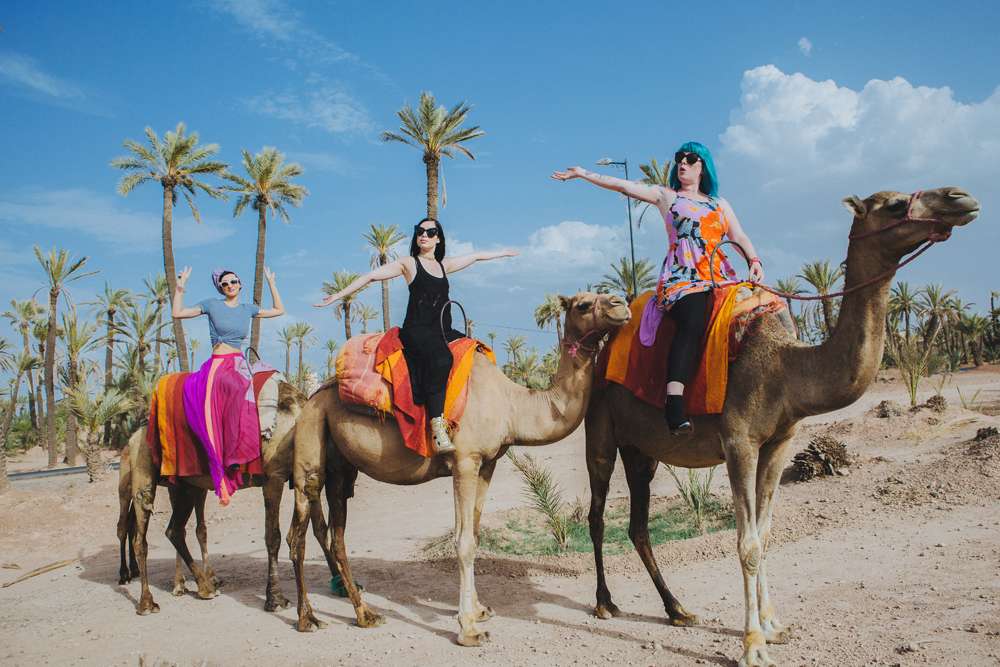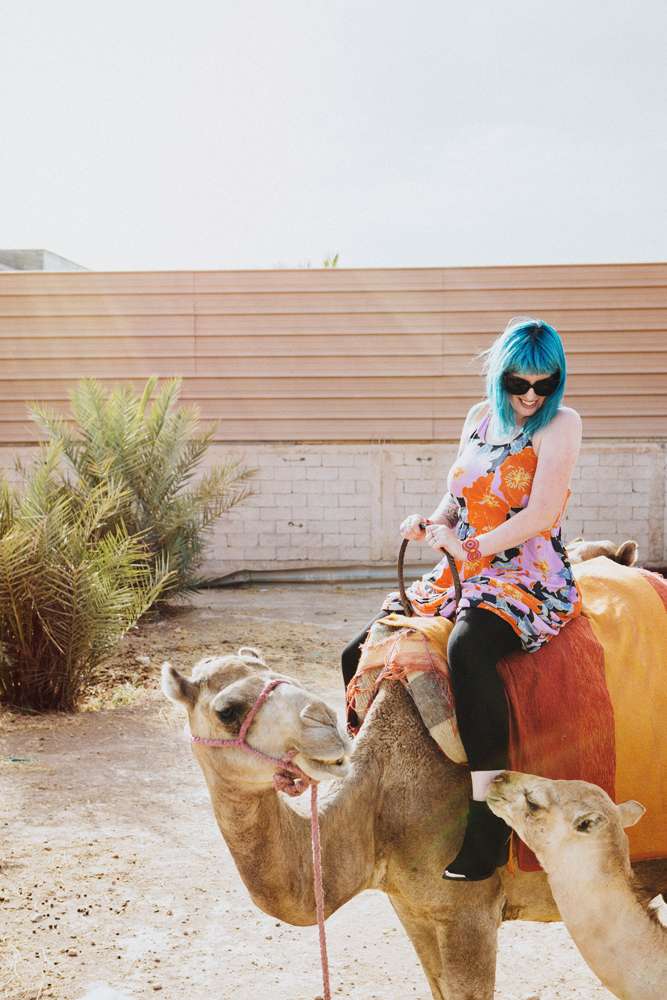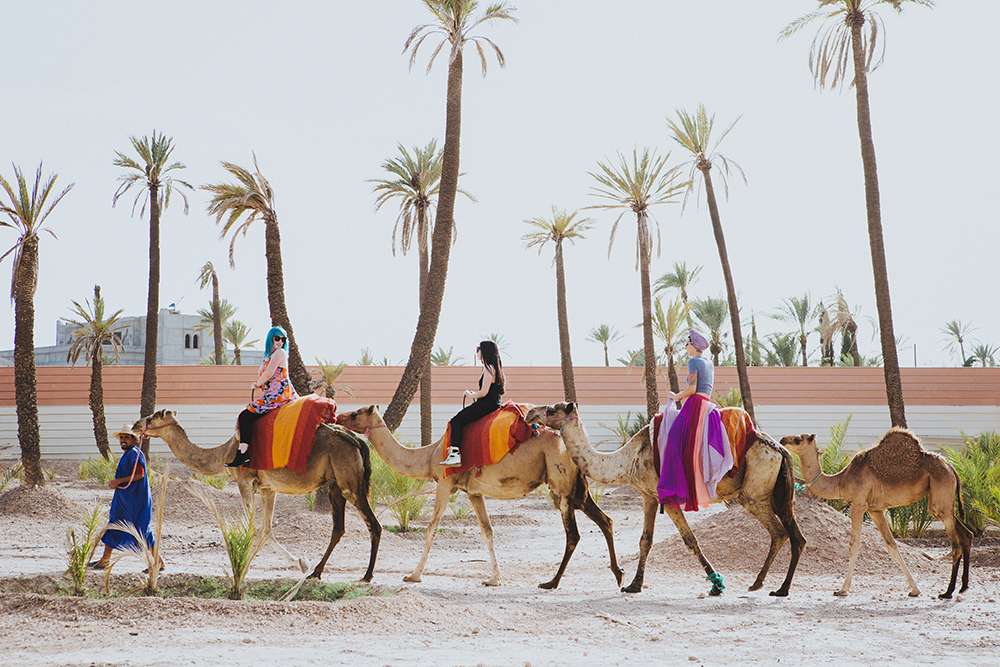 Our first day ended with dinner in the main square, at an authentic food market. I'll be honest, Place Jemaa El Fna Square isn't my favourite part of Marrakech – people shout at you, it's very busy, there are monkeys on chains and people trying to give you bad henna – but the food was fantastic and very inexpensive. I was grateful to have Dar Jaguar to head back to at the end of the night though. Lucia even treated us all to hour long full body massages before bed. Wow!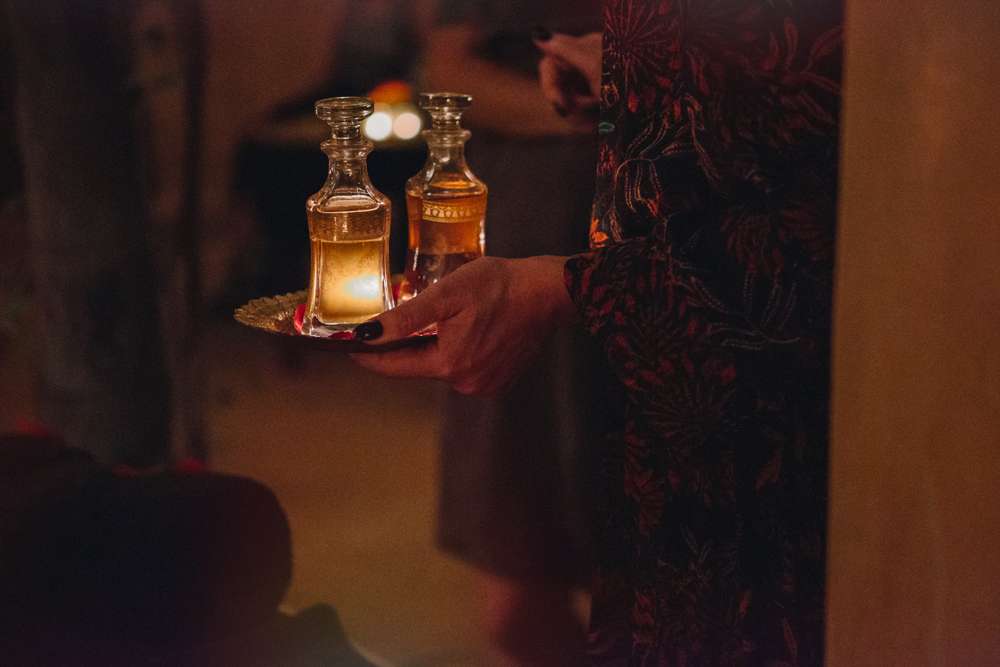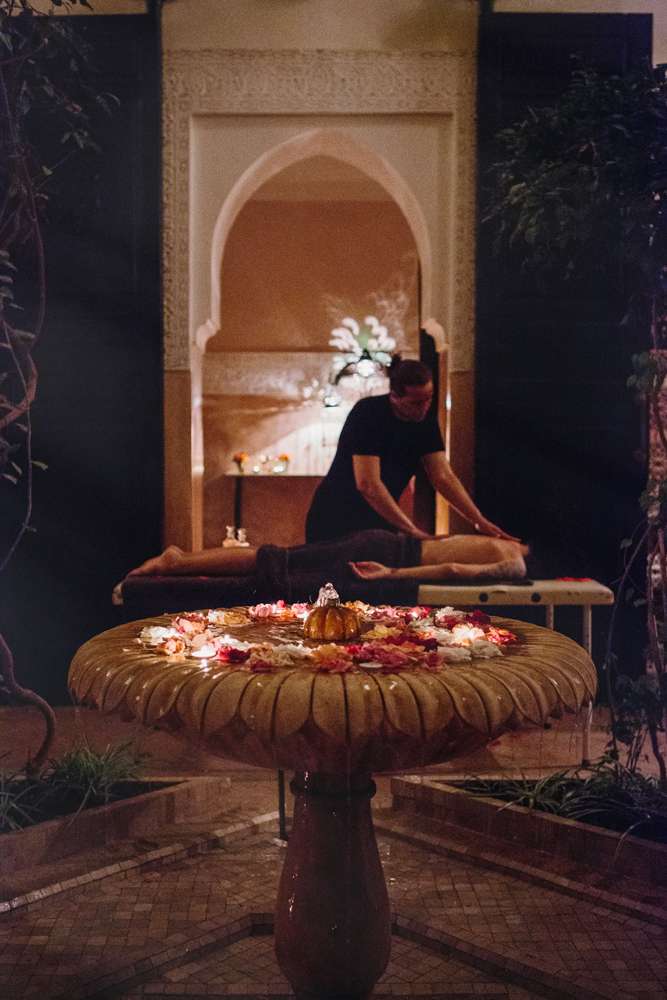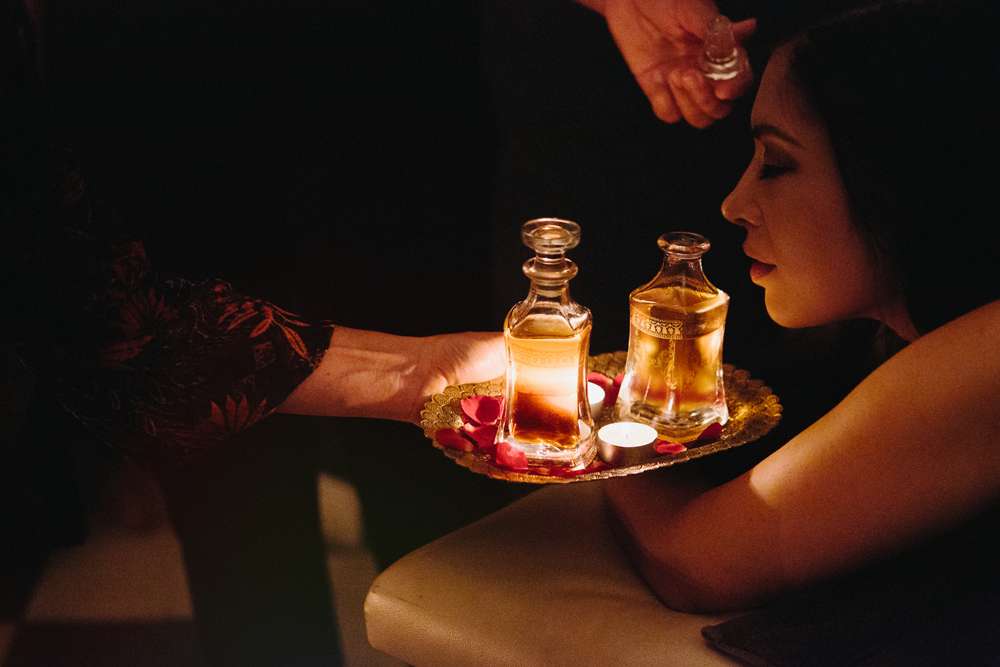 On day two we were taken out of the city by Dar Jaguar's private guide, Abdel, on a drive to Ourika. We passed the Berber hamlets built of baked clay and stone and stopped at Aitma Sens in Asguine, a women's Argan Oil charity.
We met some of the women who work there, most of them have been given refuge and work after coming from difficult backgrounds. We were given a tour of the facility (and even allowed who help them grind up some of the nuts) and all left with lashing of oil to take home with us.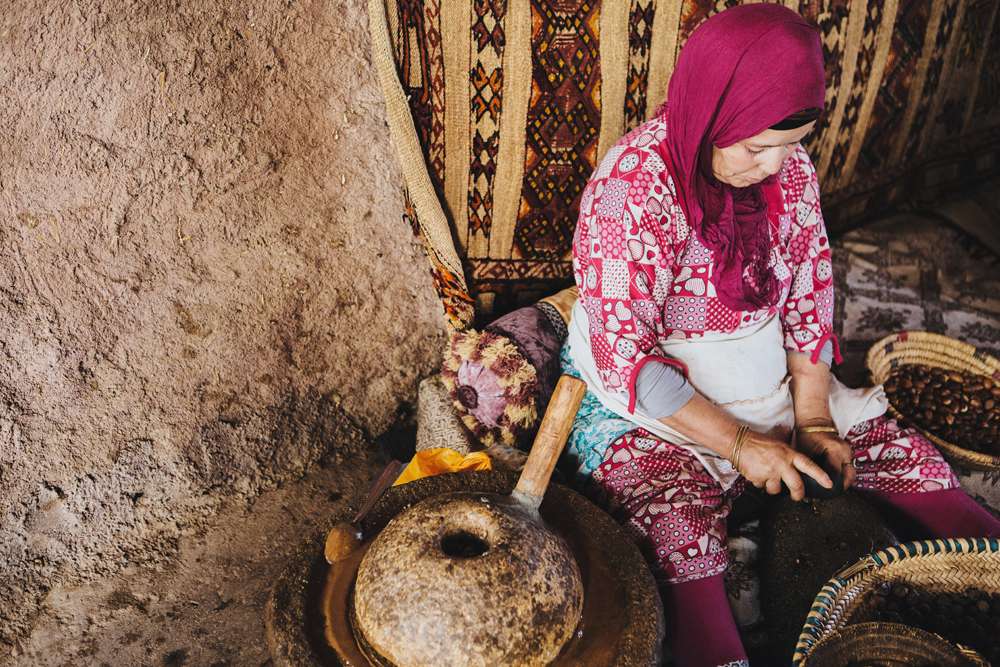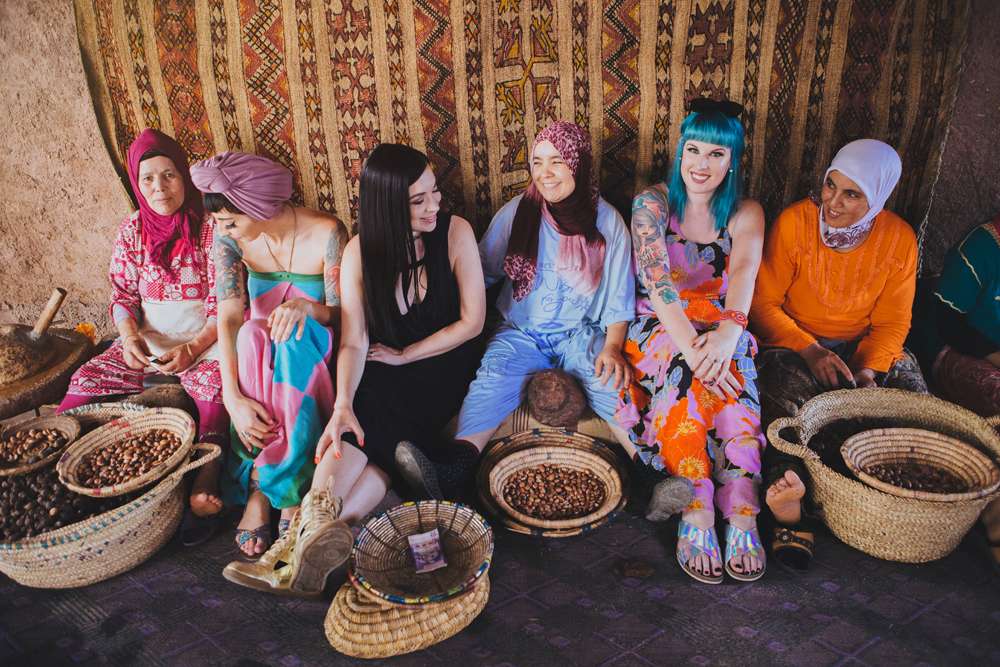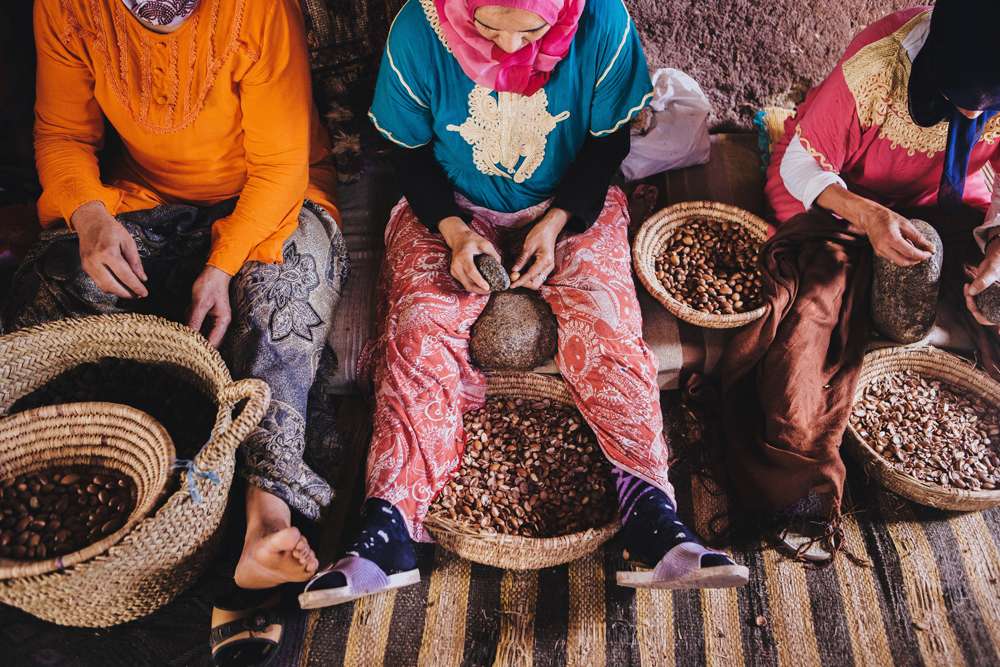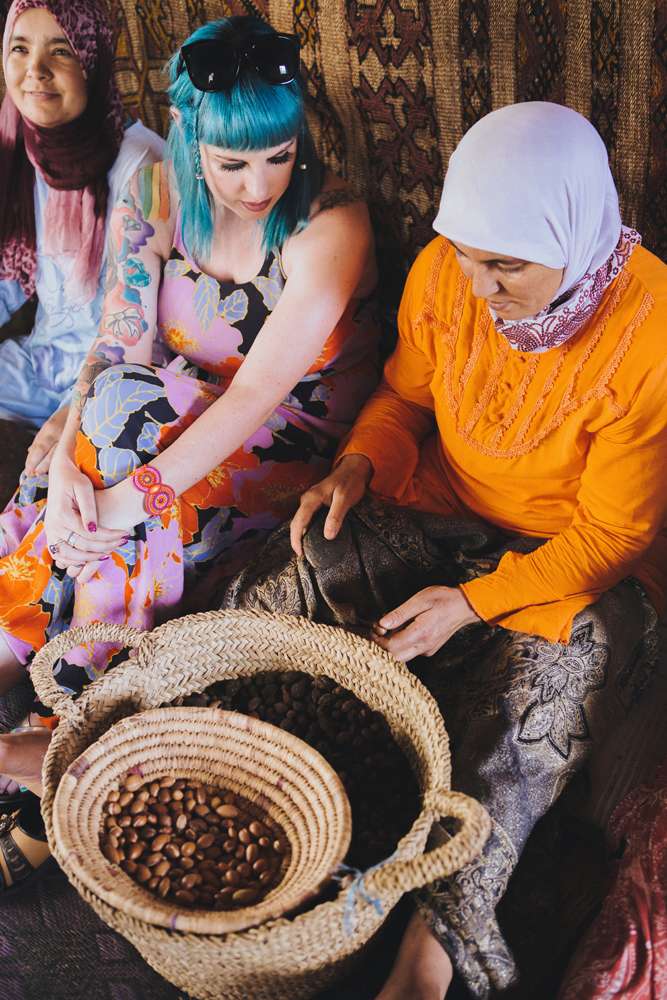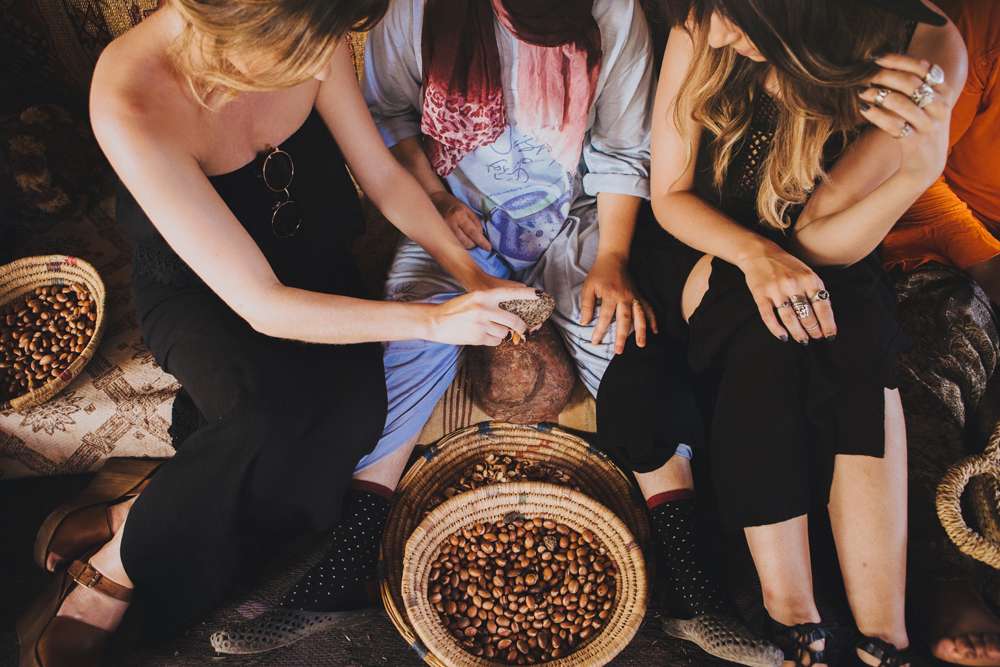 This little girl was so adorable, she liked showing us all the different oils and getting us to smell and taste them.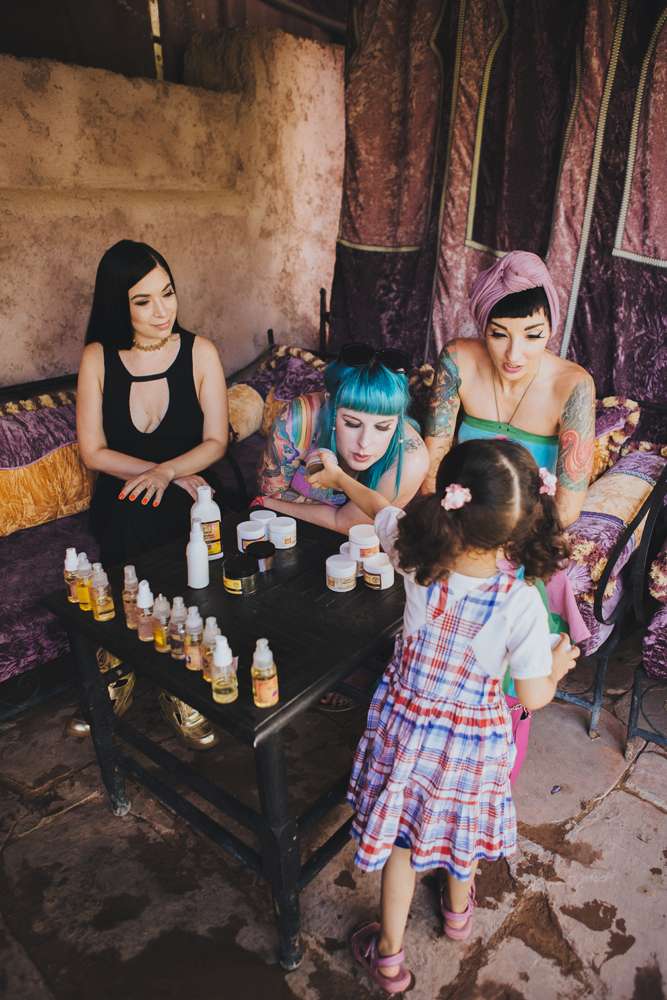 She also LOVED Gala's phone. I guess it doesn't matter which country you're in, all little kids are obsessed with mobile phones! She knew exactly how to take a selfie too!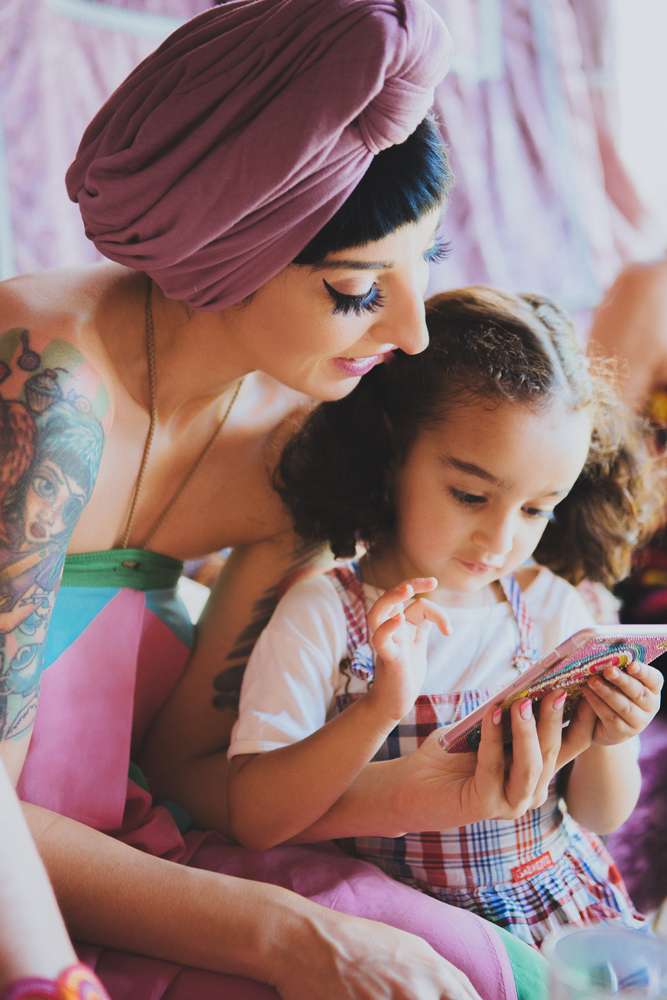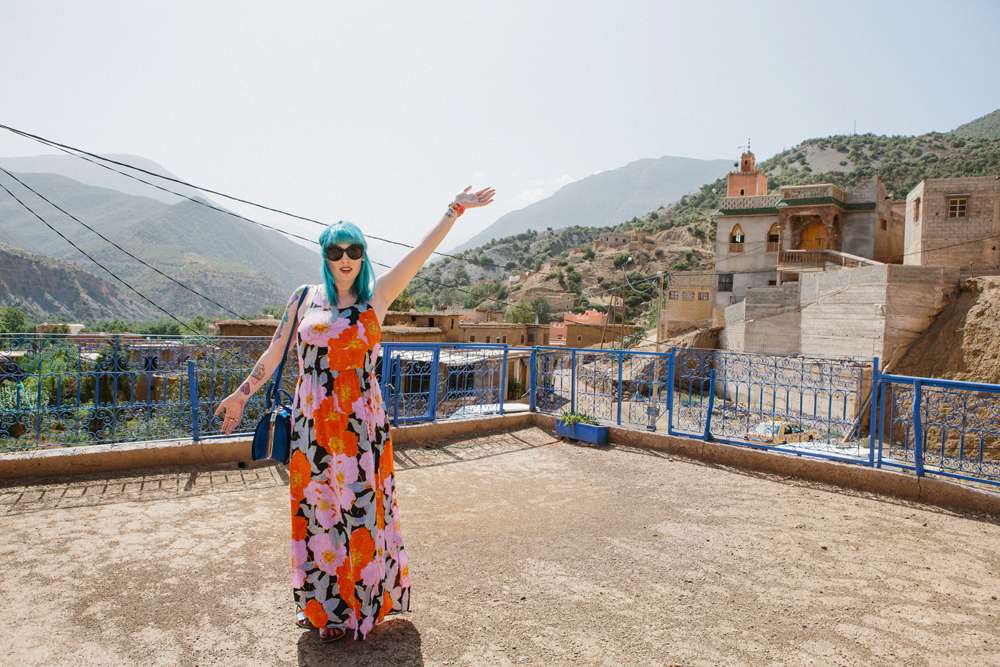 One of the most… eventful should we say, parts of the trip was our visit to the Ourika Waterfalls. We were told we were going to visit a waterfall but not that we had to practically hike up a mountain to get there! The walk started off innocently enough, a bit treacherous at times but there was an actual path as well as restaurants and little stores to look at.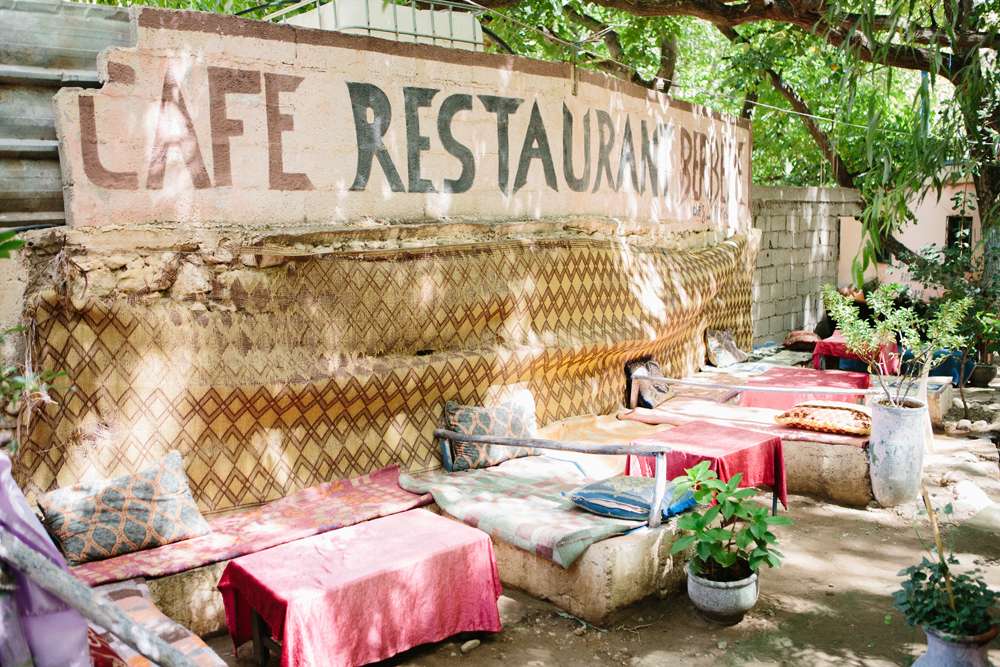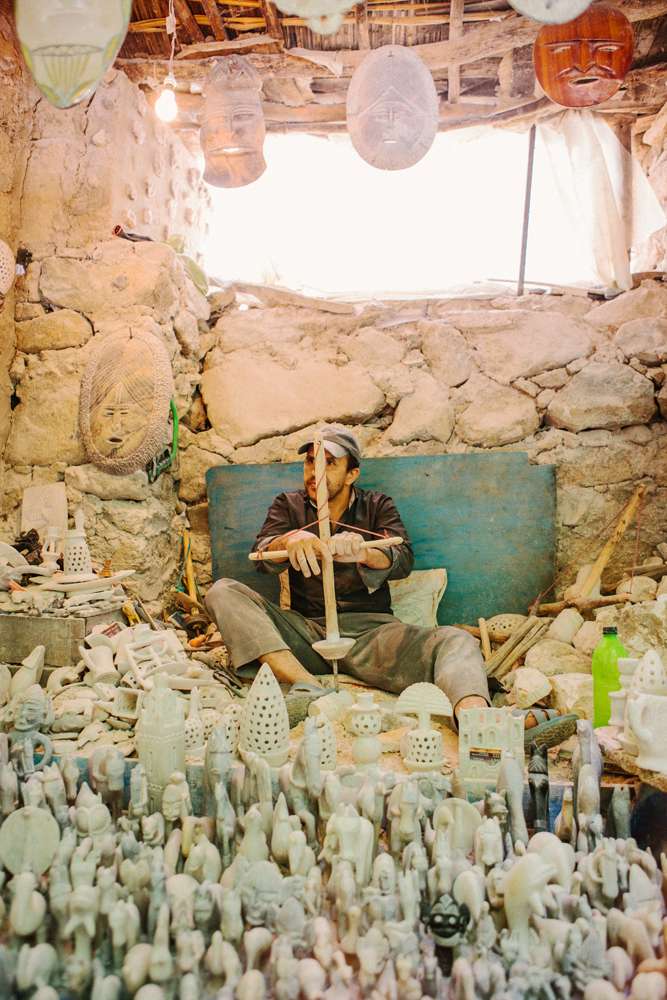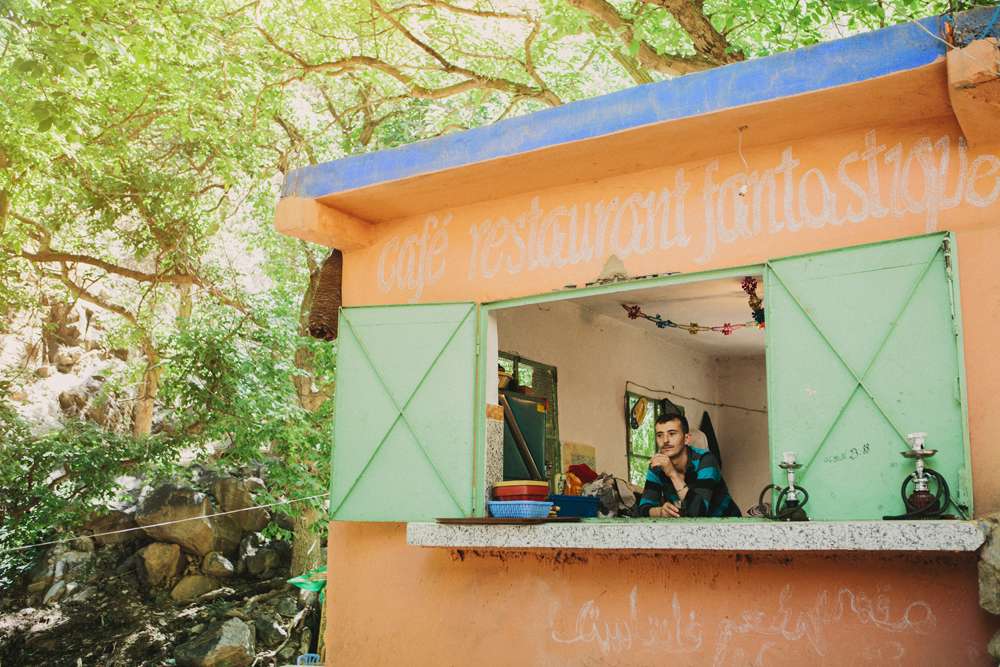 These makeshift fridges are how they keep the drinks that they sell cool. That's fresh mountain water splashing all over them.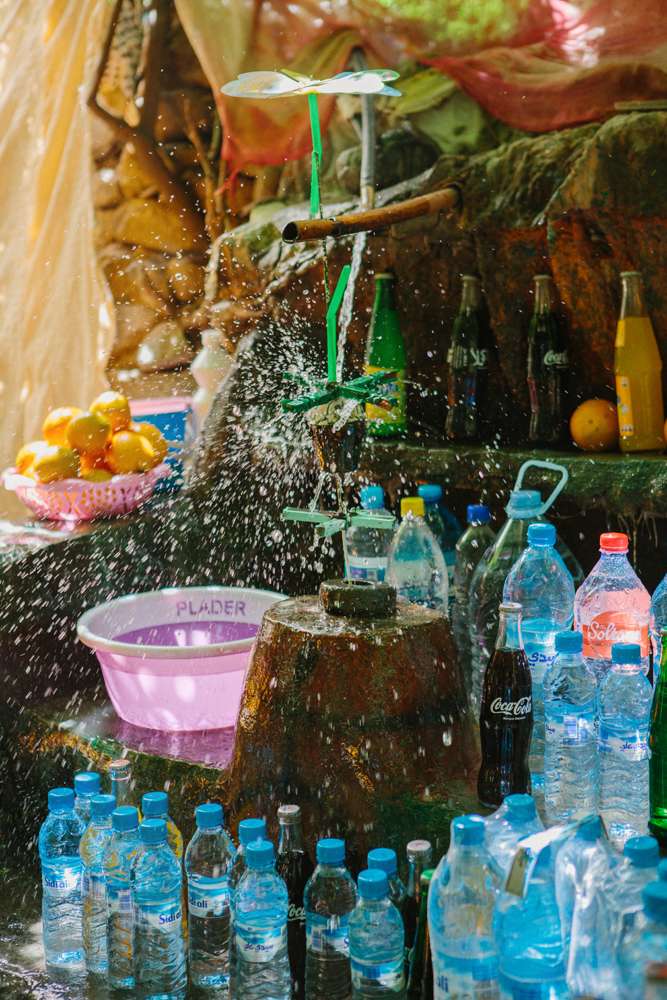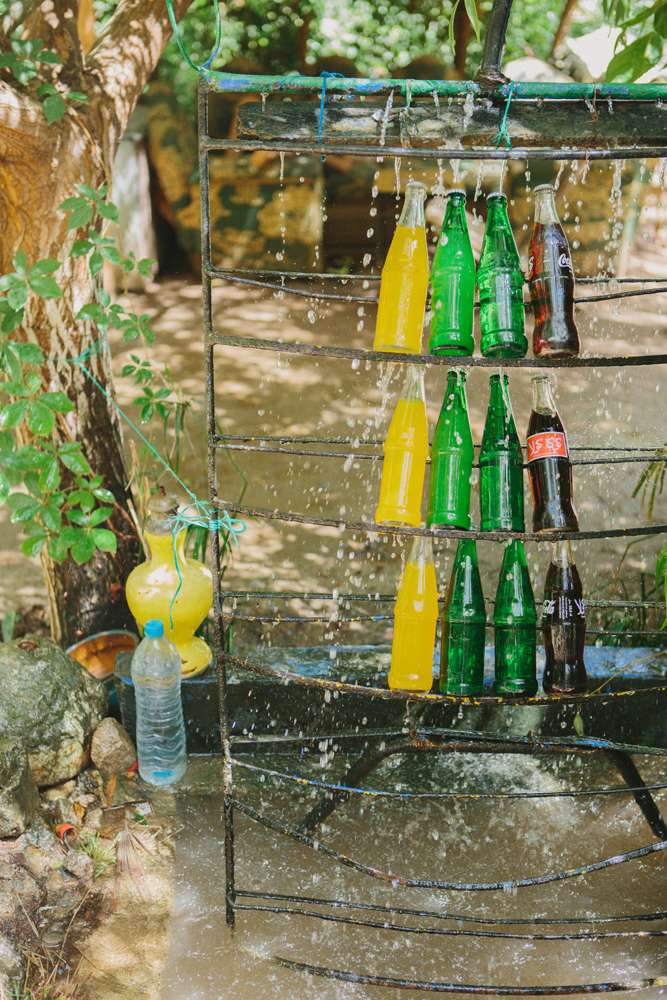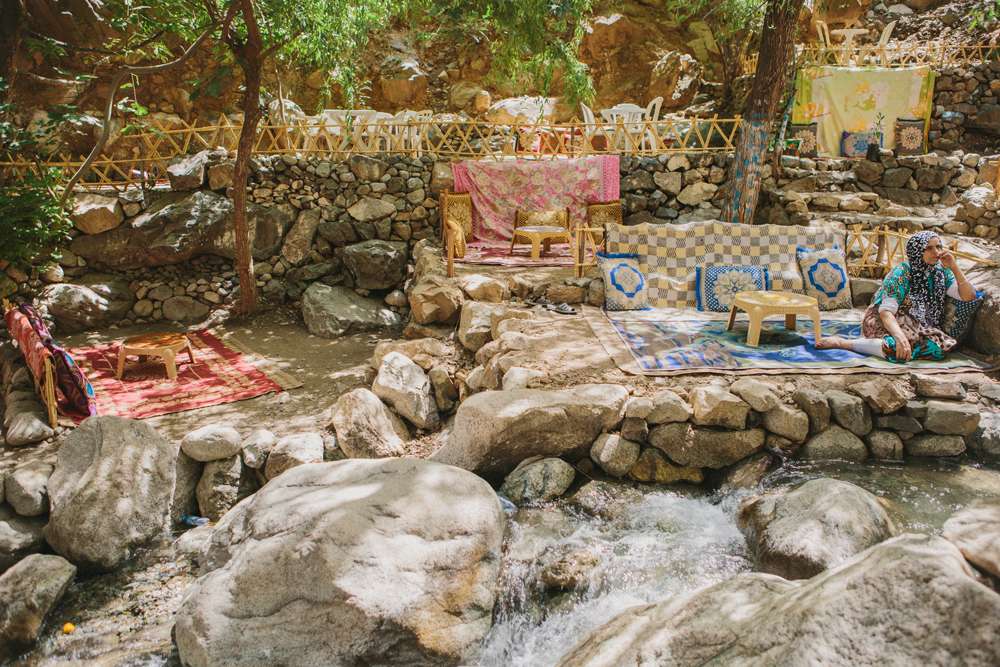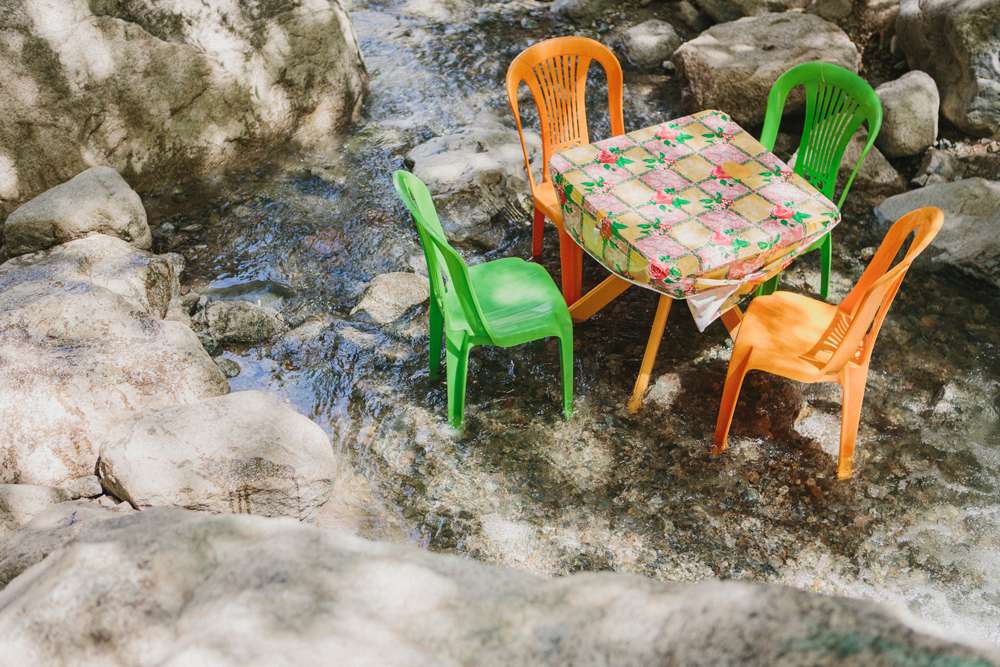 But then it very suddenly got VERY steep and rocky… and I'm not talking little rocks to hop over, I mean big, enormous boulders with water gushing between them.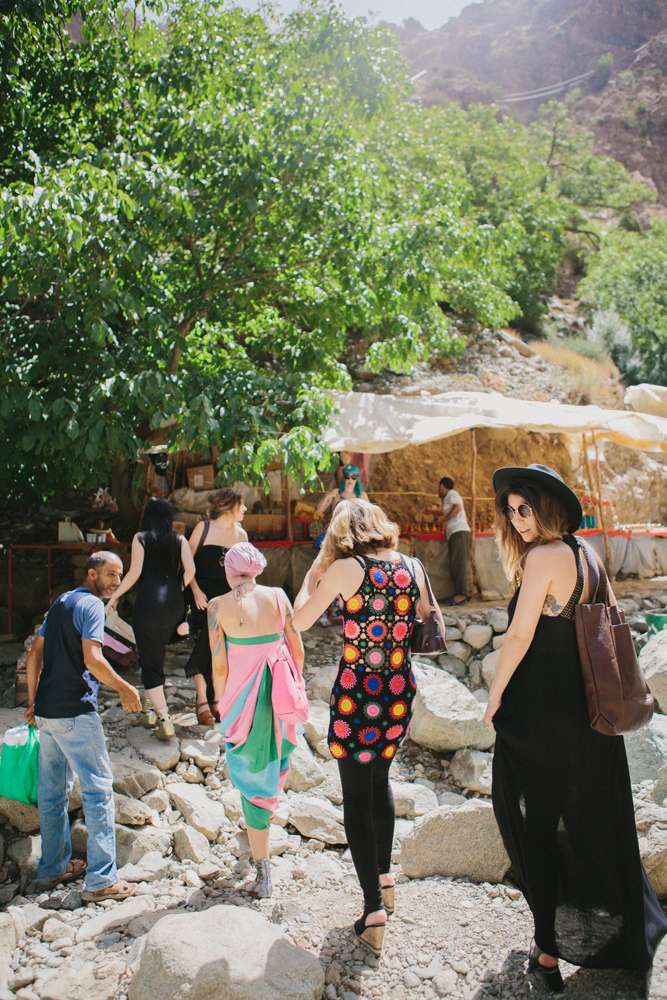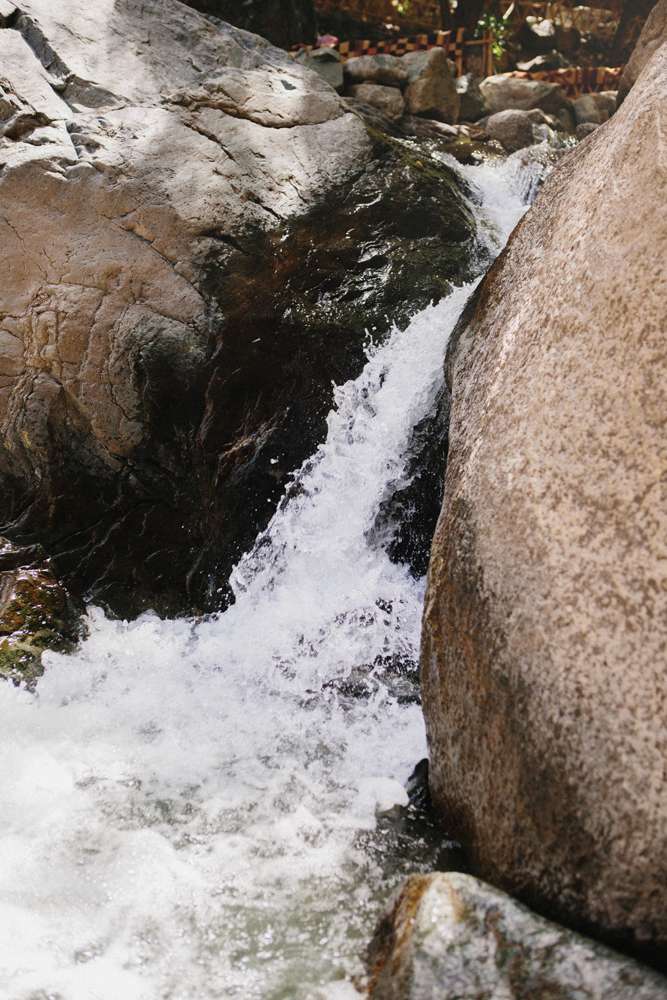 And at one point… this: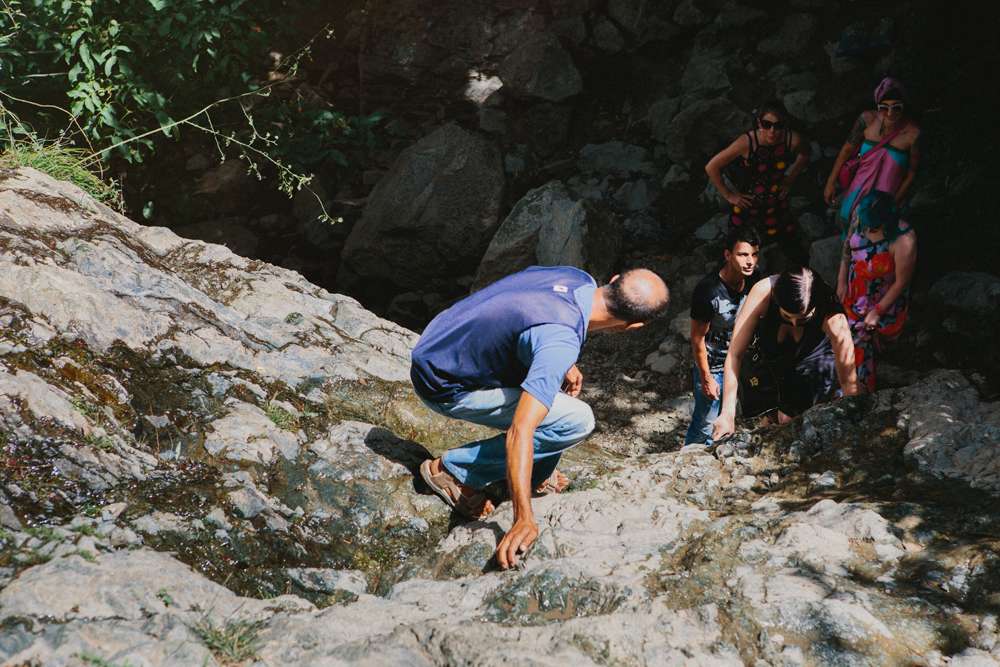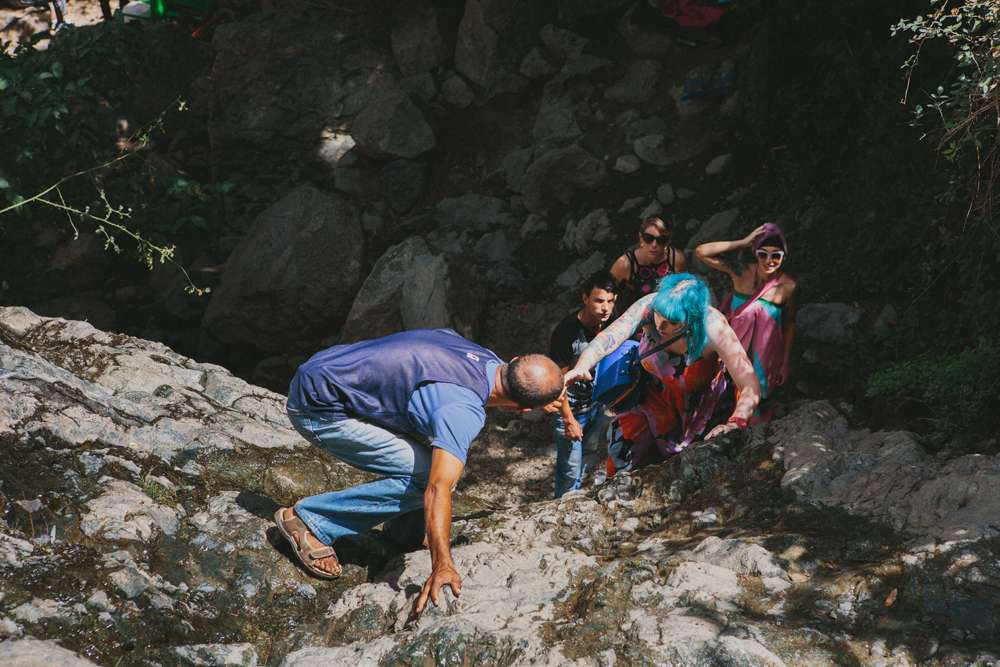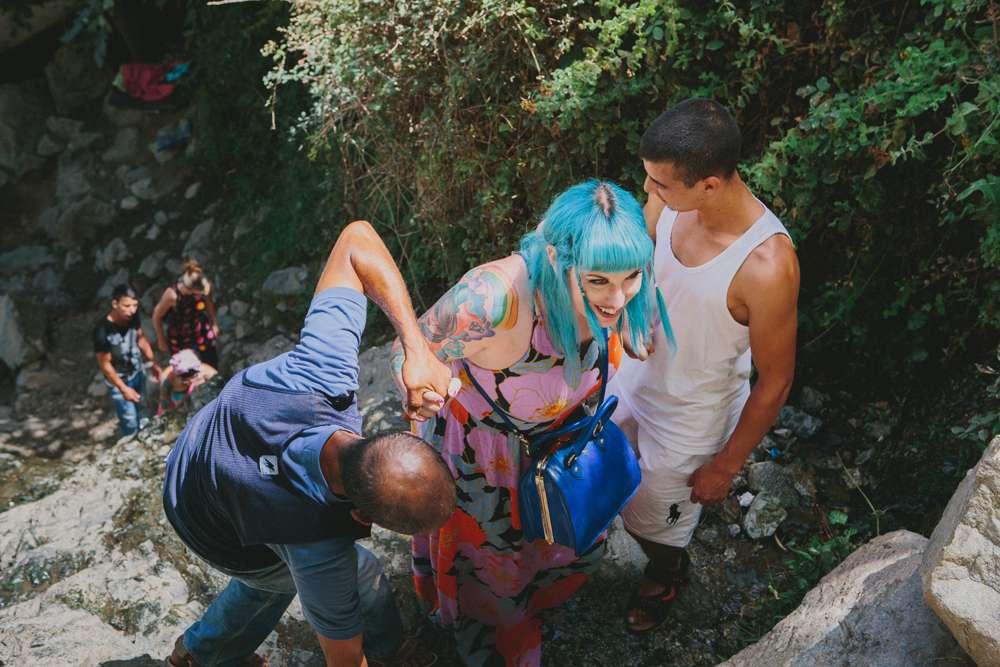 As you can see we were not appropriately dressed for a mountain hike and I'm sure all the other people that saw us must have thought we looked like the most ridiculous girls in our rainbow maxi dresses and holographic sandals! Luckily we had a fantastic guide with us, who not only showed us the way but literally pulled us up the mountain at times!
Thankfully, we all made it in one piece and it was definitely worth it for a splash in the fresh water and the view on the way down the other side.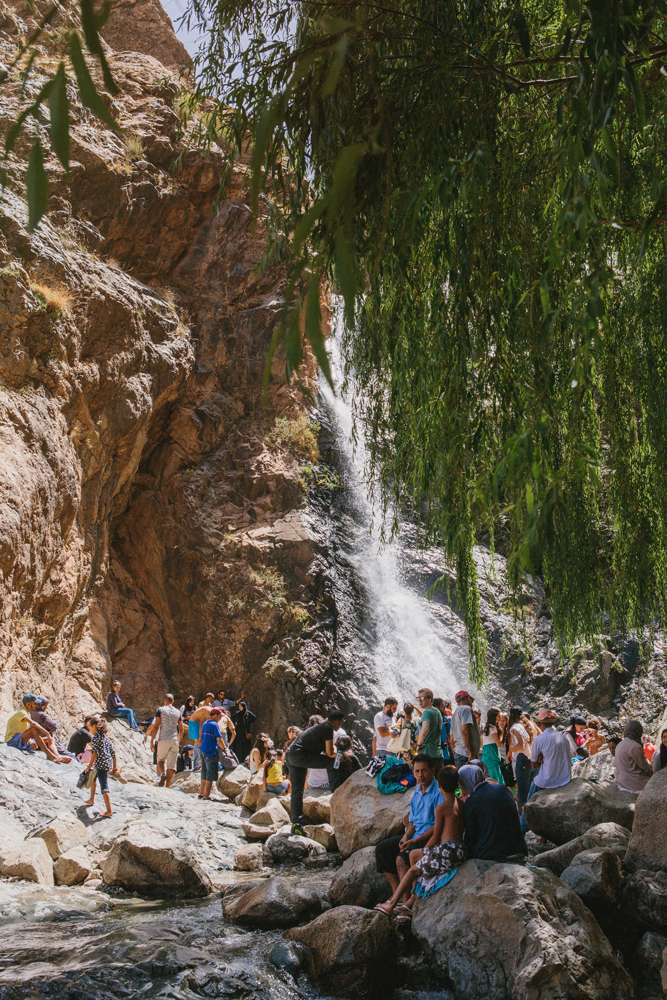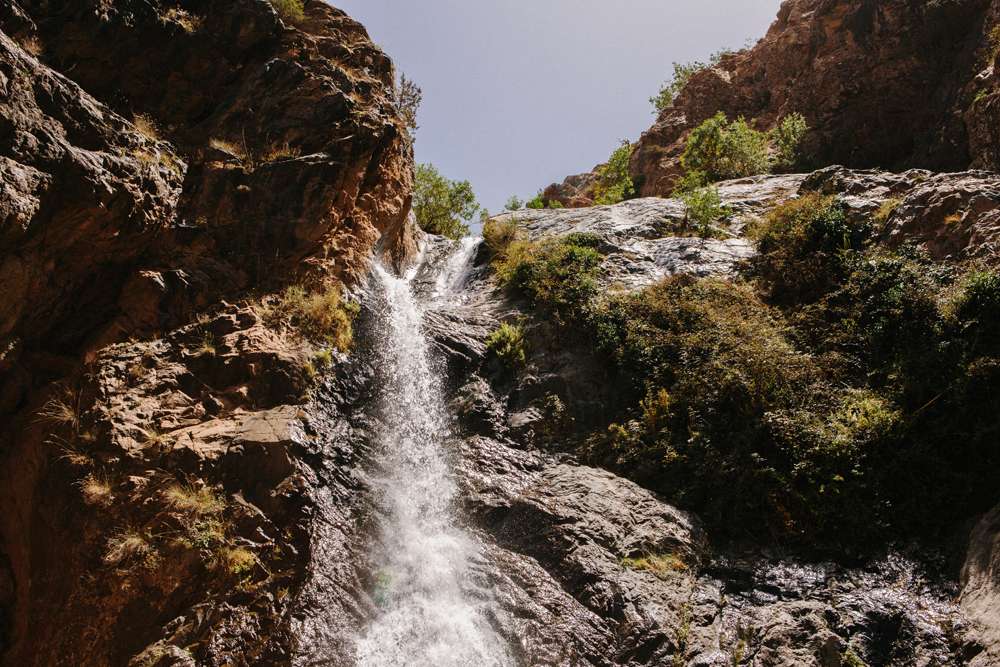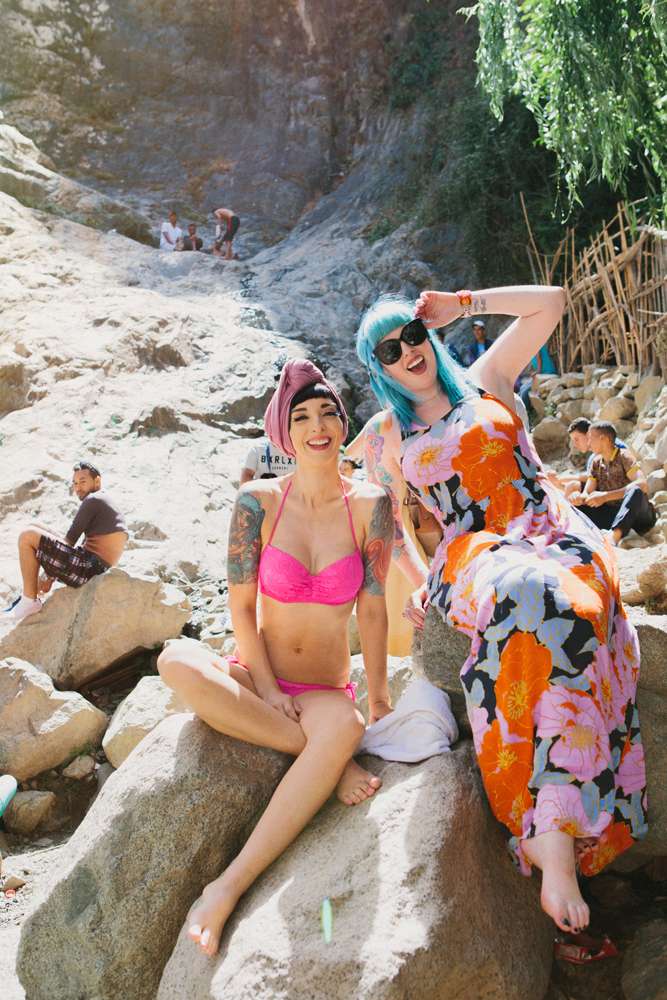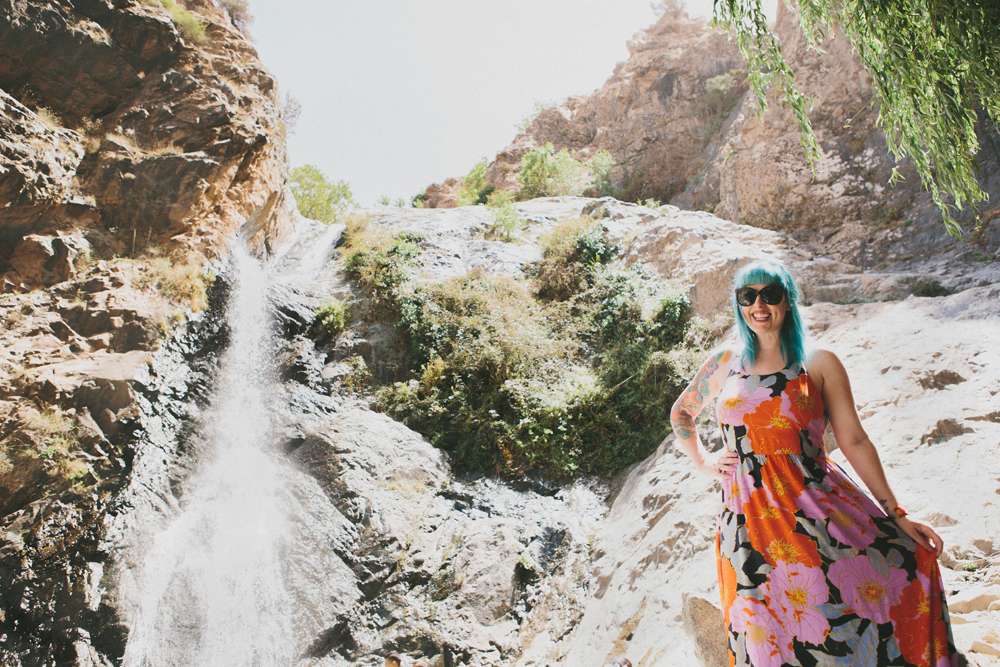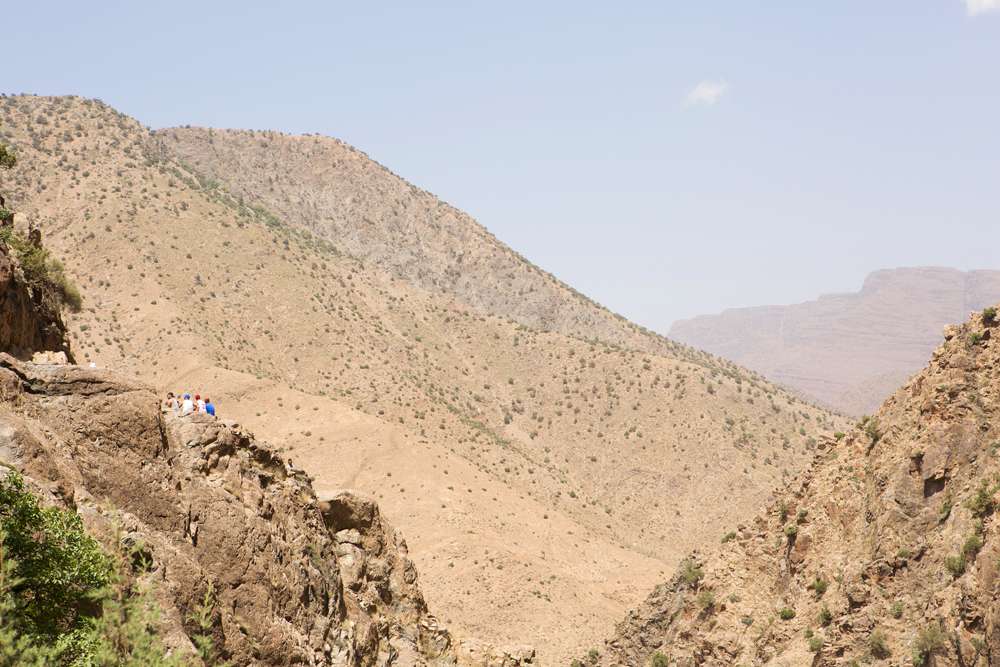 Oh my god, we actually made it!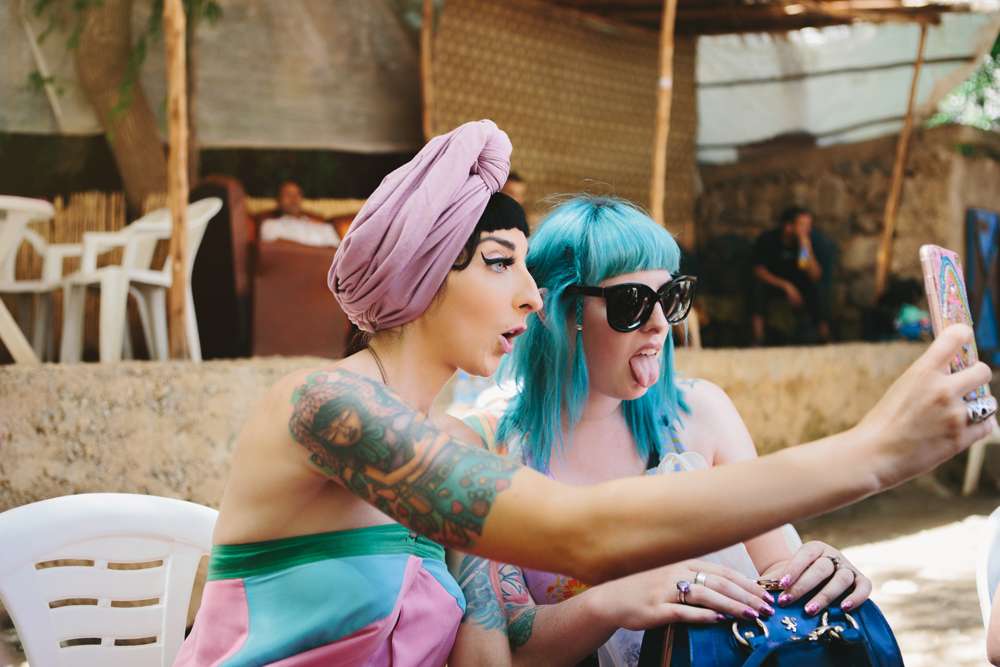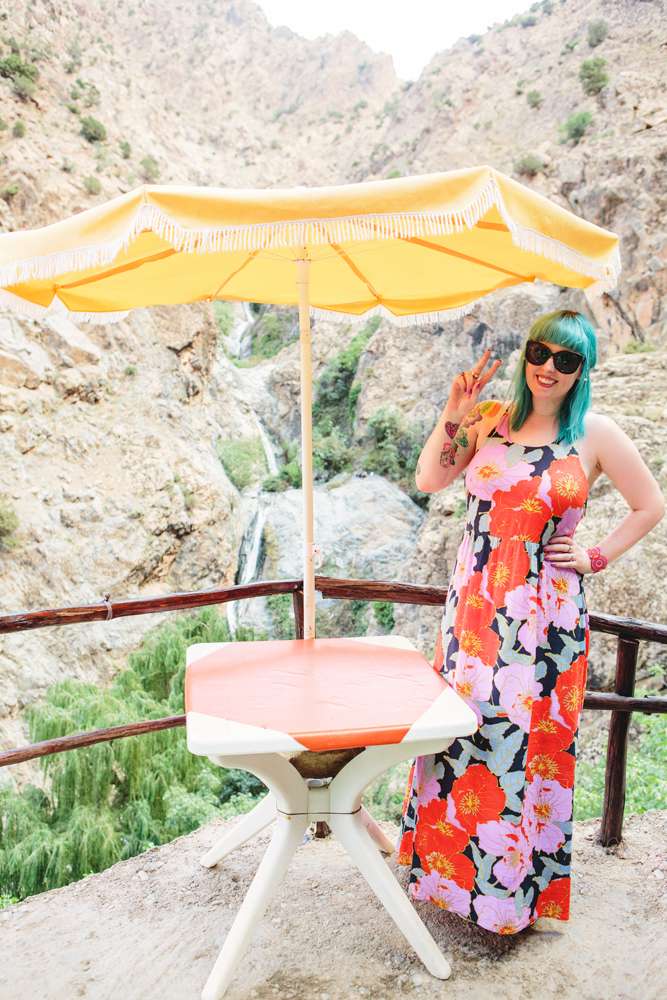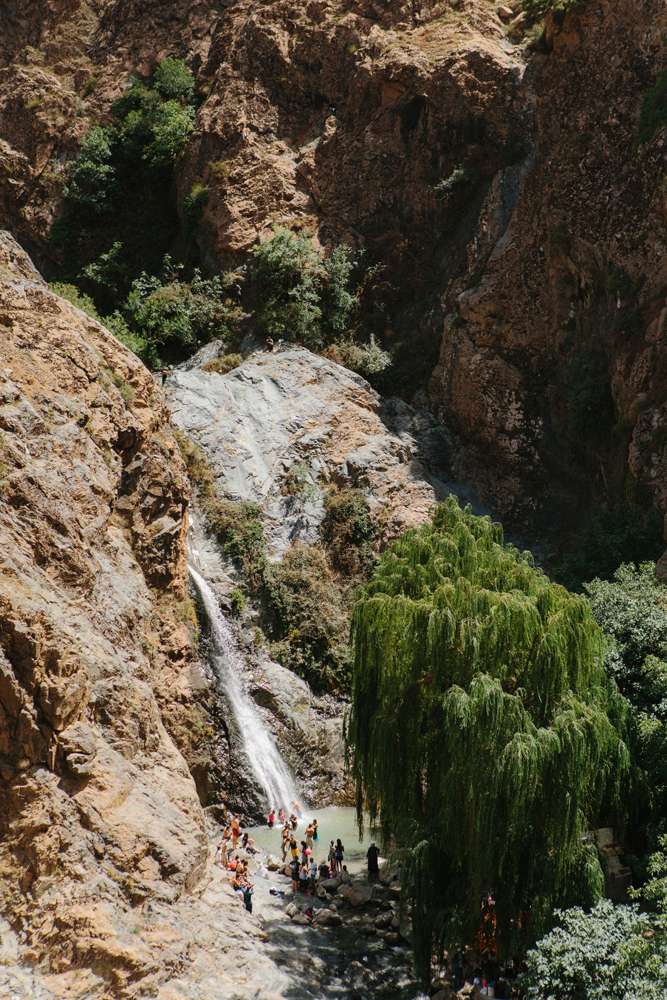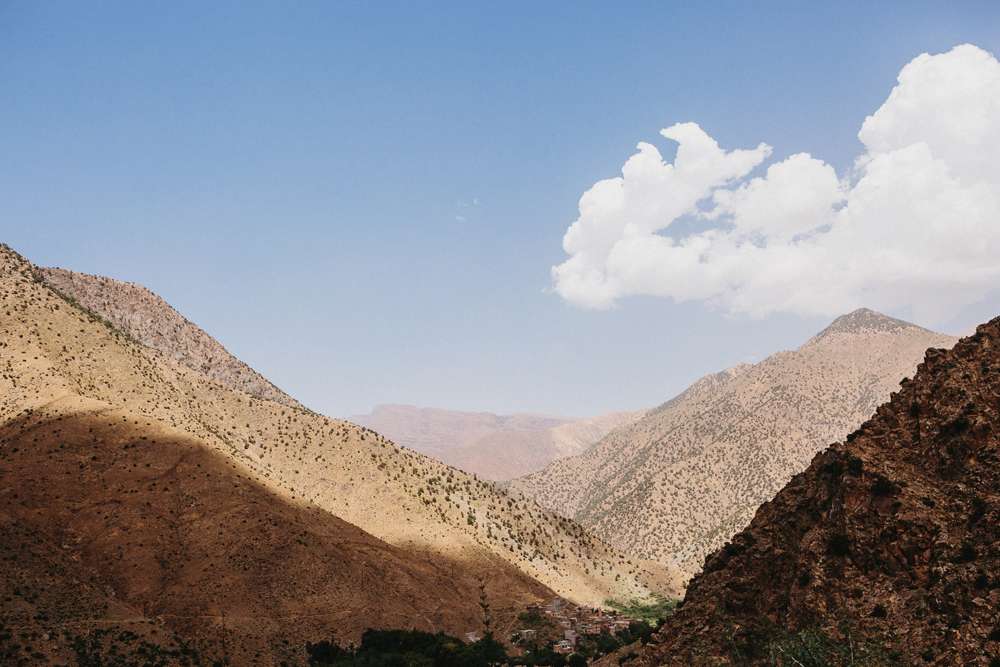 That view though, OMG. I would definitely recommend getting outside of the city and visiting the mountains if you can… but for the love of god don't dress like we did!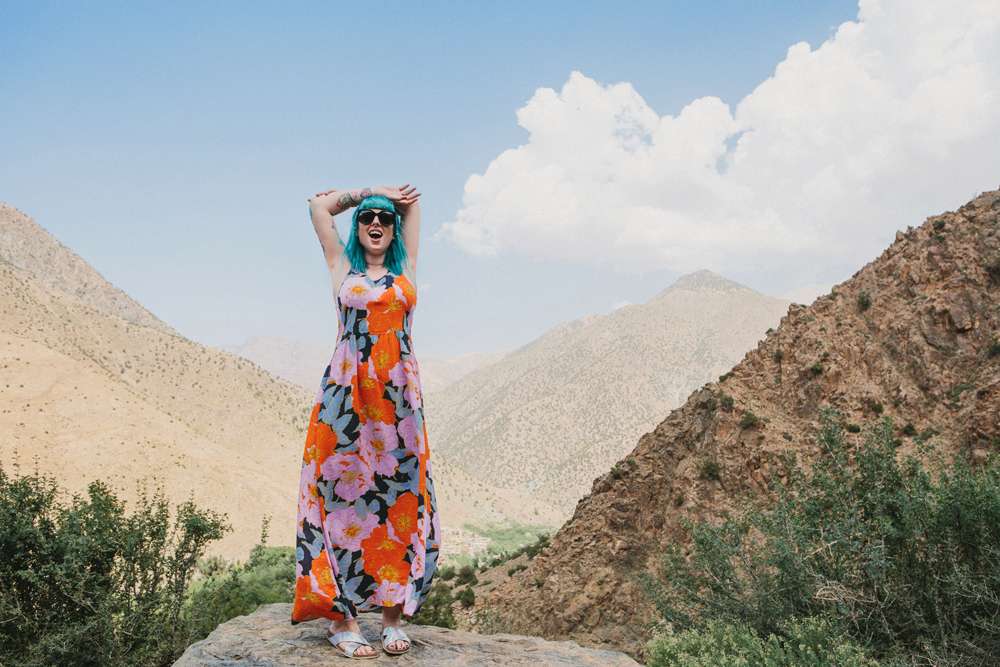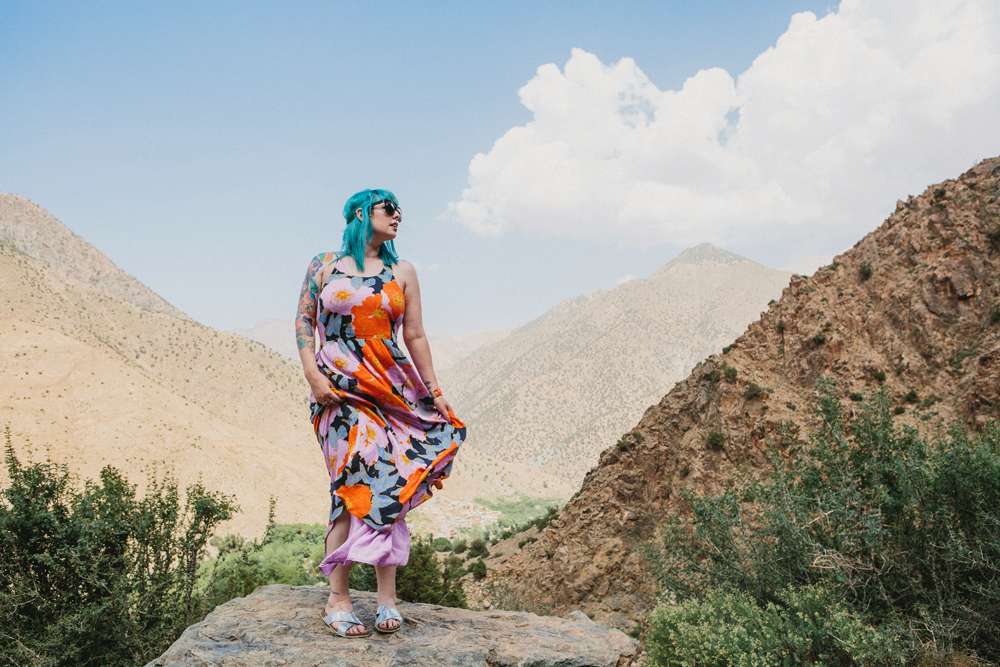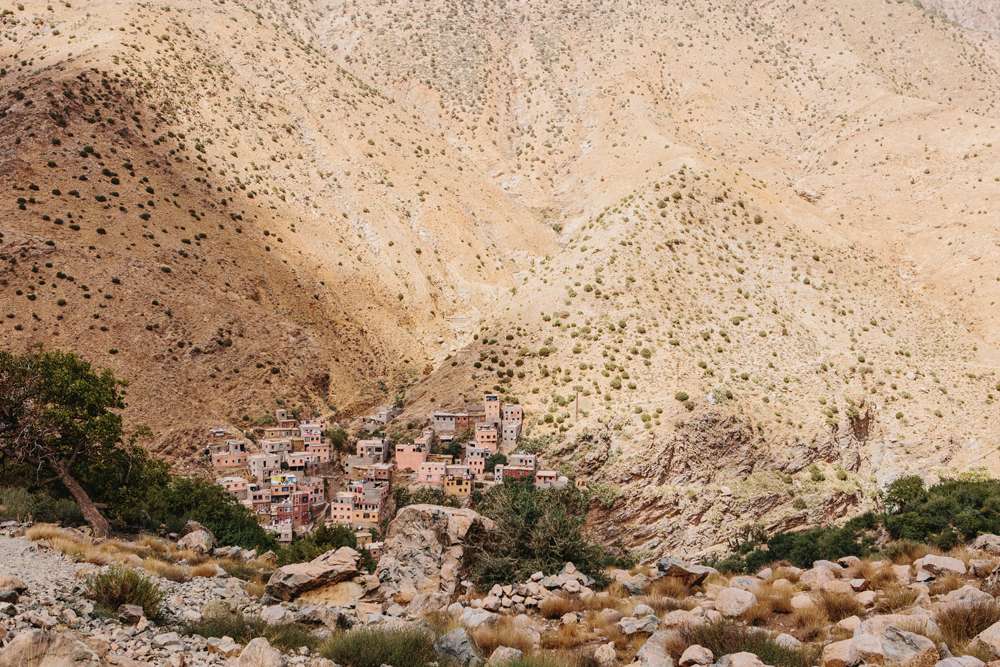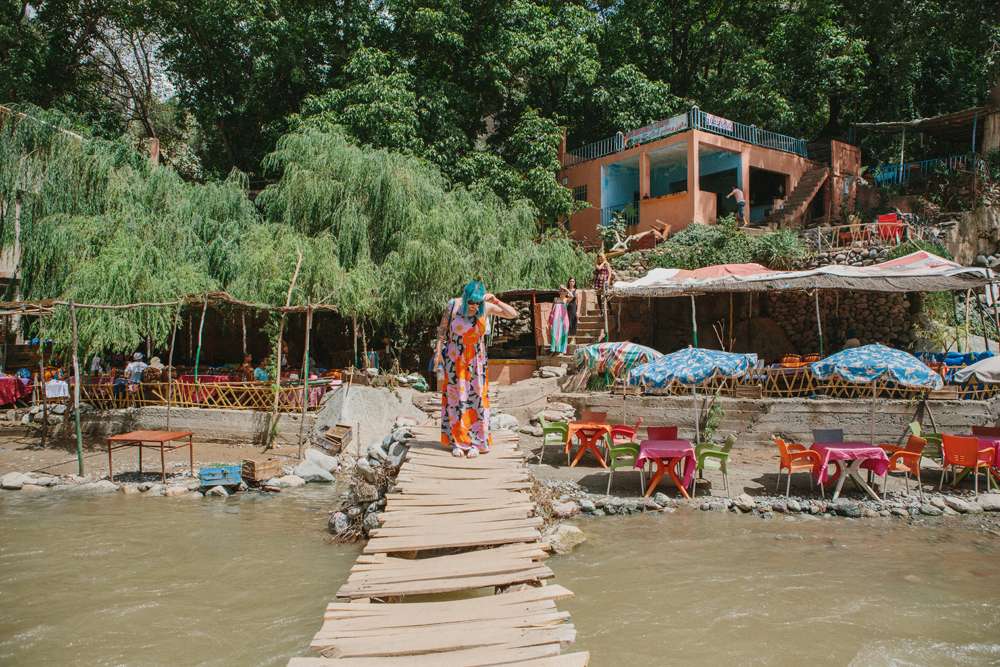 A quick nap on the drive home and we were all raring to go for a final night party! We had a belly dancing lesson (way harder than it looks!) and we were all treated to henna from another of Dar Jaguar's female charity partners, the Henna Café, Marrakech.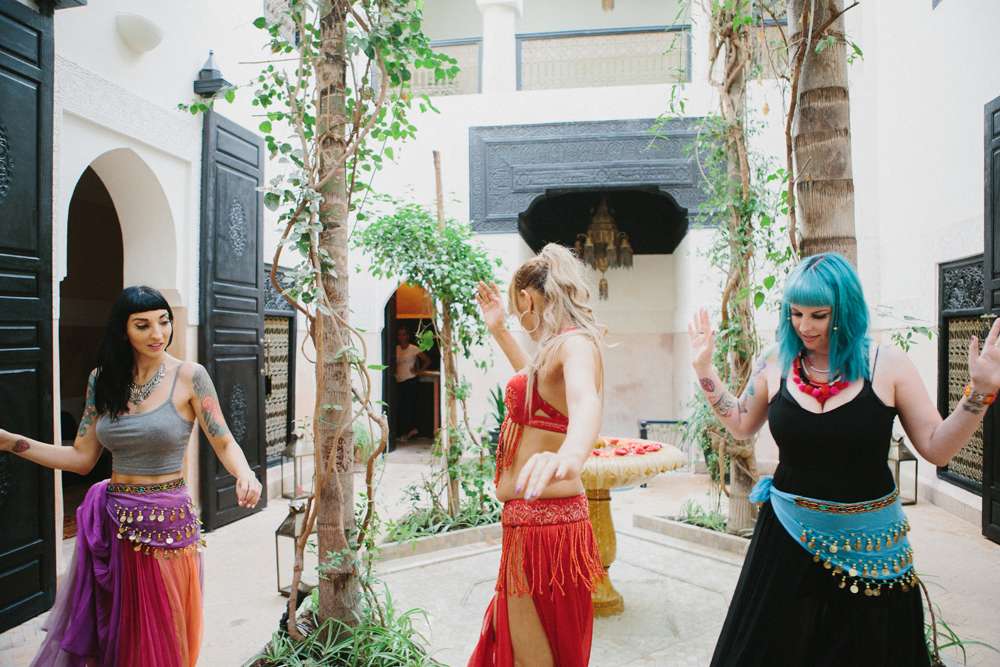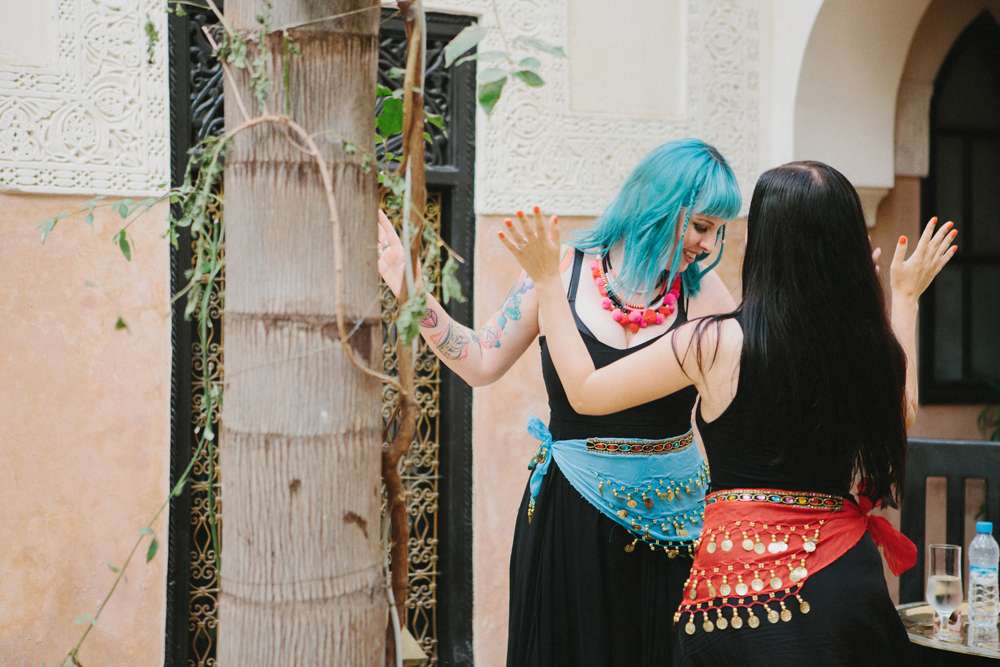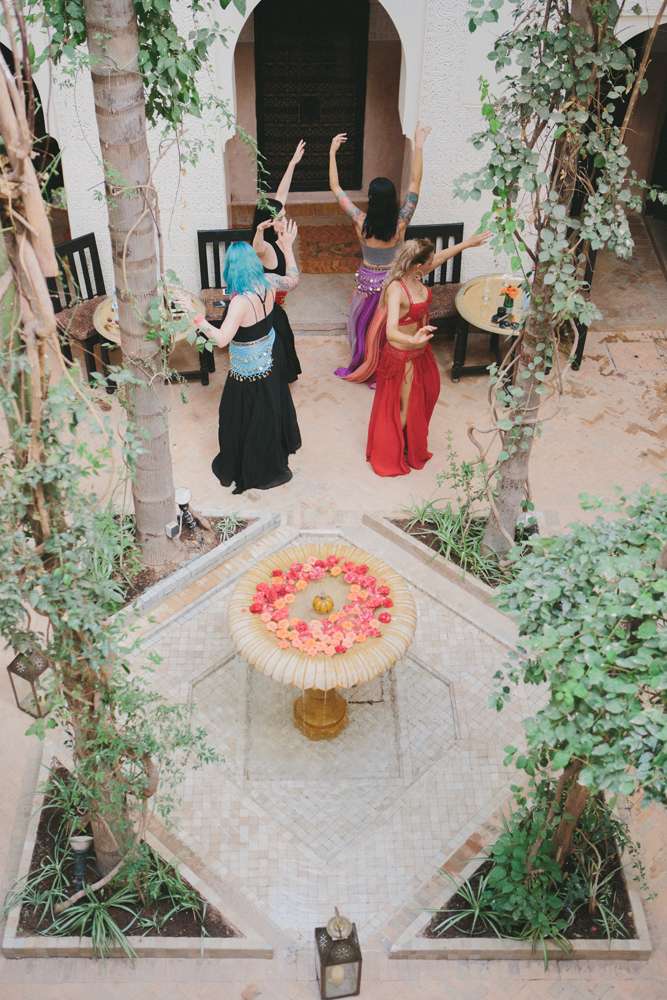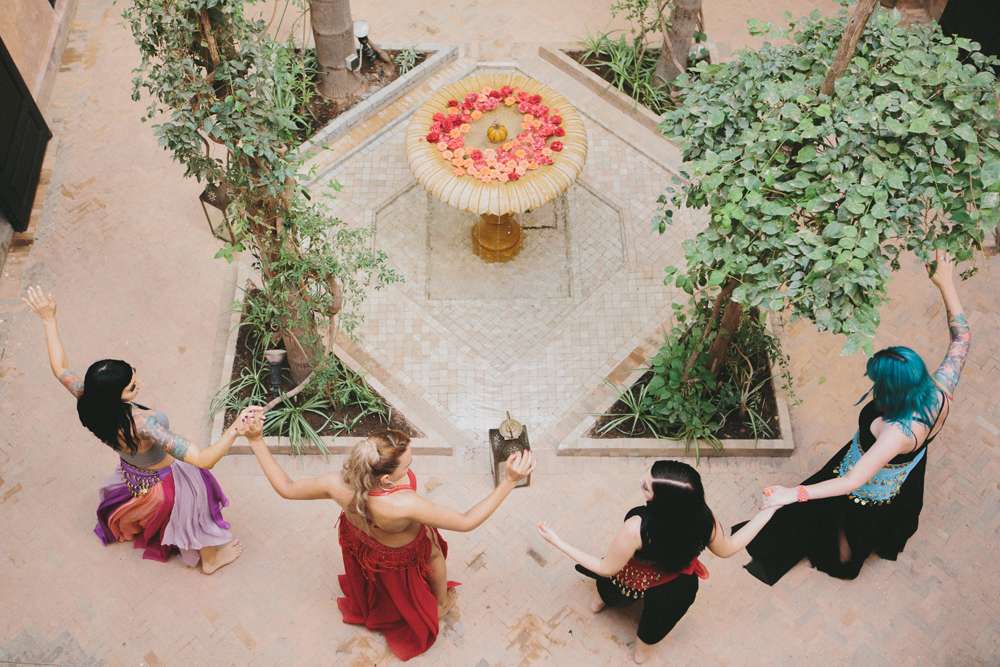 All proceeds go towards assisting and educating Moroccan people in need and I actually went to the cafe with my sister on my last trip so I was so excited to see them again. I love getting henna and it was one of my favourite parts of the whole experience. The women that work there are so incredible at what they do.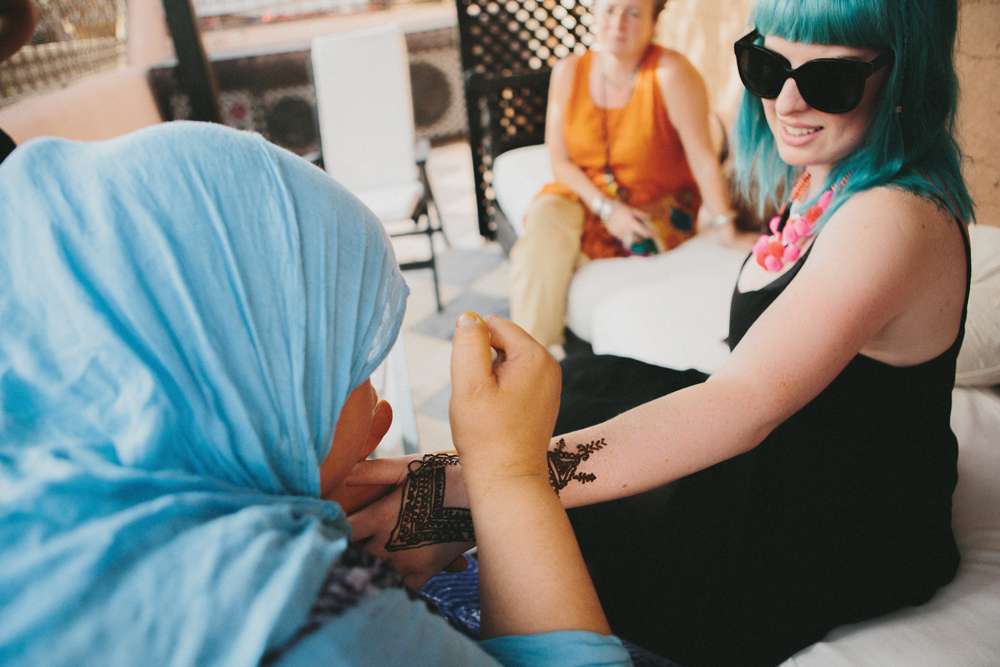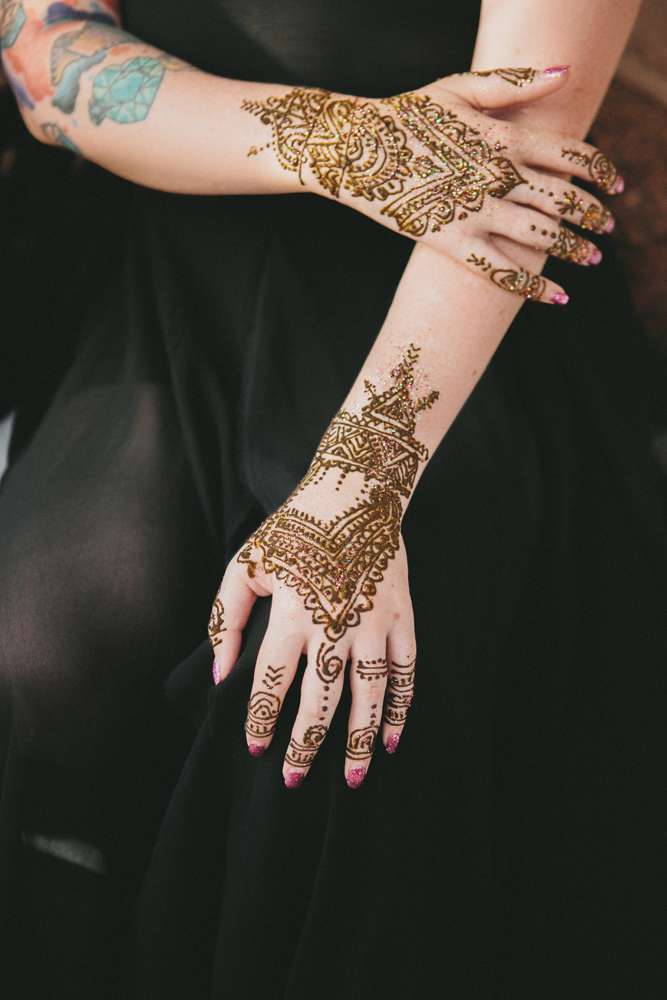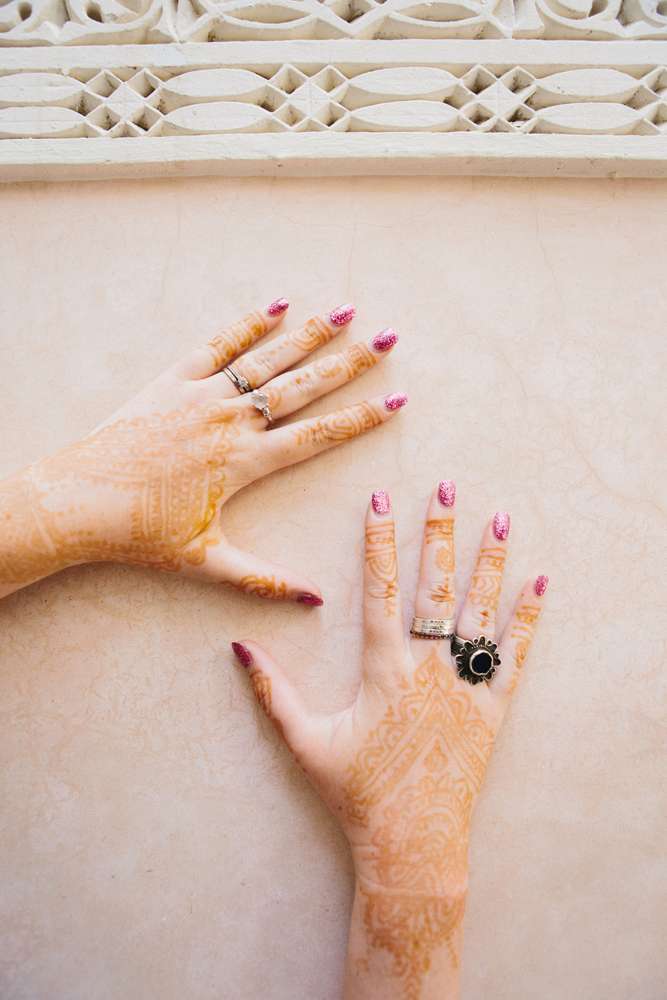 The night ended with a fantastic three-course meal and entertainment in the form of Gnaoua musicians…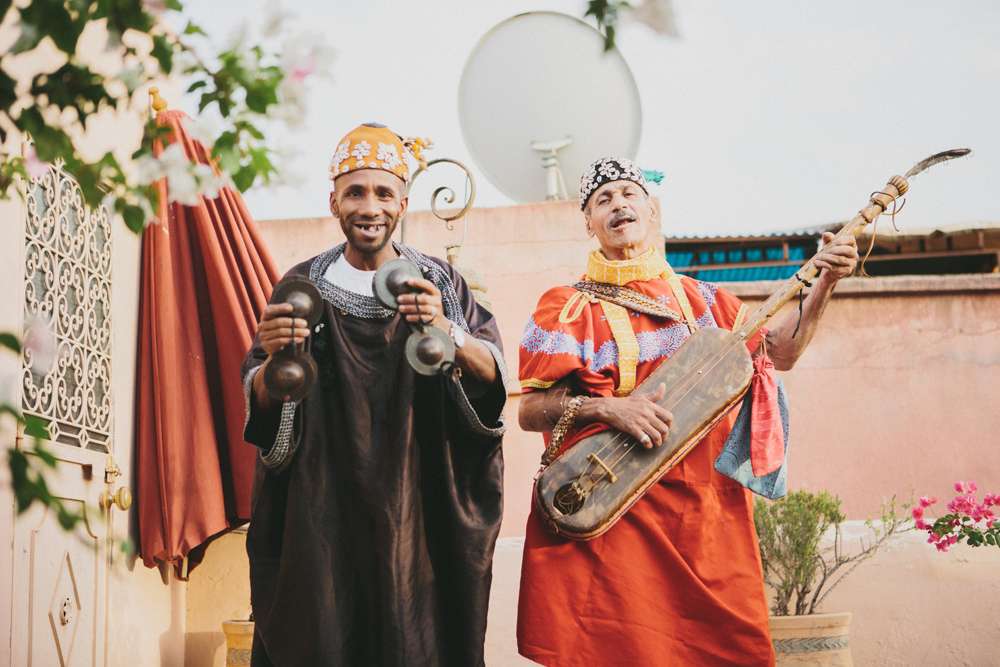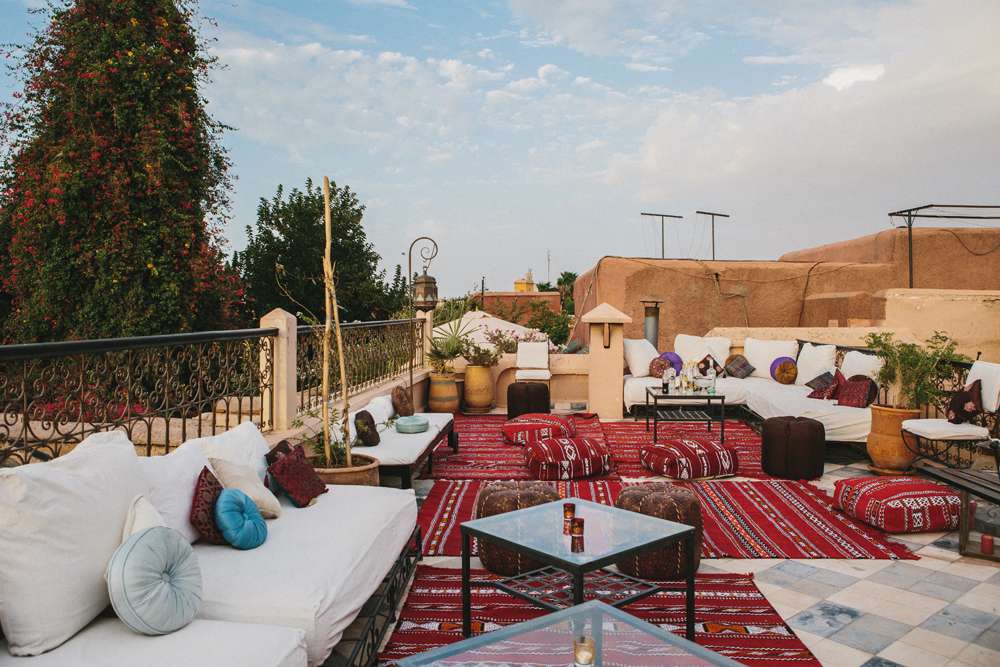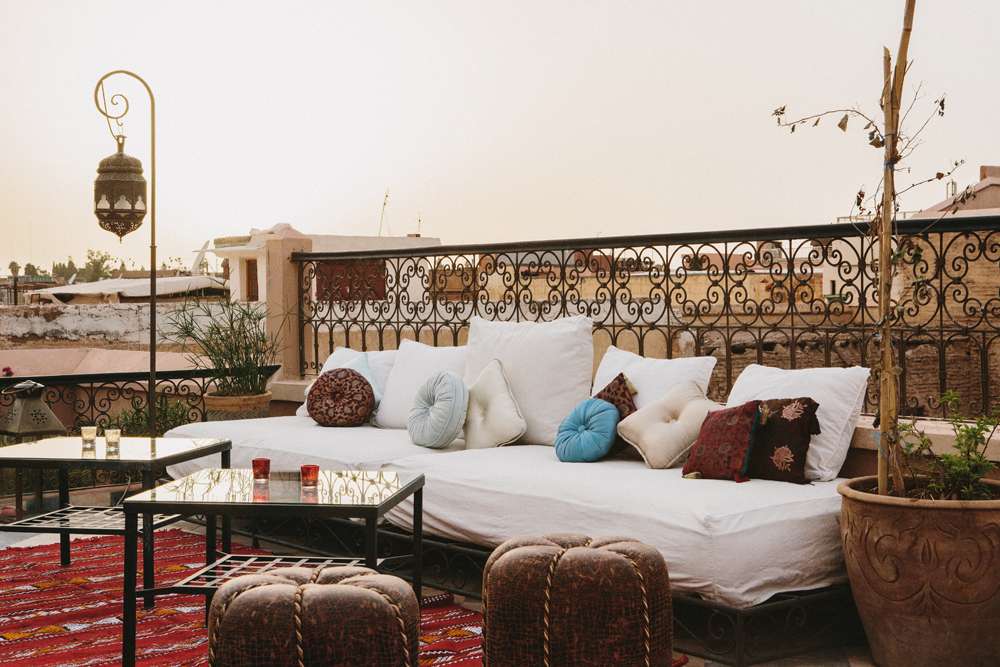 As well as a DJ, a belly dancer, a fire eater and a snake charmer who brought along a cobra, viper and python!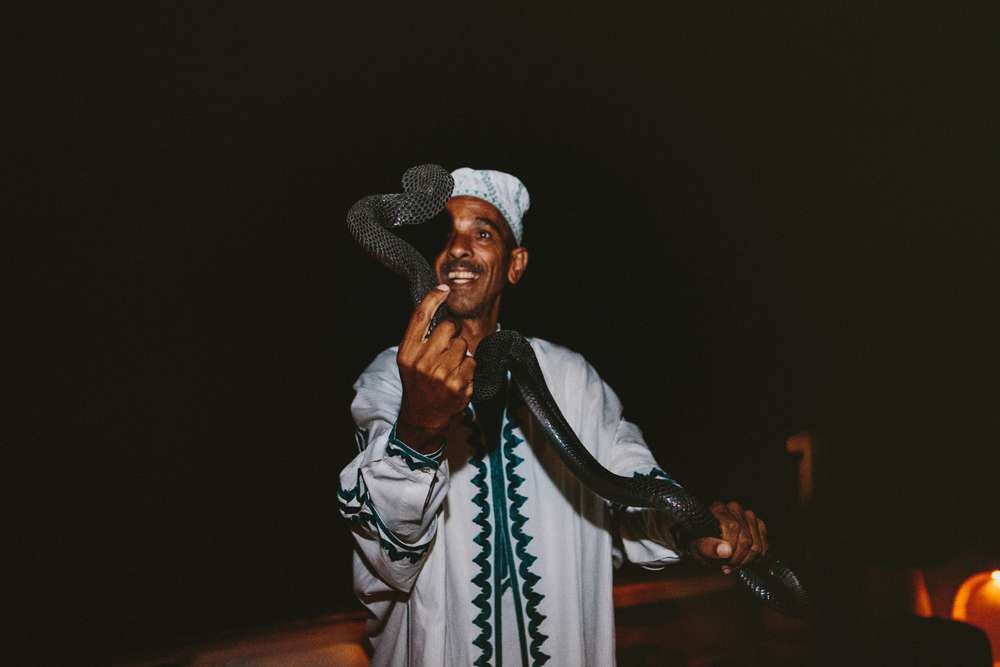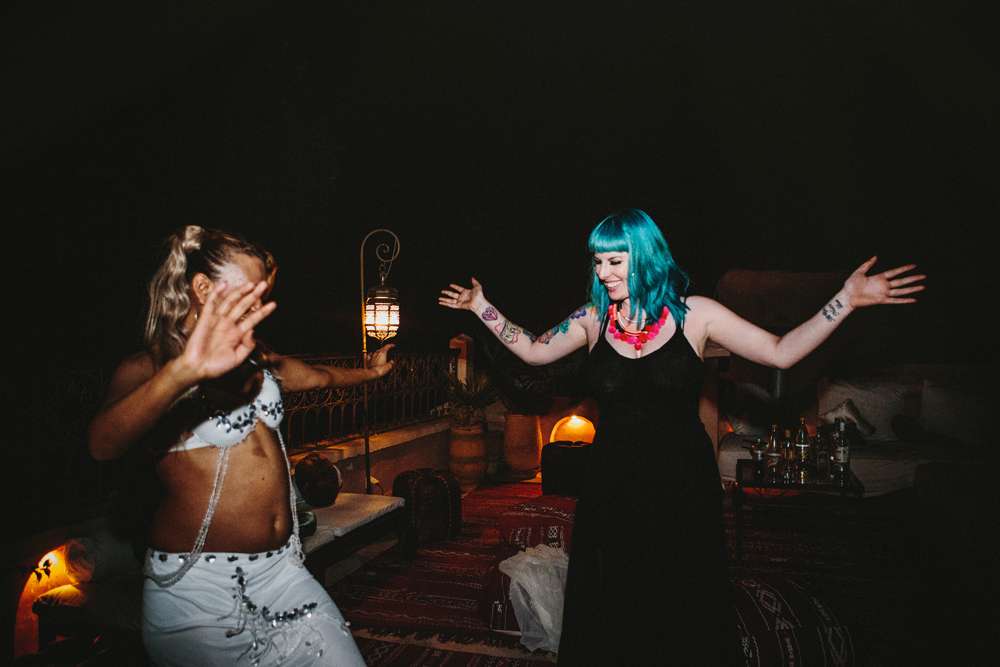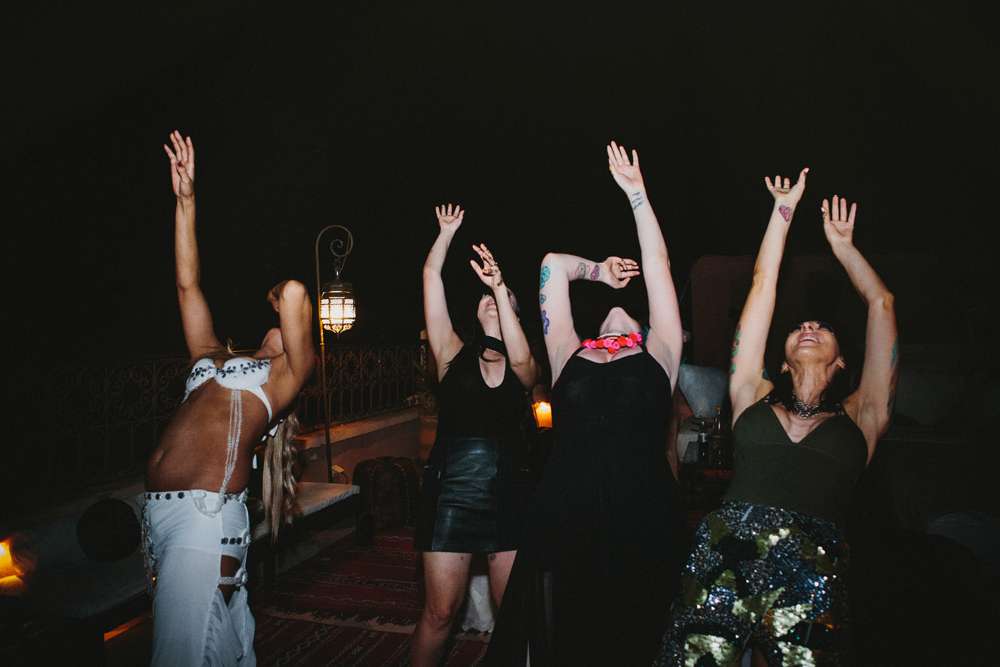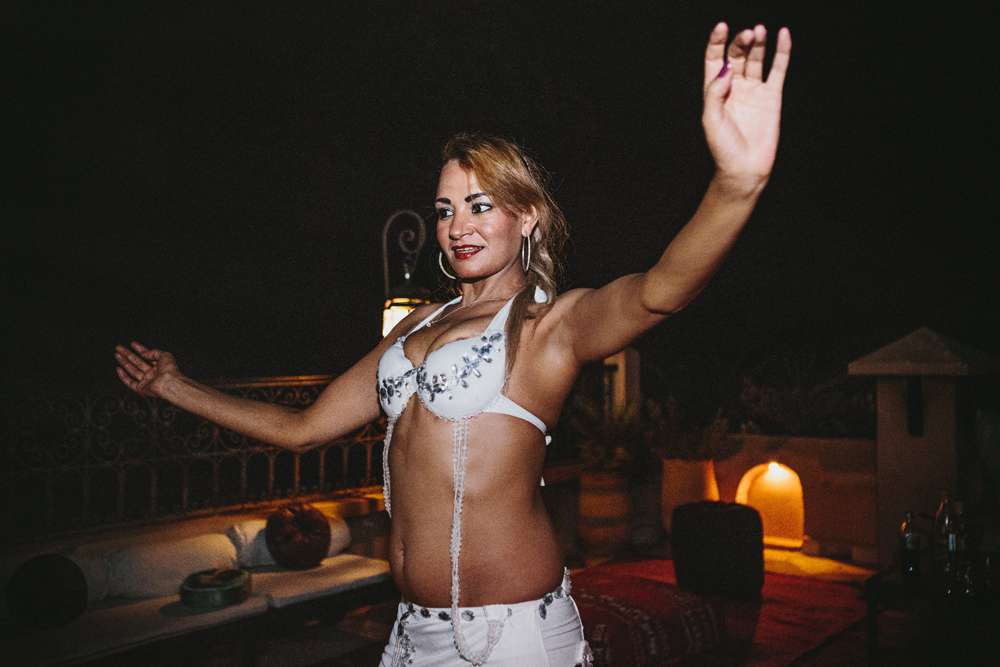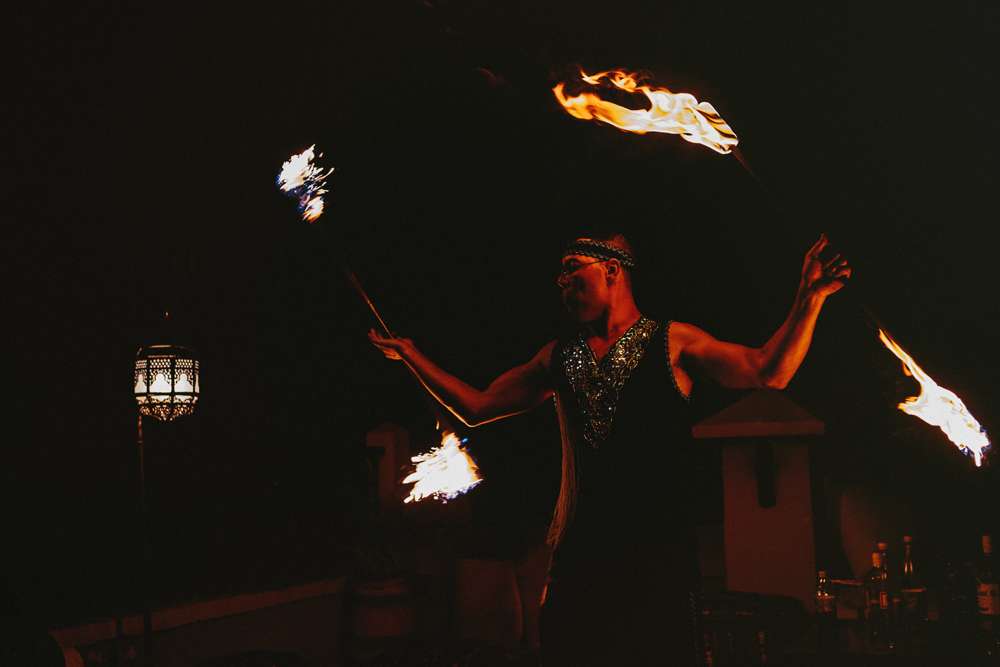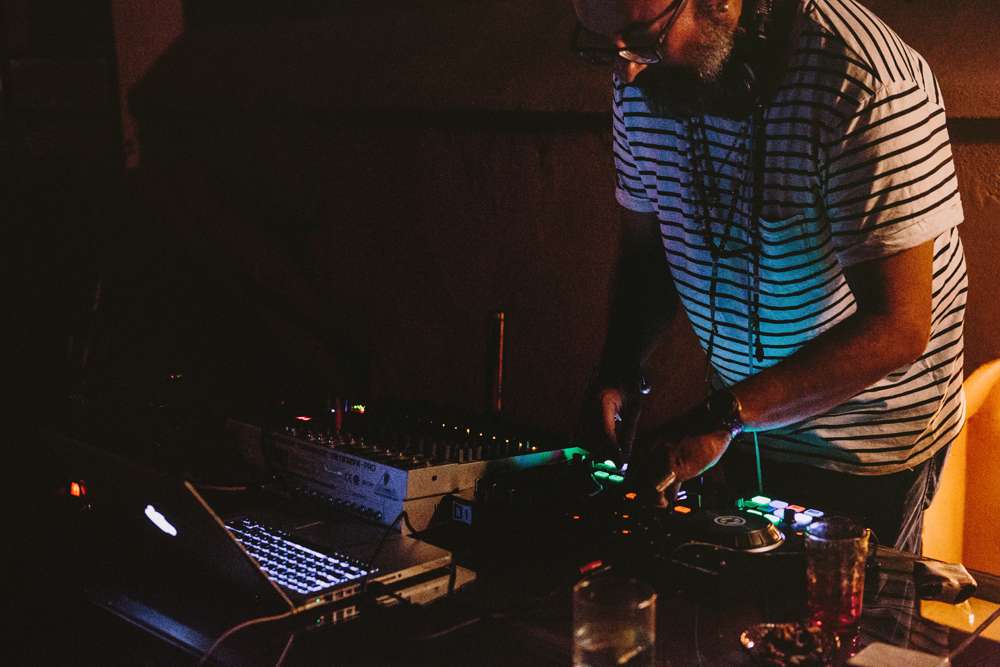 Oh yes, let's talk about the snakes shall we? So the guy asked if any of us wanted to hold one. Er yes of course! Perfect photo op, right? Well this is what happened…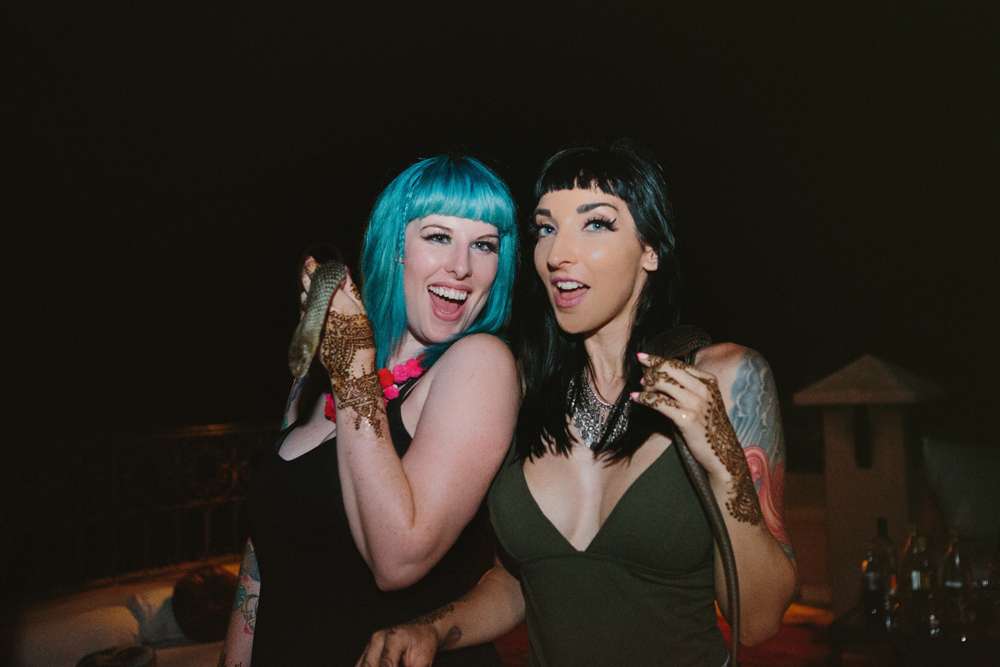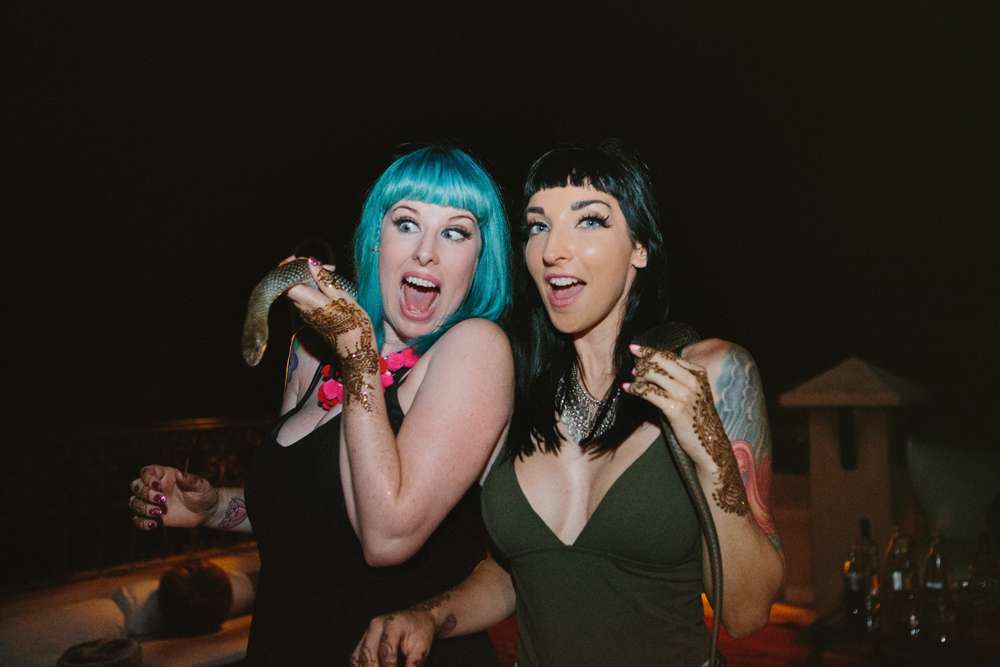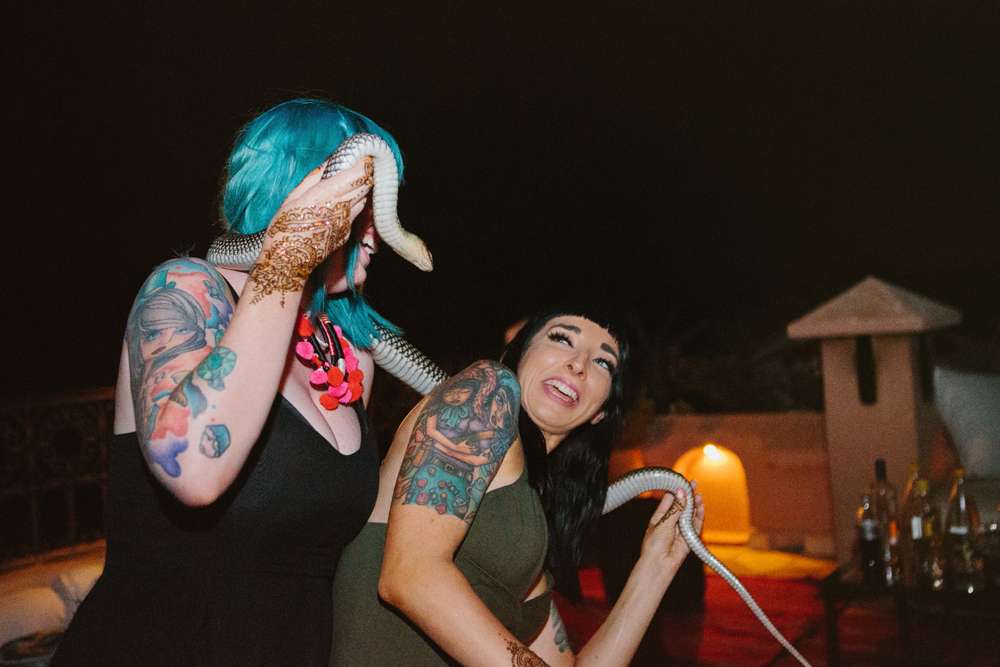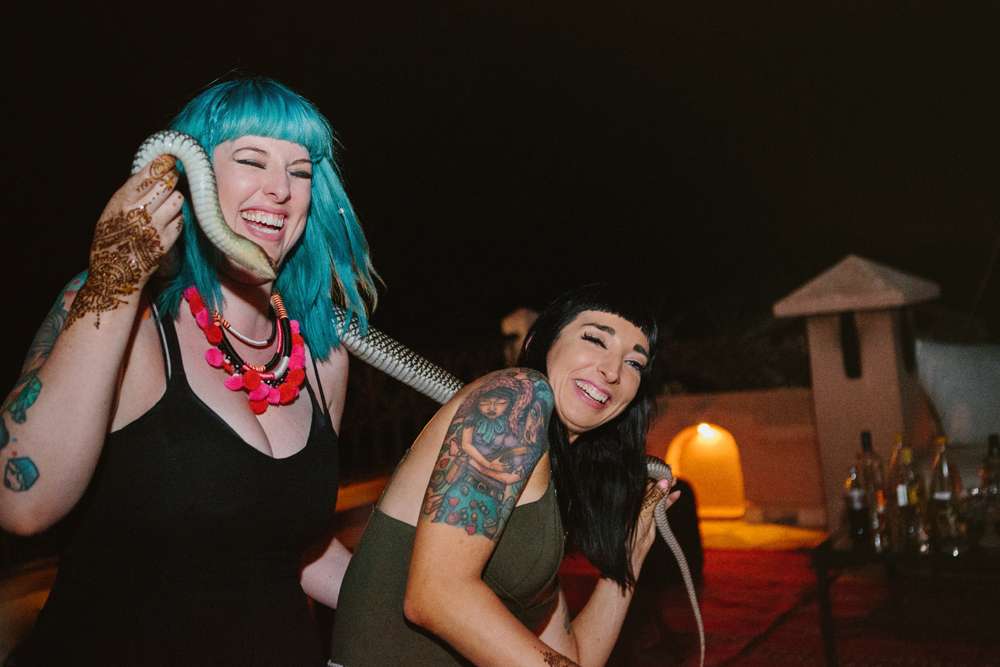 I CAN NOT stop laughing at these photos!  It sure is the most real moment! There we are, posing and trying to look cute… then I start freaking out because the snake started backing up towards me… and then I'm not even sure what happened! It looks like I'm trying to kill Gala with the snake or something. Comedy gold! I actually might need to print those shots and get them framed and put on my wall!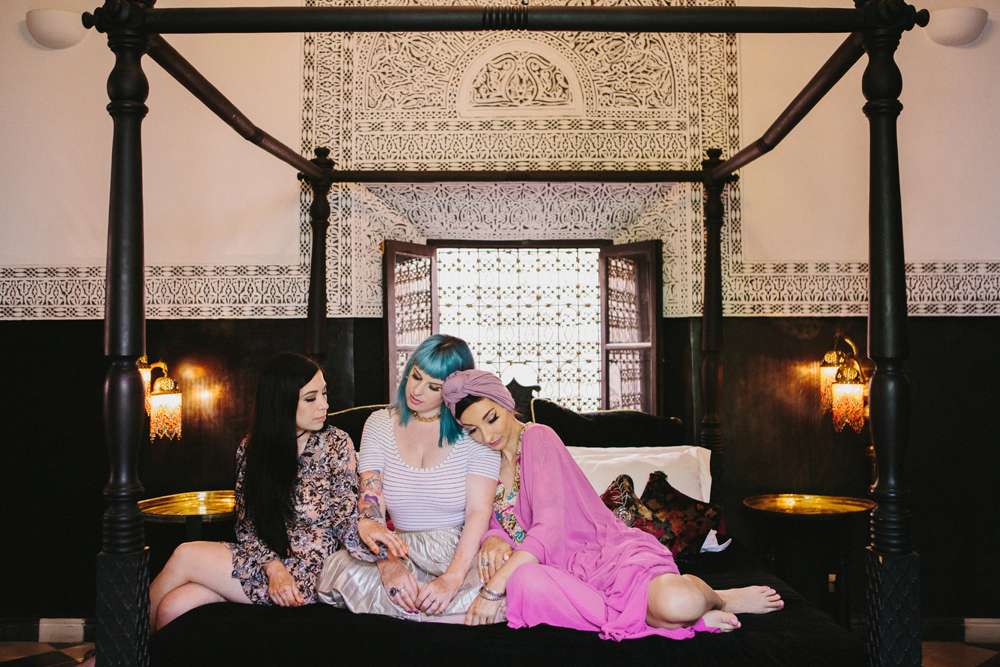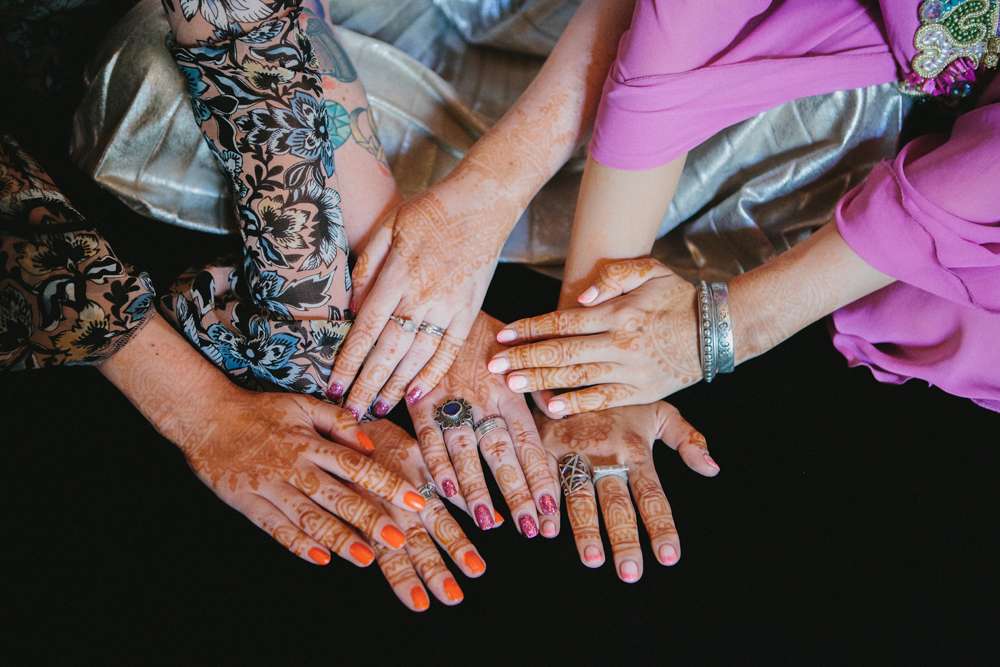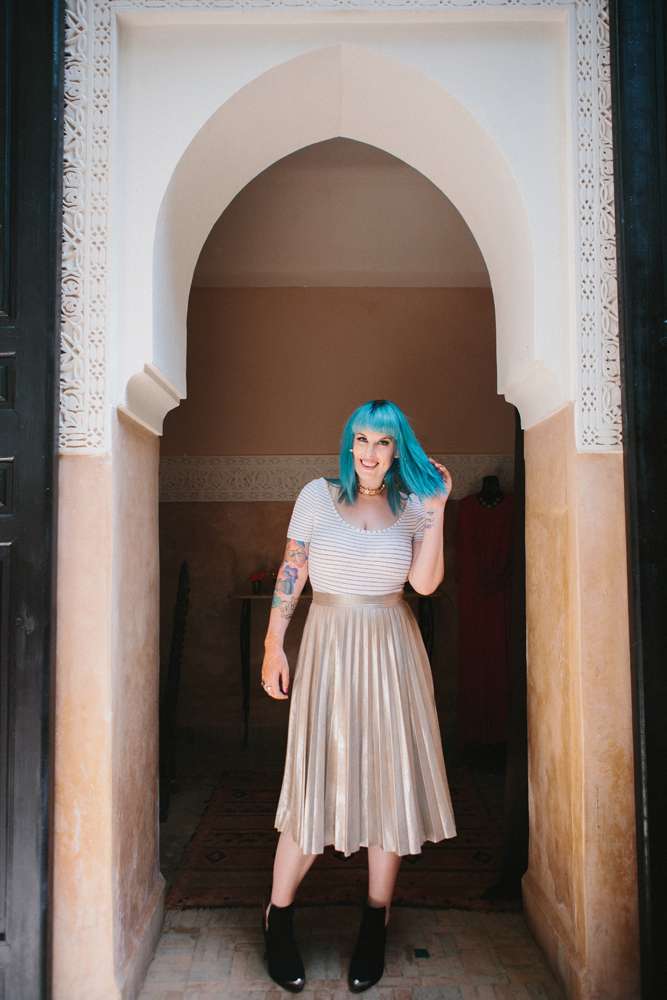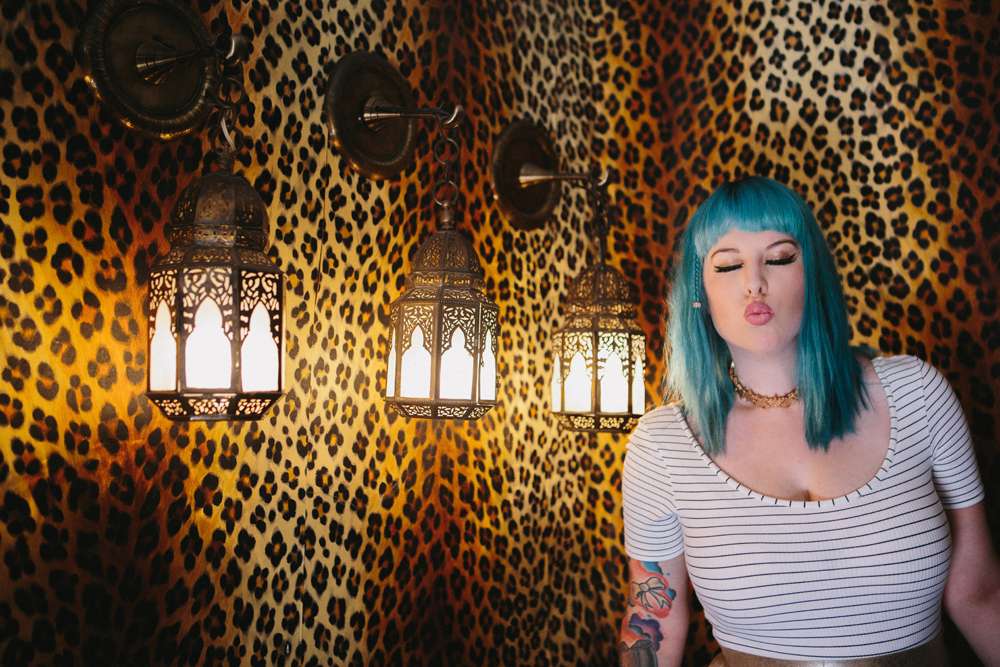 Thank you to Lucia and everyone at Dar Jaguar for putting on such a spectacular few days. If you are looking for a unique hen weekend or honeymoon spot then you must check them out. As well as providing accommodation, they can put on bespoke itineraries for you too, just like we did. Prices start from just €90 per room so be sure to have a look at their website or drop Lucia an email if you'd like more information.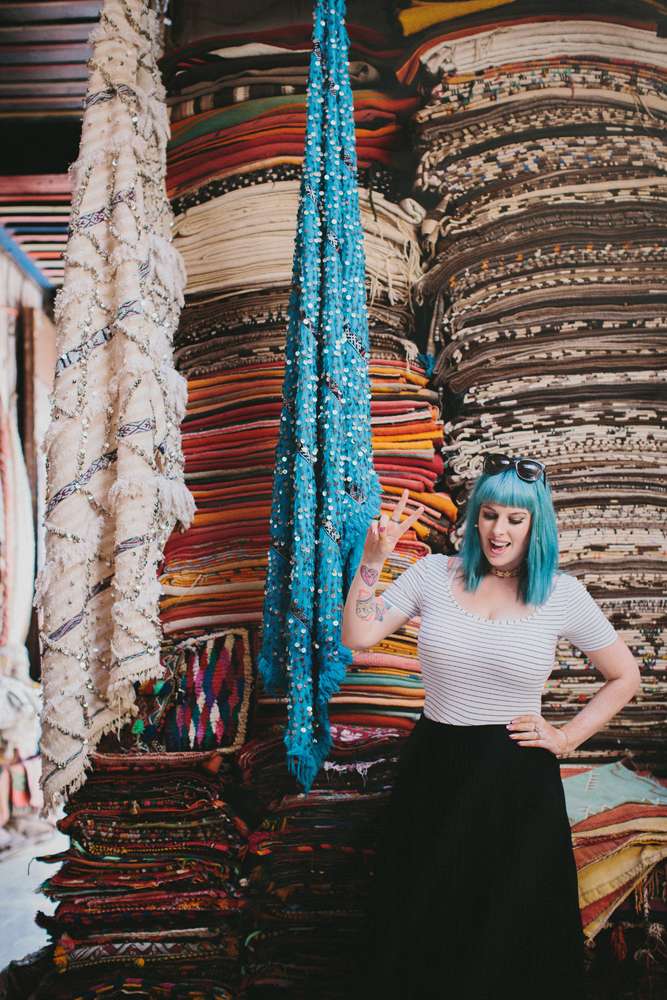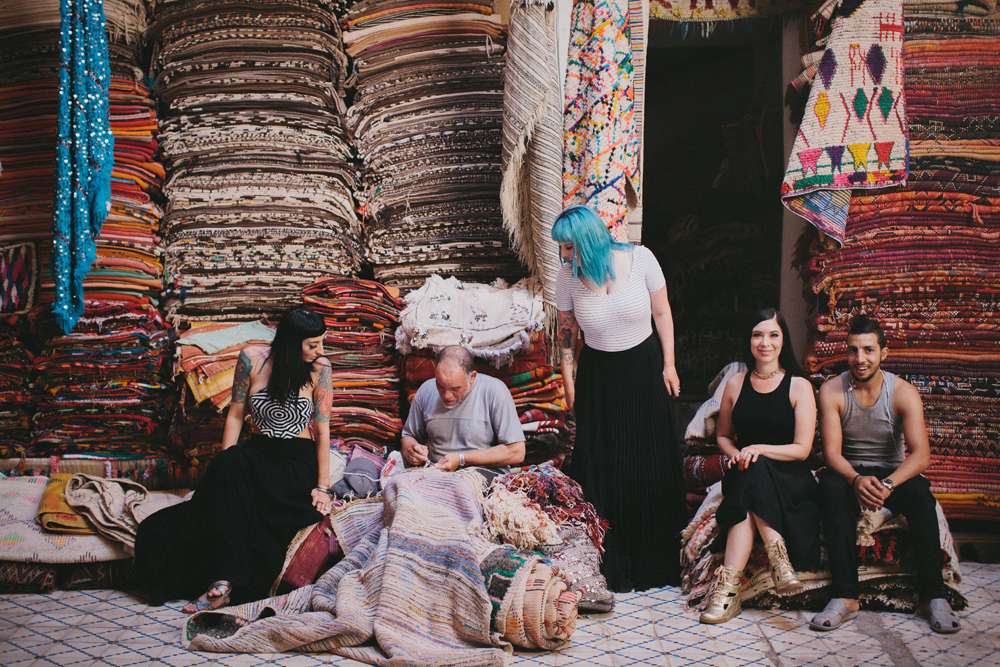 I have some really exciting news too! I have partnered with Dar Jaguar to give away a hen weekend package to one lucky bride-to-be and up to five friends!! I'll be sharing all the information about the competition and how to enter on the blog NEXT FRIDAY (Oct 21st), so make sure you pop back then!
Further reading: If you'd like to read more about Marrakech you can check out my blog posts on previous trips here and here.