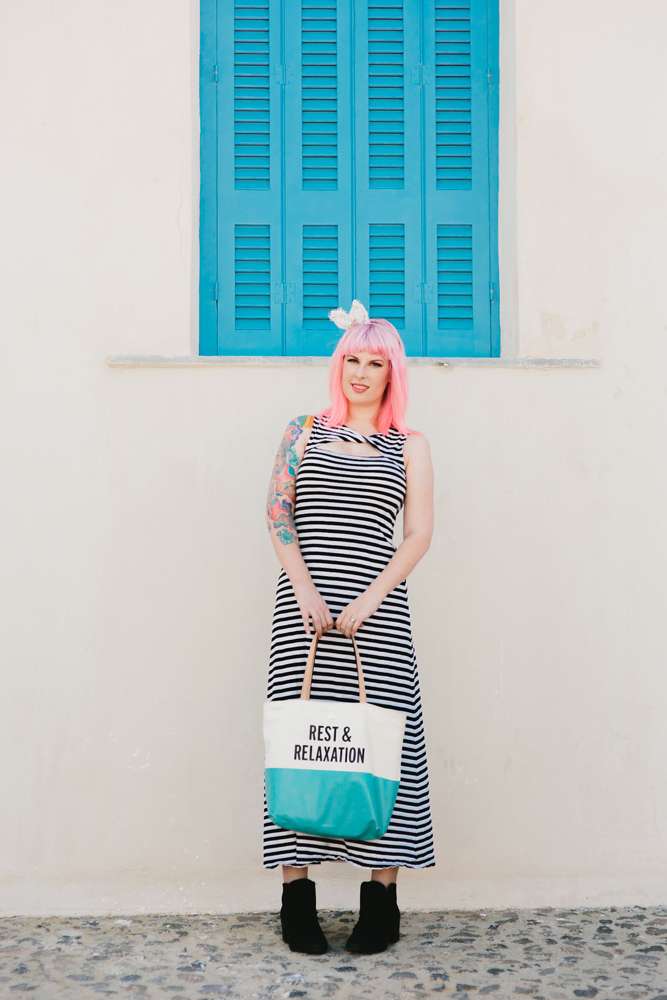 I'm not going to pretend for one second that I'm some kind of expert in the world of travel or honeymoons. BUT you may have noticed that I've done rather a lot of globe-trotting over the past 12 months. And as we're about to launch our 2014 Blogcademy world tour in a couple of weeks it would appear that it's not really going to change any time soon!
So I figured, why not share some of the places I've visited and the experiences I've most enjoyed with you lovely lot? First up is a honeymooners paradise – Santorini.
For her 30th birthday Gala decided that she wanted to whisk us away to the Greek Islands. Of course Shauna and I weren't complaining! Ever the travel guide, she organised most of it (so I can't take any credit!) but what I can do is share the things we loved on our trip. Hum… it's my 30th in April, I wonder if we can top this?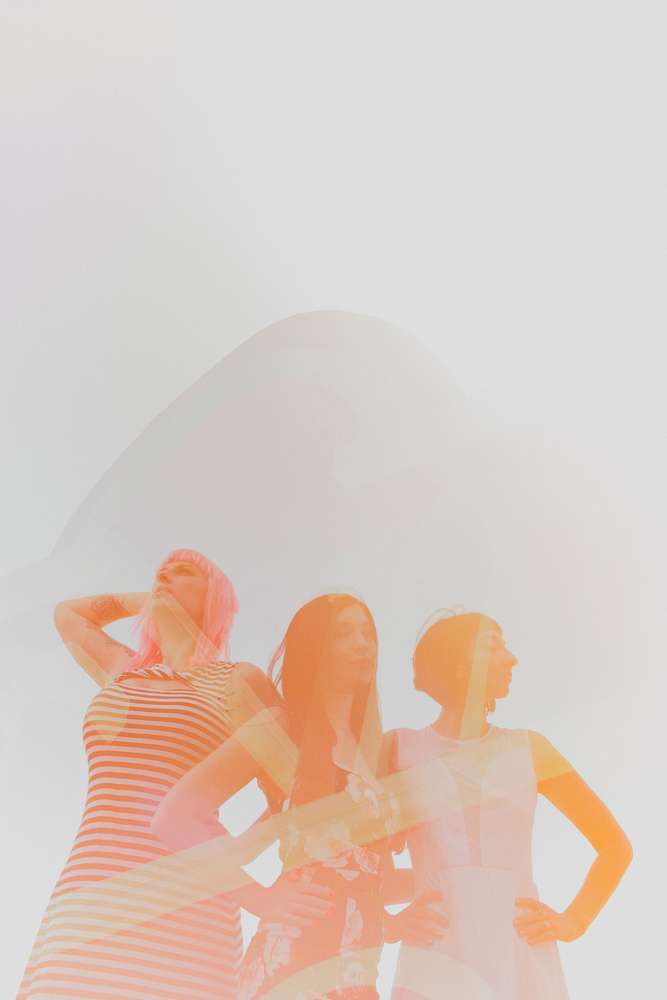 Accommodation
Whenever I travel, an apartment rental service like Air B&B or GowithOh! are my hosts of choice. Not only are the houses and apartments usually much cheaper than staying in a hotel, I personally think you get a much more authentic and interesting experience not being hauled up in tourist city.
For this trip we stayed in this apartment, in Oia. I kid you not, it had the best view on the whole island and the private balcony overlooking the ocean completely sold it to us. Our host, Nicolas, was also amazing. He and his porter Vasilis, (who carried our 25kg bags up and down those stairs with ease!) were attentive, helpful and made our stay a total pleasure!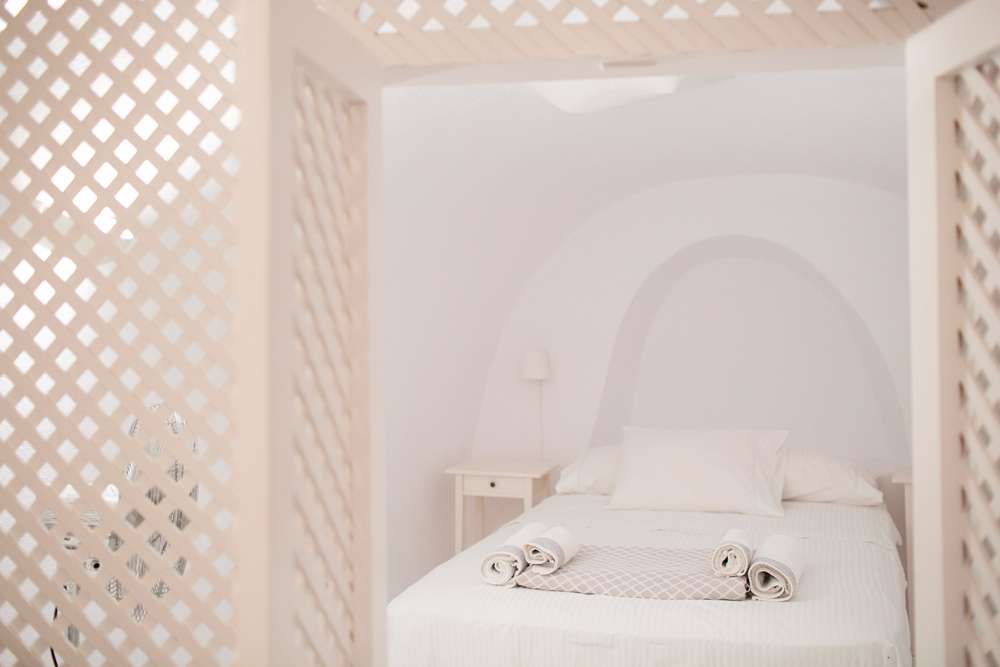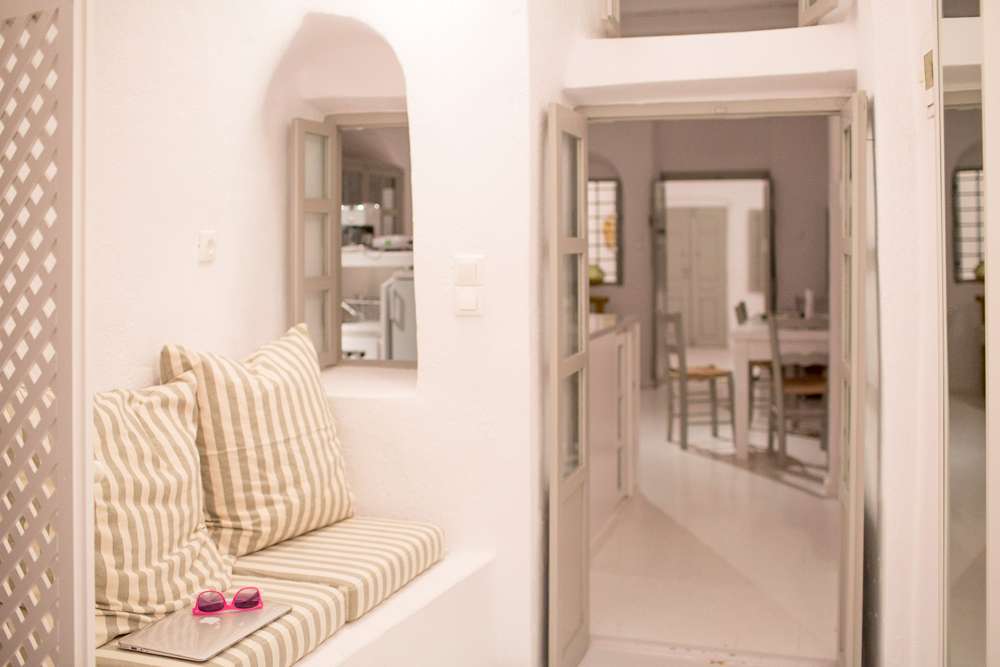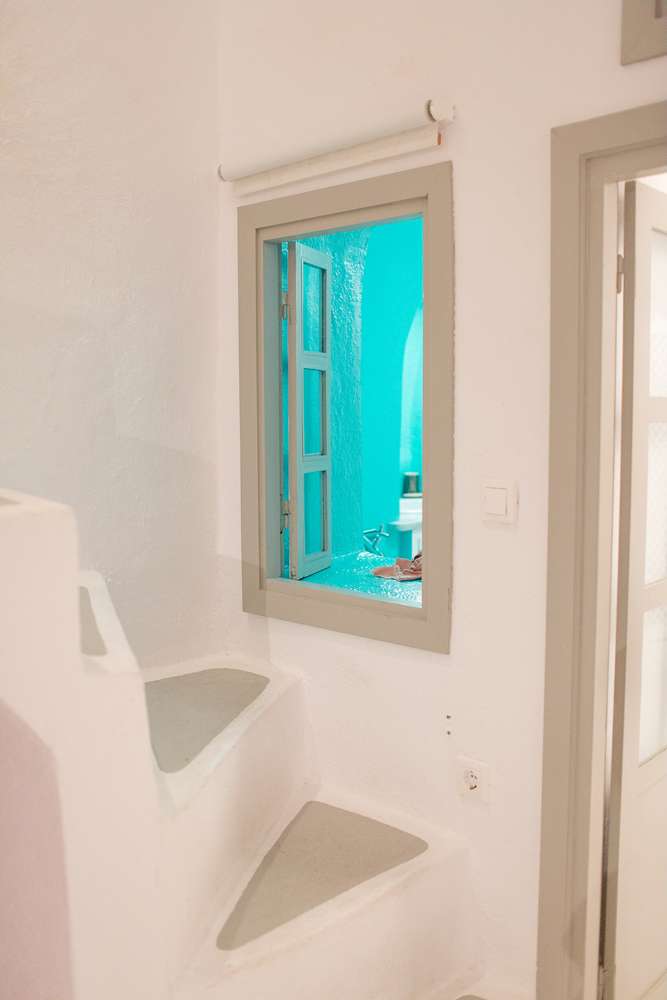 As you can see, the view wasn't terrible…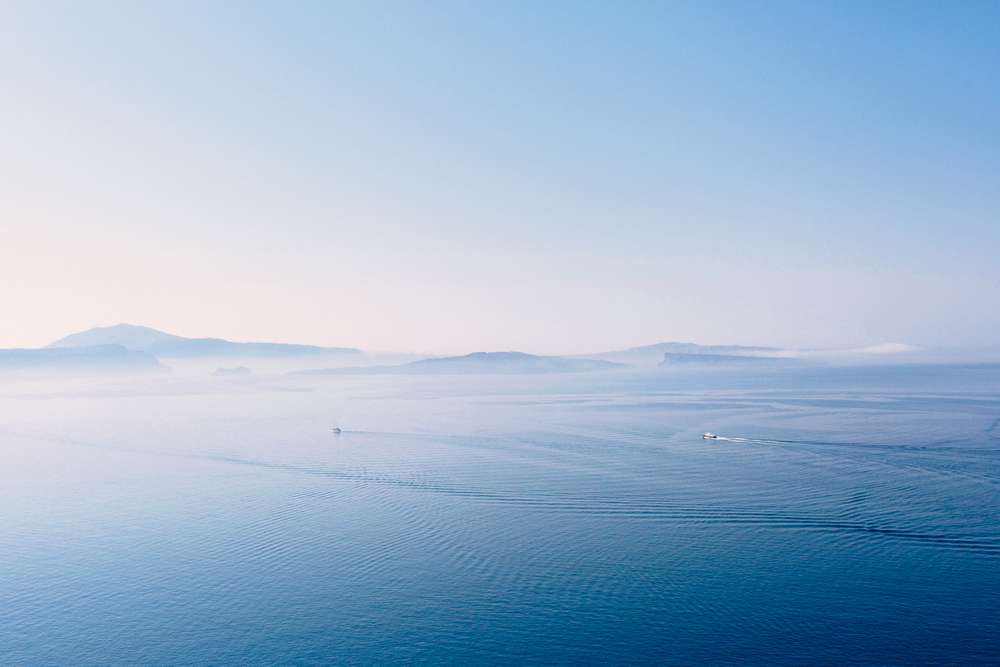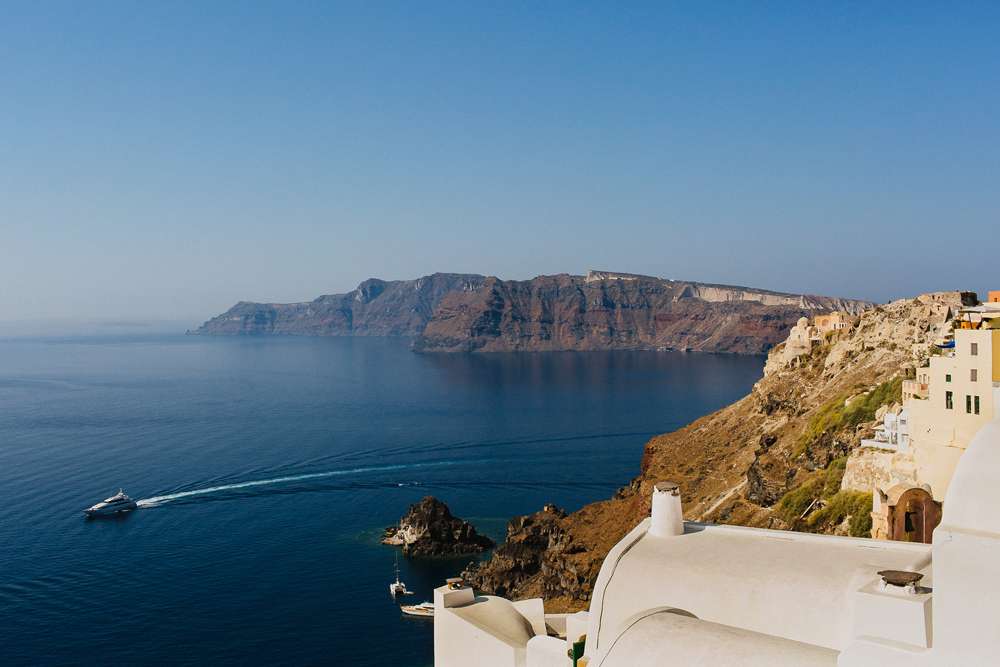 I promise you, I didn't just scan a postcard…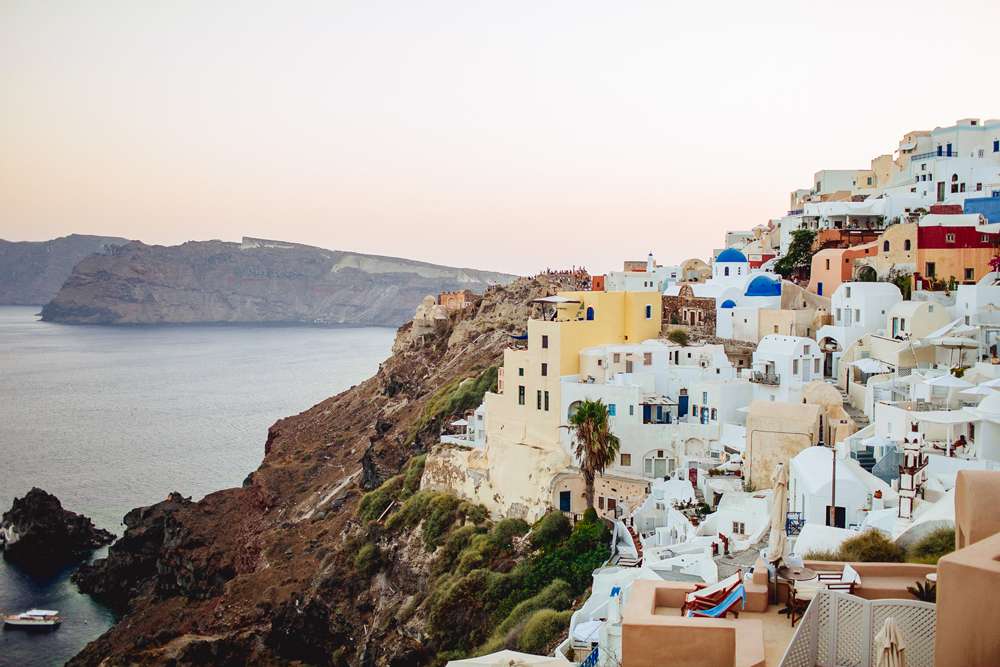 Posing it up on and around our balcony…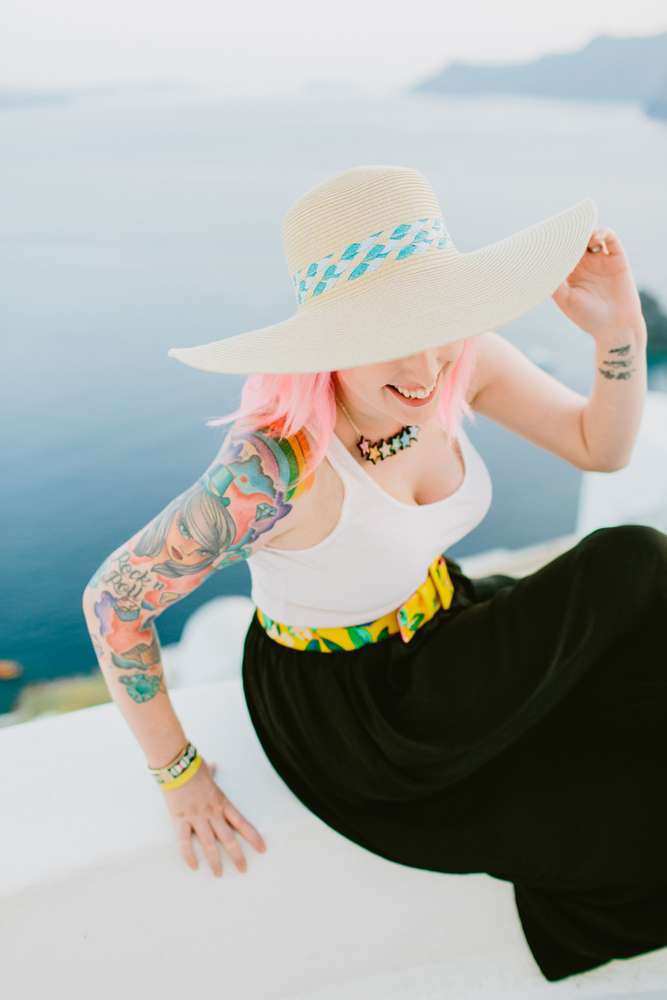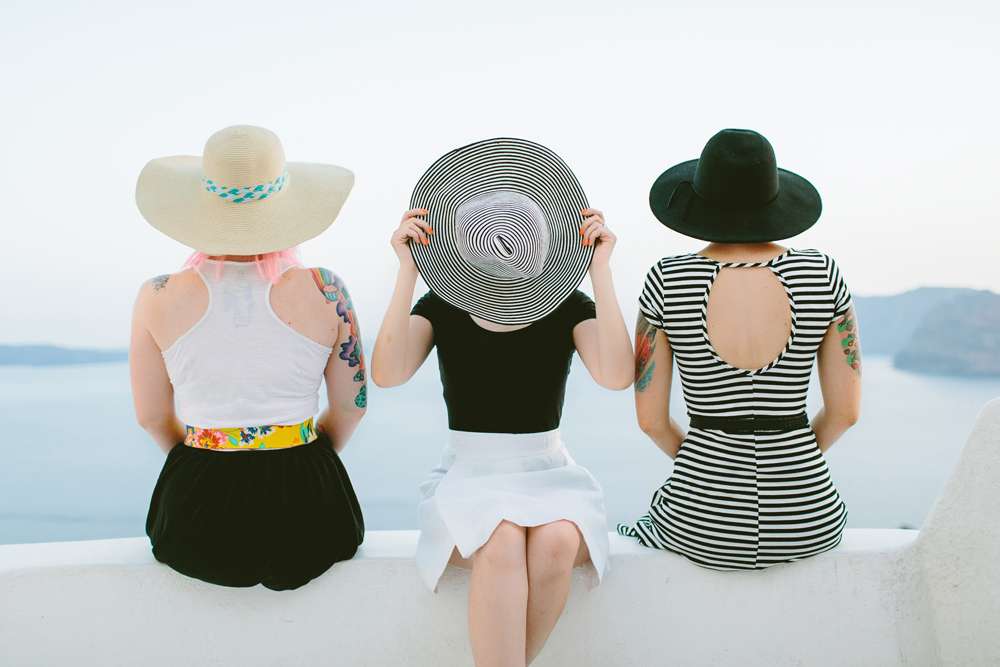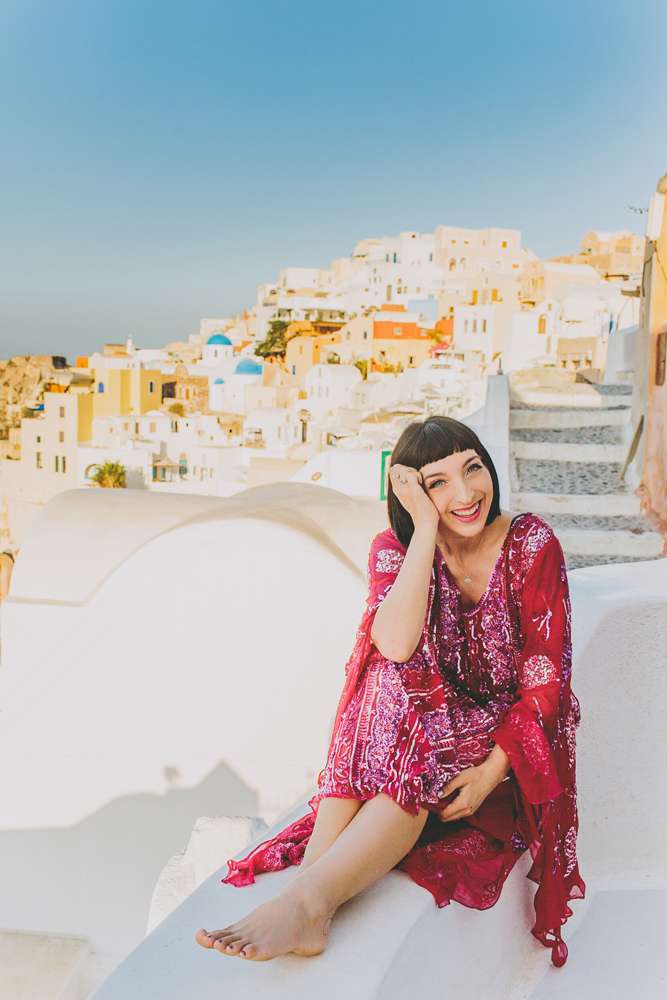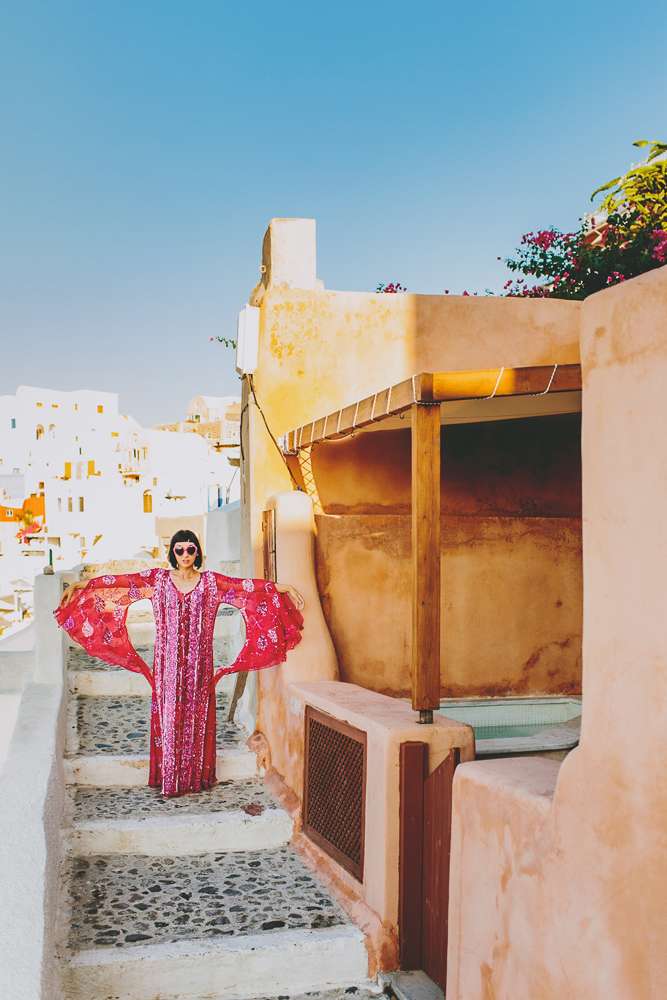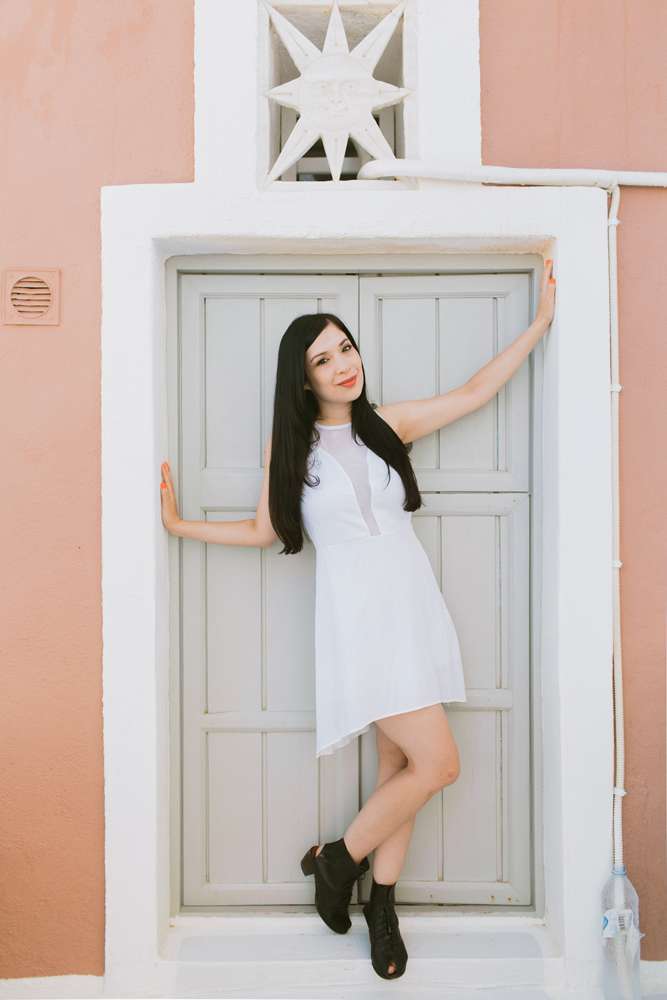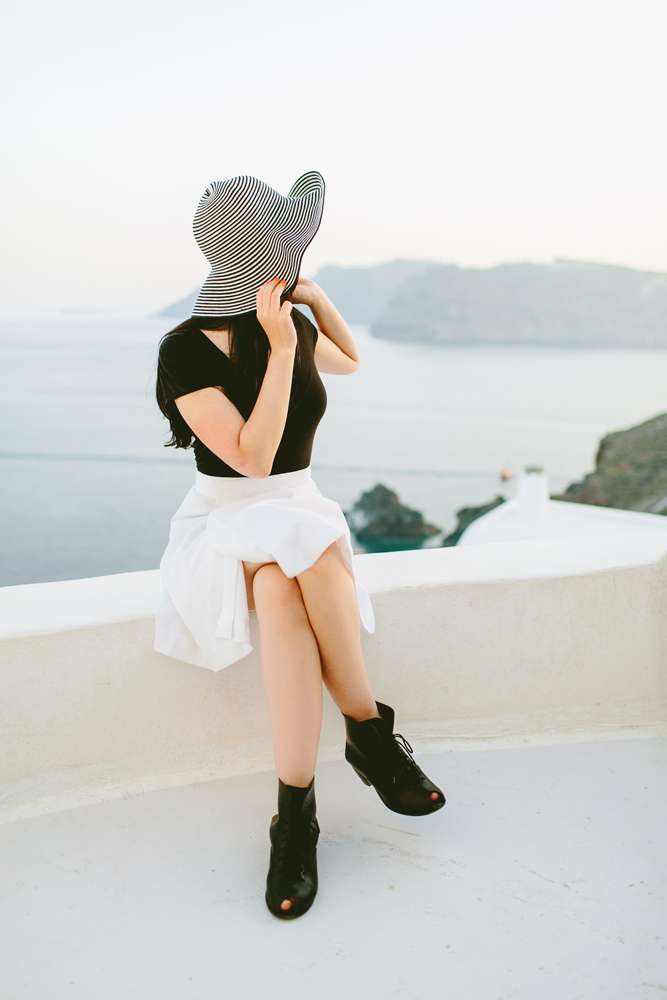 My favourite thing to do: taking a boat ride
When you're enjoying island life, hitting the water is a must. We decided that we'd love to do a sunset boat trip (Santorini is known for it's incredible sunsets) but unfortunately the catamaran trips which we'd been recommended were booked up for days in advance and were also €130 per person – yawzer!
Refusing to be beaten, we wondered up and down the streets of Oia dropping into travel agents to see if they had anything similar available – and we struck gold! There was an older style boat doing the same tour and it was only €25 each! The downside was that there'd be more people on the boat and that you didn't get fed, but when you're cruising around the Aegean sea, who cares about little details like that?!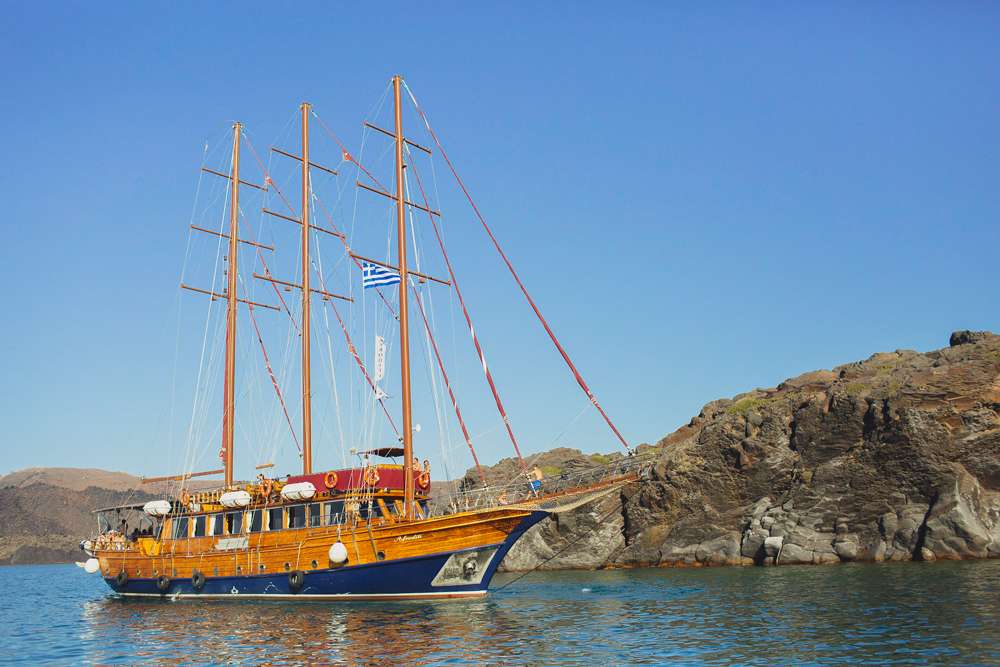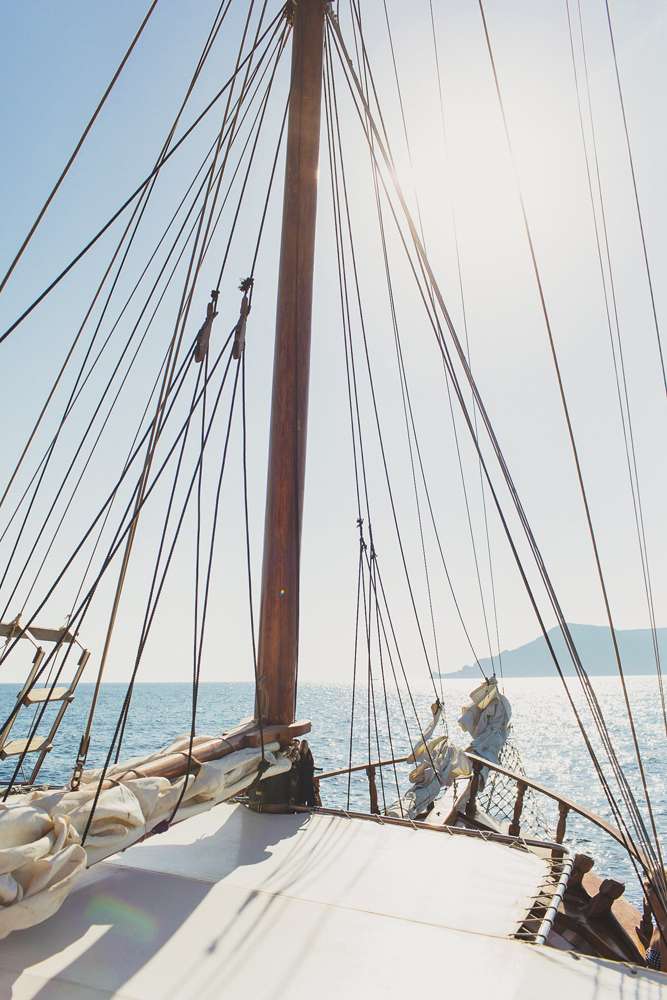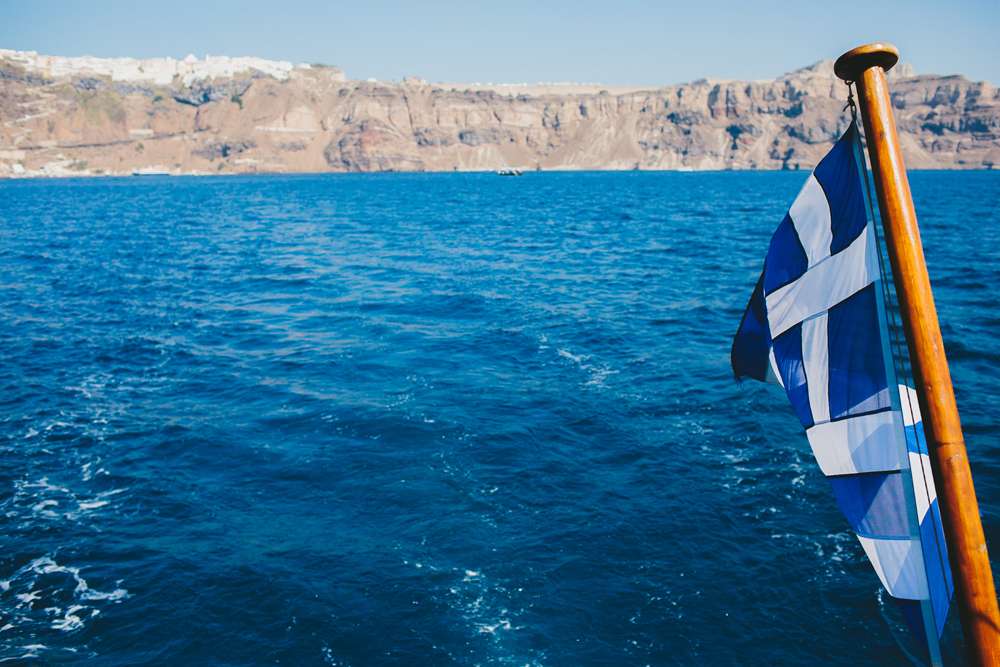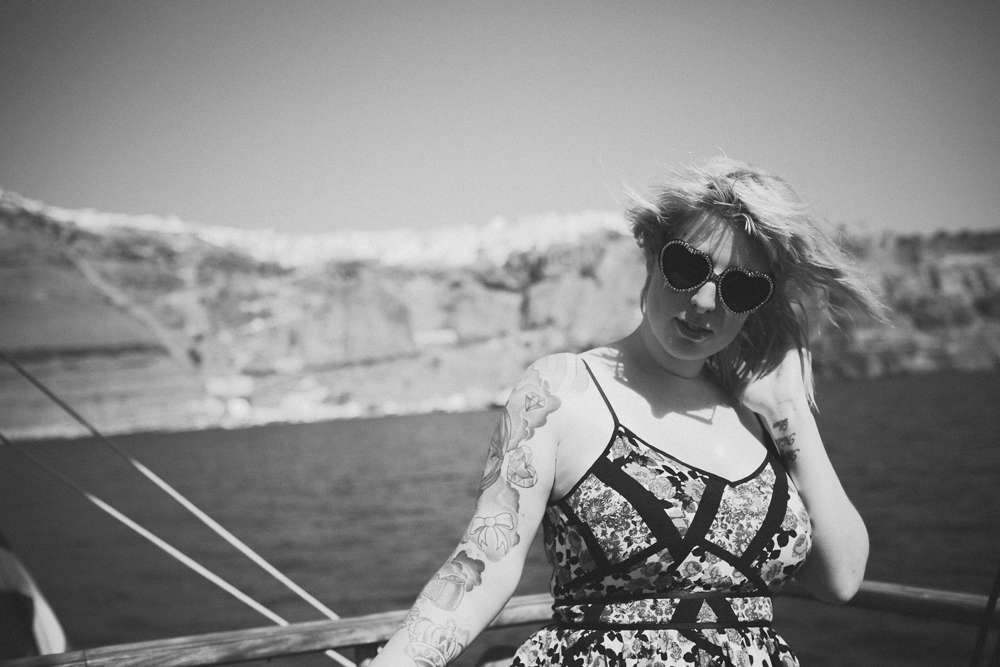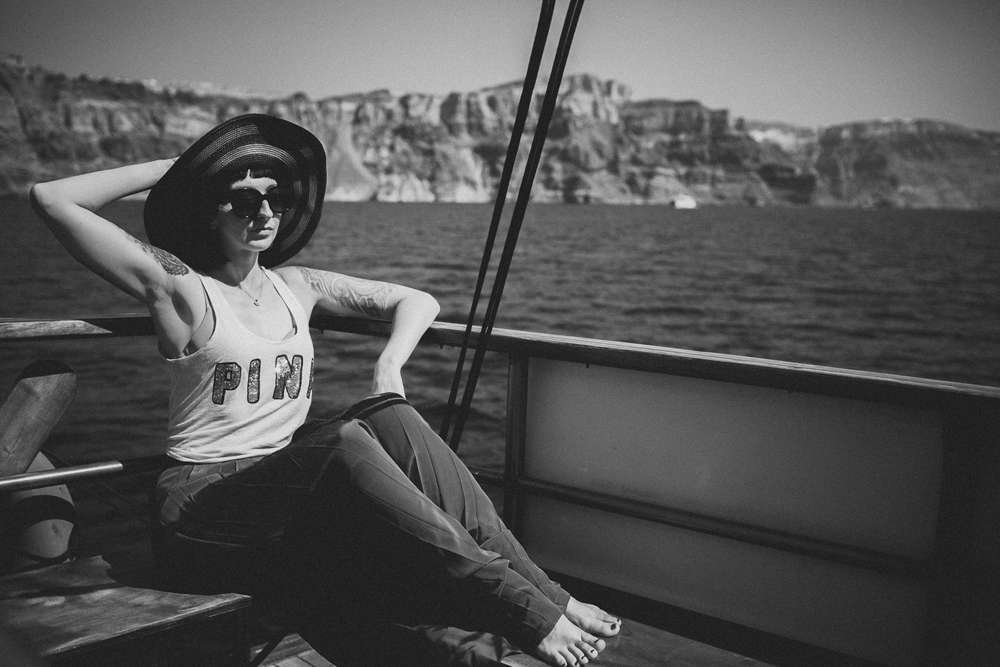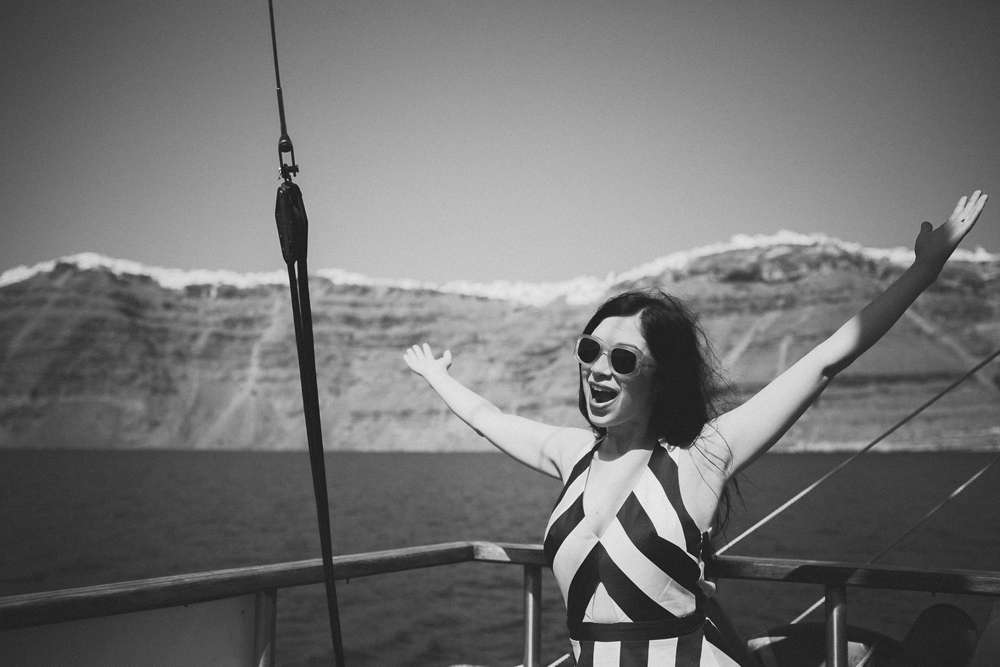 The boat left from the port of Thera and made three stops during the five hour trip. Firstly to the volcano in the middle of the bay which, if you were feeling particularly active, you could walk up. Then it was onto the hot springs where we docked for 45 minutes so we could swim. I was the first in and I persuaded Gala to join me even though she's not a strong swimmer. It was worth it for the giggles!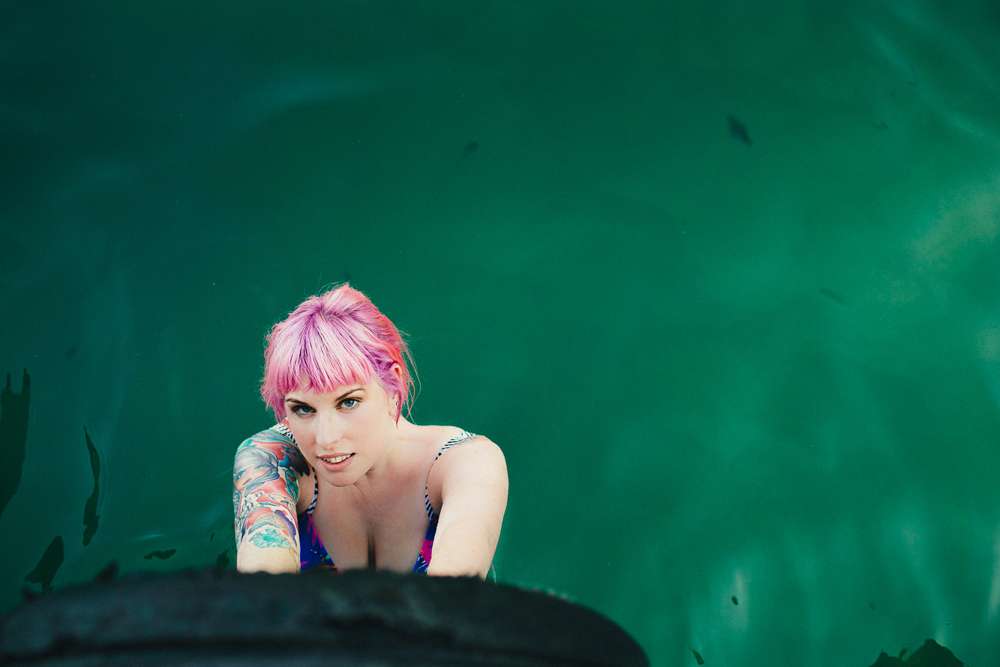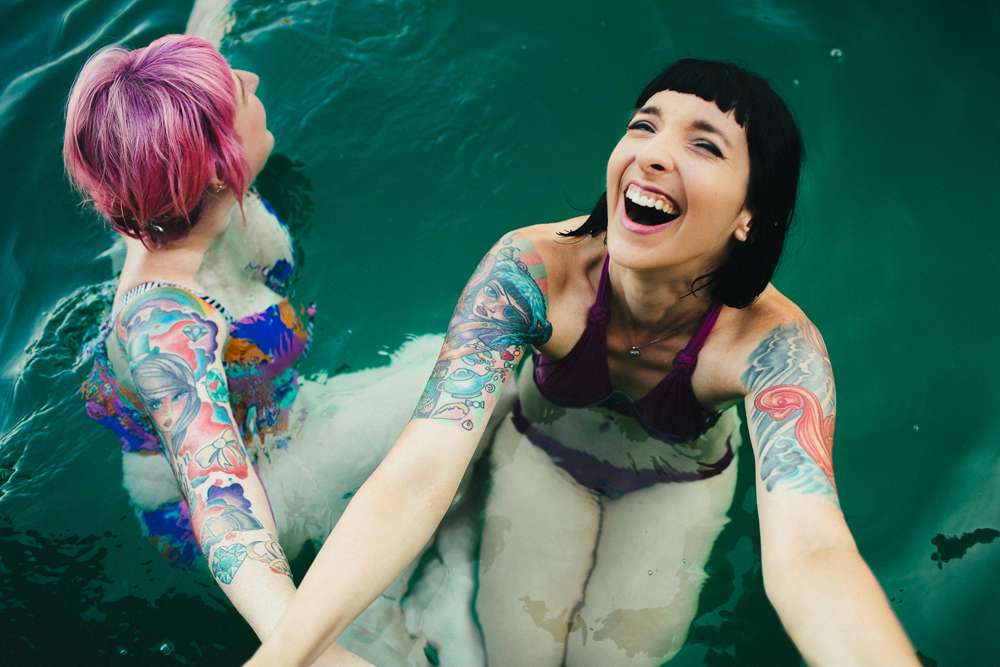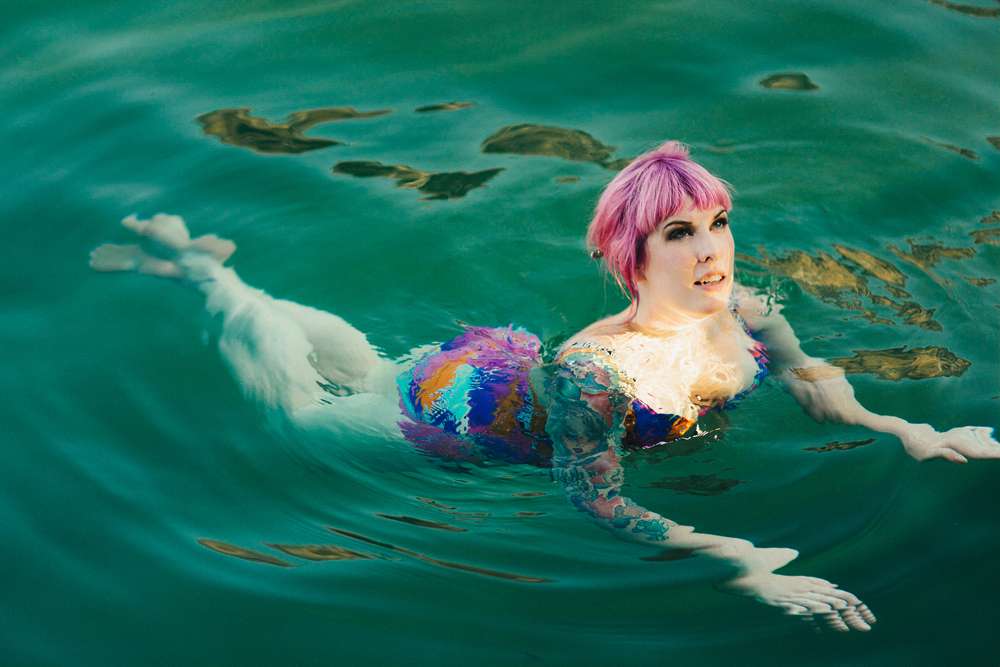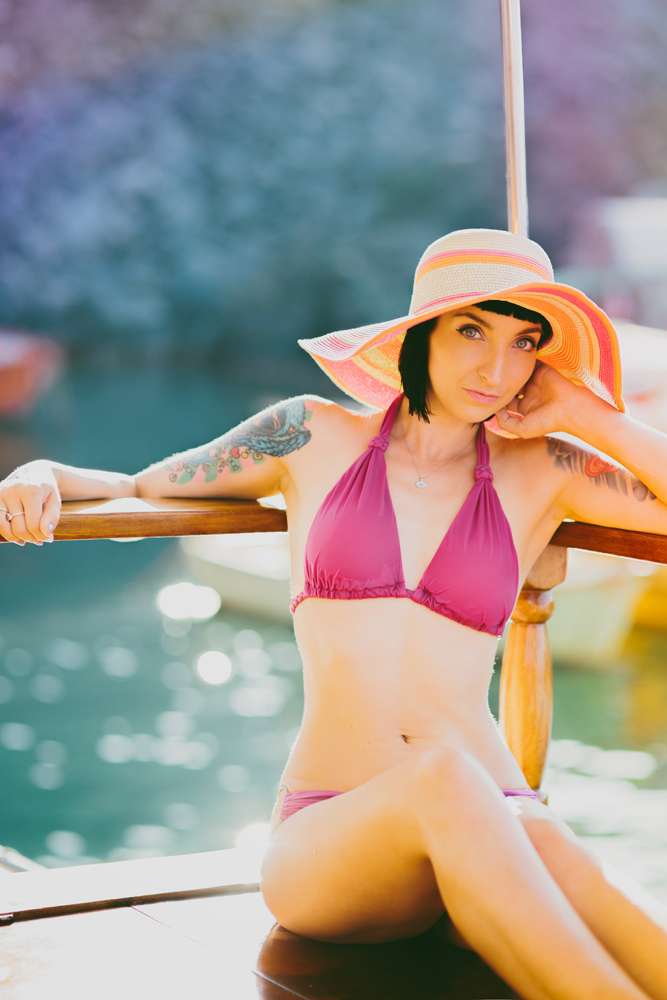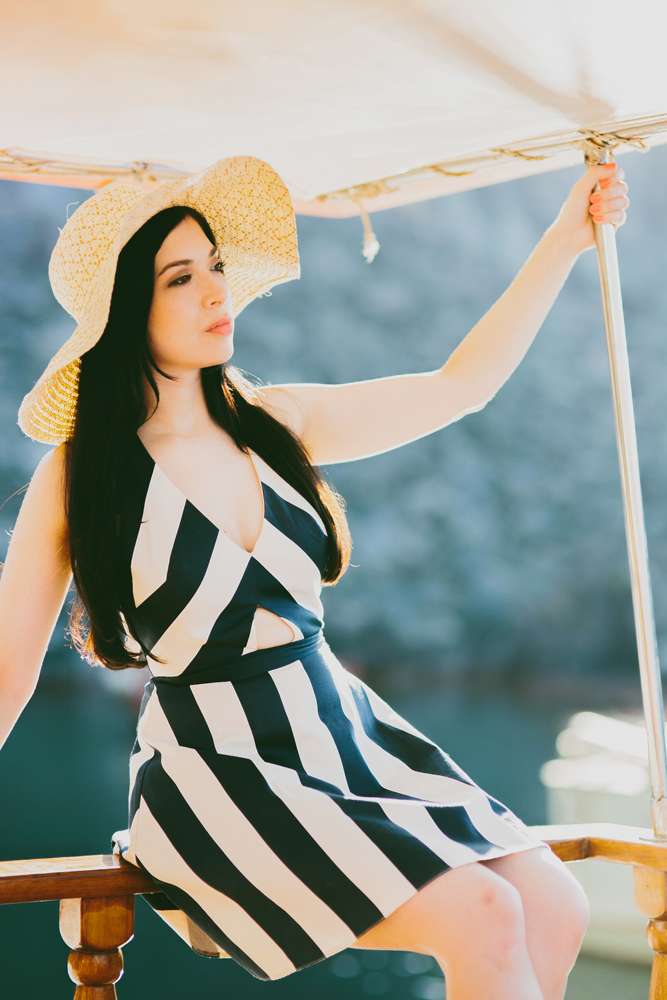 Finally the boat sailed around to the most western point of the island, right by Oia, where we were able to watch the spectacular sunset with some complimentary Greek wine. This part of the island gets incredibly busy every sunset, so being able to avoid the crowds and watch it from a boat was pretty darn amazing indeed.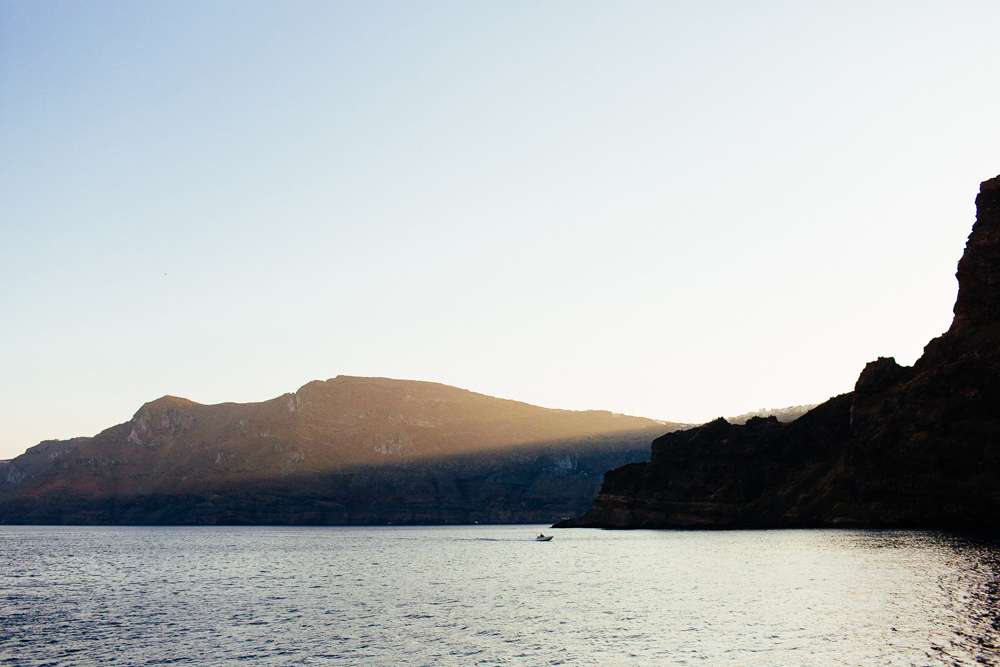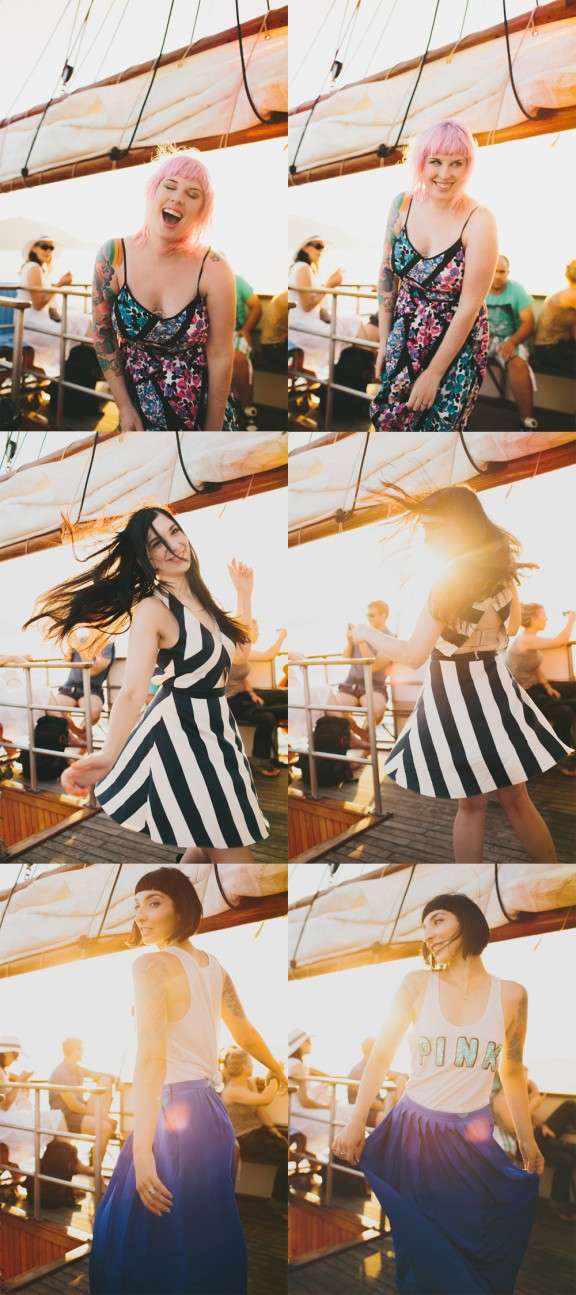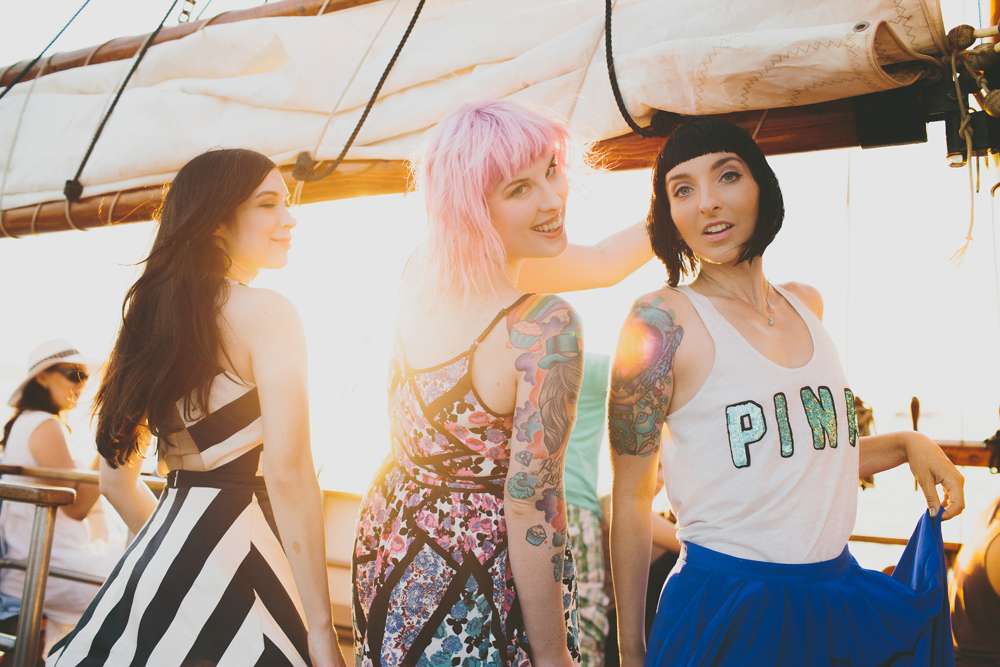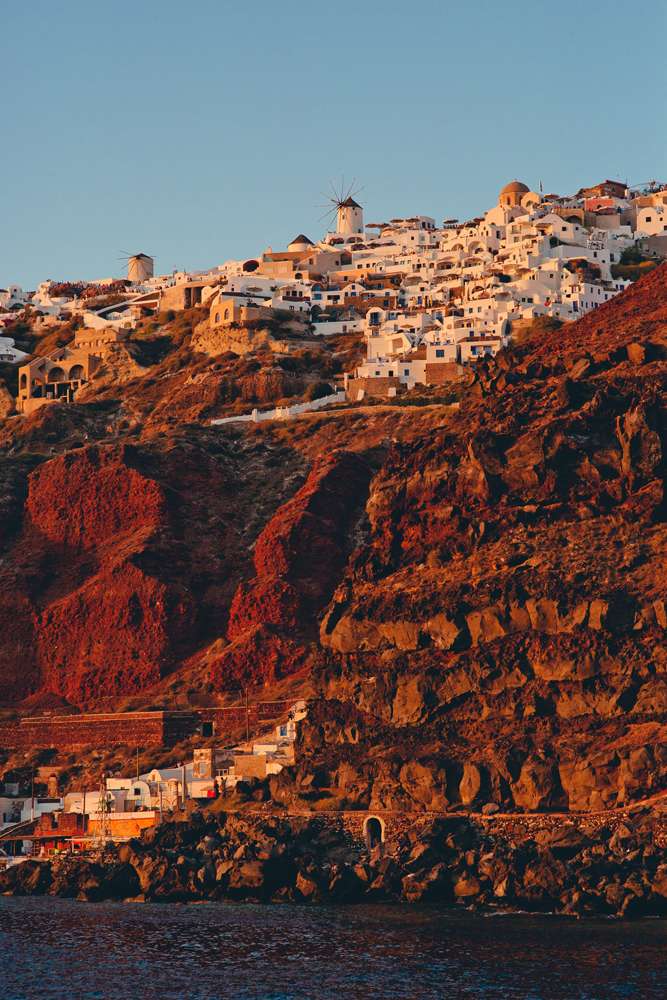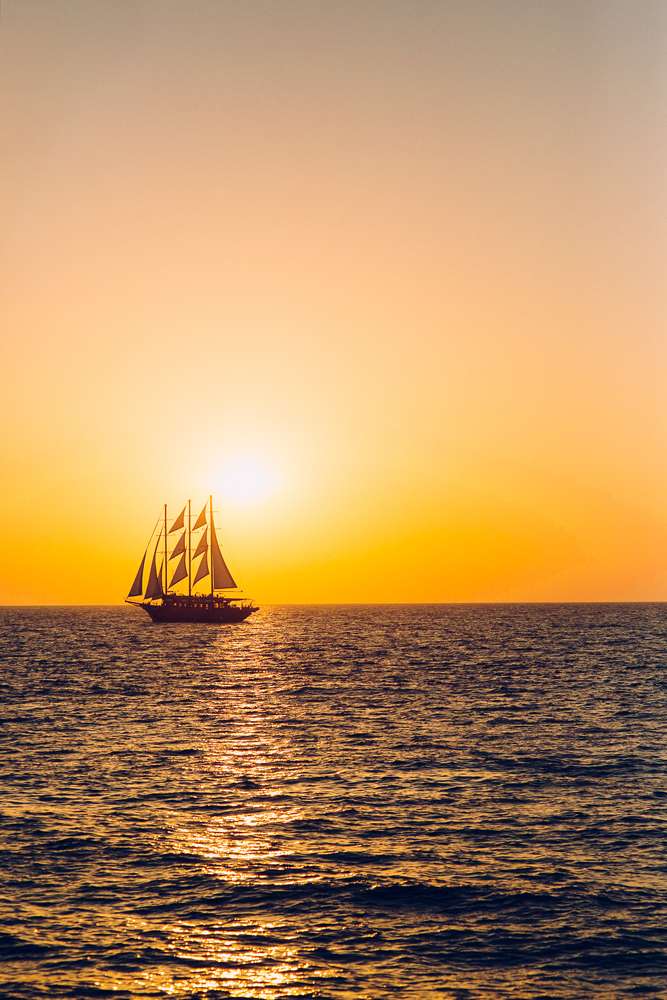 Food and drink
I wouldn't say I'm a particularly fussy eater but I do like some variety in what I chow down on. If new culinary experiences are what you're after, then this probably isn't the place for you. Most of the restaurants were pretty good, with great service and super friendly staff, but the options were pretty limited.
Seafood is best avoided as it's either frozen or very expensive and if you don't like cheese you'll be a bit stuffed. It's on nearly everything (and huge amounts of it!) Gala ordered a Greek salad in one place and it came with a whole block of feta on top!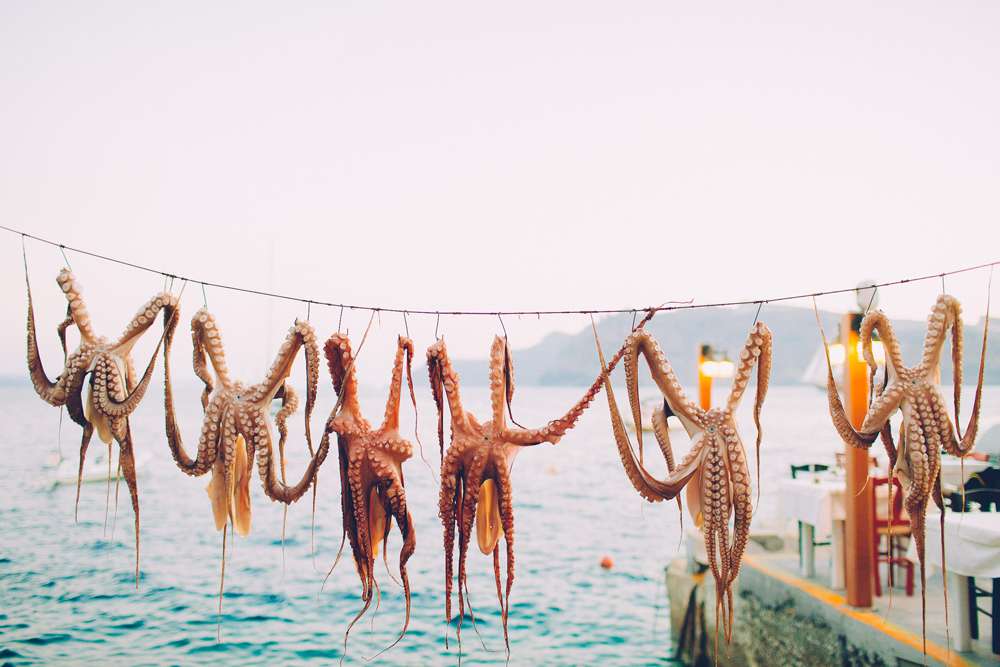 Most places served pretty basic cuisine – pasta, salads and bread – so get used to repetition! Our two favourite places to eat were Pelekanos and Kyprida. Both affordable, with good wifi (a must for travelling bloggers!) with incredible views and lovely staff. Oh and order zucchini balls if they're on a menu – they were so good!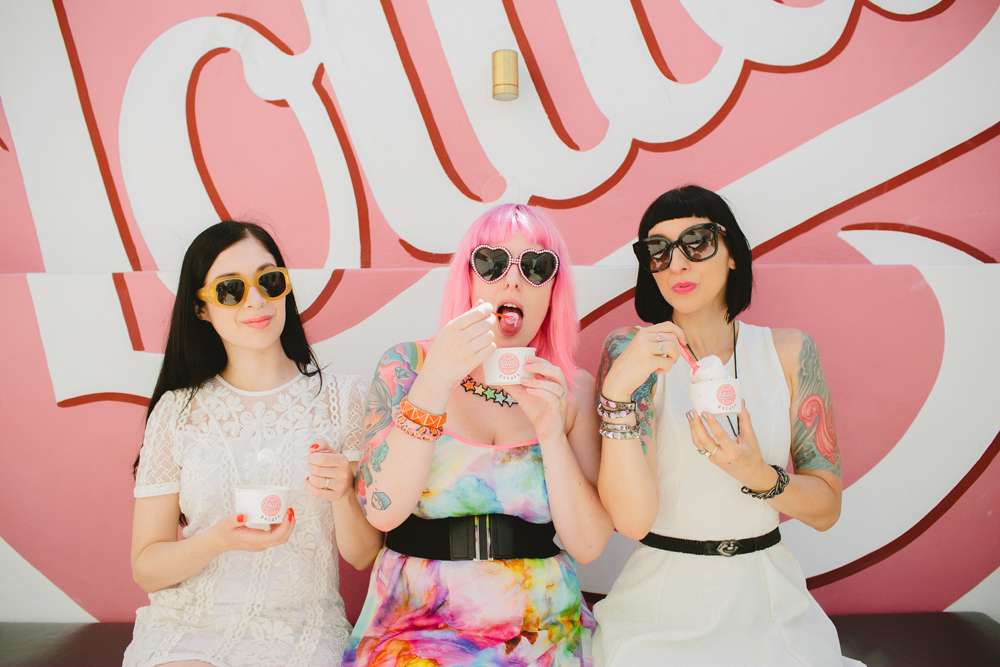 Our favourite after dinner spot was Lolita's gelato. Not only did one of the servers look like a young George Michael, but the gelato was amazing and the branding was pink. A complete winner in my book!
Getting around
Using your feet! There are no cars allowed in the villages but if you're staying in one area nothing is really too far to walk to. To get in between places we used local cabs which our Air B&B host kindly organised for us, but you can also book them in any of the small tourist booths around the island.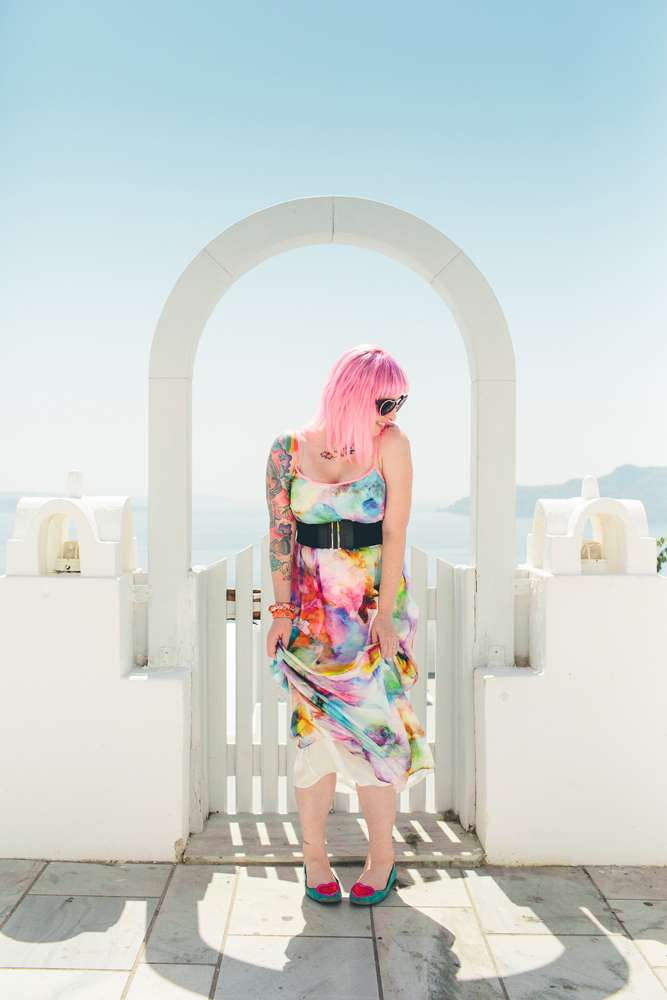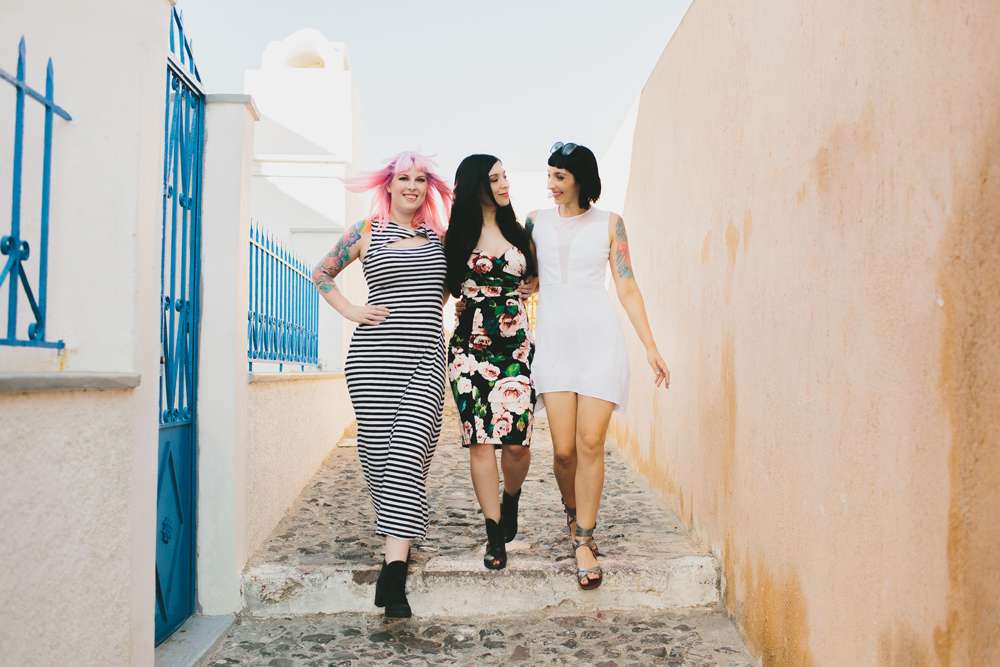 Other than that, the only other big journey we had to do was getting from Santorini a to our next destination of Mykonos. To get there we booked a Seajet ferry. They're not fancy or glamorous and you might get a little sea sick, but they're not too expensive (one trip is about €49) and definitely the best way to get in between any of the Greek Islands.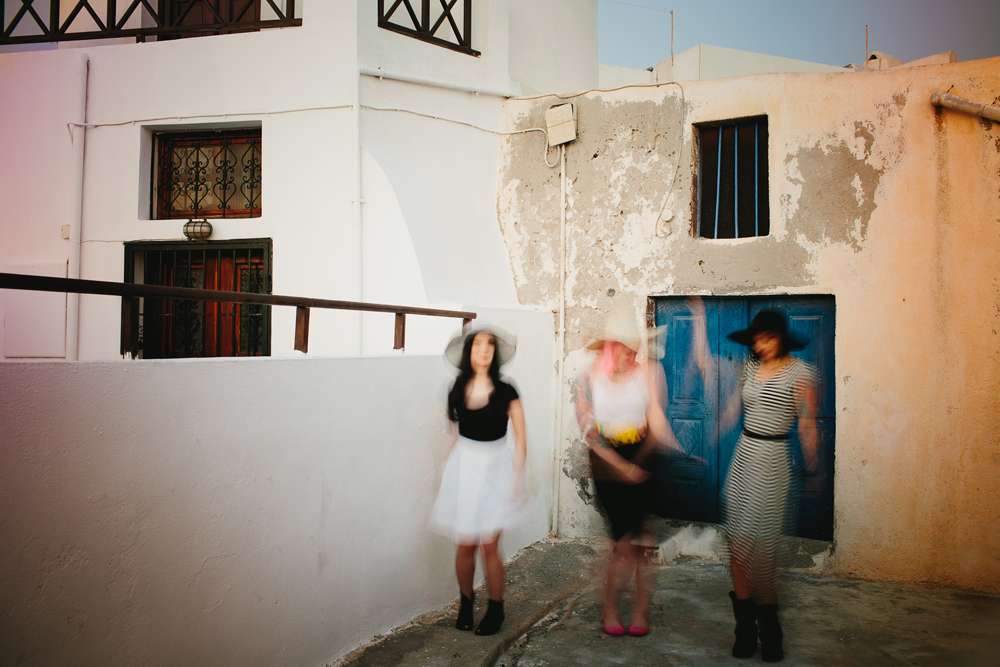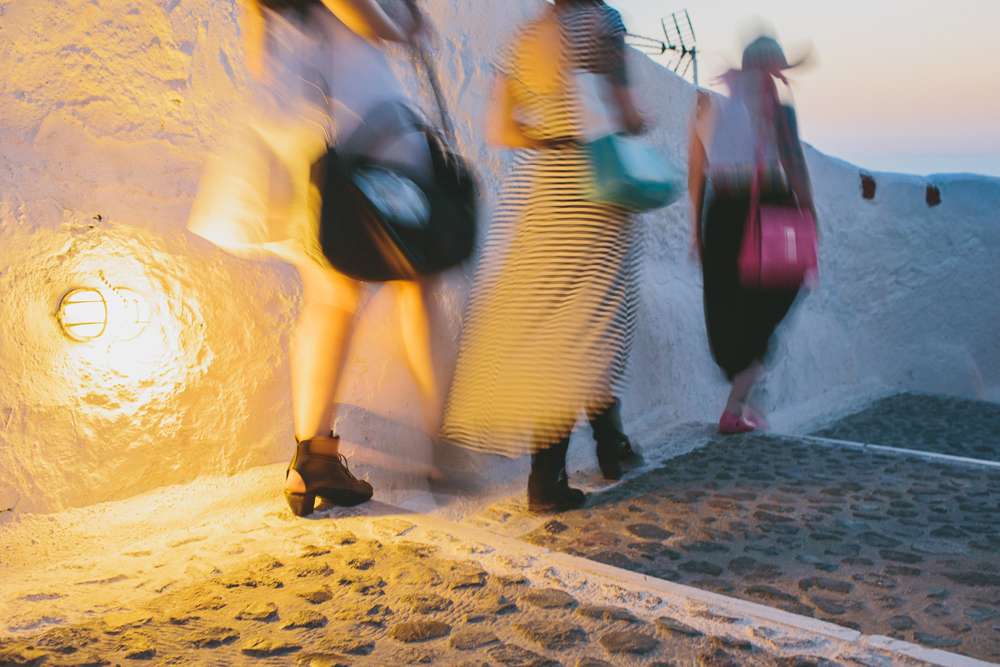 As a side note, the island is also covered in these amazing pink bougainvillea. So clearly I felt right at home! It's definitely worth a walk around to grab some picture perfect photo ops.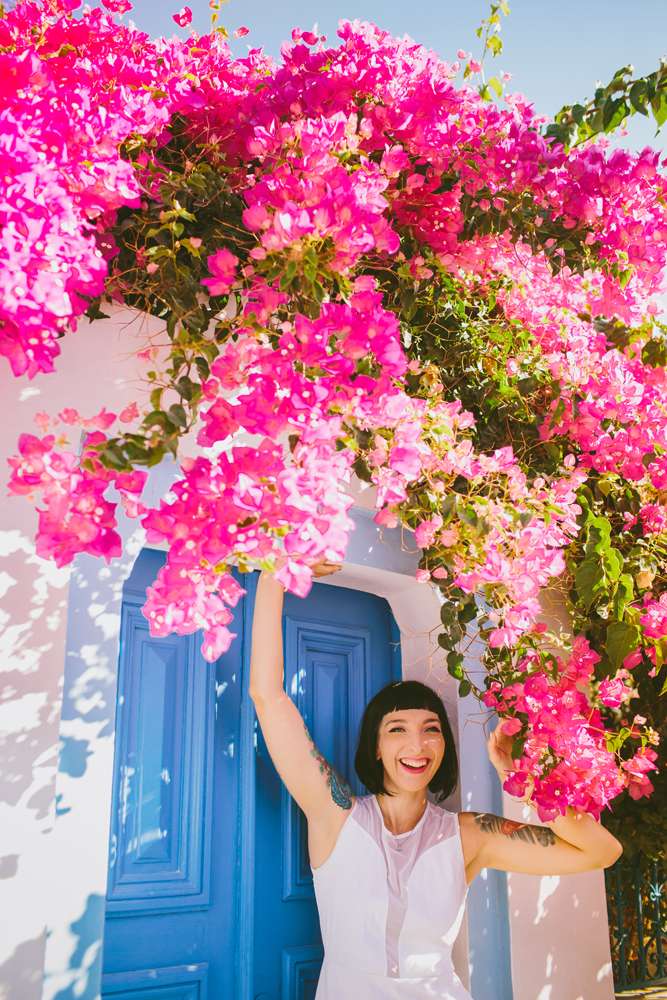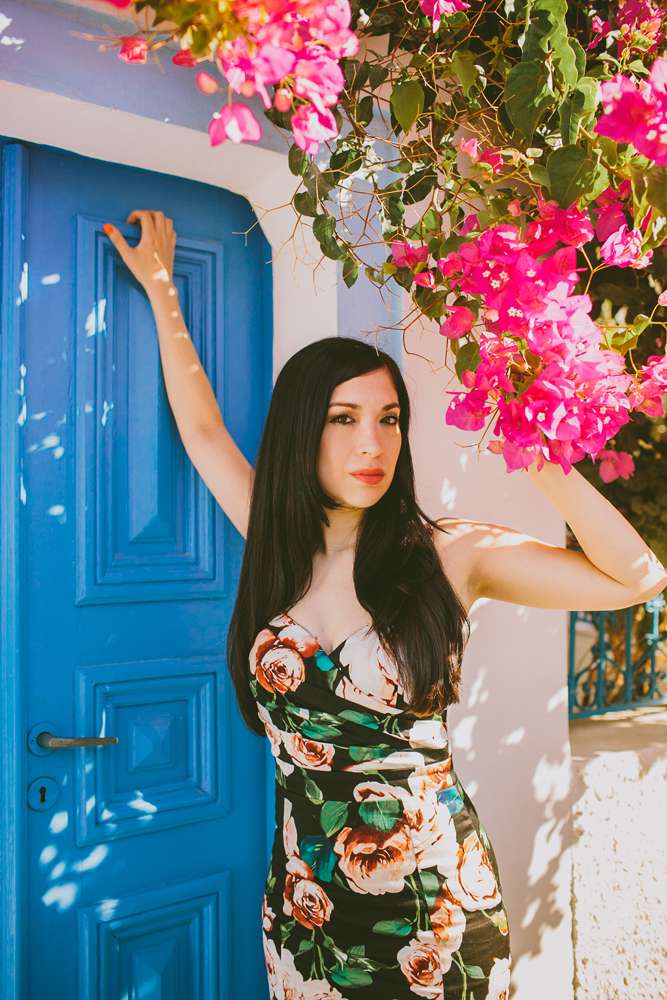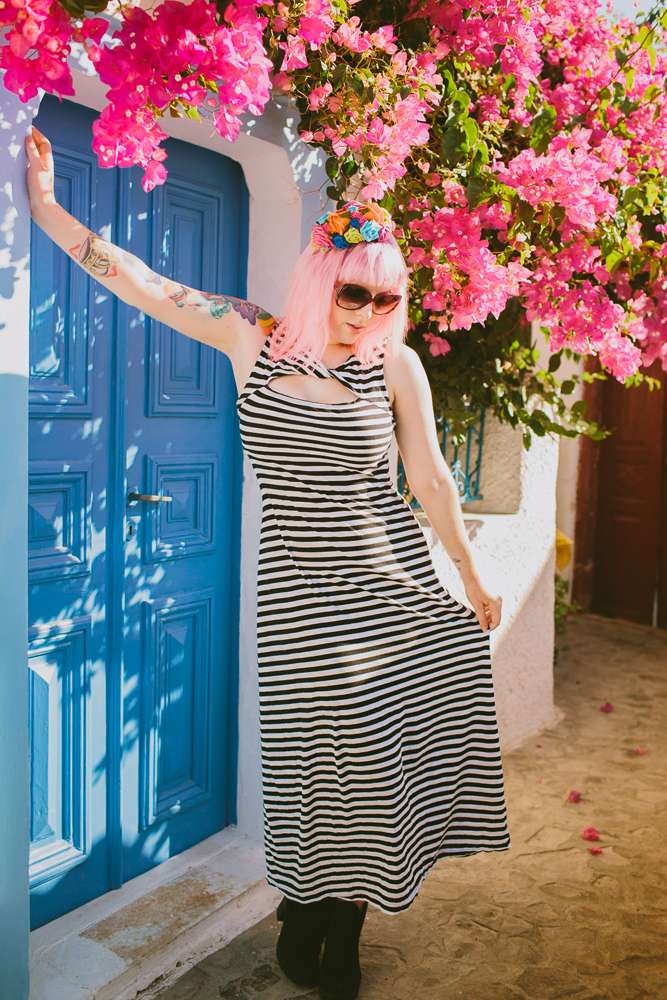 I'd now love to hear from any of you that have been to Santorini. What were your favourite things to do? Are any of you considering it for your honeymoon?
Finally, BIG LOVE to photographer Shell De Mar who we kidnapped and bought with us on this trip to take these photos. Hum… I wonder if I can sneak her into my suitcase on all of my travels?