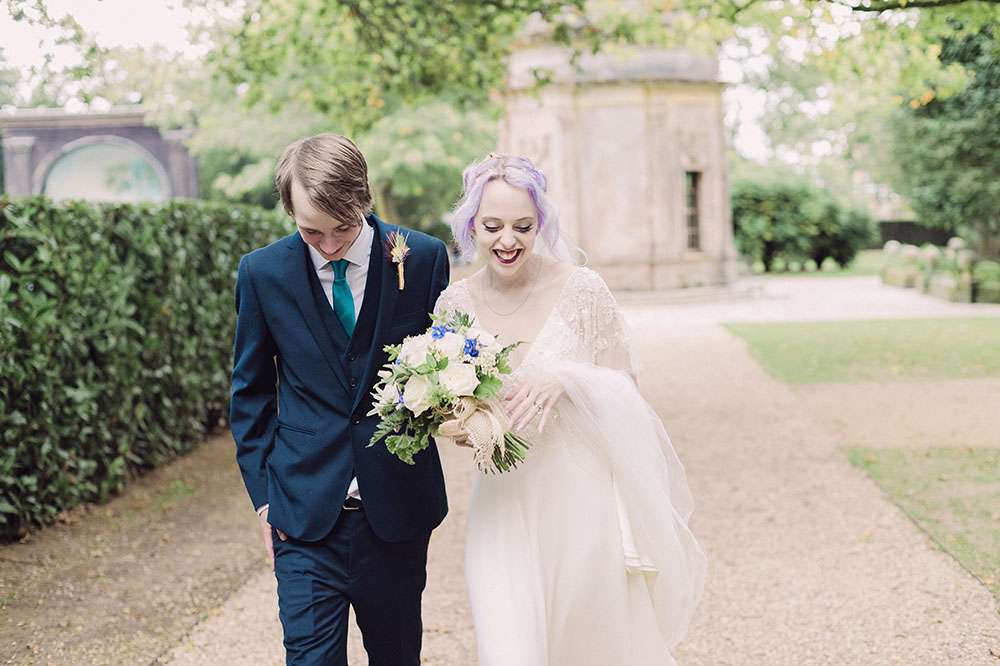 John and Lucy were married at Larmer Tree Gardens in Wiltshire in September. They chose it because it had the pretty outside space that they wanted, and they were able to say their vows outside (which isn't always possible in the UK!) in their covered pavilion.
"We are both artists, I paint and John is a photographer, and we are both deeply inspired by nature", said Lucy. "I am also borderline obsessed with the vision of an enchanted forest so we wanted our wedding to feel like a blurry childhood memory of a place that was so beautiful and fantastical that you're not sure whether it was real or not. We fell in love with Larmer Tree Gardens the minute we clapped eyes on it. There were peacocks and parrots roaming around so we used a loose theme based on the colours of the peacocks plumage by having the boys in teal and the girls in royal blue."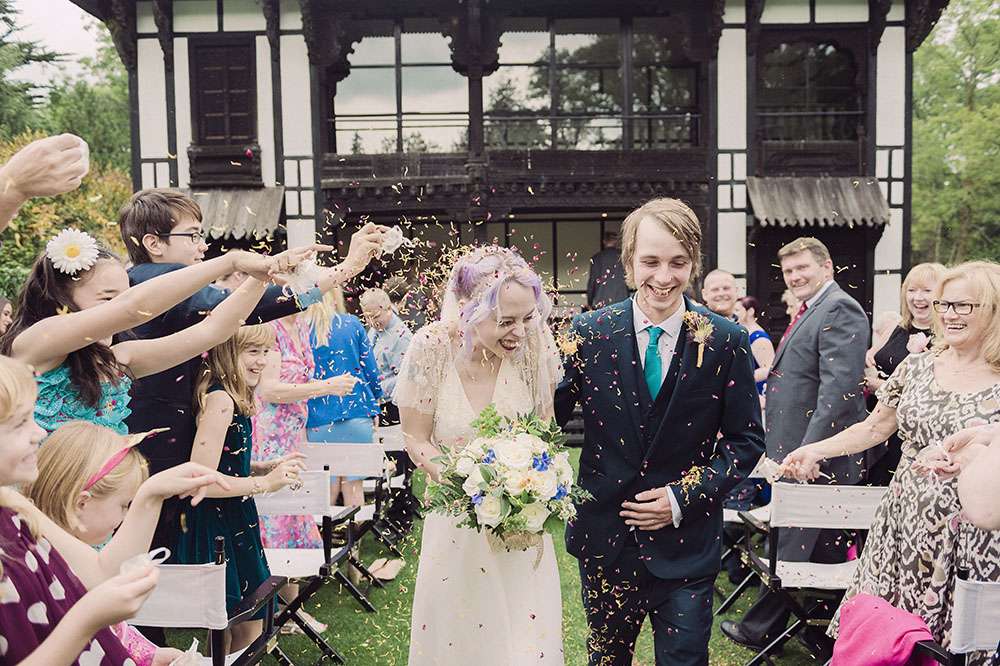 For entertainment they had giant lawn games, badminton and space hoppers! They kept the decoration in the reception space simple and reflective of the gorgeous outside area. They had slices of oak with the guests' names on for place cards (which John made), gold painted animals (also DIY), toadstool candles and ivy.
"I DIY'd the confetti as I really wanted the colours to pop in the photographs but also to be eco-friendly", the bride continued. "My friend and I sat round with a bottle of wine and mixed the petals and stuffed the bags, it was really fun! All the decorations were DIY. We cut the place names from birch and hand painted the golden animals for the tables. It was a mad rush the day of the wedding rehearsal to do the 'find your seat' board. Our parents were waiting outside our house whilst we were still painting the board. It was very nearly forgotten about!"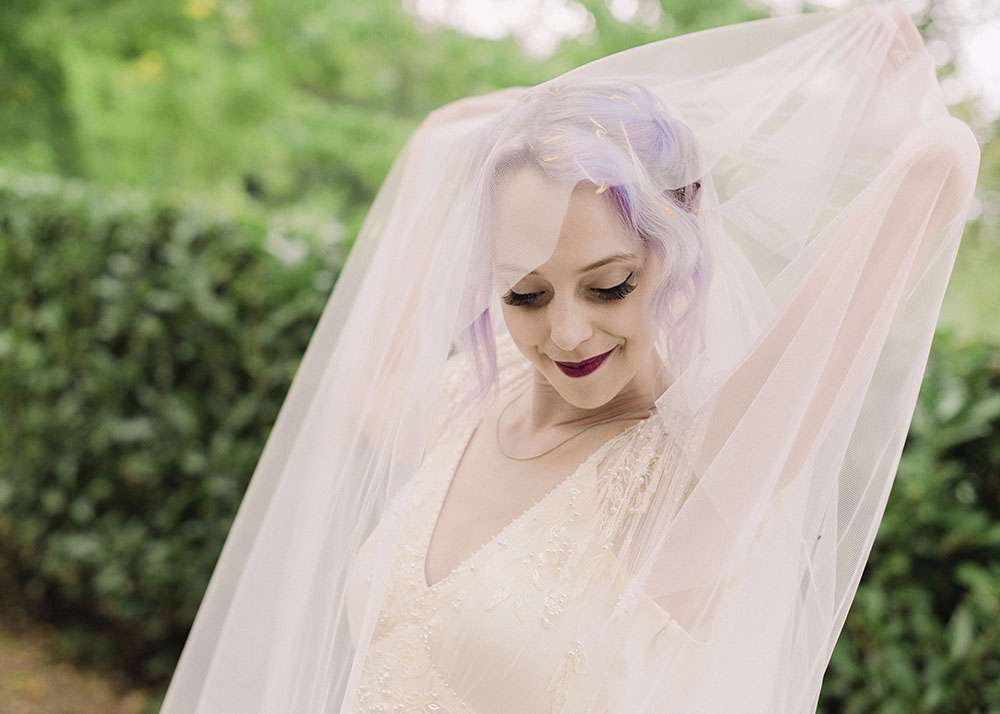 "Our biggest cost was the photography. We absolutely love Razia's style and us both being very visual we had to have amazing photographs. She captured our day perfectly. To save money, we bought a lot of things on eBay like the wooden hearts for the table, the petals (which were sold as soap making petals), and the table numbers. The pine cones were free, my mum and I wondered around the forest near her house with the dogs collecting loads of them."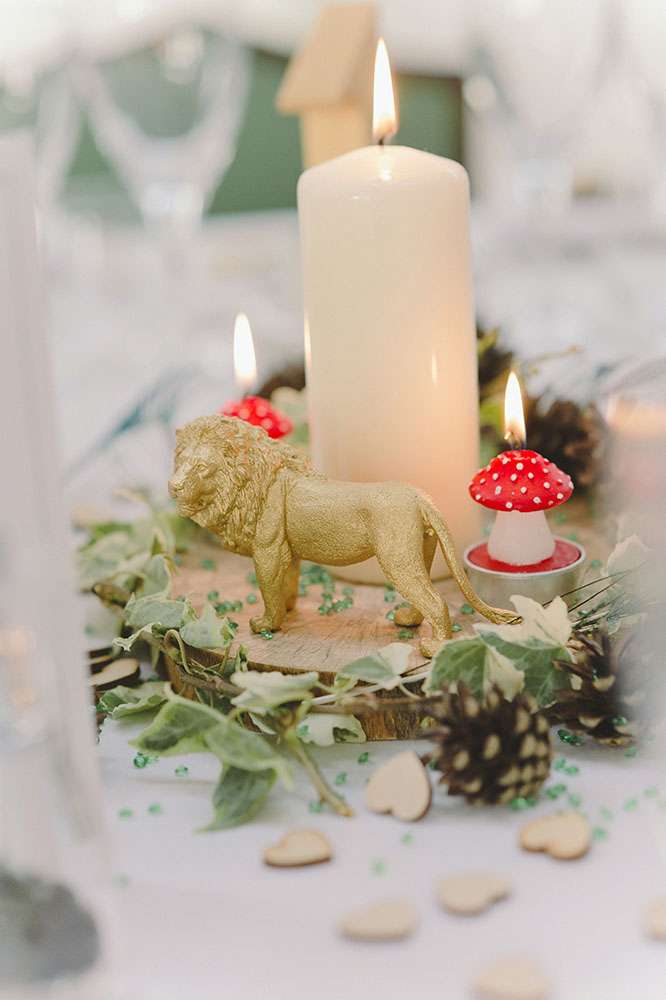 "I was confronted with a lot of 'oh you don't want to do that, you will regret it when you look back in the future'". Lucy concluded. "It is quite hard to hear. Plus, there are a lot of magazines out there which feature lots of 'cookie cutter' weddings which all look the same. However we wanted to do our wedding justice and make sure it really represented us. We didn't stress about the little things, its important to just do what you want to do and make your wedding yours!"