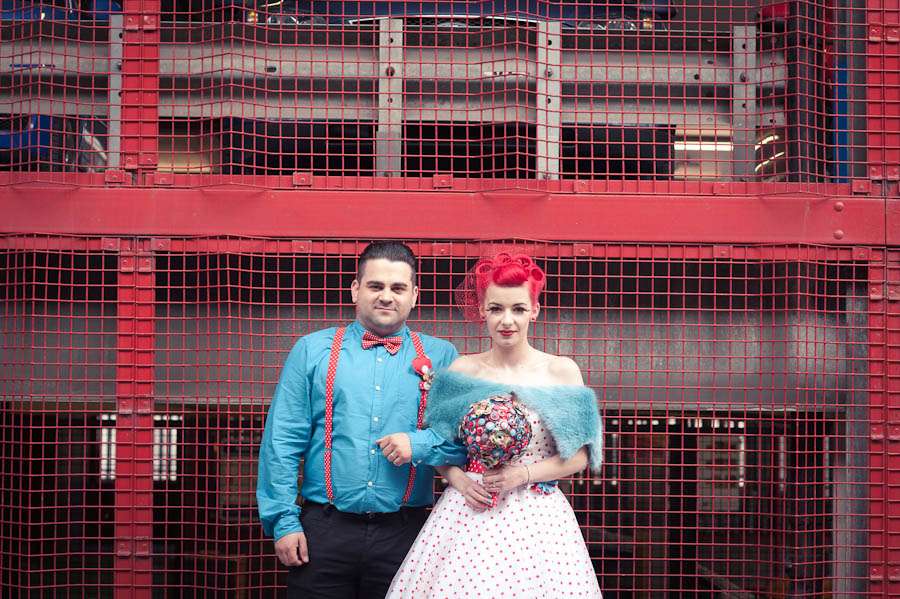 Happy Monday you lovely little critters – have I got a wedding to start this week off with a bang or what!?
Unusually I was actually submitted this wedding by the groom and via twitter because his gorgeous bride, Holly, was nervous about doing so. Er, girl, are you KIDDING me?! I'm dying over your wedding. The comic book, superhero and geek chic radness is just too good. This is one of those weddings that I genuinely wish I'd been invited to!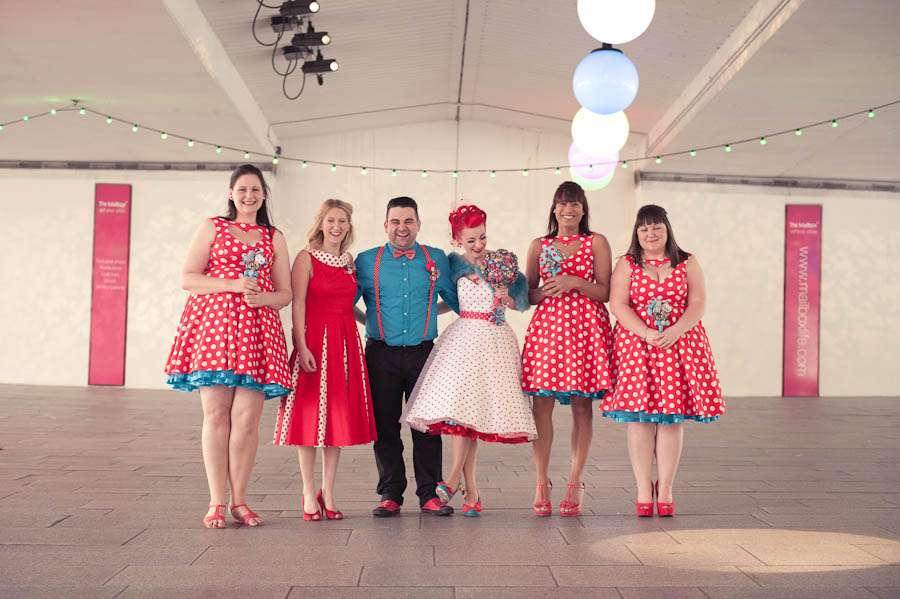 Holly & Anthony were married at The Electric Cinema in Birmingham. With the groom being a massive movie buff, it really was the perfect choice. For their reception they headed to Bar Room Bar which they had booked at the last minute. Their original reception venue went out of business four months before the wedding so the Bar Room really pulled out all the stops to make their day perfect.
"I proposed to my now husband while more than a little bit tipsy outside of the bar that I worked in with a ring made out of a straw!" explained Holly. "I'm so glad he didn't think I was joking (!) and who can beat the romance of getting engaged in front of two burly doormen!?"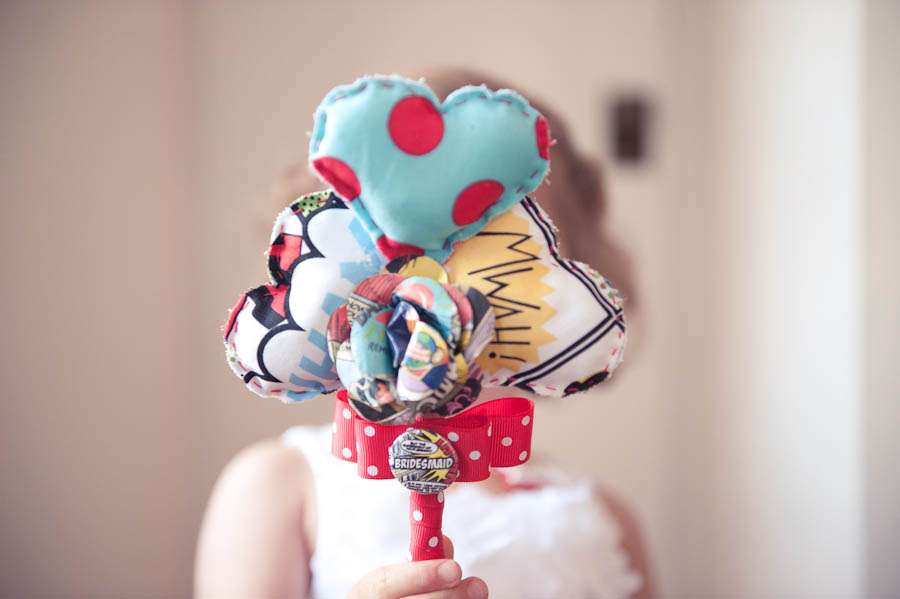 "We got married on the 21st October in screen 1 of the Electric Cinema in Birmingham, the oldest working cinema in the UK. They're licensed and have an amazing absinthe fountain that a couple of our guests were brave enough to try out. We walked it from the ceremony to our reception venue which was a lot of fun seeing everyone all dressed up mingling with the weekend shoppers! We had a few setbacks during our wedding planning including our original reception venue closing down with four months to go and finding out that most of the roads in Birmingham were going to be closed on the day as we had picked the same date as the BUPA half marathon!"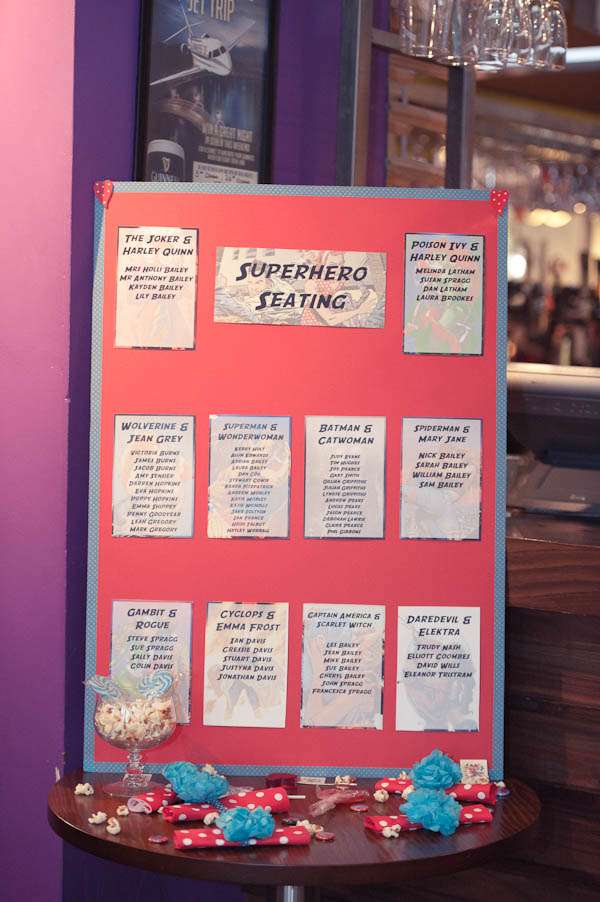 DIY was a big thing for this couple, and by making most of the decor items themselves, they managed to pull off the entire wedding for an impressive £5000.
"We DIY'ed as much as possible for our day to stretch our budget", she explained, "and amazingly despite previously being the least crafty people ever, our guests loved it. Several people took our centrepieces and decorations home at the end of the night! We had the day we dreamed about and in spite of the chaos everything went smoothly and we and our guests had an awesome day."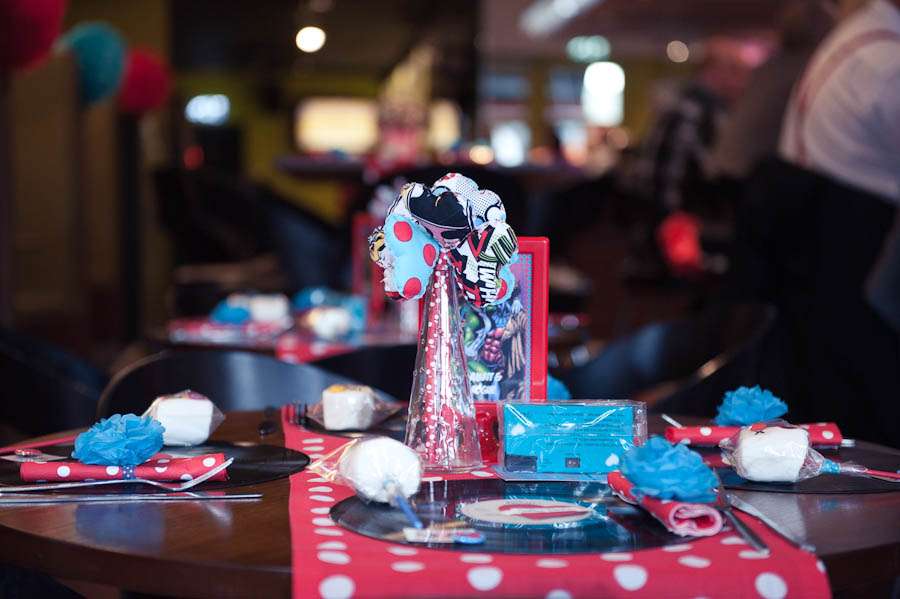 "Our wedding was most definitely a true reflection of the people we are together even if that made our wedding theme a bit eclectic", Holly concluded. "Rock n Roll Bride played a massive part in that as I don't think we would have had a clue where to start otherwise. We tried to include all of the things we love from comic books to zombies to polka dots and as much bright colour as possible! The most important thing for us was to drink, dance and relax with the people we love!"
"One of our favourite and the funniest moment of our wedding was our daughter gatecrashing the stage during our vows", took over Anthony. "She turned around, put her finger to her lips and told everyone to sshhh! It was hilarious. Thank you so much for featuring our wedding. It was an amazing day and we can't wait to relive it on your blog!"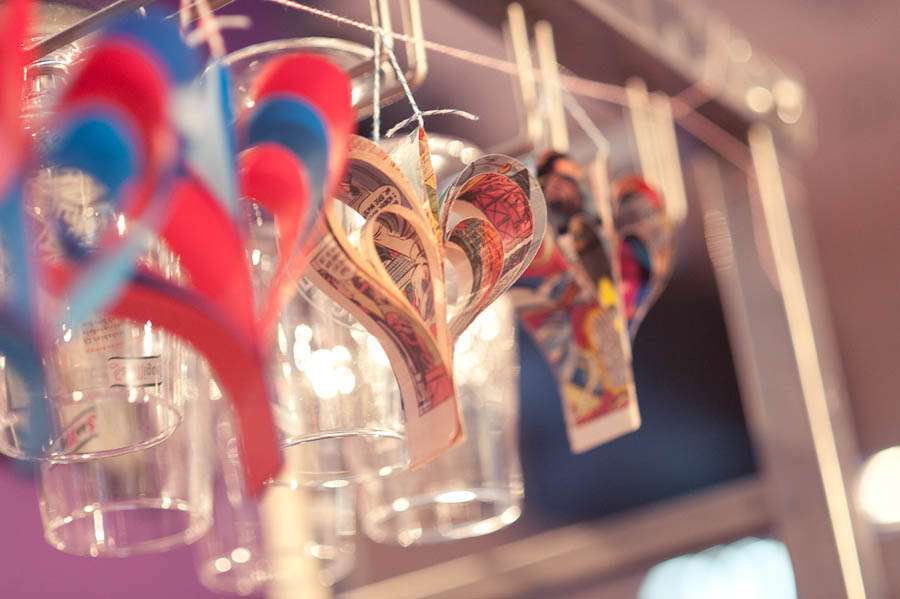 So awesome, Thank you to Holly & Anthony (and Twitter!) for sharing their wedding with us today, and to Ian of FC Photography for sending over his fabulous images!
Supporting Cast
Photography Credit: FC Photography
Ceremony Venue: The Electric Cinema
Reception Venue: Bar Room Bar
Bride's Dress: Oh My Honey
Brides Shoes: Irregular Choice
Bride's Headpiece: DIY (patch from etsy)
Grooms Outfit: ASOS
Bridesmaids Dresses: Hell Bunny from www.vintagetwists.co.uk
Cake: Krispy Kreme
Flowers: DIY
Stationery: Team Welser
Rings: Spiffing Jewelry