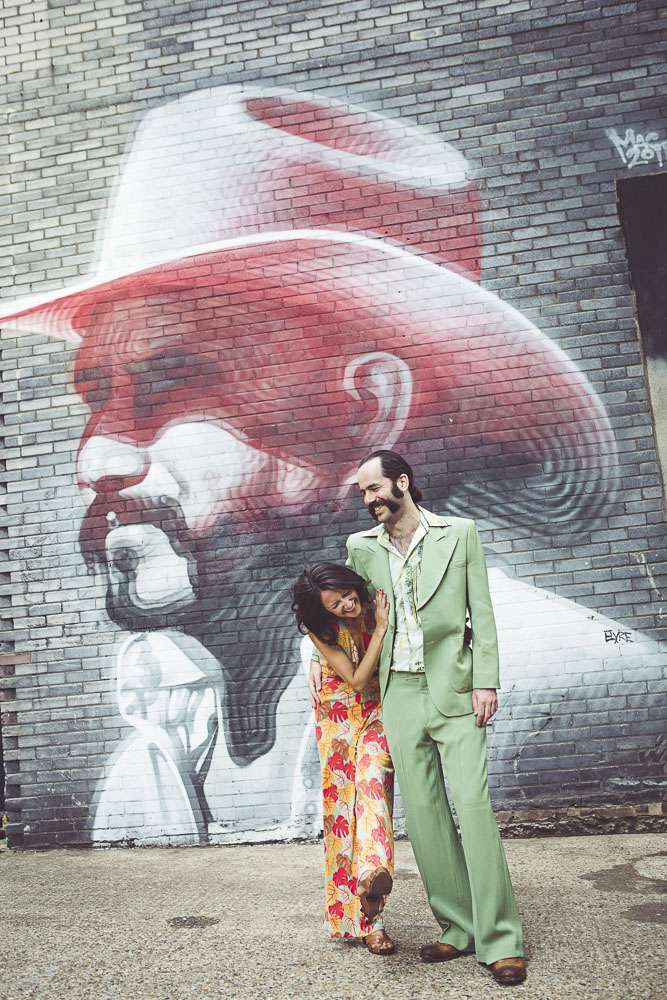 There are some weddings I see which (forgive me, I know this is terribly unpatriotic) I instantly think, "damn, that's SO COOL, it can't be a British wedding". It's nice to be completely wrong though, especially with this wedding. In fact "SO COOL" doesn't even cover it a little bit… April and Dennis are off the richter scale!
The Dutch/Kiwi groom and his American bride met in Amsterdam while they were both travelling around Europe. Long story short, they fell in love and settled in London. They were hitched on the roof of Rockwell House, a studio space in east London that comes complete with epic views of the capital's skyline.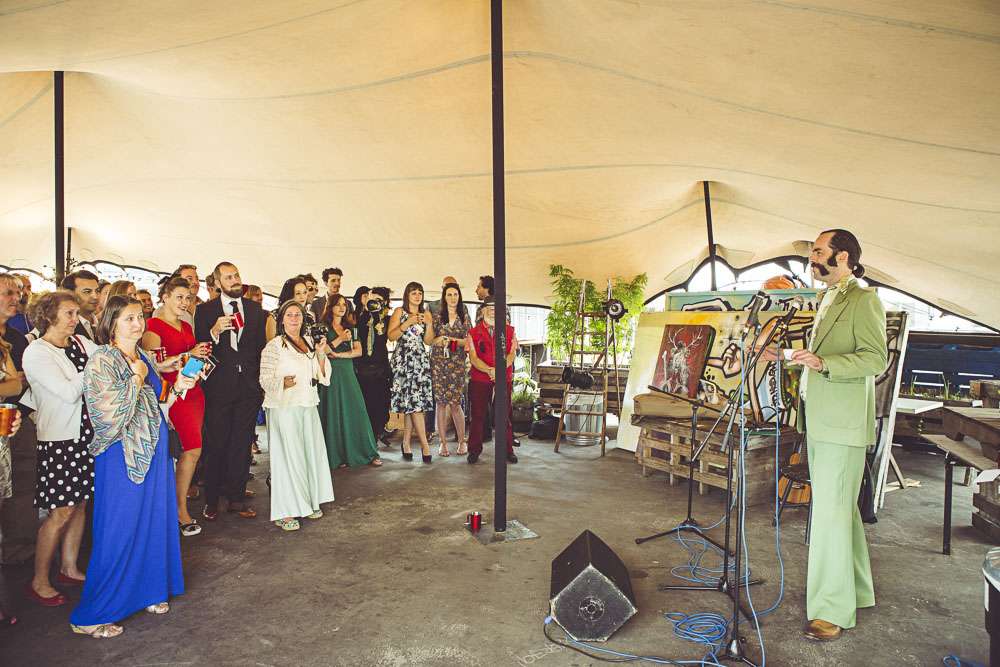 "When we started planning the wedding we knew we wanted Something completely different than any wedding we'd ever been to", April began. "In searching for this we really found truly alternative was hard to come by. It all still seemed to be a tweak of the same old thing."
"It was important to us that everything we did on the day was considered beforehand, that we didn't do anything automatically just because it's what you do at a wedding. I think we ended up with a really different, really special, really representative of us, day. We got wedding tattoos instead of rings – two halves of one tattoo actually – a Mexican Day of the Dead sugar skull with the words 'hasta la muerte' beneath (until death)."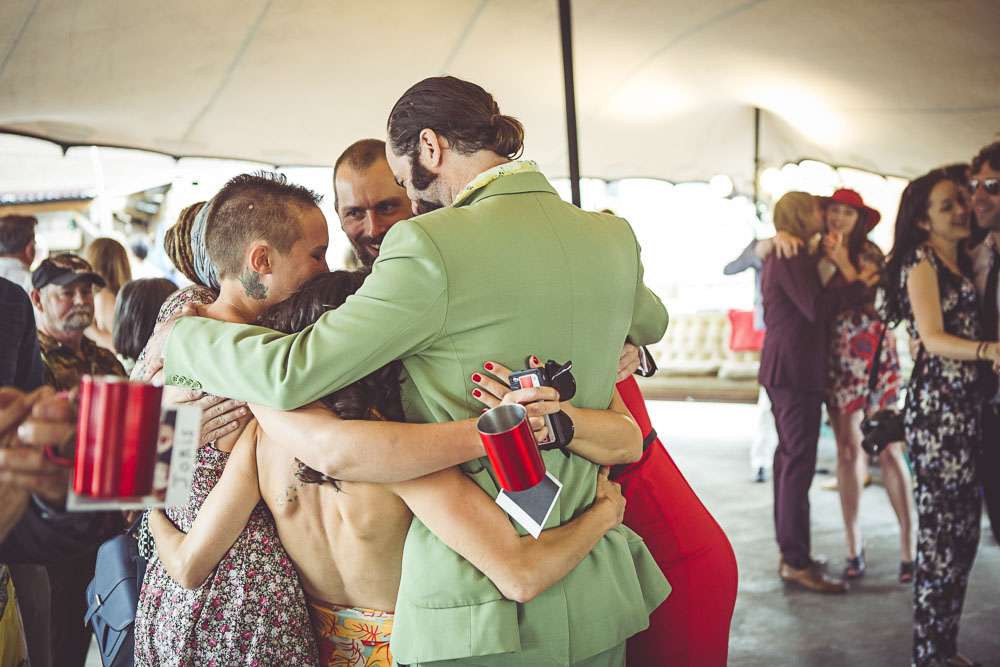 "Our ceremony was officiated by our mate, Yuri", she continued. "It was a Native American vase ceremony because my grandfather was Native American. We did the legal bit privately a few weeks prior but doing this ceremony was very important to us. We both really liked what it symbolised; the two spouts symbolise the two individual lives, different strengths and different nations, and the handle symbolises the union of these two lives in marriage."
April knew she didn't want to wear a traditional (or even non-traditional!) white dress, so she opted for an orange jumpsuit from Issa instead. Dennis wore a vintage seafoam green leisure suit from the 1970s which he bought on eBay! His hand-painted silk vintage shirt was from Etsy. There were no bridesmaids, or any official wedding party, but each and every one of their guests was involved in the day (and looked epic, what a stylish group!)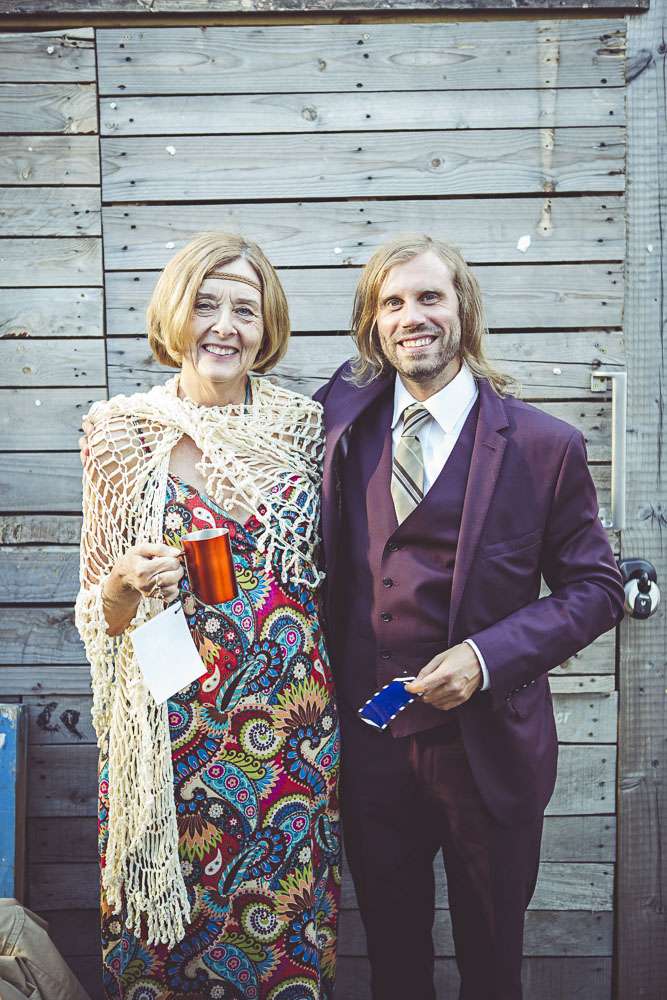 "My favourite part of our wedding was looking around and seeing all of our people mingling together", she explained. "Groups that didn't know each other before were sitting around the fire on wood pallet furniture wrapped in blankets chatting. There were groups of all ages, from all of our different worlds; New Zealand, Australia, California, Maine, Connecticut, Canada, Holland, London, and a few from other parts of the UK and EU."
They didn't have any flowers. There were lots of potted plants and wildflowers all over the rooftop already so they didn't really need them. They did the majority of the food themselves which included Indian street food, a hog roast and self serve drinks. Each guest got a metal cup with their name and photo on as they couldn't have glass on the rooftop. I love this idea though, doesn't it look great in the photos?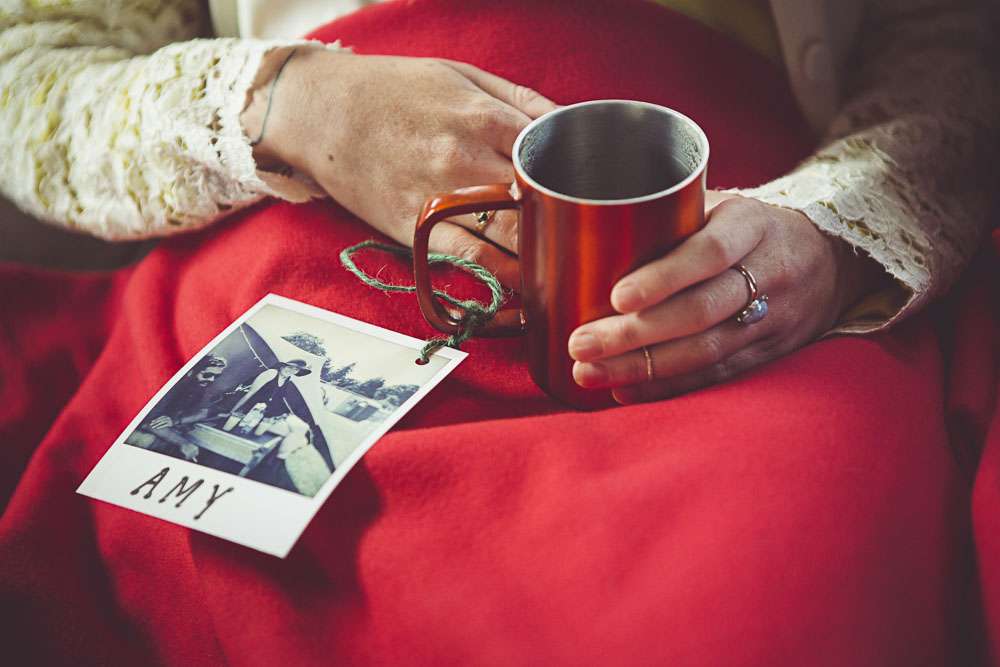 "Pretty much everything was DIY. The invites, food, drink, decorations, music, set up and break down… but I loved planning my wedding so much that I've decided to try and do it for other people too! I also set up an Etsy shop to sell some of the things we made."
"Our budget was £8000 and the biggest expense was the venue which took up about half of that (even as a dry hire!) but it was perfect because we could bring and do whatever we wanted to the space. We saved a lot of money by doing most of the food ourselves and having self serve alcohol from kegs rather than a bar where you pay normal prices. Also, unexpectedly. we saved on my jumpsuit. I knew I wanted something colourful and fun and not a wedding dress at all. I had considered a jumpsuit so I went with a mate to a couple of sample sales around London Fashion Week and I found it there. I really hit the jackpot with the spring Issa line, I could have bought seven things there that day! It was the last day of the sale so the prices had been slashed even more, so it actually only cost me £90 when brand new it retailed for almost £700!"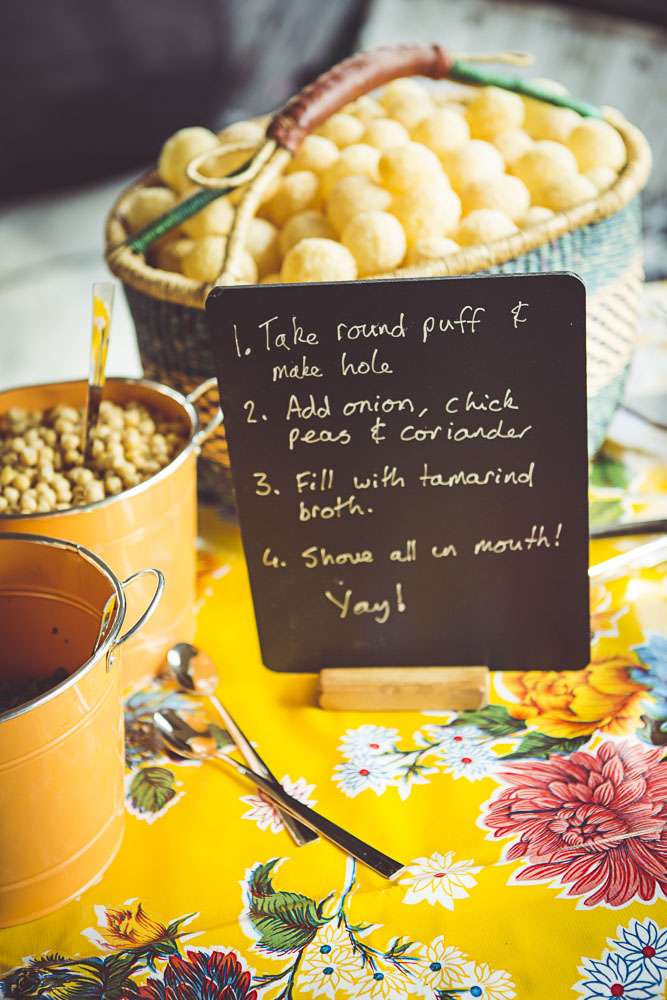 "My advice to other couples would be to stop and think about what you'd like your day to be", she concluded. "Really start from scratch and let all that stuff that people expect to fly out the window. We completely broke the mould and everyone loved it. More people than I can even count called it the best wedding they'd ever been to. Not a single person seemed to miss the bridal party, aisle walking, cake cutting or seated dinner… People wandered in about 4pm as we were walking around and after about a half hour a live song drew guests to the stage. I welcomed people and went through a few logistics and then Dennis gave about a ten minute awesome speech. Then we had the five minute ceremony and went straight into our first dance. Dennis' dad said a few words about half an hour later and then our friend, Steve Rushton, started playing. Aside from that, people just wandered around, eating and drinking until midnight. It was perfect."