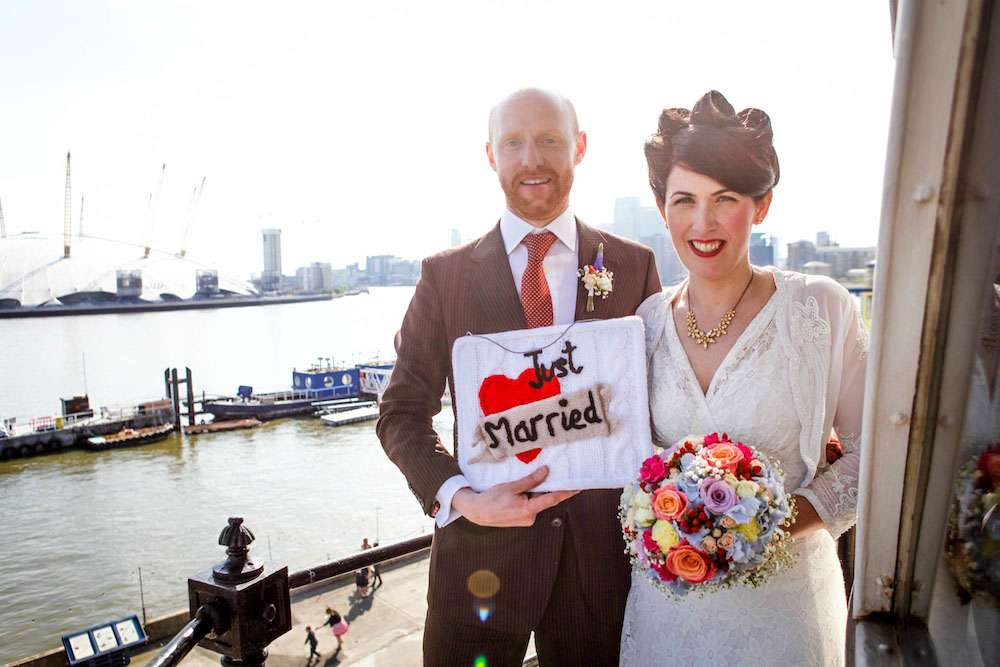 A colourful affair paying homage to some of their all time favourite pop icons was the theme of Katy and Matthew's London wedding. This quirky wedding had fun, DIY touches and a heavy dose of vintage inspiration to boot.
"We wanted our wedding to include the things we love and be a lot of fun for everyone involved, as well as not following the usual formula", wrote the bride. "We love throwing a party (usually fancy dress) and so this was hopefully going to be a bigger and better version of one of those. I knew I wanted it to have a vintage element and also be a colourful mish-mash, but there wasn't a particular theme apart from that."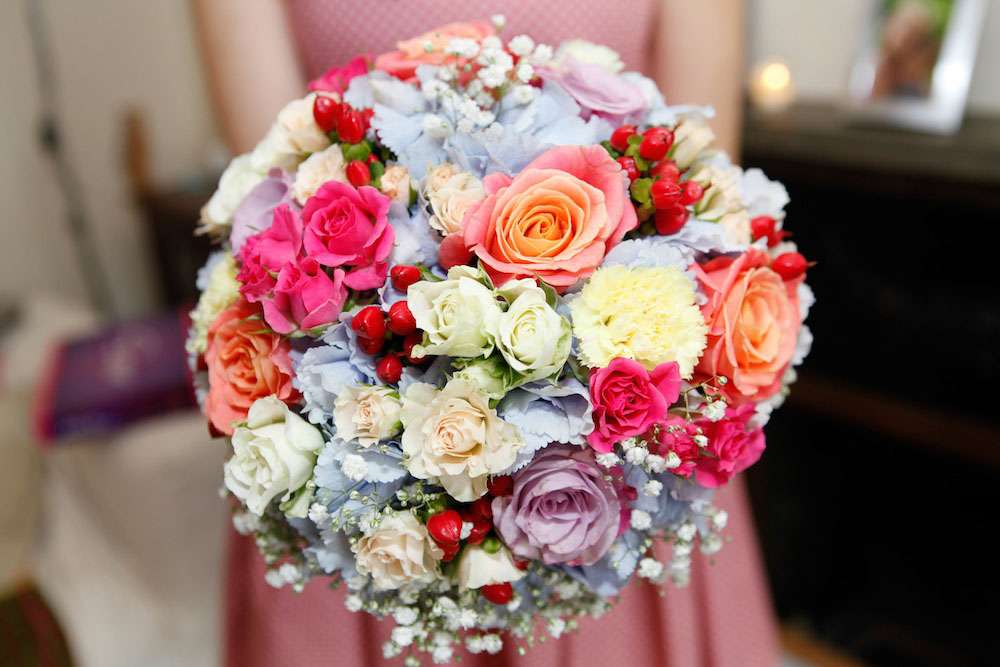 The wedding was held at The Chainstore, an event space at Trinity Buoy Wharf with a view of the iconic O2 arena. It is a completely blank canvas so the couple could do exactly what they liked with it! "I wanted the décor to be DIY but without having to spend every minute in the month before the wedding making things", Katy continued. "Luckily I have a lot of crafty friends and family whom I was able to rope in."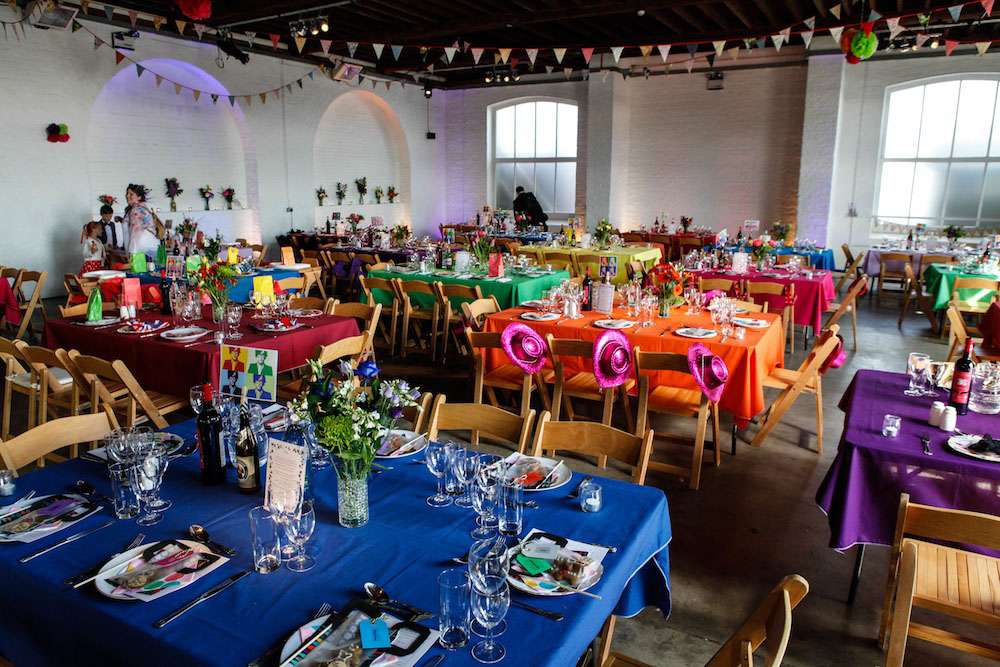 "We made hundreds of metres of bunting from vintage fabric and brightly coloured table cloths. Matt's sister Harriet knitted some amazing decorations, including the 'Just Married' sign and a giant pink flamingo. We're both really into music so that table plan was based around pop stars, with fancy dress relating to each one on the tables. I collected vintage crockery and we used the tiki bar which is usually in our living room. My Auntie Jen made us a small army of gingerbread people as our favours in the week before the wedding, these were also our place settings with name tags on each one."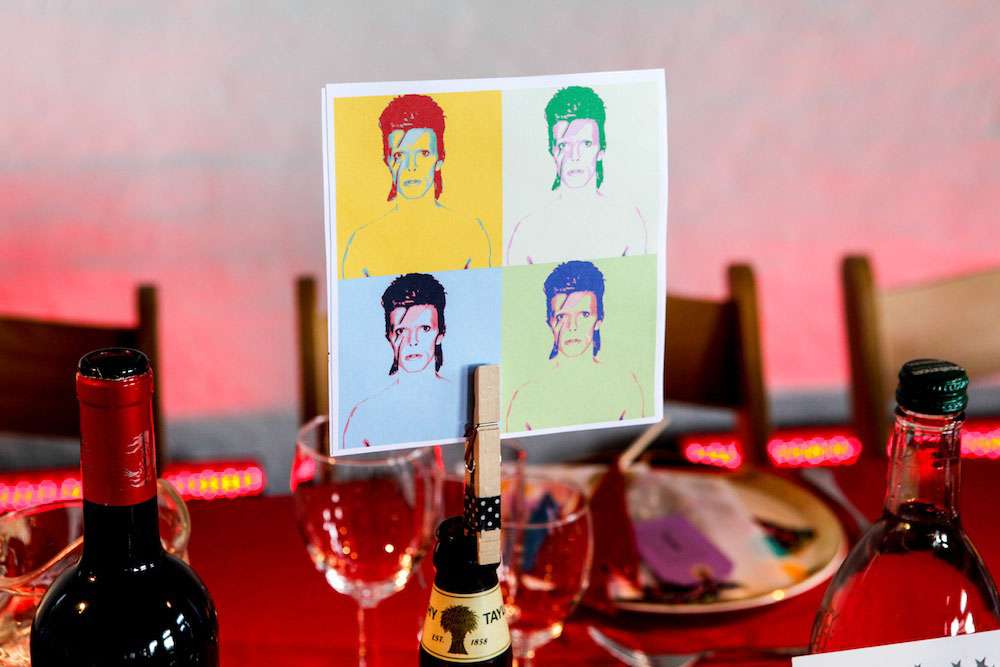 "We wanted to keep everyone amused so we had Wedding Bingo cards which lots of people got very serious about trying to win, and goodie bags for the kids. Two days before the wedding we made an early morning trip to Covent Garden market to buy a car load of flowers. I'd really recommend doing this, all the stall traders are very helpful and there is so much choice. It's also great value especially if you buy what's in season. A group of us then spent the afternoon arranging the flowers in Ikea glasses, it was in the pouring rain but really enjoyable all the same."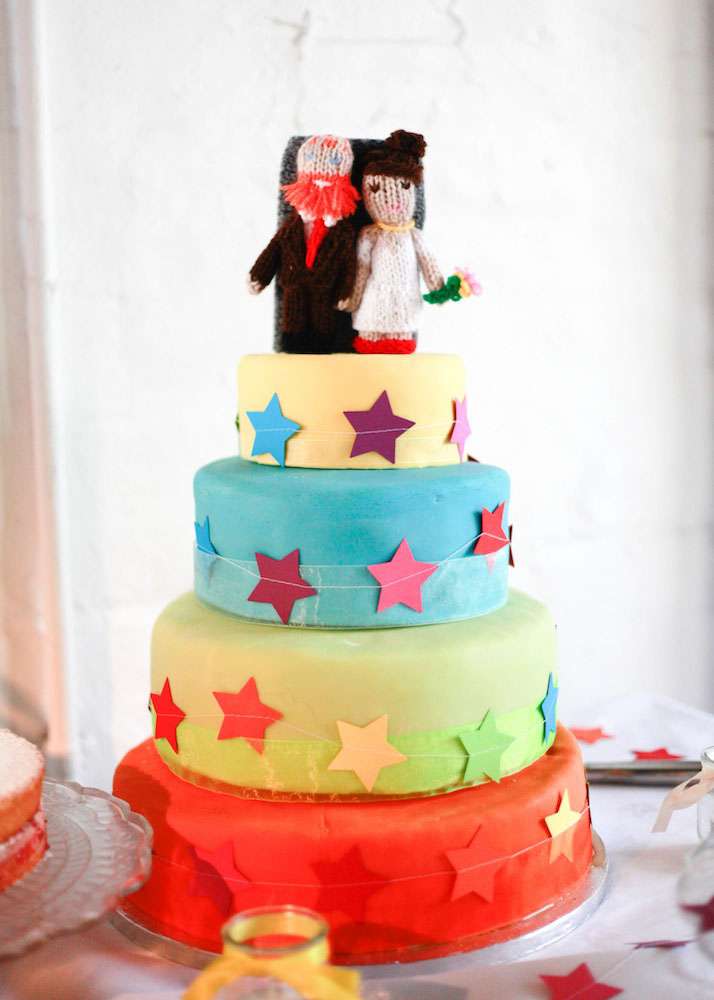 Katy wore two wedding dresses. The first was vintage, sold by Garb-Oh Vintage on Etsy. Her evening reception dress was her own design, which she had made by Oh Sew Vintage, who also made the bridesmaids' dresses.
"I had four adult bridesmaids, plus Nicola's daughter Abigail", she explained. "I wanted their dresses all to be different and Emma from Oh Sew Vintage who made them was a great help. She took me shopping to choose the fabric and then created four beautiful dresses from the bridesmaids' descriptions of the type of dresses they said they would like. She also helped me design my evening dress and made that for me. All of the dresses were beautiful."