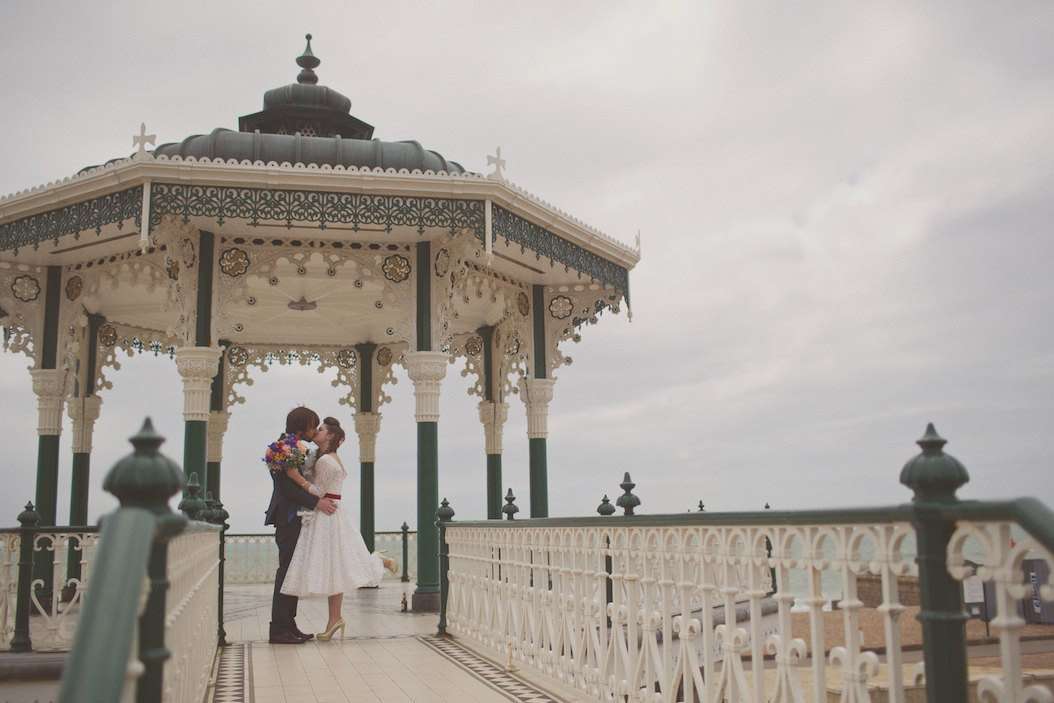 Charlotte and Leo, originally from Brighton but currently living in Liverpool, knew they wanted to marry in the city where they met. So they planned their wedding from afar and booked out an entire guest house right on the sea front to accommodate their guests! A Room with a View has nine guest rooms and was the perfect place for everyone to get ready. The floor to ceiling windows looking over the beach and pier made for some great photos from Lisa Devlin too!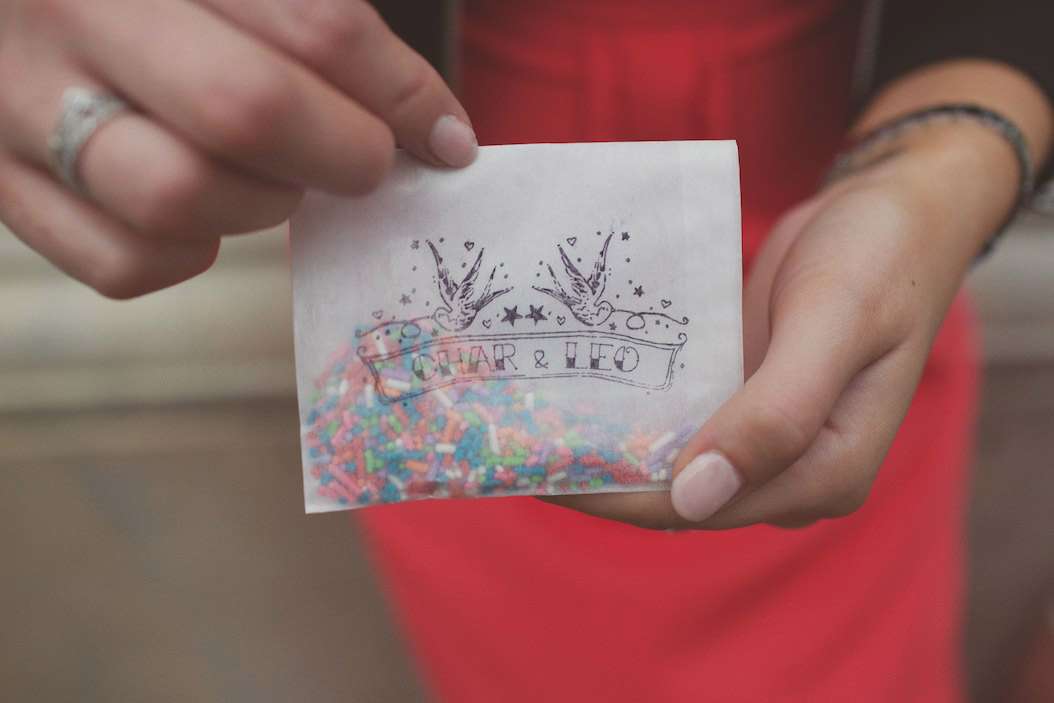 The ceremony was held in the cafe below the famous Brighton bandstand (they originally planned to get married on it but the weather wouldn't allow it!) "When we began planning we decided we wanted to have a big party to celebrate with our friends and family, most of whom live down South, while we are currently living in Liverpool for my job", began Charlotte. "We don't get to go down as often as we would like, or to see everyone on each occasion, so we wanted to make the day as fun as possible for all the family and friends who are so important to us. We consciously decided in the end not to call upon our friends' many musical, artistic and culinary skills as we wanted everyone to be able to relax and enjoy the day, although many of them were absolute super stars at helping us set up the day before."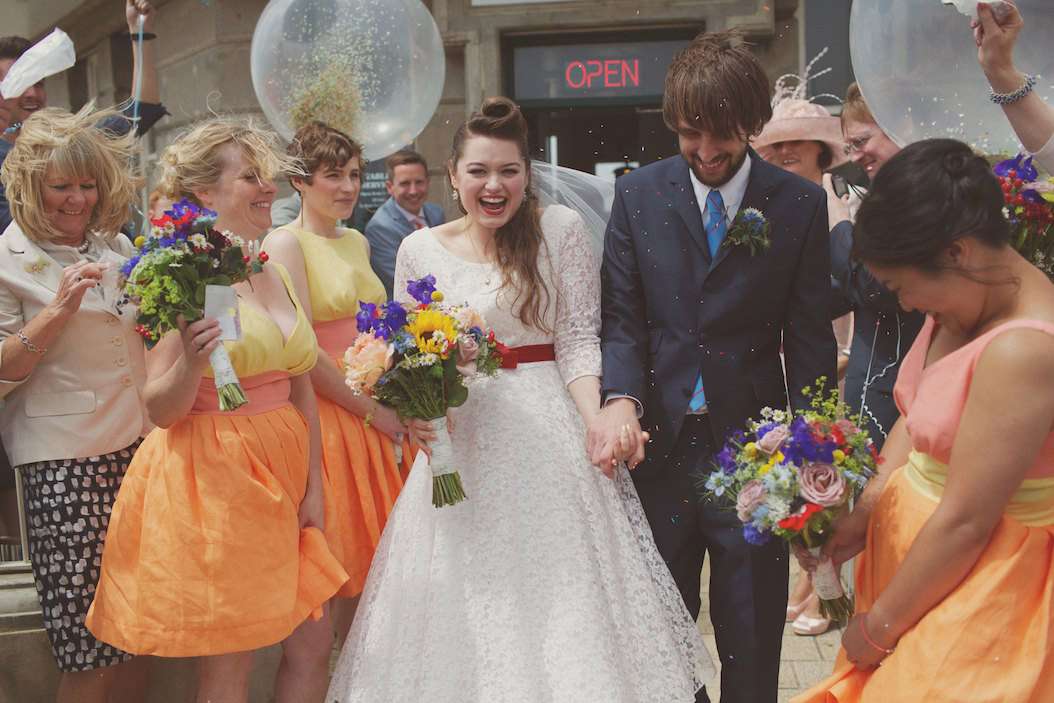 After the ceremony they had a lunch at The Brunswick and then an evening reception at Fabrica, a de-consecrated church which is now an art gallery. They decorated it from top to toe with bright rainbow colours and kitsch details a-plenty!
"I think every couple wants their wedding to reflect them and their personalities, and we were no different. We're in our mid-twenties, so we wanted a wedding that was bright, fun and a damn good party with lots of music and dancing that celebrated us right now. With that in mind we designed the day and evening meal to be more family friendly, with the evening more of a Rock n Roll indie disco for us to celebrate with our friends."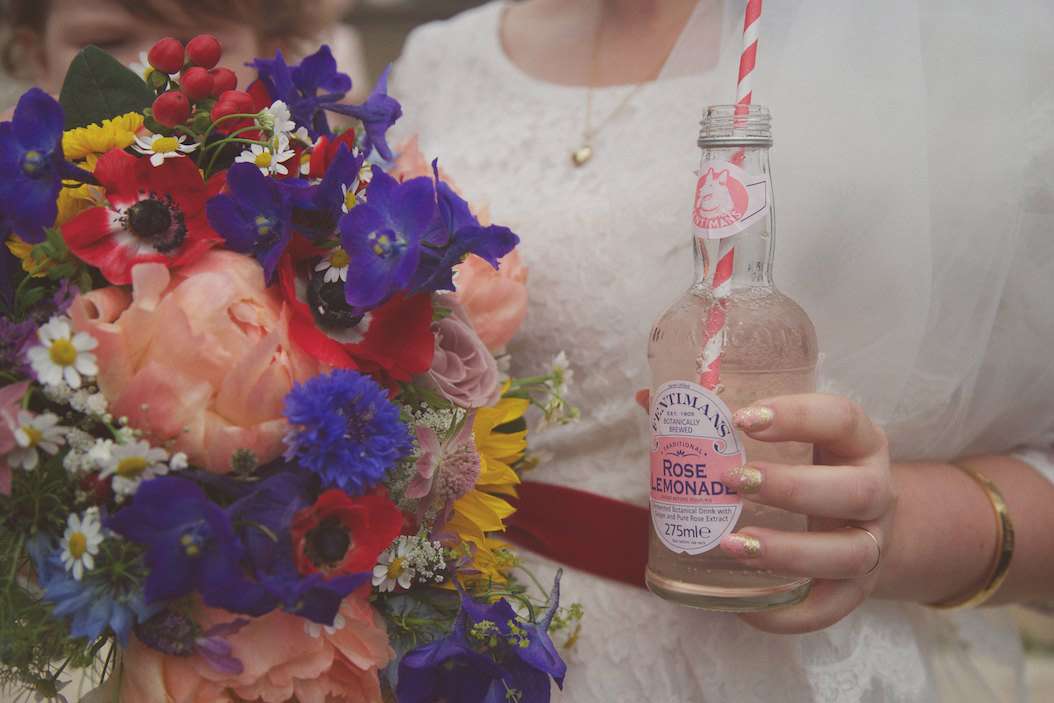 "We definitely had a budget and DIYed a lot of the details to save money, but knew there were some things we wanted from the outset that we then worked our budget around so that we could afford them – a live band to rock out too in the evening with our friends, a photo booth (we're both keen snappers ourselves and can't resist a photo booth) and sticks of rock as wedding favours. Everything else changed multiple times! Both our tastes are quite eclectic – we're real magpies for anything kitsch, glittery and retro – and at one point it did seem to be spinning out of control – what do an American mailbox, lawn flamingos, toadstool night lights, swallows, glitter and every colour under the sun have in common? What was our theme? We panicked for a moment or two, especially when looking at the perfectly choreographed themed weddings we saw elsewhere, but then we realised what brought it all together was US! We were what pulled it all together and I don't think anyone was surprised to see any of the things that popped up at our wedding there!"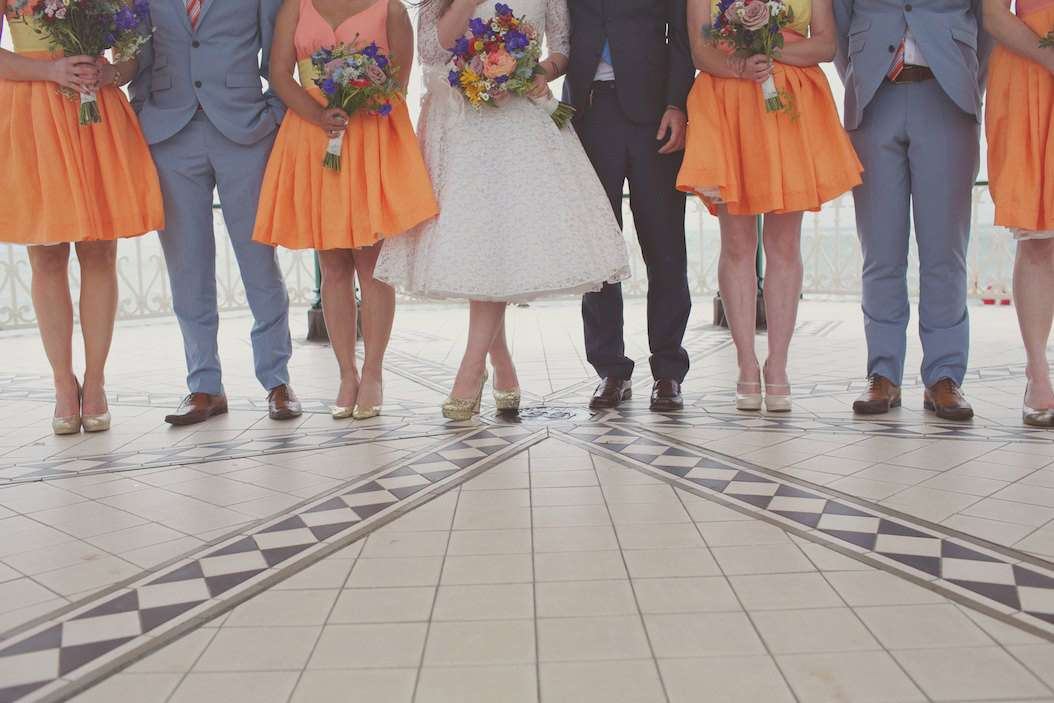 "We loved the idea of hanging ribbon on the back of chairs – something we'd seen on Pinterest. We assumed everyone used ribbon but when we priced it up it would have been hugely expensive. Instead, we bought rolls of crepe paper streamers that were much much cheaper. We cut the lengths and looped them round the top bar of the chairs, then fixed them with glue dots or double sided tape. It sounds like a really obvious material to use and method now, but when we first set our heart on them it took a bit of fathoming!"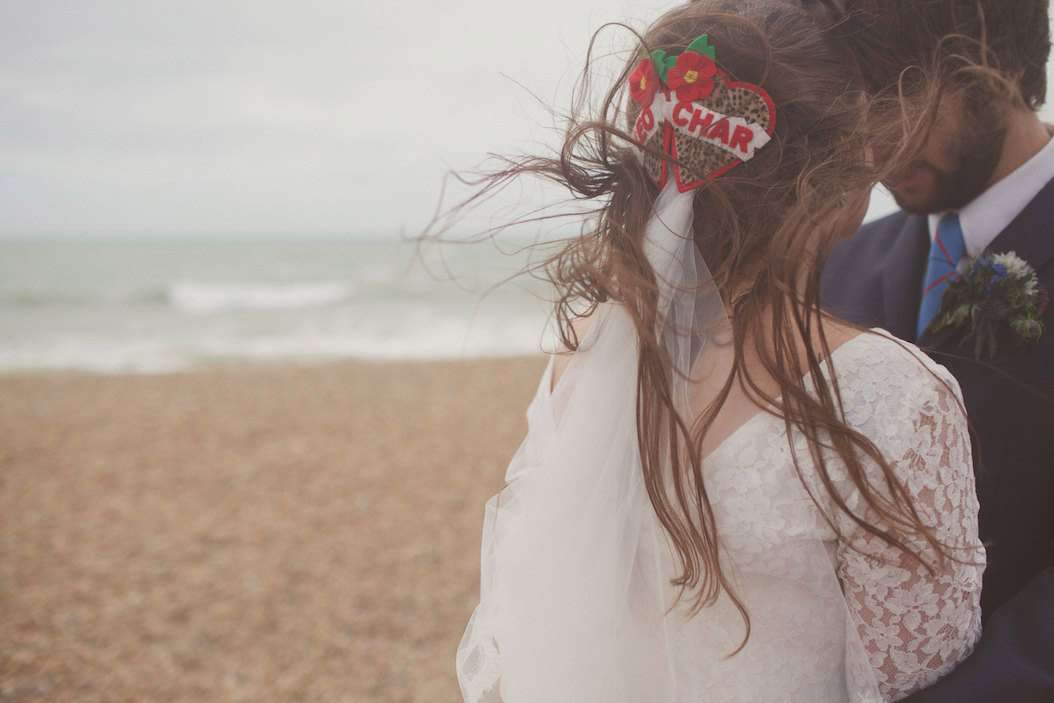 Charlotte wore a beautiful dress and veil from Fur Coat No Knickers. The brooch in her hair was by The Doll City Rocker on Etsy and stitched to the veil. Her shoes and sunglasses were Miu Miu and her bag and jewellery, Kate Spade. Damn, what a seriously stylish bride!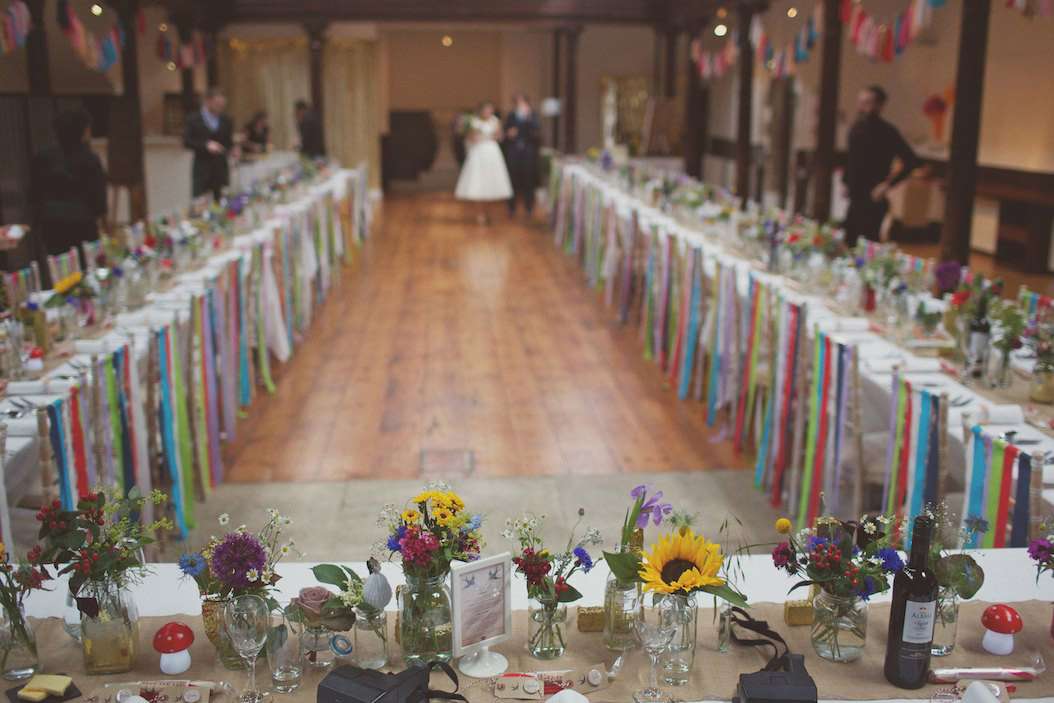 "We had the funnest day EVER!" Charlotte concluded. "After planning for a good year I was a bit worried that we would miss the excitement of DIYing and 'wedmin', but although some things weren't quite how we thought they would be (the weather!), we wouldn't change anything about our day for the world because it was ours and we have all the awesome memories to enjoy for the rest of our lives – till death do us party!"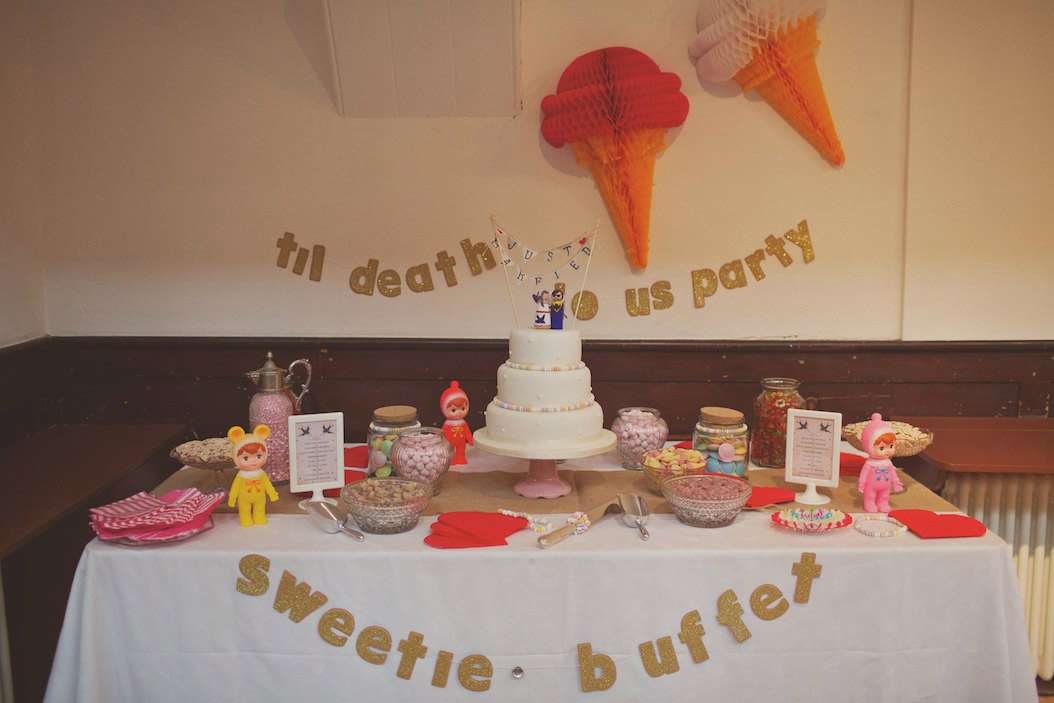 Be sure to check out their adorable super 8 wedding film from the amazing Cine8 too!