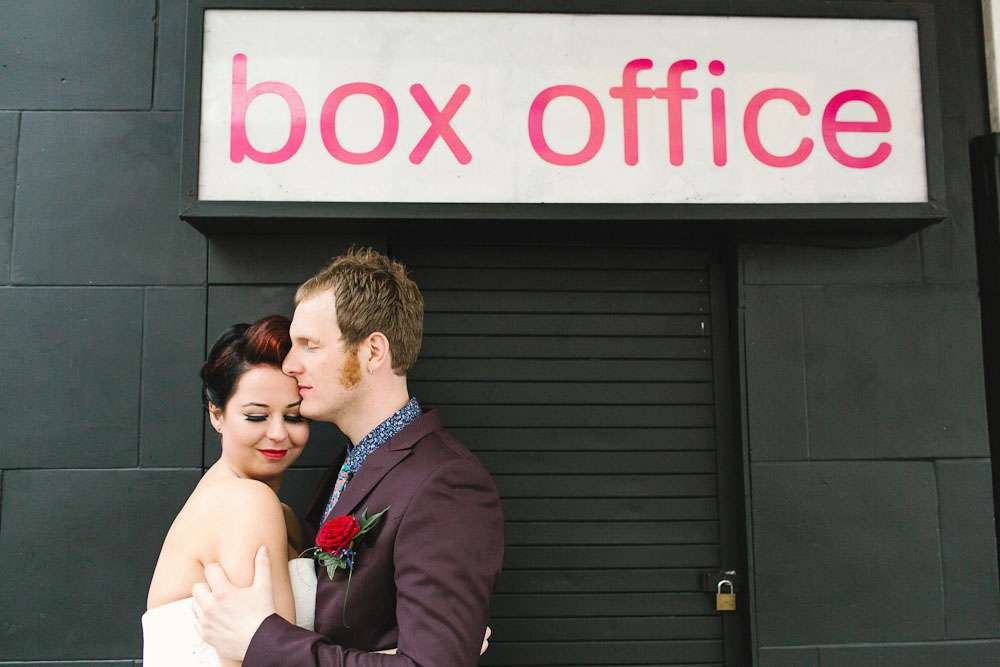 Do you watch the BBC Three show Don't Tell the Bride? When I was engaged I was pretty obsessed. Gareth and I would sit together to watch it every week and my favourite game was quizzing him over what he'd do if he had to plan our whole wedding himself.
Like many of you, I always wondered what everyone got up to behind the scenes – Did the bride really not have anything to do with it? (SURELY you'd be dropping hints like mad before you signed the contract?!) How much influence do the production crew have? And why do the boys always pick the wrong dress?!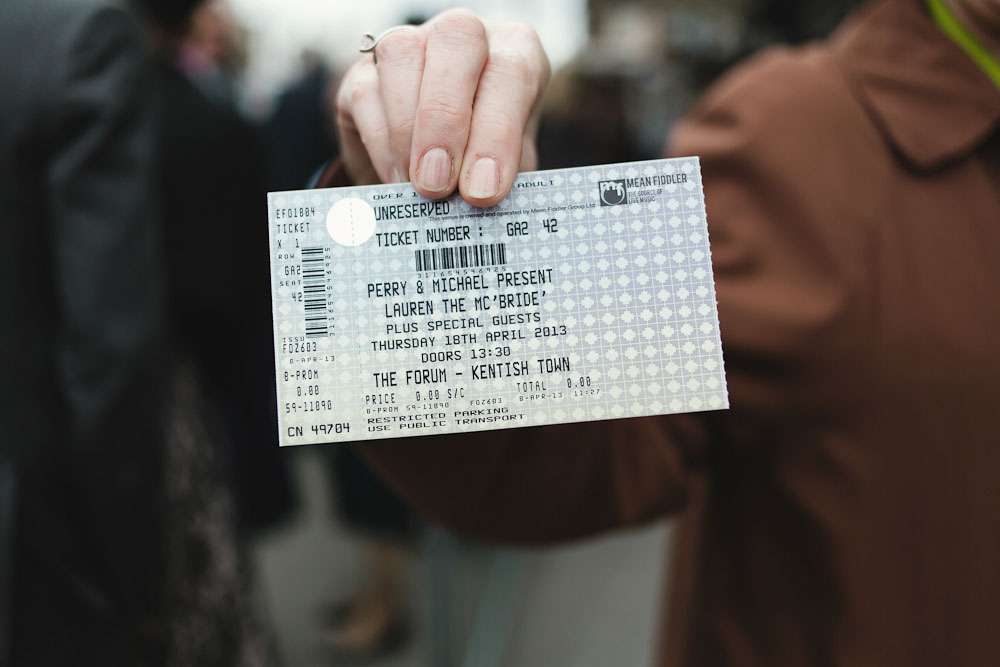 This is not the first time I've featured a DTTB wedding. Mike and Becky's wrestling wedding has graced these pages previously but by their own admission they didn't really enjoy the process. However when I saw Lauren and Perry's big day, and read that they really did enjoy doing it, I was keen to speak to them about it. Plus what could be more Rock n Roll than a gig themed wedding at one of the most iconic music venues in London!?
"We knew that we wanted to get married but that after having a baby and buying a flat there was never going to be a time when it was financially possible", Perry began when I asked what made them want to go on the show. "Lauren was going to apply for The Great British Bake Off but saw the application for Don't Tell The Bride and decided to do that instead. I didn't think we had much chance of being picked but when she read me her entry email I started to get really nervous. It was GOOD!"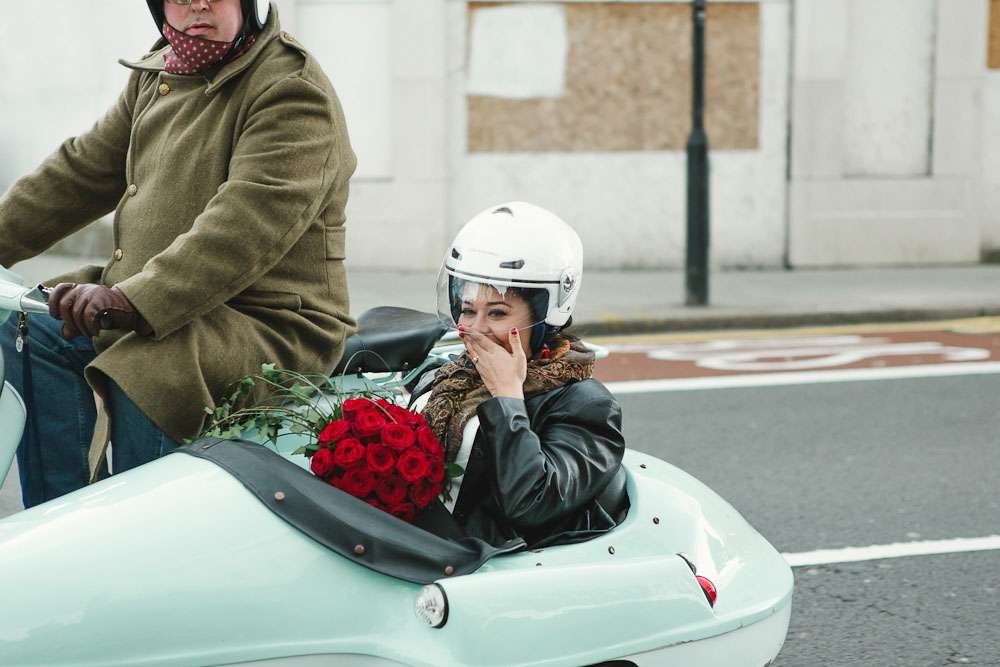 "I am very laid back and the most important thing to me was that we were getting married", Lauren took over. "Things like the dress and venue were important but if Perry had chosen them I would be happy with them. I couldn't hurt his feelings by not wearing a dress he chose!
For brides who are more interested in marriage than the day itself, who are happy to not be in control I would definitely recommend the process to other couples. However, for Perry the experience was very different. The hardest thing of it all was being apart for the two weeks."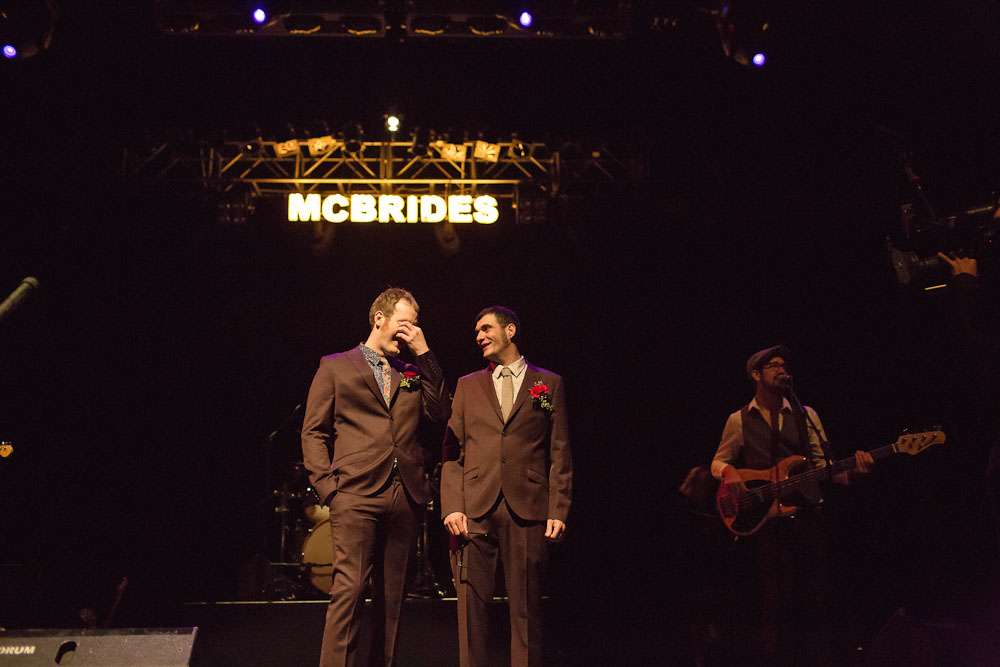 The wedding was held at The Forum, a live music venue in Kentish Town, North London. They were the first couple to get married there, but since their wedding they've started to offer wedding packages! "I wanted to plan a gig style wedding from the off", Perry continued. "This was the idea I pitched to the producers of Don't Tell The Bride and they loved it. We looked at a few venues but The Forum was miles ahead. The grandeur, the history and the significance to both of us in that all of our favourite bands would have played there at some point. It was the best decision I could have made. After 'the ceremony' we had to go on to Camden Town Hall for the legal ceremony as The Forum didn't actually have a marriage license. This was a formality and so it was just the two of us and our Mums present."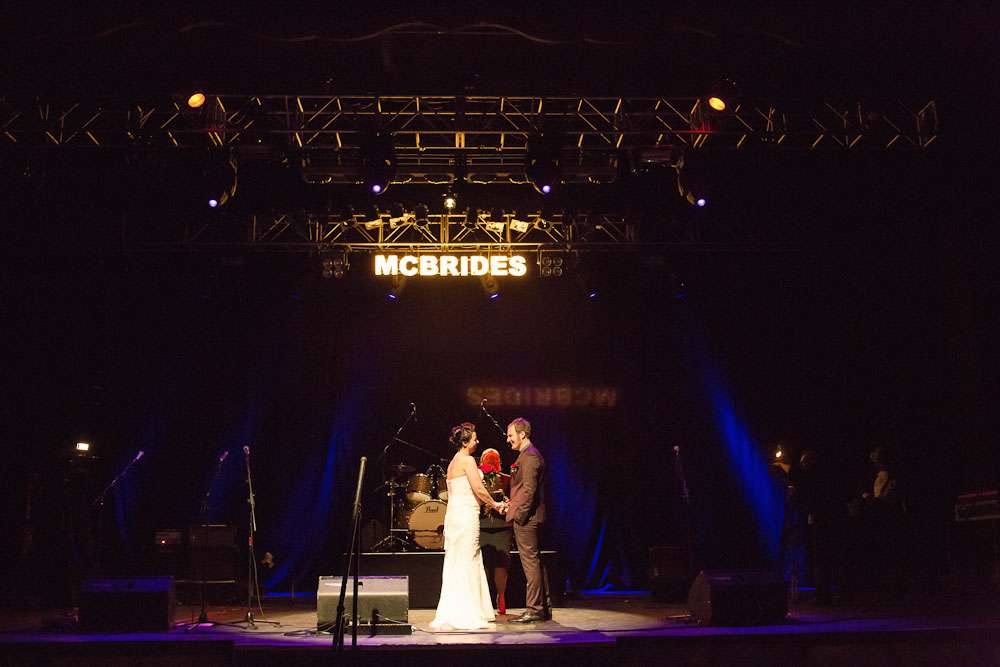 "One of the most important thing to me was that we had a live band. When I originally put my idea forward to the BBC I was clear that there had to be a band but due to the budget there was no way we could afford one. So I managed to get in contact with someone who recommended a session musician who contacted a few friends that he has jammed with in the past. They had never actually played together on stage until a few days before the wedding. The obvious name for them would be 'The McBrides'- the name that Lauren and I would share from that day. They were unbelievable and were able to learn the songs I had asked for Lauren's entrance ('Champagne Supernova' by Oasis) and our first dance song ('Baby I'm Yours' by The Arctic Monkeys).  Since our wedding, the lads have formed a band who play at weddings and events under the name 'The McBrides'- creating a legacy of our wedding."
Perry picked a gorgeous wedding dress for Lauren by Romantica. I don't know about you but this is always the part of the show where I'm screaming at the TV "NO! Don't pick that one!"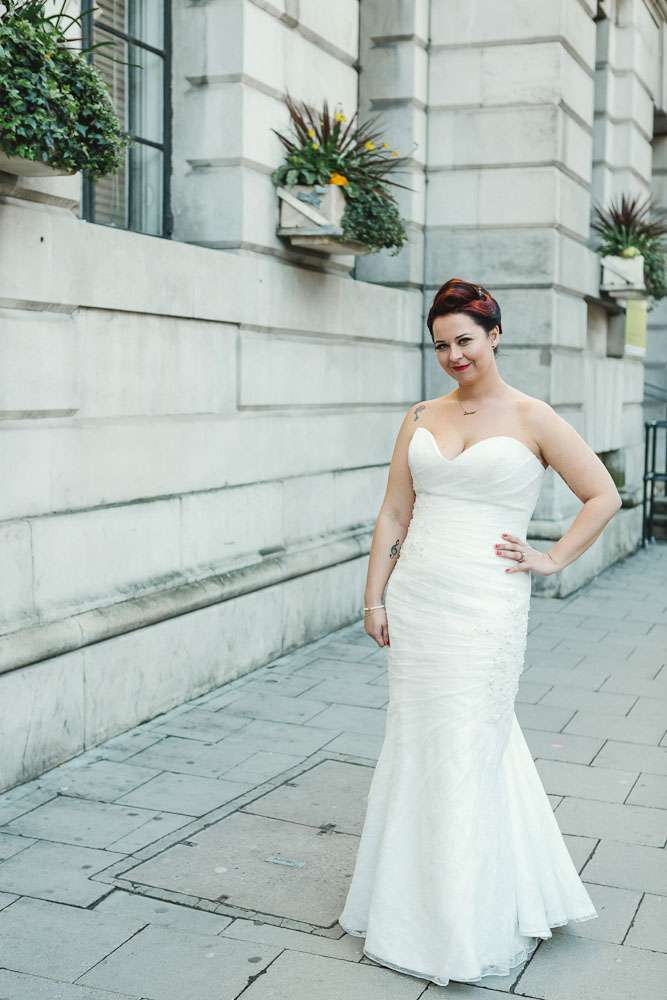 Luckily for this groom he got it completely right! "I would say that picking Lauren's dress was the most strenuous part of the whole process", he explained. "I was meticulous in choosing it. It was the most important part for me to get right as I wanted Lauren to look and feel amazing. It did take six hours but I finally found one almost perfect. I had a tailor make some adjustments and then I had the perfect dress." Alongside the dress he opted for some Melissa/ Vivienne Westwood shoes (!!) as Lauren had mentioned that she liked them to him ages ago and he actually remembered!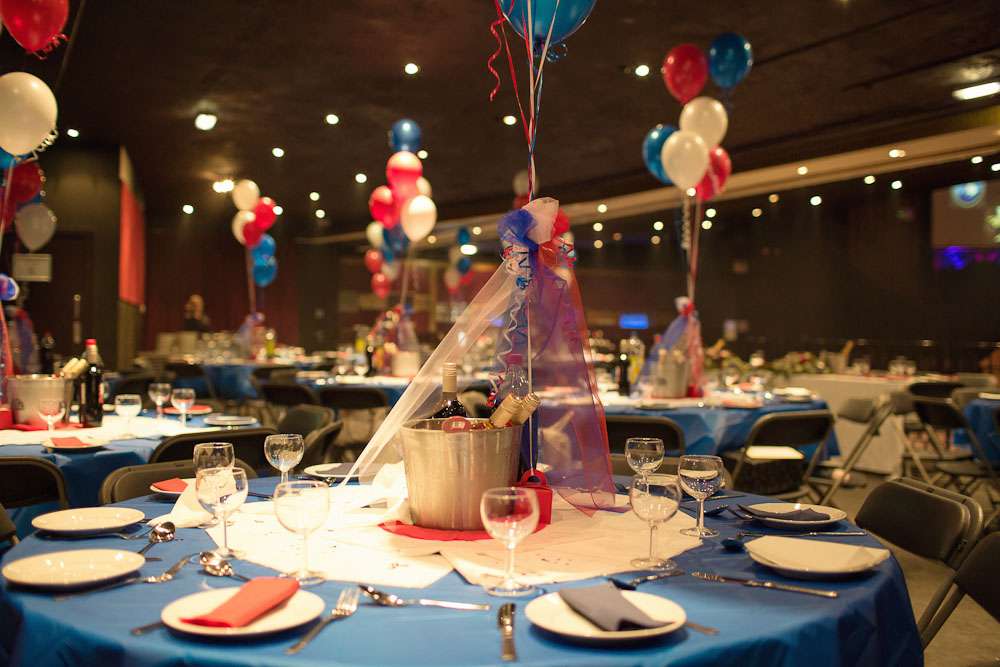 "The challenge of the bridesmaids dresses was one that both myself and Lauren's bridesmaids were dreading!" He continued. "There wasn't much budget left, there were a total of five bridesmaids, one of which being Lauren's cousin Jen who lives in France, and all of the girls are different styles, shapes, sizes with different coloured hair."
"Another challenge was that the dresses had to be from a retailer who would give permission to be filmed in – leaving nowhere more than Debenhams to look. But the day arrived and it was actually painless. We looked for around an hour and then found one that looked great on the four that were present. Easy I thought, except there was the problem of one absent bridesmaid who wasn't arriving in the UK until the day before the wedding… luckily the dress was just a bit long and she managed to get it taken up! Phew!"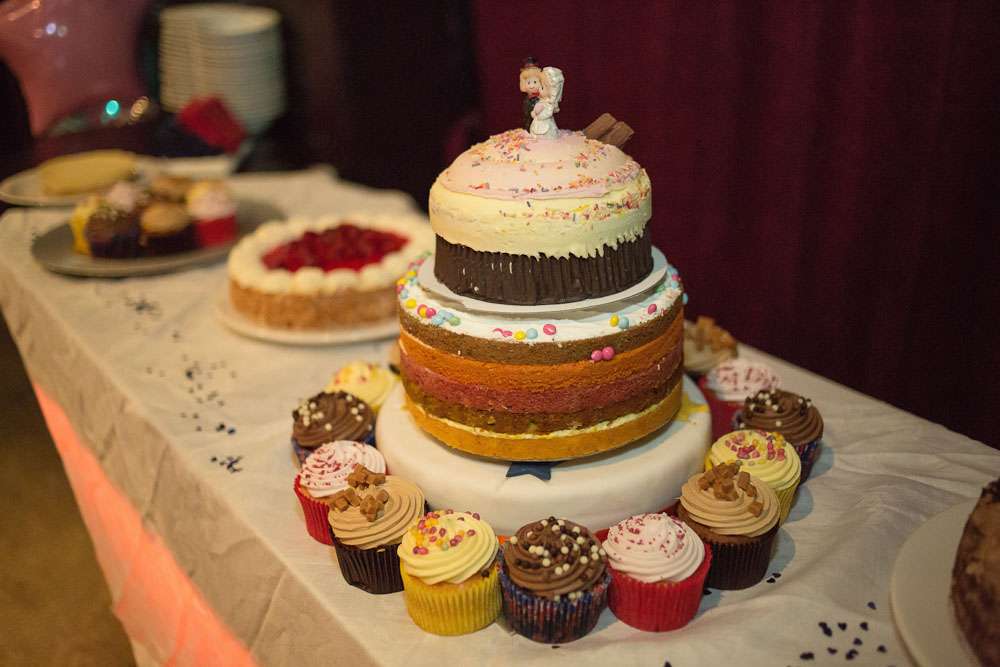 So what about the budget? "The venue was the biggest expense", he said, "as it was £5k without a chair, table, drink or balloon in sight – nothing. But for us that didn't matter. It had to be there."
"Another big expense was our McBrides light up sign but it was one of the main elements of the reception décor. I had told the producers about this idea and they loved it. We actually got this from Gods Own Junkyard in East London. Unfortunately they have since closed down but they had the largest stock of neon signs in Europe and was the oldest sign maker in London. Although the sign ate huge amount of the budget, it was one of the main elements of the wedding and is now hanging on our living room wall so it was totally worth it!"
"The cake was my own creation. The best man and I almost came to blows over a it! We literally had a few quid left of the budget so I couldn't stretch to getting a proper wedding cake made. In the end I had the idea to go and buy a couple of supermarket cakes and build a tiered cake from them. I thought this was a great idea, but it was actually the only thing Lauren complained about!"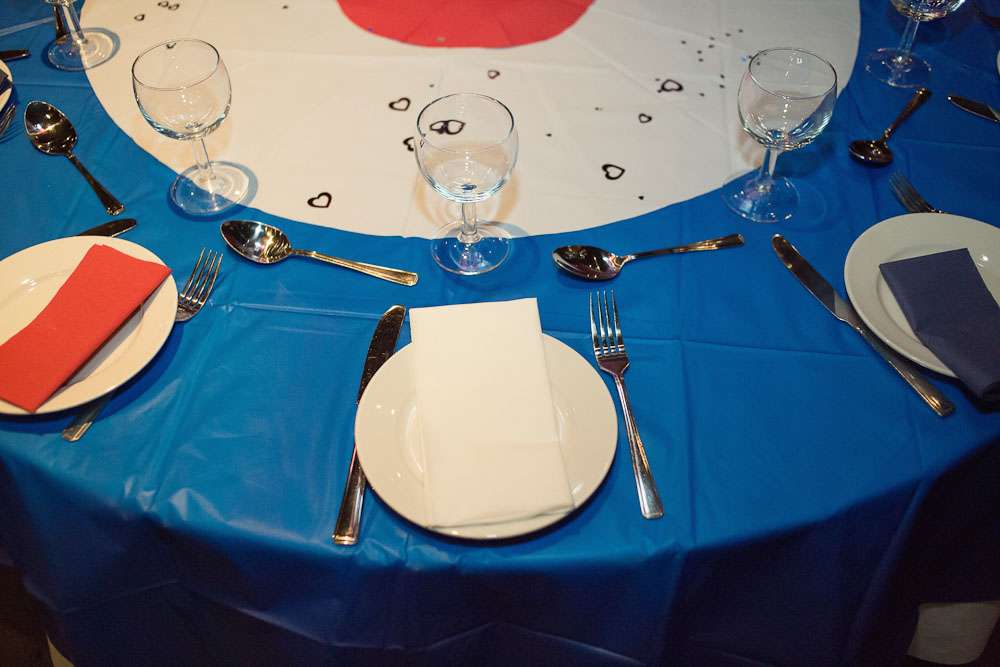 So how did Lauren really feel when she saw the wedding Perry had pulled together? "Don't Tell the Bride was the best experience of our lives and our wedding day was the best day of our lives!" she exclaimed. "Perry got everything so right but even if he hadn't nailed everything, it wouldn't have mattered. The wedding day is the memory but the marriage is what you will live everyday for the rest of your life. Don't stress about the detail. Remember what it's all about!!"
"I'd actually find it so hard to choose a favourite part of the day. The whole thing was like a string of amazing surprises. Starting with having fantastic dress, hair and make up. Then seeing 15 mods come round the corner to my flat and learning I'd be travelling to London by sidecar. Then arriving at The Forum, walking down the aisle (stairs) to a live band playing amazing music. We also has great food! I loved every second and every decision Perry made for us."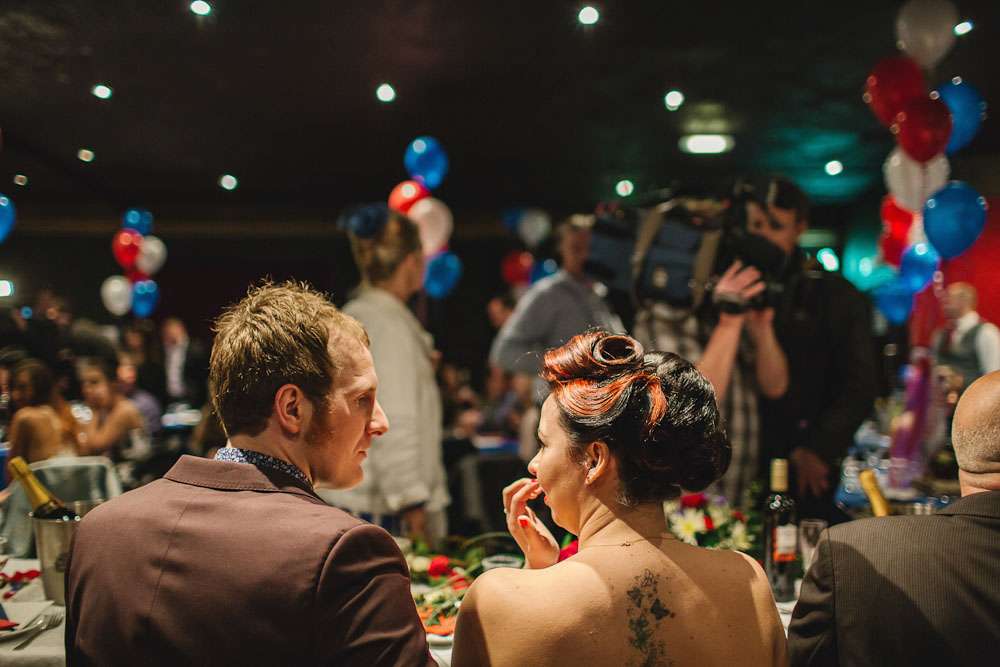 "I would have to say that seeing Lauren in the spotlight on the balcony of The Forum and watching her slowly glide down the stairs to Champagne Supernova was one of the most emotionally invigorating moments of my life", Perry concluded. "It was beautiful and a moment that will make my heart skip a beat every time I relive it."
Below is the moment Lauren she walked into the ceremony, taken from their Don't Tell The Bride episode. AWW!