What could be more Rock n Roll than a concert wedding at a dive bar? Nothing! And that's why I'm thrilled to be sharing Tom & Lindsey's wedding at The Shakedown in Bellingham, Washington with you today.
"Our inspiration for our wedding was our relationship itself", began the bride. "We have always had a ton of friends, gone to shows together, and eaten amazing, bad-for-you food. I'd say probably the first thing we decided to do differently was have our wedding at a bar. We met in college, on what's known as Thirsty Thursday in the university world which is why we chose to get married at a bar on a Thursday.  When we approached The Shakedown, I think they were surprised that we wanted to have our wedding there, but they were very cool and very excited to make it happen."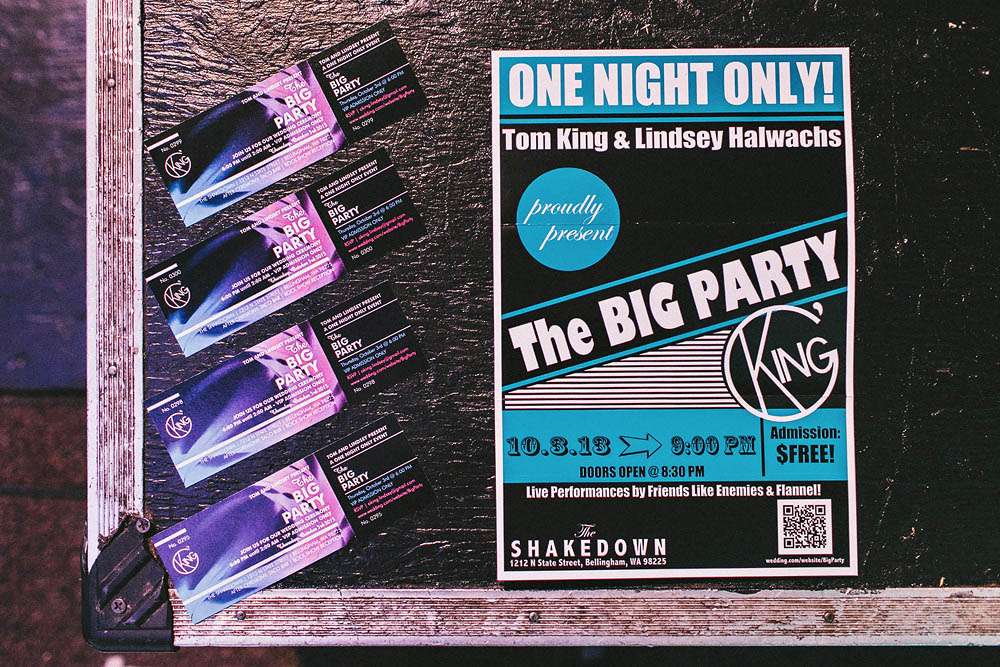 "Next, rather than send out a formal invitation, I built an entire website (QR code included) and then designed show posters in Photoshop that would become our wedding invitations. I attached the QR code at the bottom for our tech-savvy friends and then designed concert tickets to go with the flyers that would include details about the ceremony itself, which took place two and a half hours before the Big Party. To keep with the theme, I made backstage passes and event wristbands as well."
"Other things that we thought were pretty different is that my husband is a very popular, charismatic guy, so he played MC for most of our wedding and party himself, getting the crowd laughing and joking around. He also performed that night. His band played a 45-minute set during the latter half of the Big Party."
"Tom also surprised me with a special song as I was walking down the aisle. His band wrote a song called Taming the Tigers a couple of years ago, but they've never written the right lyrics for it and I've always been disappointed that it was never finished, because it was my favorite song. So, for the wedding, Tom got together with some of our friends and turned the song into a sort of part rock part classical piece and had it played as my wedding march. I nearly cried before I even got to the actual wedding portion of the event."
"One of the last things is that we really focused on having was food and drinks that people would love so we had traditional bar food or college food – a taco buffet for dinner and onion rings, bagel bites, mini burritos, and other delicious fried confections for the reception. We also had a gigantic drum of 'grandma's punch', which was my grandmother's recipe for brunch punch that we added a large amount of liquor to. Of all of these things, perhaps the most unique is that, rather than having a reading or prayer or musical performance during the ceremony, we had our friend Ian Graham make a spirited toast and then all of our guests took a shot of whiskey with us."
Having a wedding in a bar, the venue didn't need a lot of decorating but the bride's sister made three different signs. The first had info about how to hashtag any photos taken and posted, the second was about how to download a photosharing app from wedding.com, and the final one to let the guests know that pinball was on free play all night during the party. The rest of the decorations were just paper lanterns that the bride bought in various sizes which were arranged over the stage with 40 feet of white curtain lights and 60 feet of string lights.
Of course a gig themed wedding wouldn't be complete without bands playing throughout the night. "We had two live bands", Lindsay continued. "The first was Flannel, a 90s cover band made up of a very talented group of guys. They were kind enough to grant the request of the bride and her mother, which was to play Eminem's 'My Name Is.' The second band was Friends Like Enemies, which is the Tom's rock band (all three of the other band mates were groomsmen in the wedding party). . Between the two bands' sets, the mic was opened for anyone who wanted to give a speech. This was a form of entertainment in and of itself. After the two live bands played, Kevin Hales, drummer for Friends Like Enemies, mixed music to play for the last hour or so of the reception, mostly entailing of 90s and early 2000s music."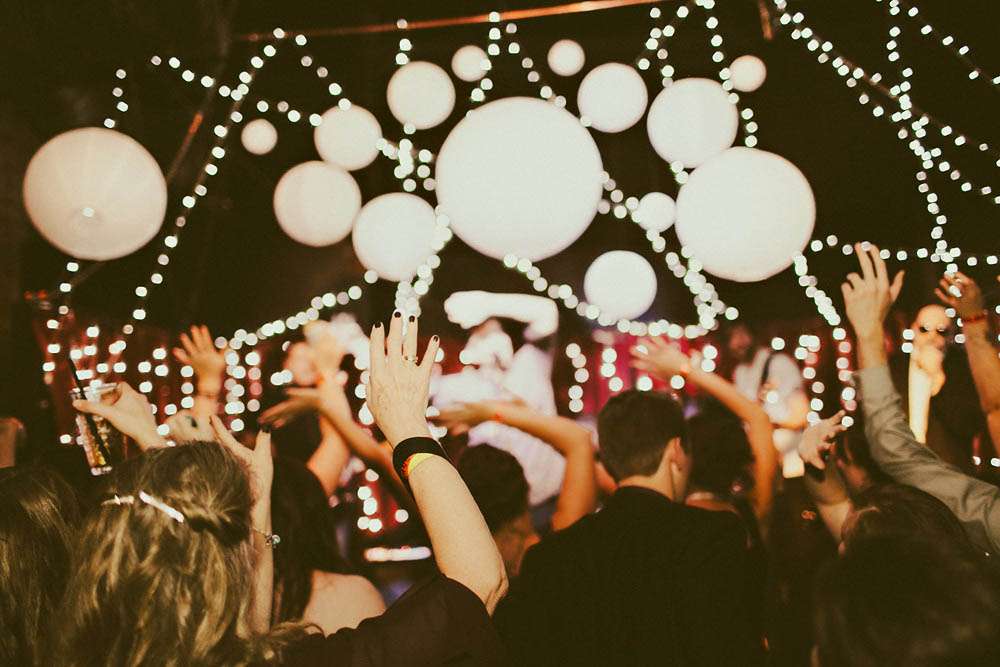 "My only advice to future brides and grooms is that you should never let other people dictate how you throw your wedding", Lindsay concluded. "Maybe your mom doesn't think black dresses are appropriate for a wedding (my mom thought it was awesome, but she's a really rad lady), that doesn't mean you have to change your colors. Maybe someone thinks that having a wedding in the middle of the week is inconvenient, that doesn't mean you should change your date to satisfy someone else's schedule. Ultimately, your wedding should be about you and your partner and no one else. That doesn't mean you have free range to be a jerk, just that you should plan your big party with your relationship in mind, not other people's opinions."