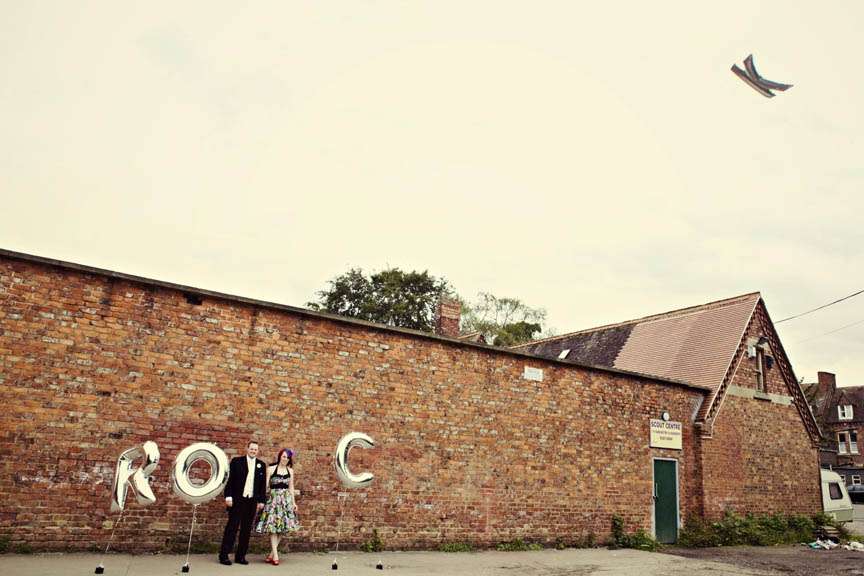 Brett & Vicky planned their Rock n Roll wedding for just £3,000. Yes, this pair crafted and saved their way to the perfect alternative music themed day for less than some brides spend on their dress! The couple were married in July in Darlington.
"To look at our wedding you might say it was very obviously 'Rock n Roll', what with the rock music themed stuff everywhere, but to us our wedding was just us", explained Vicky. "It was the easiest and best party we have pulled off as we have some fabulous parties for any occasions! Our day was awesome, very laid back… it just went so fast! Brett was fabulous in front of the camera and Jade, our wedding photographer, made him feel so at ease. I love him so much for doing the photos, and love Jade for capturing my heart in the shots!"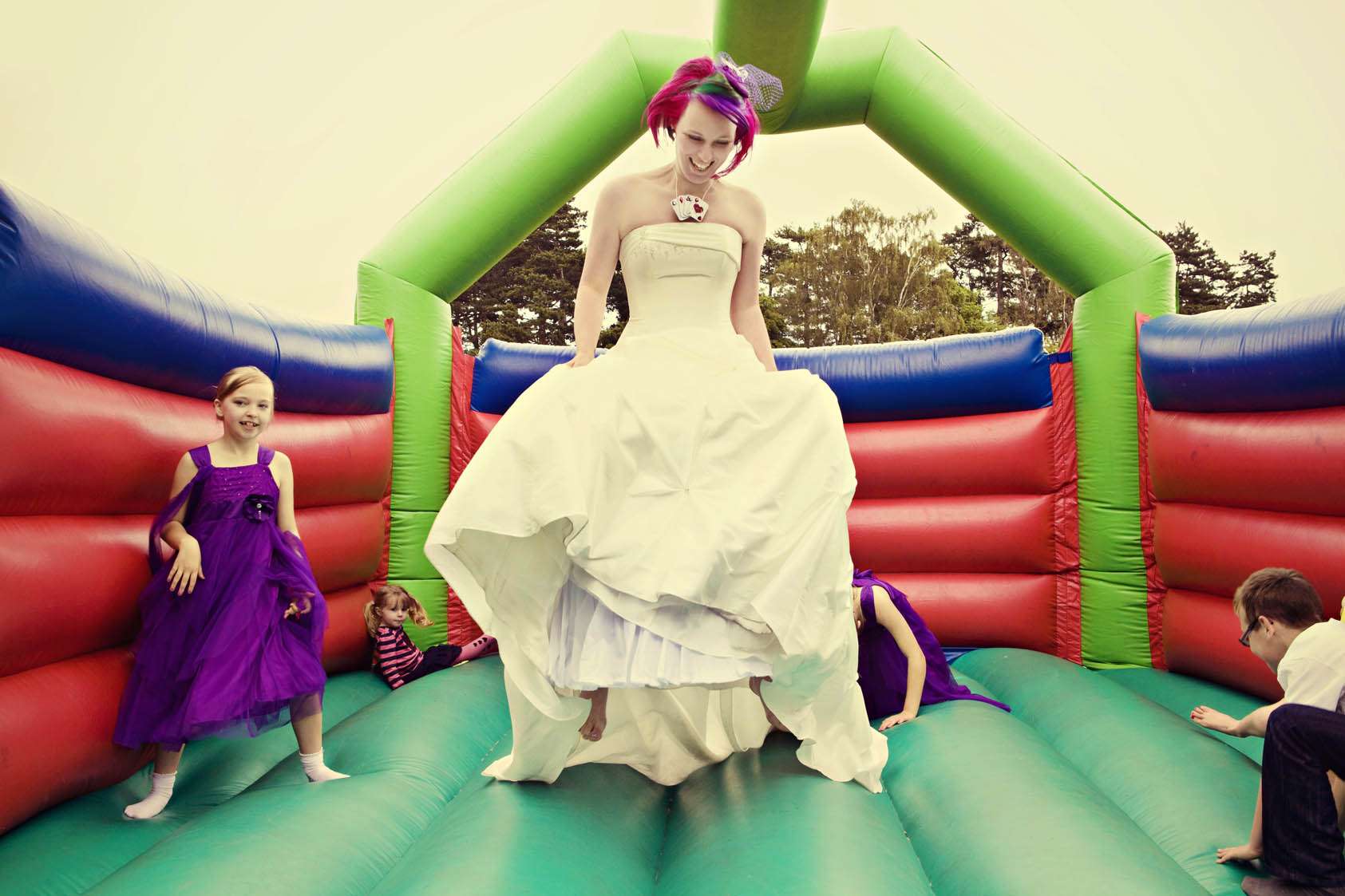 "Our table names were music venues from around the world; places on our list to visit", the bride continued when I asked about their reception decor. "We had martini glass centrepieces filled with purple gell balls, glass Coca Cola bottles with Olympic rings to support the Olympics obviously! We had 'flowers' made from guitar picks which was also what my bouquet was made of. I made about 60 record bowls (by heating up and bending records into shape) which we filled with fortune cookies and sweets. We also had rubber ducks dressed in wedding attire on the table! Our invitations were in the form of backstage passes as our theme was an after show party, and the show was our wedding which we named on the invite as 'The Bells Toll Tour' after a Metallica song. We went to see them also when I was pregnant with our 3rd baby rocker! Our eldest Kieran has cork boards full of all our gig tickets in his room!"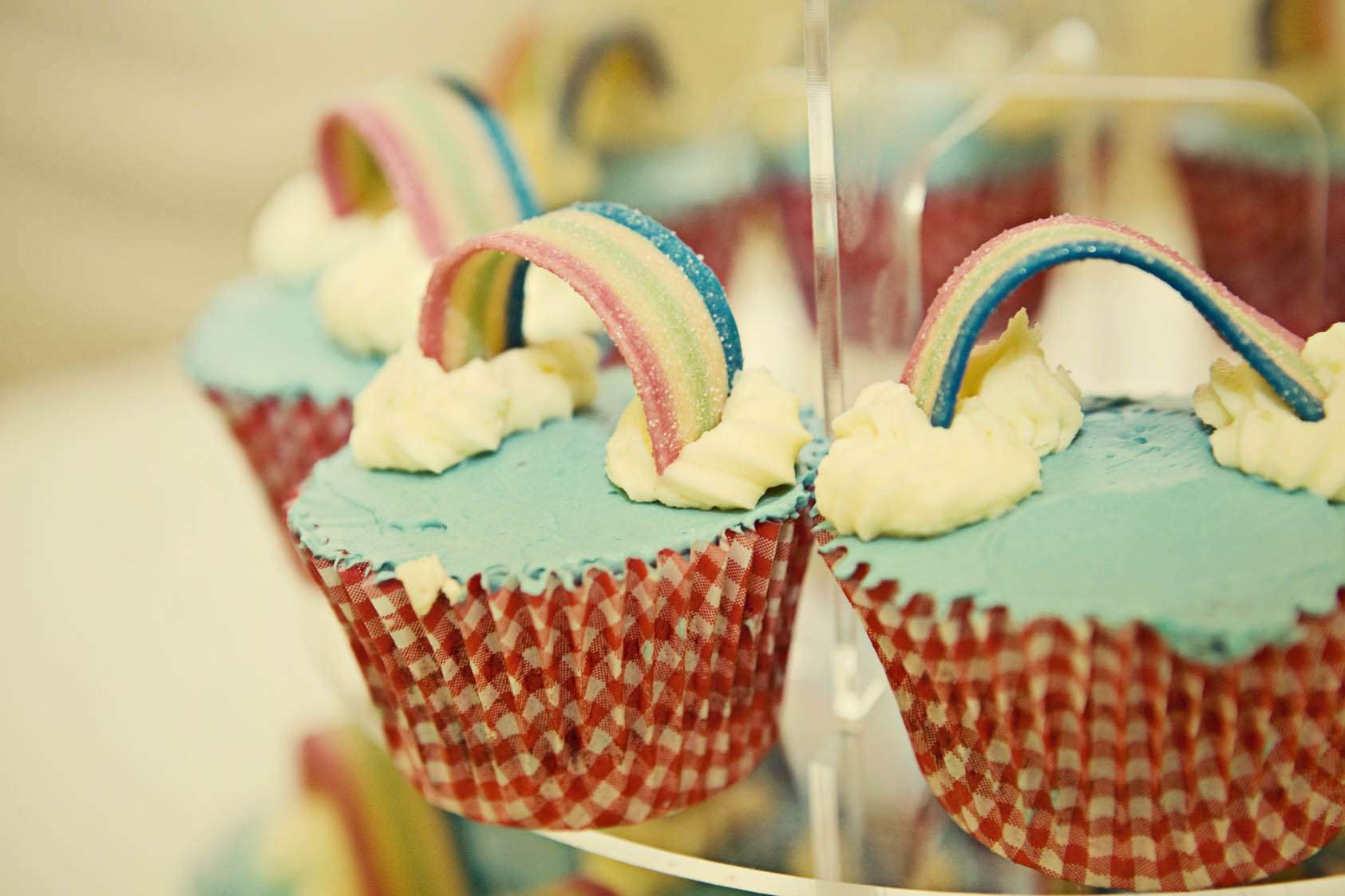 "We had huge silver balloons that spelt out ROCK and our favours were vinyl effect cds for people to put photos on from the big day. The placecards were guitars made from card and stuck to stars and vinyl effect clay. We had Korn and Slipknot material posters dotted around and inflatable guitars. Lizzie, my chief bridesmaid, made the best over the rainbow cupcakes and they went down a storm. As you can see we went all out!"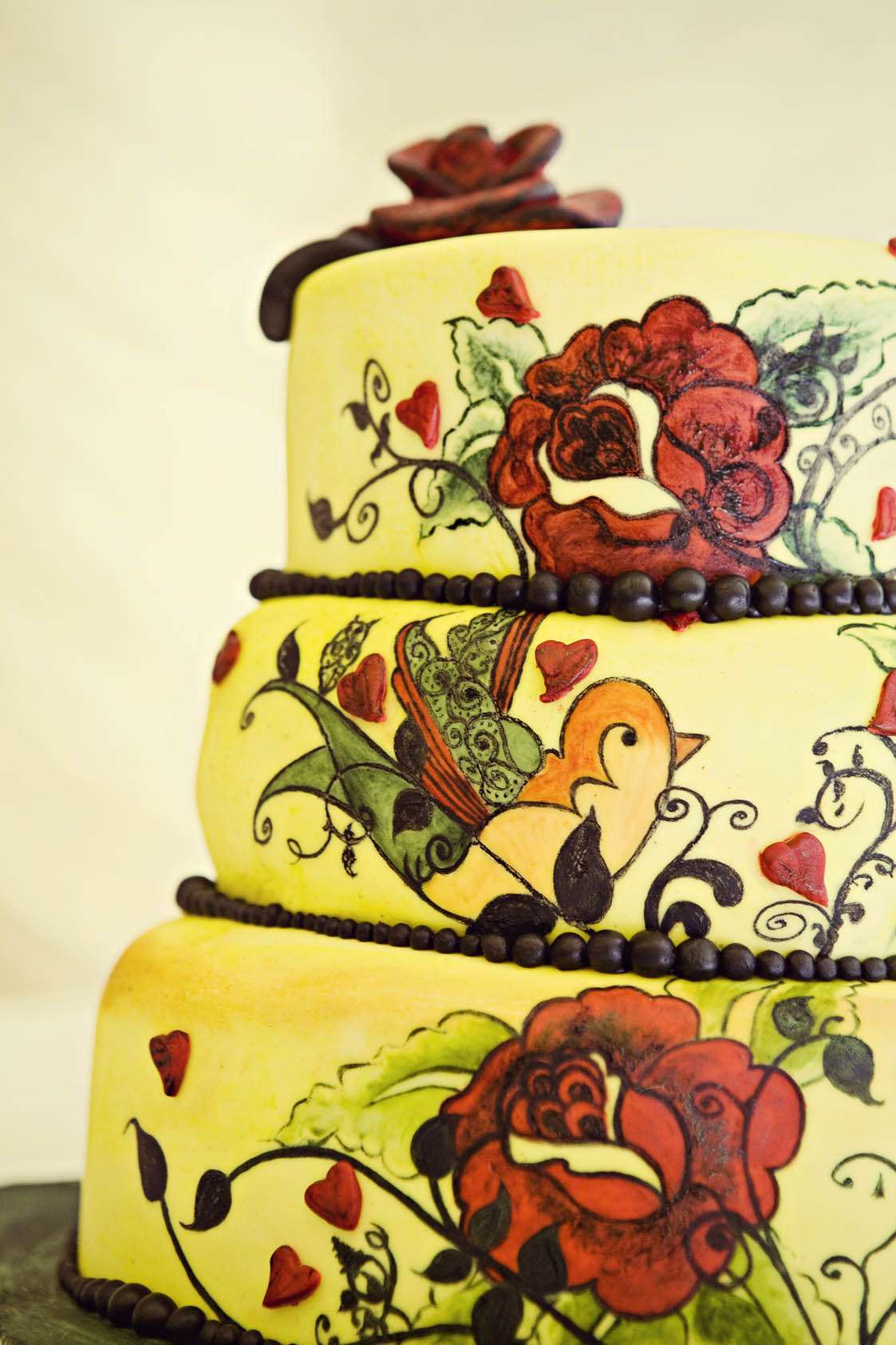 "Kat, I would like to thank you personally for your blog as you were my absolute inspiration and my obsession for almost a year!" Victoria concluded. "Without you I may have caved in to what our parents wanted and followed the 'boring way' to please all who attended! Instead you showed us that unique/alternative and downright different can be shared and enjoyed by everyone and that we don't have to conform! Our day was perfect and it rocked well and truly and our interests as a couple and family shone through and we didn't have any complaints!! Keep it up Kat as you made our day what it was… Mwahhh!"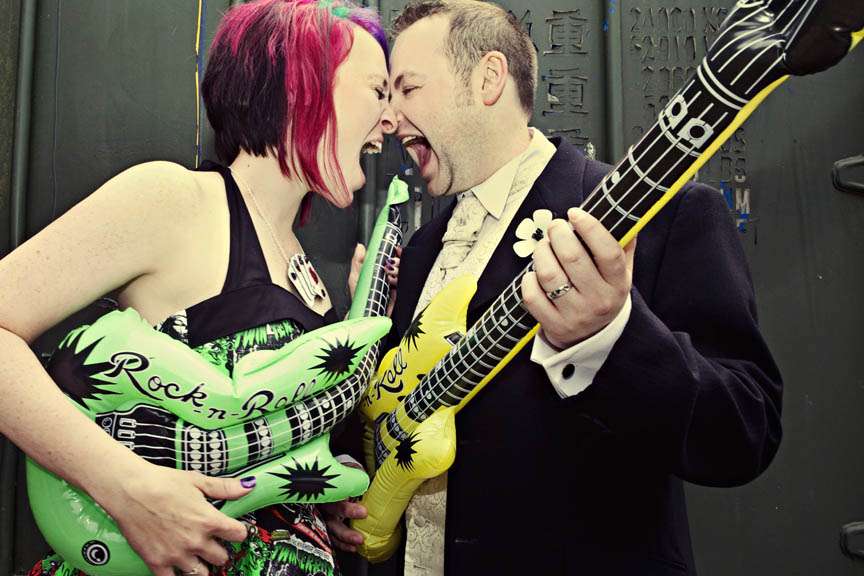 AWWWW! Bless you Vicky, thank you. I'm just so glad I could in some small way, help you plan your amazing wedding!
Supporting Cast:
Photography Credit: Gasp Photography
Ceremony Venue: Darlington Registry Office
Reception Venue: Hurworth Grange, Darlington
Bride's Dress: Maggie Sottero
Bride's Evening Dress: Hell Bunny Clothing
Bride's Shoes: Iron Fist
Bride's Headpiece: Diablo Jo
Bride's Necklace: Prong Jewellery
Bridesmaid's Dresses: Various (eBay)
Bridesmaid's Jewellery: Rockabilly Pin Up
Cake: DIY
Hair: Clare Jackson, Yaeger hair Salon
Catering: Ochis