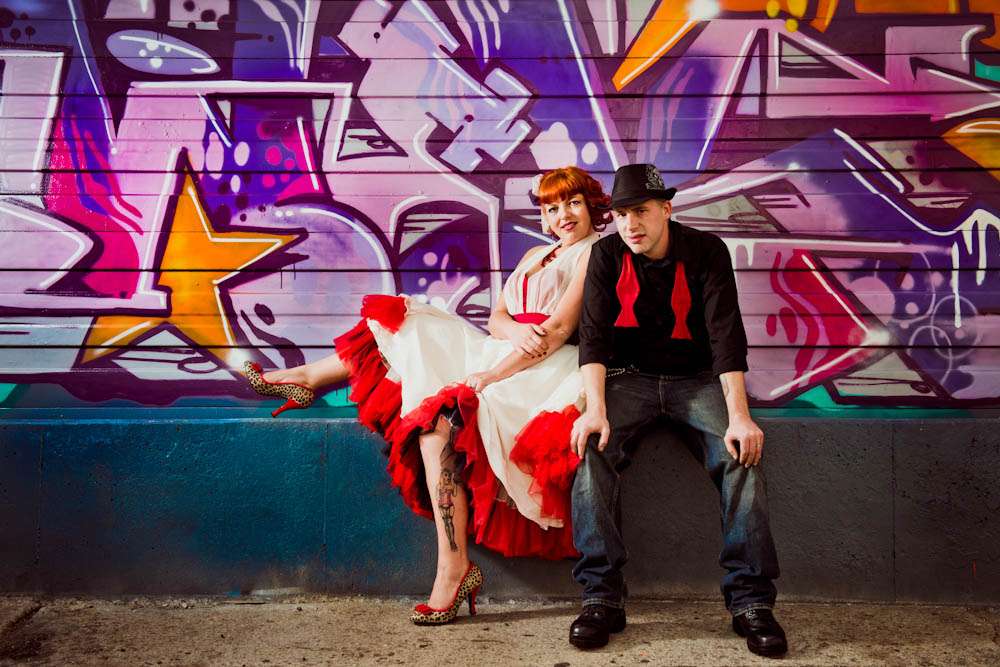 Happy Monday y'all! Now I know it's unconventional, but Monday is totally my favourite day of the week. I'm always up early and excited about what the the week might hold. It's kind of like a fresh start every seven days don't you think? Oh what a nerd I am!
Well, even if you're not quite as excited about it being Monday as I am, the Rock n Roll stylings of Jenifer & Chris' epic concert wedding are sure to put a big old cheesy grin on your face – it sure did mine!
"Our wedding was held at Casselman's Bar and Venue in Denver", Jenifer began. "I can not say enough about this venue and the amazing owners who really took care of us. Not only did they charge us an incredible rate for the venue rental for BOTH the afternoon wedding reception event and the evening concert, but they gave us drink tickets for the reception as well as things like tables, chairs, lighting, sound, staff and the use of their kitchen. They did not jack up the price simply because the word 'wedding' was involved, and the owners, Adam and Andrew, are professional, friendly and really on top of their game. They helped us with everything from planning the production schedule to offering suggestions to help with throwing the concert (which we had no prior experience doing) and we will never stop being grateful to them for everything they did to make our crazy, fabulous day run as smoothly as possible."
Jenifer wore a dress which was handmade by her friend Sophie, which she had designed herself. She also made all her own jewellery and accessories. She invited her bridesmaids (or 'entourage' as she renamed them!) to choose any dress they liked from Pin Up Girl Clothing.
The couple decorated a lot of the venue themselves and decided, instead of spending a fortune on flowers, that they'd handmade paper flowers and have each member of the bridal party just carrying one single stem. "We were not very thrilled with the idea of spending a lot of money on cut flowers to use as reception decorations, so we chose to make giant paper flowers instead", Jenifer explained. "As for the flowers for the ceremony, each of the female entourage members carried a single long-stemmed white rose and I carried a red one. The entourage boys had white rose boutonnieres and Chris had a red one. The choice for the flowers was inspired by a dream I had when I was 12 years old – I dreamed that I was given a roomful of bouquets from boys, but all the arrangements were fake flowers. Then, my true love walked in behind me and offered me a single real red rose before kissing me and I knew he was the one. I was reminded of that long-ago dream the first time I kissed Chris and I wanted that represented in the wedding."
"Chris and I are huge music lovers", the bride continued when I asked her about their theme. "We both like a huge variety of music, but while I'm likely to listen to Horrorpops or Joan Jett, he leans more toward Slayer and Hatebreed. Between the two of us, however, nearly every facet of the Rock n Roll spectrum is covered and we wanted our wedding to reflect that. From the slogan on our wedding invites – 'For those about to wed, we salute you' – to our ceremony music, reception playlists and the lyrics we used as decoration, we really wanted to showcase Rock n Roll in all its incarnations. In addition, the spirit of Rock n Roll is a laid back, casual, jeans-and-t shirt sort of vibe, so we wanted to keep the event as casual as we could. Chris and the entourage boys wore jeans, while the entourage girls and I leaned more toward rockabilly style, and we told our guests to feel free to dress in 'whatever Rock n Roll means to you' – we had some folks looking like hippies and others looking like 80s rockers. It was glorious!"
"Ultimately, all the fun wedding and reception details aside, one of the things that really sets our wedding apart is that we chose to throw a concert in the evening", she concluded. "Any wedding guests who wanted to go were admitted for free, but the show was opened up to the public to buy tickets. We had two local acts open the show – L.A.M.A. Live and MF Ruckus – and our headlining band was The Bastard Suns. They are a punk / rock / reggae outfit based out of Georgia that Chris and I discovered together as a couple a few years ago. We thought it would be a really great experience to complete our Rock n Roll themed wedding day by closing with a concert featuring our mutual favorite bands. It was a crazy idea and very difficult to pull off – imagine planning a DIY wedding AND promoting a concert at the same time! – but it worked out (more or less). The concert itself was a great show, as all three bands performed their hearts out, and we had a blast."
So rad! Thank you to Jenifer & Chris and their wedding photographer  Joni Schrantz for sharing their quintessentially Rock n Roll wedding with us today!
Supporting Cast
Photography Credit: Joni Schrantz
Venue: Casselman's Bar and Venue, Denver
Bride's Dress: Sew Smooth
Bride's Shoes:  Pin Up Girl Clothing
Bride's Headpiece: DIY
Bridesmaid's Dresses: Pin Up Girl Clothing
Cake: Cake Captivations
Flowers: DIY
Stationery: Bound by Design 
Entertainment: L.A.M.A. Live, MF Ruckus & The Bastard Suns
Caterers: Biker Jim's Gourmet Hot Dogs