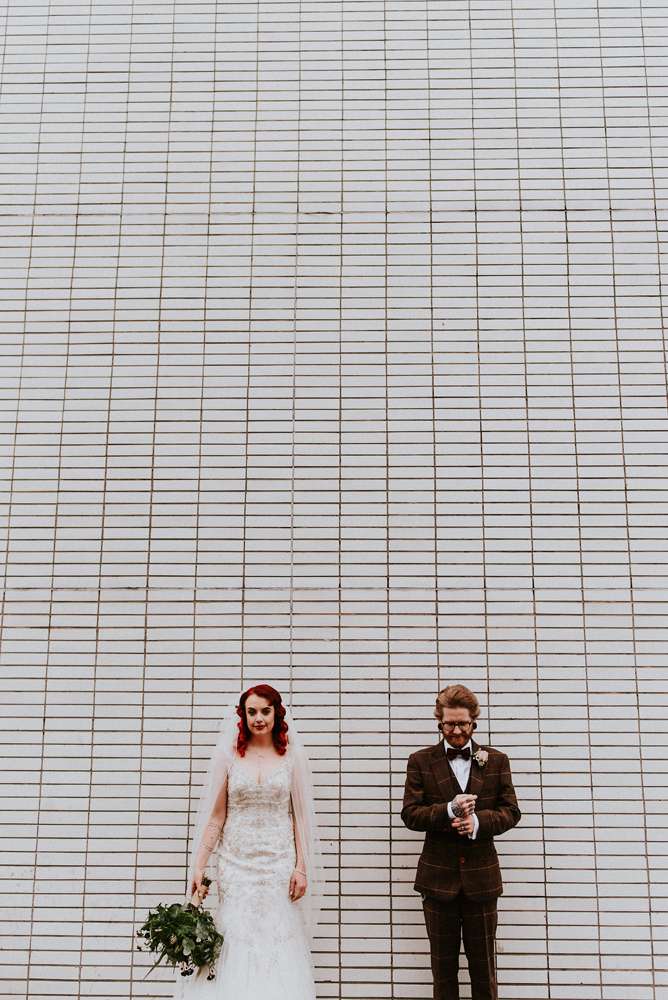 There's a bit of everything in this Sheffield city wedding: Elegant dresses, gritty graffiti couple shots, dapper gents and pretty, giant pastel-coloured pom poms thrown like confetti! It's one of those perfect examples of when a couple has a wedding that represents the spirit of them.
Lou and Neil met just six months before they married, on Tinder! "Neil tells everyone we met through work… which is kind of half true", laughed the bride. "We worked on the same road as each other for a couple of years, then eventually, we swiped right and that was that! We chatted for a while, had a first date on a Tuesday, second date on the Thursday and then didn't have another night apart from each other until the night before our wedding just over 6 months later. It's now just over a year since our first date, we're married and we opened our first business together in May. It's been a crazy whirlwind but I wouldn't have it any other way."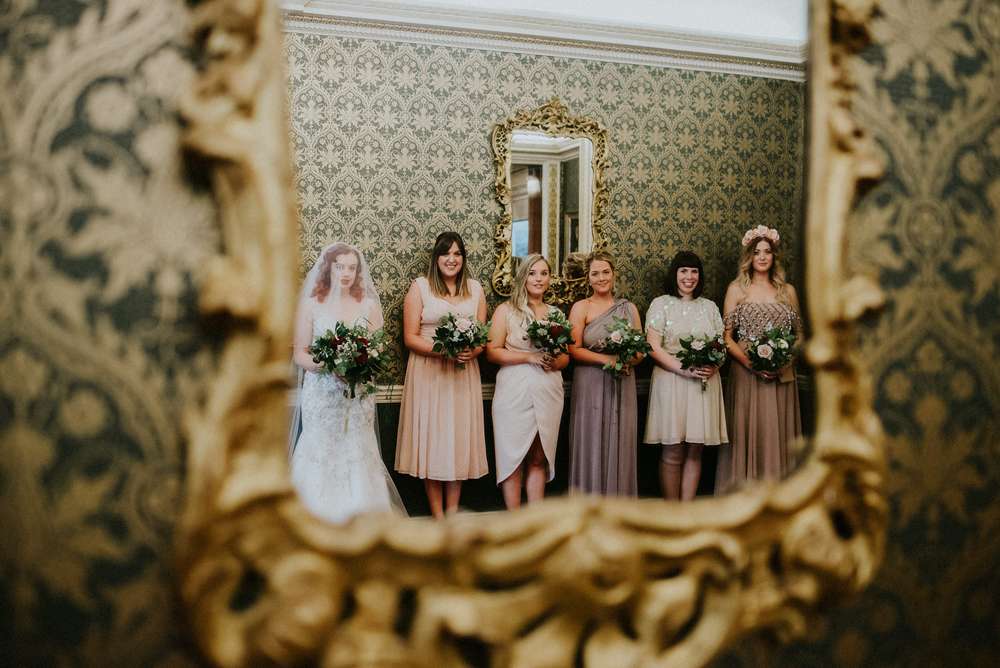 The wedding was in February at The Cutlers Hall in Sheffield. The bride said, "It was probably the fifth or sixth venue we had seen, and when we walked in I felt like I was walking straight into Wes Anderson's The Royal Tenenbaums. We immediately knew it was the one for us. I always wanted to be a Tenenbaum."
Lou said of the styling that, "It was a very pop punk wedding. We came down the aisle as Mr and Mrs Tomlinson to Blink 182! All of our tables were our favourite bands' names instead of numbers. Trying to explain to my 93-year-old grandad why he's sitting at 'Alkaline Trio' was tricky."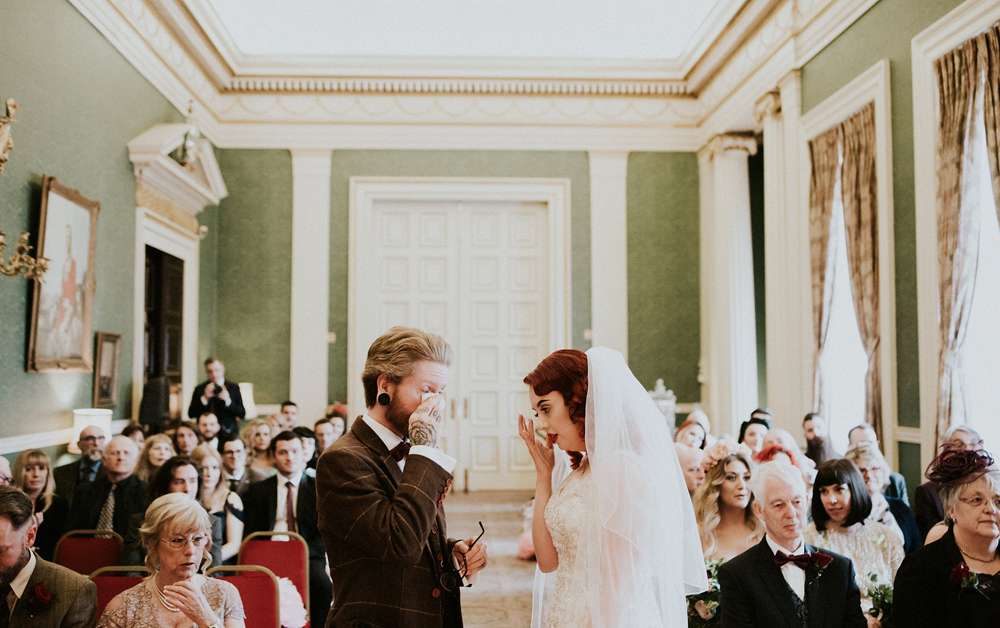 The couple wrote their own vows, and Lou said, "I felt really self conscious about it, but actually I'm really glad we did. It's not in my nature to stand up and declare my innermost feelings to a room full of people, but I'm glad I made the exception, and we even have them framed at home."
They didn't have an official planner, but friends and family helped with organising when needed, with the bride joking that, "If y'all need someone to turn up to every appointment and viewing with a clipboard and an air of apocalyptic paranoia displayed in repeated and intense questioning such as 'What if it snows? Do you even own a plough?' then my mum is your woman!." Being decisive was actually the key to planning the wedding so quickly. The bride said, "We knew we were going to start a business straight after the wedding, so we gave ourselves three months and just went for it. It meant we made decisions quickly, and didn't dither or obsess too much. I know that setting a short deadline and having it as your main objective might not be for everyone, but for us it was ideal."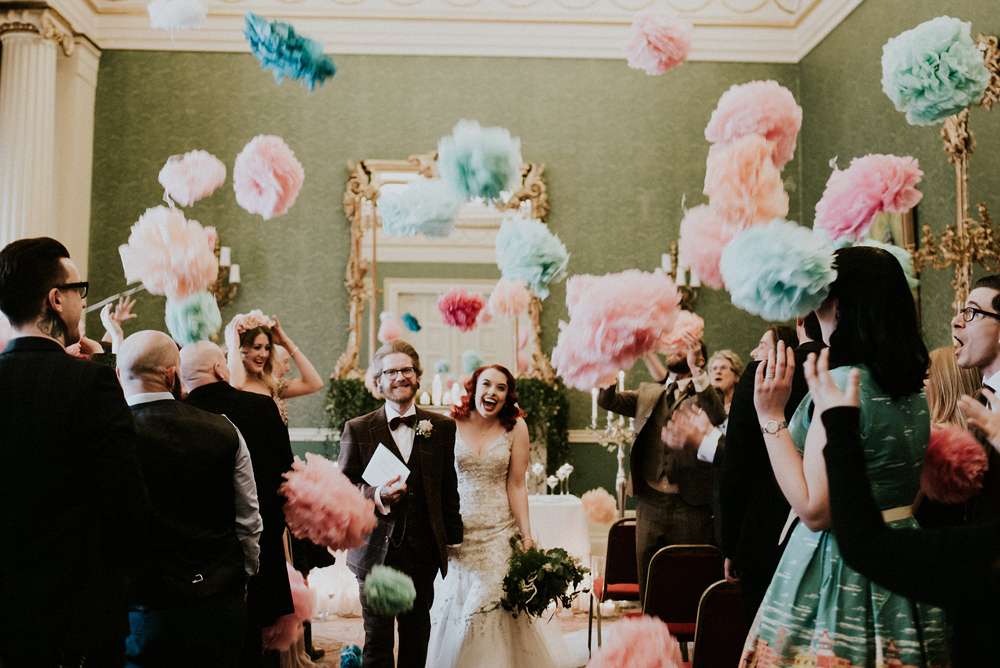 The bride's beautiful dress came from The Bridal House in Sheffield. "I can't thank these ladies enough", Lou said. "I was never going to look at myself and do the crying 'I feel like a beautiful princess' thing. It's just not in my nature. Thanks to them, I ended up with a dress that I felt special in – still like myself, but 'bridal', instead of like I was just playing dress up. They made some pretty major alterations to my dress and were so great about accommodating a tight deadline for me. I'm still so in love with my dress, and I'm still trying to find a way to shoehorn in wearing it again, in a non-Miss Havisham kind of way…"
"My veil was a fiver from eBay and was an absolute dream. I wore pearl earrings that my brother and sister-in-law got me years ago as my 'something old,' and a beautiful but simple diamond necklace borrowed from my new mother-in-law. My ice-blue sparkly Irregular Choice heels were my 'something blue,' and I love them so much! They were also pretty comfortable for my big, wide, square, barge feet, so I recommend them for the comfort-seeking bride."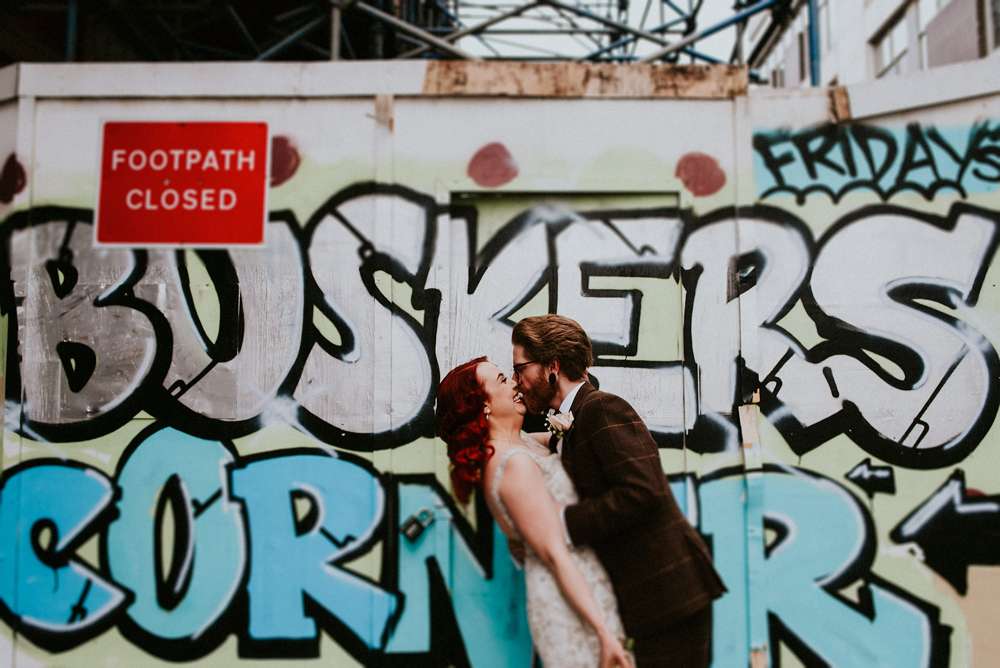 Lou's bridesmaids surprised her by organising for Diablo Rose of Le Keux Vintage Salon to do her hair. The bride said, "As a hairdresser myself, I was feeling the pressure for my hair, and I wouldn't have trusted anyone else. I wanted a vintage set. Vintage hair is a separate art form in itself, and Diablo Rose has her craft DOWN! She was so lovely and took the time to work with me to end up with hair that I loved. When Neil and I spent a couple of hours walking around Sheffield for our photos, and the wind was really strong and the occasional raindrop came down, I never worried as I knew my hair was safe. I think I got about three days out of it in the end!"
Lou's approach to her bridesmaids' dresses was laid back. She explained, "I wanted my bridesmaids to feel nice. I didn't want anyone to feel uncomfortable, and I wasn't about to try and tell five grown women what they should wear. I just gave everyone what was in the budget and asked them to pick something in a warm neutral shade, so we ended up with a collection of dresses that really worked well with the flowers, and I loved how no one matches but they just kind of 'went together.'"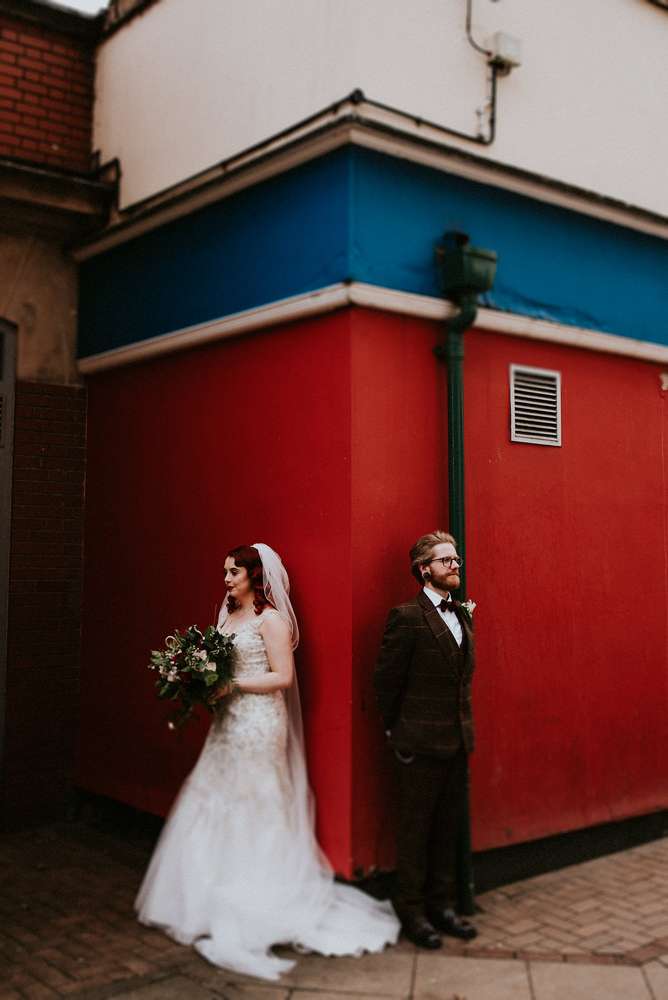 A live band was their main entertainment, and Lou said that "Leeds City Stompers made our whole evening! We danced to them at another wedding and just knew straight away that we needed them. I can't recommend having a band enough, plus it helps when they're as good and as nice as these guys! They gave us some super special memories and I'm so incredibly grateful to them for just doing what they do!"
The largest expenses for the couple were photography and the band, but they were also their biggest  priorities. "It made sense to put the bulk of our budget on the photos and the band there, plus they were both blummin' well worth every single penny. Our photographer was Ryan of Shutter Go Click and he was incredible. Our day went in the blink of an eye, and to be honest it's a blur. I'm so grateful and glad we have such beautiful, natural photos to look back on and relive our memories. I recommend him to anyone who will listen!"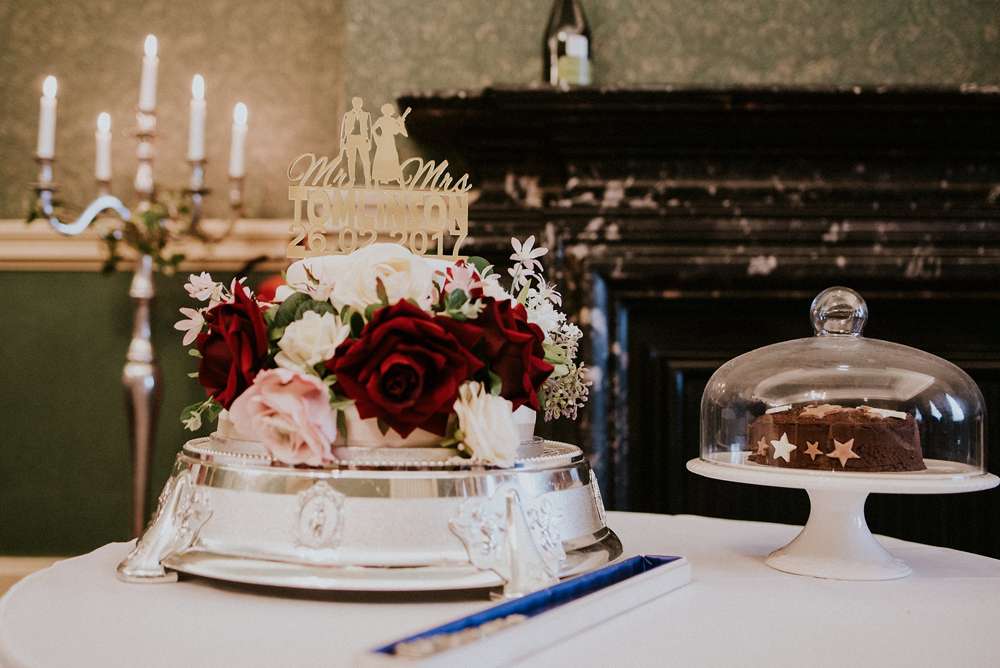 They couple did save money by making their own photo booth. Lou said, "I bought a cheap photography backdrop and some lights for around £50 on eBay, then covered the backdrop in tissue paper pom poms, adding props from More Production, who decorated our venue. It was simple, but it worked, and we got some really great photos out of it, as well as saving so much money." They also saved money by getting the cake from Marks and Spencer, which the bride's mum decorated with silk flowers.
Even though they saved money by doing lots of DIY, actually, says Lou, "I also learnt a really important lesson: Just because you CAN do something yourself, doesn't mean you SHOULD. I bit off more than I could chew, and am eternally grateful to my friends and family who carried us through that week before the day."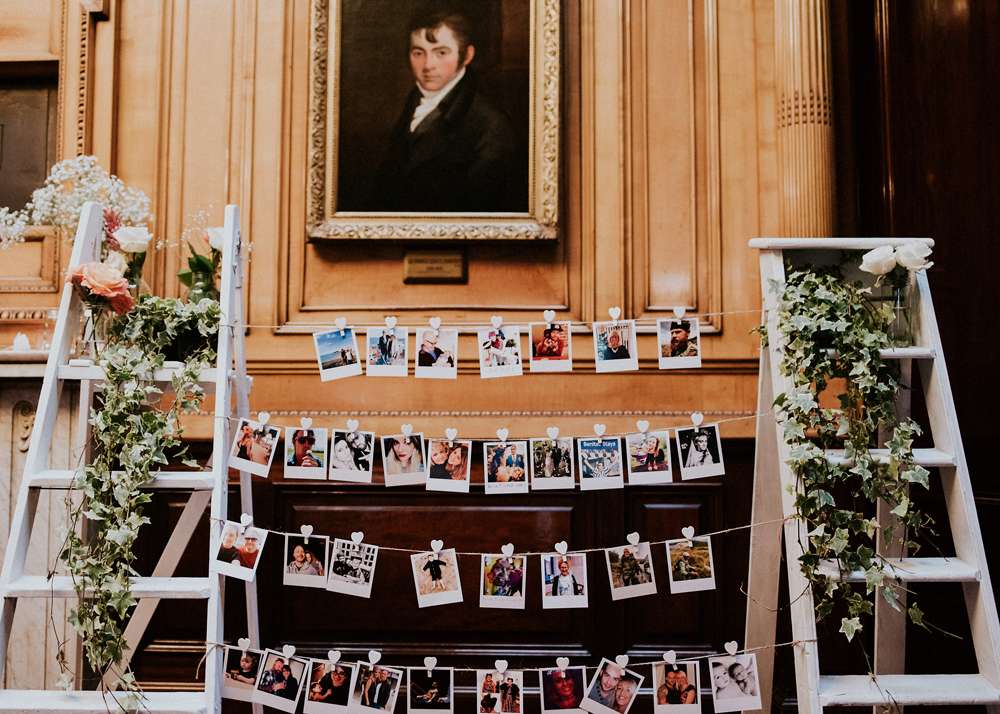 Thinking about the best part of the wedding planning, Lou said, "To be honest, I was so excited, and I loved creating my day, but on the whole I found it really stressful. So as much as I loved it, I felt under so much pressure that I love being married so much more than I loved planning to be married. However I loved the day itself. My favourite part was when all the formalities were done, and I got to just dance with my husband and enjoy myself. This is why the band was so important to me; I'm not good at being the centre of attention or being at big social gatherings. But I am good at dancing a lot and singing until I haven't got a voice left!"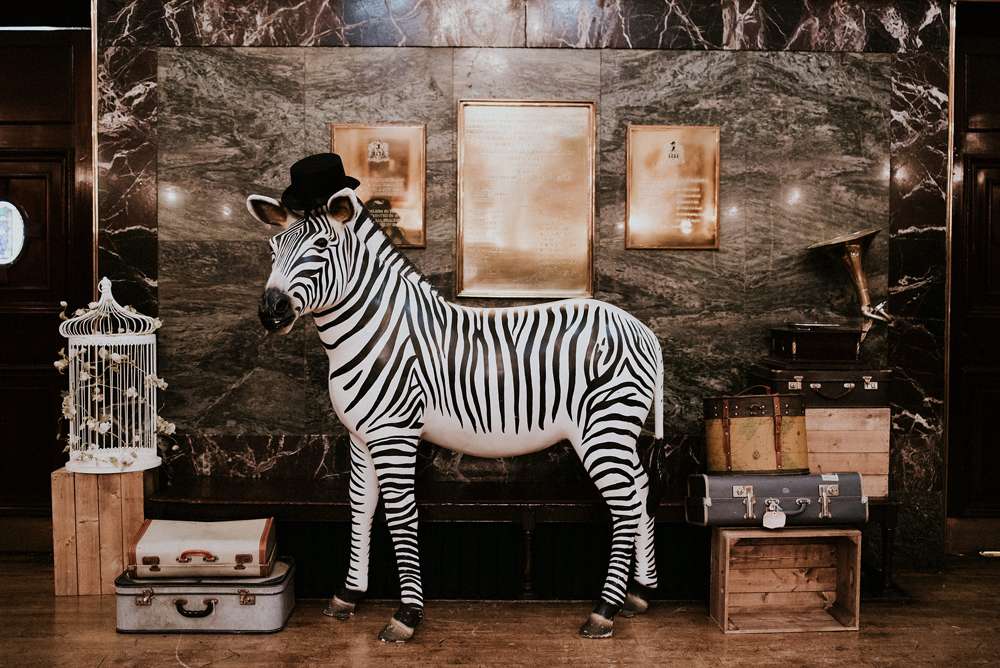 The bride says their advice to future brides and grooms would be, "To do what you want. Don't be a diva, but have some compromise on the core things that you want for your day. Photography is important: You're putting a lot of effort and money into this day, so have some nice pictures to look back on. I feel like if you spend the big money on experiences instead of things, then on the whole you're going to have a bloody magical time."