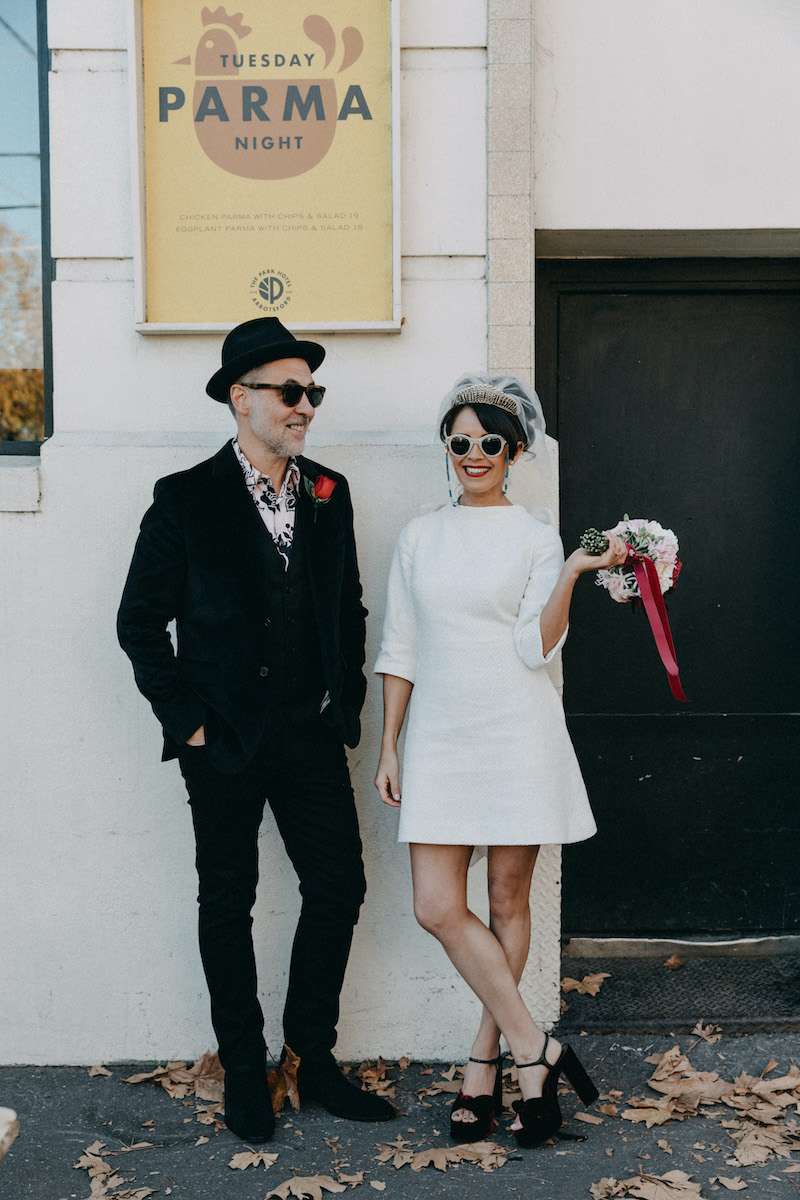 Starting their relationship as 'frenemies' in a local bar, arguing over which beer was superior, it was fitting that Cass and Mat's wedding was held in their favourite pub, The Royston Hotel, in Richmond, Australia. Fifteen years after they met, the couple wanted their day to be like the best night at your favourite pub with your closest buddies. With a relaxed vibe and informal dress code, they cranked up the music and cracked open the drinks.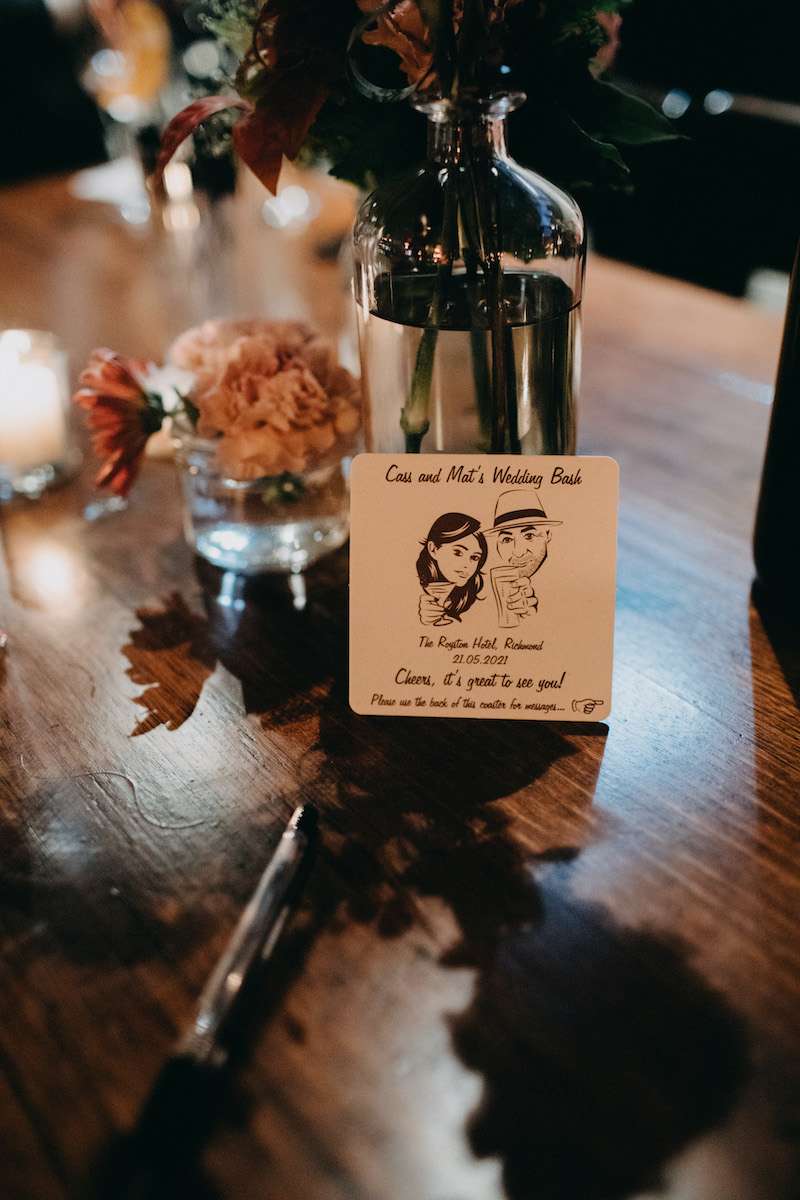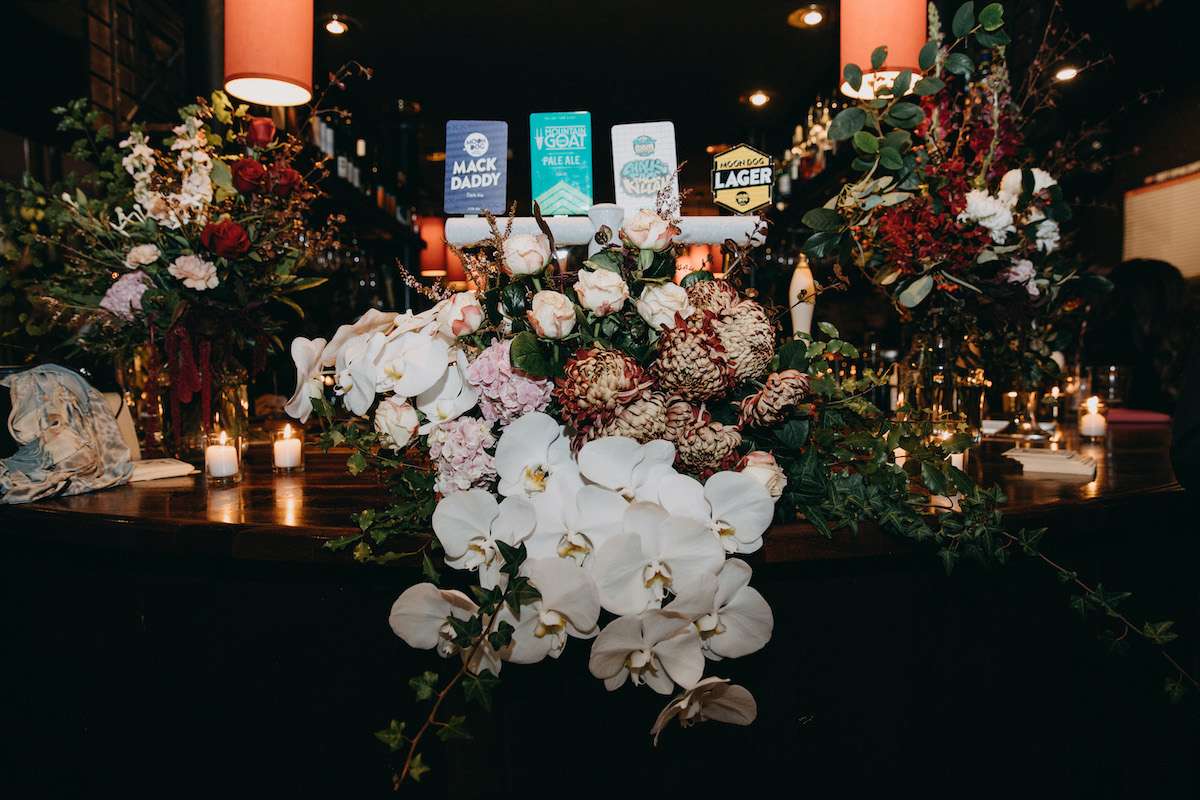 "We wanted the atmosphere in the pub to mimic the feeling you get in those last few minutes, when you're eagerly waiting for your favourite band to step on stage." Cass explained. Music was an integral part of the day, with Mat putting a lot of time and thought into creating a playlist for the ceremony to amp up the excitement. They chose You Make My Dreams Come True by Hall & Oates after they had been officially married, and the bridal party then walked out to Dean Martin's Not the Marrying Kind.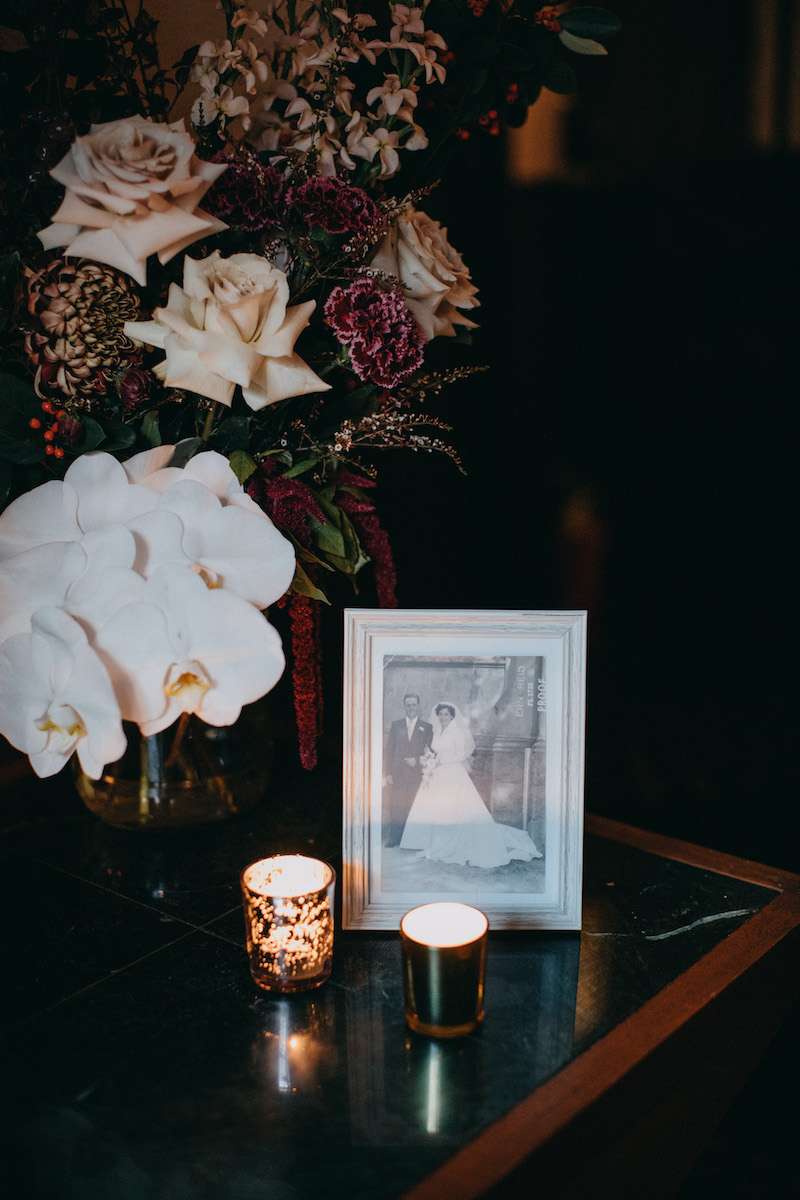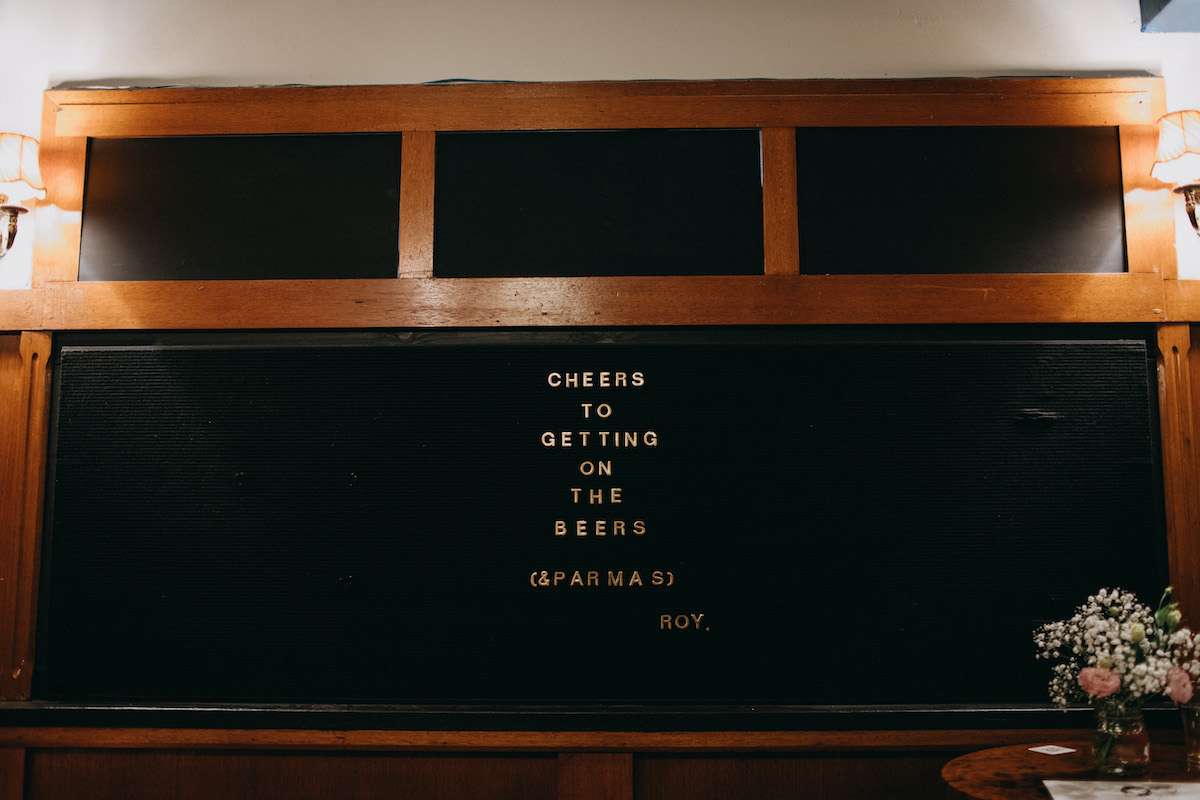 Cass and Mat went with their instincts when thinking about décor, using the pub and its cosy interior as inspiration. "We let the pub do the talking, and just propped with florals and tealights everywhere," Cass told us. "I bought cheap glass tealights and candles and my friends did the rest, doing an amazing job setting it all up. I didn't have to do a thing; they took total control!" They added sparkling and coloured streamers as well as twinkling strings of lights to fit with their colour palette and theme.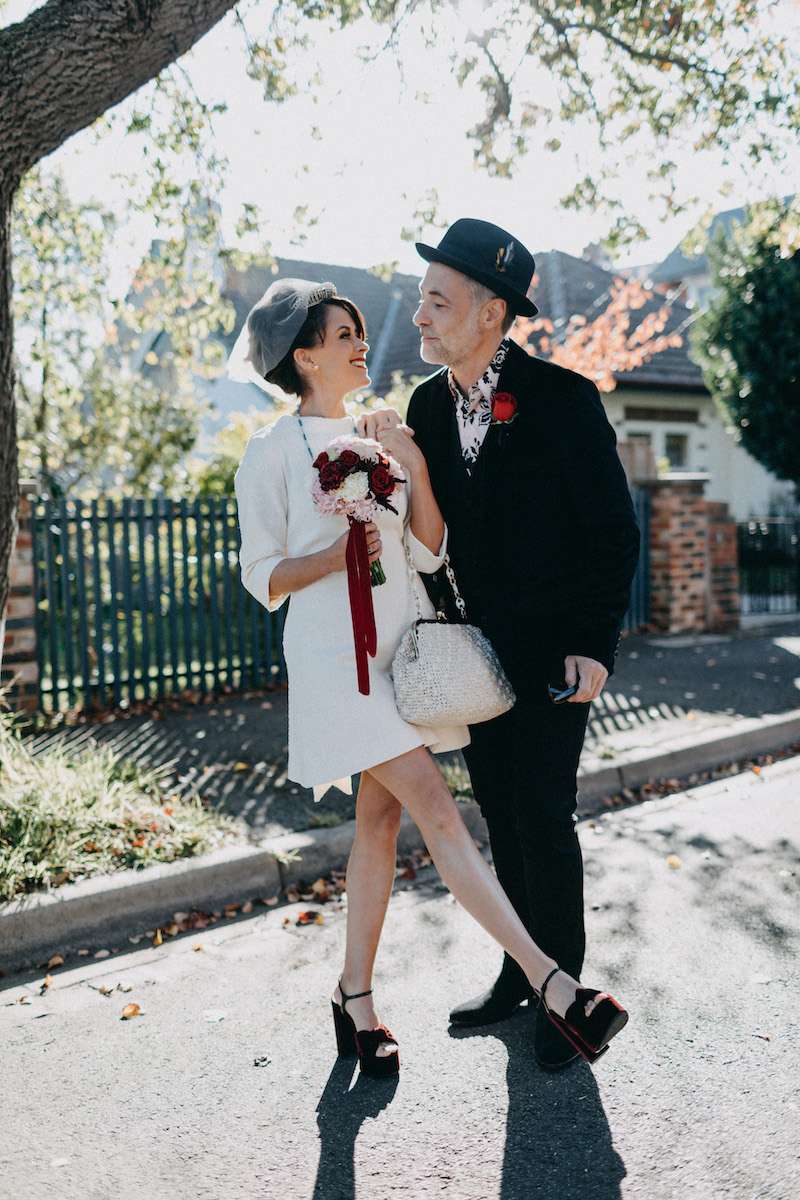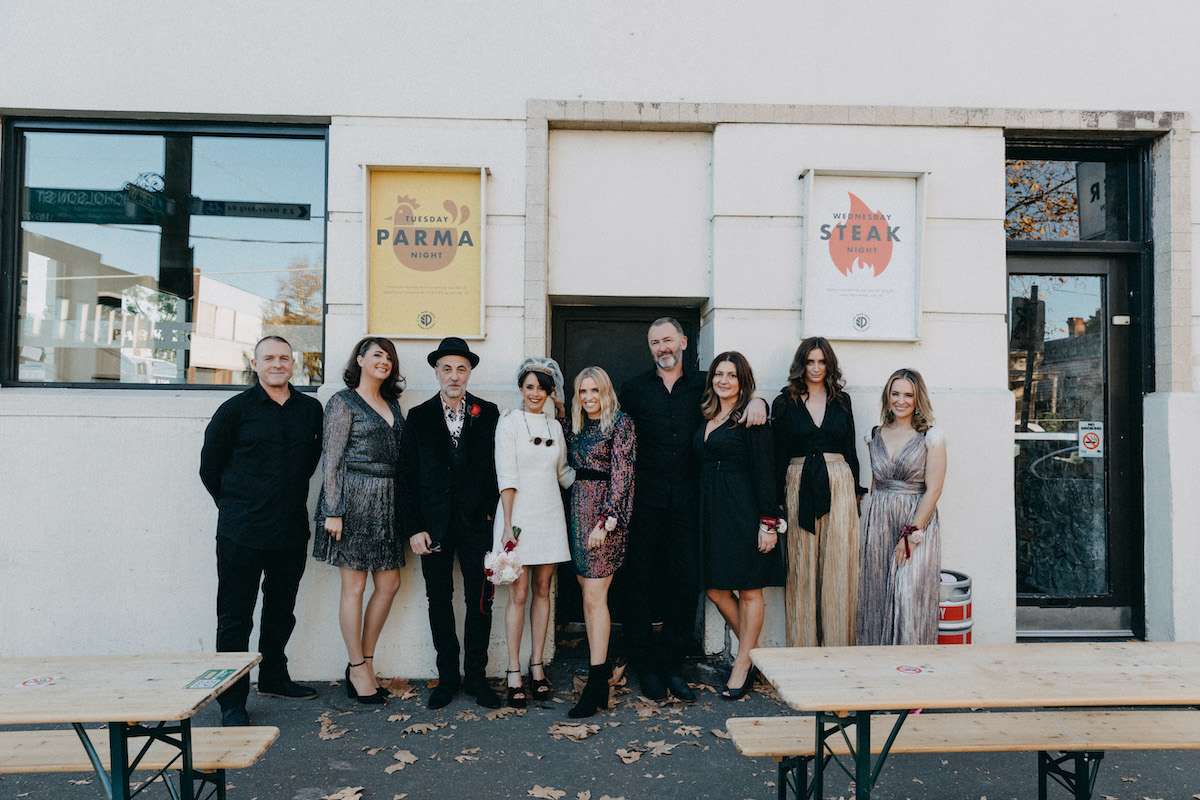 As well as helping with the décor, the couple's close circle of friends were an integral part of the day. Cass explained, "We were so lucky and managed to use a lot of our friends to help make the day perfect – from the flowers, to our friends on the decks, to making my dress. A super talented friend designed our wedding stationery, including a super cute custom illustration of Mat and myself that we then had printed on menus, coasters, stubby holders – all things pub related!" Using friends also helped to keep their costs down, with a budget of $25k (Australian dollars), around £13,000.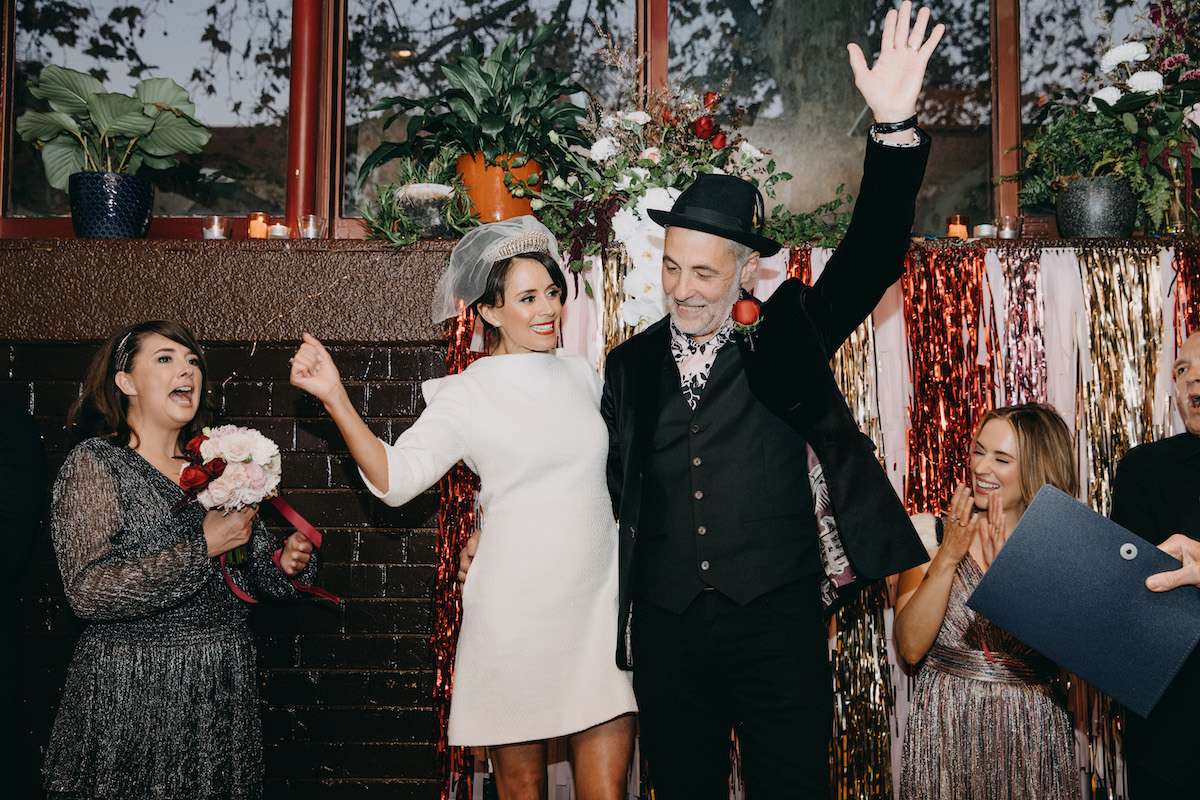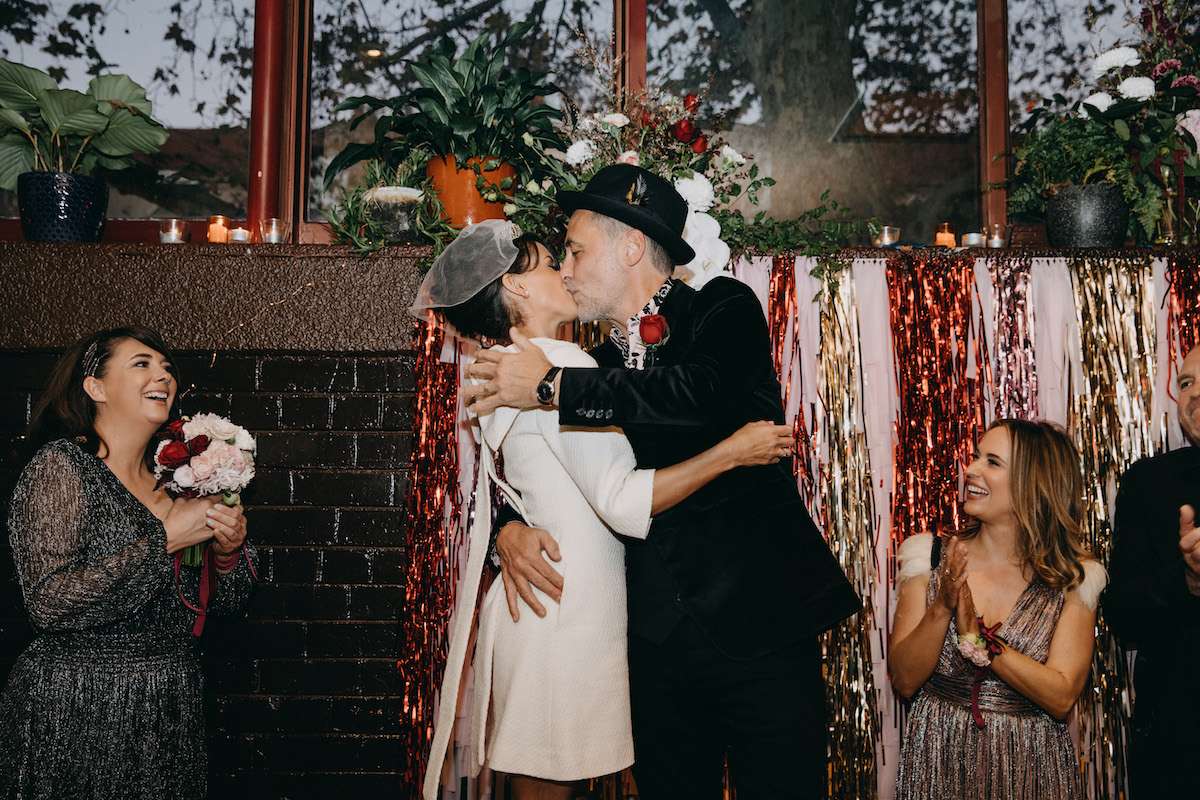 Cass chose vintage pieces to accessorise her Lauren De lnnocentis dress, along with Saint Laurent shoes and a pair of Lucy Folk sunglasses to protect from the hot Aussie sun. Mat went with a Paul Smith blazer and Saint Laurent shoes. Rings were from Windfall and Anna Sheffield, with Mat asking Cass to take "…this ring, and try not to lose it!", hinting at her propensity to regularly misplace items. Mat's oldest friend then read a speech on behalf of Mat's parents who, at 97 and 94, were unable to join the couple, but were there in spirit and the speech created a special moment to include them in their day.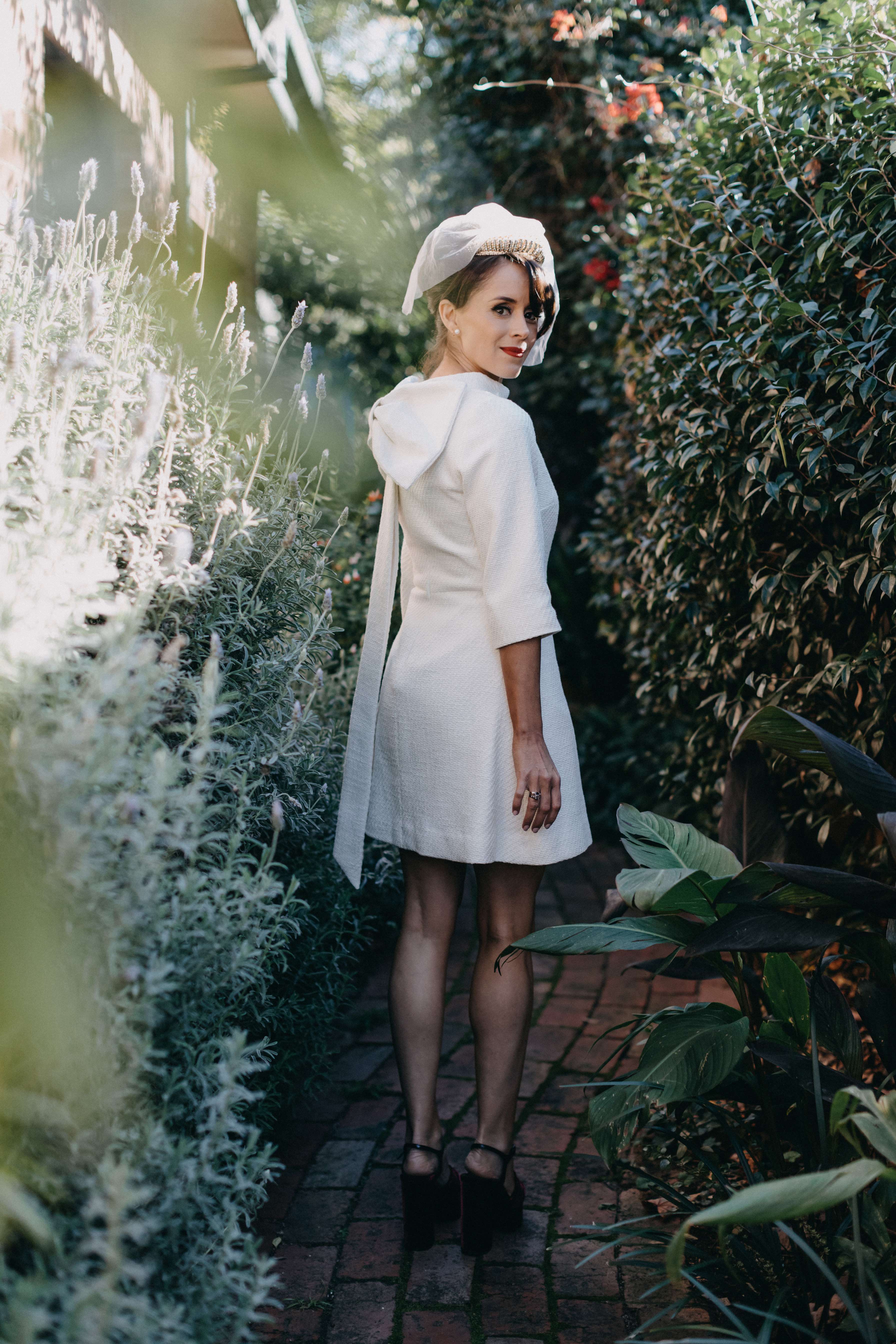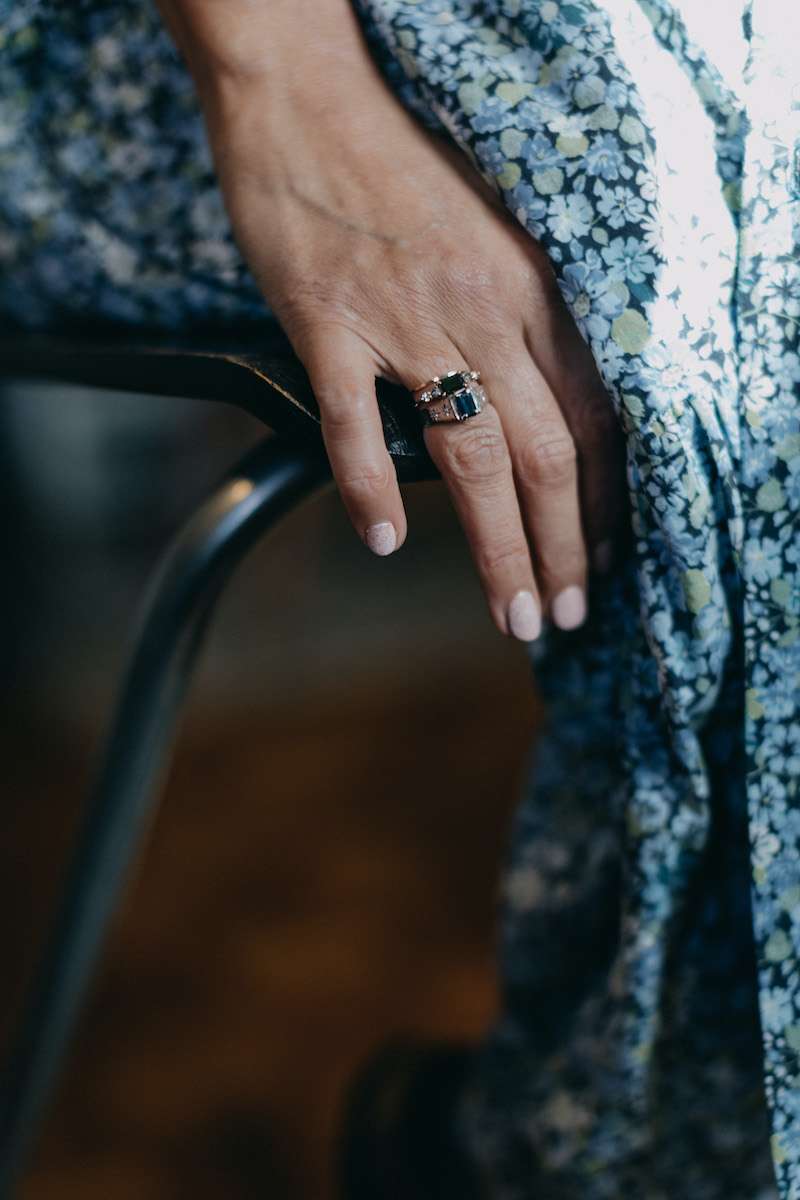 The couple chose to have their formal pictures taken before the ceremony, after a pre-wedding drink in a nearby hotel with their families. Cass told us, "I can highly recommend getting your photos done BEFORE your ceremony because after it…it's an absolute whirlwind!". A last minute decision to have a videographer ensured they had a video keepsake of the day, as Cass explained, "I didn't think we needed one but then two weeks out I knew we had to make it happen. In the end a work colleague and videographer stepped up to the plate and did an amazing job on a pretty tight budget with not much notice!".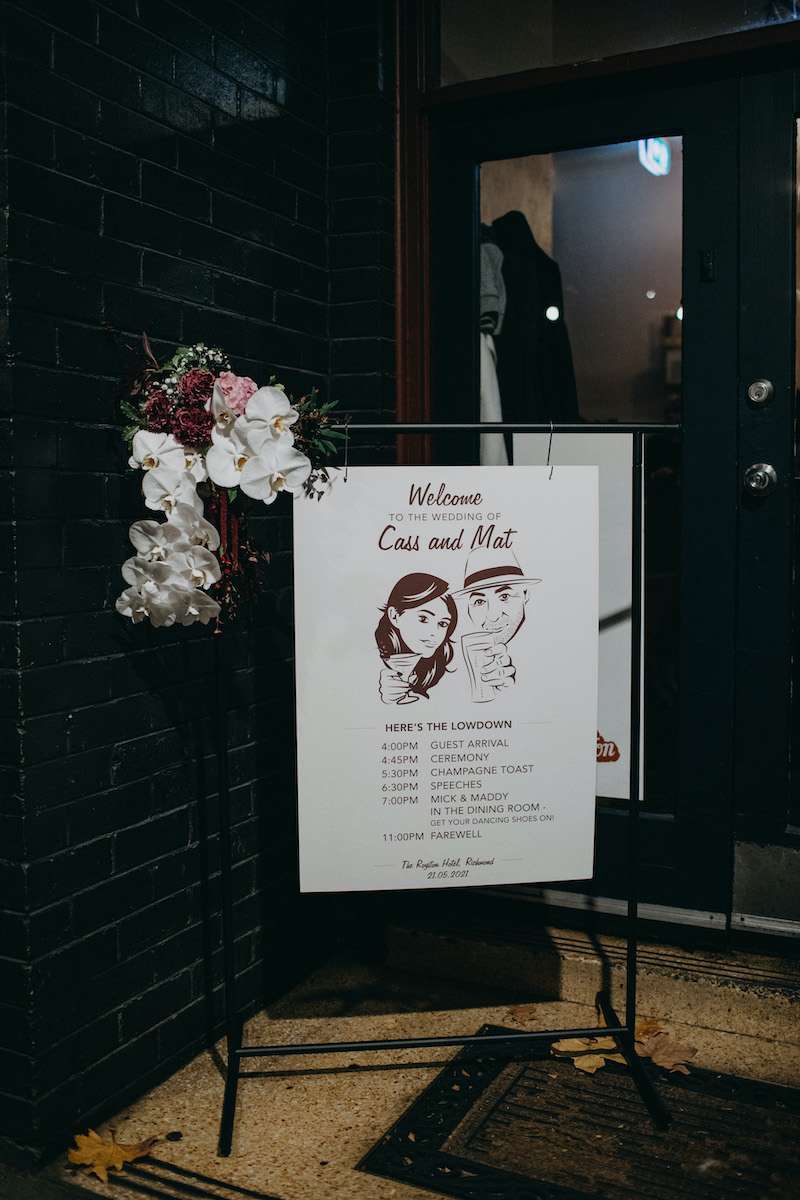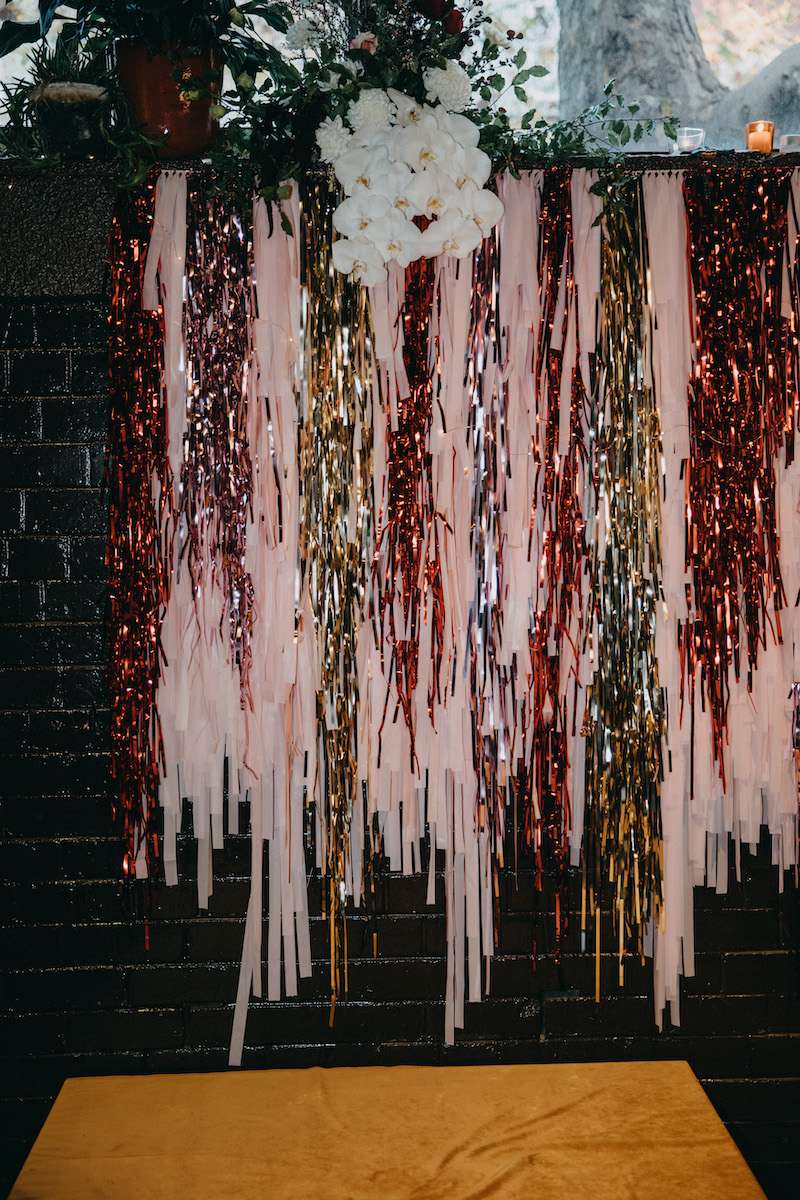 With last minute changes and a rush of tasks leading up to the big day, Cass recommends trying not to get too wrapped up in the tiny details. "Don't sweat the small stuff… enjoy the process and remember the most important thing is getting married to the love of your life. If the confetti ends up being round when you wanted love hearts just go with it! At the end of the day, it won't matter."