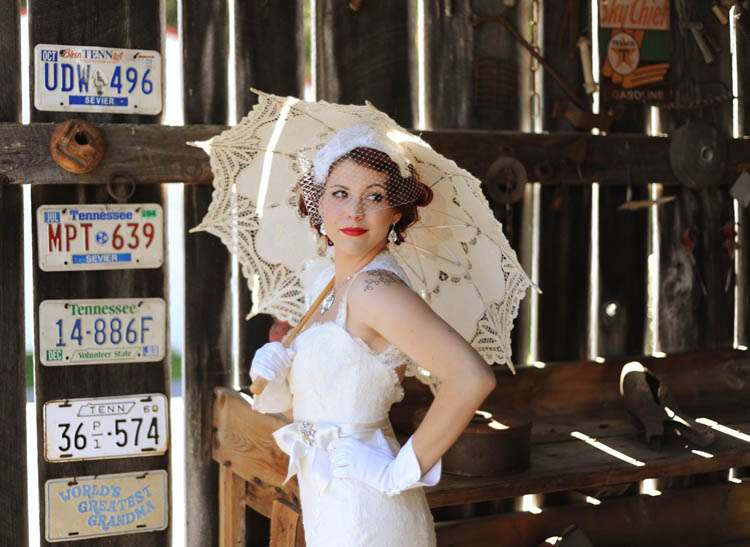 Rebecca & John's beautiful Tennessee wedding took place at Almost Heavens Wedding Resort. With quirky details and elegant 50's styling, this really was a wedding worthy of Rock n Roll credentials.
The bride wore a Paloma Blanca gown with awesome Irregular Choice shoes and a vintage veil that she found at a friend's yard sale. A friend of the bride who is a costume designer re-worked it for her to suit the style she was going for. She carried and vintage lace parasol.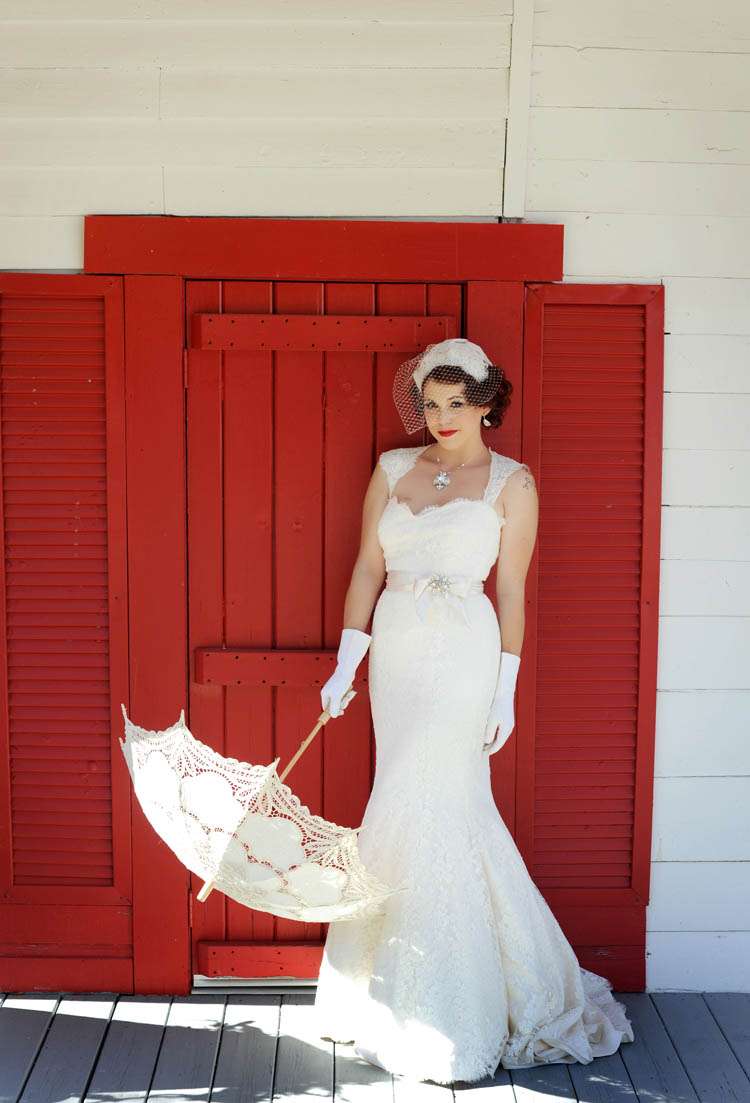 "I really wanted to have a fun and inviting event for people to enjoy," the bride explained. "I told every single wedding vendor we worked with that I did not want the wedding to feel fussy at all. I wanted our guests to feel like they had come to an extension of our backyard. I asked the florist to make the bouquets and table arrangements look as if they were picked that morning from Grandma's garden. I borrowed jars from my mother and my maid-of-honor and also went flea market hunting."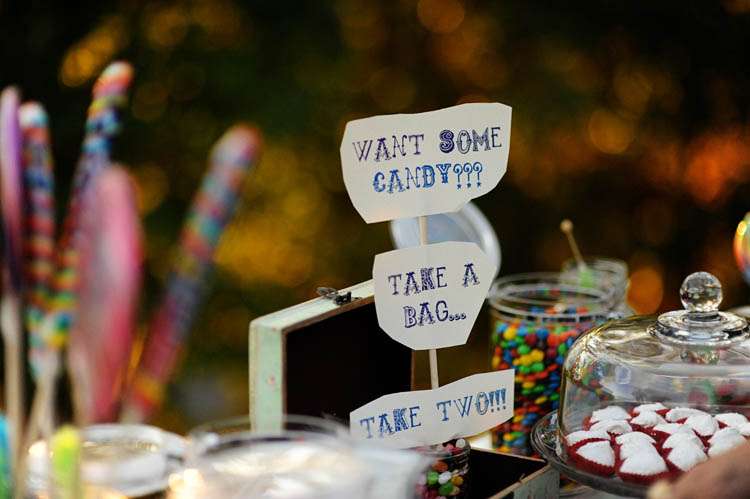 "I was so perplexed with cake toppers. I knew I would never find a good bride & groom figurine that was true to how we looked. I was finding wedding inspiration on a wedding blog and saw a cake topped with "kissing" salt & pepper shakers. I knew immediately I wanted to find kissing Indians so I could in some way show our appreciation for our native American ancestry. When the director of the venue couldn't get my exact details on the cake I told her,"Tell the bakers to be inspired by the photo I gave them and have fun with it, and truthfully, I don't care what it looks like as long as it tastes AMAZING!!!" She knew at that point that I was a laid-back bride. The best part about the cake was that it really did taste amazing and it was beautiful."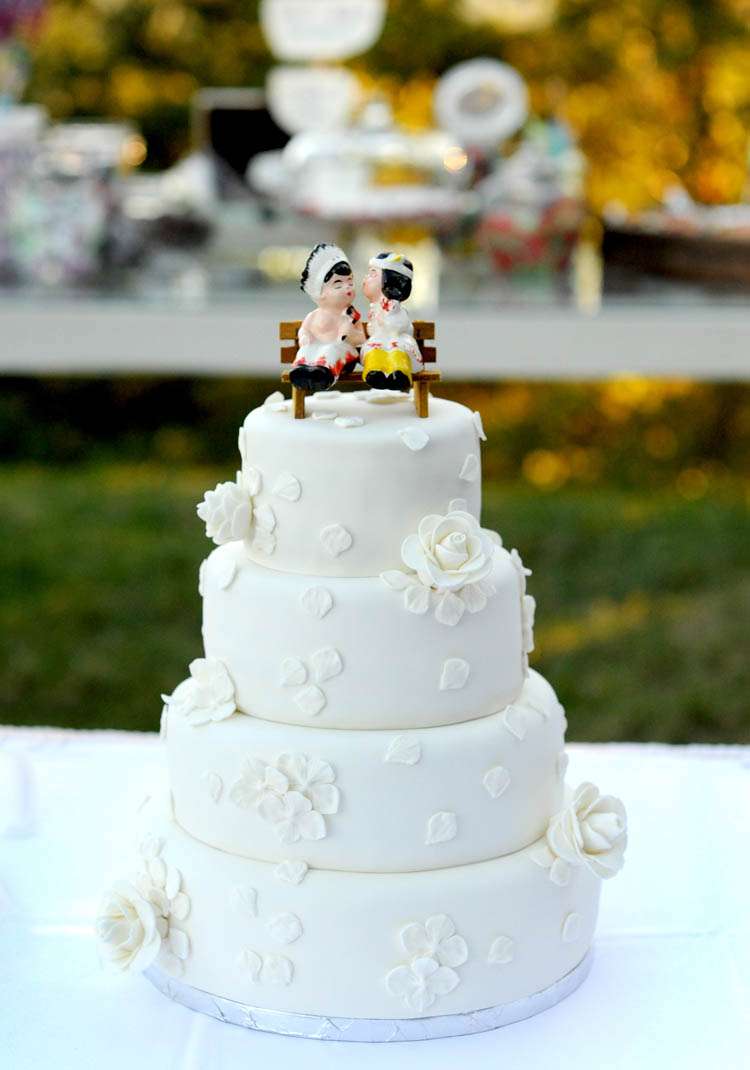 "I wanted there to be a lot of things for people to do as well. We had a huge toy table laid out for the more than thirty children in attendance. Who knew kids could be so creative with just pipe cleaners and jingle bells? I had little girls coming up to me all night with jingle bell bracelets. You could hear me coming from yards away. I think the parents enjoyed the kids being tied up with stuff to do as well like the dark thirty movie showing of Little Rascals under the stars on top of a mountain. I thought the kids would enjoy the huge candy table but I heard stories afterwards of old ladies shoving hand fulls of candy into their purses and pockets."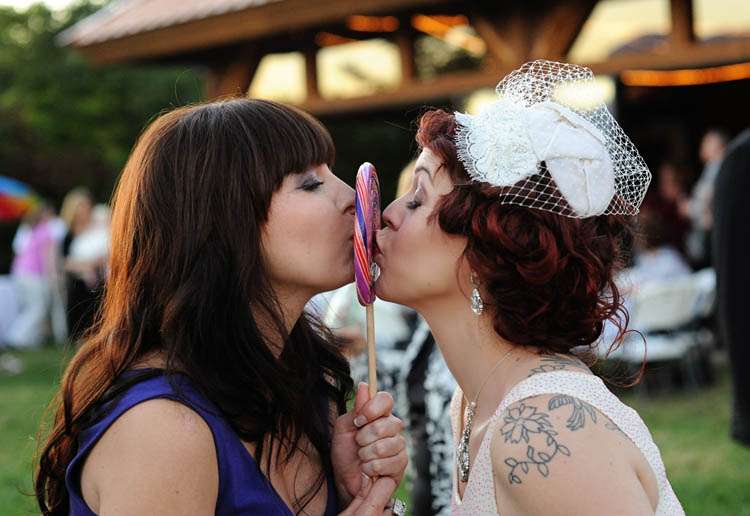 Big thanks to Rebecca & John and their photographer Stephanie for sharing this wedding with us today
Did you see Rebecca's awesome pre-wedding shoot with her aunt Dolly (Parton)!?
Photography Credit: La Photographie
Venue: Almost Heavens Wedding Resort
Bride's Dress: Paloma Blanca
Bride's Shoes: Irregular Choice
Bride's Veil: Vintage
Bride's Parasol: Vintage
Groom's Suit: Brooks Brothers
Flowers: From the Heart
Bridesmaid Dresses: Victoria's Secret