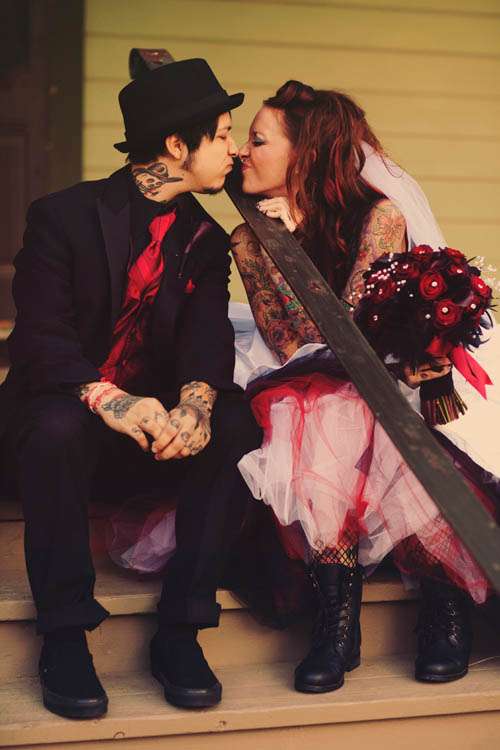 Do you remember Mr & Mrs Tattooboy? The hot tattooed couple behind one of my favourite ever engagement sessions? Well check it out – they got hitched and I've got the exclusive blogging rights on their killer wedding. When the couple first met, Kori was a cheerleader and Matt was a rocker and a tattooed artist. They soon fell in love and Kori starting getting just as much ink as her man!
"Kori & Matt's aka Mr. & Mrs. Tattooboy, have this incredible rockabilly style & then some!!!" photographer Christina told me. "When I asked Kori about the details of her wedding she just told me she wanted it to be different from the normal-cheesy-blah type weddings, this made me really happy that she wasn't giving in to what everyone else in the world was doing!  Their unusual story & love for tattoos & rockabilly style was inspiration enough for these two lovers to plan their wedding."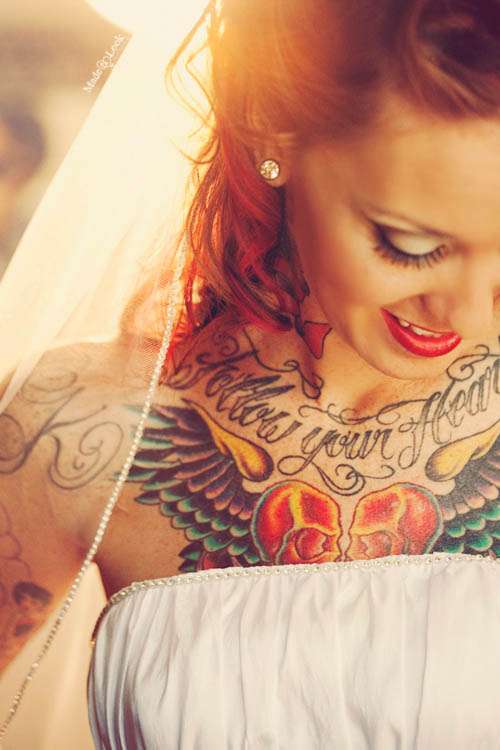 "They knew they wanted their wedding to have a little of that rockabilly feel mixed with a bit of Hollywood glam, but they wanted to keep it simple. Kori told me that she loved antiques & wanted a retro/vintagey style wedding & they purely got most of their inspiration from the things that they love!"
"They took their vintage inspiration to the next level when they chose that amazing museum venue," continued Christina. "They were married at Matt's family church, but they did all of other festivities at the Kern County Museum which has many old antique houses/buildings from the early 1900's. And if they already didn't have enough color with their amazing tattoos, they held their reception among these incredible old neon signs. These two high school sweethearts & their rocker edge were screaming Rock n Roll Bride from the moment I met them."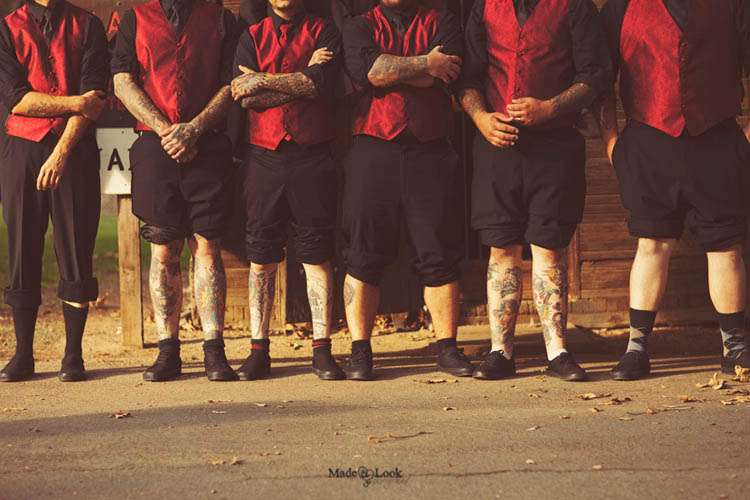 The bride wore a dress from Enchanted Bridal, which she accessorised herself by adding the red & black tulle. She also wore fishnet stockings and totally rad boots Hot Topic.  The groom wore his favourite hat and decided that instead of a traditional guest book they would ask guests to sign a skateboard.
Photography Credit: Made You Look Studios
Venue: Kern County Museum 
Bride's Dress: Enchanted Bridal
Bride's Boots & Accessories: Hot Topic
Flowers: Uniquely Chic