Congratulations you're engaged! If you're new around these parts I'd like to say hi and to let you know how excited I am to meet you. This is going to be one of the most awesome/stressful/exciting/fulfilling/hair-tearing (delete as appropriate) rides of your life and I for one can't wait for you to get started! In fact I loved planning my wedding so much that I made it into my career. Gareth & I were married in April 2008. I started this blog to document the journey and I haven't stopped since!
I'm Kat by the way… I guess I should have said that first. This is me…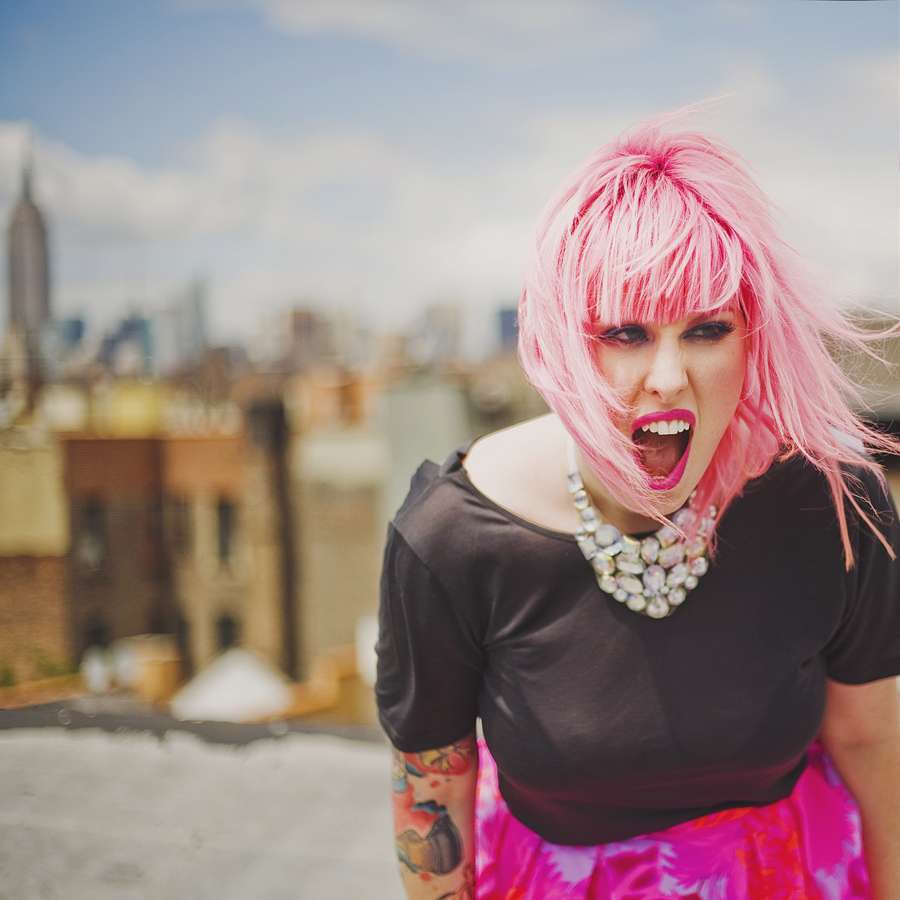 Photography Credit: Made U Look Photography
And for some reason I pull that face a lot in photos.
So right now you're probably feeling a little overwhelmed and still quite shell-shocked about the whole 'crap I've got to plan an actual wedding' thing. I'd also imagine that you probably have no idea where to start. Well the very fabulous Veronica Dearly (she makes awesome wedding stationery) created this extra-ordinarily helpful introduction to planning a wedding and she's kindly let me share it with you all…

Cute huh?
If you're feeling stuck for inspiration, well that's my speciality! This blog is chock full of ideas and inspiration for girls & boys planning alternative weddings. I promise there is not a chair cover, a scatter crystal or a fish bowl on a tiny mirror with random flowers and pebbles shoved inside (VOM!) in sight. As my 'about me' page states:
Rock n Roll Bride promotes individuality and general awesomeness within a cookie cutter, pastel and often puke-worthy wedding world. Don't let the wedding industry define your day – let you define your day.
My aim with Rock n Roll Bride is to provide a little haven of kick ass weddingness. If you've ever picked up a bridal magazine and felt queasy, or trawled the internet and felt disheartened by what you didn't find, well my friend you are in the right place!
The weddings I blog are awesome because my readers are awesome – and diverse. Vintage, steampunk, boho, raver, gothic, geeky, kawaii and everything in between… I've got them all covered and so much more!
You can browse all the real weddings or just the UK weddings (I'm based in the UK so I'm a little biased) if you prefer. Your wedding photographer may well offer you an engagement shoot with your package. If so, do it! They're a great way to get to know them and to practice being in front of the camera. Plus you can have loads of fun with them! There's a few DIY tutorials dotted about as well as some of my advice for planning your wedding. Wedding inspiration styled shoots are also pretty ace and often showcase some of the more crazy ideas – hell, I've even done some myself!
I also publish a few regular weekly features but I'm sure you'll get to know all about those in time. I update the blog daily (actually twice-daily on weekdays but let's not be facetious!) so be sure to bookmark me and pop back regularly. You never know what awesome idea might be lurking in my 'to blog' pile. I still get excited and surprised by the weddings I get submitted and I've been at this since 2007!
Phew that's more wedding inspiration than you can shake a stick at. If you're feeling a little overwhelmed (there are over 700 pages in the archives after all!) why not start by checking out my two–part 2012 round up. They include some of my favourite weddings from last year.
Oh and how could I forget? I also publish a print magazine (although I've been told it's more like a fancy coffee table art book) If you'd like to get your mitts on one, you can grab it right here.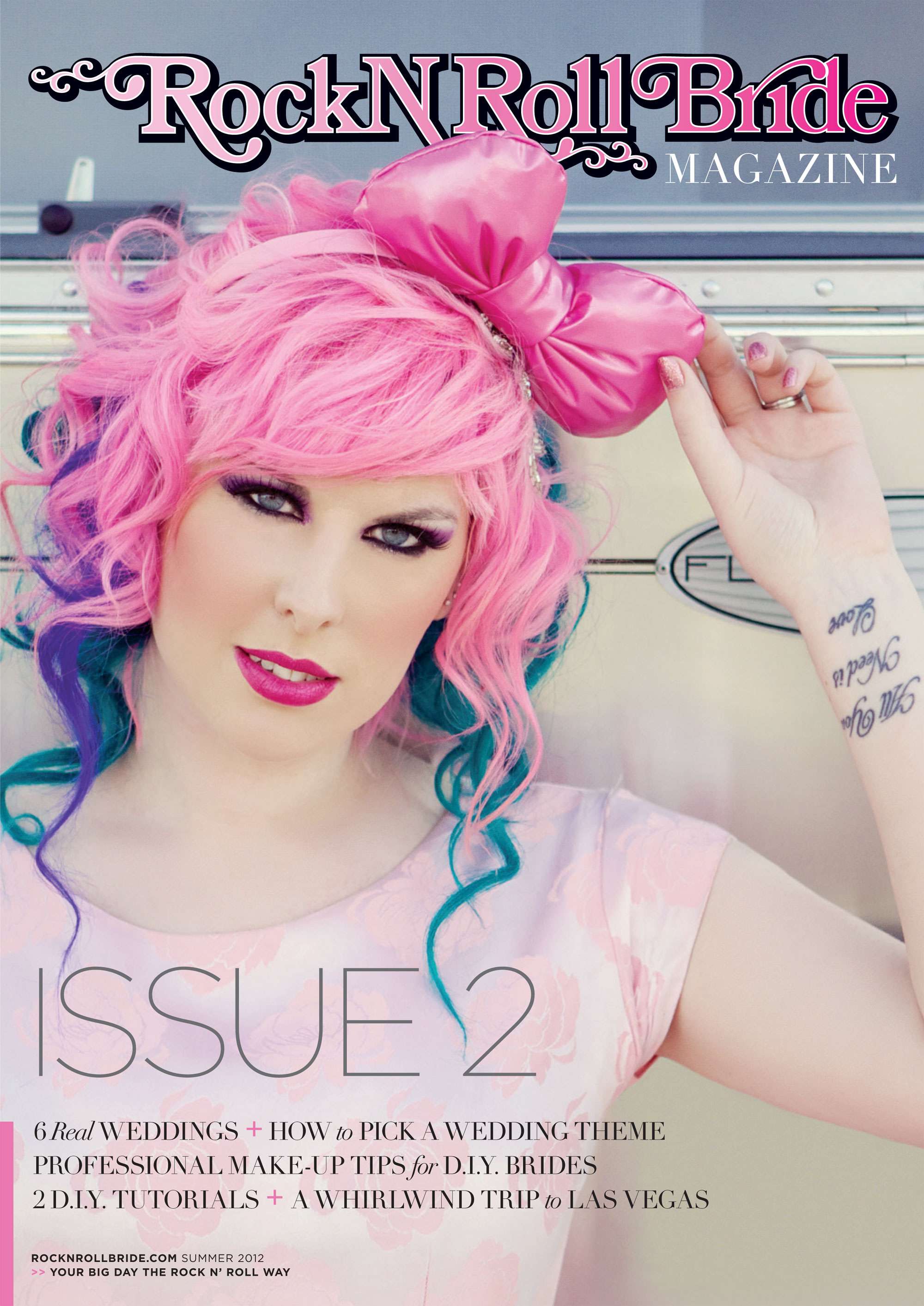 Finally, I love to write about how I run my own business whilst sharing some of the tips, tricks and ideas I've picked up over the past five years. If that kind of jazz interests you, then you have to check out the Green Room.
So there we have it. That's Rock n Roll Bride. Welcome. If you are brand new to the site, don't be shy – sit down with a cuppa, say hello in the comments and enjoy browsing! And if you want even MORE Rock n Roll Bride in your life you can subscribe via RSS, follow me on twitter, like me on facebook or stalk me in instagram. Fair warning though, I tend to post a lot of photos of my cats…
When you do get married, be sure to send me a your photos afterwards. I love to feature my readers' weddings.
Happy browsing and happy new year!!