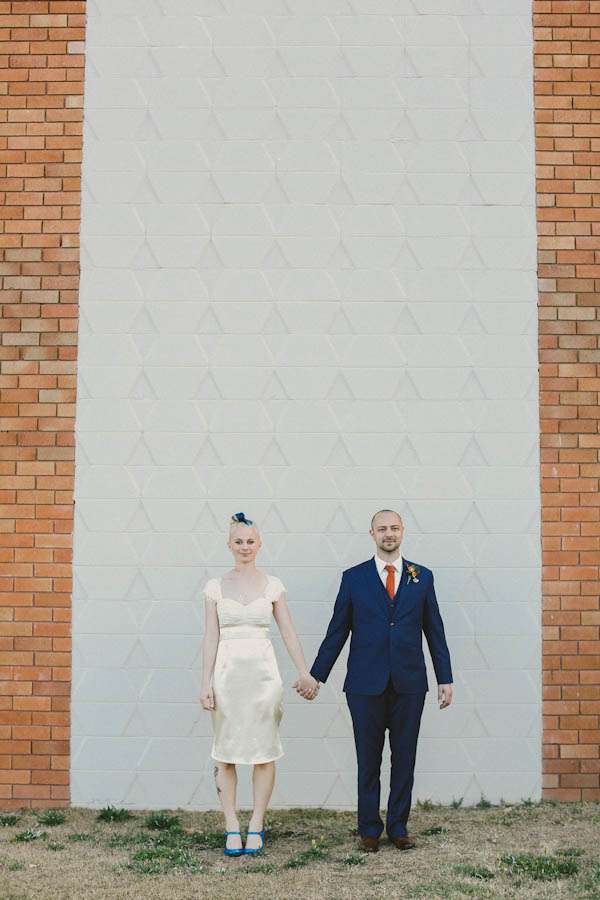 The retro wedding of Nat & Sam is perfect… literally perfect. I just know you're going to go nuts for Nat's nostalgic bridal style, their ocean view ceremony and the reception that looks like it stepped right out of the past.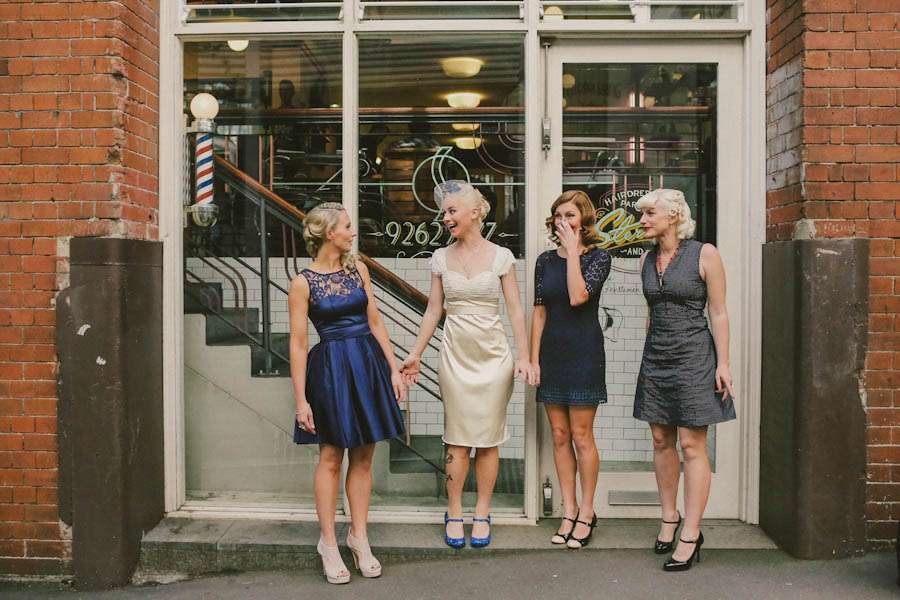 "Our ceremony was at Burrows Park Headland, Sydney", explained Nat. "The ceremony spot was a beautiful cliff edge looking over the Pacific Ocean and located right next to the Bowling Club where we had the reception. We loved that the only way to get to it was via a very long, natural aisle sheltered on one side by trees, which we decorated with Chinese lanterns. For our reception we chose Clovelly Bowling Club. It was cheap as chips to hire, the drinks prices stuck in the 1980s, and the tacky bright blue carpet and a strange old picture of the Queen flanked by two Aussie flags above a stage which houses an ancient piano (which we tuned up and used!) were AWESOME! As soon as we walked in we looked at each other and said 'Yes!'. Oh, and it had 180 degree ocean views!"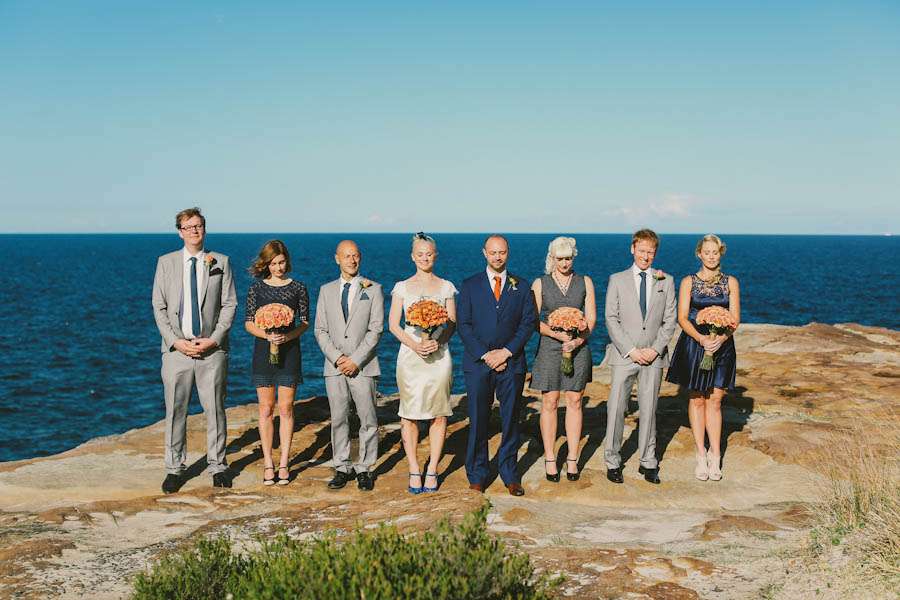 "We planned the whole thing ourselves after talking to a string of planners who just didn't get it or us", she continued. "However on recommendation from nearly everyone, we hired an 'on the day coordinator'. For this we used Bells n' Whistles. I had never attended a wedding (aside from as a kid apparently) before our own, so I had literally nothing to base ours on. I still wouldn't have a clue what happens at 'normal' weddings! All I know is that everyone said our wedding was one of the best, most fun they've ever been to! Rather than try to hide the stuffy old feeling of the bowling club, we eventually decided we better just play it up. Instead of covering things up (like the bizarre picture of the queen and the old 70s chairs) we left them exposed and simply matched our colour scheme to go with the orange walls and the wacky blue carpet. It worked brilliantly in the end and what is usually quite a dark room looked bright, colourful yet with a charming old timey feel. We hired a whole bowling green and BBQ area for people to have a bowl and mingle while we went and got our photos taken which worked really well too. Everyone was having a blast when we got back."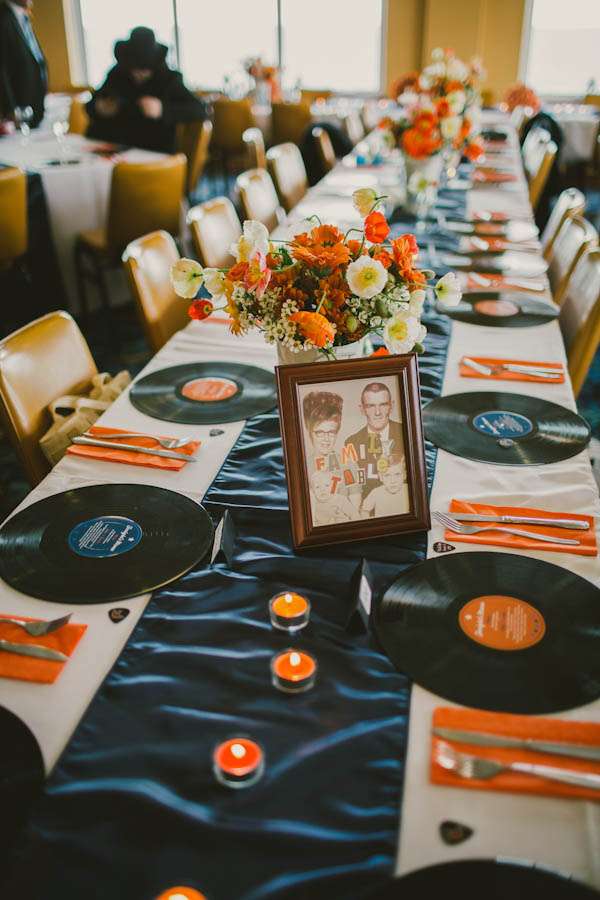 Nat's retro look was achieved by working with a dress designer, by rocking some incredible blue glitter shoes from Red or Dead and with a hair do, created by Sterling Hairdressing Parlour & Barber Shop, that dreams are made of! "After some horrifying outings to bridal stores I ended up working with a local woman named Maria Ling Qing Huang to create the dress I envisioned", she explained. "I ditched all ideas of a traditional look and took inspiration instead from Wheels & Dollbaby's range of short, sleek & sexy dresses. Our wedding was in Spring, so I could afford to go short. Maria was amazing! She encouraged me to add a little lace around the sleeves and bust, which initially I was nervous about, but when I saw the finished dress I was surprised at how it added a really nice vintage feel. I ended up with a perfect combo of modern and vintage."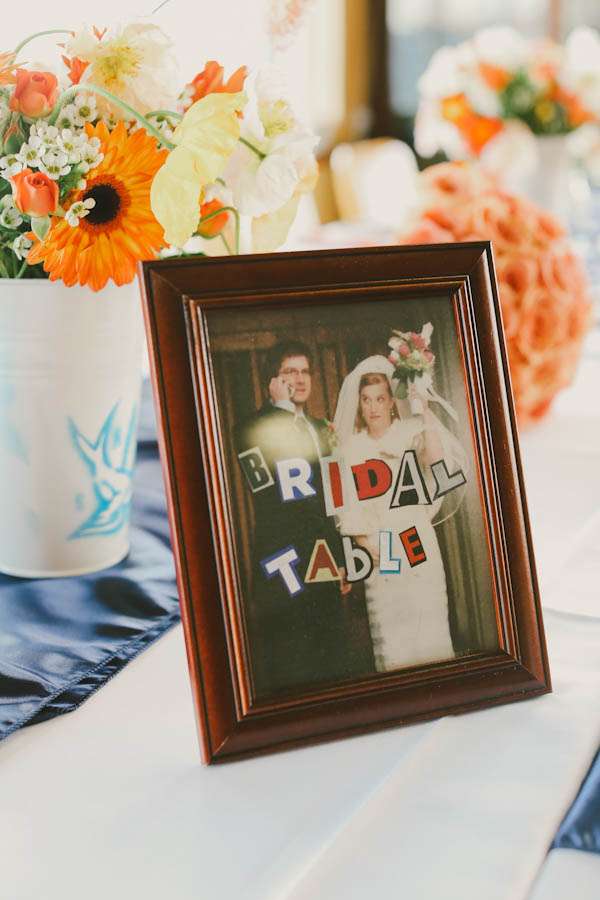 In terms of the reception decor, the couple kept it simple but with iconic retro motifs like swallows, anchors and vinyl records. "We made the placemats from records which we got from a second hand store which was giving hundreds of them away. We fought through the record buffs and my husband grabbed enough for our guests. We got them printed with the menu and stuck them on! They were easy to make but so but effective – we loved them."
"Swallows featured as a bit of a theme – an oldie but a goodie – they mate for life, they flew around our head when Sam proposed and they are the basis of the tattoo on my leg. We spray painted our flower buckets with some swallows and anchors along with our initials and the date of the wedding. It was a simple stencilling job, but we felt it took away the tackiness of the flower bucket and added a personal touch. They were quickly swiped up by mums, nans and friends at the end of the night! We got customised guitar picks made too which just had our names and the wedding date and of course a swallow. We scattered them over the tables in between the records."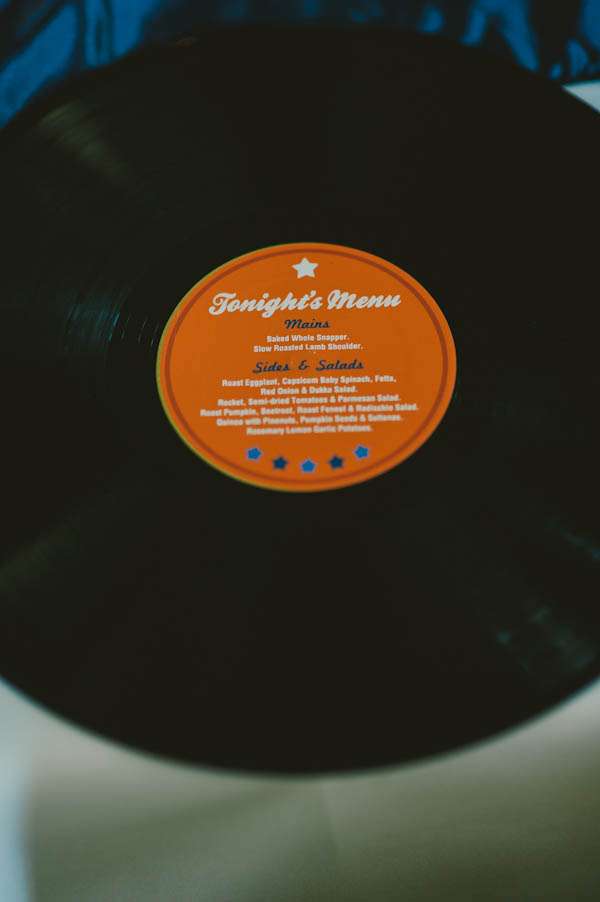 So rad. I love these guys and their laid back retro wedding. Thank you to Nat & Sam and their fantastic photographer Lara Hotz for sharing with us today.
Supporting Cast
Photography Credit: Lara Hotz Photography
Coordinator: Bells n' Whistles
Ceremony Venue: Burrows Park Headland, Sydney
Reception Venue: Clovelly Bowling Club
Bride's Dress:  Maria Ling Qing Huang
Bride's Shoes: Red or Dead, 'Shirley'
Bride's Headpiece: Melinda Rose Design
Groom's Outfit: Montagio
Bridesmaid's Dresses: Various
Cake: Copy Cat Cakes
Flowers: Gift from a friend
Hair: Sterling Hairdressing Parlour & Barber Shop
Make Up: Angelique Hogan
Band: Geoff Bull & The Finer Cuts
Stationery: Three Eggs Design