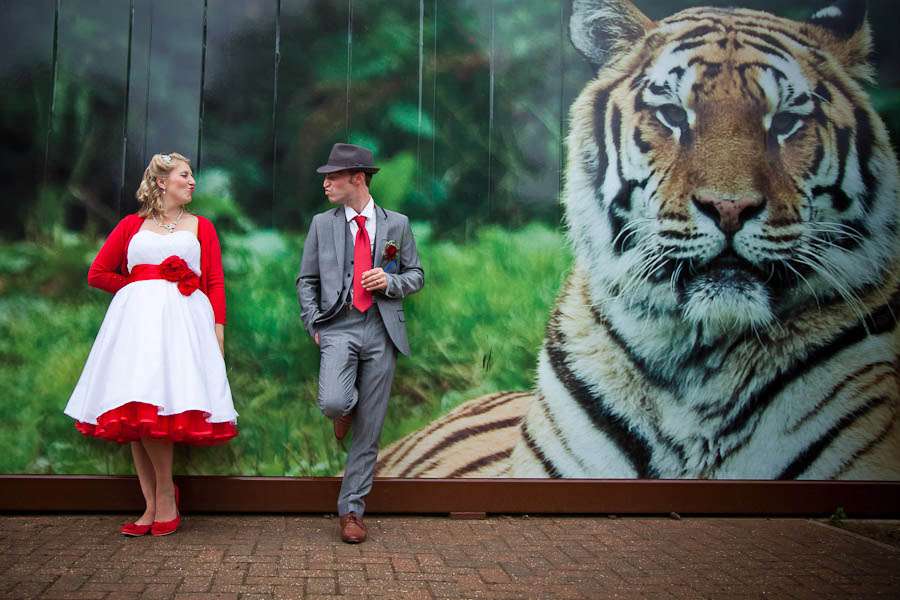 I'm not gonna lie, where was something in particular that swayed me when it came to featuring this wedding… Stan, the ever so slightly disgruntled looking cat. Of course when I saw the rest of the photos, I just happened to fall in love with Stan's owners, Jodi & Dave as well, but if I'm going to be 100% truthful, Stan did help their cause.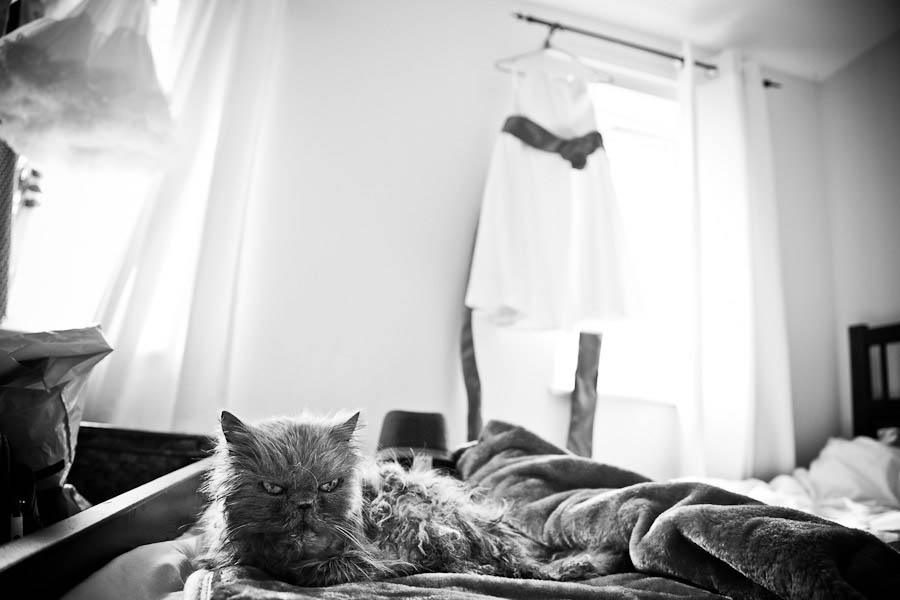 This couple didn't want to spend a fortune on the wedding and so by DIYing as much as they could the day came in at under £9000. The ceremony was held at Swiss Gardens, Shuttleworth with the reception taking place in the Safari Lodge at Woburn Safari Park. "We looked at about 12 venues from a marquee where I keep my horses to a vintage factory ballroom but nothing quite ticked all the boxes", wrote Jodi. "But when we found Swiss Gardens we knew instantly this was the one. We originally booked it for August 2013, but then were told the venue would be shutting down for 18 months for a lottery funded renovation so we could only postpone, cancel or move it forward! So we moved it forward giving us only 6 months to plan and make everything!"
"We were married in the tiny thatched house in the centre of the open gardens", she continued. "It only seats 20 people so we had immediate family inside and rest of  our guests outside looking in through the open windows and doors. It made for a very relaxed ceremony that was really intimate (we could pretty much touch everyone's knees when we stood at the front). The registrars were also very relaxed and friendly they were happy to have the odd joke and giggle with us during the formal bit! The gardens are a public garden so we did get the odd person hanging on to watch the wedding but we quite liked that!"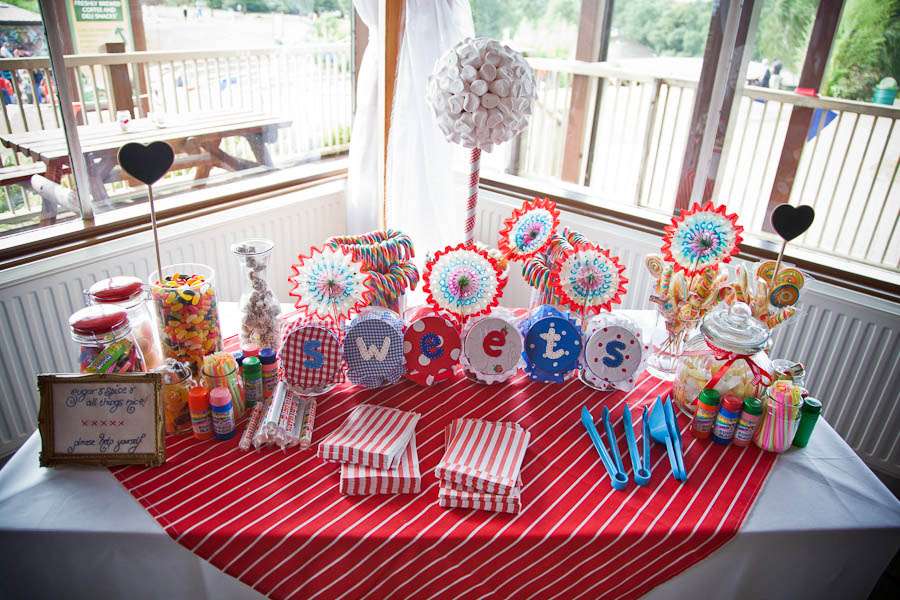 "The safari park was a really relaxed venue with the option of swan pedlos on the lake and a train ride for all the guests. All the staff were really friendly and happily to let us do our thing! Dave and I can get a bit bored at weddings so for us it was important to have outside space and to have other activities to keep the day varied. This place worked perfectly for us there was lots going on and a lovely veranda for the BBQ overlooking the lake. You also can't knock the grand entrance of driving through the giraffe enclosure to get to the lodge!"
"In terms of a theme, I'd always fancied something vintage as I love the 40s and 50s – the clothes, the cars and the music! I loved the concept of taking a step back in time and wanted to do that for our wedding. But Dave needed to see some ideas before he was convinced! As a kid I always said I'd wear black when I got married. In the end I didn't stick to that but I did have colour in my dress! Dave liked the idea of red, white and blue and they were my favourite colours so that was easy. I designed and made my own dress and teamed it with a petticoat from Honeypie Boutique."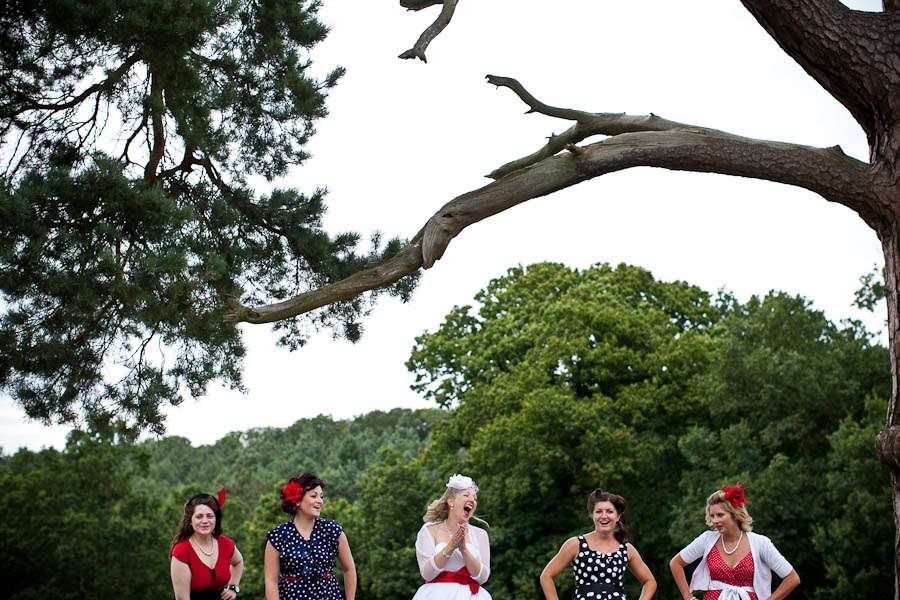 To decorate the reception space the couple went wild with the DIY! "I made an 8 foot high wigwam which had matching scatter cushions inside and fairy lights for the evening", Jodi explained. "I don't think I ever saw it empty! We had a family day decorating jam jars which we used on the tables for tea lights and flowers. I hand sewed signs to place around the room for the comments table etc with quirky little messages. We hung our seating plan in my nan's vintage suitcase. Our table names were hand sewn and named after places in Newquay (our favourite place and where we got engaged). We used Dave's grandad's old radio and my old typewriter as props. People could also write us notes on the typewriter. Comments were written on cut out hearts and hung on washing line with old photos of us and family. We made our own sweetie buffet and I also made a marshmallow tree for the table."
"I also made metres and metres of bunting which coordinated with my hand made tablecloths, wigwam, jars and napkins  Even poor Dave learnt how to use the sewing machine to help! We also had a variety of hanging paper lanterns that hung from the centre of each room which we bought from eBay."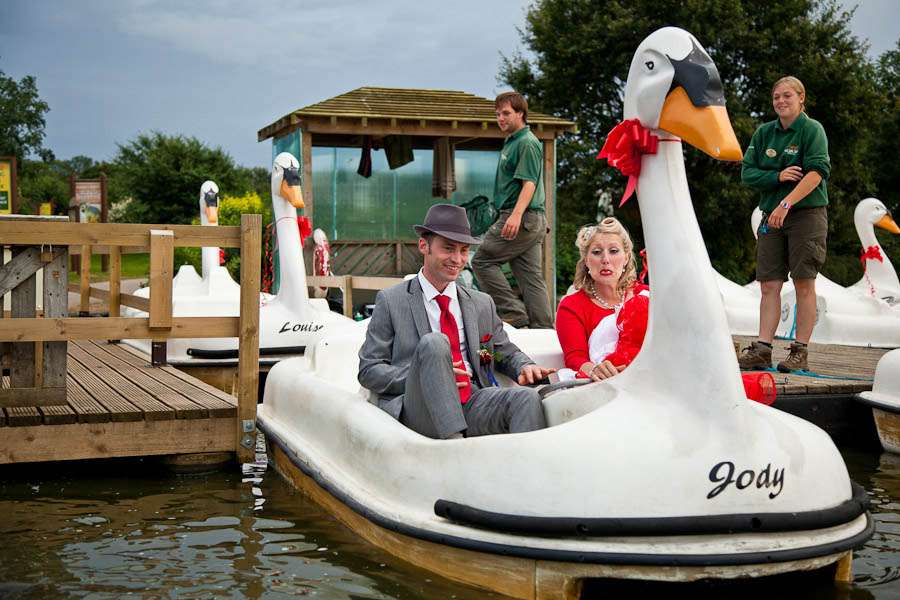 Beautiful, crafty and super fun! Thank you to Jodi & Dave, their wedding photographer Matt Parry and of course the gorgeous Stan for sharing this wedding with us today!
Supporting Cast
Photography Credit: Matt Parry Photography
Ceremony Venue: Swiss Gardens, Shuttleworth
Reception Venue: Safari Lodge at Woburn Safari Park
Bride's Dress: DIY & Honeypie Boutique
Bride's Shoes: Debenhams (heels) & Accessorize (flats)
Bride's Headpiece: DIY
Bride's Jewellery: Glitzy Secrets
Groom's Outfit: TopMan
Bridemaid's Dress: Dorothy Perkins & a petticoat by Vivien of Holloway
Cake: Chestnut Cottage Cakes