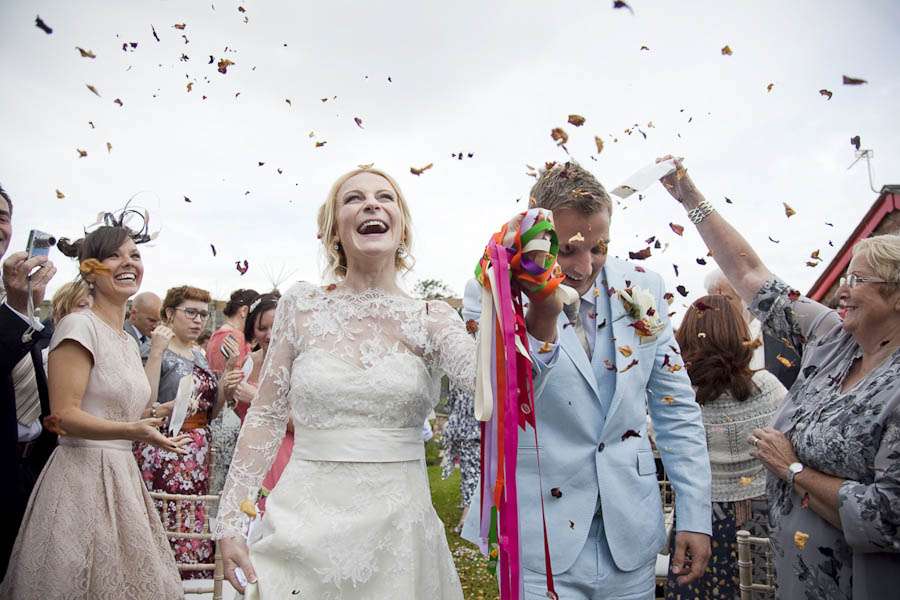 Festival and tipi weddings have been big in 2012… like huge. Like they're the wedding trend that just won't quit. And that not necessarily a bad thing, because hell, who doesn't love a festival and camping and toasting marshmallows over an open fire?
When Amy & Chris set to planning their July wedding, they decided that the groom's family home, Laskey Farm in Thelwall, was a more than perfect spot. After a humanist ceremony performed by Kate Gee came a various bands and performances with the evening being rounded off with a silent disco!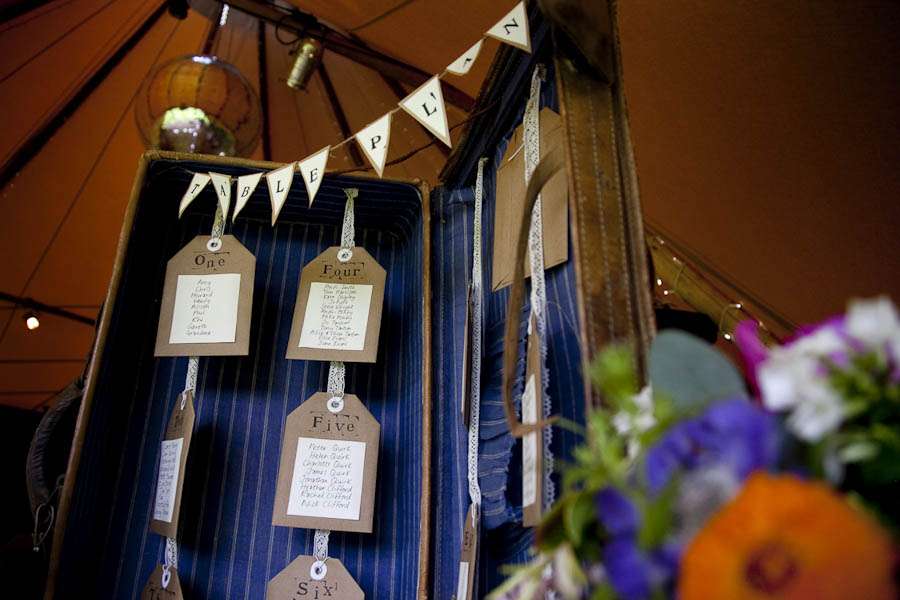 "Our ceremony was totally unique because of the lack of legal and religious stuff every minute of it was about us", explained the bride. "My sister and I read Pablo Neruda's Sonnet XVII in English and Spanish which sounded amazing even though I couldn't understand what she was saying! My cousin Tom, who's an actor, read a 'The Owl and the Pussycat' which I'd chosen as a surprise for Chris because we tease him about looking like an owl! His friend Tom played some Beatles songs for the beginning and end of the ceremony, and in the middle we had an 'alternative hymn' – The Beatles' "I Want to Hold Your Hand" which worked really well, everyone joined in and sang along! We both felt quite strongly about being atheist and not having a church wedding, so after a little research we found Kate Gee, a humanist celebrant and all round fantastic lady. She totally understood the way we felt about our wedding and took lots of time to get to know us both so that she could write and talk about us in detail and on a personal level throughout the ceremony. It was the ultimate way to personalise our wedding! She suggested the handfasting involving the colourful ribbons and it worked beautifully – we tied the ribbons to random chairs and at the end of the ceremony anyone with a ribbon was asked to come up and tie it around our hands, and wish us well. My mum had stitched my buttons from the collection I'd inherited from my Nana to the ends of the ribbons to weigh them down so that they hung beautifully and didn't get tangled in the wind; after the ceremony we tied them into a tree on the lawn."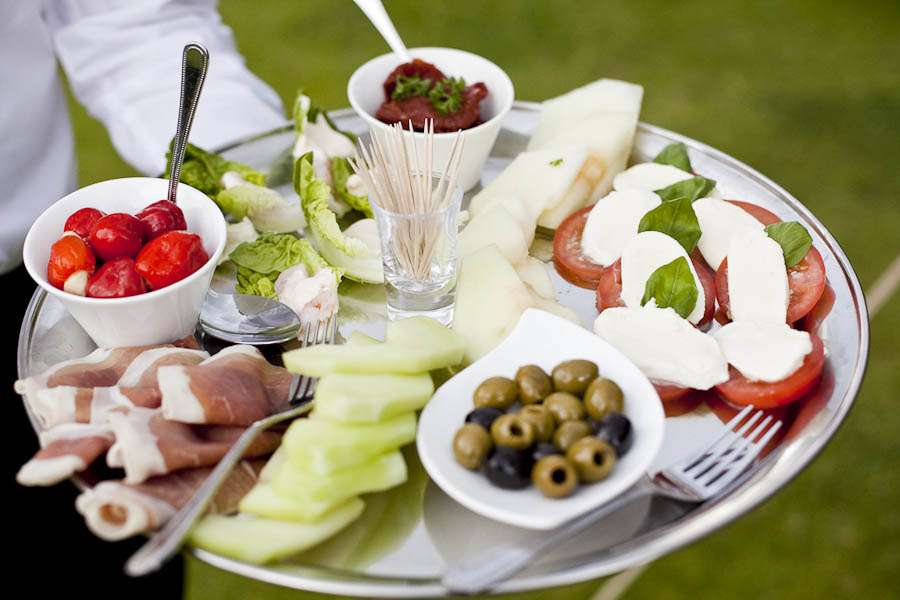 "We began planning with the idea that we wanted to get married at Chris' family home", Amy continued. "There had been other family wedding receptions there and the farm had been in the family for generations. It's a beautiful old farmhouse with stunning gardens and lots of room for a big party! When I found the tipis we knew they were the perfect choice. We wanted something different, outdoors and cool, and I think we achieved it! My family are a rather eccentric bunch of hippies and intellectuals, Chris's family are smart business people and very glamorous, so it was really important to us to make sure everyone could chill out and have a good time. We didn't want it to be stuffy, traditional or formal in any way."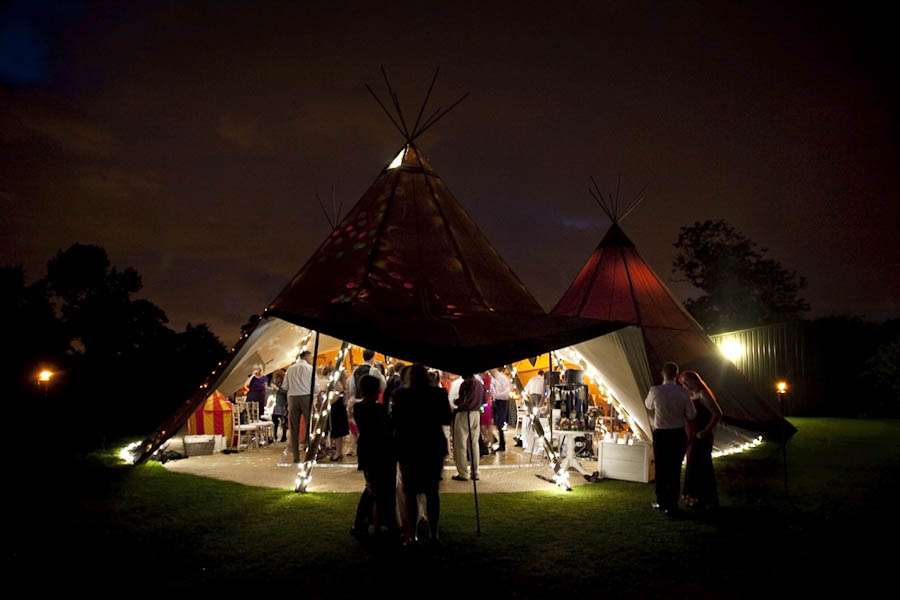 The couple not only wanted the wedding to be enjoyable for all their guests, but for them to get involved wherever they could. " My Dad plays guitar and sings, and we grew up going to music festivals so we wanted a bit of that hippie, musical vibe on the day. We had lots of live music – our friend Ross played loads of 50s, 60s and 70s stuff like Bob Dylan, Crosby Stills and Nash, Elvis, The Beatles etc. In the evening our friends Rich and Jim surprised us by performing a song they'd written just for us! It was a sort of post-punk version of The Owl and the Pussycat (again!) which was bizarre and brilliant and totally cool. We had a boogie to a funk/soul set by our amazing (non-wedding) DJ and at midnight we started the silent disco. That's where you can only hear what the DJ is playing through wireless headphones; it was a brilliant way to avoid upsetting our neighbours and also had hilarious consequences when everyone was singing along to The Beastie Boys, horribly out of tune and rather the worse for wear."
"We also invited our guests to camp in the meadow – we wanted everyone to be able to come to our wedding without breaking the bank, and to crash out whenever they needed to," Amy concluded. "We forgot to put up a few of the tents so in the end the chillout tent turned into a sort of communal dormitory, which was very cozy with the fire and the reindeer skins and the floor cushions! We also asked for handmade gifts (optional!) – we met on our Fine Art degree and had lots of friends and family who are really talented; plus we've just moved to a 3 storey house with lots of empty walls! So now we have an amazing original art collection consisting of all kinds of beautiful and surprising artworks and crafts pieces. Every time we see them on the wall we're reminded of our wedding and our clever friends."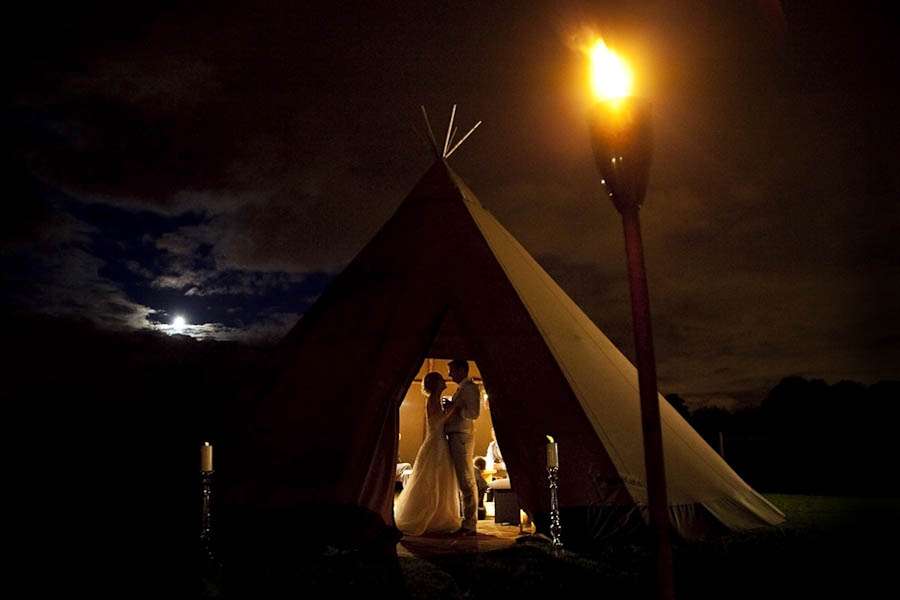 What fantastic fun! Thank you to Amy & Chris and their wedding photographer Sam Ellis for sharing with us today.
Supporting: Cast:
Photography Credit: Sam Ellis Photo
Venue: Laskey Farm in Thelwall, Cheshire
Tipi Hire: PapaKata
Bride's Dress: Jacquie Davies jac.costume@gmail.com
Bride's Shoes: Rachel Simpson
Bride's Headpiece: Jacquie Davies/Jo Tantum Floristry
Groom's Outfit: Ted Baker
Bridesmaid's Dresses: Charlie Brown (Australia)
Cake: DIY
Flowers: Jo Tantum Bespoke Floristry jo.tantum@hotmail.co.uk supplied by The Real Cut Flower Garden
Hair & Make Up: Luscious Lulu's Delicious Hairdos
Band: The 6 Knox (groom's friend, Tom Whitlow) & Ross from www.functioncentral.co.uk
DJ: Paddy Sweeney
Silent Disco: Silent Noize
Stationery: DIY
Caterers: Kath Bell 01565 633287
Officiant: Kate Gee