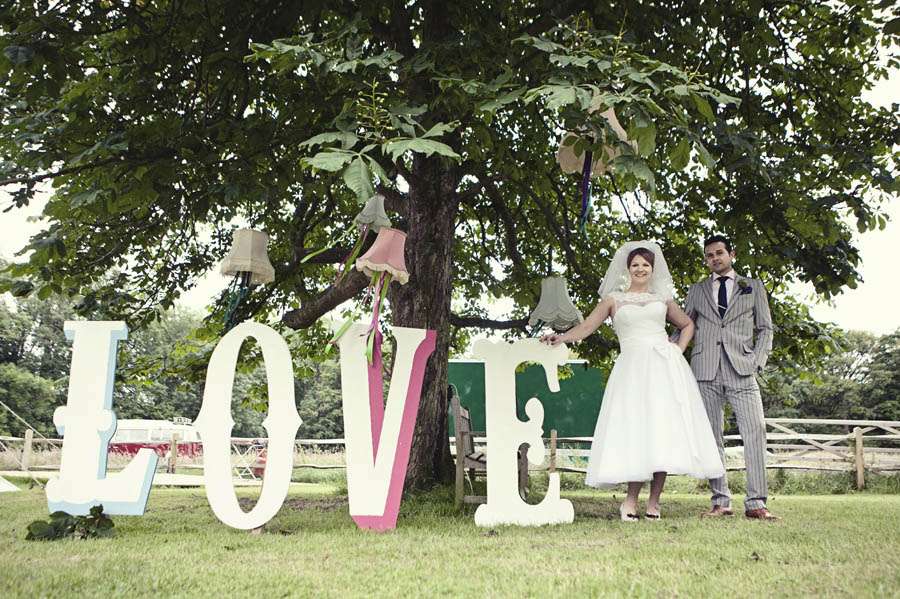 Layla & Daniel were married in Rusper, Sussex in St Mary Magdalene's Church, followed by a festival style wedding at Ridge Farm. I've featured weddings at this iconic wedding venue before – why so iconic you ask? Well the farm has a recording studio where Oasis, Queen (Bohemian Rhapsody was written here!) Roxy Music, Thin Lizzie, Black Sabbath and many many others have recorded albums! AHHHMAZING.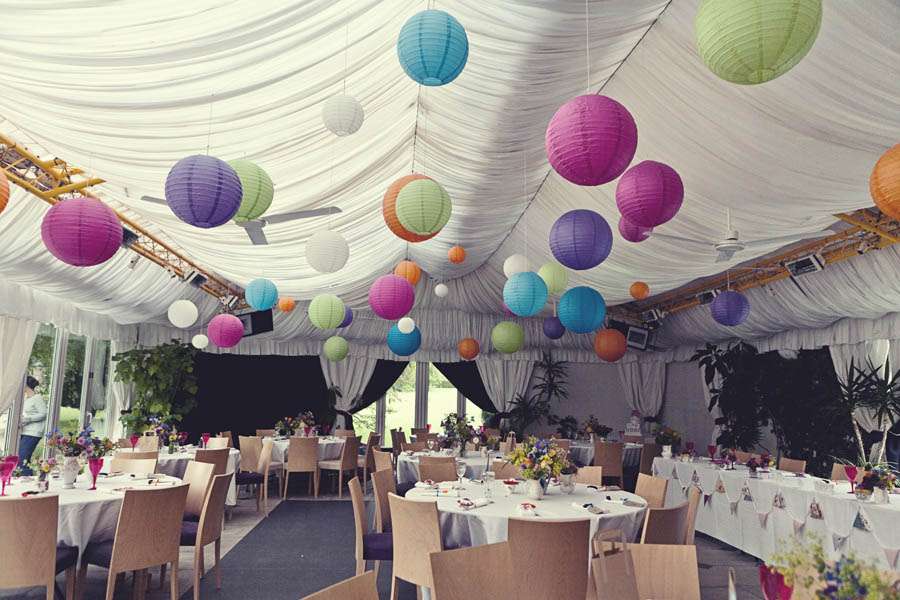 "The wedding was all personalised by me & Dan", wrote Layla, "including the wine glasses, the moustaches & lips, the heart decor, the table plan & numbers, the 'LOVE' sign and the bunting. We had a two-day wedding. From the start we knew we didn't want everything to be over with in just one day! Ridge Farm was the PERFECT venue as we were able to hire it exclusively from Friday to Monday which meant our parents, brothers & sisters, bridesmaids and best men could share the whole time with us. We also had some friends of ours camping on the grounds. Friday was set-up day, with everyone mucking in; Saturday was the wedding; and on Sunday we had about 100 of our guests returning for a Hog Roast, DJ's and dancing till the wee hours!"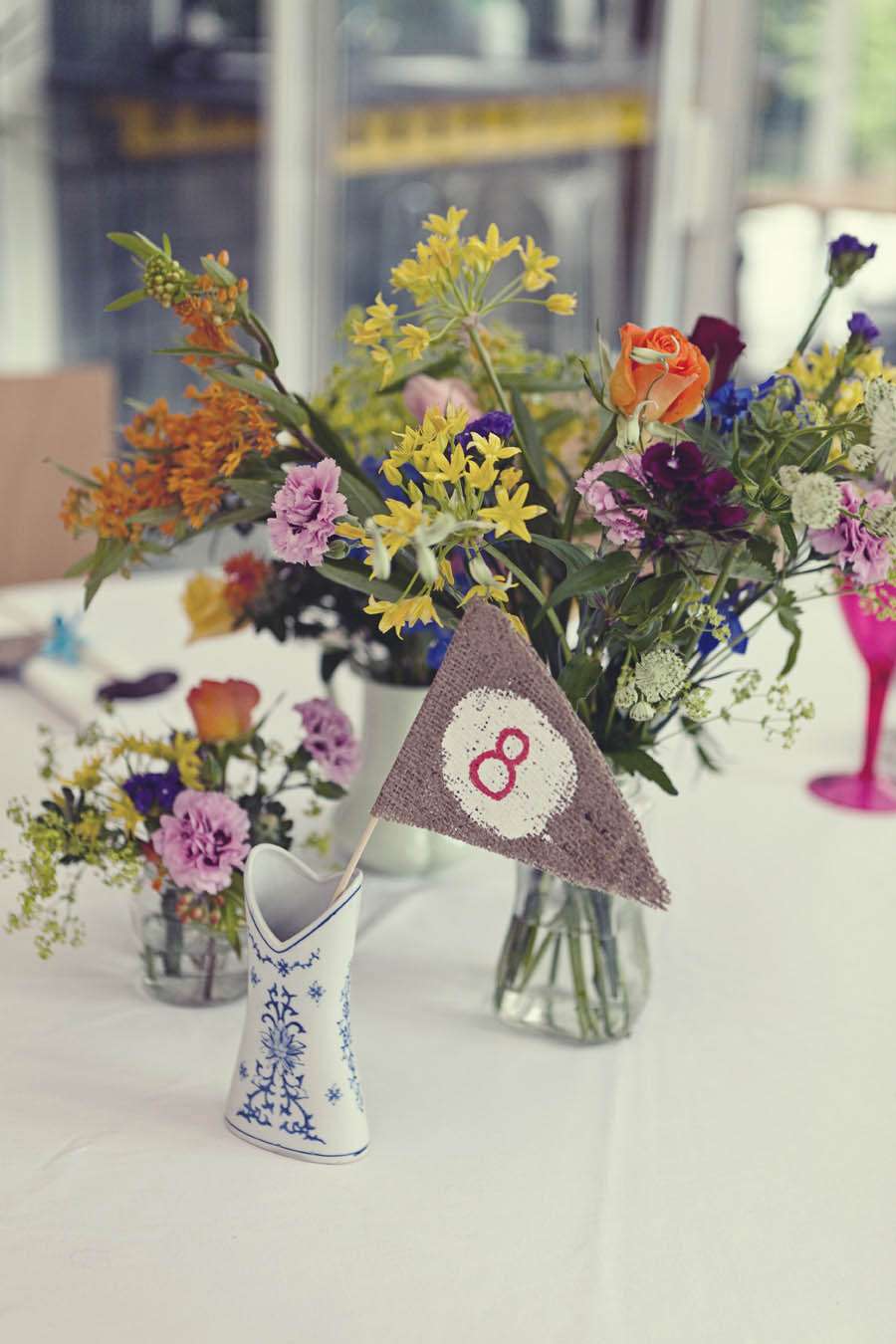 "The whole of Ridge Farm looked great… it was lovely seeing all of our plans and the little details we'd been collecting and arranging come together – lampshades and birdcages in the trees; fairy lights everywhere; straw bales covered in gingham cloth which looked great and tied in with the venue perfectly (as well as being surprisingly comfy to sit on after a dance!!) plus all of the vintage crockery gathered over many many hours of scouring charity shops… and it was lovely that so many of our family and friends all got together of the Friday to put it all together. It was a real hive of activity and a special part of the whole experience."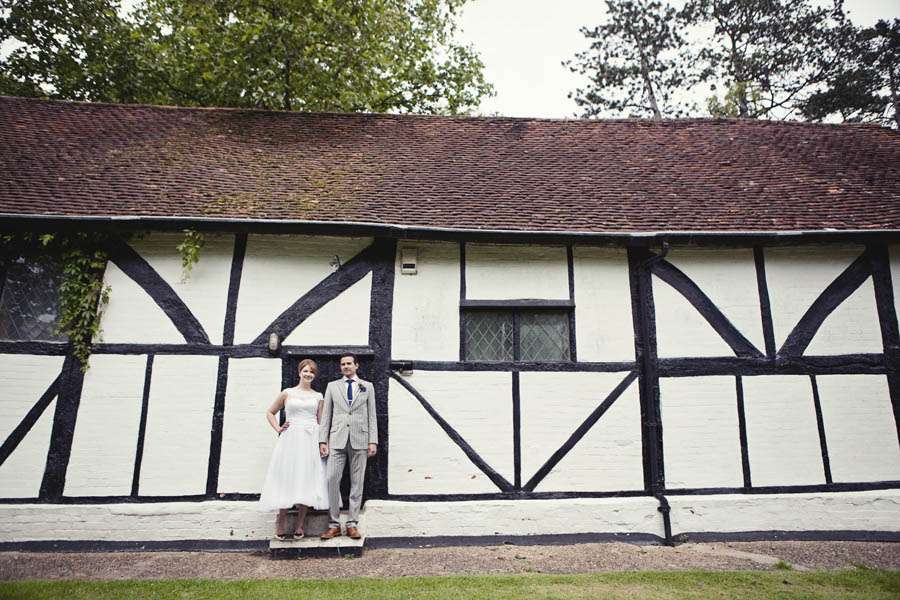 Having a sweet tooth Layla dreamt up the most perfect idea – a dessert tent! Oh yes, a mere sweetie buffet wasn't going to cut it – the girl needed a whole damn tent of the sweet stuff. "Being a huge fan of Willy Wonka I dreamt up the dessert tent!" she explained. "We had a whole table of pick n mix in various glass bowls and jars, a punch table with punch served in kitsch 60s/70s punch bowls and glass tea-cups which we got from vintage markets and charity shops! And a whole cake table full of treats made by some of our lovely guests. We made a recipe book for guests to take away and recreate the delights. All of the desserts were served on vintage plates which we collected over the year of planning. Not to mention the massively popular ice cream cart – complete with bike and bunting and a dazzling array of sauces and sprinkles. There was also the very popular raspberry vodka, brewed by my dad!"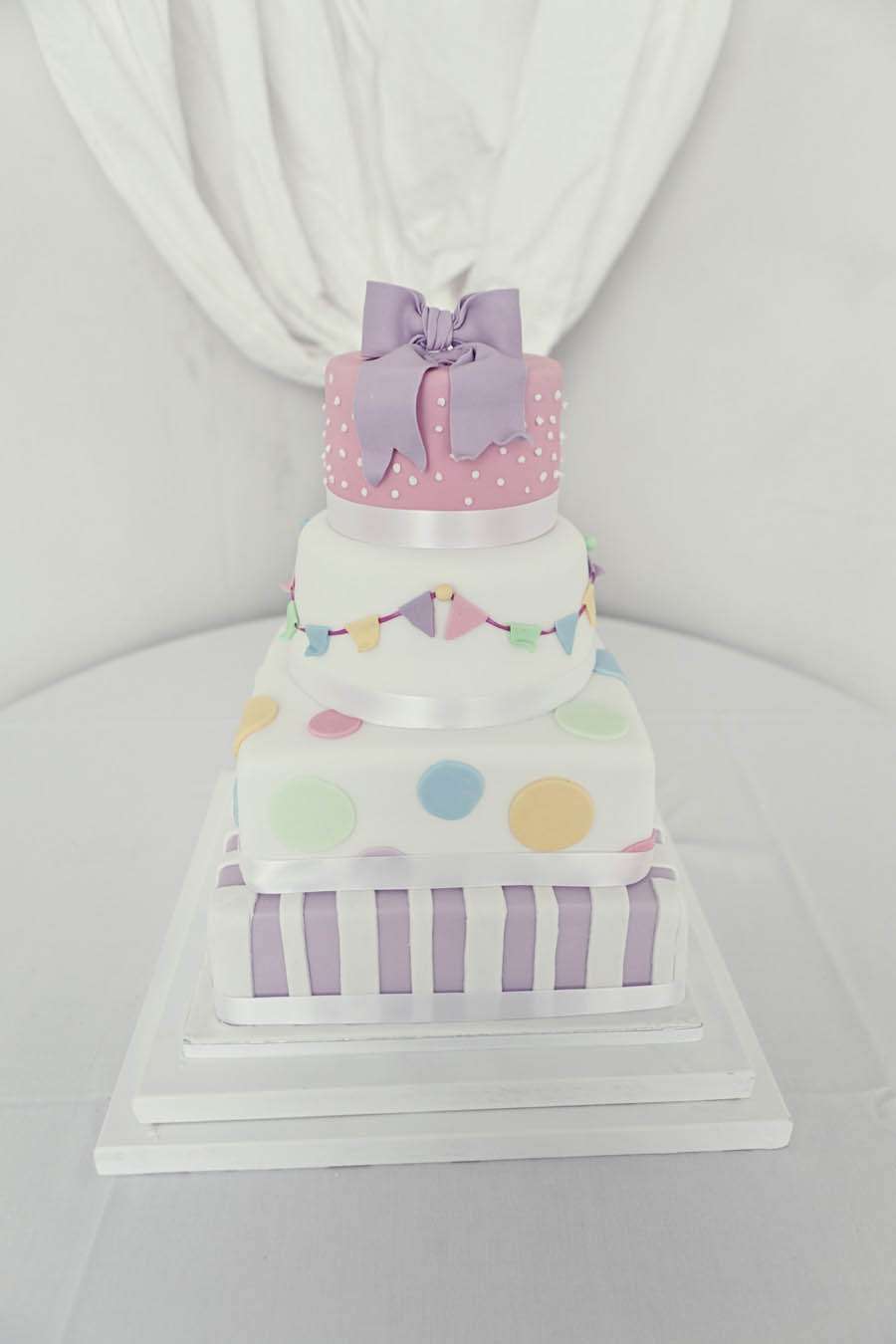 "Our wedding cake was made by Dan's aunt and uncle, it was awesome!" she continued. "4 tiers each a different cake – carrot cake, chocolate, red velvet and lemon drizzle. And decorated perfectly, incorporating icing bunting and the 'circles' theme that carried right through everywhere – from the stationery to the paper lanters, it was the ideal cake for the feel of the day."
Layla & Dan from FrankMillar on Vimeo.
Just fabulous! I just want to dive right into this one… Thank you to Layla & Dan and the gorgeous Emma Lucy Photography for sharing today (ps don't forget about the video!)
Supporting Cast:
Photography Credit: Emma Lucy Photography
Video Credit: Frank Millar
Ceremony Venue: St Mary Magdalene's Church, Sussex
Reception Venue: Ridge Farm
Bride's Dress & Veil: House Of Mooshki
Bride's Shoes: Vivienne Westwood
Bride's Headpiece: Glitzy Secrets
Groom's Outfit: Vivienne Westwood
Bridesmaid's Dresses: Sika
Cake: DIY
Flowers: DIY
Hair & Make Up: Boudoir Brides
Band: Dirty Rosco (and friends!)
DJ: Disco Shed/Disco Wed
Stationery: Kirsty Barton designer kirsty_barton@hotmail.com
Caterers: Conti Catering