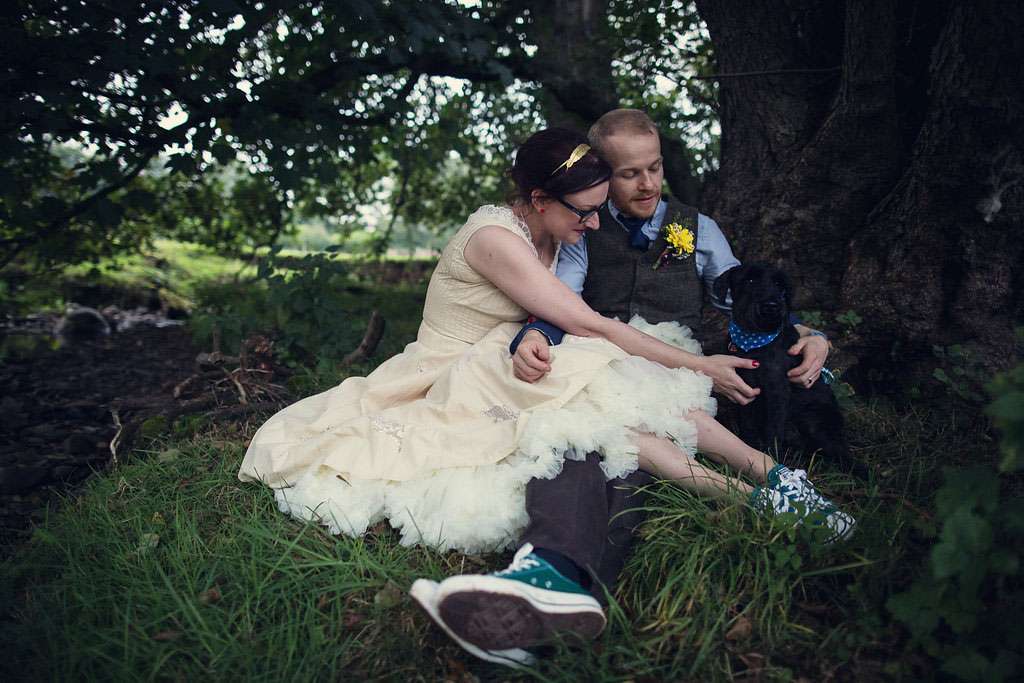 Sian and Nathan's wedding was a celebration of 'them'. They wanted to put their own spin on everything so they handmade all the decorations for the reception, had their dog in attendance and, just for fun, had little Lego men on the groom's buttonholes!
"We met in February 2009 and spent our first date playing Guess Who and chatting about our mutual love of Spaced, which 5 years later inspired the name of our miniature schnauzer Colin!" wrote the bride. "Colin was always going to be a part of our wedding as he's such a big part of our lives (although we heard rumours that he snored through the ceremony!)"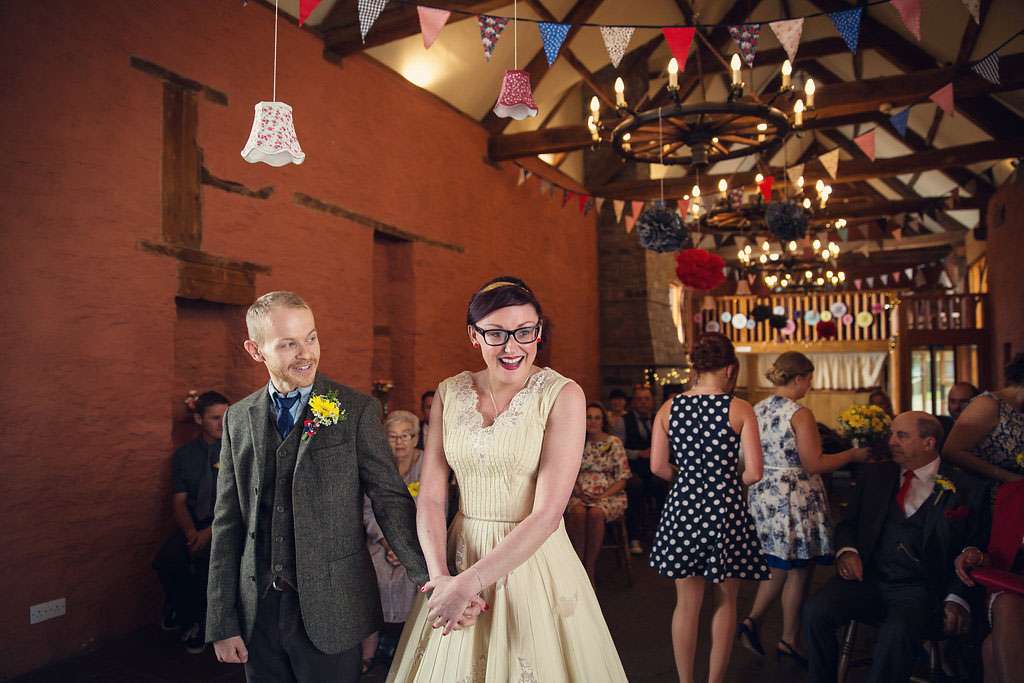 "We didn't exactly know what we wanted our wedding to be like at first, but we knew what we didn't want, so we tried to steer clear of traditional 'wedding' styles by reading Rock n Roll Bride and scouring Pinterest for inspiration. We pretty much just chose things that we loved so we had quite a mix of 'styles' or 'themes'. The Lego (Nathan's favourite thing), the day of the dead cake toppers, and the wristbands (my hen was at a festival)."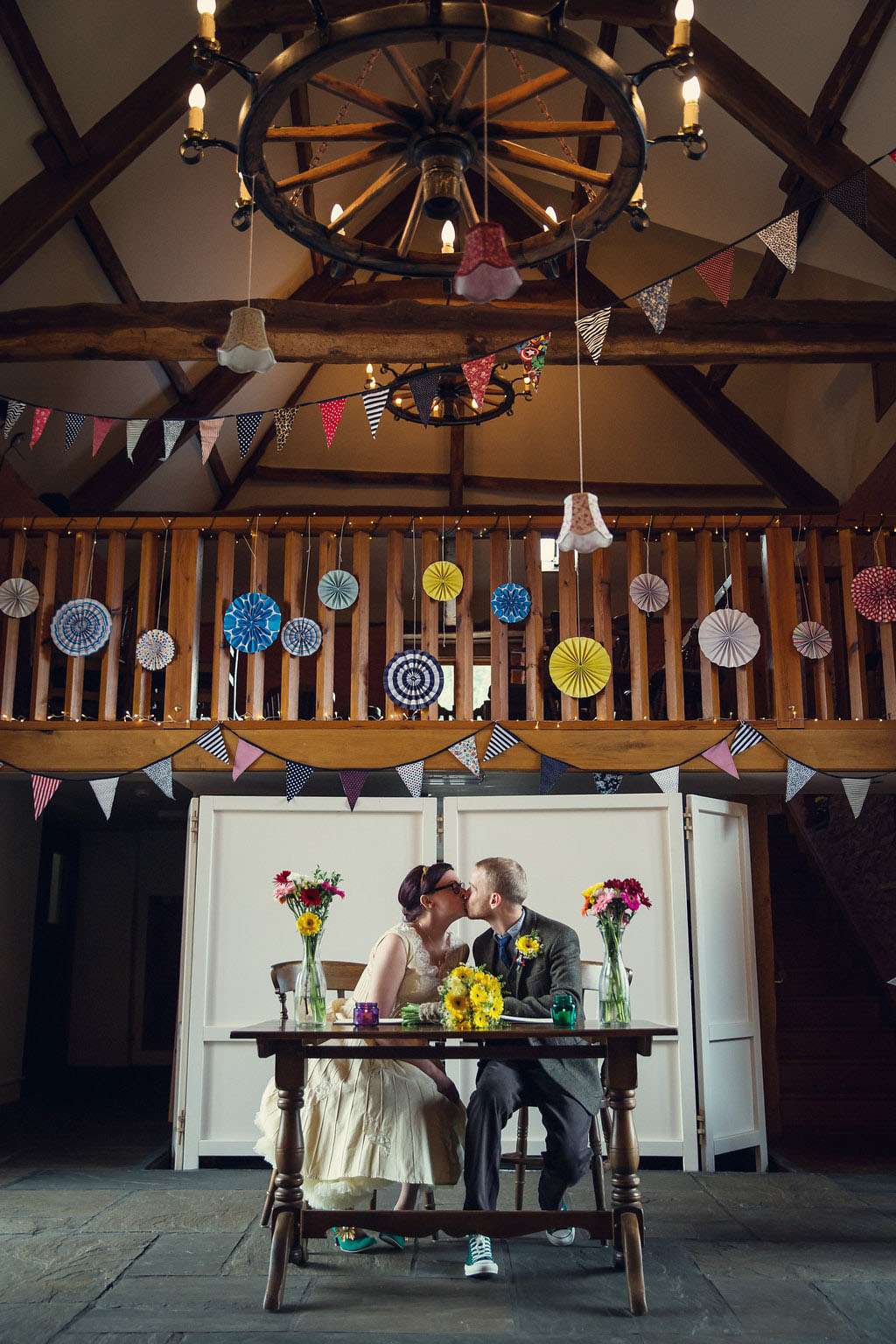 "We also had a vintage afternoon tea and then a Mexican fiesta in the evening", she continued. "We collected vintage china for over a year for the afternoon tea, and spent that long making the bunting and decorations for the barn. We really wanted the wedding to be more personal so the bunting was a random mix of material we loved. We bought and arranged all of the flowers, apart from the bouquets and buttonhole. We spent the day before putting them in jars and vases and decorating the venue then had a pre-wedding party in the evening with most of our day guests."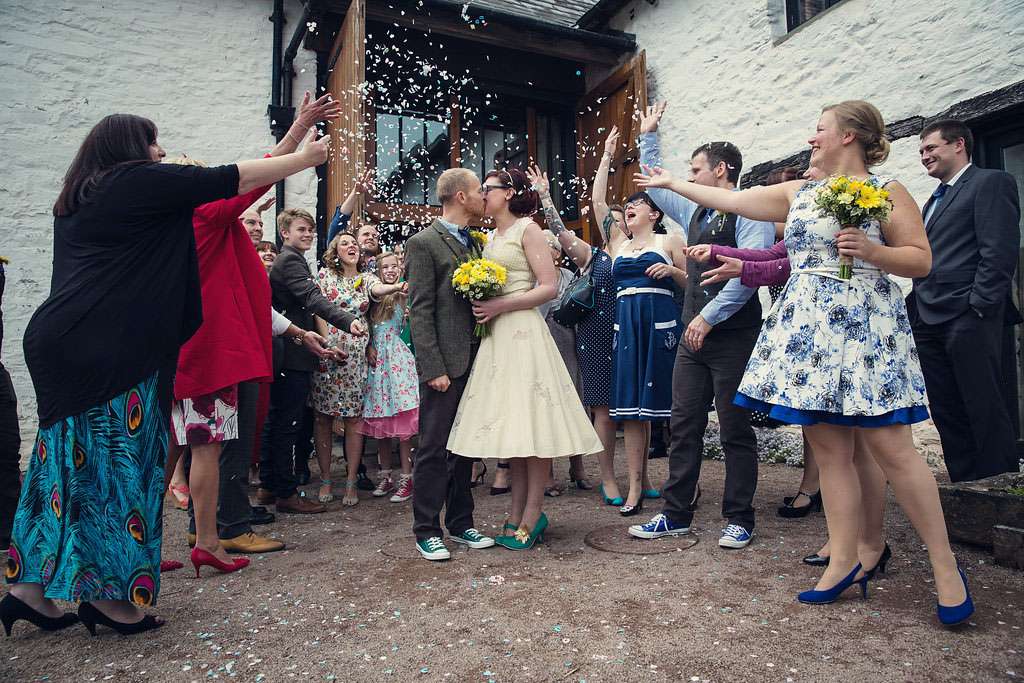 The wedding was also super small and intimate, which made the day extra special, and kept the costs down. "We had 30 of our closest family and friends as guests during the day which made the ceremony and lunch really special and relaxed," Sian said.
The bride wore a vintage gown which she bought from Rachel Burgess Bridal Boutique. Her shoes were Irregular Choice. "My dress was an original 50s lemon dress. I always knew I wanted a shorter dress style and thought I wanted a 'Candy Anthony' style dress until I tried on this one and my bridesmaids convinced me to rethink! The next day I bought it! I just felt so much more relaxed in a 'non wedding dress' and Rachel was so lovely and really encouraged me to be myself. II got my headpiece from Crown and Glory in gold to match, and I decided on yellow flowers. Once I had the dress those decisions seemed easy."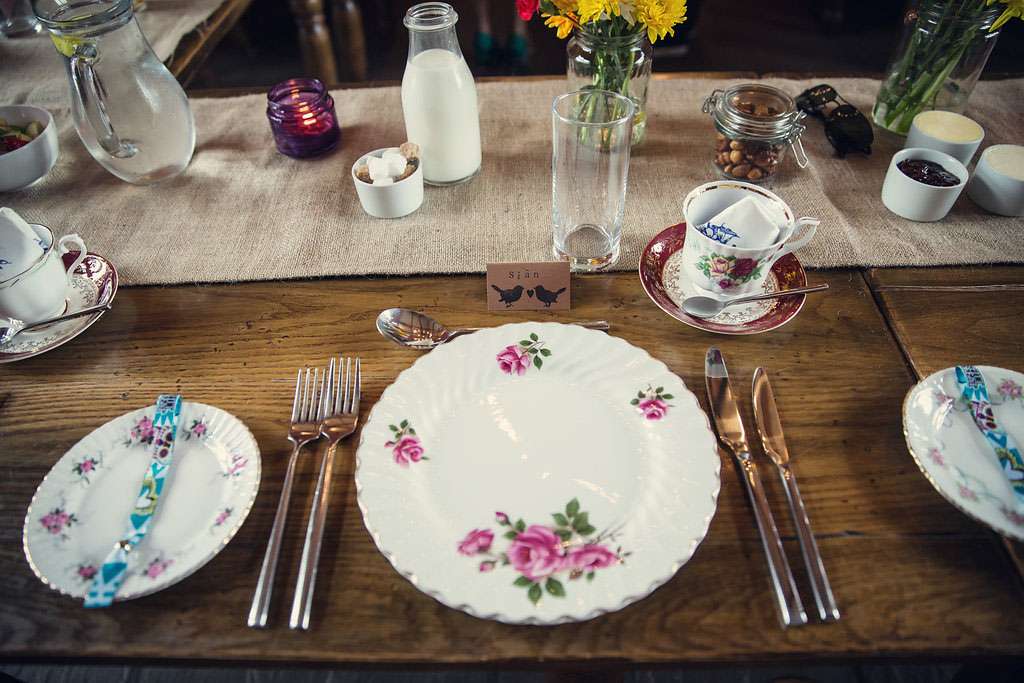 "My bridesmaids pretty much chose their own dresses and hairstyles because I wanted them to be comfortable but also have a dress they could wear again. Nathan chose his suit two weeks before the wedding! He was really relaxed about the whole thing and as soon as he knew he wanted tweed he bought the groomsmens' from Next and his from ASOS."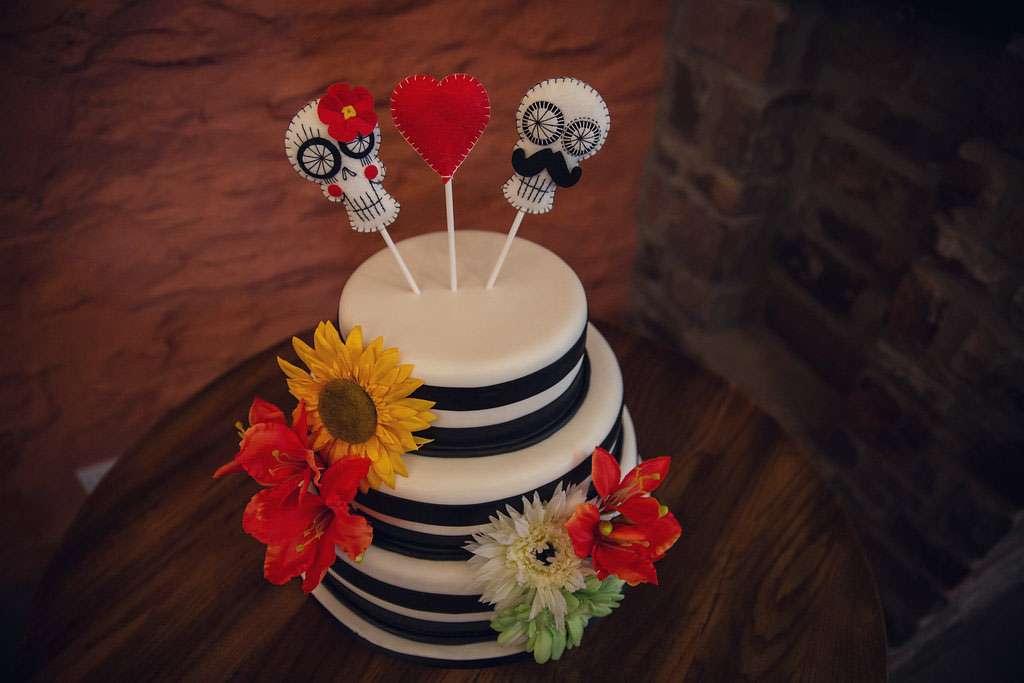 The couple spent just £8000 on their wedding but there were a couple of things they splashed out on. "The main expenses were the venue, the caterers and our photographer", Sian explained. "We we didn't look around much as we knew as soon as we saw the venue that we loved it and the caterers are friends of friends so came highly recommended. The food was amaaaazing. We were so lucky to get Sassy, our photographer. We knew before we were even engaged that we'd book her because we'd seen her work on Rock n Roll Bride and loved it! So as soon as we booked the venue we emailed her. Sassy was amazing. She was such a great support before the wedding and on the day. She made everyone feel relaxed, took Colin for a walk and even got us to climb a tree for the most amazing pictures!"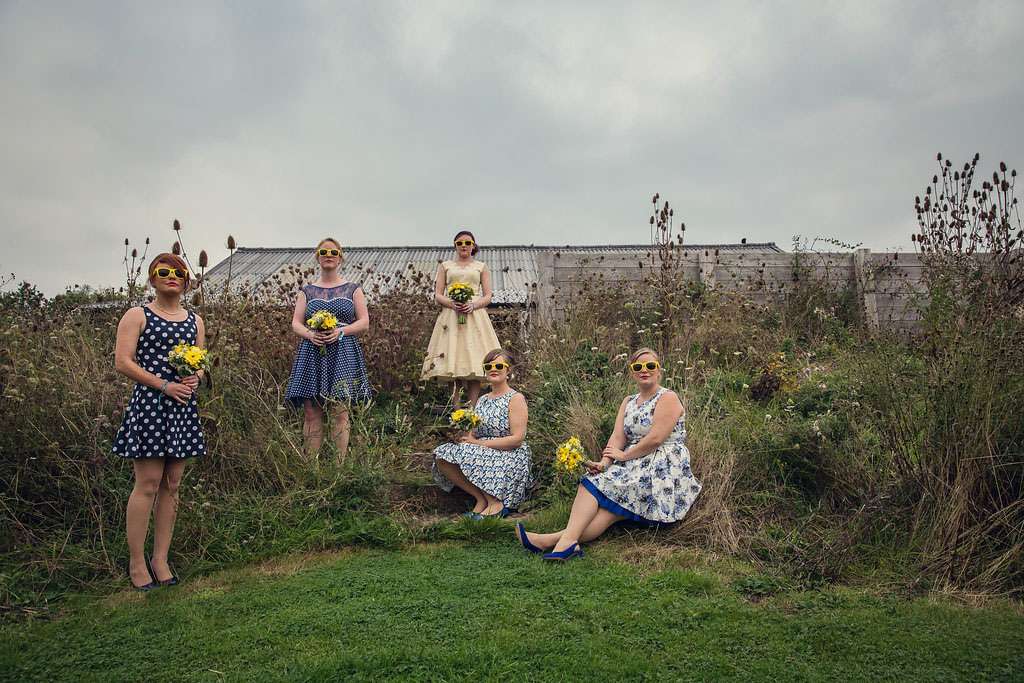 "Although we splashed out on some things, we saved a lot of money by roping our friends in and making our decorations and doing the flowers ourselves", she concluded. "Nathan's cousin is a hair salon manager so we were so glad she agreed to do our hair, my friend did the make up and another made our cake. The photo booth and disco lights were a wedding gift from another friend and were great fun for everyone. We made our own wedding playlist on Spotify which people chose songs for beforehand and everyone had a good dance to! Having our friends and family have such important parts to the day was very special."