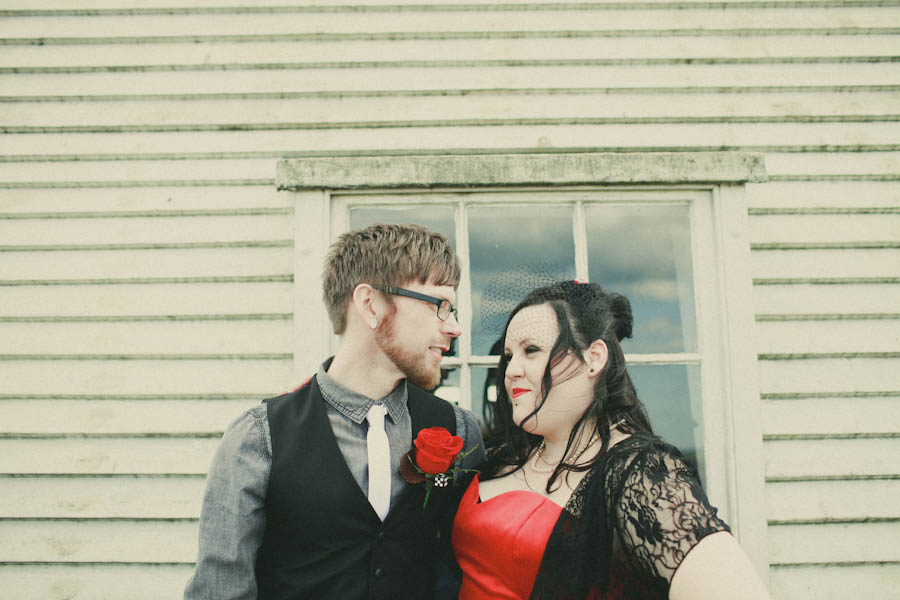 Suzie & Andrew wanted a really unique venue for their unique wedding and so chose a Willesborough Windmill in Ashford, Kent. They had just 47 guests (including 13 bridesmaids!) and they really did things their own way. From the DIY catering, to the ice cream van dessert, and the chocolate favours to the lady bug bouncy castle, the day was planned around the things they love. "My main goal for our wedding was that I wanted a day that wasn't strictly structured," began newlywed Suzie. "I wanted a laid back afternoon and evening filled with fun, laughter, eating, drinking and general enjoyment for everyone. All my close family & friends wanted to help which was great and they are contributed so much to our day."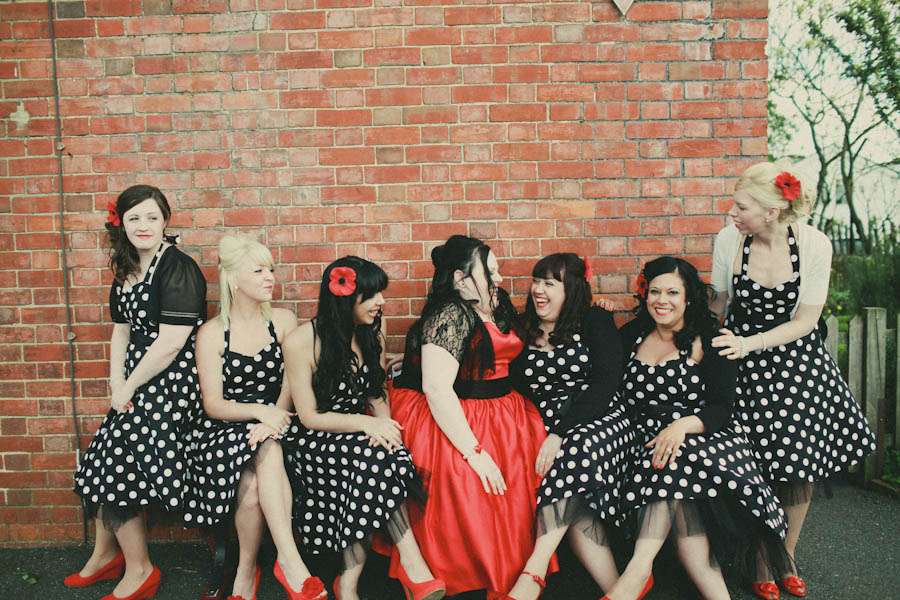 They went for a black, white & red colour scheme and even all the guests dressed to match the theme! "Our favourite colours are red, black & white," the bride continued. "We have red cars, red and black sofas, a black and white checkered kettle and toaster…. I also love the style of the 50s rockabilly and the short wedding dresses and polka dots & hearts – very cute and sexy. I always wanted a bright red wedding dress and everything else stemmed from that. As soon as we decided to get married I knew the exact location (the windmill just minutes from our own home) and how I wanted everything to look – black, white & red! I wrote on the invitation 'come dressed in your best red, black and white' and everyone did! It looked amazing."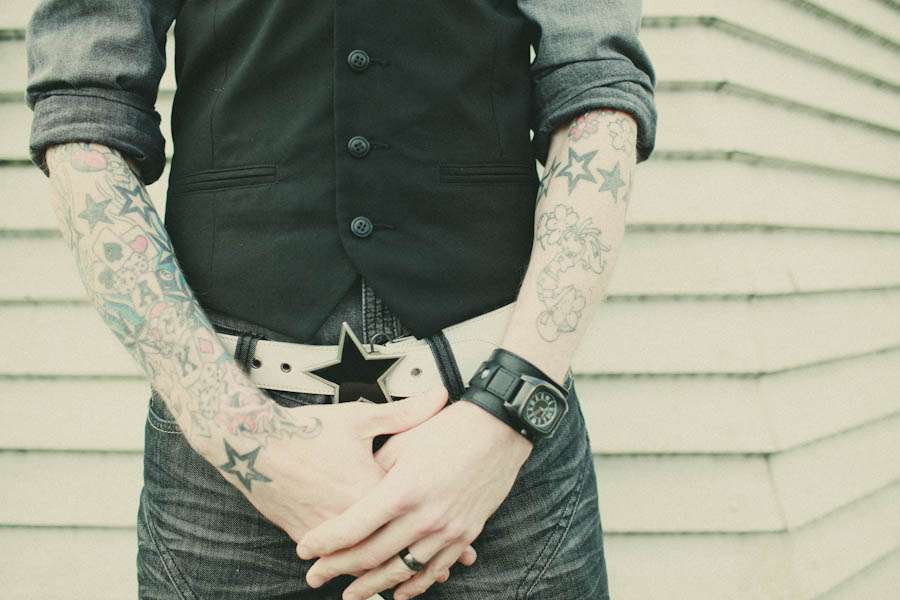 Suzie wore a short red dress which she bought from Honeypie Boutique, with Vivinene Westwood/Melissa shoes and a homemade headpiece. Andrew hates wearing suits so he opted for jeans, a studded belt, a faded denim shirt and creepers! Suzie wanted her bridesmaids to be comfortable and look their best. She found their dresses on eBay but told them they could accessorise however they liked.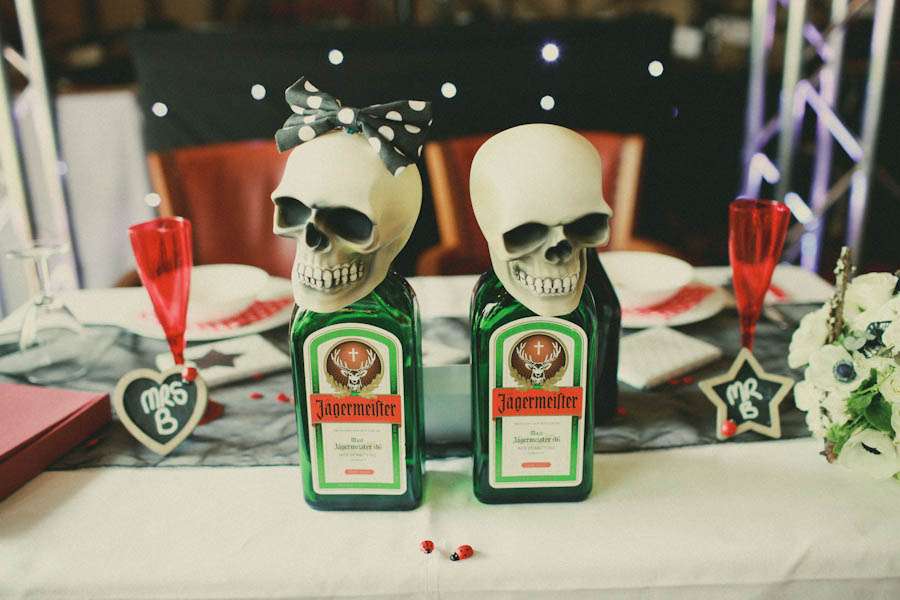 "We never wanted to be in debt from a wedding and pulled the whole thing off with no savings at all," Suzie concluded. "Our total final cost was £2986 for EVEYTHING! Organized and paid for in 10 and half months. We feel very proud, especially when my Dad said 'you could have thrown another £10,000 at this wedding and it wouldn't have been any better?'"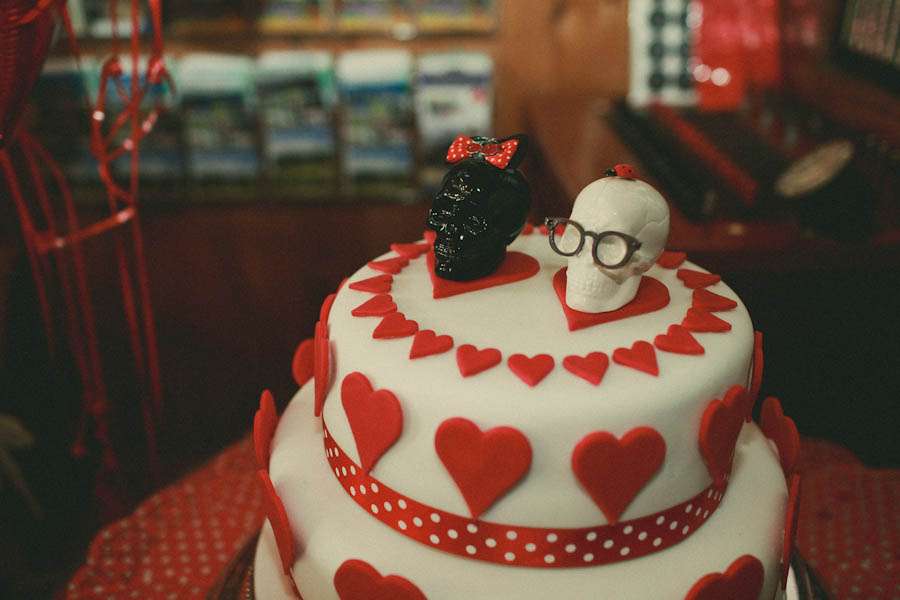 Amazing! Thank you to Suzie & Andrew for sharing their fab wedding with us today!
Supporting Cast:
Photography Credit: Gavin Photography
Venue: Willesborough Windmill, Ashford, Kent
Bride's Dress: Honeypie Boutique |
Bride's Shoes: Vivinene Westwood/Melissa
Bride's Headpiece: DIY
Groom's Outfit: Various – Camden Market
Bridesmaid's Dresses: eBay
Bridesmaid's Accessories: Primark
Cake: DIY
Flowers: BloominGayles
Make Up: Karen Thompson
DJ: Disco-tech
Stationery: DIY
Caterers: DIY
Reception Decor/Props: My Alternative Wedding
Sweets: My Sweetie Jar