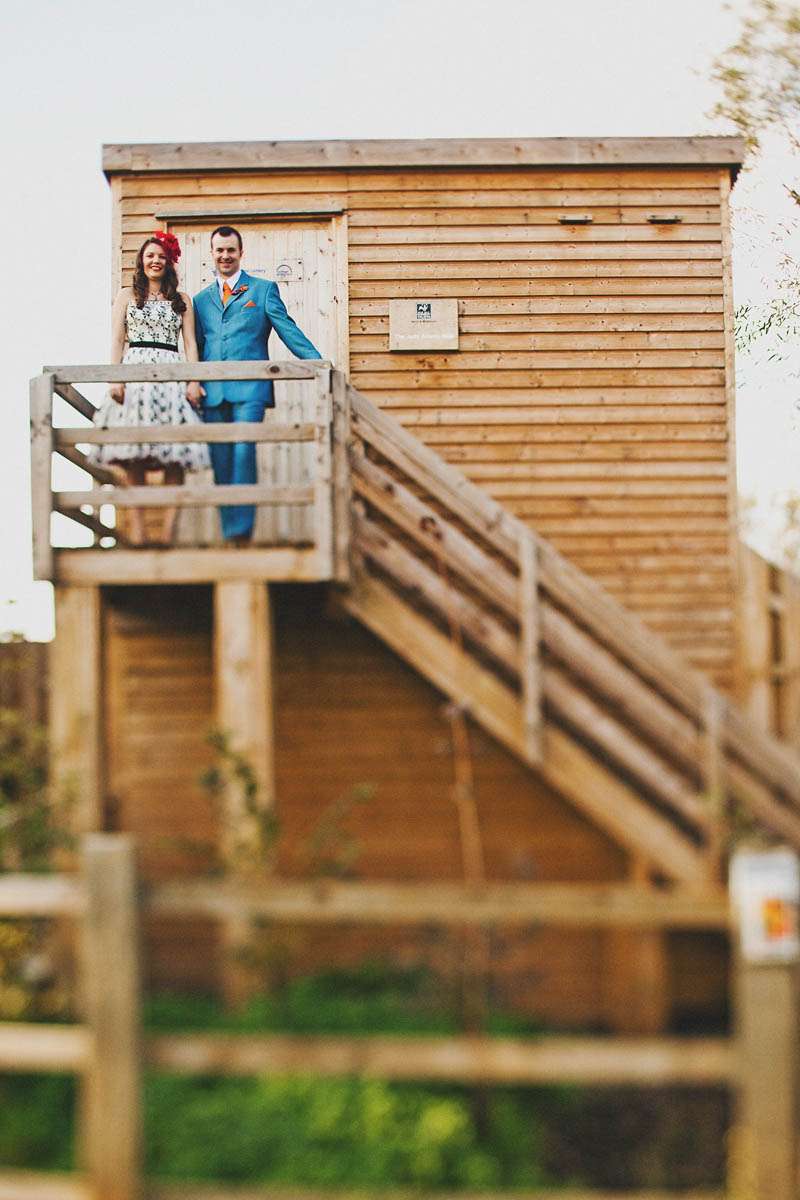 Emma & Ross' black & white, vintage themed wedding was, above all, a day to celebrate their love with their friends and family. The couple wanted a relaxed atmosphere and one where their guests would really enjoy themselves.
"We wanted our wedding to be personal to us, we didn't want guests to walk in and think they could be at just anybody's wedding," Emma told me. "We have been to a lot of weddings, which were lovely but we knew that traditional just wasn't for us. We just had our day, our way and it was brilliant! It was the best day of our lives so far, I just wish I could do it all again as it went so quickly!"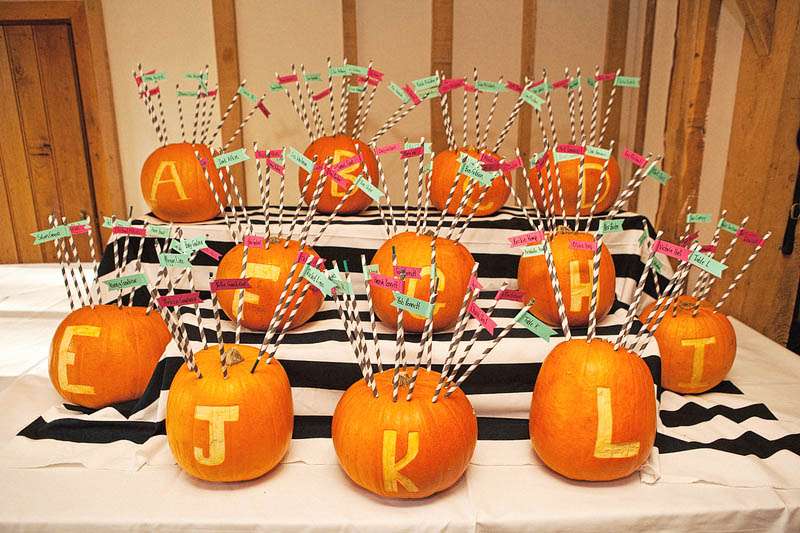 Emma wore a black & white 1950s dress from Fur Coat No Knickers. "The wedding dress I chose was the first one I'd tried on, ever. I went to Fur Coat No Knickers because I knew I wanted a short 50s dress and I love vintage! I didn't really have any colours in mind I was open to trying on anything but I did want something I could wear again, so it was a bit of a shock that I chose the first dress I tried on, I was expecting a big epic search! Obviously I tried on lots of others after that one too, they are all so nice that it would be silly not to! I really enjoyed going back for fittings, especially to nose at all the other dresses. Their shop and they are lovely, they make you feel so comfortable, I want to live there!"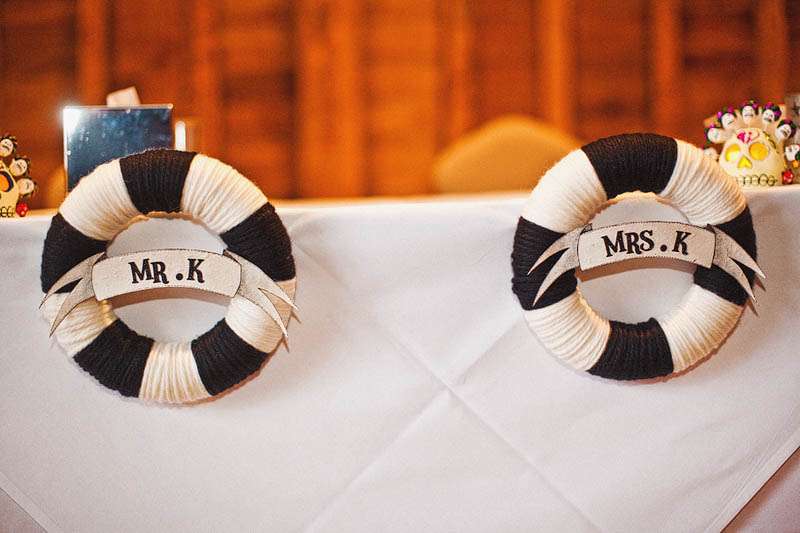 "I ended up having three pairs of shoes to wear on the day (I'm a little bit of a shoe addict!)" the bride continued. "They were always going to be red, I have a thing for red shoes. I saw the Stuart Weitzman's when I went to Selfridges shoe land (I want to live there too!) I went to buy a completly different pair but fell in love with those ones, luckly I got last pair left in the country and they were my size, so it must have been fate! As they are quite high I was also forced to buy the Melissa/Vivienne Westwood Lady Dragon's too. Finally, as I was planning on doing a lot of dancing I bought a pair of Converse that I designed myself on their website, they had skulls on and I got our wedding date embriodered down the back."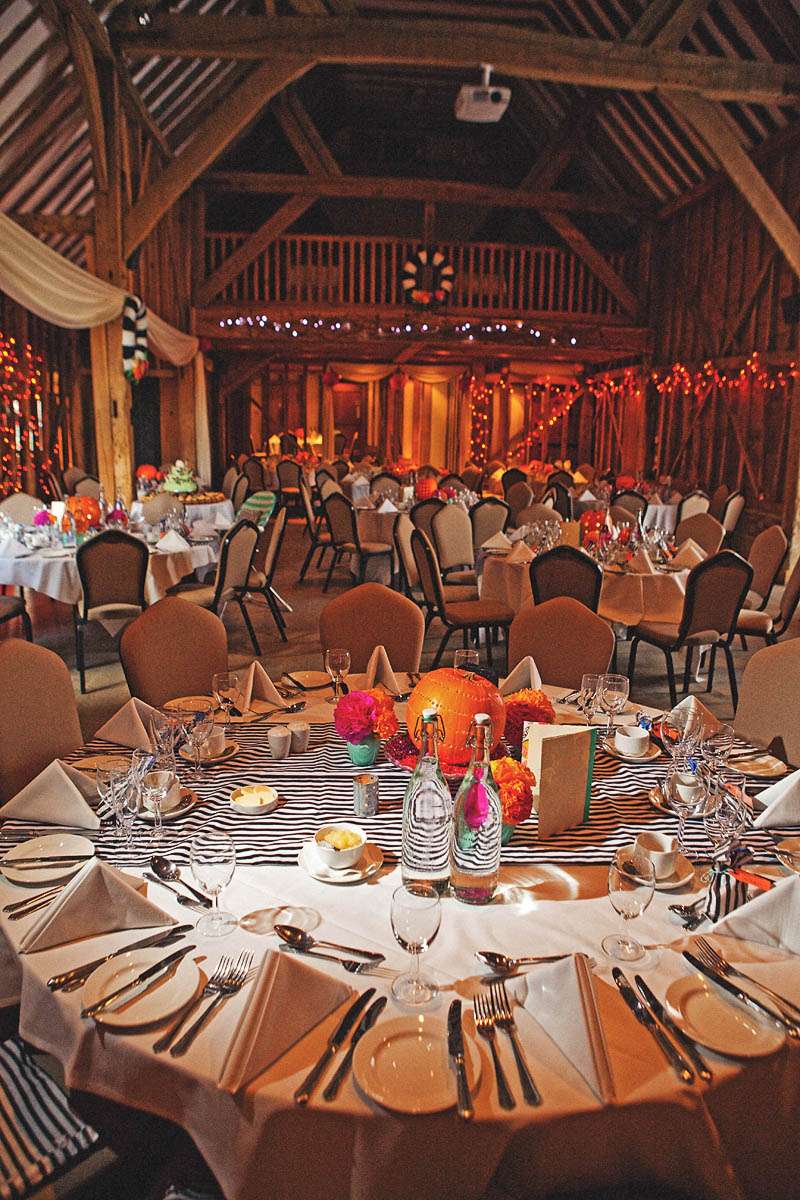 The wedding didn't have an obvious 'theme' but the couple made sure they included the things they really loved and wanted in their day. "One thing I always knew I wanted was a cool car, not a wedding car, I wanted something mean," Emma explained. We both like American cars, especially muscle cars so it was a no brainer when I saw the Dodge Charger and the owner lived in Watford! We used to own a big yellow American truck but we had to sell it to fund the wedding, so having the Charger went some way to ease our loss. Ross wasn't happy that I got to have the car and he didn't as he stayed at the venue but the owner took us both out after the ceremony and went rather fast down the country lanes which was excellent!!! Its quite noisy, Ross said he knew that I was on my way to the venue because he could hear the car coming from about a mile away!"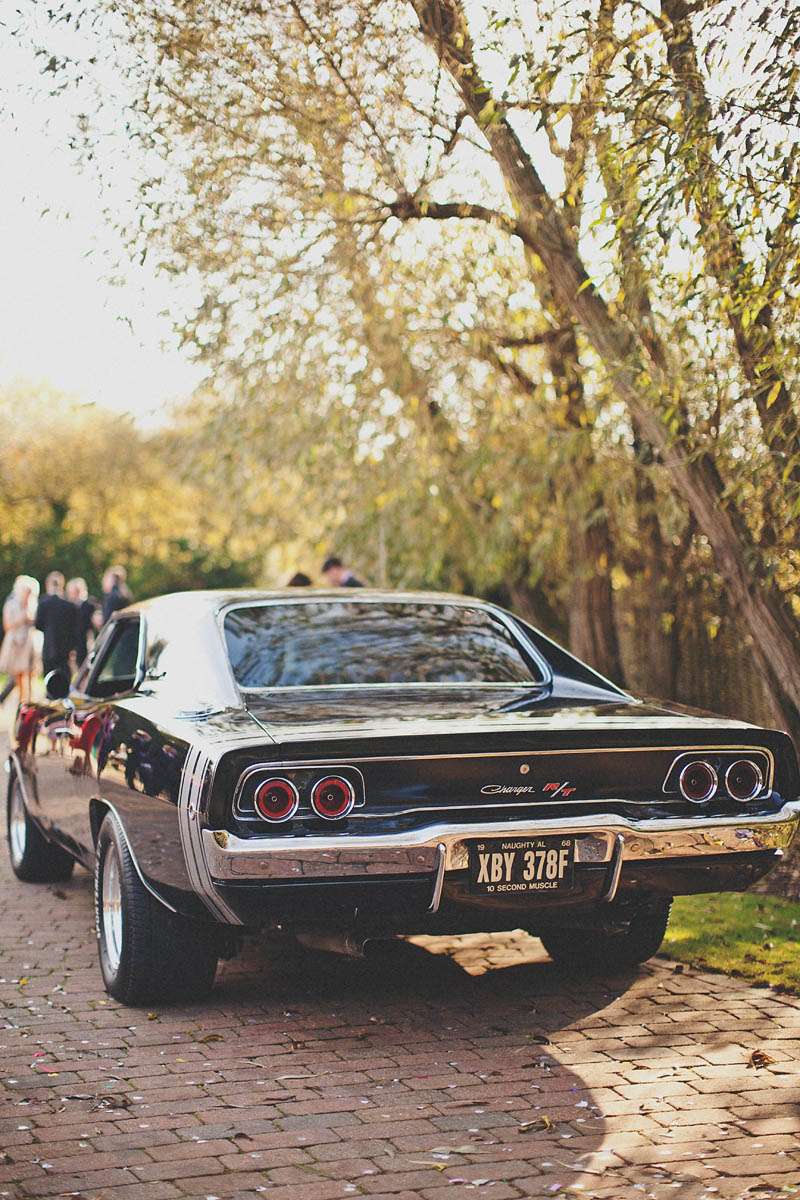 "Most of our wedding was handmade by us or by family and friends, anything I or somebody we knew couldn't make we mainly bought from Etsy which I'm VERY addicted to, I'm on there about 10 times a day, its like my drug! A lot of the stuff I did myself was made with about two months to go because we didn't really get our colour scheme down until we decided to make our table flowers out of tissue paper, this was slightly stressful as we had only a small amount of time to make a lot of things! It kind of added to the stress when I decided three days before the wedding to not give the bridesmaids real flowers as they were too expensive and to make them myself from felt and buttons!"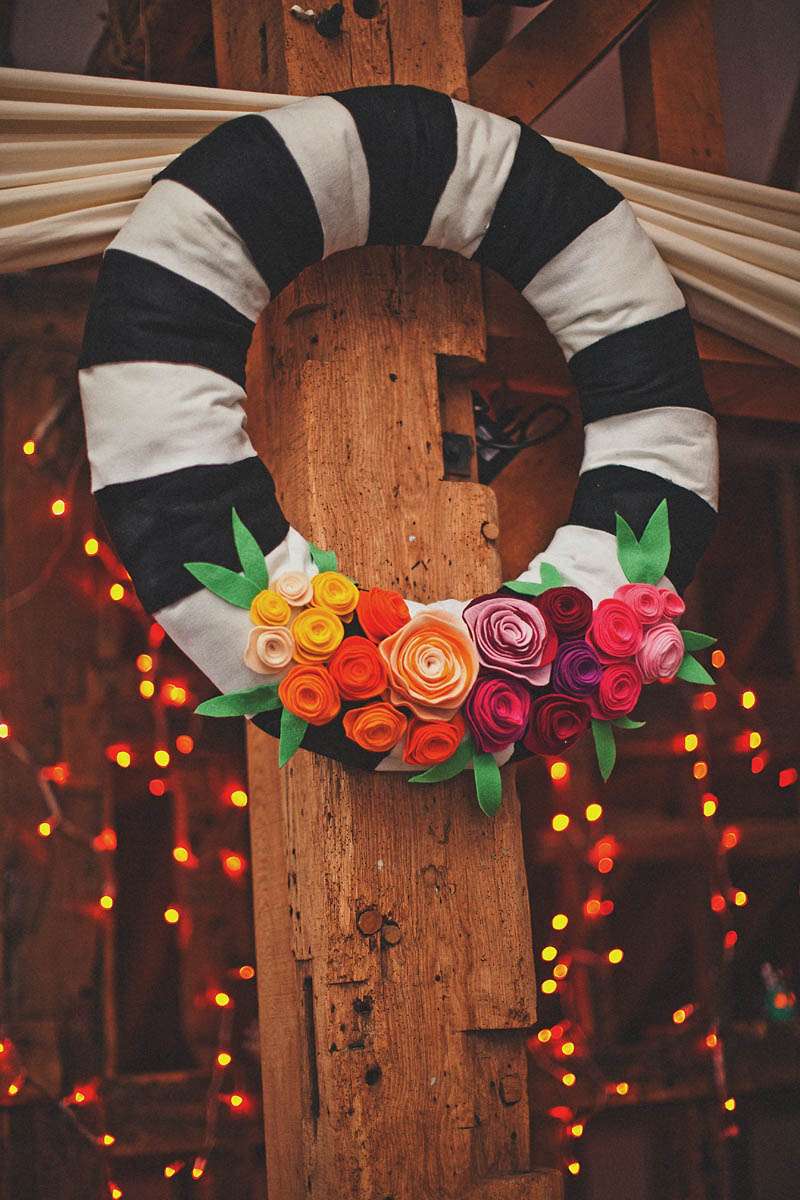 "I made my own bouquet out of vintage brooches which I really enjoyed as it involved shopping for the brooches too! Ross and his Mum made all of the tissue paper flowers, pom poms and painted the inside of the jars aqua. My Mum made the younger bridesmaid's dresses (the adults wore vintage and one from Coast) and the table runners and my Sister made our lovely wedding cake, cupcakes and all the wreaths."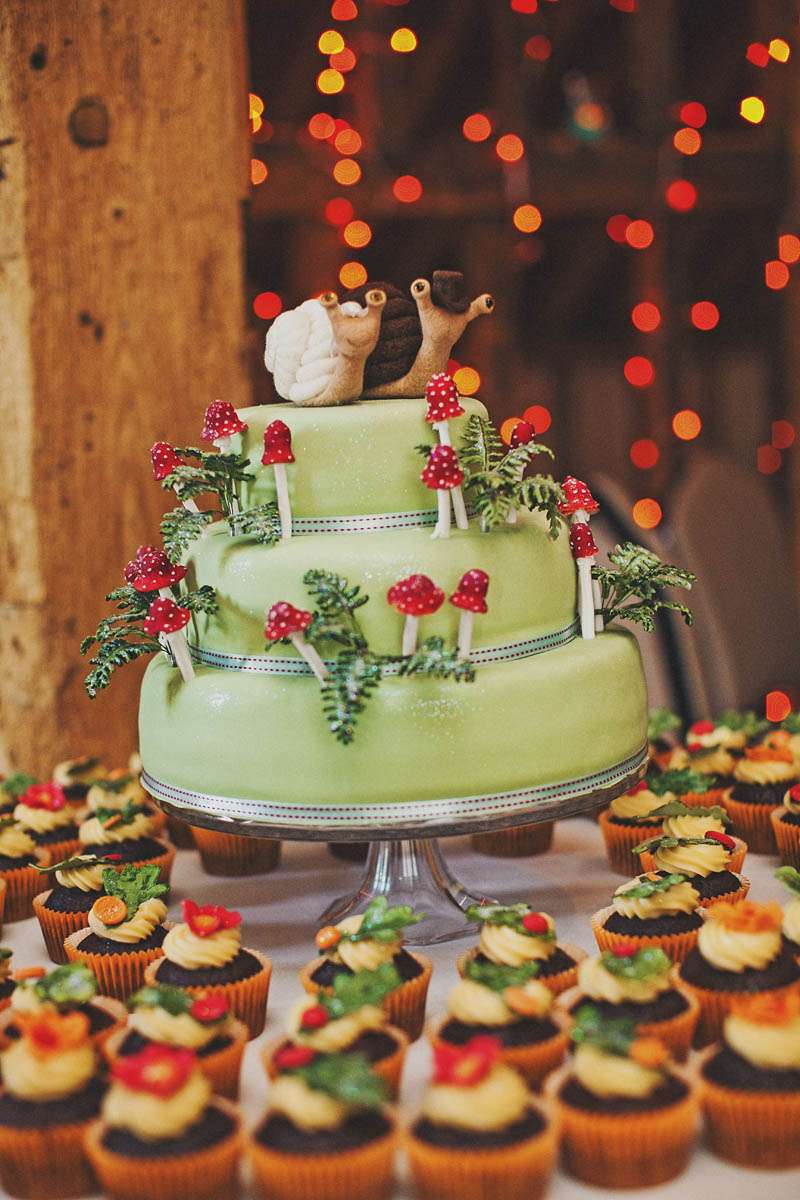 "The day before the wedding, with the help from the best man Dan and his girlfriend, we scooped, carved and drilled about 40 pumpkins! I'm still finding bits of pumpkin in my kitchen now! I'm also still finding black glitter everywhere from where we covered the table letters, it didn't help that one of our cats kept rolling in it!"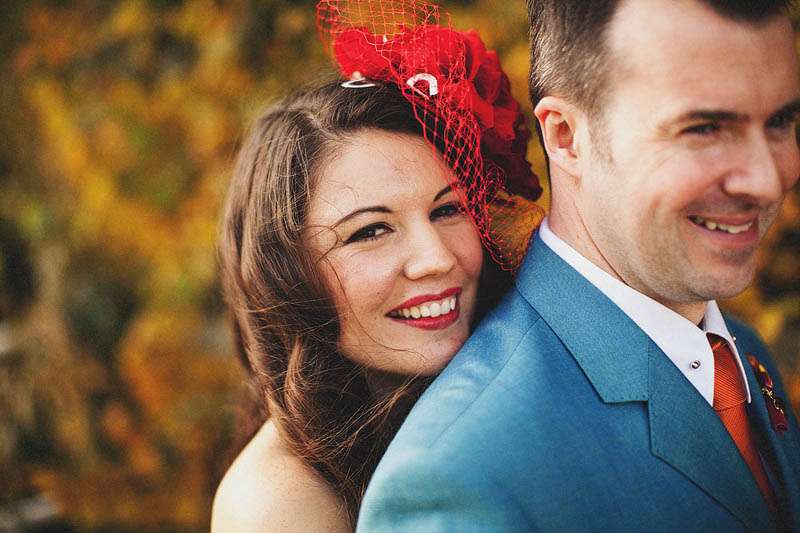 Gorgeous. The result was certainly worth the effort guys! Thank you so much to Emma & Ross and their wedding photographer Chris for sharing this badassery with us today.
Supporting Cast:
Photography Credit: Chris Barber Photography
Venue: Tewin Bury Farm Hotel
Bride's Dress & Headpiece:  Fur Coat No Knickers
Bride's Shoes: Stuart Weitzman, Melissa/Vivienne Westwood & Converse
Bride's Jewellery: The Greedy Seagull, HoiPollois and Yonks on etsy
Groom's Outfit: Adam Of London
Adult Bridesmaid Dresses: Vintage from Wear It Again on etsy and Coast  Child Bridesmaid Dresses: DIY
Cakes: DIY
Cake Topper: Felttess on etsy
Hair & Make Up: Lipstick and curls
DJ: discoservicesuk.co.uk
Stationery: Royal Steamline and Loralee Lewis on etsy
Transport: 1968 Dodge Charger from starcarhire.co.uk